Both 2020 MotoGP world champion Joan Mir and newly-crowned 2021 title-winner Fabio Quartararo fear the scale of threat posed by Ducati in 2022 after it locked out the podium places in the Valencia season finale.
Mir in particular had a chance to experience the might of the Ducati machines up close and personal after leading the 27-lap race in the early stages, before being completely swamped by Pecco Bagnaia, Jorge Martin and Jack Miller.
Suzuki's technical disadvantages of 2021 – when its development programme has been somewhat lacklustre – undoubtedly played a role in how quickly Mir was dismissed by the Ducati trio, but Mir's biggest fear for 2022 comes from how well three very different racers were able to ride the Desmosedici seemingly without showing any weaknesses at all.
"I'm really disappointed because I didn't expect these feelings in the race," Mir said of his fourth place after starting the day as one of the favourites for victory.
"We've worked very well in the practice, but realistically I was there in the race and there was nothing I could do.
"I was struggling with the front because our grip wasn't fantastic and I had no advantage to fight with them.
"It's frustrating because it's not the position I want to be in.
"The thing is, behind them I lose all the options. I tried to put myself in first position at the beginning, but then Pecco overtook me. I was preparing one moment to overtake Martin, then when another Ducati overtook me I realised in that moment that the race was probably over.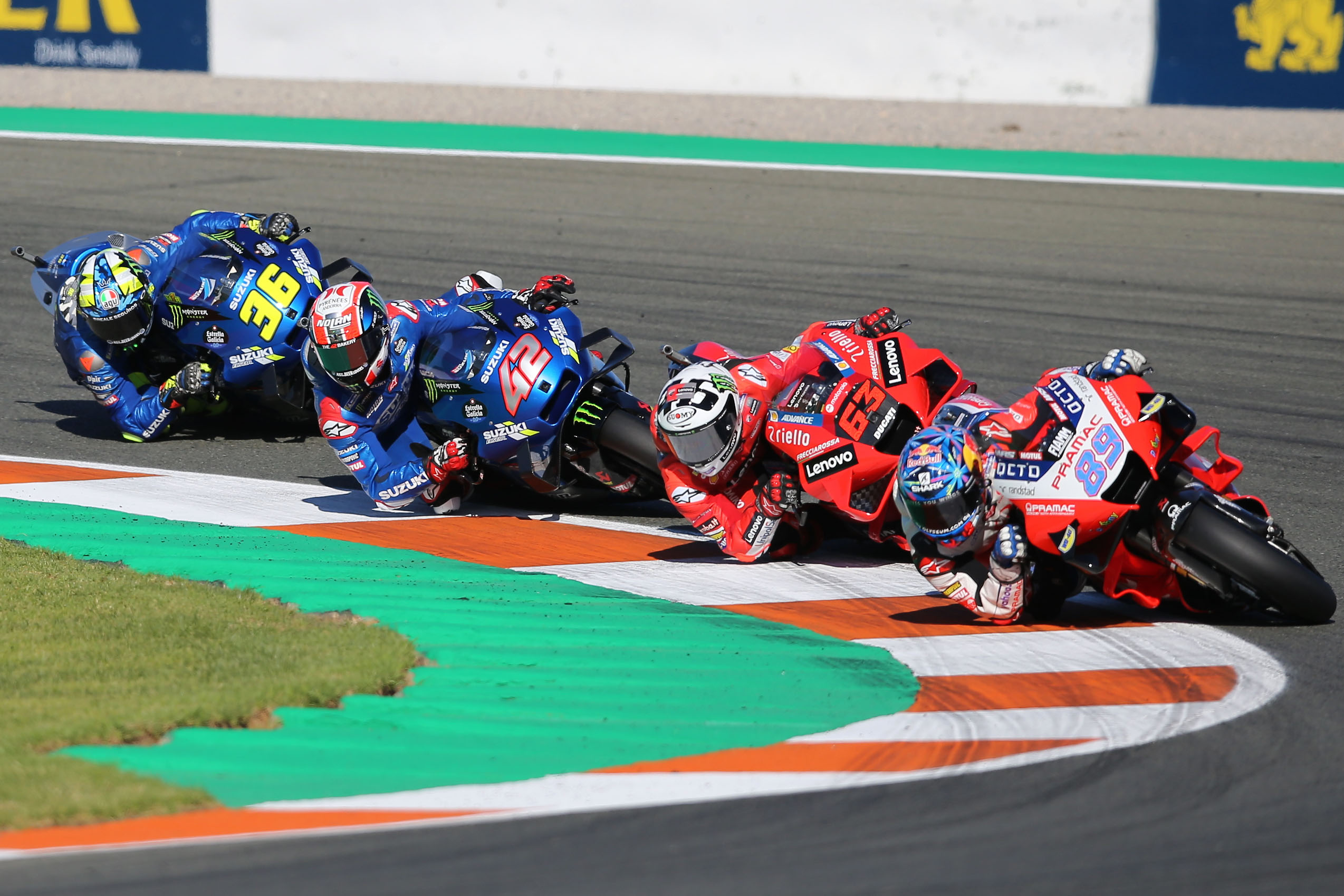 "Before, I could see some weak points of theirs, and last year I was able to see that when they started with all that power they were struggling to turn a bit more at the end as the tyre was getting more used. It's logical that if you have more power you use more tyres.
"But in this case, I didn't see any loss of performance. It's the opposite. They're even stronger at the end of the race.
"I don't see any weak points and this is something that worries me. They're able to be fast with a lot of different styles, and we have work to do if we want to fight again next year, because for sure they will be really strong."
While the rider who took Mir's title from him last month, Quartararo, shares Mir's worries about what the 2022 season will bring, he was slightly more circumspect about what will happen next year after a winter break of development work not just at Ducati's base in Italy but also by Yamaha, Suzuki and Honda in Japan.
There's no questioning that Japanese racing departments have lost ground to make up in the next few months as they were more heavily affected by the coronavirus pandemic than the European manufacturers.
Quartararo says that it's up to his team and not him to make up that lost ground.
"Everyone says that this track isn't a Ducati track," the Yamaha rider explained. "But pole position and 1-2-3 in the race means they've made a massive step.
"I'm more worried about them next year, but it's not something I have too much on my mind right now.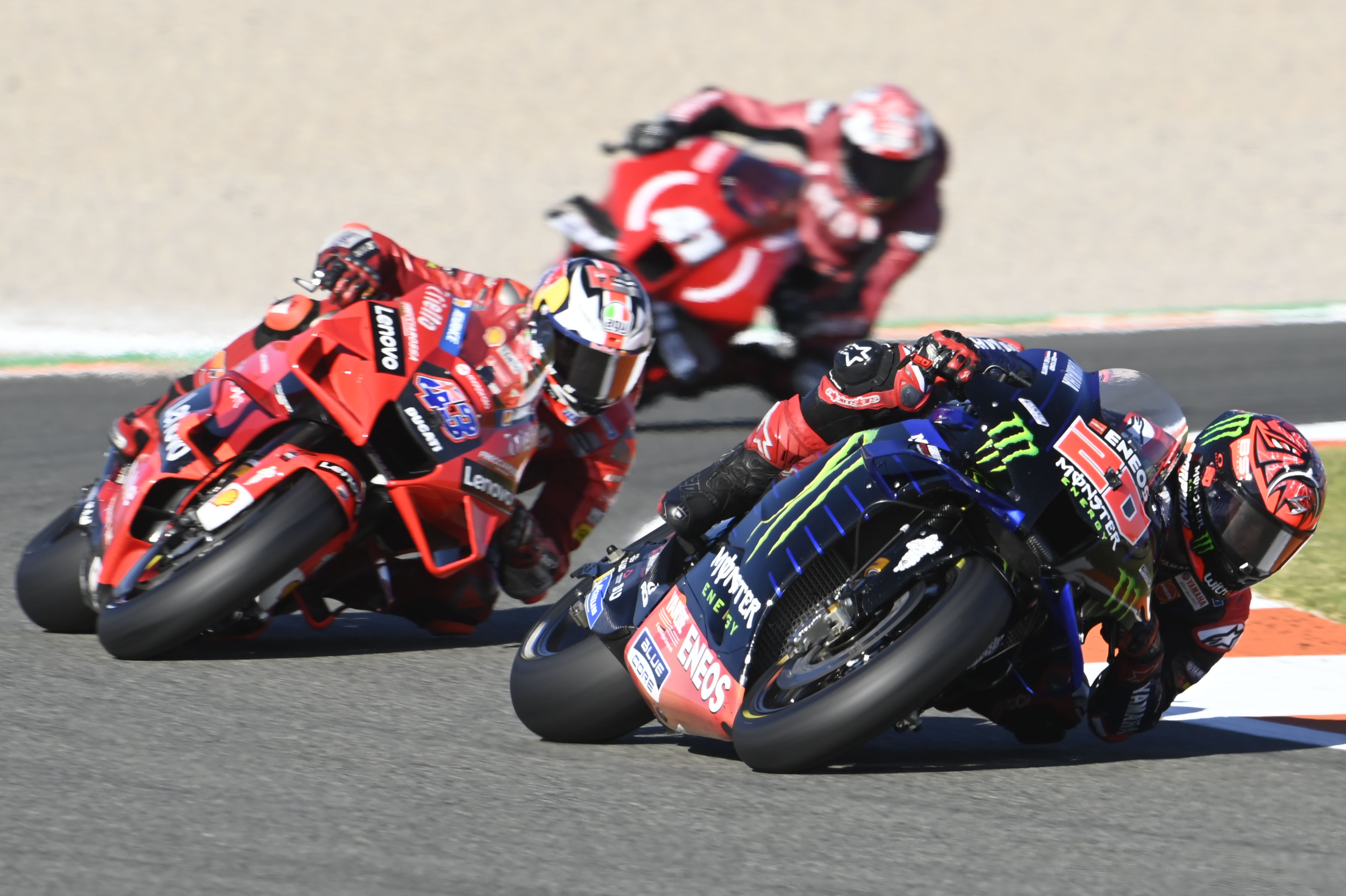 "I have to leave it to Yamaha, because they know what they have to do this winter to improve for next year.
"Of course, we're not fully confident because they [Ducati] have made a step, but we are the world champions of this year and we need to enjoy that.
"I give my all always, and I think you can see it – but there is a moment when you arrive to the limit of your bike, and I think today we saw that.
"To be honest, it was tough to understand how much turning, drive and power they have, because I was behind Jack and I don't know how much horsepower they have, but they have a lot.
"It's clear to Yamaha what they need to do."