Enea Bastianini passed Ducati stablemate Francesco Bagnaia on the final lap to win the Aragon MotoGP race, as points leader Fabio Quartararo exited on the opening lap.
Quartararo had dropped one position after the start and found the returning Marc Marquez right ahead of him despite the six-time champion having lined up three rows back.
And when Marquez then caught a rear slide coming out of Turn 3, his Honda slowed enough to leave Quartararo with nowhere to go – with the championship leader's race ending then and there as he was launched off his Yamaha.
CONTACT AT TURN 3! 💥@FabioQ20 IS OUT! 😱#AragonGP 🏁 pic.twitter.com/3zxt4T8bHT

— MotoGP™🏁 (@MotoGP) September 18, 2022
While the luckless Quartararo then apparently had another crash as he headed to the paddock as a passenger on a marshal's scooter, Marquez's race continued for another lap and he was involved in another major incident.
As his now-damaged RC213V "locked" coming out of Turn 7 once he tried to engage the holeshot device, he ended up squeezing Honda stablemate Takaaki Nakagami onto the kerb, with contact eventually following that sent Nakagami sliding across the racing line into the reverse corkscrew, narrowly avoided by the rest of the pack.
More lap 1 drama! 💥

Thankfully everybody was able to avoid @takanakagami30 as he slid down the road! #AragonGP 🏁 pic.twitter.com/bbq1MS7aM1

— MotoGP™🏁 (@MotoGP) September 18, 2022
Marquez's Honda continued to shed parts in the meantime, and he called it a day – heading to the LCR box to apologise to Nakagami's crew.
"I lost the rear in Turn 3 and Fabio made contact. When I engaged the holeshot device later in the lap, the bike locked and moved to the left because there was a piece of Fabio's bike in the rear. It's really unlucky and I want to apologize to both Taka and Fabio." @marcmarquez93 pic.twitter.com/vRaWRjMHaI

— Repsol Honda Team (@HRC_MotoGP) September 18, 2022
Ahead of the mid-pack chaos, Bagnaia had kept the lead off the line despite a better launch from team-mate Jack Miller – and Miller was then picked off by the fast-starting KTM of Brad Binder.
The Aussie was back through on Binder at the start of the third lap, but Gresini Ducati rider Bastianini followed through on the next tour, before taking care of Miller at Turn 15 two laps later and setting off after Bagnaia.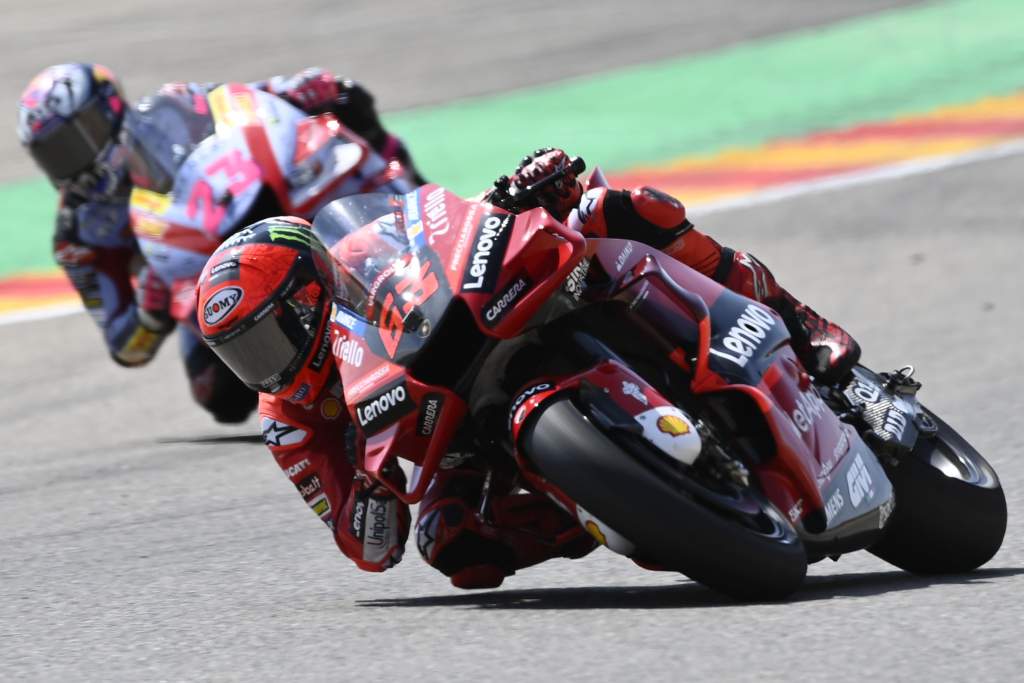 On lap eight, he was already past his 2023 team-mate Bagnaia at Turn 1, but he made a mess of Turn 12 on that same tour to hand the lead back to Bagnaia, with a couple of messy subsequent corners allowing the works Ducati man to grow his lead to nearly a second as Bastianini fought off Binder.
However, Bastianini was soon making inroads on Bagnaia's lead again and, though at one point the factory Ducati's advantage looked to have stabilised, Bastianini eventually got close enough to put massive massive pressure on Bagnaia in the final laps.
ALL IN! 🤯@Bestia23 POUNCES! 🔥#AragonGP 🏁 pic.twitter.com/WxZ13V6k2h

— MotoGP™🏁 (@MotoGP) September 18, 2022
After a couple of aborted looks on the back straight, Bastianini pulled the plug with a Turn 7 move on the on the final lap, before fighting off Bagnaia on the run to the line to win by 0.042s.
Behind them, Aleix Espargaro took his first podium since Mugello by passing Binder, who had spent most of the race in third after re-overtaking Miller, on the penultimate lap.
Miller completed the top five behind Binder and ahead of a trio of fellow Ducati riders in Jorge Martin (Pramac), Luca Marini (VR46) and Johann Zarco (Pramac).
Alex Rins as the sole Suzuki following Joan Mir's withdrawal was ninth, while Marco Bezzecchi (VR46) made it seven Ducatis in the top 10.
Espargaro's Aprilia team-mate Maverick Vinales was only 13th, compromised by Nakagami's slide at the reverse corkscrew early on. Behind him was RNF Yamaha's Cal Crutchlow, who on his return to MotoGP finished as the top Yamaha rider.
In a sliver of good news for Yamaha, though Quartararo was seen limping once back in the paddock, team manager Lin Jarvis confirmed during the race that the Frenchman had sustained no major injuries and only had "chest abrasions" – and said indicated his rider would be fully fit for next weekend's race at Motegi.
Quartararo now has 10 points in hand over Bagnaia and 17 over Espargaro, with Bastianini potentially featuring as an outside contender – trailing by 48 points with five races to go.
In the constructors' standings, meanwhile, Ducati has secured the title already, marking its third such success in a row.
Race Results
| Pos | Name | Team | Bike | Laps | Laps Led | Total Time | Fastest Lap | Pitstops | Pts |
| --- | --- | --- | --- | --- | --- | --- | --- | --- | --- |
| 1 | Enea Bastianini | Gresini Racing MotoGP | Ducati | 23 | 1 | 41m35.462s | 1m47.929s | 0 | 25 |
| 2 | Francesco Bagnaia | Ducati Lenovo Team | Ducati | 23 | 22 | +0.042s | 1m48.076s | 0 | 20 |
| 3 | Aleix Espargaró | Aprilia Racing | Aprilia | 23 | 0 | +6.139s | 1m48.036s | 0 | 16 |
| 4 | Brad Binder | Red Bull KTM Factory Racing | KTM | 23 | 0 | +6.379s | 1m48.092s | 0 | 13 |
| 5 | Jack Miller | Ducati Lenovo Team | Ducati | 23 | 0 | +6.964s | 1m48.142s | 0 | 11 |
| 6 | Jorge Martin | Pramac Racing | Ducati | 23 | 0 | +12.03s | 1m48.166s | 0 | 10 |
| 7 | Luca Marini | Mooney VR46 Racing Team | Ducati | 23 | 0 | +12.474s | 1m47.795s | 0 | 9 |
| 8 | Johann Zarco | Pramac Racing | Ducati | 23 | 0 | +12.655s | 1m48.321s | 0 | 8 |
| 9 | Alex Rins | Team SUZUKI ECSTAR | Suzuki | 23 | 0 | +12.702s | 1m48.011s | 0 | 7 |
| 10 | Marco Bezzecchi | Mooney VR46 Racing Team | Ducati | 23 | 0 | +16.15s | 1m48.222s | 0 | 6 |
| 11 | Miguel Oliveira | Red Bull KTM Factory Racing | KTM | 23 | 0 | +17.071s | 1m48.435s | 0 | 5 |
| 12 | Alex Marquez | LCR Honda Castrol | Honda | 23 | 0 | +18.463s | 1m48.221s | 0 | 4 |
| 13 | Maverick Viñales | Aprilia Racing | Aprilia | 23 | 0 | +18.73s | 1m48.436s | 0 | 3 |
| 14 | Cal Crutchlow | WithU Yamaha RNF MotoGP Team | Yamaha | 23 | 0 | +20.09s | 1m48.398s | 0 | 2 |
| 15 | Pol Espargaró | Repsol Honda Team | Honda | 23 | 0 | +27.588s | 1m48.376s | 0 | 1 |
| 16 | Remy Gardner | Tech3 KTM Factory Racing | KTM | 23 | 0 | +28.805s | 1m48.586s | 0 | 0 |
| 17 | Franco Morbidelli | Monster Energy Yamaha MotoGP | Yamaha | 23 | 0 | +30.422s | 1m48.755s | 0 | 0 |
| 18 | Darryn Binder | WithU Yamaha RNF MotoGP Team | Yamaha | 23 | 0 | +31.33s | 1m48.565s | 0 | 0 |
| 19 | Fabio Di Giannantonio | Gresini Racing MotoGP | Ducati | 23 | 0 | +31.595s | 1m48.733s | 0 | 0 |
| 20 | Raul Fernandez | Tech3 KTM Factory Racing | KTM | 23 | 0 | +36.16s | 1m48.505s | 0 | 0 |
| | Marc Marquez | Repsol Honda Team | Honda | 1 | 0 | DNF | 0s | 0 | 0 |
| | Fabio Quartararo | Monster Energy Yamaha MotoGP | Yamaha | 0 | 0 | DNF | 0s | 0 | 0 |
| | Takaaki Nakagami | LCR Honda IDEMITSU | Honda | 0 | 0 | DNF | 0s | 0 | 0 |