Marc Marquez feels his two major incidents in the Aragon GP this Sunday were both "very-very-very unlucky".
Marquez, returning to MotoGP race action after an absence of almost four months due to arm surgery, moved up to sixth from 13th by launching his Honda around the outside of Turn 1 in what he described as "just instinct", settling in ahead of championship leader Fabio Quartararo.
But as Marquez then made a "small mistake" in briefly losing the rear through Turn 3 and slowed as he corrected himself, Quartararo plowed right into the rear of his Honda and exited the race on the spot.
Marquez continued with damage that he wasn't aware of, until he engaged the ride height device coming out of Turn 8, which he says pulled his Honda towards that of stablemate Takaaki Nakagami and ended the latter's race.
Speaking after the race, Marquez, who brought the bike in at the end of the opening lap, said: "In Turn 3, it's true that I lost a little bit the rear and I closed the gas.
🛑 @marcmarquez93 is OUT of this Grand Prix!

He pulls into the pits! #AragonGP 🏁 pic.twitter.com/taVKkHet0h

— MotoGP™🏁 (@MotoGP) September 18, 2022
"But it was not a very big moment. The problem is that Fabio, I saw the image, was super-super close, because probably his intention was to try to overtake me on that change of direction [between Turns 3 and 4].
"And I had a small moment because Enea [Bastianini] and Aleix [Espargaro] were a little bit outside [wide] and then I tried to – I didn't try to overtake them but just I was [moving] on the good line, and I had a small moment that many times we had with a cold tyre.
"And was a racing incident and very unlucky because Fabio was super close – as is normal. It's normal.
"Then everything started.
"I entered into Turn 5, I felt something strange, I said 'what's going on' but then when I opened gas and went into Turns 6, 7, I felt okay. And then on Turn 7 Nakagami overtook me inside and he went wide.
"And then when I was inside, already a little bit in front of him, and I engaged the holeshot [device].
"As soon as I engaged the holeshot, I felt like the rear wheel was locking. I checked very carefully the image and you can see one piece is going out.
"And then when I felt like it was locking, everything became crazy. The bike, when I had the rear lock, went to the left side, and no torque.
"And after that incident I retired – but I retired not for the Taka incident, but for the Fabio incident. But both actions were very-very-very unlucky for everybody."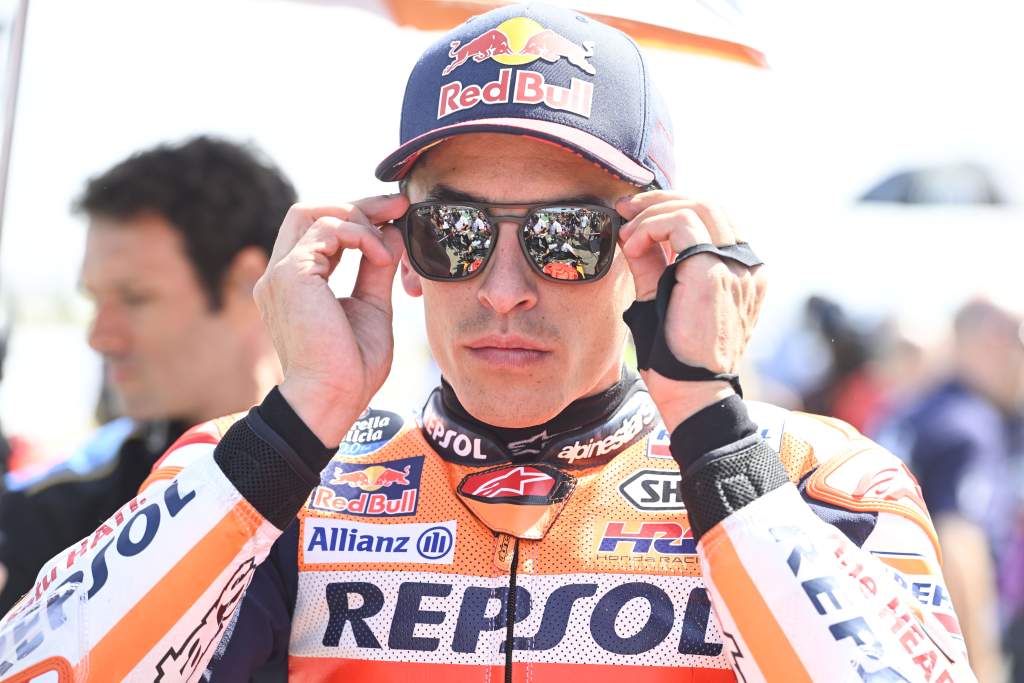 Marquez said it was a piece of Quartararo's fairing that got lodged beneath the seat unit of his RC213V (something that can be quite clearly seen in this video), compromising the ride height adjustment. And he acknowledged that that the Nakagami incident looked particularly damning without the extra context.
"Especially I apologised and I spoke to Taka's [LCR] team. I explained to them why, because if you see from outside, and if you don't take care about details, you see that I go straight away to Taka, for no reason, because I was already in front!
"So why would I want to in the middle of the straight go on the left side?
"Later I will try to speak with Fabio, who was in the Clinica [Mobile, MotoGP medical facility], but also with Taka."