No two wins, podiums, sixth-place finishes or non-scores are really the same - and not just because of the 'who' and the 'where' but often specifically the 'when'. Jack Miller's current MotoGP season makes that very clear.
If Miller's results in 2023 so far were completely reversed, it'd paint the picture of an extremely encouraging first season with a bike that hasn't always been the easiest to get to grips with.
Instead, he'd shot out of the blocks on the RC16, effectively almost matching his factory Ducati form on a bike that's not supposed to be anywhere near as competitive. And then he's hit a real, real rough patch - 79 points in his first seven race weekends on KTM have now turned into 30 in the last six.
Even more tellingly - and very problematically, given how much Miller tends to lean on and capitalise on his single-lap pace - after having failed to make Q2 just once in the first 10 rounds, he has now done so three times in a row at Barcelona, Misano and India.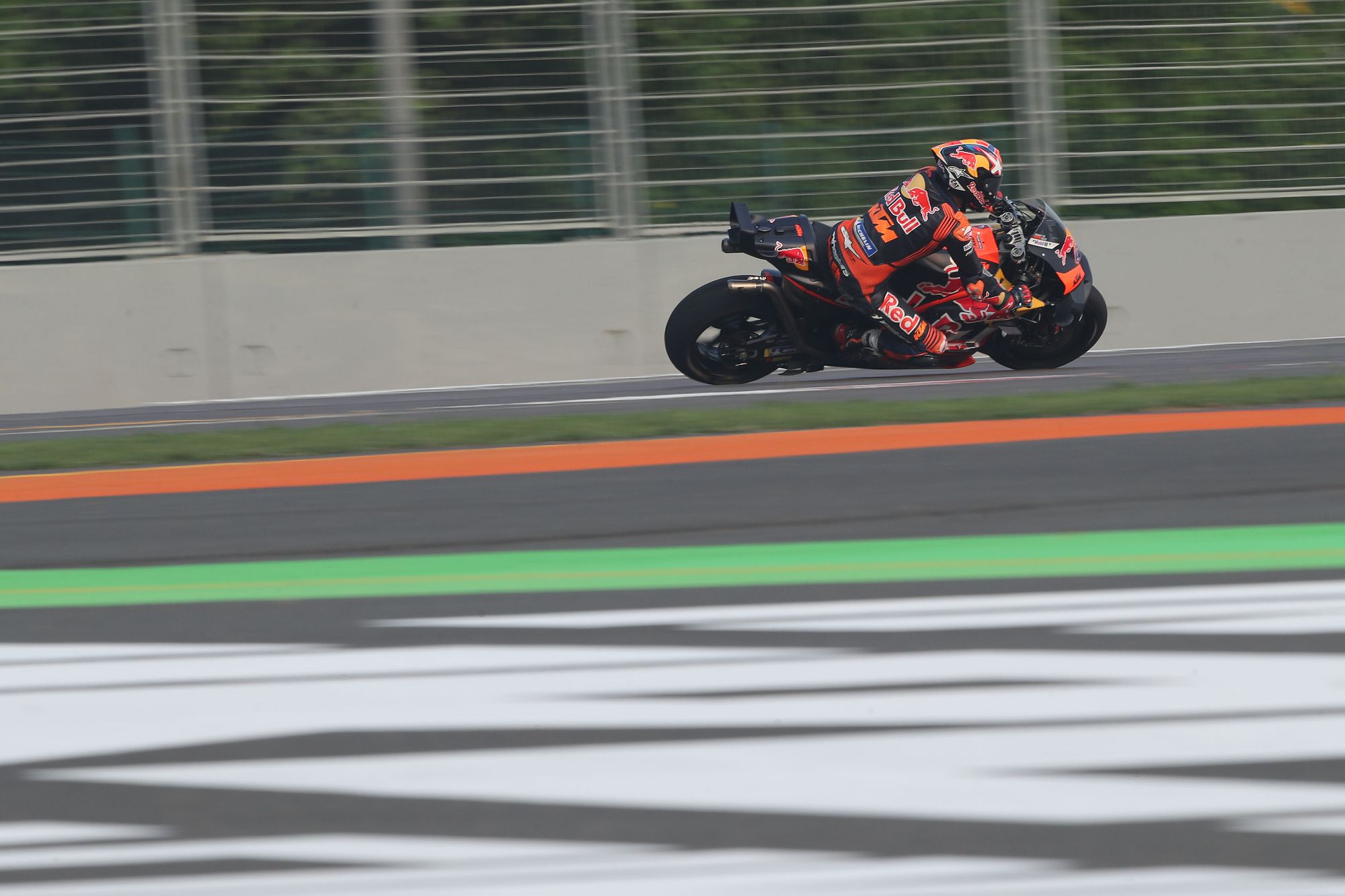 Miller and his crew, headed by Cristhian Pupulin who'd followed the Aussie to KTM from Ducati, have been chasing that early-season spark for a handful of months now - through, by the sound of it, considerable set-up swings.
Miller, who likes his bike to be down on the front end and has spoken a lot about how different his set-up can be to that of other riders on the same bike, seems to be searching for a sweep spot between making it the most comfortable for himself and going more towards stablemates, with the currently-much-faster Brad Binder presumably a consistent, oppressive reference point.
At least earlier in the season there seemed to be a focal point to work on - Miller was struggling with understeer in the longer corners, just unable to get the bike turned as he wanted, something that was particularly evident somewhere like the Sachsenring where he was being routinely gobbled up at the famous Waterfall corner.
But more recently the deficit has clearly been more general, and Miller admitted at Misano that his confidence in the front end had taken a knock, explaining it through crashes and set-up changes.
He'd been encouraged by what he learned in the post-San Marino Grand Prix test - yet India was uneven again. Quick then slow on Friday, middling in qualifying, quite credible (if not amazing) in the sprint, totally at sea on Sunday.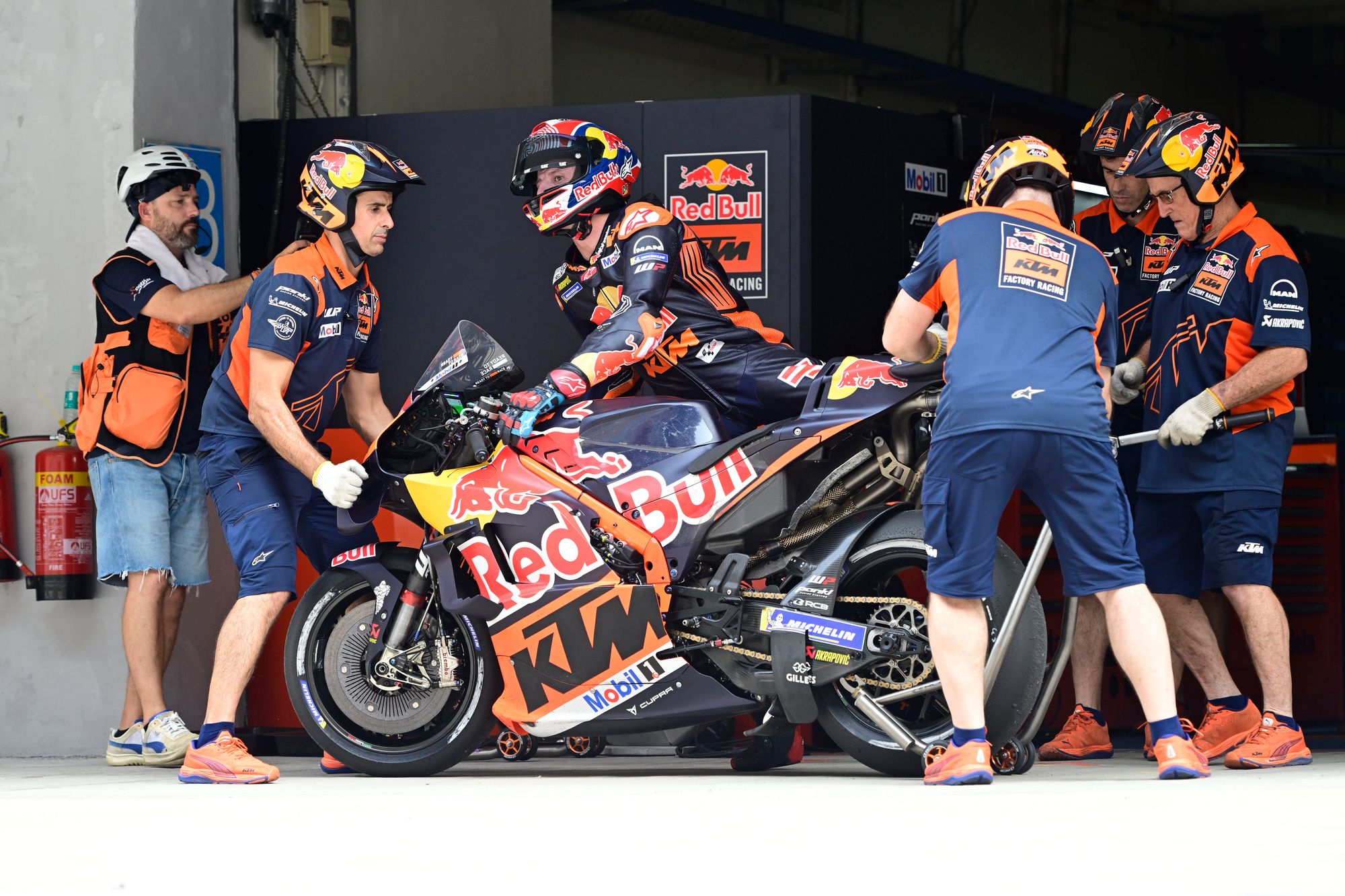 There were extenuating circumstances in his run to 14th in the main event - he had to go wide at Turn 1 at the start in avoidance, then botched the same corner massively the next time around to end up fighting at the very back. From there on, progress was limited by front tyre temperatures spiking out of control, no surprise given the Indian heat.
But he also admitted: "I was missing speed, to be honest. Missing grip. Missing corner speed. Wasn't able to buy a 1m45s.
"Grip, more than anything. Just in general, felt a lot of movement on the front, a lot of movement on the rear. Having to really slow the bike down to create turning."
Indeed, Miller's best lap was a 1m46.318s - nine tenths worse than his best on Saturday. For comparison, team-mate Binder only had a half-second drop-off, with a best lap of 1m45.761s on Sunday.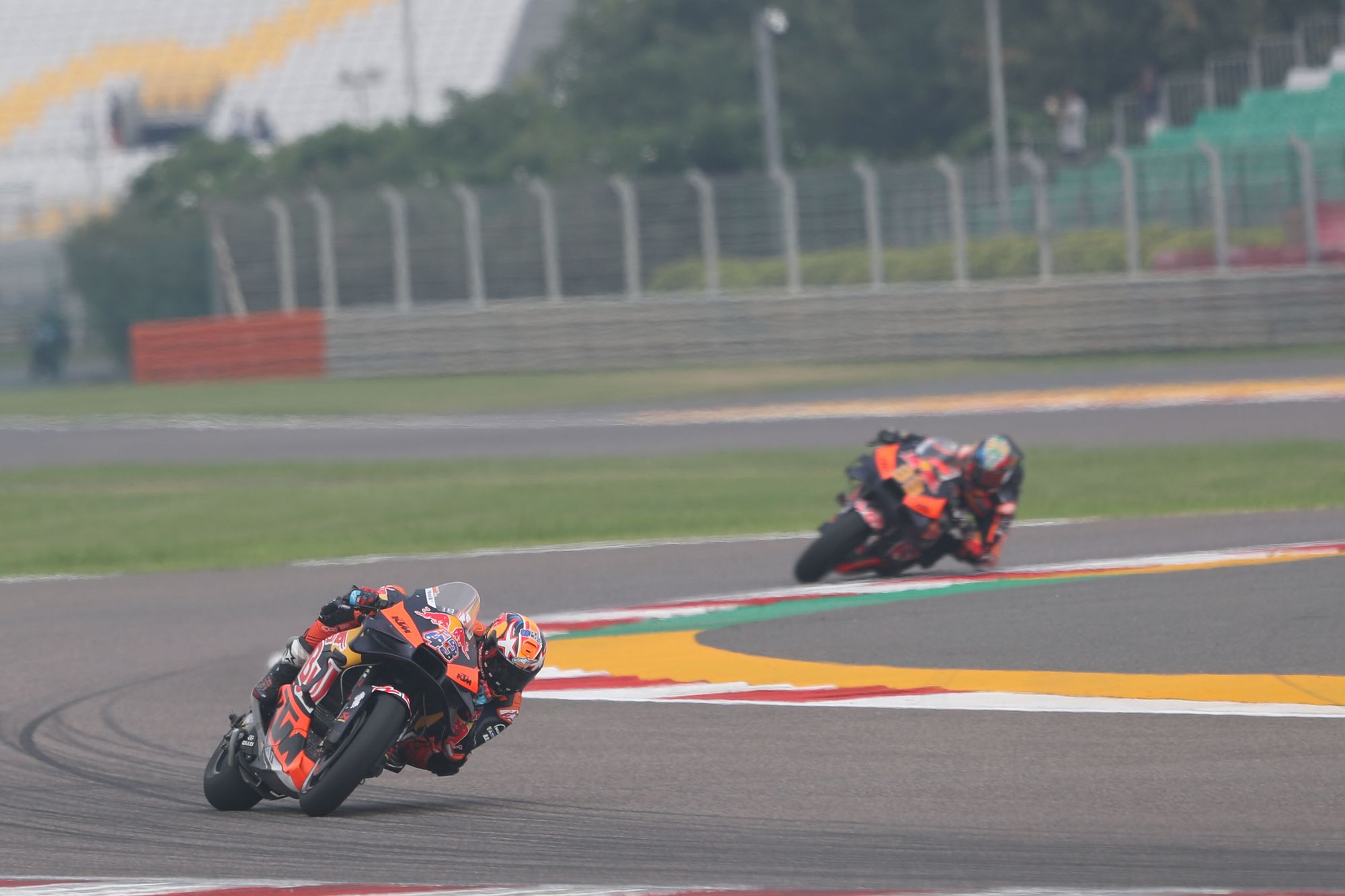 Miller's a sympathetic figure in all this, given how happy he was to feel wanted by KTM and how giddy he was about his early-season form not just repaying the manufacturer's trust but arguably delivering far more - or at least far earlier - than it could've reasonably asked for.
But memory is fickle, and this latest stretch - in which the peaks have been all right but the valleys have been glaring - has been long enough to amend the narrative on his season. All of this, too, against the backdrop of KTM needing to figure out what to do with five contracted riders and just four seats in 2024.
Even if Miller is confident his position is secure, he will know that decisions for 2025 are really not that far off, and that if he finishes the season in this kind of form, he will be under brutal pressure immediately to start the following campaign.
But is another narrative-changer potentially around the corner?
"These last couple of races, just having that grip issue - definitely what we tested in Misano, I think can be an improvement on that. It's just, we need to get it.
"But the guys are working really hard, and for sure there are some other things behind the scenes that both I can do and also the team can do, we can do together to try to improve our pace in general.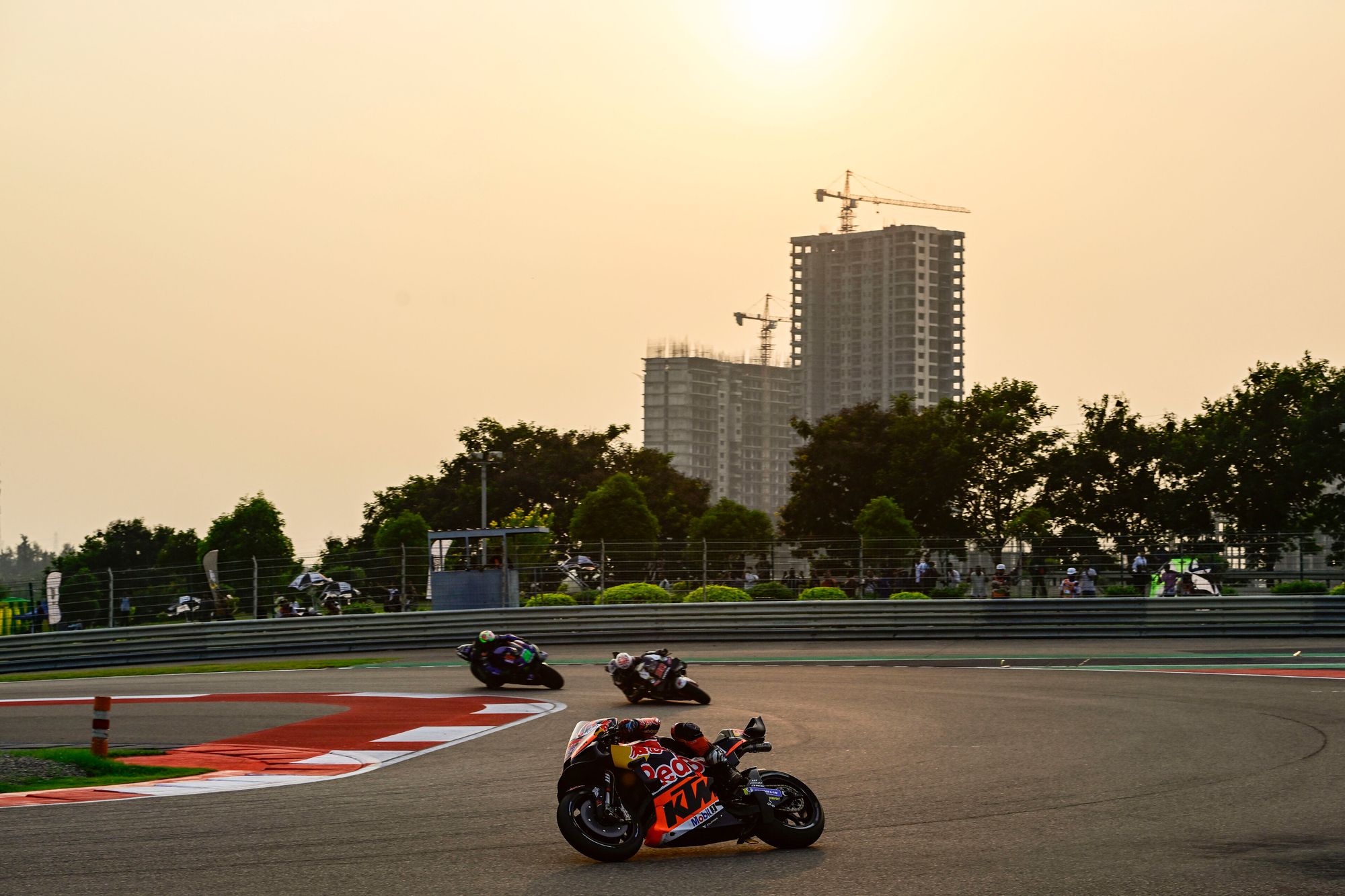 "But I think we might see some changes come Motegi. Some new parts, some old parts."
The most obvious thing Miller tried in the Misano test was what tester Dani Pedrosa had raced as a wildcard as the same venue days earlier - a carbonfibre chassis. In Pedrosa's hands, it certainly made quite the impression.
Asked by The Race whether those "new parts" he expected for Motegi were carbon, a jovial Miller deflected, wrapping up his media appearance.
But whenever the carbon chassis does become available for non-Pedrosa race weekend use, it is clearly integral to Miller's standing within KTM that he is making the most of it right away.