Colton Herta was fastest in both sessions on Thursday and his Andretti team-mate Kyle Kirkwood and Ganassi's Indianapolis 500 winner Marcus Ericsson split the honours on Friday.
It was an intriguing two-day affair at the relatively new, $270 million facility at Thermal in Palm Springs, California, and with a return to IndyCar pre-season testing for the first time since 2020, it threw up some interesting storylines.
Whether it's the chance to race here in the future, a couple of star rookies, an underrated reigning champion or the flow of teams comfortable or in trouble, here are some of the key talking points from the Thermal Club test.
There's desire to race here

With a $5 million membership fee, there's not many more exclusive clubs to be in than Thermal. But it looks like it's willing to open its doors to IndyCar even further in the future.
There isn't any agreement on how that might happen yet – whether Thermal continues as a test venue, hosts an exhibition race or even takes a spot on the calendar. But there certainly is open dialogue between the facility and IndyCar over its collaboration in the future.
Juncos Hollinger Racing's Callum Ilott has raced across the world in his Formula 2 and Formula 3 career but was visibly excited by the venue.
"It sets a standard, really, of what we want to be doing with this series," he says.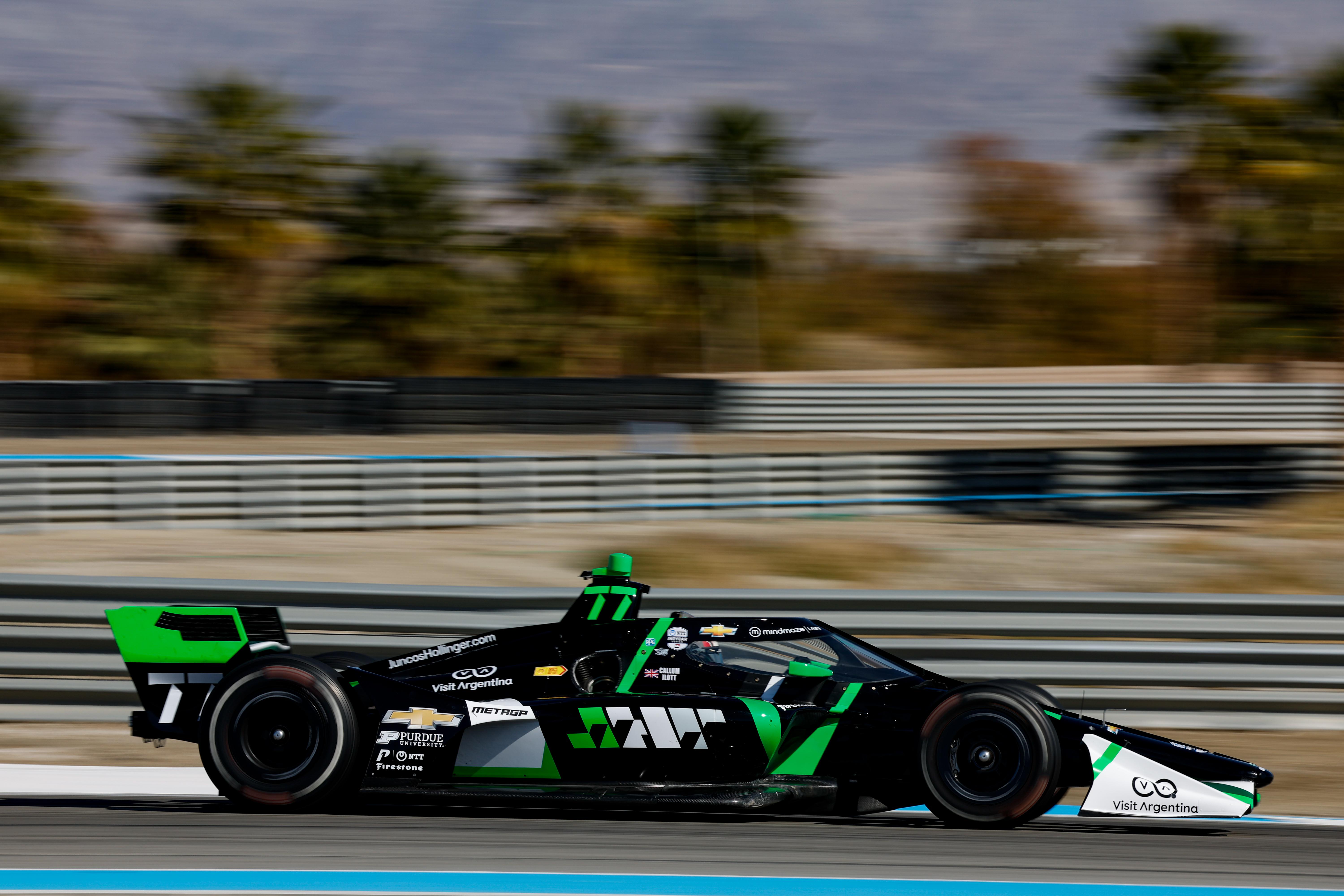 "It's really, really high-level, high-tech. As a circuit, yeah, it's got a lot of different corners.
"It's definitely a great circuit to drive and good fun and a bit different to the normal winter training we get in Florida [at Sebring]. So I like the circuit."
Herta was fastest in both sessions on Thursday, and added that although overtaking might be difficult, it is at other IndyCar circuits and the series finds ways to make it work.
"I think it really comes down to tyre deg, what people are showing with that," he added.
"It will be tough to pass, right? A lot of the braking zones, you're coming off of high-speed corners, so it will be hard to follow.
"But you never know. I would say some of the tracks we go to would be terrible for racing, and IndyCar still puts on a great show. You never know until it's tested and proven right or wrong."
Herta was among the drivers asked about the safety of the circuit, with an apparent consensus that it could do with extending certain run-off areas and having the safest possible barriers at a greater distance from the track.
"For sure. It probably needs a little bit of work," said Herta.
"They've already done a lot for us to come here already. It seems like if they do want to have a race here, they're willing to put the work in and money in to upgrade the facility to make it a little bit safer for us."
… but it's not ideal for testing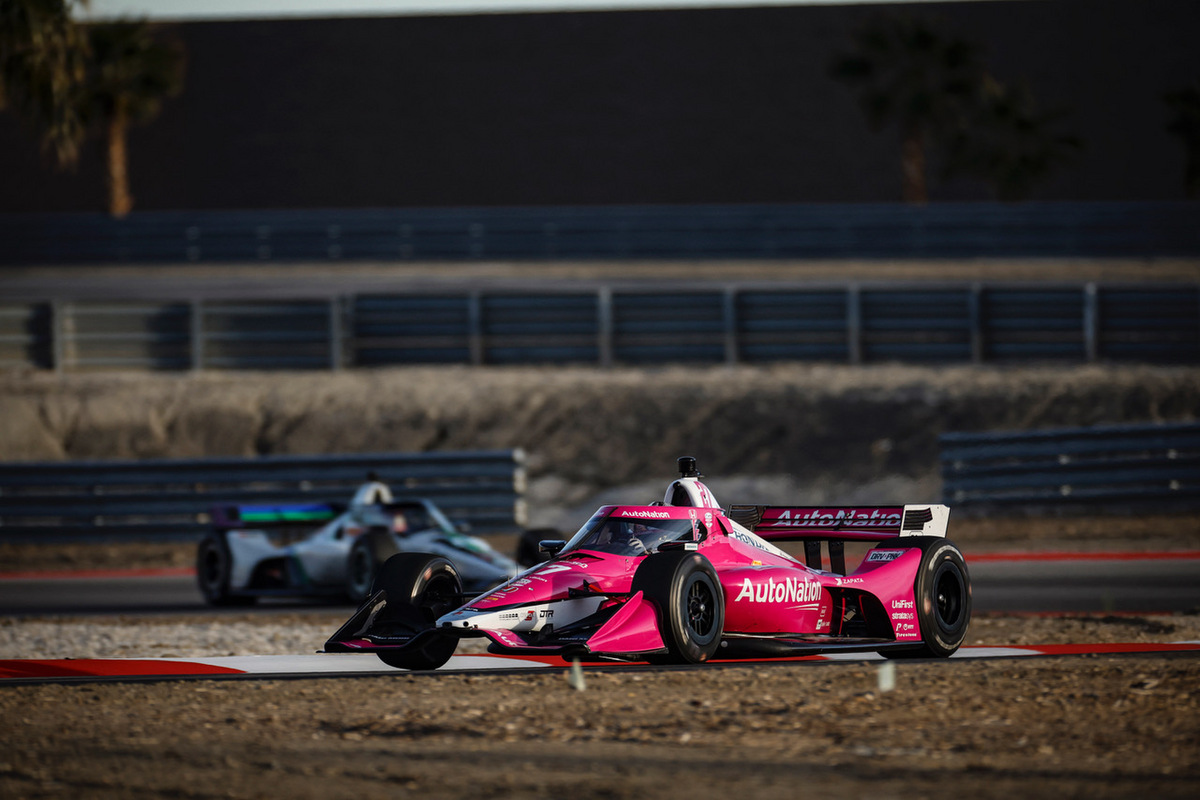 It's clear that teams needed not to focus too much on laptimes or tweaking their car for Thermal specifically, or it could cause big trouble on road courses later in the season.
It's hard to find a venue that has a little bit of each of the types of track any series you go to. And if you do, it's tough for teams to get a read because this corner might need a certain set-up but the next corner needs a different one.
So all any given team could really do at Thermal was allow its drivers to shake off some rust, get a read on whether some of the simulation work that has been done in the off-season correlates, and see how its car performs on a low-grip road course probably most similar to a Portland or Indianapolis road course.
Asked if he believed his team could replicate some of the things learned here later in the season, Herta said: "No, not really. Not at the moment for me at least.
"The track surface is very strange, very different to anything I've really felt in IndyCar. It's seven first-gear corners. We don't really have that many anywhere we go even on a street course. It is quite a bit slower than our natural-terrain courses.
"But I don't want to be in here and dig it the whole time. It's a fun track to drive, especially the back section. It keeps you on your toes. It doesn't really replicate anything else that we go to."
It's not necessarily a Thermal problem, it's a 'pre-season testing at a track you don't use on the calendar' problem.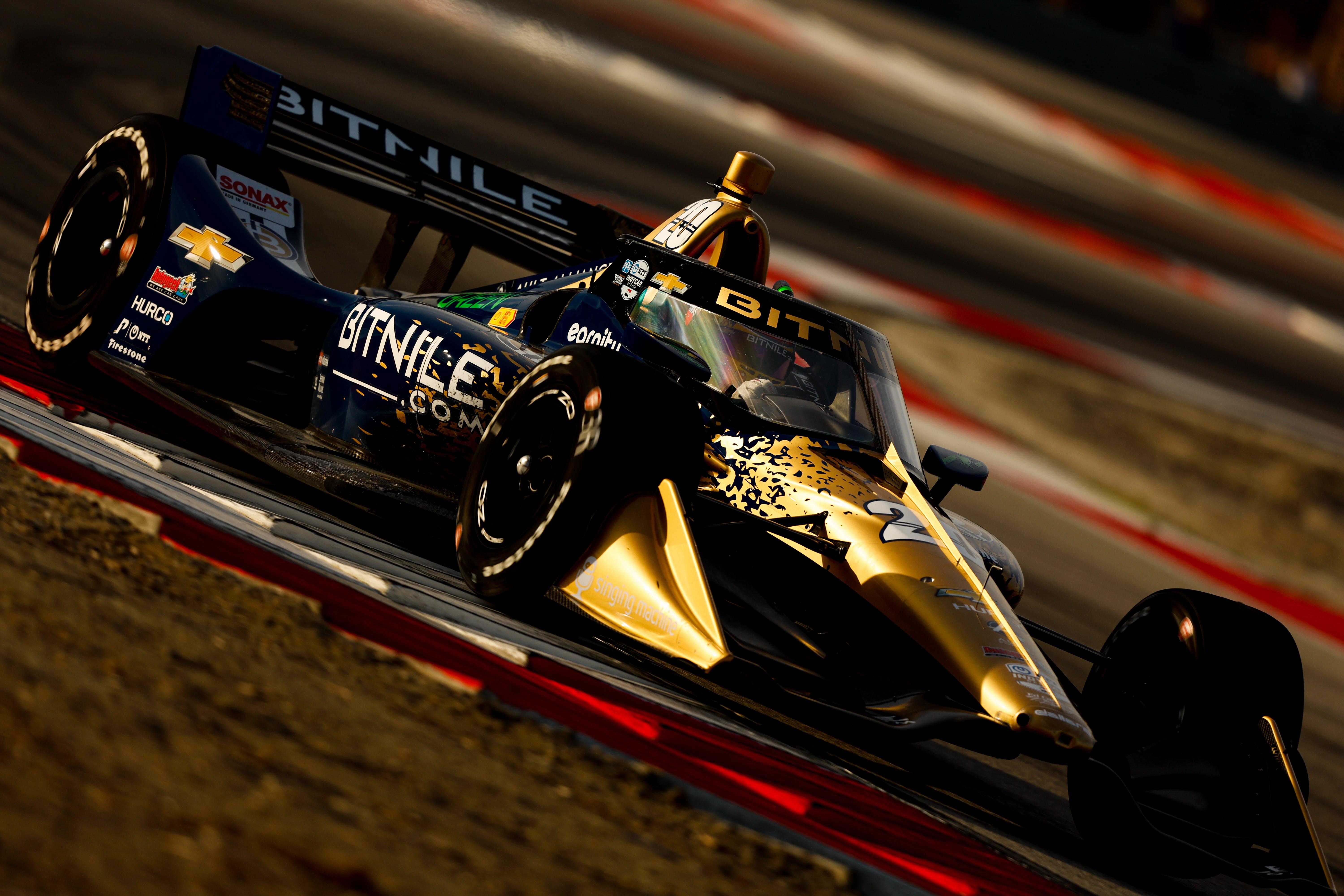 "It's hard when it comes to just two full days of testing because obviously some people will adapt to it quicker than others," said Ed Carpenter Racing's Conor Daly. "You might feel like a hero, then the next day you might feel like a zero because some people have caught up.
"It's really kind of funny to see. It's kind of a shame that it's all officially timed and judged upon day one because it could be a complete flip in day two.
"We can only really get 18 to 20 laps out of tires. Like, that's not a lot. Hopefully we can use those laps just as efficiently as possible.
"It doesn't matter to us how fast we go, as long as we get something out of it, right? How do we judge some changes? If that's great for a certain section of the track, right, that could represent a section of another road track we go to.
"There's a lot that we can learn, for sure. Realistically we kind of have to keep ourselves in check with our expectations and what we want, make sure that we focus on our test plan, just get through that, and enjoy it, enjoy what we can learn, take a lot from it."
There were two sets of people to clearly benefit, though. Rookies could spend the time finding the limits of the car the more experienced drivers have already, while not missing out on much representative work. And for teams with new personnel – like McLaren, which has 40 no less – it was a great chance to get into the cadence of a race weekend with less at stake.
Standout rookies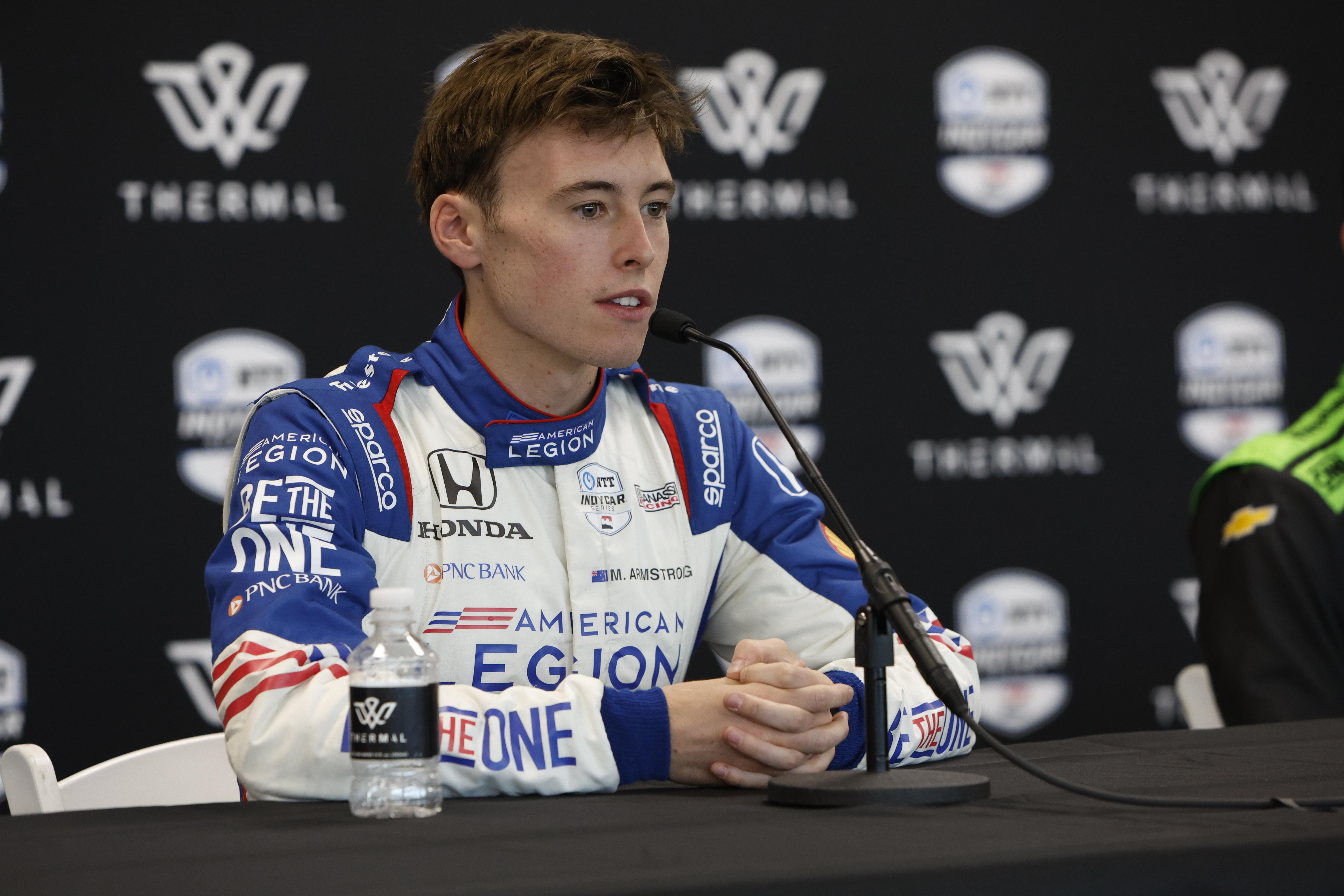 It's hard to pick who was the most impressive rookie in the test, but it was probably Marcus Armstrong. The Race had cautioned that you would be hasty to judge Armstrong based on his three inconsistent years in F2, and he showed in this test that he shouldn't be the whipping boy at Chip Ganassi Racing when he runs the road and street courses.
Armstrong has one calling card quality that became clear at this test. As a Kiwi, he might favour Scott Dixon, but it's another one of his standout team-mates he's most like behind the wheel.
"Having watched Alex Palou's onboard, he's quite smooth, I think, with his steering inputs," says Armstrong.
"I mean, certainly when I watch Colton Herta's onboard, it's very lively. I feel like coming from Europe, we were kind of taught not to do that. Obviously it works here because he's consistently P1.
"I think the way that Alex has driven today certainly resonates with what I'm used to doing.
"Yeah, I mean, there's a lot to learn on that side."
Although Armstrong won't replicate Palou's maiden Ganassi season, in which the Spaniard won the championship, the Kiwi does have a fantastic opportunity to seal one of Ganassi's full-time seats next year – with fellow F2 driver Robert Shwartzman and Formula E's Nick Cassidy circling. This test was a great start as Armstrong scored an average position of 10h across the four sessions.
The other star rookie was Agustin Canapino.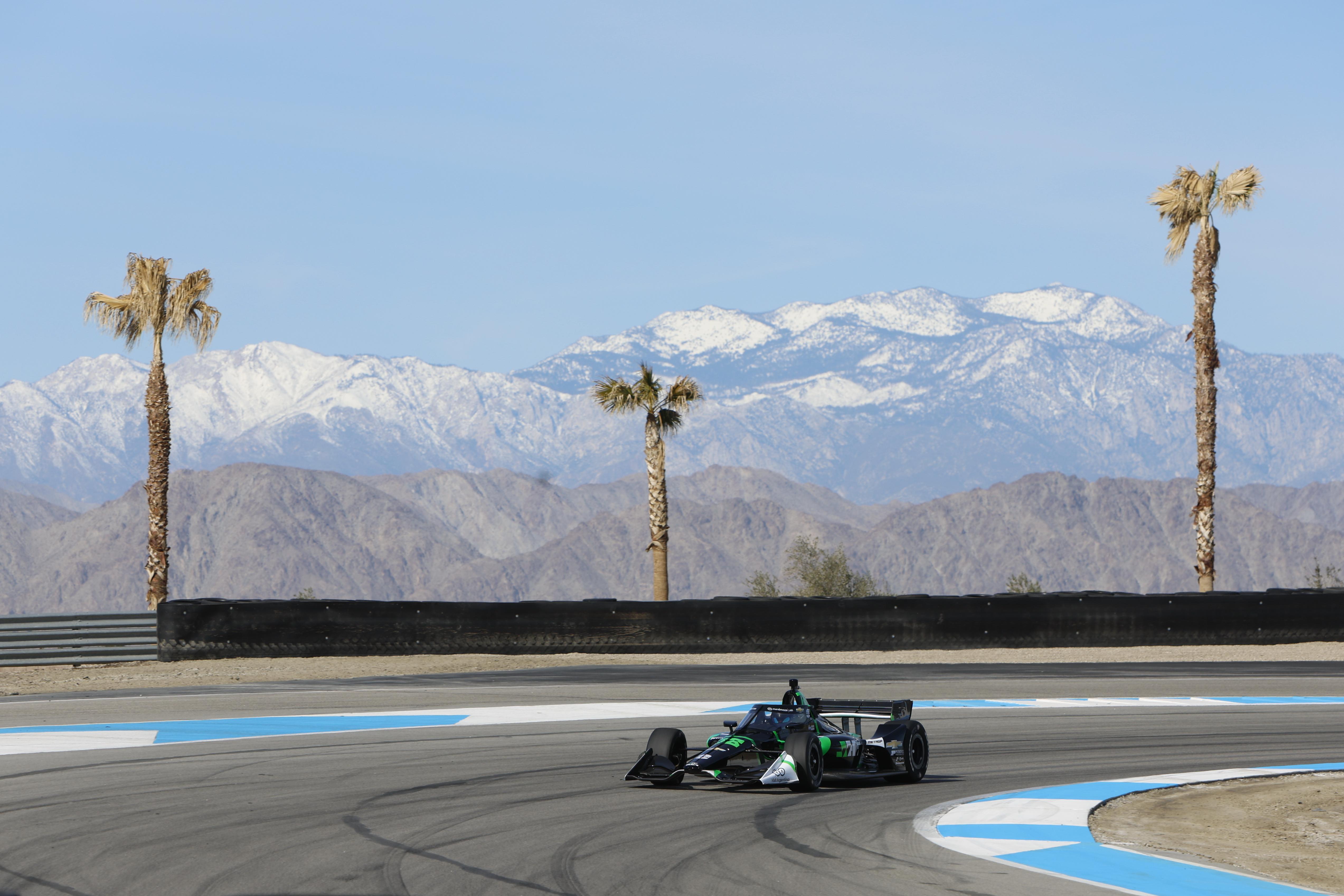 "Three months ago I only could say hello," said the Argentinian before giving a near flawless 20-minute press conference in English after just three months of three English lessons per week! That might be more impressive than any laptime you could lay down here.
Expectations have been high for the Argentinian tin-top star, who rivals Lionel Messi on occasion for its top athlete award (but not this year – thanks, World Cup). However, in Juncos he drives for a team in just its second full-season and still adapting to IndyCar.
Callum Ilott is a great benchmark – he had a strong test and was eighth on average across the four sessions – as Canapino pointed out while answering why he canned his plans to race in Argentina again this year to jump to IndyCar.
---
Canapino deficit to Ilott
Thursday 1 +1.092s
Thursday 2 +0.779s
Friday 1 +0.933s
Friday 2 +0.864s
---
"Because it's IndyCar," he answered.
"IndyCar is, in my opinion, the most demanding and competitive category in the world. For me it's a big opportunity to try something outside, something at international level.
"We are here with [Romain] Grosjean, with Dixon, with [Will] Power, of course Callum, one of the best drivers in the world, so for me it's a big opportunity."
He didn't always improve relative to Ilott, but you wouldn't expect as much while he's learning the car and trialling set-up. He was always in an acceptable window, which is a very exciting start.
On average you'd find 2022 Indy Lights runner-up Sting Ray Robb and Benjamin Pedersen three and four places behind Canapino, for whom the extent of his competitive open-wheel single-seater experience is a pair of races in the now-defunct F3 Sudamericana over a decade ago.
Robb did at least tie his team-mate David Malukas for the most laps completed with 122, which is impressive across eight sets of tyres.
Is Rahal in trouble again?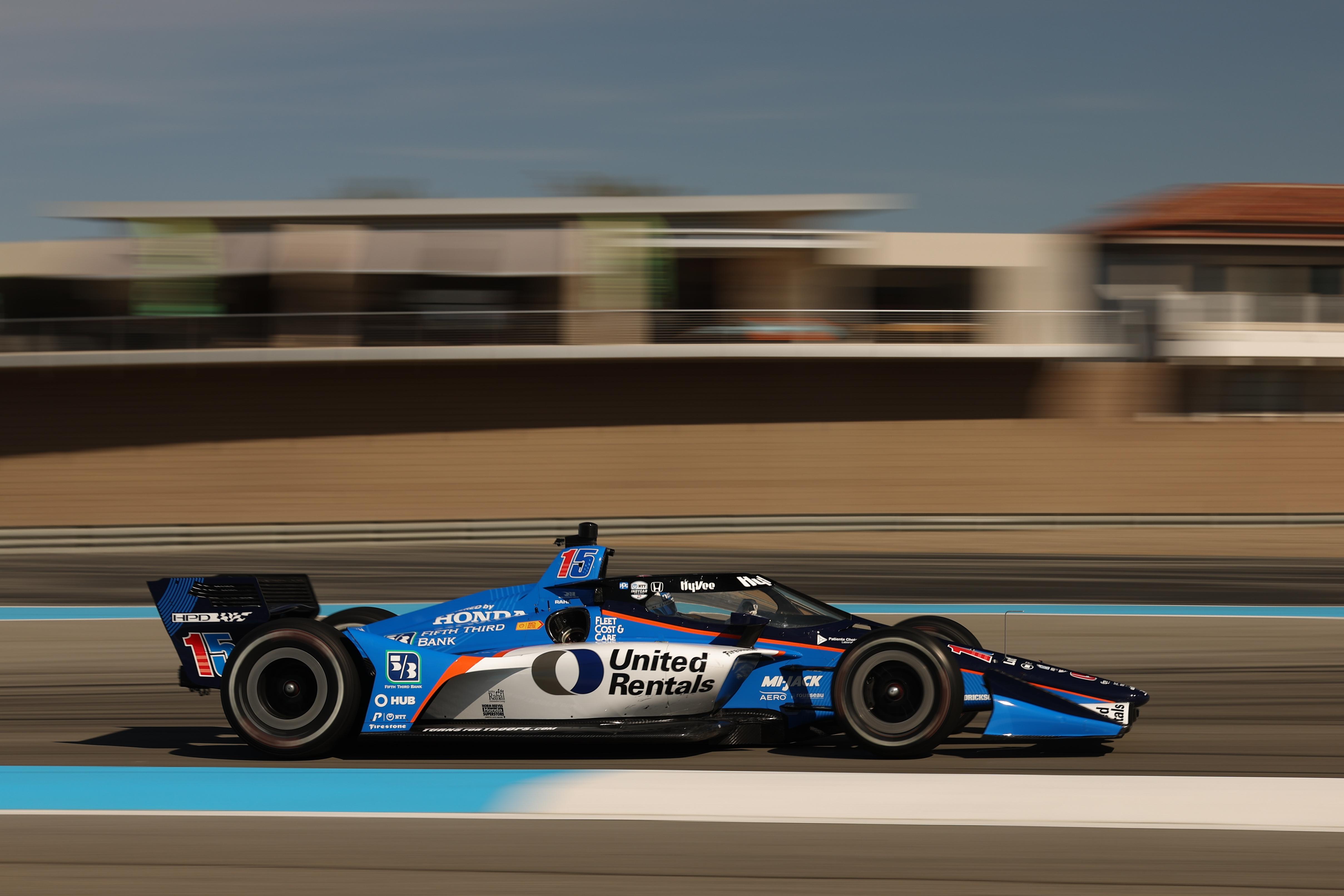 Last off-season, Rahal Letterman Lanigan pursued a set-up direction down a rabbit warren and it spent almost the rest of the season trying to get out.
It's added a lot of the technical personnel it was lacking last year too, but you can definitely file this test under the 'what's going on here' category for one of the series' biggest teams.
Ace sophomore Christian Lundgaard set the second quickest time on day one of the test, but Graham Rahal and Jack Harvey were left confused over the feedback from Lundgaard's car compared to theirs.
"For whatever reason – our car set-ups are supposed to be similar – they're polar opposites somehow in balance from what Jack and I have," said Graham Rahal.
"We need to look and understand why, that's question number one.
"The car's just super nervous for me. In the high-speed around here, that's pretty tough.
"We don't race here, not to downplay it because we want to be fast everywhere we go. But we've got to be a little careful tuning for here versus what we may see."
The plus side may be that now Rahal has its personnel in place, this might be an issue it can quickly identify and fix. We should all hope so because it will be a shame if its drivers aren't fighting for top-10s as they should be this year.
New fuel makes its debut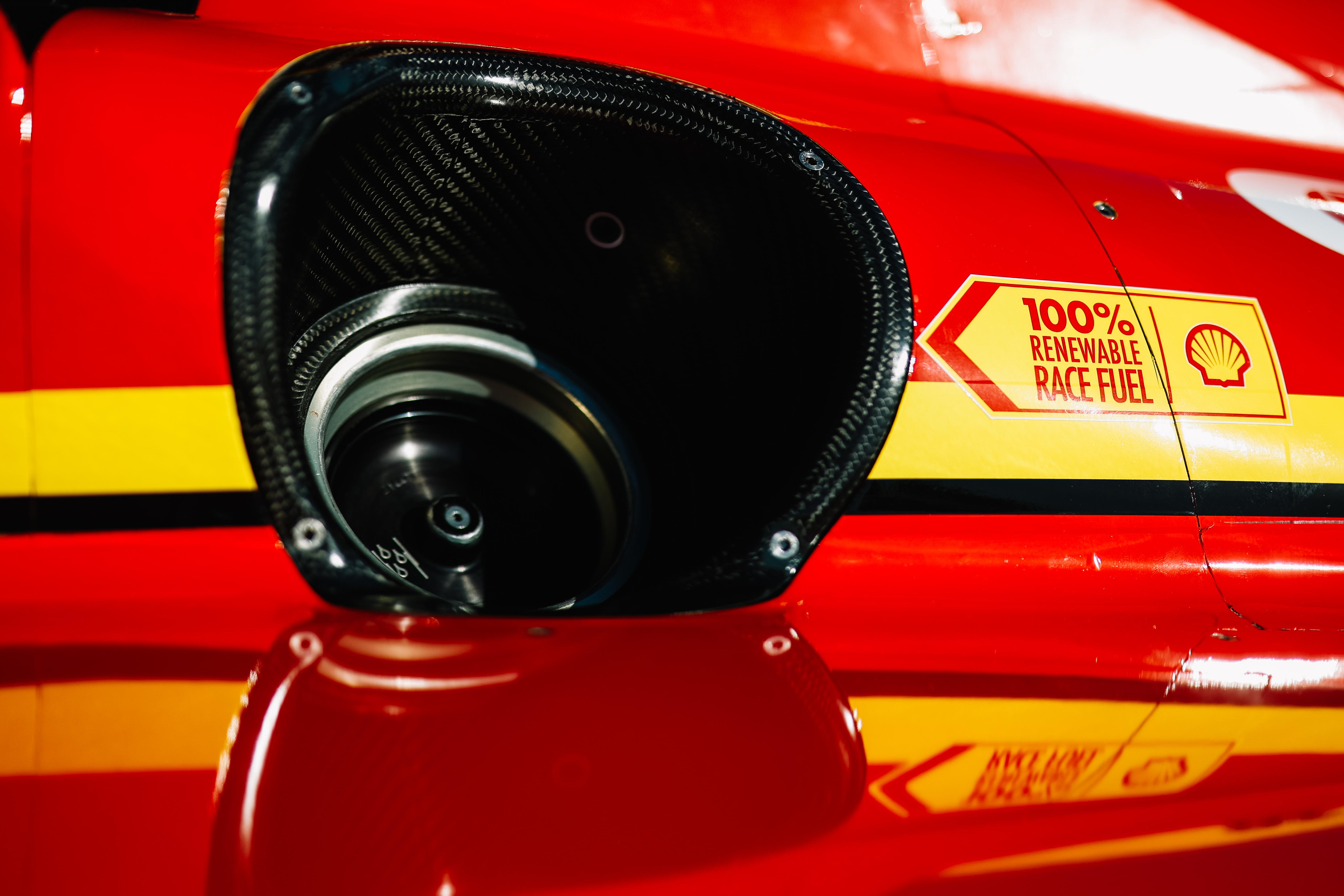 In what is an under-advertised move for 2023, IndyCar will switch to a new fuel that it calls 100% renewable, and it made its debut in the Honda and Chevrolet powered IndyCars at Thermal.
The fuel "consists of a blend of second-generation ethanol derived from sugarcane waste and other biofuels to create a fuel that is 100% comprised of feedstocks categorised as 'renewable' under the applicable regulatory frameworks".
"I thought the performance on the 100% renewable fuel was fantastic," said Josef Newgarden, admittedly sponsored by Shell, but his comments drew no interjection from his Andretti rival Kirkwood sharing the press conference.
"It's a huge step that we're making as a series with Shell to run 100% renewable fuel. The first series in the United States to be able to do that.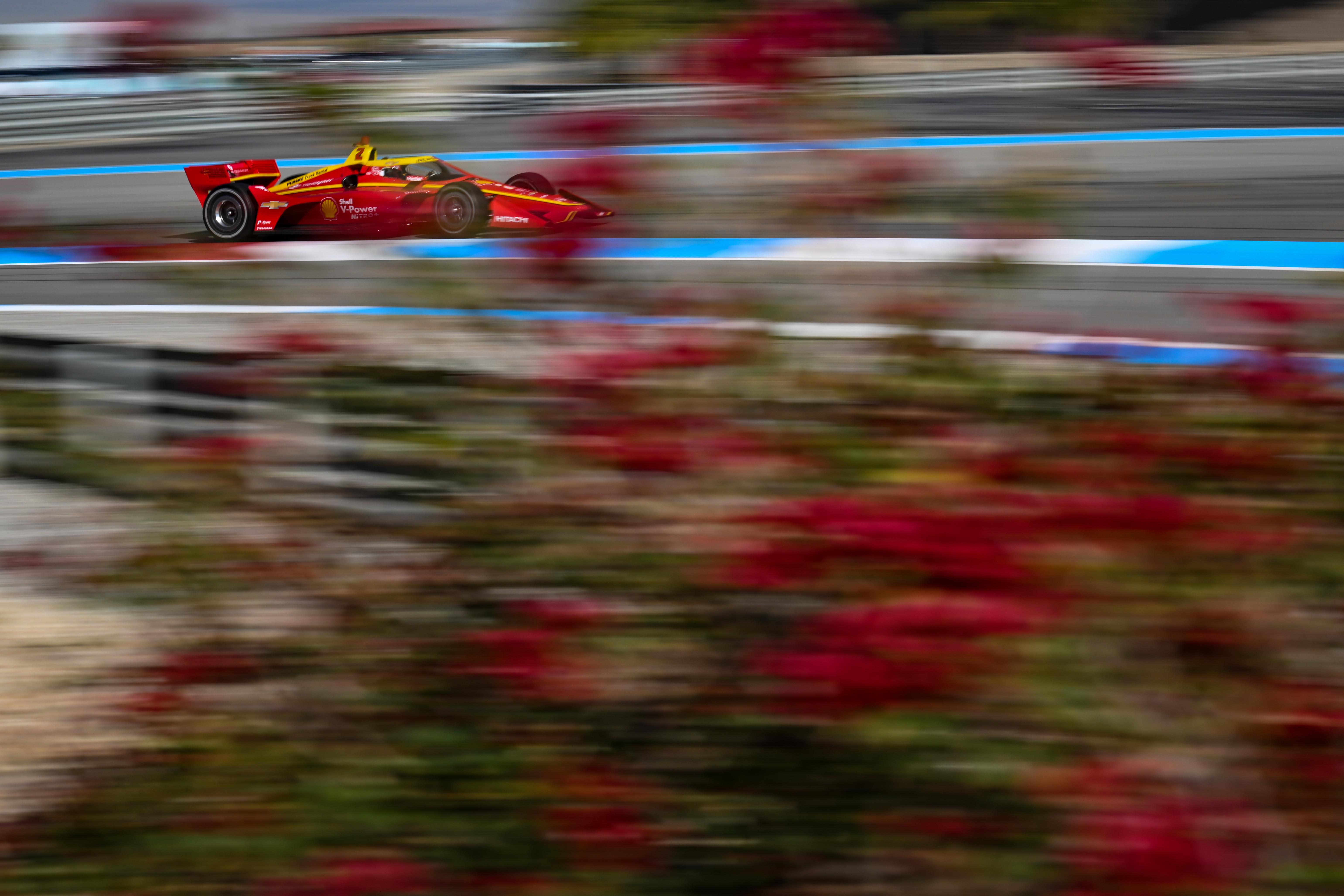 "I didn't notice any performance loss from the engine. I can't speak highly enough about that step.
"We should be shouting that from the mountaintops. It's very cool what Shell has been able to provide us. I think the Chevrolet engine has adapted quite well to it. The drivability has been excellent."
Kirkwood was one of of three Honda-powered drivers locking out the top step on the timesheets at Thermal, alongside Herta and overall pacesetter Ericsson.
But Newgarden didn't appear worried by the news, especially coming off the back of the 2022 season where a drivability upgrade meant Chevy won 11 of the 17 races.
"I felt really good with our package," said Newgarden.
"The progress we made in 2022 was very evident here, very useful because of what you just asked about, first-gear corners, very big premium on traction, traction capability.
"I thought our drivability was fantastic."
Should we get excited about Andretti and Ganassi then?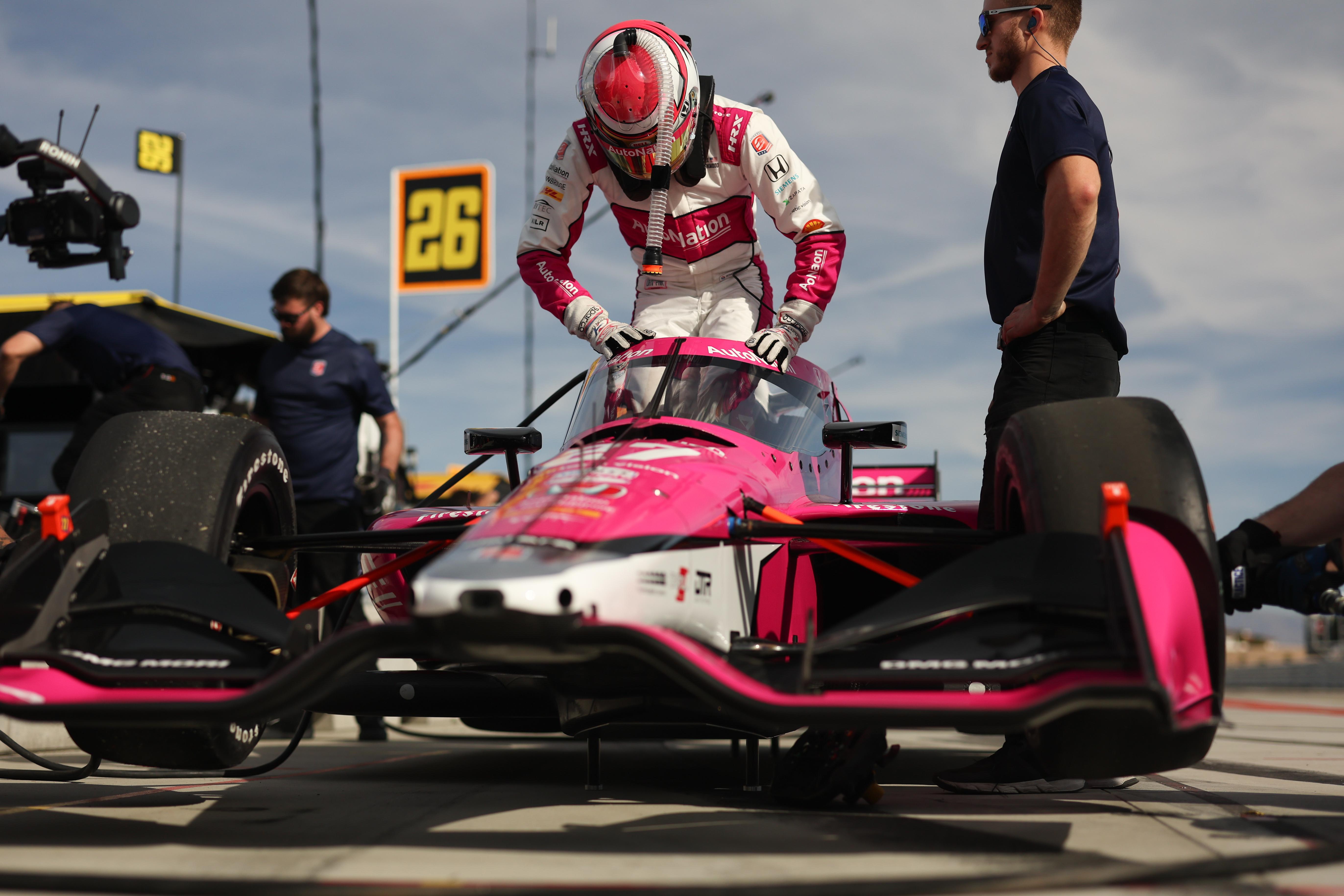 It's true, this test looked fantastic on paper for both Ganassi and Andretti.
For Ganassi, its drivers were all in the top 12 on average – with Ericsson being the lowest-placing despite setting the fastest overall time. Armstrong was a nice surprise to be mixing it up there, but there's no doubt his team-mates were doing the lion's share of development work and understandably so.
Andretti is the more curious proposition here.
Road courses have been singled out as an area of improvement for the team and it almost managed a clean sweep, while Herta, Kirkwood and Romain Grosjean all averaged a top-nine. Kirkwood was in the top three in every session he set a competitive lap in after losing a session to clutch issues.
It's a while before we go back to a road course, but there's certainly some positive signs for Andretti. Now its fans just have to hope that it hasn't focused too much on balancing its car for Thermal, a track the series won't race on this year.
Don't sleep on Will Power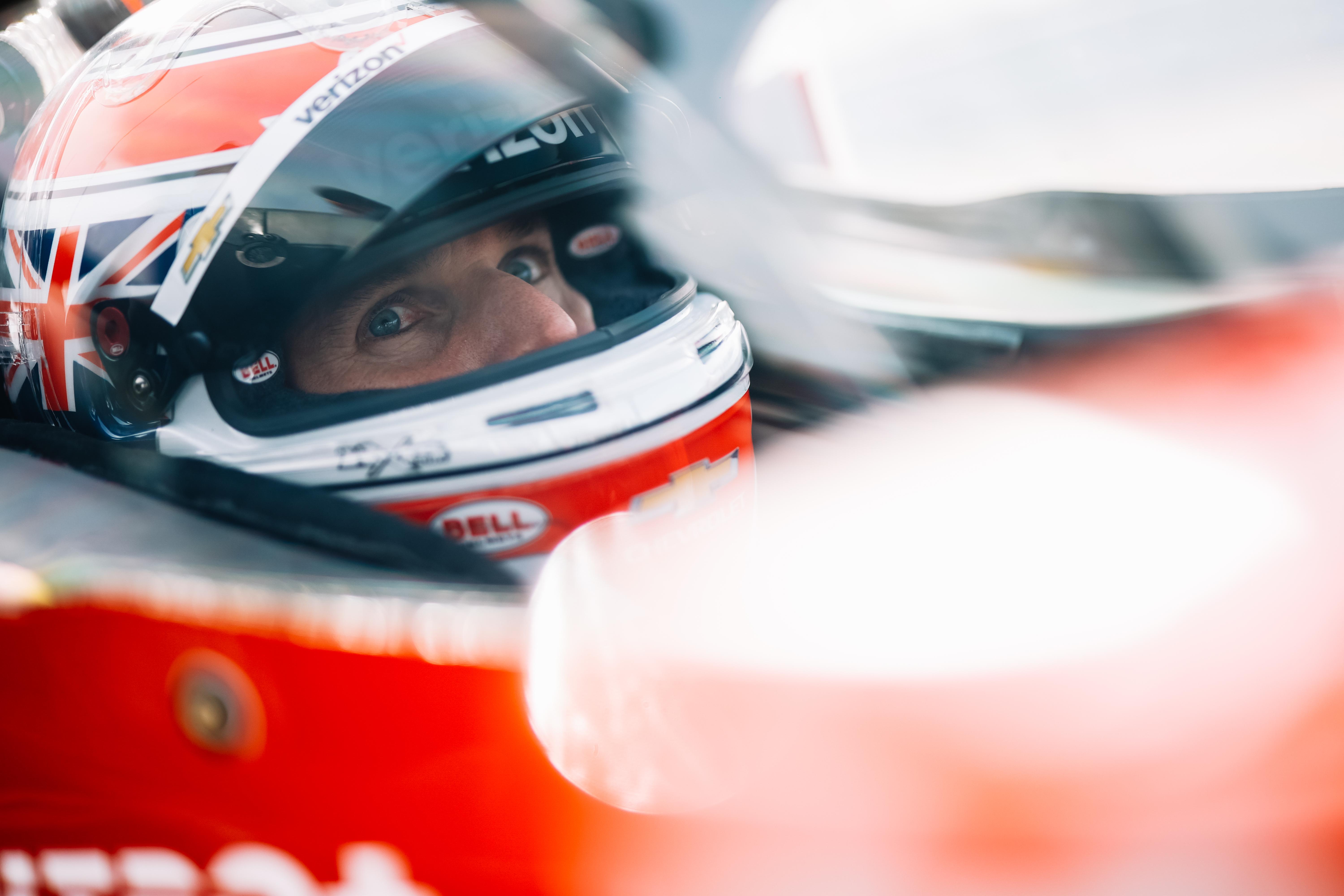 It was an off-season where Will Power broke ribs in a karting accident and then had to give up on a dream Daytona 24 Hours debut to care for his wife Liz, who is still facing a long road to recovery after suffering post-surgery complications.
It all makes motor racing seem rather insignificant, but perhaps the Australian used the test as a distraction. He was fifth, fourth, fifth and sixth across the four sessions to give him the best average finishing position, while his Penske team-mates were 11th and 12th.
It's going to take every ounce of his new mental approach to racing implemented successfully in 2022, where he refuses to remain angry about situations outside of his control, if he is to overcome a dire, draining off-season and fight for a third crown. And Thermal was an ace start.
The Race wishes Liz Power an extremely speedy recovery.