When Alex Palou won pole for the Portland race last weekend, his mind immediately jumped not to the race ahead, but to his resulting pit stall selection at Laguna Seca the following week!
Seems an odd thing to be considering when there's a championship at stake, but it's a perfect example of just how daunting the Laguna Seca pitlane is.
The pit boxes themselves are some of the smallest on the calendar, and the grid is bustling with 27 cars.
You might remember the 2019 race and think 'it wasn't really an issue then, so why would it be now?'. But there was only one caution in 2019, and not everyone pitted. So if everyone pits at the same time during Sunday's race, all bets could well be off as to the outcome.
"It is like jam-packed," says pole-sitter Colton Herta, who has the sixth pit box from the exit.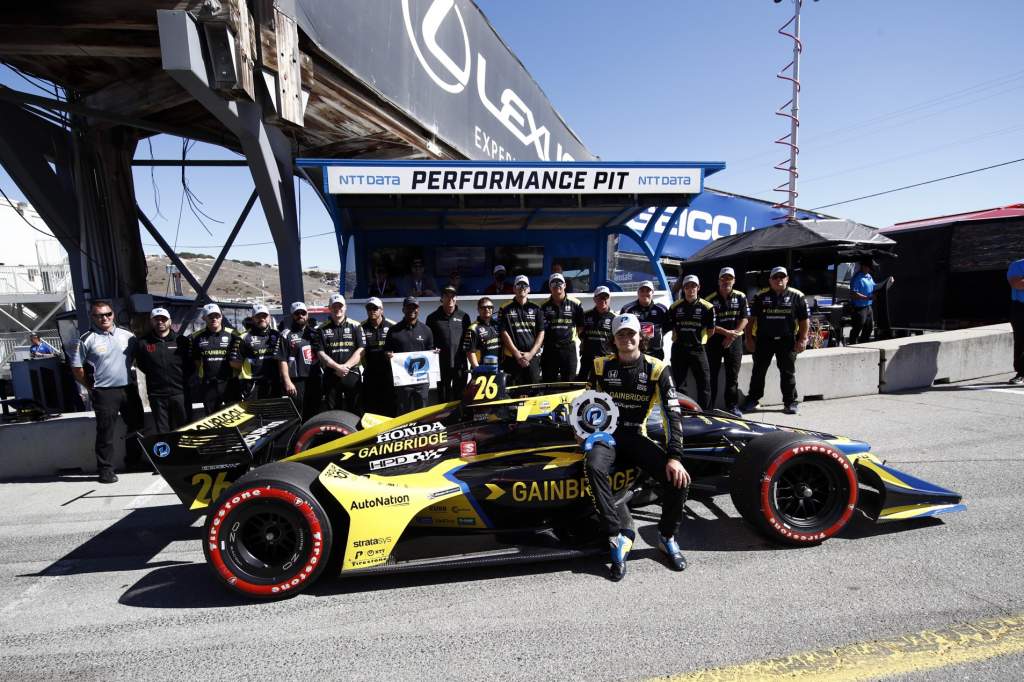 "We are like sardines in a can in pitlane this weekend.
"I feel like there's 24 pit spots, but we're all crammed in there. It will be interesting.
"I think if there's a yellow flag pitstop, that will be very interesting. I think some guys might have to get pushed back and stuff.
"Yeah, pit stall can make a difference."
As per IndyCar rules, the pit box selection for each race is set by the previous event's starting grid with the driver on pole position at pit out, which is why Palou was delighted at Portland knowing he would have no one in front of him in pitlane.
At Laguna Seca he starts fourth and has the perfect pitbox, immediately putting him at an advantage for exiting.
Palou will still have a car behind though so will be among the drivers who have to turn into the pit box at such an aggressive angle that it makes it straightening up again difficult, which means the pressure will be on the pit crews to change tyres on a misaligned car.
And then you're turning hard right and on the power to get out of the pitbox as well which means you're at risk of hitting the car ahead or spinning – something Palou won't have to worry about with clear track ahead.
There's the potential for unsafe releases along pitlane as well if everyone is pitting at the same time and blocking each other in.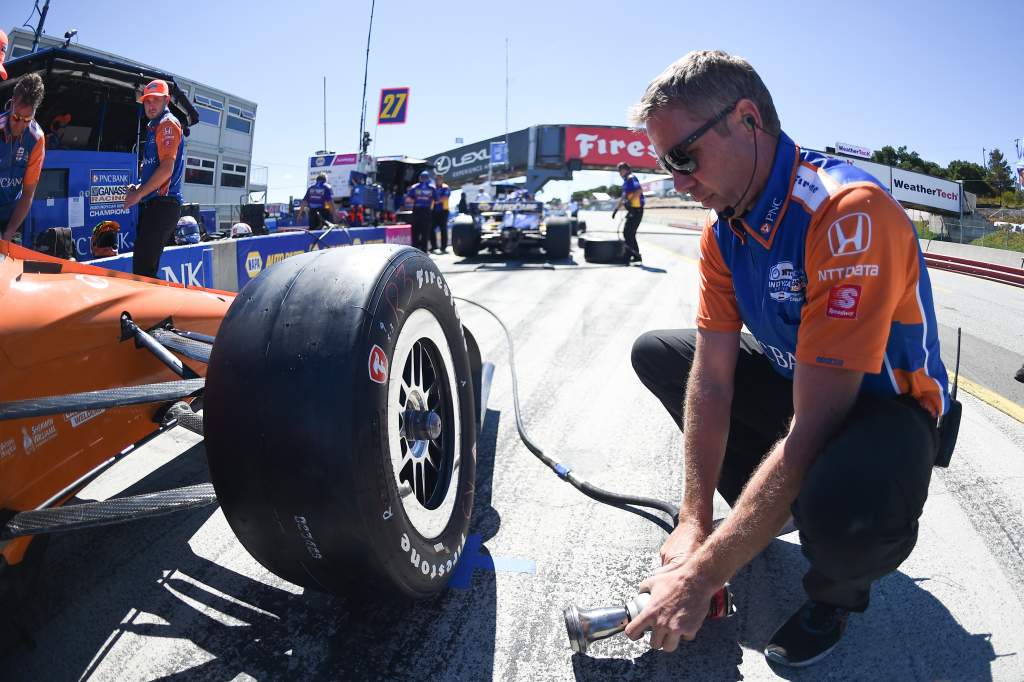 "I forget what the minimum box size is, I feel like we're on it, you can't go much smaller," says Josef Newgarden, who starts 17th after a nightmare qualifying, and has the 18th pit box from the pit out after a poor qualifying last weekend as well.
"I mean, it's really difficult to get into your pit box.
"Hopefully it doesn't cause any problems, but the potential's there for sure. If there's a yellow-lag stop, we're all taking it, it's going to be tough."
Herta added: "It feels like it's going to be very tough if you have a guy in the pits behind you and in front of you pitting.
"Hopefully, since we're out front, we can kind of get enough of a gap and get away from everybody that we'll be racing.
"When we come into the pits, shouldn't be a lot of drama. But it's something that can definitely happen."
With more cars on the grid and more opportunities for cautions, this is why there's a greater chance of pitlane incidents than in 2019. And if we learned anything from 2019, passing up front on track can be difficult so if you do lose a lot of places in pitlane it's going to be difficult to make those spots back up again.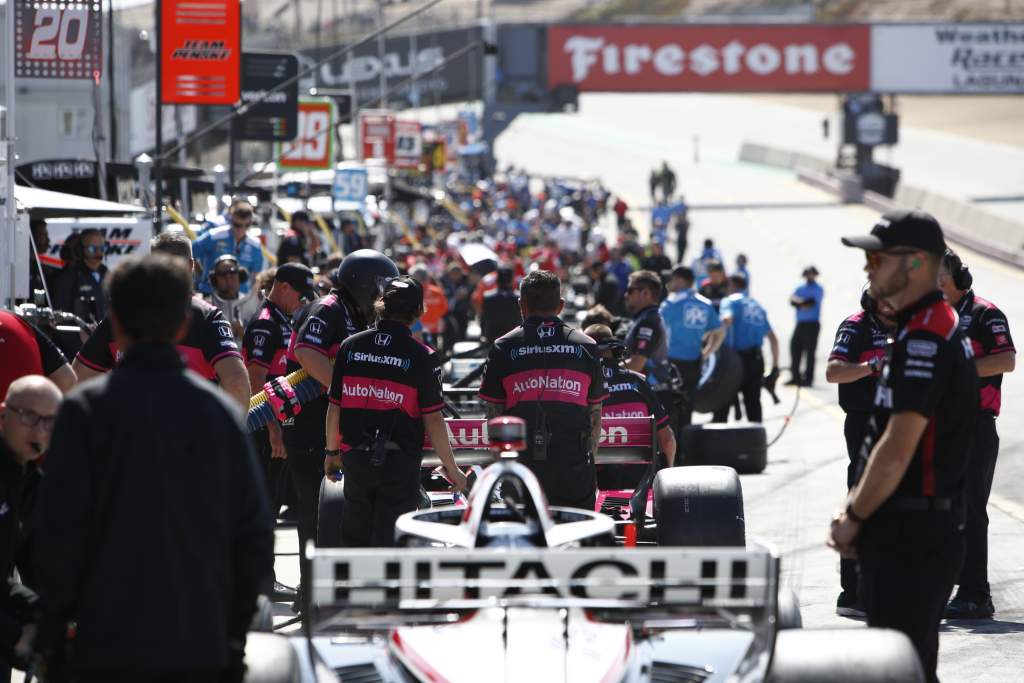 It's not just the drivers and over-the-wall pit crew members who have to be careful. During qualifying Rahal Letterman Lanigan's tyre guru Larry Faust was hit in the head with an air gun that was flung into the air by another car.
Luckily he was wearing a helmet.
"First of all I'm happy that he's OK, I had no idea that an air gun hit him until I came back in," said RLL's Askew, one of the stars of qualifying as he'll start fifth.
"Luckily he was wearing a helmet and it wasn't too bad. I spoke to him afterwards and I'm glad he's all good."
We've seen in and out laps and pitstops have decided races and been crucial to the outcome more so than ever this year.
Laguna has the potential to mix things up like no other track and, providing everyone stays safe, it will be another intriguing element to one of IndyCar's most interesting tracks.