Since Penske's last victory in 2019, it's been three Indianapolis 500s, three failures for the powerhouse IndyCar team.
This time it wasn't even the best of the Chevrolet-powered teams all month.
In 2020 (Josef Newgarden, fifth) and 2021 (Simon Pagenaud, third) it was at least the top Chevrolet entry. But this year it was well beaten by Arrow McLaren SP and Ed Carpenter Racing.
Will Power looked like Penske's best hope from 11th on the grid, with Newgarden 14th and Scott McLaughlin 26th after pulling his 15th place qualifying run to have another go at making the fast 12 before inclement weather arrived on the Saturday.
Power – the points leader entering the race – had a fantastic start and ran as high as seventh from 11th but almost immediately began to fall back.
"When the car doesn't work on an oval, it's the worst day you can have," he said.
"We slowly got it together, I would say the last two stints when the Verizon 5G Chevy was a lot better and drivable.
"But by that time, we had lost so much track position, it was just trying to salvage what we could. Stalling on pitlane early in the race didn't help, but we only lost five places with that.
"It never helps, and it's my bad on that one.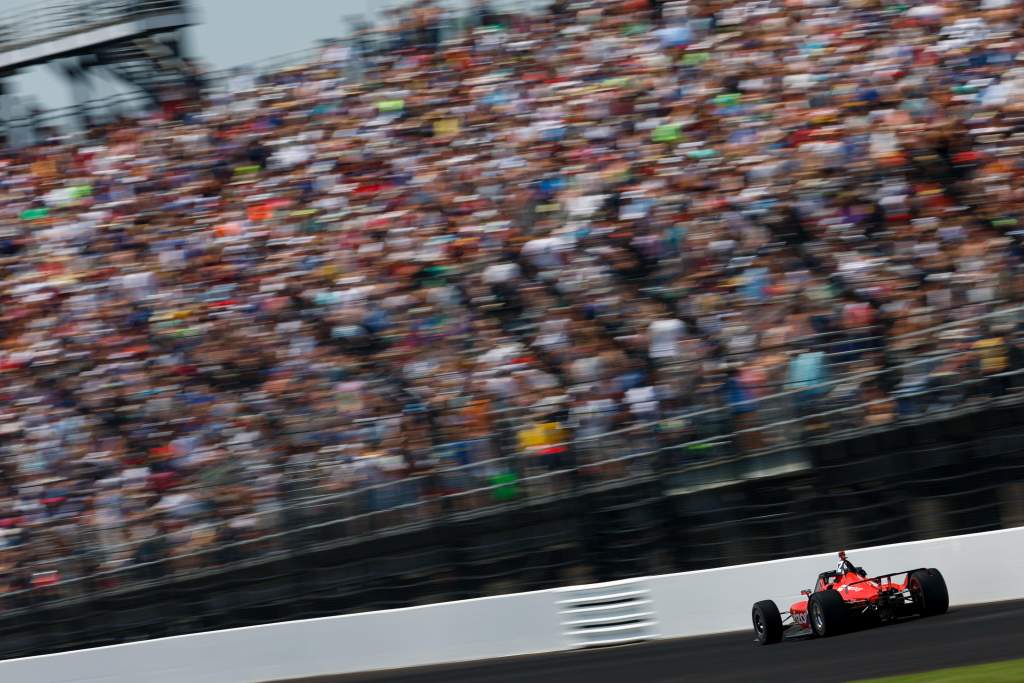 "That is just one of those days that you white knuckle it for a long time because it's pretty intense when a car is loose on an oval. It's very tough.
"Terrific job by the team and all the guys to just hang in there. We were 15th with some of the contenders who were back there, so not as big of a loss as it could have been."
As Power fell back, Newgarden looked to have put himself in contention, taking eighth on lap 72 of 200.
However, at the next pitstop on lap 108, Newgarden went to the back after stalling.
It's a tough one to take for double champion Newgarden, who is as desperate as any driver in the field to win a 500, and gets asked about that a lot during May which can't be easy.
"It was another heartbreaking day around here," he said.
"I'm not sure what happened in our pitstop that ultimately did our day in.
"We had a stall, and it looks like somehow I got stuck in second gear instead of first gear.
"I'm not sure if that's on me or not and not sure why that happened. We will have to analyse the data.
"If that's on me, I feel terrible.
"We have a great team, and we did a great job all month. I felt like we were fighting for it all day long.
"I think we could have run in the top five."
It took the whole race, but shortly after Newgarden's woe McLaughlin arrived on the scene and was on the fringes of the top 10, but then he crashed with 49 laps to go.
Massive incident for @smclaughlin93 in turn 4.

He's been seen and released from the @IU_Health Emergency Medical Center.

WATCH LIVE: @NBC and @PeacockTV#INDYCAR // #Indy500 // @IMS // @Team_Penske pic.twitter.com/r77y5uEo3M

— NTT INDYCAR SERIES (@IndyCar) May 29, 2022
While it was only his second 500, his step up this year and how strong he has been in practice made him a genuine contender, and he seemed buoyed by having his family over from New Zealand for a race for the first time since he has been in IndyCar due to travel restrictions back home.
"Just a bruised ego and the Pennzoil Chevy is a bit dented and stuff," he said after hitting the wall at Turn 3.
"We were having a rip of a run there and had made our way into the top 10 and just caught a big puff of wind and spun out and boom.
"I am a little sore, but I got checked out and I am good.
"It's hard to come out straight away after a shunt like that and that is why this place is so scary, and why we love it.
"I will be back stronger and better next year."
Before the race, Power led the standings and hadn't finished outside the top four in a race this season. McLaughlin was third and Newgarden was fourth.
Now, because of the double points awarded in the Indy 500, Power's down to fourth, Newgarden's fifth and McLaughlin is seventh.
It's a pretty major swing.
However, here's where the 500 might not have been so bad for Penske.
It might not be through matters in its control, but because of the way the race played out with rivals hitting trouble and the fact that very few drivers have been consistent in the championship this year, Penske is actually much better off than how it has left recent 500s.
Here's a breakdown of the points situation for Penske leaving the 500 in the aeroscreen era.
---
2020
1 Dixon 335
2 Newgarden +84
5 Pagenaud +123
9 Power +160
2021
1 Palou 248
4 Pagenaud +47
6 Newgarden +64
10 McLaughlin +105
12 Power +120
2022
1 Ericsson 226
4 Power +24
5 Newgarden +52
7 McLaughlin +64
---
In both 2020 and 2021, Newgarden had huge runs in the second half of the season to erase a lot of the deficit to a Ganassi driver leading the standings – though he couldn't quite overhaul either Dixon or Palou.
While comebacks that huge aren't a given, 52 points behind for Newgarden and 64 for McLaughlin are not impossible mountains to climb even if they are tough.
It's one thing to be in disarray following another Indy 500 defeat, especially in Roger Penske's first with full-attendance since buying the speedway just before the COVID outbreak.
But to have the potential for a championship recovery is enough to give Penske hope for the rest of the 2022 season and something to work towards as it moves on from another strangely disappointing result in a race it's won an incredible 18 times.