Romain Grosjean has been linked to a move to Juncos Hollinger Racing in IndyCar for 2024. If that were to happen, it seems the only option would be at the expense of ex-Ferrari Formula 1 junior Callum Ilott.
But that would be absurd.
As per The Race's verdict on Grosjean's future, most of my colleagues appear convinced that, despite his Andretti move going wrong, Grosjean deserves another chance at this level to prove he can be a race winner.
But Ilott should be one of the last people Grosjean should replace. And with Agustin Canapino confirmed at Juncos next year, other than expanding for the second time in two years to three cars, which the Juncos team is not ready for, Ilott would be the only option to move aside.
If The Race's sources are correct the Grosjean was initially in line to replace Canapino if the Argentinian's funding wasn't available. But when that deal was sealed, that narrowed the options.
We're in agreement Grosjean should get another shot at IndyCar, so the goal of this article is to show why Ilott is one of the last people who should be making way, even if Grosjean deserves a seat somewhere.
Ilott's arguably performed better in IndyCar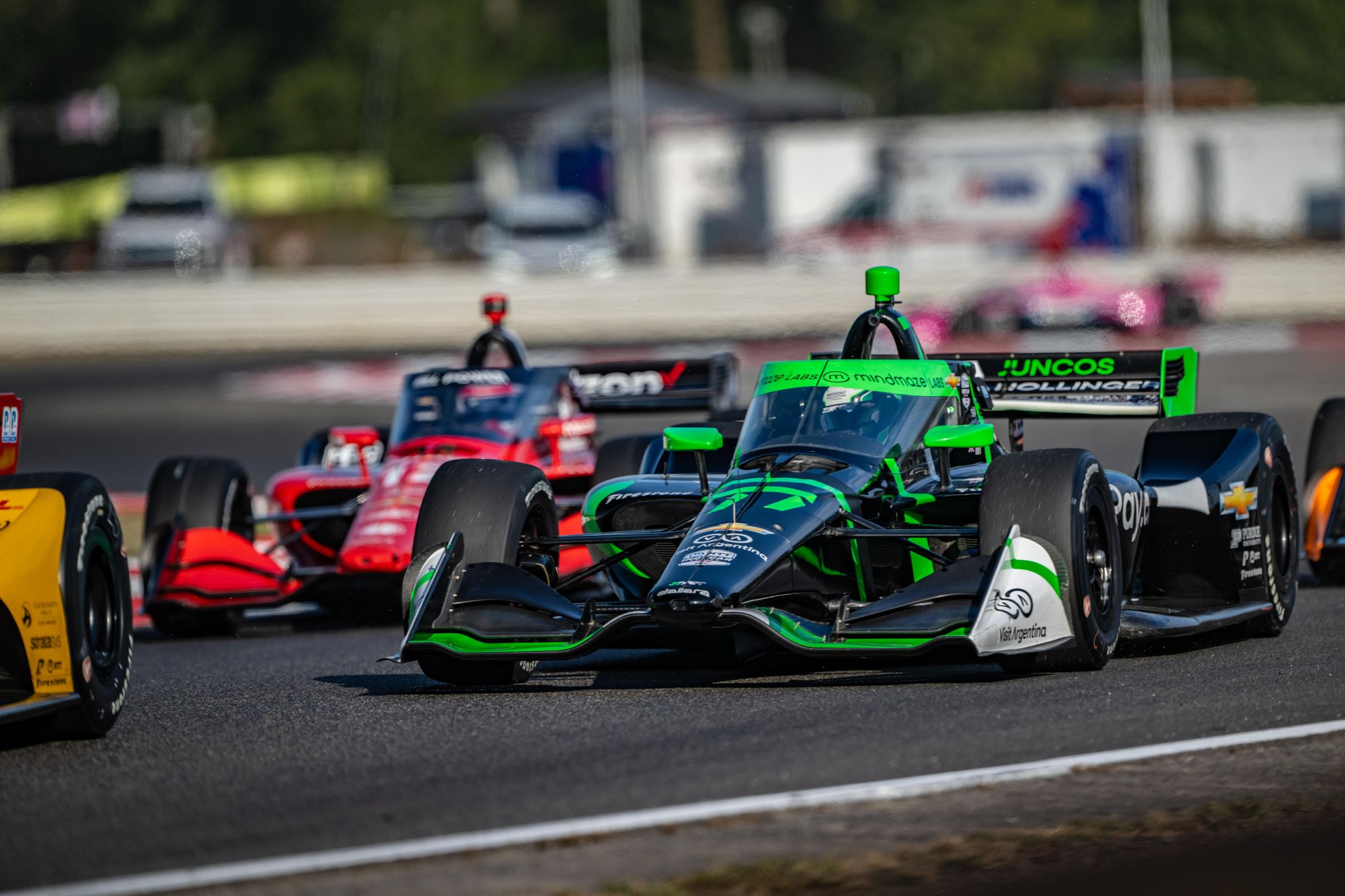 Grosjean beat Ilott by 30 points last season. That margin should have been greater had a few races worked out differently for Grosjean, such as being shunted out of a win at St Petersburg or experiencing suspension failure in Detroit.
But there are plenty of races where Ilott's season could also have gone differently.
Whereas Grosjean is among the worst in the series for finishing where he started or higher, Ilott was the best in the series, turning an average start of worse than 19th into 15th-place finishes on average. Of course it's harder to make places when you're qualifying towards the front of the grid but Grosjean was finishing just over five places lower than his average start.
---
2023 stats
Points
Grosjean 296 (13th)
Ilott 266 (16th)
Average start
Grosjean 10.12
Ilott 19.41
Average finish
Grosjean 15.18
Ilott 15.29
DNFs
Ilott 3
Grosjean 6
Kilometres raced
Ilott 5604
Grosjean 5563
---
Grosjean has almost a year more IndyCar experience than Ilott to go with his many more years of career experience, and benefitted from the vast resources of Andretti. In terms of personnel talent, it's up there among the best in the series.
Juncos only entered in 2021 and full-time for the first time in 2022. In 2023, it expanded and ran a second car.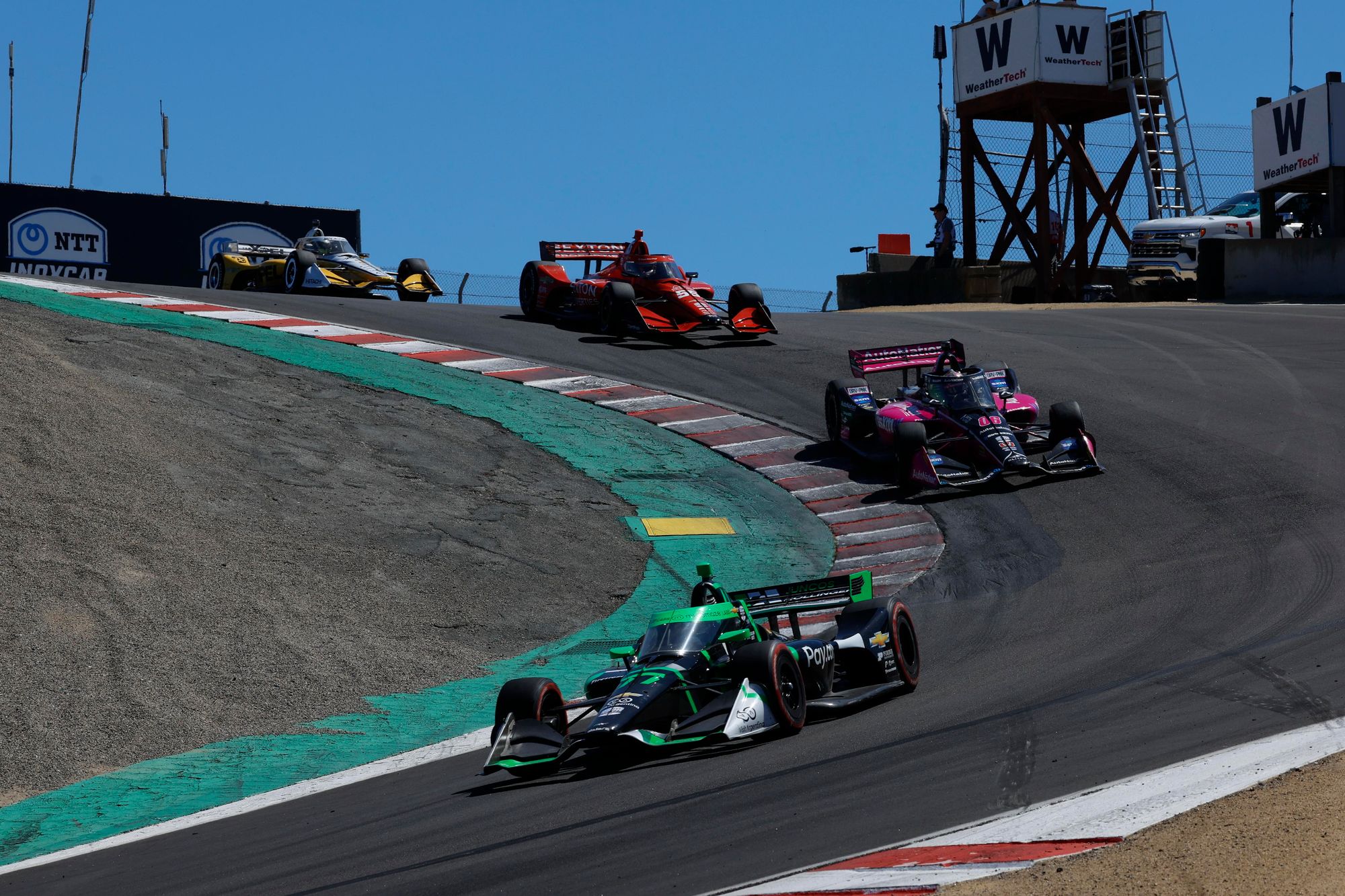 It's a miracle that it has achieved the results it has and that miracle is in large part down to Ilott.
That's despite turbulent times behind the scenes at Juncos which sometimes haven't had enough staff amid a consistent turnover of staff leaving and coming in. It's been a rough year in that regard. The pitcrew has been extremely troublesome in races and personnel movements there have impacted things, so that's been another key weakness.
Still, Ilott's made a big step from an already tough 2022, despite all of these factors working against him.
The Indy 500 showed how good Ilott is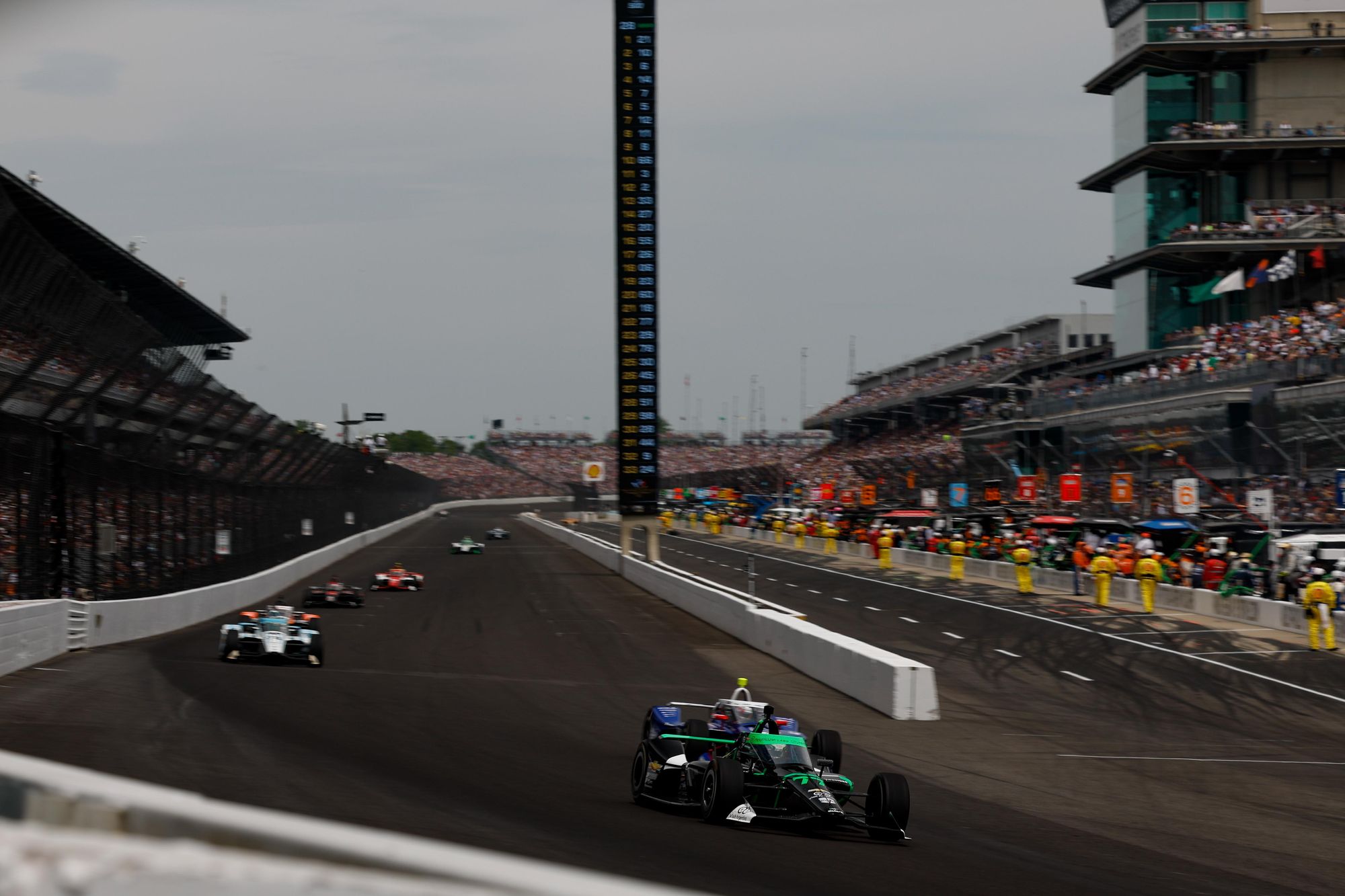 If you don't remember Ilott's Indianapolis 500, he had a pre-evet test where the car was undriveable and it wasn't much better as practice week kicked off.
The team made changes but Ilott was adamant something was wrong with the car. The data didn't show a root cause of any issue so Ricardo Juncos and the team were reluctant to change a car that had been worked on for months.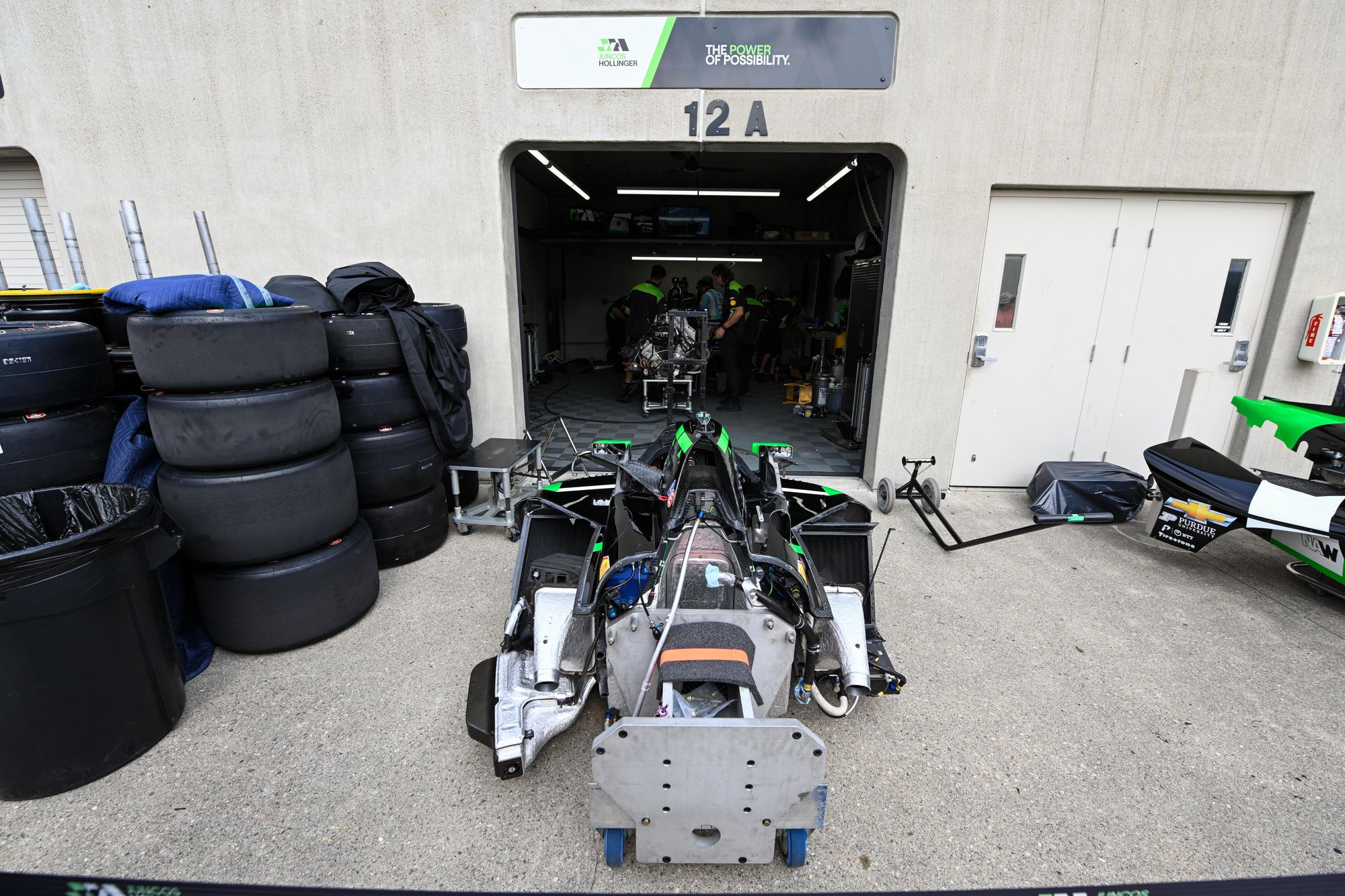 Eventually, the team switched and, with just 11 laps in the car, Ilott qualified the car for the Indy 500 with 28th. He then drove to 12th in the race - showing how far he'd come from his crash the year before.
Standing up to your team is one of the most difficult things to do in racing and issuing an ultimatum is even harder, but sometimes as a driver, you have to trust your feeling and it was clearly justified as Ilott was much quicker in the back-up car and scored Juncos's best Indy 500 finish so far.
Grosjean's 500 was different. A pit mistake sent him down the order and then he crashed shortly after.
Grosjean is an adaptation risk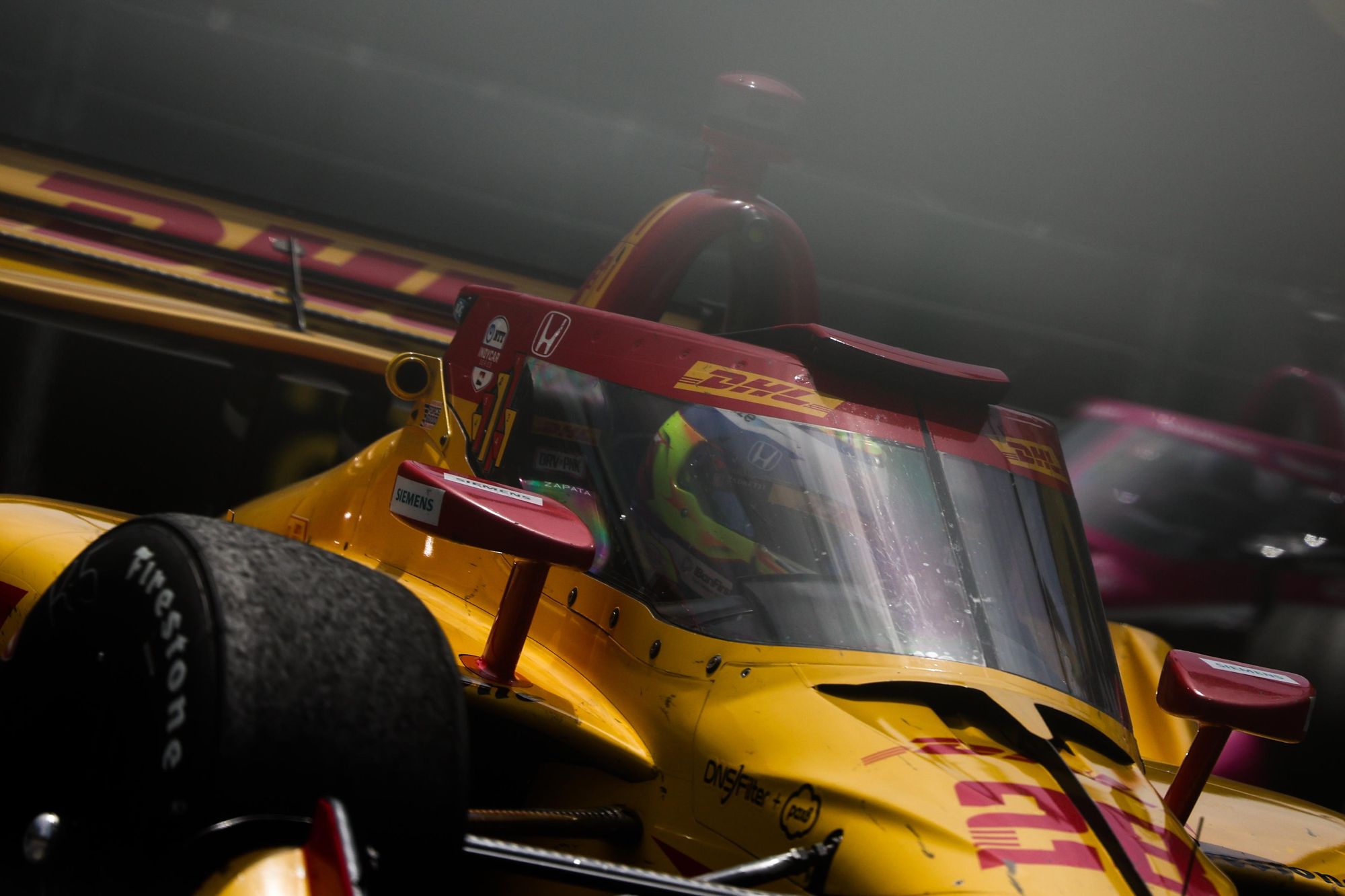 Grosjean has admitted himself that he can't drive as well with understeer. So it would be a big gamble for Juncos to sign Grosjean in case he isn't able to get the most out of its car.
To be fair, he scored more points in the year he struggled with the car the most at Andretti, but that probably says more about how far 2023 came off the rails than the 2022 season.
Ilott's shown he can be adaptable. The team knows what he likes after two and a bit seasons. He's the one who has led this team forward from a driver perspective. Why throw all of that out of the window? After all, if it's not broken, don't fix it.
Ilott's potential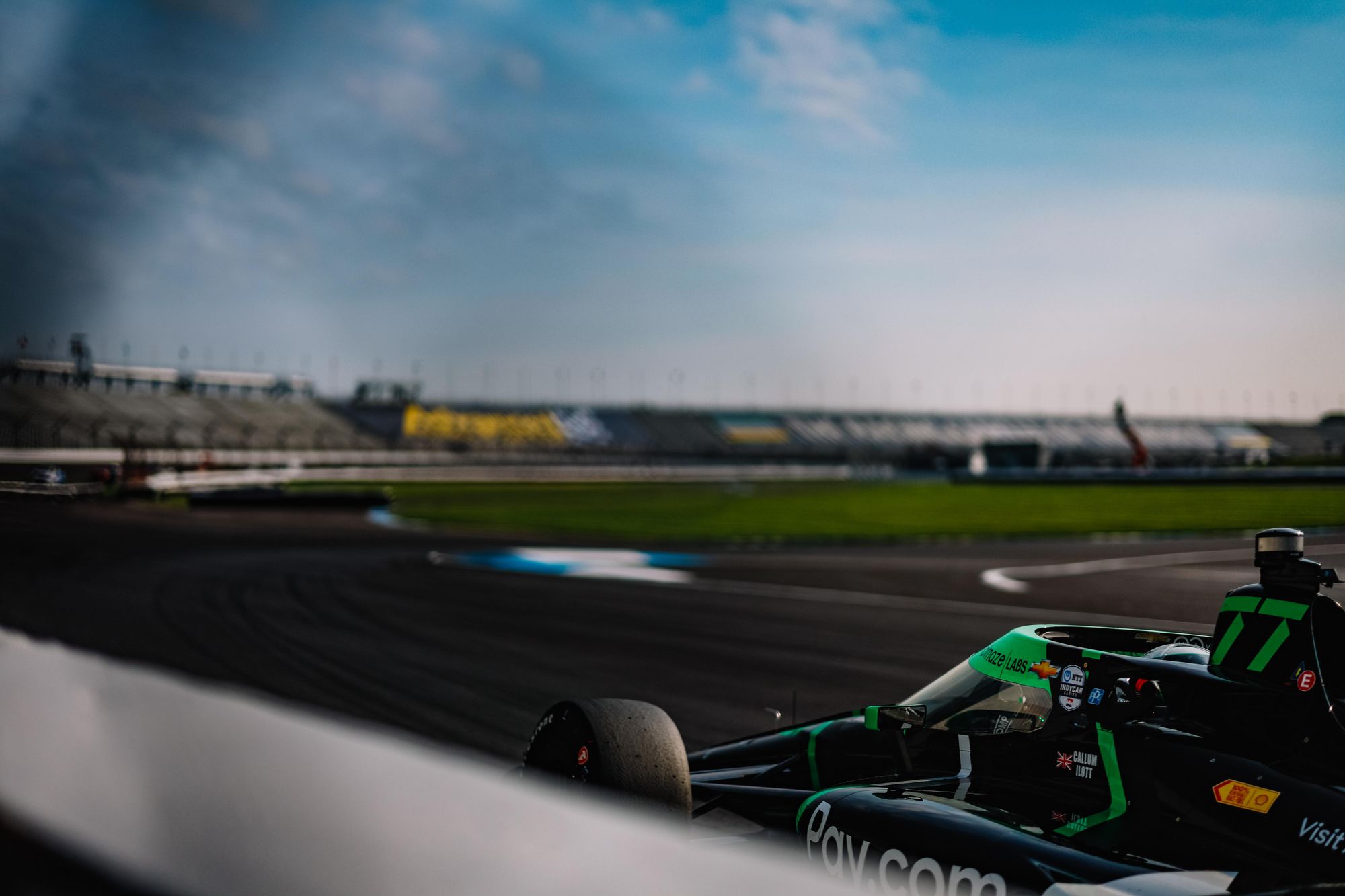 There's no doubt Grosjean is a top driver. But he's 37, and less adaptable than some drivers out there. In Ilott you've got a 24-year-old who is thirsty.
OK, his ambition is to be in a top team, who doesn't want that? Juncos should be focusing on getting the most out of him before he moves on to bigger and better things. At the moment, Ilott isn't spoiled for options in terms of moving somewhere better.
Grosjean isn't going to be someone you sign for the next 10 years either. Maybe Juncos feels Grosjean would deliver better immediate results, but the previous points suggest otherwise. Especially when you see what Grosjean has done at Andretti versus Ilott at Juncos.
Ilott was pretty close to reaching F1 and narrowly missed out on the Formula 2 title on his way up. That's better than Christian Lundgaard or Marcus Armstrong have managed, and they both scored better IndyCar seats. That's not to say Ilott is better or worse than them, but it shows how highly valued drivers like Ilott are, outside of Juncos.
Does McLaren have a part to play?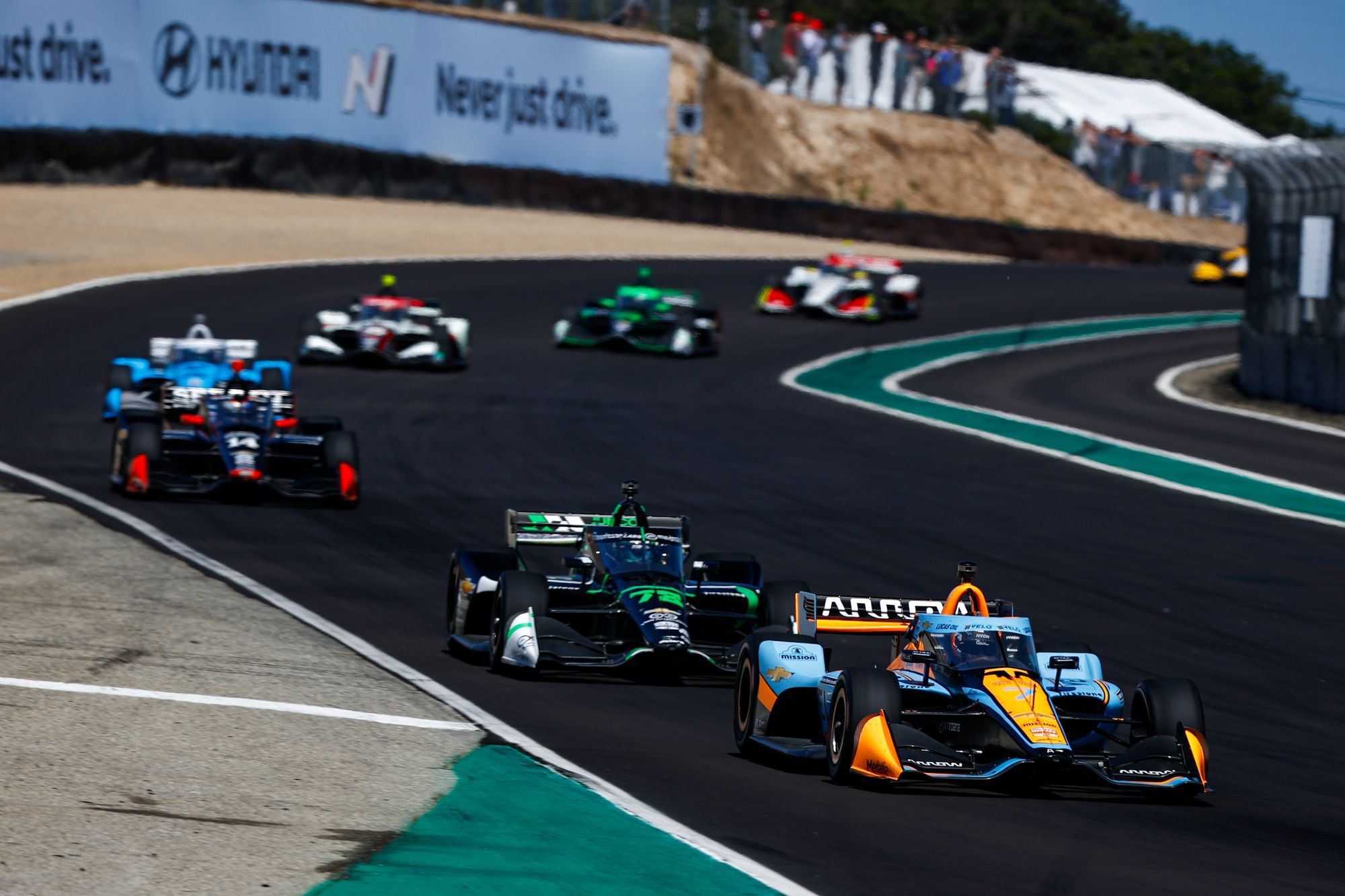 This is a bit more hypothetical. But if you believe the rumours, part of McLaren's interest in signing a strategic partnership with Juncos earlier this month was to keep tabs on Ilott.
I think the biggest element of that deal was a very shrewd move from McLaren to exploit the interest in Canapino in South America, especially as it has Mexico's Pato O'Ward in its line-up. I'm sure that was the biggest element of that deal, rather than having a bit of data on Ilott.
But if monitoring and evaluating Ilott was a part of the deal also, how would McLaren feel if Grosjean came in and usurped him? I'm sure McLaren doesn't have a say in Juncos's driver line-up, but I'm sure it'd rather have Ilott in there.
Respect and dignity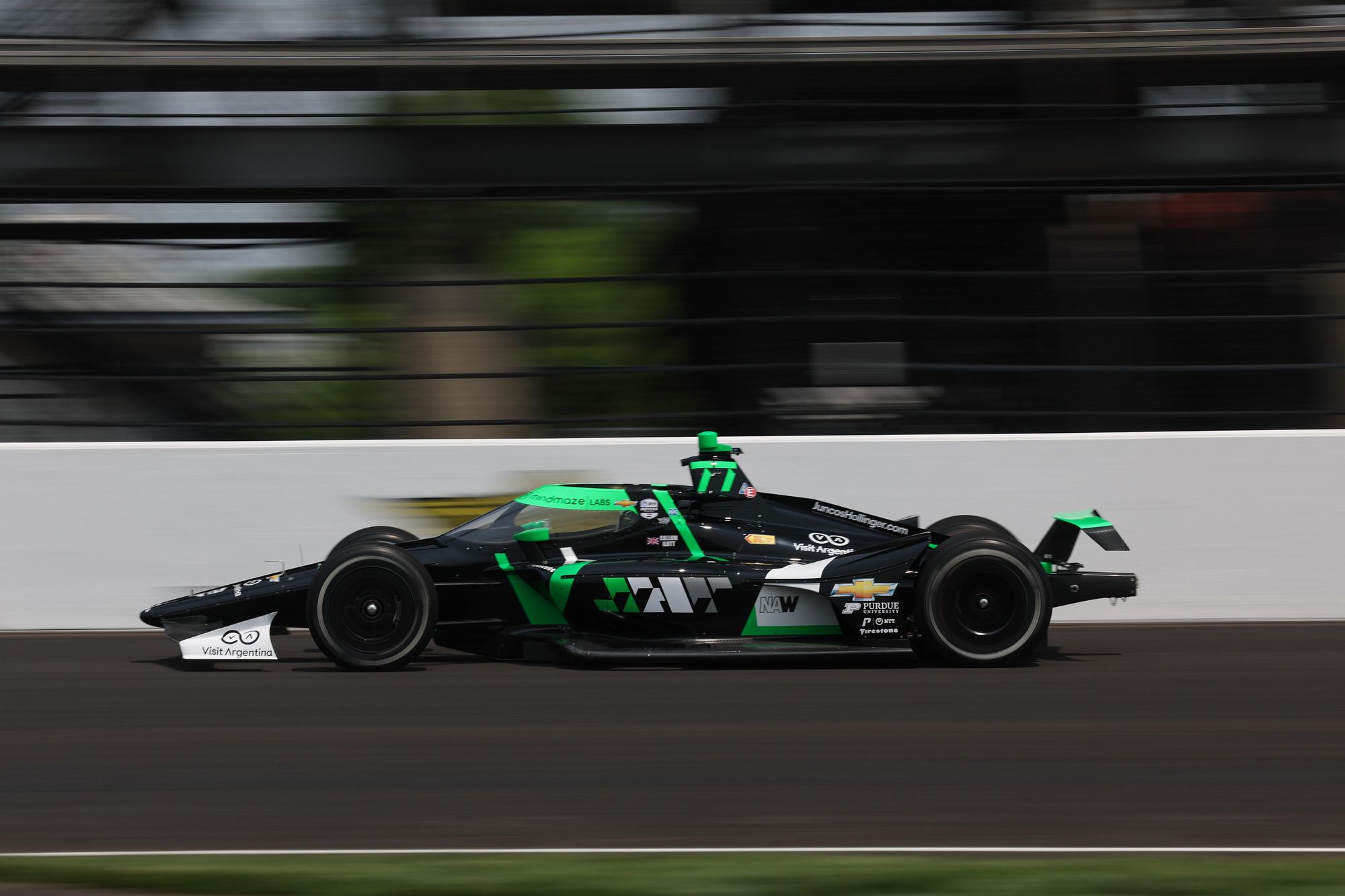 Frankly, the fact we're having this conversation is ridiculous. There's at least two or three driver moves that have happened in IndyCar this season already where Ilott would have been a better candidate. Start with three seats at the best team - no disrespect intended - for a start…
But we are having this conversation, and there's clearly been some friction at Juncos this year.
On-track incidents with Canapino have twice drawn the wrath of social media towards Ilott, mostly from Argentina.
But I don't think anyone can criticise Ilott's response. After a Long Beach incident, he spoke out due to the level of abuse. After Laguna Seca, he didn't appear to be as well supported by the team and Ricardo Juncos (pictured below with Canapino) appeared to make disparaging remarks in the Spanish-speaking press, which he's since walked back on slightly to Racer.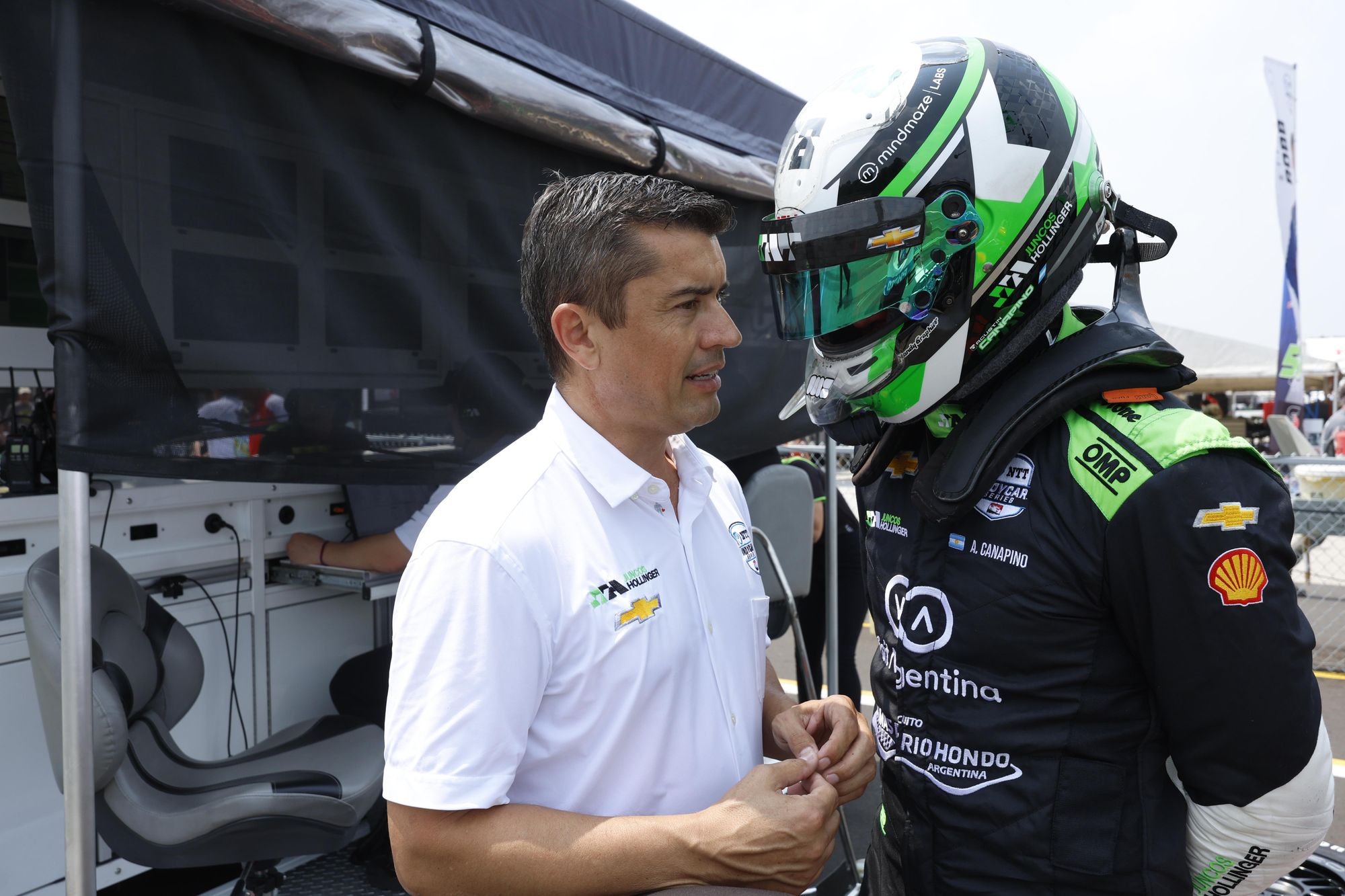 Ilott's been abused on social media and has still performed at the highest level under really difficult circumstances. Not once has he lamented the impact of his team-mate's fan-base, instead always talking with admiration for Canapino's rapid development behind the scenes.
Diplomacy might not be Ilott's best trait - or his worst, to clarify - but he's shown this year how far he's come in his career and that he can walk the line between speaking his mind and knowing when he has to be clever about what he can and can't say.
He should have earned the respect of his colleagues, and be wanted as the team's best option right now. If he isn't, that's very sad indeed.
We don't have this conversation without Ilott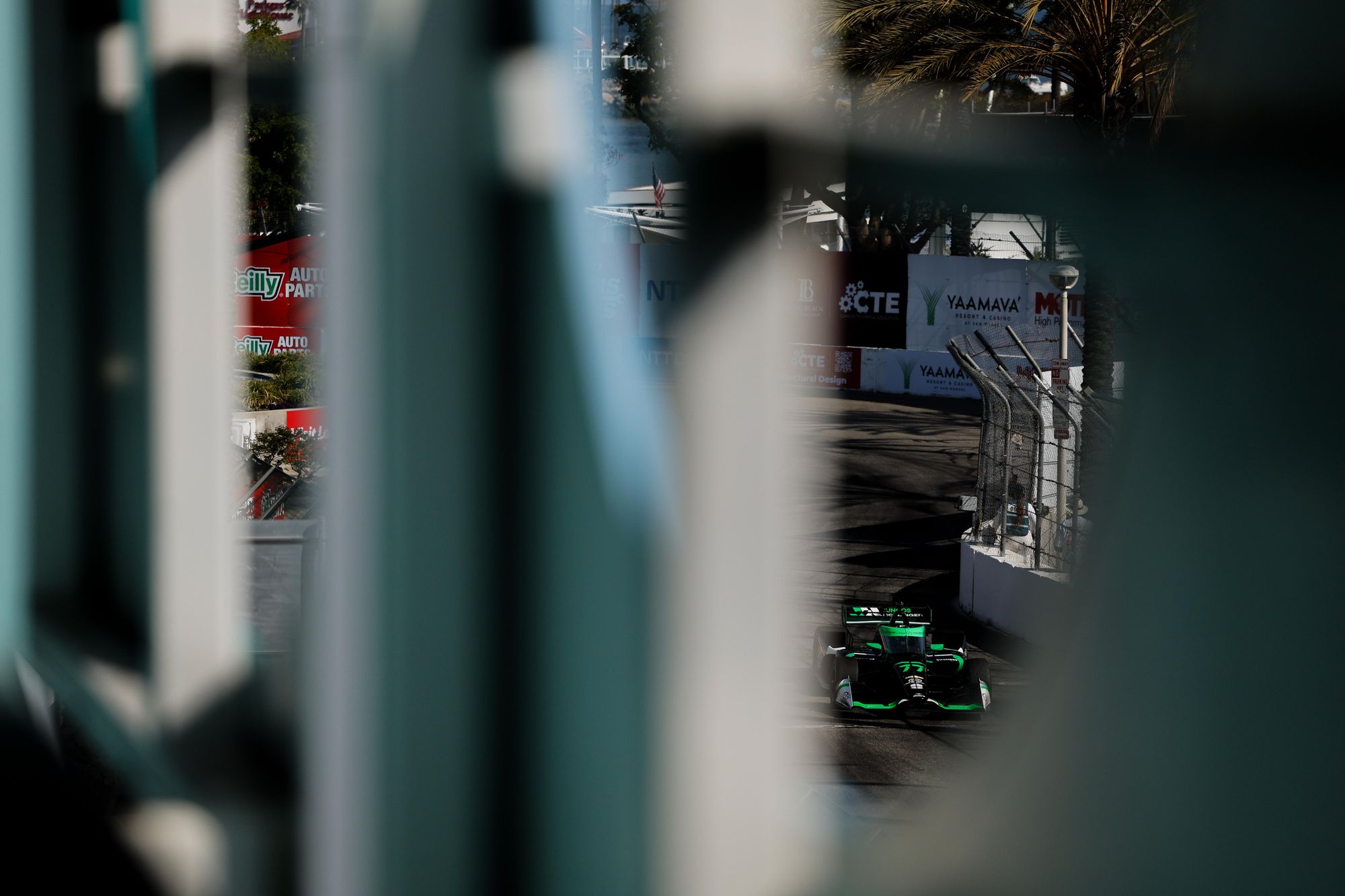 The reason Grosjean is being linked with this seat and not one at another team is that it is the best available team on the market that hasn't yet confirmed its 2024 driver line-up in full.
One of the reasons it is considered one of the better teams on the market is because of Ilott's leadership and results on track. Without him, who says Grosjean wouldn't be linked to another team?
Ricardo Juncos told The Race he has an option on Ilott until December 14, so things could move slowly. Now we have to play the waiting game but all parties will want this sorted.
What else is happening in IndyCar's silly season?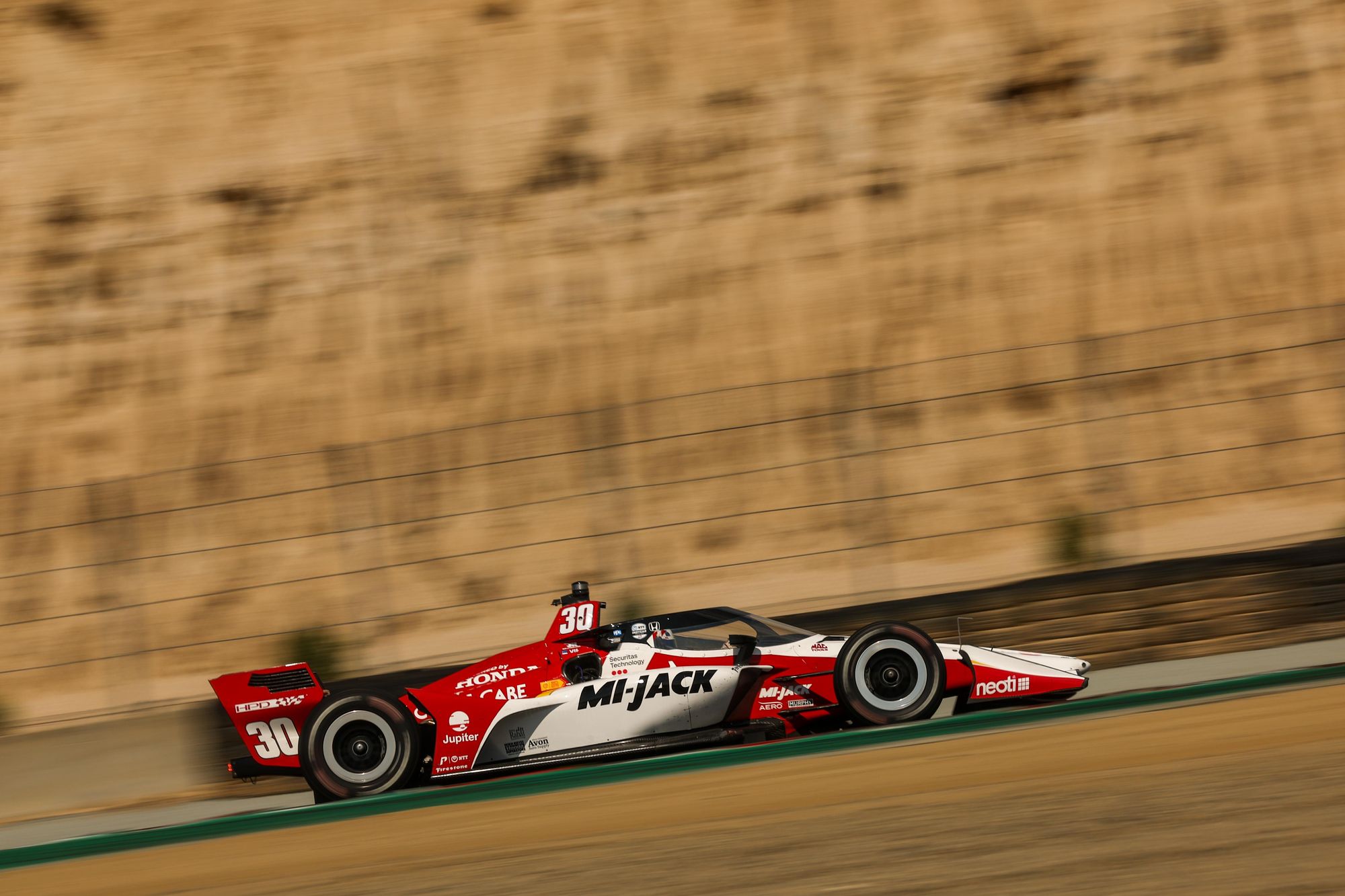 Grosjean's not the only ex-F1 driver looking to unseat an ex-F1 test driver. Two-time grand prix starter Pietro Fittipaldi has bagged a Rahal Letterman Lanigan seat, and his somewhat shock arrival in the third car has left Juri Vips on uneven ground.
The Race first heard of Fittipaldi-to-Rahal rumours over the weekend and things have moved quickly, taking even the best-briefed paddock insiders by surprise.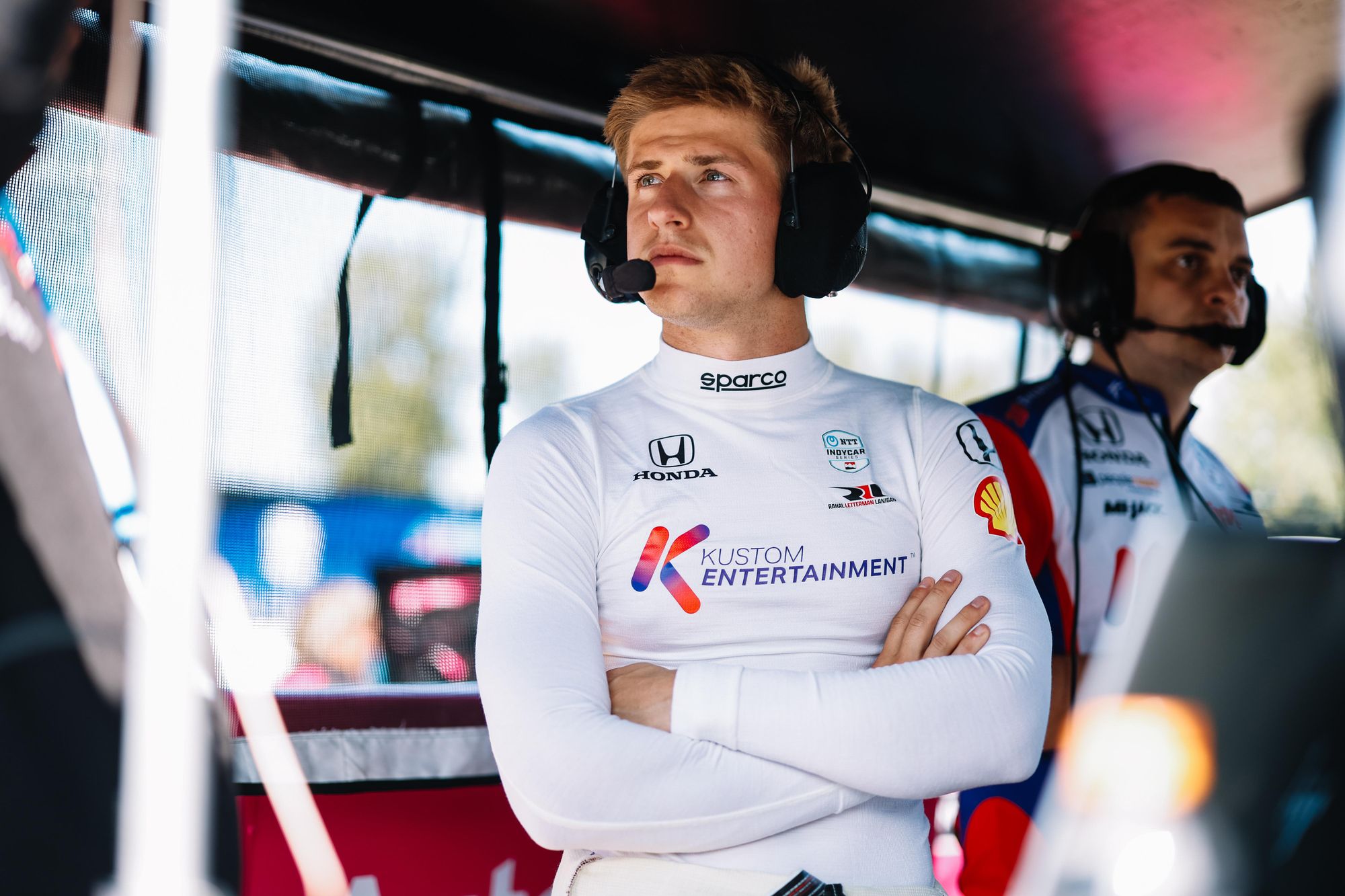 However, it's not the end for Vips. Rahal has also taken up its option on Vips and looks set to give him a home in its BMW-based Hypercar programme, as well as looking at the possibility of putting him in a fourth car for select outings to continue his IndyCar learning.
Graham Rahal is also set to sign a contract extension with the team. The terms are basically agreed and the formalities are being taken care of. Christian Lundgaard's contract had already been extended through 2024.
Elsewhere, Indy NXT champion Christian Rasmussen hasn't managed to secure a full-time promotion to the series but will drive the road and street courses for Ed Carpenter Racing alongside Rinus VeeKay. Carpenter himself will drive the ovals, giving the team a much-needed two-car entry instead of a three-car one to focus on improving as it slumped to a disappointing season in 2023.
That leaves the second Juncos seat and both Dale Coyne's and AJ Foyt's two-car entries respectively to be confirmed.
Carpenter's oval-only third entry has been hamstrung by having to qualify first in line because of low points scoring due to the few races it competes in, whereas as part of Rasmussen's entry, he should get the benefit of qualifying later on which is almost always beneficial.
Foyt's line-up could be the same with Benjamin Pedersen and Santino Ferrucci, while Coyne's line-up will look a bit different after David Malukas headed for Arrow McLaren.
Grosjean had been linked to a return to Coyne where he debuted in IndyCar, but talk of this has cooled in recent weeks.
Sting Ray Robb has the budget to stay but it's unclear if the team want that. Indy NXT midfielder Danial Frost and Devlin DeFrancesco, formerly of Andretti like Grosjean, have been heavily linked to the team.
Elsewhere, one potential option is for Andretti to stay at four cars with an entry including Tatiana Calderon. Andretti is still believed to be making a decision on whether to move forward and needs the funding to make it happen.