Andretti Autosport has announced that ousted Schmidt driver James Hinchcliffe will return to the team for three IndyCar races in 2020, including the Indianapolis 500.
The Canadian will also race at the Indy GP on the Indianapolis road course at the start of May, and the Texas Motor Speedway event in June.
"Honestly, it's so nice being able to announce some more good news," said Hinchcliffe.
"It's no secret that the 2020 season isn't going to be exactly what we were expecting, but being able to start the new year with the announcement that [sponsor] Genesys was stepping in to save our season and partner with us was awesome, and now adding the next big piece in my reunion with Andretti Autosport just really makes it feel like the momentum is going our way.
"I can't wait to work with this group again and to get back behind the wheel of an IndyCar."
Confirmation of the three-race Andretti programme comes after Hinchcliffe was dropped by the newly rebranded McLaren SP squad in favour of Patricio O'Ward, who became available having left the Red Bull young driver programme.
Hinchcliffe, a Honda spokesperson, was initially expected to remain with the now Chevrolet-powered McLaren SP team, despite the conflict of interest, and had a contract with the team for this year.
The six-time race winner will be backed by technology firm Genesys for all three outings with Andretti.
That deal – announced last month – was put together by Hinchcliffe himself following his departure from the Schmidt team.
Hinchcliffe had previously driven for Andretti from 2012-14 before joining Schmidt.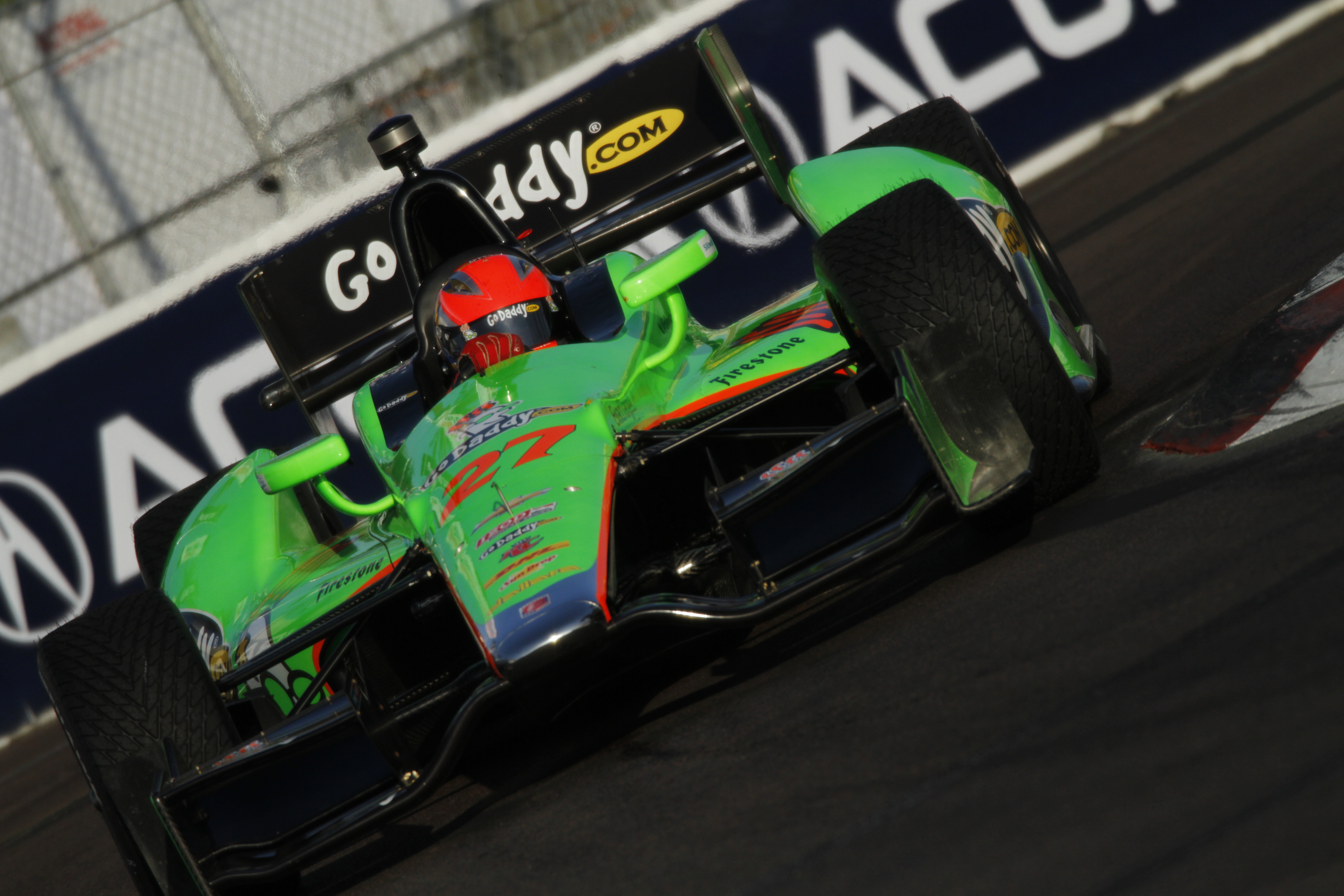 He joined the team following his successful rookie campaign with Newman/Haas, taking the seat that had been earmarked for Dan Wheldon before Wheldon's death in the final race of the 2011 season.
Hinchcliffe won three races for Andretti, all in 2013, at St Petersburg, Sao Paulo, and Iowa.
"We're really pleased to be able to welcome James back into the Andretti team," said Andretti Autosport boss Michael Andretti.
"He has, for sure, been knocked down a few times by this sport and to be able to help him meet the challenge is really special.
"We had a lot of fun, and some great successes with James when he was part of the team before, and we're really looking forward to picking up where we left off."
There had been speculation that Hinchcliffe's home race in Toronto would also be included in the announcement, but this was not the case.
The Race says…
After his cruel departure from Schmidt Peterson Motorsports before the newly anointed McLaren team had even turned a wheel, the rumours started swirling about who Hinchcliffe would be driving for in 2020.
Naturally, being one of Honda's favourite sons, he'd be with a team running the Japanese firm's engines, but given that his unplanned exile came so late in the silly season, options were limited.
Rahal Letterman Lanigan was seen as the most likely choice for an Indy-only effort, having run three cars at Indianapolis for a number of years, while Dale Coyne Racing and Chip Ganassi Racing were seen as outsiders.
Instead it's Andretti Autosport that snagged the popular Canadian, and his cash from Genesys, adding him to a huge stable that now boasts six cars, without counting satellite teams, for IndyCar's crown jewel event.
The homecoming is a match made in heaven. Andretti is always fast at IMS, winning three of the last six races, while Hinchcliffe started the 2016 race there on pole – one year after a horror crash in qualifying that nearly claimed his life. That same year he took third in the Indy road course race and second at Texas – both career bests at the other tracks he will be racing on this year.
The speed at Indy has always been there for Hinch, even if the results haven't, so pairing with Andretti could be the last piece of the puzzle he desperately needs.
Also, remember the last time a fan favourite returned for the Indy 500 having been ousted in favour of a rookie? It was some bloke called Dan Wheldon, and he won it.