There's an alternate universe out there somewhere where Romain Grosjean is leading the 2023 IndyCar championship with a win and a top-five finish to kick off the year.
He had every chance of winning the St Petersburg street race he started from pole last month before an over-enthusiastic Scott McLaughlin bumped Grosjean into the tyre barriers.
At Texas, Grosjean crashed after dirty air upset his car while fighting for fourth place and, with the cars able to race side-by-side unlike in previous years and with Grosjean third for most of the race, it's not impossible he could have made his way forwards to the podium.
Grosjean made his oval debut at Gateway in 2021 and has run well on the shorter ovals, but superspeedways have been more of a challenge.
Asked if the Texas race was his best on an oval yet in an exclusive interview with The Race, Grosjean said: "Absolutely, I think we looked really good until the end.
"We've made a lot of progress with the team, with my engineer as well, getting a car that I can really understand.
"Last year I was really struggling with a washout issue on ovals. We made some very big progress in that area which I was happy with.
"So that's really good.
"Obviously the end is not what we wanted but fighting for the lead with two laps to go, even leading the race was pretty exciting."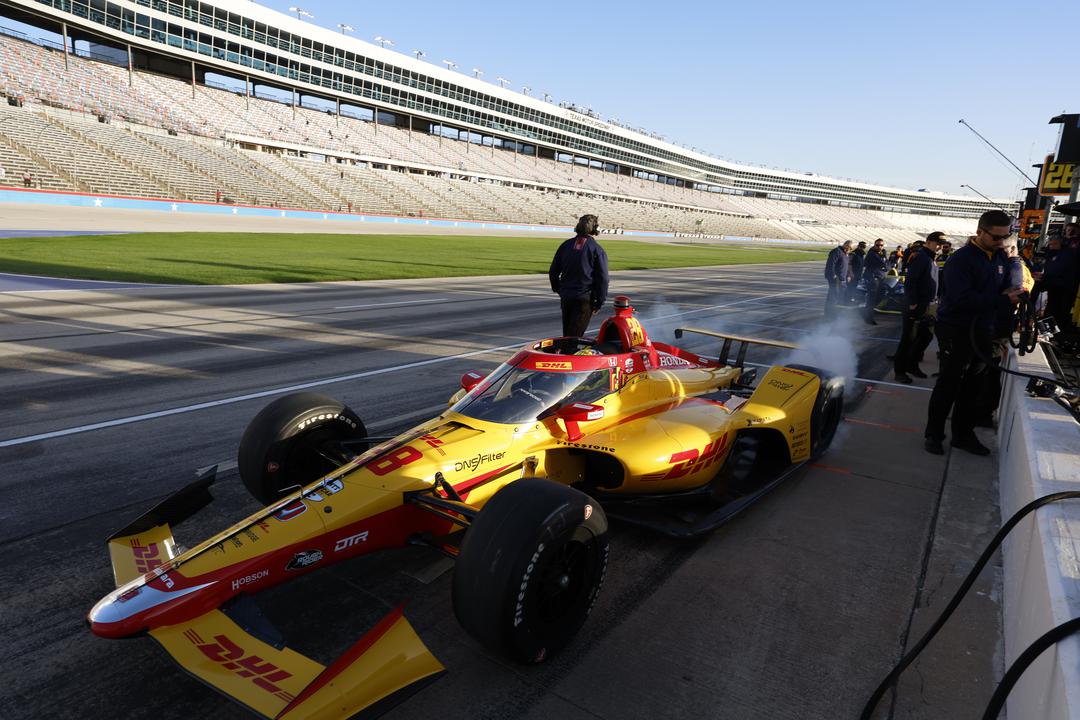 Understeer has been Grosjean's enemy his whole career, and it reared its ugly head again when he switched from the Dale Coyne team he contested his rookie campaign with to Andretti, as he explained in detail to The Race pre-season.
With different damper programmes and complicated set-ups, it sometimes takes time to make a driver happy in the car and this was certainly the case for Grosjean. It seems the same issue plagued his superspeedway form as well.
"We've made a lot of work in the winter," he added.
"Last year in Iowa we already found something that was better for me on ovals. We kept going in that direction. We saw at St Pete, that works really well on the street course. On road courses I believe we're going to be strong as well.
"On ovals, it's the same feeling, I didn't have a great feeling last year and we're in a much better situation. And for sure I can understand the car, what's happening, which is very, very good.
"I'm still a guy that prefers the road course to the ovals, but for sure there is something intriguing about the ovals, there's something very specific and unique about it and that's cool."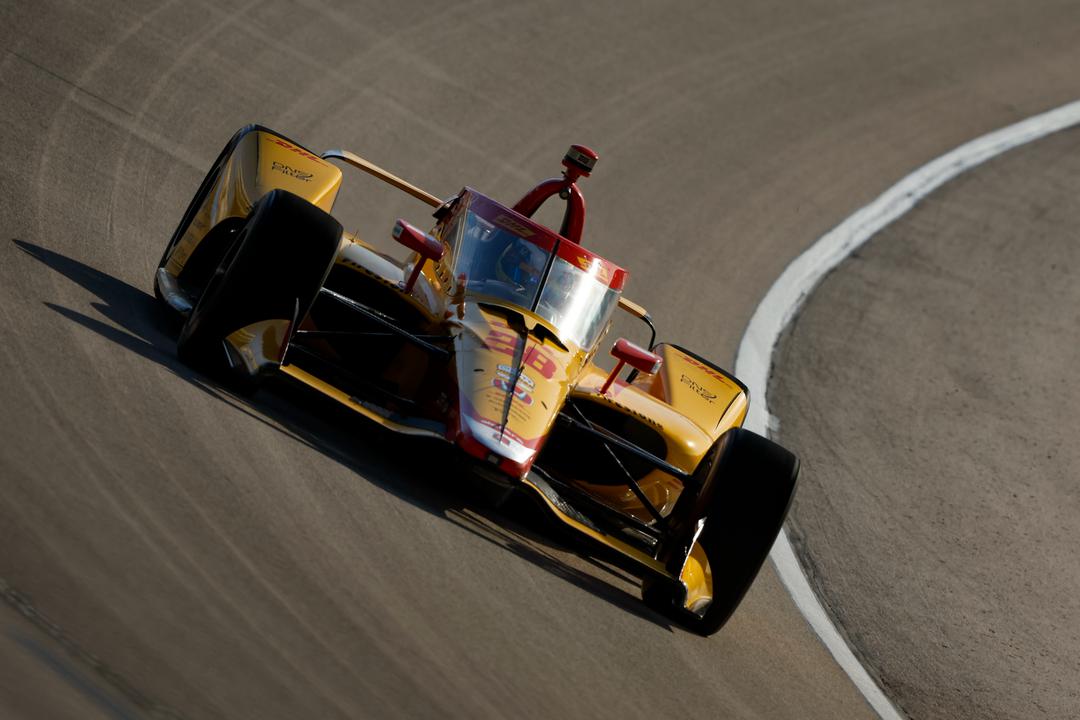 While the ending of the Texas race no doubt will draw plenty of attention, as Grosjean crashed out of the Indy 500 too, it's important to sum up the weekend taking into account his competitiveness during the race. Given his understeer issues last year, it's a big step forward.
He was a solid third place for most of the race and one of the only cars in the same zip code as Pato O'Ward and eventual winner Josef Newgarden, the duo managing to lap the field under green flag conditions.
"They [Newgarden and O'Ward] were stronger, I think we still have some work to do with Honda," Grosjean added.
"We're getting better but we're still a touch behind.
"We did really well. I ran most of the race P3, got unlucky with traffic in the middle stint where I caught a group of lapped cars and just couldn't get past them because of the age of my tyres at that point so I lost quite a bit of time there.
"But anyway, it didn't change much because then you have a caution.
"We did really well, qualifying we still need to improve so we're working on it, but I think as a weekend, going into the 500, a year ago if you told me do you want to win the 500, do you think you're ever going to get a chance?
"I'd say, f*** no, I'm nowhere near!
"This year I'm like if we can repeat what we've shown in Texas, and the car that I felt good with, it's not out of the equation for the future completely."
Grosjean is really starting to find his way with ovals, and this is only his eighth start on such a track. He feels he's starting to develop his own style.
His 'f*** no' admission is a sign of how much more comfortable he feels in the car now, and it was only a complicated crash that cost him the almost perfect oval momentum heading into the Indy 500, which he already has an eye on like any true IndyCar driver should.
"Honestly, it's a lot to digest," Grosjean said when asked if it was a mistake or if he could have done anything differently having assessed the incident.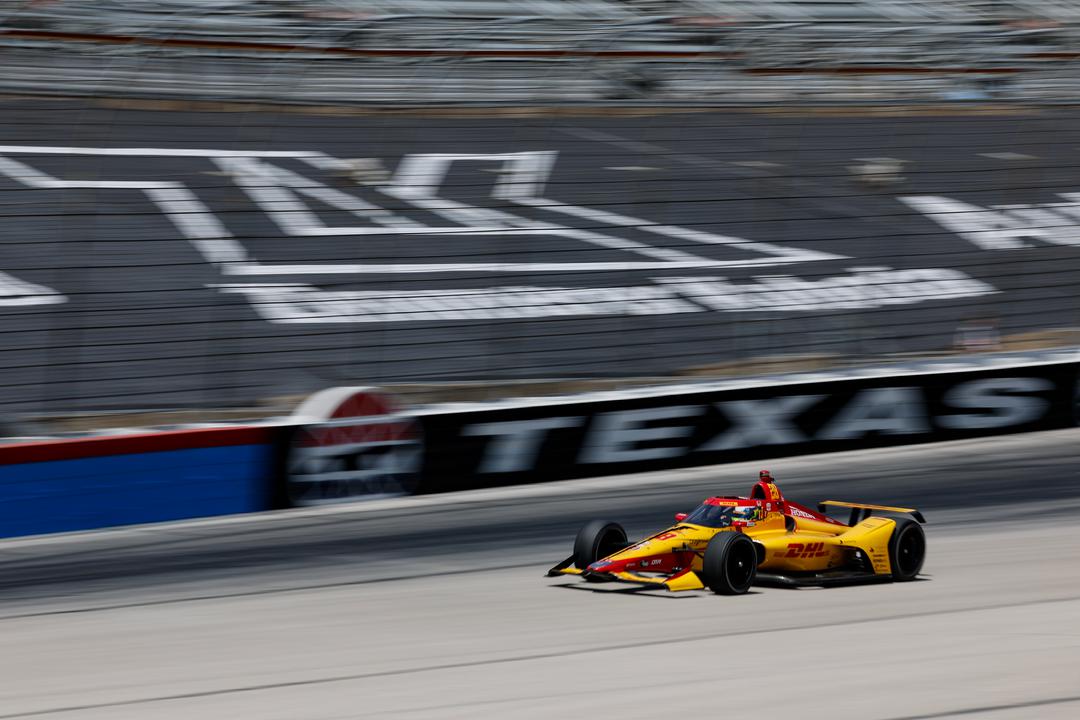 "Two races in a row that we're in the fight to win the race and two races in a row we don't finish. It's not easy.
"I had to ask people who have a lot of experience, 'Hey, what do you think I did?' I spoke to a very experienced driver that basically told me I did nothing wrong.
"A bit of washout and we think [David] Malukas's spotter didn't tell him I was that on the inside.
"He didn't cut the road but he definitely could have left a bit more room there. Just touched his rear wheel with my front wing.
"A bit of understeer but not a lot, I'm still very much on the apex.
"I know it's the end of the race and you have to go for it, but the moves were getting more exciting.
"But honestly I don't think there was anything I could have done, I'm off throttle by the time, there was dirty air but I knew that from the entry of the corner so I lifted off on the entry.
"I just feel like maybe if I had been given another 50cm everything would have been OK."
Not the way @RGrosjean wanted his day to end. #INDYCAR

A look at the race-ending caution. pic.twitter.com/QwC90KQnXL

— INDYCAR on NBC (@IndyCaronNBC) April 2, 2023
One area Grosjean did have some fortune in was that he avoided the local thunderstorms and tornados while flying himself home from Texas to St Petersburg.
He conducted his interview with The Race while cleaning the exterior of his plane in the hangar, although he couldn't attend to the inside as he'd left the keys at home!
Overall it's been a very 'Andretti' start to the year. A few mistakes, and plenty of bad luck, mean one of the quickest teams has very little to show for its early performance.
Texas itself has been a place of extreme misfortune for Andretti despite being capable of great speed.
Surely if it keeps showing this kind of pace, things have to go right at some stage for this team. When things have gone right this year, Grosjean has been its lead man, which I'm sure will please 'The Phoenix' legion of fans – especially if everything clicks at the biggest race of the year next month.