Ultimately Jamie Chadwick's debut Indy NXT weekend was a scruffy affair that will have some of her doubters grinning with glee. But those doubters could well be looking for somewhere else to direct their negativity towards once Chadwick has settled in later this season.
There were plenty of positives over the course of the St Petersburg weekend even if they weren't always obvious on paper.
Having switched from W Series to the ultra-competitive former Indy Lights series, jumping to the States was always going to be a challenge. Doing it on a street circuit the likes of which you haven't driven on before, in a new series, with a new tyre and against a field that had almost all raced here before, was a tall order coming into last weekend.
That's before you consider the Indy NXT car is almost the opposite of any junior car you'll drive in a European-based series.
Ask a driver to describe it and the most common comparison is a rally car, and to extract the maximum out of it you have to forget all of those lessons where you were told to keep things neat and tidy, and rag the thing around the track in as feisty a way as possible.
"This car and this tyre likes to be driven with a little bit of sliding, and they like surface temperature, so you really have to be a little bit over the limit to be fast," reigning series champion Linus Lundqvist tells The Race.
"In my career, it's always been the opposite, like be precise, hit your marks, and you'll be fast. Whilst here, if you do in theory the perfect lap, you're going to be half a second down because you weren't over-pushing.
"Obviously, there's a very fine line between that, but rule of thumb is that if you don't have a couple of moments in a lap, you're not fast enough."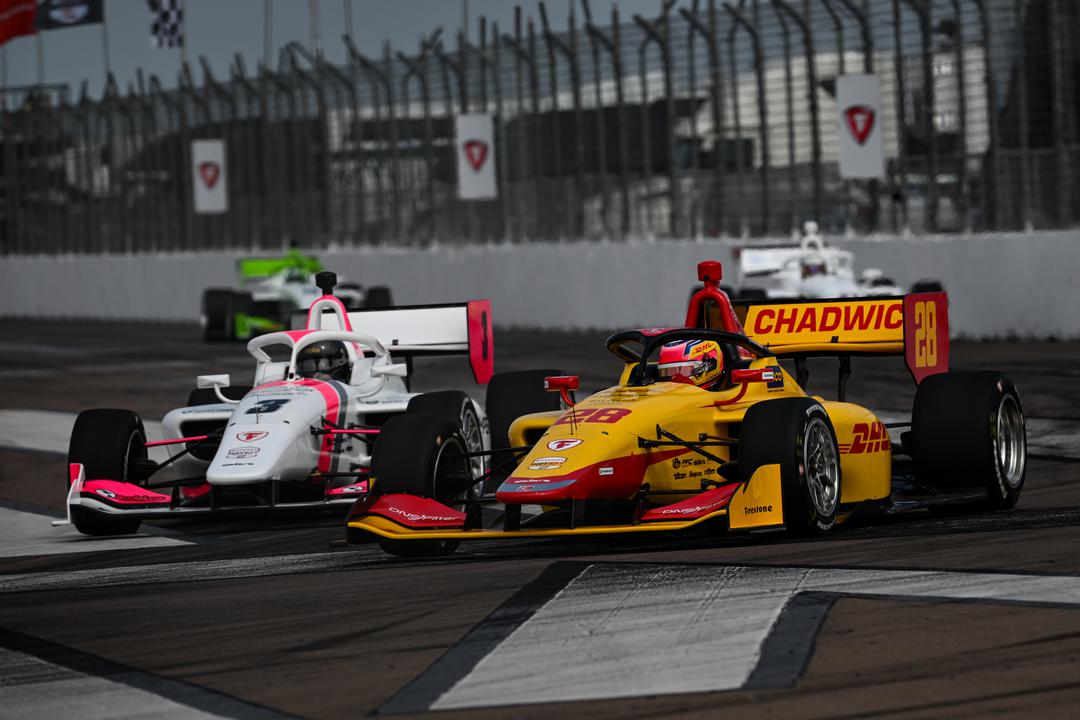 For any normal driver, getting to grips with all of these things can be done under the radar. For Williams Formula 1 junior and triple W Series champion Chadwick, the weight of the world is always on her shoulders.
"I think there's a lot of eyeballs on how I perform," she tells The Race following Indy NXT qualifying in St Petersburg last weekend.
"I read stuff all the time, I try not to, but people are saying you should be a Formula 1 driver. No, I'm way off that!
"I'm in a development phase now where I've come out of W Series, three years, relatively low track time. Now I just need to really learn as much as I can.
"IWhat I've noticed is the expectation over here is lower than the expectation maybe in Europe. I know what I'm capable of and I just need to keep my head down."
It's true that expectations are lower, and in America, it also feels like a lot more support and patience are given to female athletes. IndyCar has long been a trailblazer for female participation in motorsport.
Already Chadwick's sponsor DHL has used her profile to position Chadwick as a role model. Chadwick was part of a panel talk on allyship and empowering women in the workplace that also included team boss Michael Andretti and Romain Grosjean.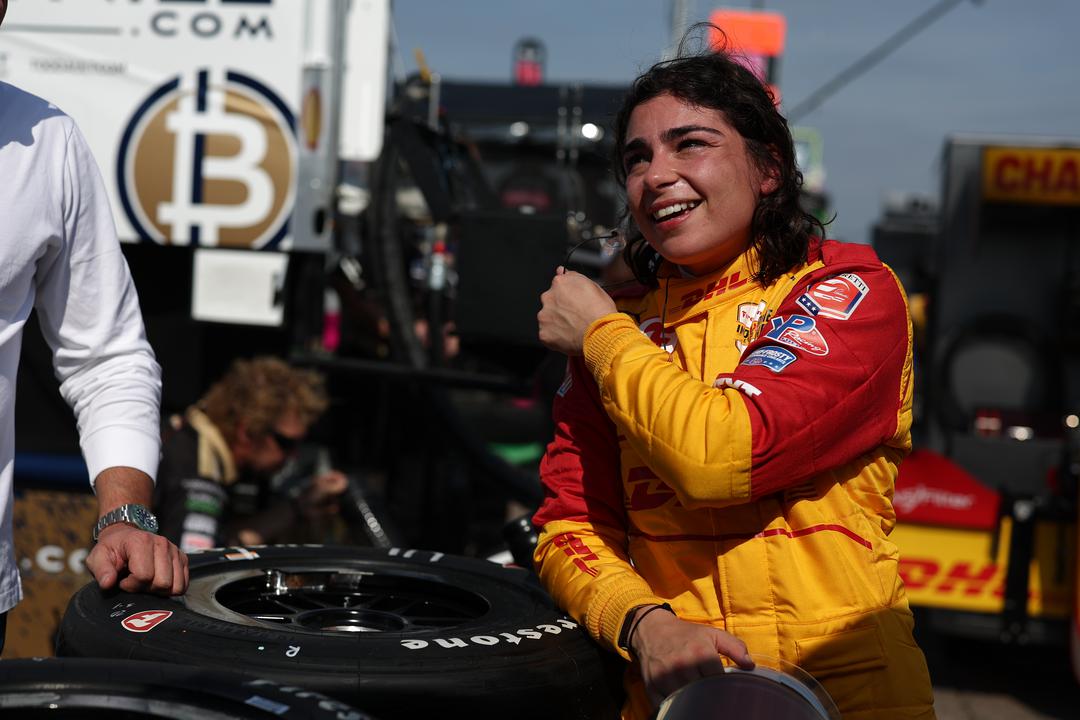 That's a tricky line to tread because Chadwick knows she has the chance to inspire women everywhere to achieve their dreams and not be put off by taking on male-dominated industries, but she also wants to put a helmet on and be treated the same as the other 18 drivers on track, too.
So let's do that, and get back to looking at her race weekend.
Halfway through practice two I was starting to wonder if this move had been a sensible one for Chadwick. Having been almost 1.7s off the leader in practice one and not much closer halfway through practice two, she was looking like her journey was going to be a tough one.
But by the end of practice two the deficit had almost been halved to under a second. In qualifying the gap came down again to 0.8s, despite a mistake on her fastest lap. By the way, the qualifying session turned out to be just eight minutes of clean running!
After two days in the car prior to the race weekend, two practices to get up to speed and then – bang – you've got to perform on a treacherous street circuit that caught many of IndyCar's drivers out, never mind the development categories.
Chadwick has already identified qualifying as one of the places to improve, alongside adapting to the alien Indy NXT car.
"To be very specific, I've worked on stabilising the car a lot," Chadwick added.
"Ultimately for a lap time, I think you need to hustle the hell out of it. So maybe we went a bit away from what would be faster but for me, it was something I found more comfortable. So that's something I definitely need to work on.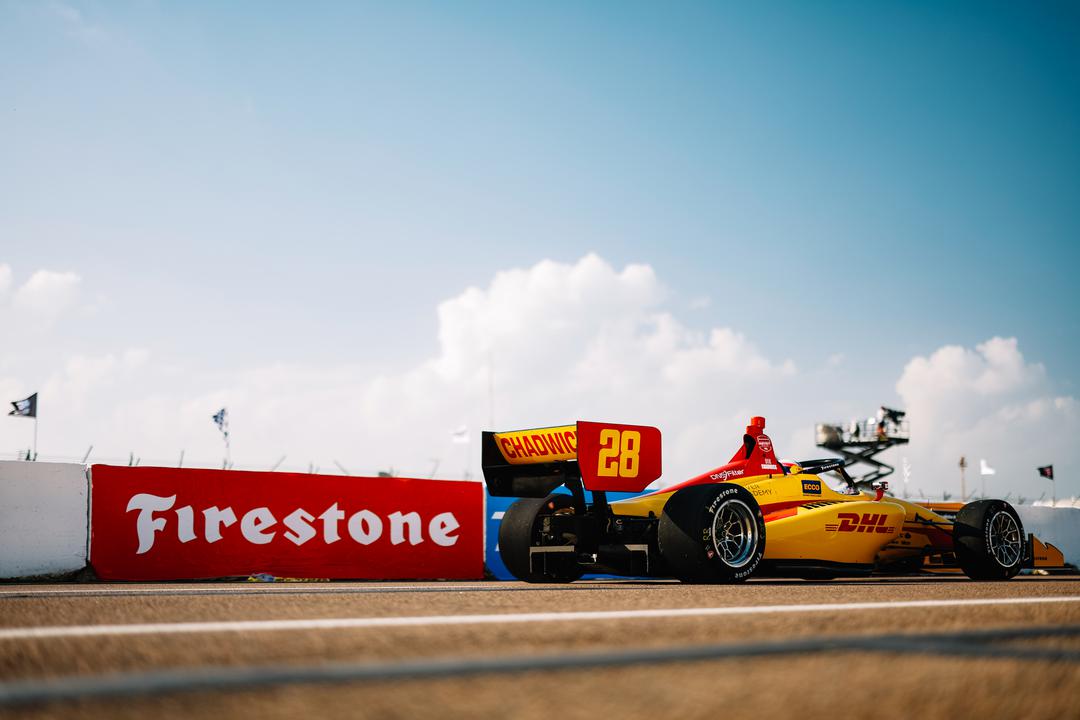 "It is more like a rally car. The way you hustle it, the way you work it, I'll do a lap that I think is quite nice. And then I do a lap where I feel like I've made a lot of mistakes and it's quicker.
"But it's a challenge that I actually really enjoy. It's physical, it's tough, but it's a little bit more pure than some of the other racing with tyre degradation and stuff like that.
"In our eight-minute qualifying session, I definitely didn't leave it all out there and so I'm kicking myself about that. And that's something I'm going to learn I think throughout the year."
It does sound like a lot, 0.8s, and it meant 18th on the 19-car grid, but Chadwick can certainly recover from that, especially at tracks like Barber which will feel much more like the permanent road courses she's used to.
In qualifying in 2023, Jacob Abel was the top returning driver in qualifying in second. He was 0.0660s off pole, but in 2022 he'd been 1.1 seconds off, further away than Chadwick.
That's not exactly a perfectly fair comparison, as Abel drives for his family-run team that has resources but not the experience of Chadwick's Andretti squad, which set pole in that session with reigning USF2000 champion Louis Foster. But Foster raced here last year and has grown familiar with the style of US racing. Chadwick's still on that journey.
The race was also messy for Chadwick who collided with Jagger Jones and later hit the wall at Turn 4 which meant she was a lap down by the end. Getting to the end of races mistake-free has to be a priority to expedite the learning process.
I'm not making excuses, and this certainly wasn't the debut of a driver who looks ready for F1. But given what we saw in St Pete, it's not ridiculous to think that by the end of the year Chadwick could be a top five threat and even better if things come her way.
I'll be honest, I'm not sure I would have agreed with that before this weekend.
The field is so close – 0.8s split the whole grid and just over three tenths separated the top 10 in qualifying – and that means this is a start that is better than it looked on paper for Chadwick.
So many female drivers have jumped straight into IndyCar from other series but few have come up from Indy Lights recently. If Chadwick does master the Indy NXT car and start to deliver more consistent performances she'll be a much better driver because of it.