The truth is out there. But is the lap time?
On a cool spring morning at Monza in 2000 wisps of dandelions floated on the air in a bustling paddock that housed both the FIA GT Championship and the nascent SportsRacing World Cup for prototype cars.
Amid the transporters and hospitality units there was a large white Winnebago. From within it came piercing opera music.
Suddenly the door flung open and, as if in slow motion, a vision the great royal park had seldom seen before emerged.
Dressed in ethereal white, a middle aged man languidly walked into the sunshine. His hair was combed back into a curious bun and he was escorted by a younger woman with stern and angular features.
He claims to have been visited by an extra-terrestrial that "gave me a new detailed explanation of our origins and information on how to organise our future" and had "a face full of love"
Well-known motorsport photographer John Brooks (who supplied all the images for this feature) and I happened to be walking past at that precise moment. We both became transfixed at the unfolding theatre.
Before I could ask, Brooks said: "That's Rael. He's the alien cult guy driving in GT."
Once my tongue had been untied, Brooks filled me on what he knew. It all seemed completely extraordinary. But it was all true. Well, kind of.
Rael, was born Claude Maurice Marcel Vorilhon in 1946. He'd once been a motorsport and automotive journalist, but now he ran a movement, a full-on UFO-based religion. It was one that ticked almost every box of crazy cult stereotypes.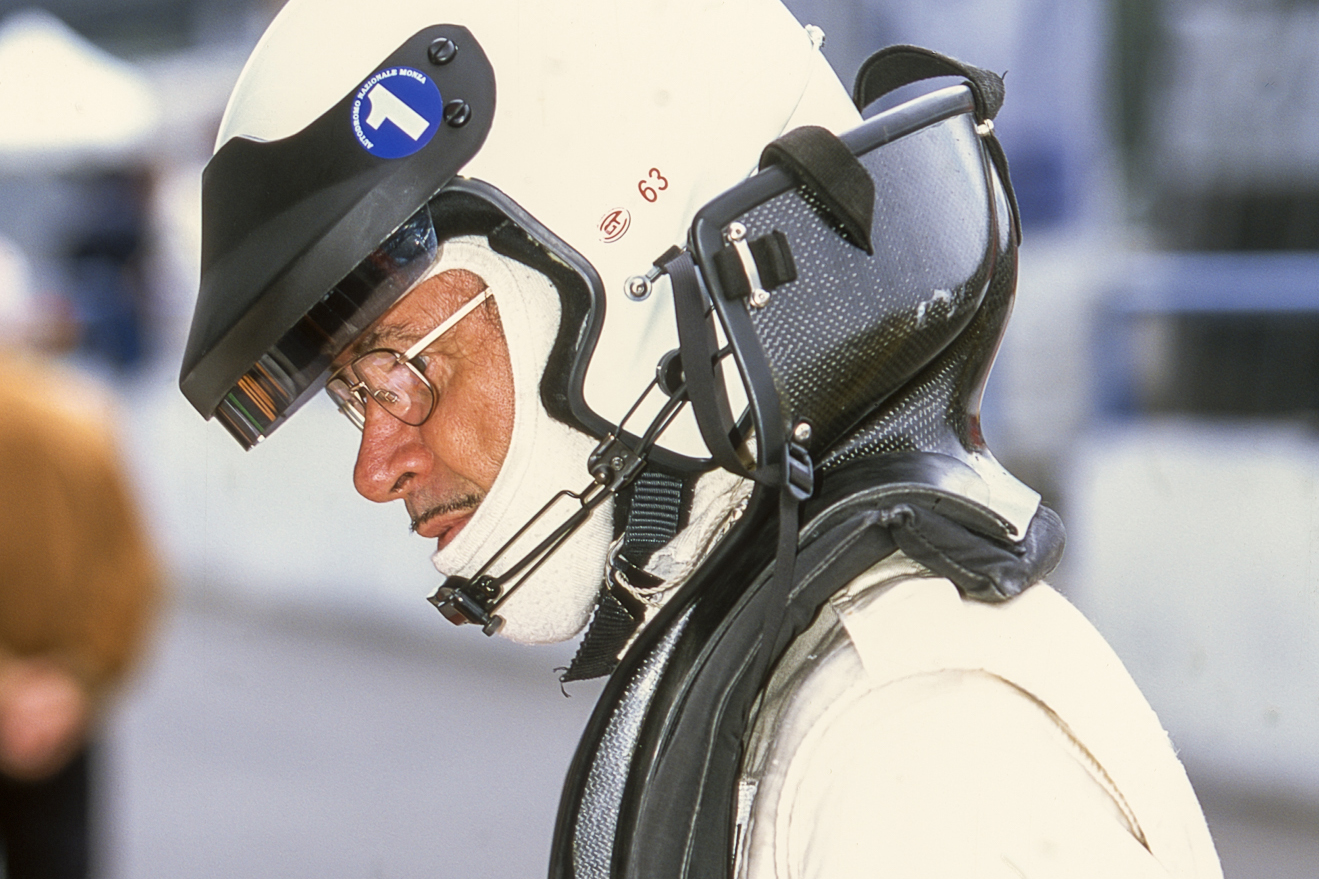 Vorilhon founded a magazine called Auto Pop in 1971 and was a regular at tracks, often participating in low level national and regional race and rally competitions.
He had graduated from the renowned Winfield racing school in 1968 and intended to pursue a career as a racing driver.
Prior to that he'd also tried his hand in the music business and had recorded Jacques Brel-esque acoustic numbers. These included the rather truly odd 'Madam' Pipi' (Mrs Toilet Attendant) and the direct yet informative 'Monsieur votre femme me trompe' (Mister, your wife is cheating on me).
Things started to get a little 'Mulder and Scully' in December 1973 when Vorilhon was driving near the Puy de Lassolas volcanic area of central France, close to the former Formula 1 track at Clermont Ferrand.
He claims to have been visited by an extra-terrestrial that according to the man himself "gave me a new detailed explanation of our origins and information on how to organise our future" and had "a face full of love".
This was going to be no ordinary post-race debrief.
These details were part of a rambling book called Le Livre qui dit la verite (The Book Which Tells the Truth) published in 1974, which acted as a kind of prosaic manifesto for beginning a movement that started to grow modestly throughout the next three decades.
The claims represented the beginning of a dramatic change in Vorilhon's life.
When several other episodes occurred, with what he understood to be a being called 'Yahweh' who informed Vorilhon that the creators of humankind were scientists from another planet called 'The Elohim' ('Those who came from the sky' in Hebrew).
From that point on Vorilhon made it his life's work, initially under the MADECH banner and then the Raelian organisation, to spread the message of The Elohim and to prepare 'an embassy to welcome the return of our creators'.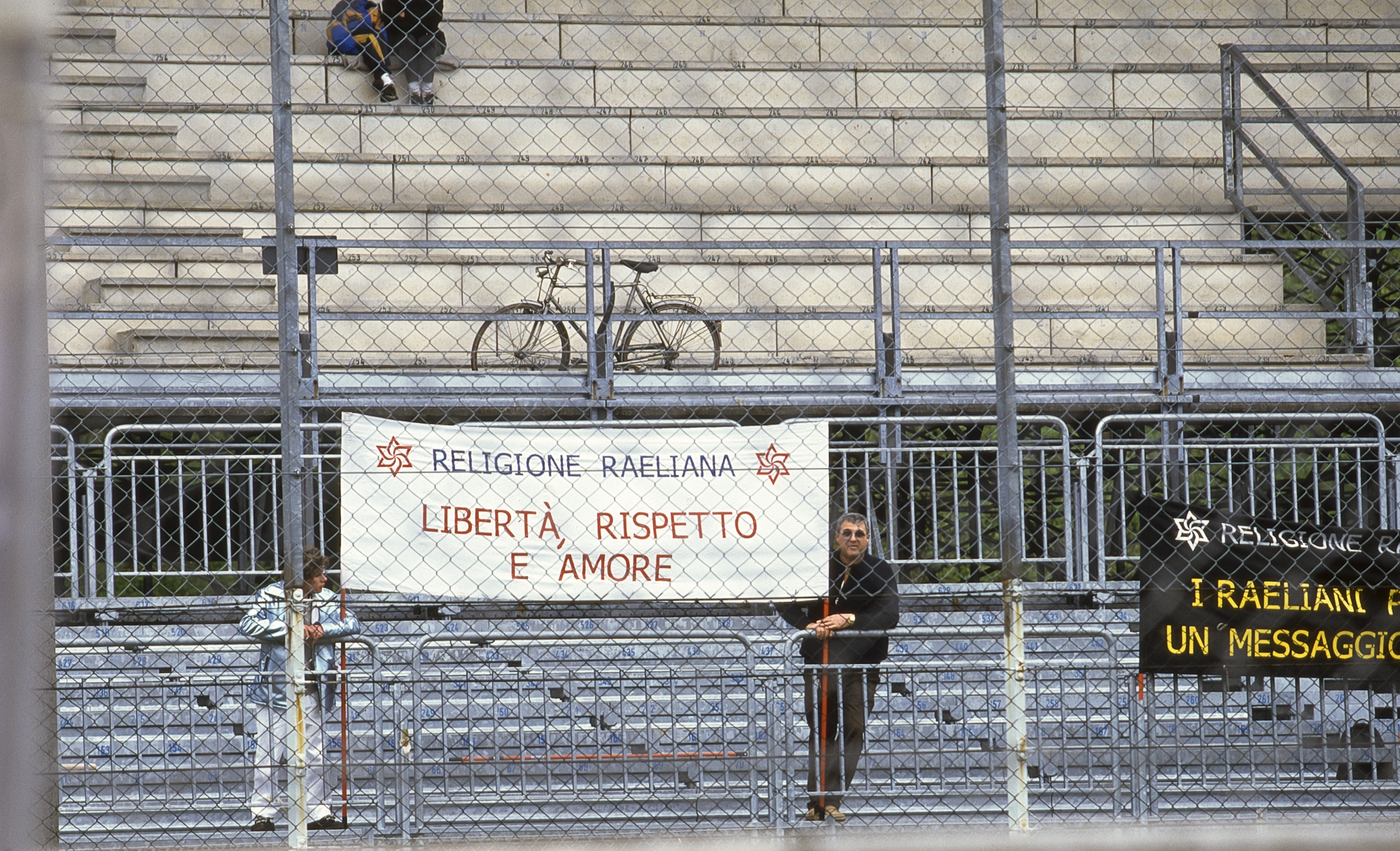 You may well be wondering where FIA GT and the International Sports Racing Series come in to this particular soup of space oddity?
Well, in the 1990s Vorilhon, who had long since changed his name to the prophet-like Rael, was gaining traction in his nonconformist business empire that had a foundation accepting donations from those piqued by Rael's peculiar mission.
These were handily used for a budget to go racing in what Rael used to promote what he called "the first interpretation centre of the UFO phenomena in the world".
This was a UFO themed park near Montreal called slightly unimaginatively 'UFOland'.
It is this facility, resplendent with a full-size replica of the flying saucer that Rael says he boarded in 1973 and a 26-foot-high model of a DNA strand, that appeared on cars Rael raced in internationally throughout the 1990s.
He raced exclusively in Japan in 1994 in the Toyota Celica Cup and Honda Civic Cup, which he entered under the Rael Racing Team moniker.
By this stage Rael was starting to make international headlines with his obsession with cloning human DNA and also for marrying one of his teenage followers
It was while competing in 1997 that the group founded Clonaid – which lauded itself as a 'leading provider of reproductive human cloning services'.
The company even claimed, without actual evidence beyond a photograph, that it succeeded in cloning a baby, called Eve (what else!) in 2002.
Prior to this Rael had hit his peak in the racing world when he entered the 1997 Daytona 24 Hours, although actually getting the deal over the line with an ancient Davin Racing run Argo-BMW JM17 proved a step too far.
The story goes that Rael agreed a deal but then bailed at the last moment because he had received advice from 'The Elohim' not to race.
Team boss and driver Edd Davin had a slightly different perspective and it was one that had a rather more clear-cut 'raelity' in that his charge just didn't turn up with the greenbacks!
In the following year Rael attempted to spread the UFOland and Clonaid word across Europe, and he struck up a deal with niche Italian constructor Centenari in the first full season of the ISRS championship for prototype sportscars.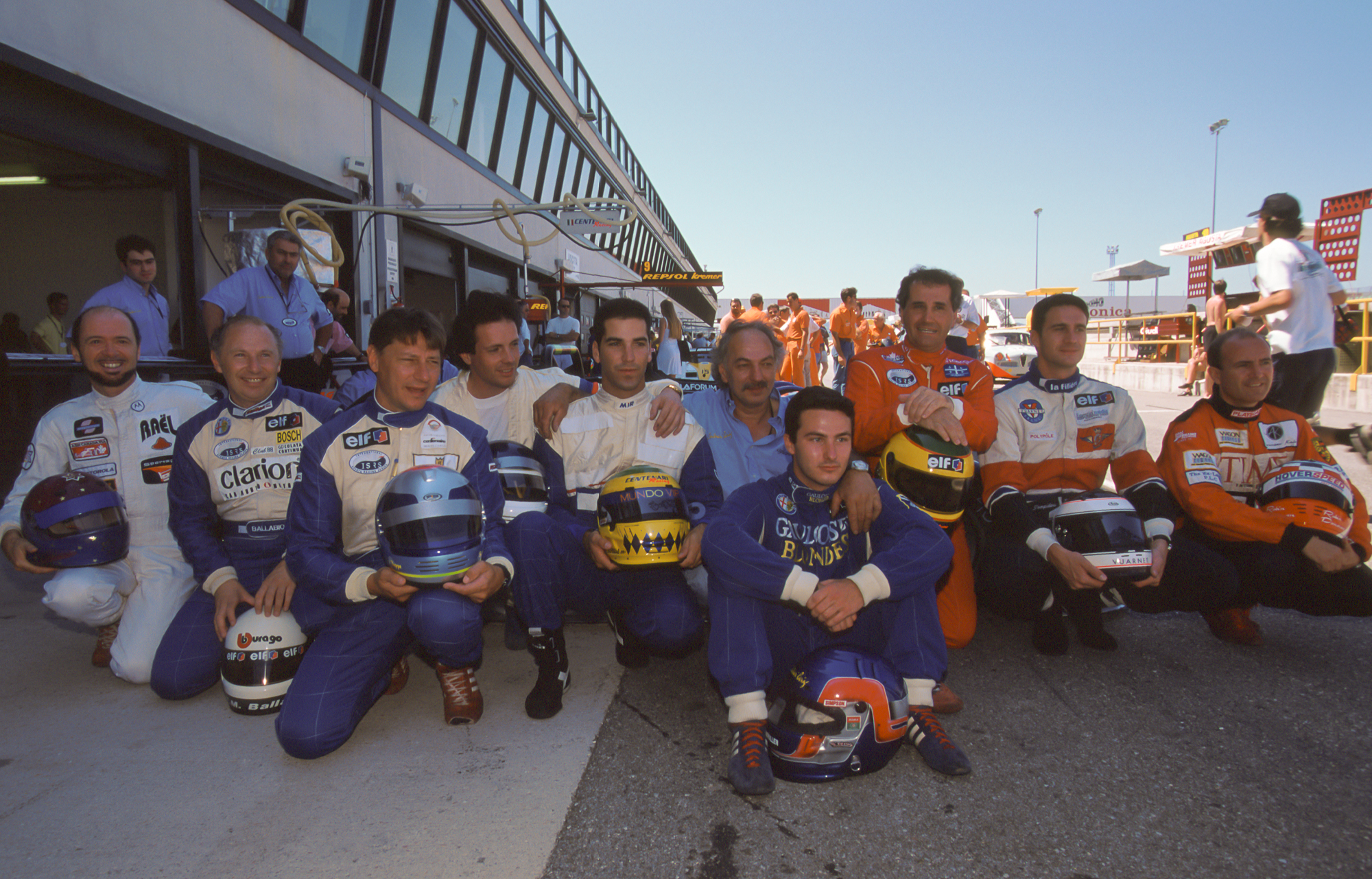 There were fleeting appearances at Misano (where Rael is pictured above on the far left) and Anderstorp where he somewhat surreally shared a car with Loic Depailler, son of the great Patrick, and a youthful Joao Barbosa.
In one of the other three cars fielded by Centenari that weekend, Jacques Villeneuve Sr and former Osella F1 driver Beppe Gabbiani also joined in the fun.
In Sweden Rael teamed up with 1989 Le Mans 24 Hours winner Stanley Dickens and Angelo Zadra but to little effect.
The truth was that while the whole Raelian construct sounded like an outlandish yarn from a long lost episode of the Mighty Boosh, the story of his brief reappearance in motorsport was actually pretty lame.
Like his pace behind the wheel, Rael's efforts were mostly ignored and for pretty good reason.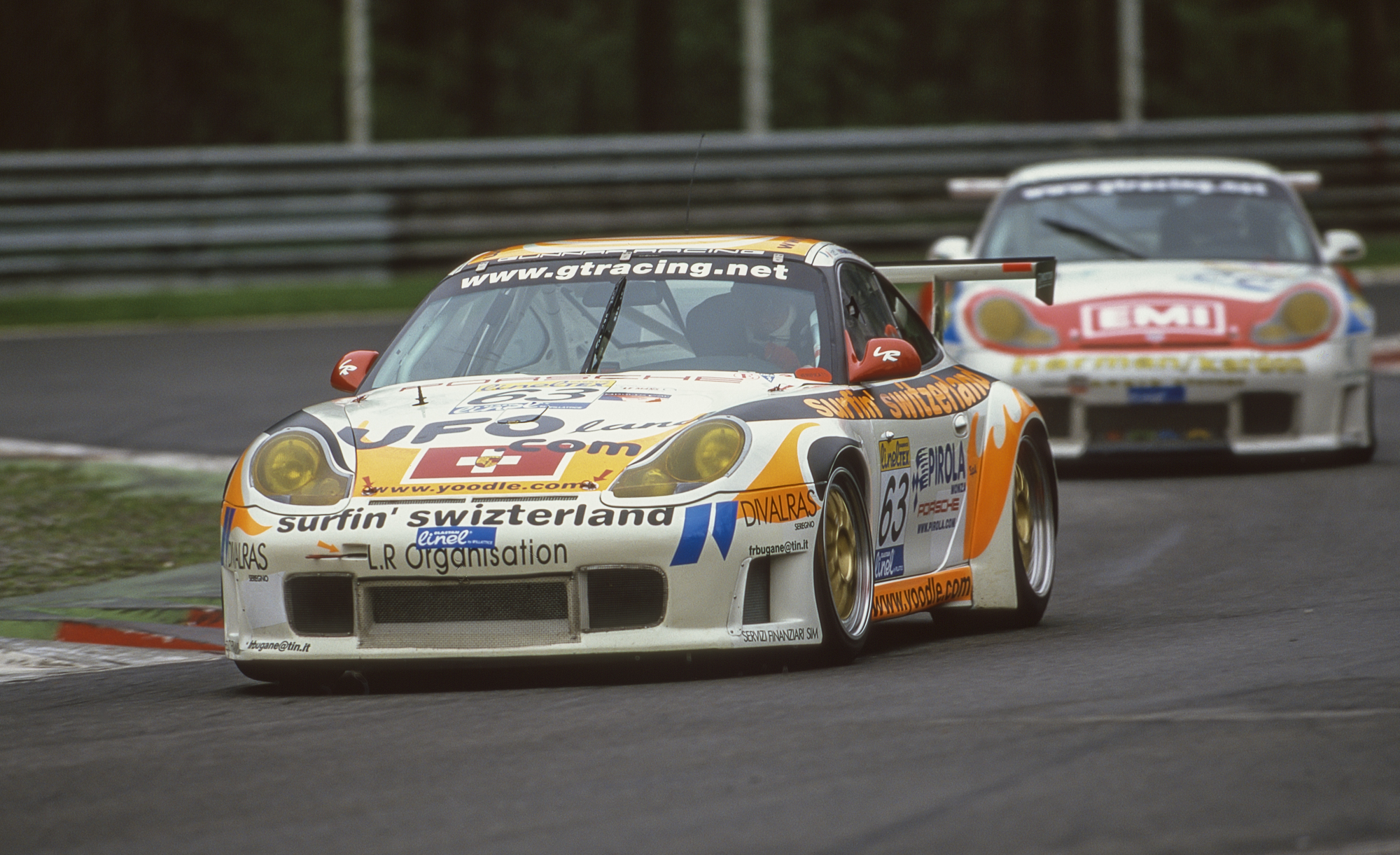 Despite a long acquaintance with 1973 Monte Carlo Rally winner Jean-Claude Andruet, which extended to sharing a Mosler at an obscure 24 hour endurance event at Moroso Park in 1999, Rael was well out of his depth at anything beyond national level racing.
His final explorations in racing came in 2000 and 2001, when he made appearances in the FIA GT Championship, including the Monza event (pictured above) where he shared a Porsche 996 GT3-R with occasional F1 driver Francois Migault.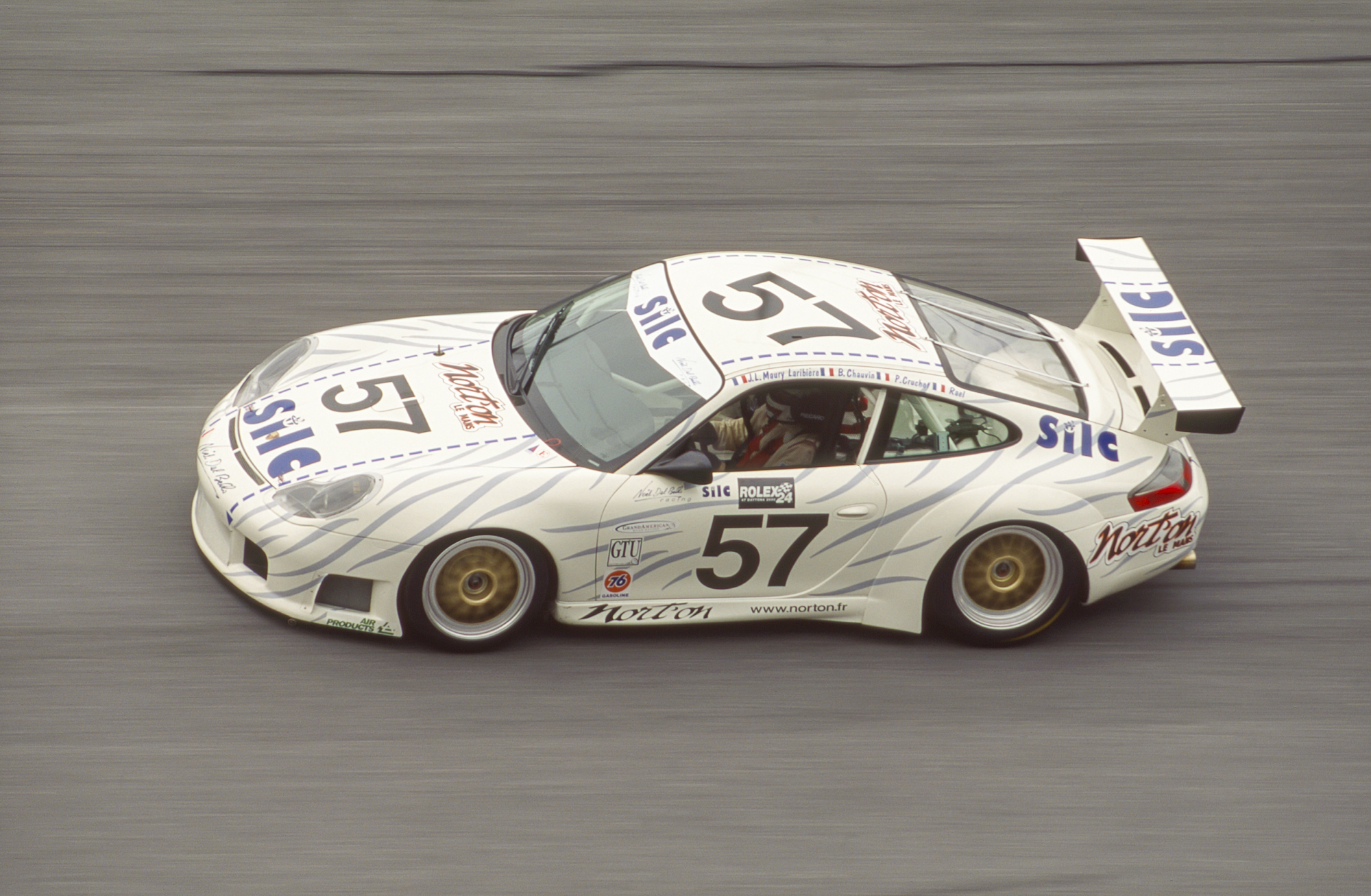 He did eventually make it to the start line at Daytona that year in a Haberthur Racing run Porsche whose driving squad included 1987 F1 backmarker Pascal Fabre. Another DNF was added to his record however.
Back with Andruet in 2001, occasional Lamborghini Diablo Super Trophy races were taken in but by this stage Rael was starting to make international headlines with his obsession with cloning human DNA and also for marrying one of his teenage followers, Sophie de Niverville.
The reasons for retiring from the cockpit then were more than just unconventional, but nothing in the life of Rael, nee Claude Vorilhon, could ever be described as orthodox.
All images courtesy of John Brooks