Some may feel that the days of big money prizes for so-called 'support series' are – for the most part – a thing of the past. But in 2023, there's a series out there offering $1,178,500 to its competitors for a season you can do for under $150,000.
The MX-5 Cup is the worst-kept secret in North America in terms of a value-for-money racing category. The cars are relatively close to the production model sold in the US, and a dedication to parity from the series – it calls it an "obsession" – means you can regularly see races decided by less than a second.
Perhaps the best advert for the series was the season opener at Daytona last year, which was won in the wet by 0.062s, in a finish more resembling the NASCAR Cup Series on the famous oval rather than a contest between 30-odd 181bhp rear-wheel-drive coupes on the twisty road course. There was even a proper post-finish line crash in true NASCAR style, and it attracted 111,000 views on YouTube.
That wasn't even the smallest margin of victory on the season, which went to Watkins Glen – where the first race was decided by 0.036s. Of the 14 races in the season only two were won by more than a second, and six were won by less than a tenth!
With cars built centrally by Flis Performance, kept in check by a spec ECU and series-standard BF Goodrich tyres and supported with funding from Mazda Motorsports, the series seems to have the perfect recipe for a racing competition – with a car you can buy for $68,000.
There's plenty of value in track time, too. Two 45-minute races per event with qualifying and two practice sessions to boot.
The only question left might be – why aren't more people paying attention?
---
Car specs
2.0-litre engine, 181bhp
Six-speed sequential gearbox
Limited slip 'diff
Adjustable front and rear roll bars
Coilover springs
---
"We've really got a product that has been elevated in the last couple of seasons, and that speaks volumes to the parity and the integrity of the series on the racetrack," says Jonathan Applegate (pictured below), the programme manager for Mazda Motorsports, who has witnessed the series go from a grassroots MX-5 championship the likes of which are common the world over to a near-professional racing series with prize money to match most alternatives.
"The evolution of the series was birthed in the grassroots, and moved from the ambitious drivers in spec Miatas [American name for the MX-5 model] that wanted to do more, turned it into a series.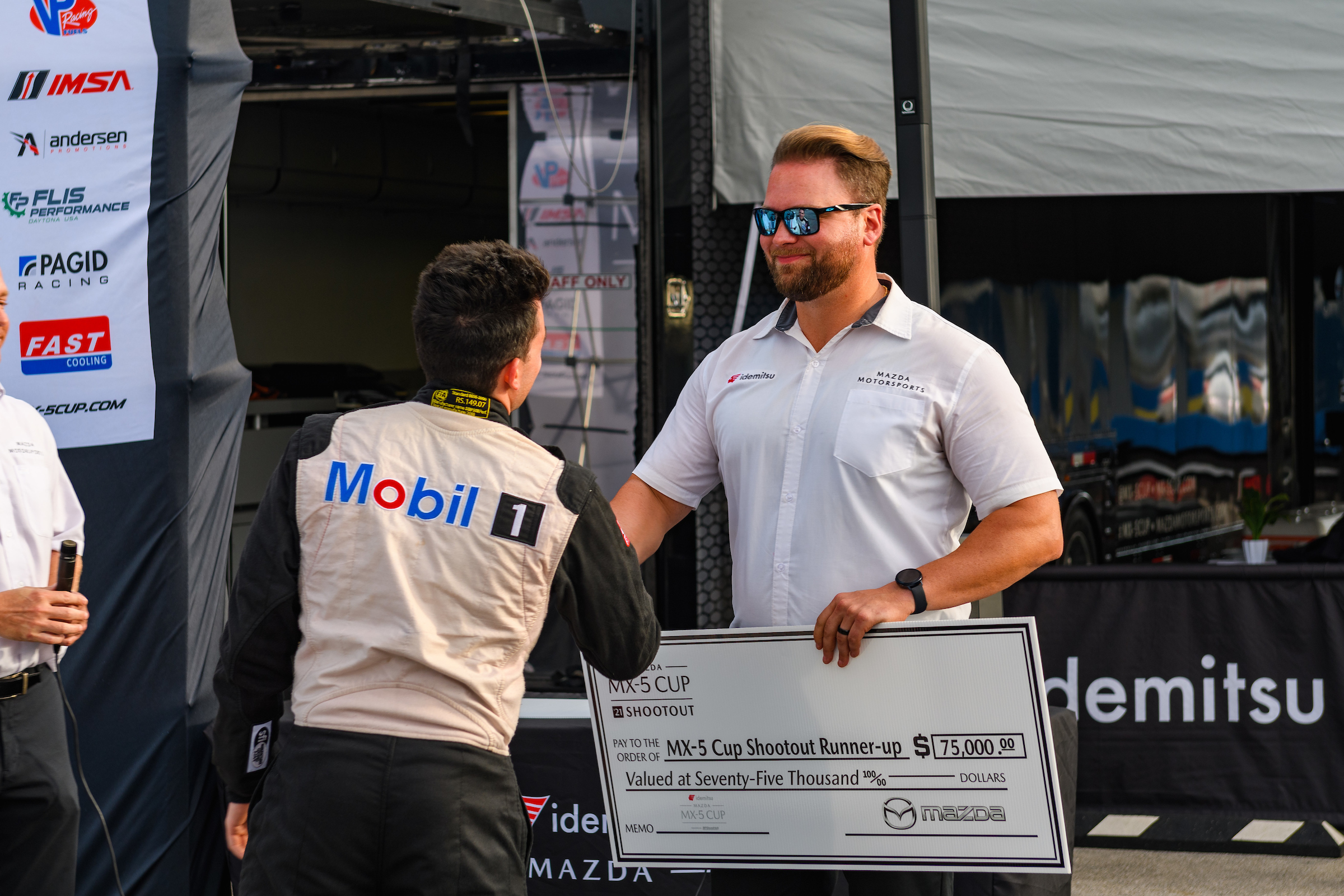 "Shops and drivers were building their own cars with a sort of semi-pro approach, with ambition to become professional drivers. But the parity wasn't there.
"And there was just a lot of inconsistency that really did not help with balance of performance and did not get to a point where the series was quality enough to be what it what we wanted it to be."
A move to a spec car in 2016, with the aforementioned Flis Performance building the cars in house and providing on-site support since 2019, has allowed for the level playing field the MX-5 Cup needed.
Initially supporting IndyCar and now almost being exclusively housed on the IMSA schedule, helped by Road to Indy chiefs Andersen Promotions, the series has got itself noticed Stateside.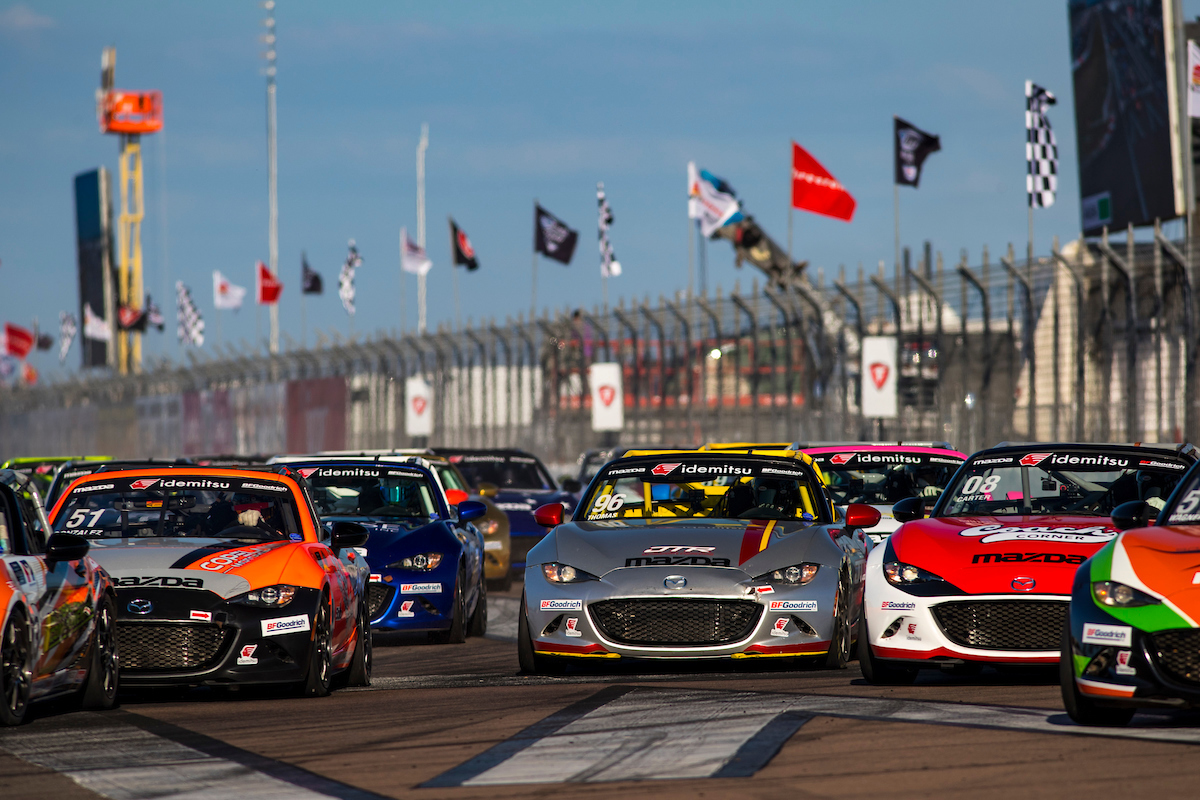 ---
2023 calendar
January 25-27 – Daytona (IMSA support)
March 3-5 – St Petersburg (IndyCar support)
May 12-14 – Laguna Seca (IMSA support)
June 22-24 – Watkins Glen (IMSA support)
August 4-6 – Road America (IMSA support)
August 25-27 – Virginia International Raceway
October 11-13 – Road Atlanta (IMSA support)
---
Perhaps the perfect example of the success story the series has made of those lucky enough to be competitive enough is Jared Thomas.
As recently as 2017 he was racing a 1999 Miata at the grassroots, while studying in Indianapolis to become a racing engineer.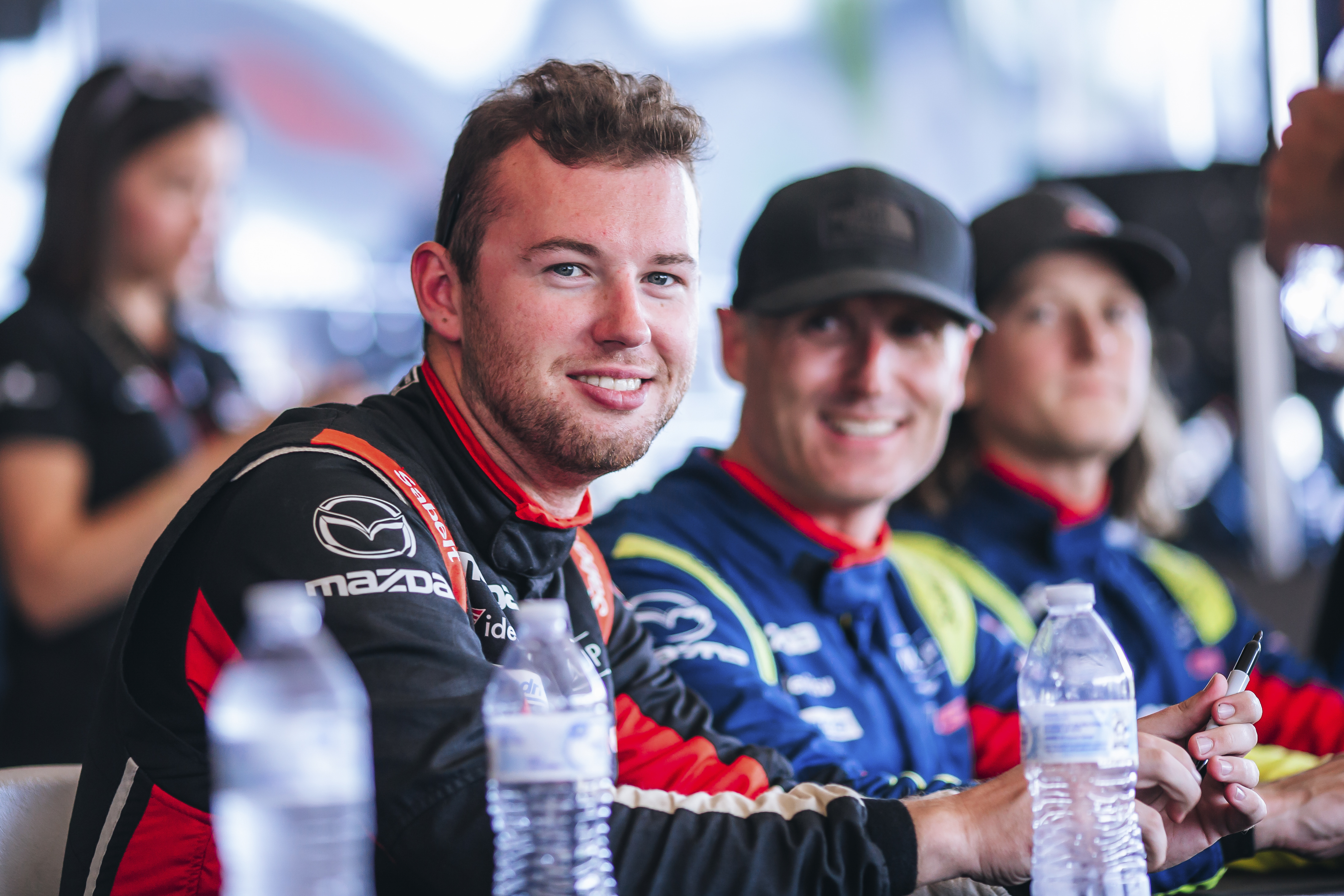 But in 2019 he won the MX-5 Cup Shootout, which awards a $110,000 scholarship to race in the championship, and then in 2020 he was rookie of the year, which bagged him another $75,000. Thomas now runs his own team, and won the championship in 2022, taking home a cool $250,000 – which he can now contribute to his racing.
Less than five years ago he was just another club racer struggling to pay for his racing, and now he's a team boss and championship-winning driver on the IMSA support card.
"It really has been pretty crazy," Thomas tells The Race.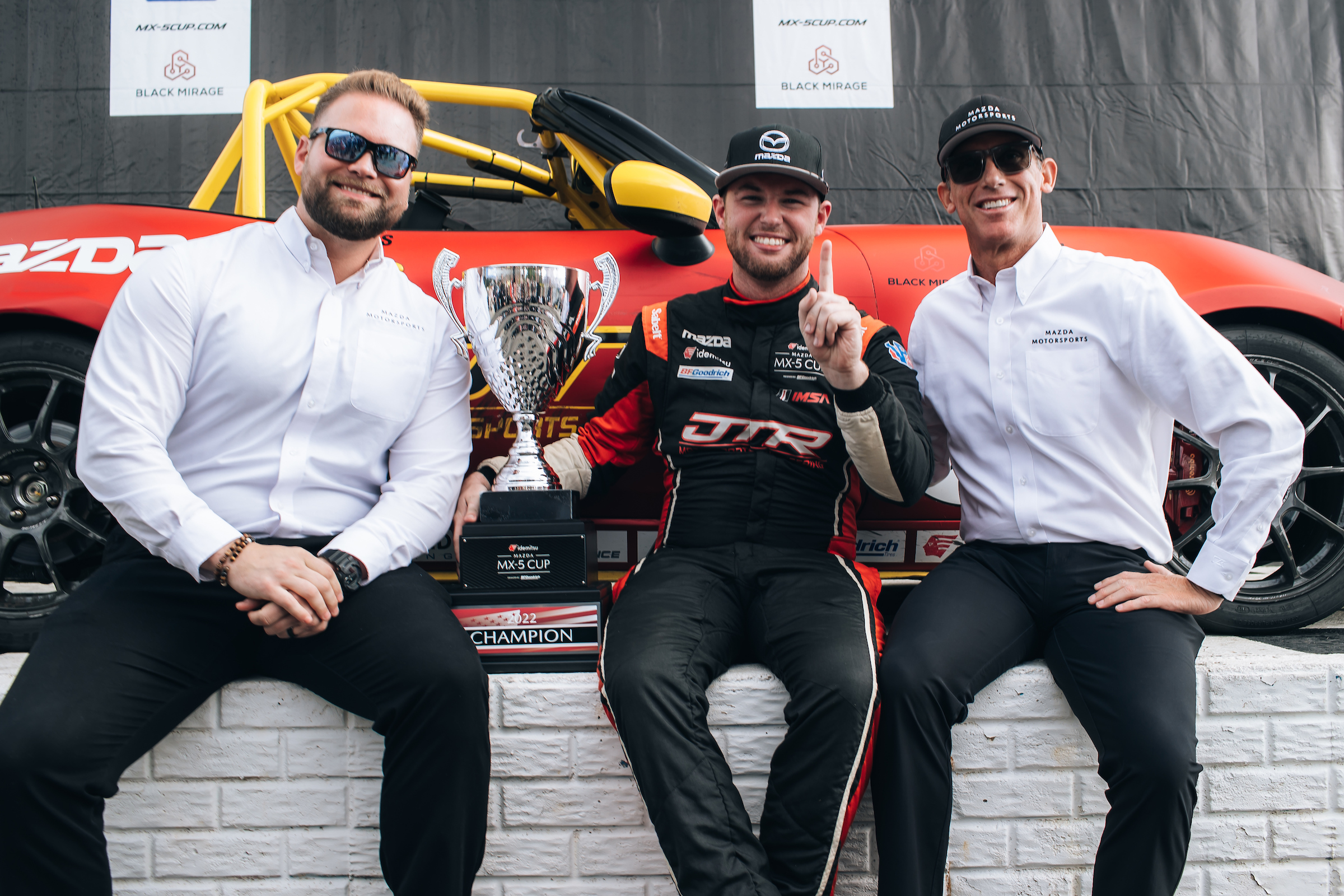 "I'd never expected to be a professional driver or ever even get the chance to run a race at a professional level.
"I always knew what my budgetary limits were and I was just okay with that.
"You just never know where things are going to lead to. That's been pretty cool.
"Continuing to win championships and things like that, I've taken a lot of that money and actually reinvested it into my organisation and built that up. So that's kind of how we built our programme and continued to stay in the series."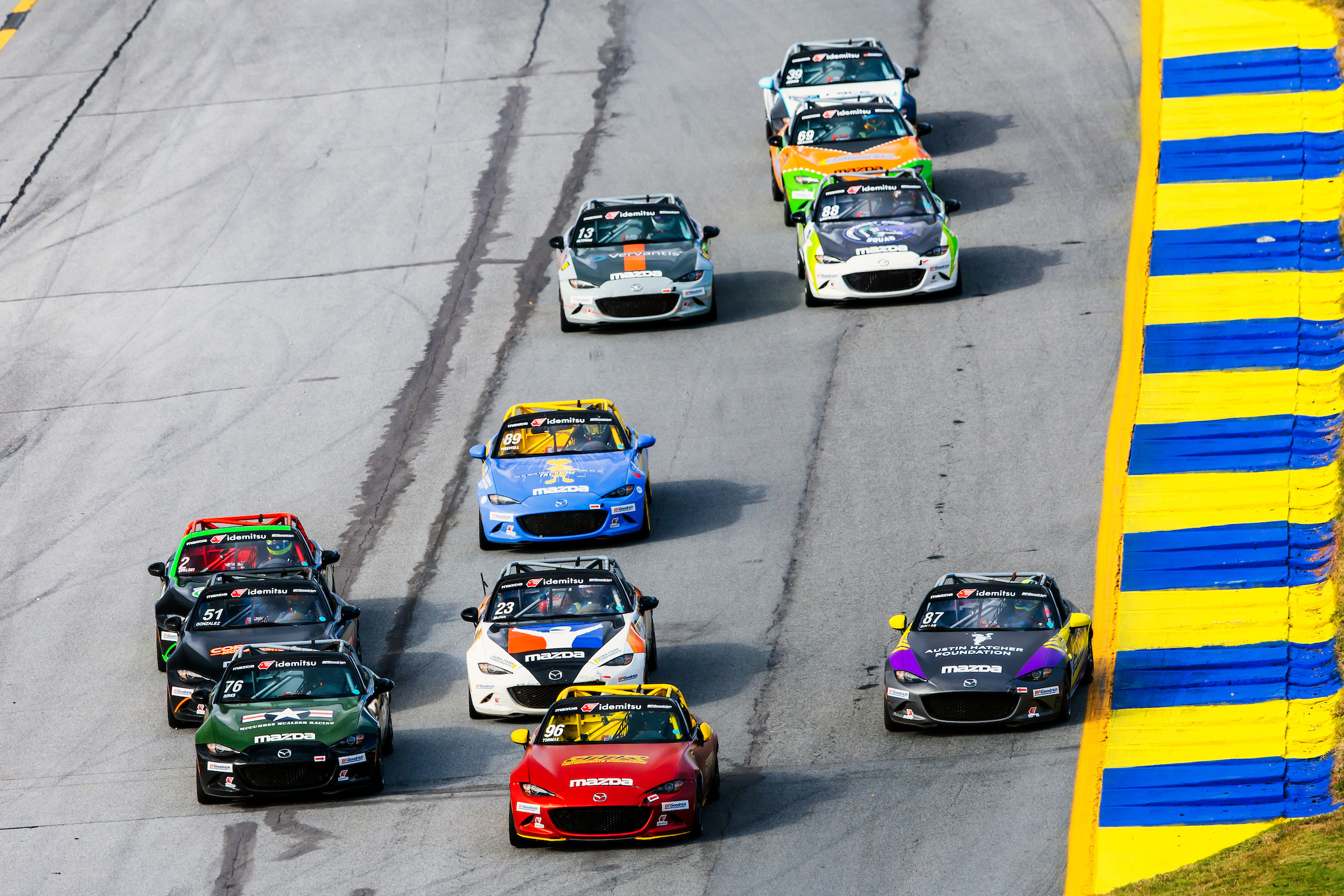 ---
Scholarships and prize payouts
Champion – $250,000
Rookie of the year – $80,000
Further payouts for a top-10 championship finish
Per race
1st to 5th – $6000-$2000
5th to 10th – $1000 split
Highest-placed female – $2000 (as long as a minimum of two women start the race)
MX-5 Cup Shootout (12 drivers, earn a shootout spot by winning qualifying feeder series)
Winner – Scholarship to race in the series valued at $110,000
Further scholarships – 2x $75,000
---
Not only has the series allowed Thomas to build a successful business, it's provided the opportunity to realise his dream of becoming a racing driver recognised in the IMSA and IndyCar paddocks – with the IMSA teams especially guilty of popping the MX-5 races on in their trailers between debriefs and race prep.
There's an inherent respect there that racing in the MX-5 Cup and extracting the maximum out of these diminutive cars compared to other machinery out there is not easy, at all.
"The car is low horsepower so it's what you would consider a momentum car, you've got to make sure that you're not really scrubbing a lot of speed," adds Thomas.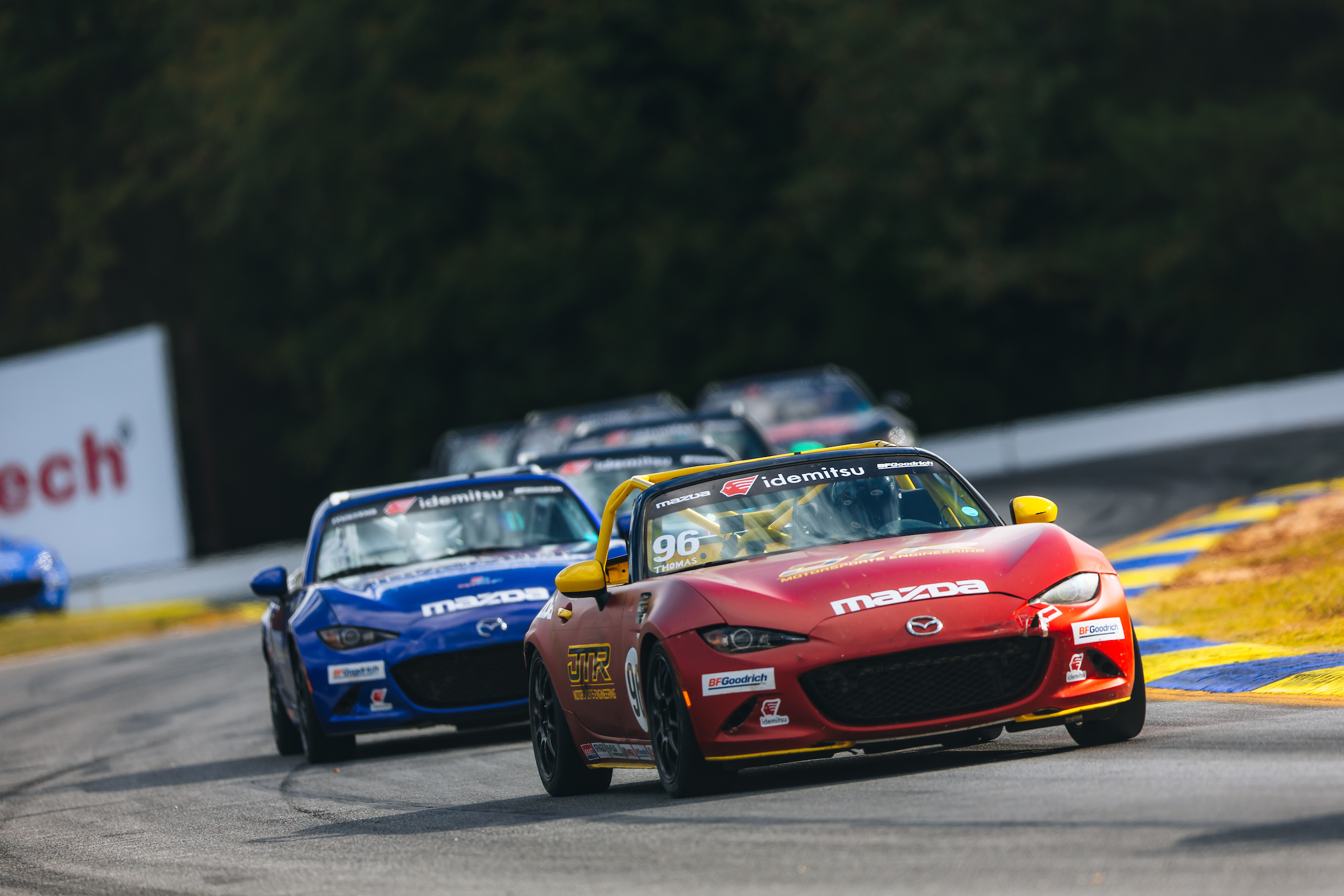 "It has a relatively small tire, so it slips and slides somewhat, if you overcook the corners. Really just on edge would be what I would describe it as.
"You'll see a lot of guys maybe that are not necessarily loose, but they're on the free side.
"Understeer is very hard to overcome, as you don't have very much horsepower. So you've really got to have the car on the free-to-loose side to be fast."
It really feels like Applegate and his team are trying to elevate the MX-5 Cup even further beyond what it has achieved so far, and for that it's trying to balance being accessible versus catering to a top level. It's hard to do.
There will always be competitors – in many cases rightfully – campaigning to keep budgets and costs down because they have come from the grassroots. And there will always be those wanting the series to strive forwards and do some of the things that cost a bit more money but elevate the championship.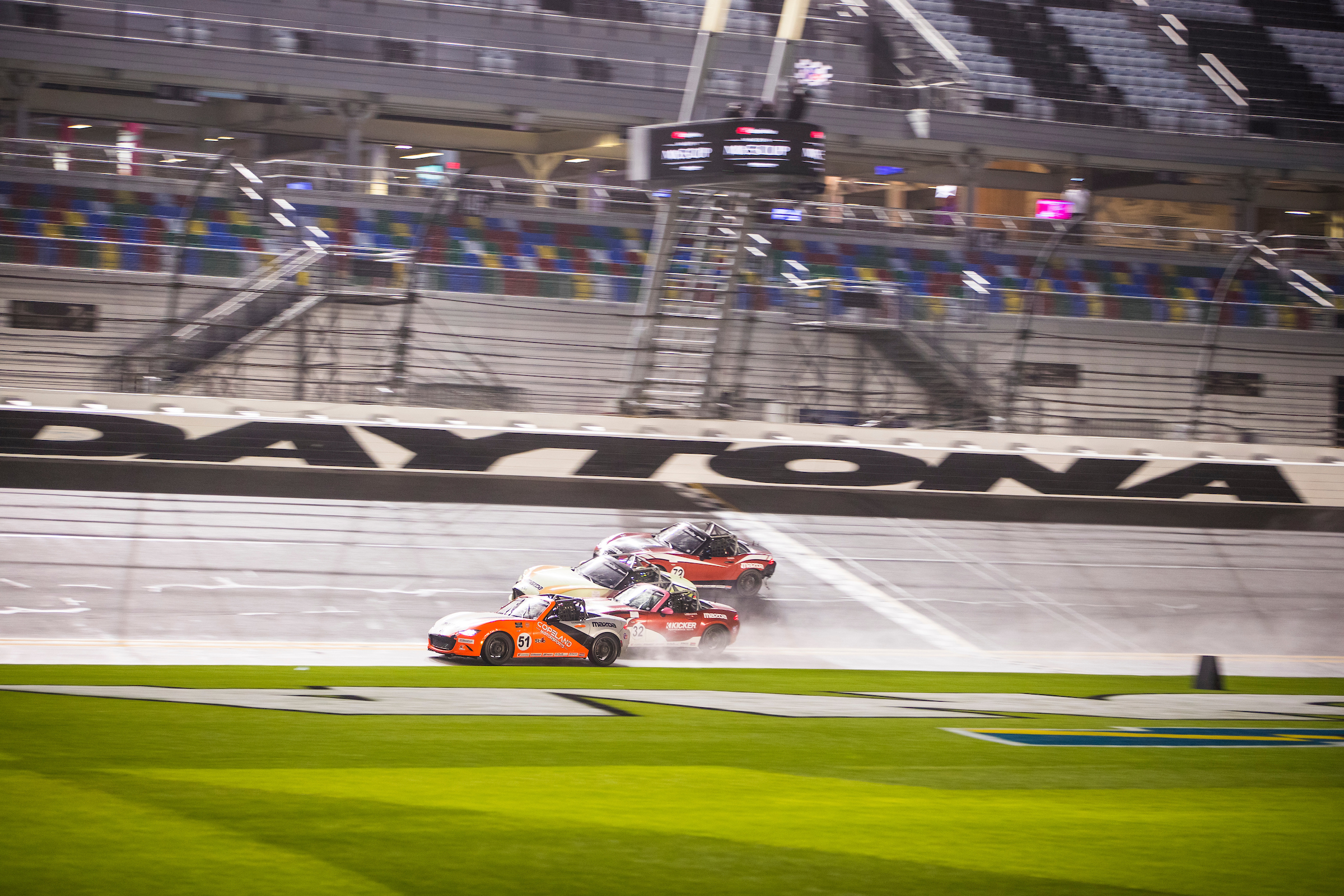 "We'd love to say about the series [that it is good value], because in comparison to some of the other spec series and any other racing in North America, it really is a very cost-effective programme and platform to get involved in," Applegate adds.
"But at the same time, we don't want that grassroots expectation.
"We really are trying to elevate the professional profile of the series and get it to a point where people are seeing the schedule, they're seeing our product, and it's all defining premium."
It's a big year for the MX-5 Cup with its expanded prizes – which includes going to a per-race payout system partly to help those who might not have a full-season budget but can top up their budget with race results – as it tries to piggyback off the expected extra eyes IMSA will receive in its own new era with big manufacturers and hybrid prototypes coming in.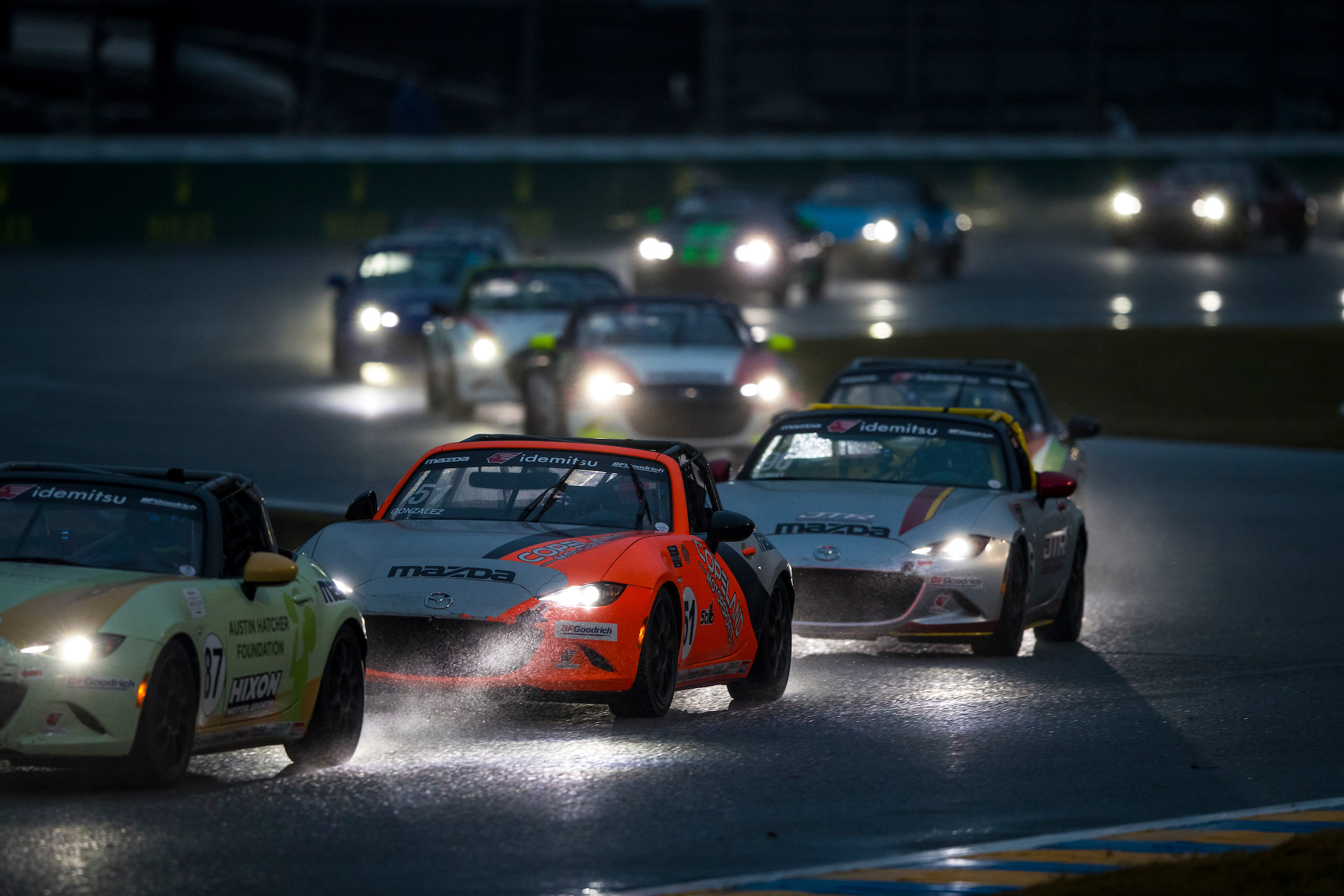 It's already proven dreamy for people like Thomas, and it offers some of the best racing you can watch on YouTube anywhere in the world.
It will be worth watching carefully to see just how big this championship becomes. Could it send some of its drivers into bigger race drives in IMSA or NASCAR? Can it attract some bigger names that might have previously been beyond its reputation?
It's certainly an exciting time for a series that deserves more worldwide love and attention than it gets.
The images in this feature are courtesy of Mazda Motorsports/Ignite Media