Crashes in the IndyCar's iRacing Challenge have led to concerns over a "lack of respect" having "pretty bad" consequences when real-world racing resumes – yet drivers also suggested that the esports series could help teach newcomers in a safe environment.
The debate has peaked over the last two rounds, which have both been held on ovals. The wheel-to-wheel racing at over 180mph breeds danger, and of course that has led to a series of incidents.
In the Michigan iRacing Challenge round two weeks ago, polesitter Marcus Ericsson stacked up the field – unsure of when to accelerate – and that caused a concertina affect with a huge crash involving pretty much the whole pack. That one was difficult to blame on anyone with restarts unpredictable – especially with it being the first time many of the drivers had restarted on an oval – and even though Ericsson had backed everyone up, others had gunned it too early and were going too fast to take avoiding action.
1996 US 500 at @MISpeedway: crash at the start.

2020 @iRacing @IndyCar Challenge Chevrolet 275 at Michigan: pic.twitter.com/LGvIwuW5Vw

— IndyCar on NBC (@IndyCaronNBC) April 13, 2020
Last weekend's incident was a bit more obvious. In the Motegi race the caution flag would fly for a crash – which it hadn't done at Michigan – and that put being on the lead lap should a caution come out at a premium. With just a few laps to go, IndyCar rookie Oliver Askew dove down the inside of race leader Will Power in a bid to reclaim a lap, having just pitted, but instead nudged Power – who then crashed into his team-mate Scott McLaughlin. The latter spun, and Power had damage which robbed him of contending for the victory.
"I feel terrible for Will Power and Scott McLaughlin after making contact with them while they were battling for the lead," said Askew on Twitter later. "Was trying to un-lap myself in hope of a yellow, just wish I could have handled the situation differently, but I am thankful I am able to learn from this in sim rather than real life."
Power was obviously upset at the incident in the post race press conference – he still managed to finish third – and when asked how to handle the situation when you can't just go and speak to the driver, he replied fairly bluntly.
10 to go and things started to get wild with this as example A: #INDYCAR // #INDYCARChallenge pic.twitter.com/V5UWecagJ7

— NTT INDYCAR SERIES (@IndyCar) April 18, 2020
"It's a text message, that's what I sent him," he said.
"I had three of the clapping signs with a little sign like this. 'Took out the two leaders with a few laps to go. Huge lack of respect for the drivers who worked hard to be there racing for the win at the end, which you will be at some point.'
"That's what I sent to Askew."
Askew is no oval rookie, having won last year's Indy Lights title as well as competing in the two other Road to Indy championships on the ladder in USF2000 – which he won – and Pro Mazda, all of which feature oval racing.
The iRacing Challenge has opened up another avenue for enjoying ovals, which Askew and both Will Power and race-runner up Scott Dixon also picked up on.
The Michigan race was a barnstorming encounter that offered all the pros of an oval race. The strategy battle was palpable with some attempting to go one-stop and some two-, some taking four tyres and some two or none. It's a high-speed oval that IndyCar doesn't go to anymore, but the iRacing Challenge displayed all the joys of it and – very importantly – without the consequences.
The reason Askew was able to make that risky move, and drivers have made hundreds just like it in the last two weeks, is that the event offers a reset button and no injuries. No cost of car damage, no lasting mental side-affects from a huge shunt. One click of a button and you are racing again. It's the 'dangerous oval' elephant in the room.
"You know what I think is great about this is – I just noticed, when we're racing in Michigan last weekend, which is kind of a pack race, if you were driving like an idiot, you would be called out," Power said. "Like, we all hear each other's radios. You can talk to each other. It actually brought people into line. People slowly gained more respect. I thought that was really interesting.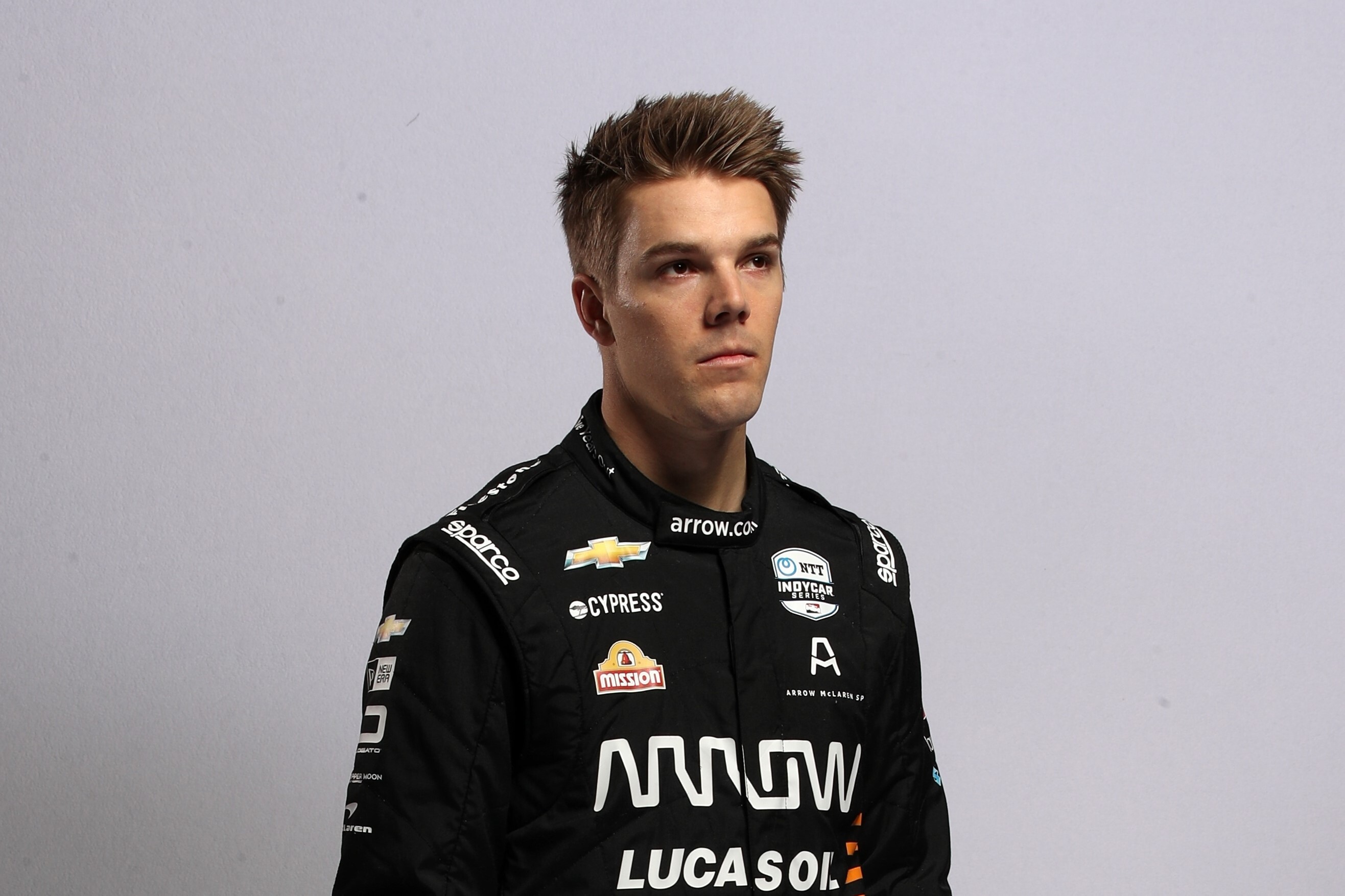 "I kind of thought it would be interesting if we could do that for real in the car. Some people, 'look, let's just work together to catch a draft'.
"It is a great tool for those young guys to understand how you should race a superspeedway, sort of respect, you're supposed to hold your lane, not weaving around.
"The fact that came to me is you do get called out if you're driving like an idiot and other people comment on it. You get pulled back straight into line. I thought that was a really good thing."
A look at the incident that brought out the first caution of the day.#INDYCAR // #Firestone175 pic.twitter.com/t9jIoZM3Fr

— NTT INDYCAR SERIES (@IndyCar) April 18, 2020
His team-mate Pagenaud added: "It's actually interesting what Will said. I agree with him. We all talking to each other during the race. It helps, calms the emotions down sometimes. There might be something to learn from that…"
Power has been at the forefront of the group radio chat between the drivers, being banned from it a few weeks ago for calling drivers he believed were misbehaving in traffic "wankers".
Despite the choice of language, it's good that IndyCar's stars are still willing to stand up and make declarations and suggestions that could improve the championship despite the current lack of racing.
The poignant scene of Robert Wickens taking pole for the Motegi race was not lost on me personally. Wickens' Pocono crash in 2018 paused a phenomenal start to his rookie year after many years where he was highly-respected in one of the most prestigious championships in Europe in DTM. He's proven he had the street and oval pace, but his crash left him initially fighting for his life, and now his battle is to walk again.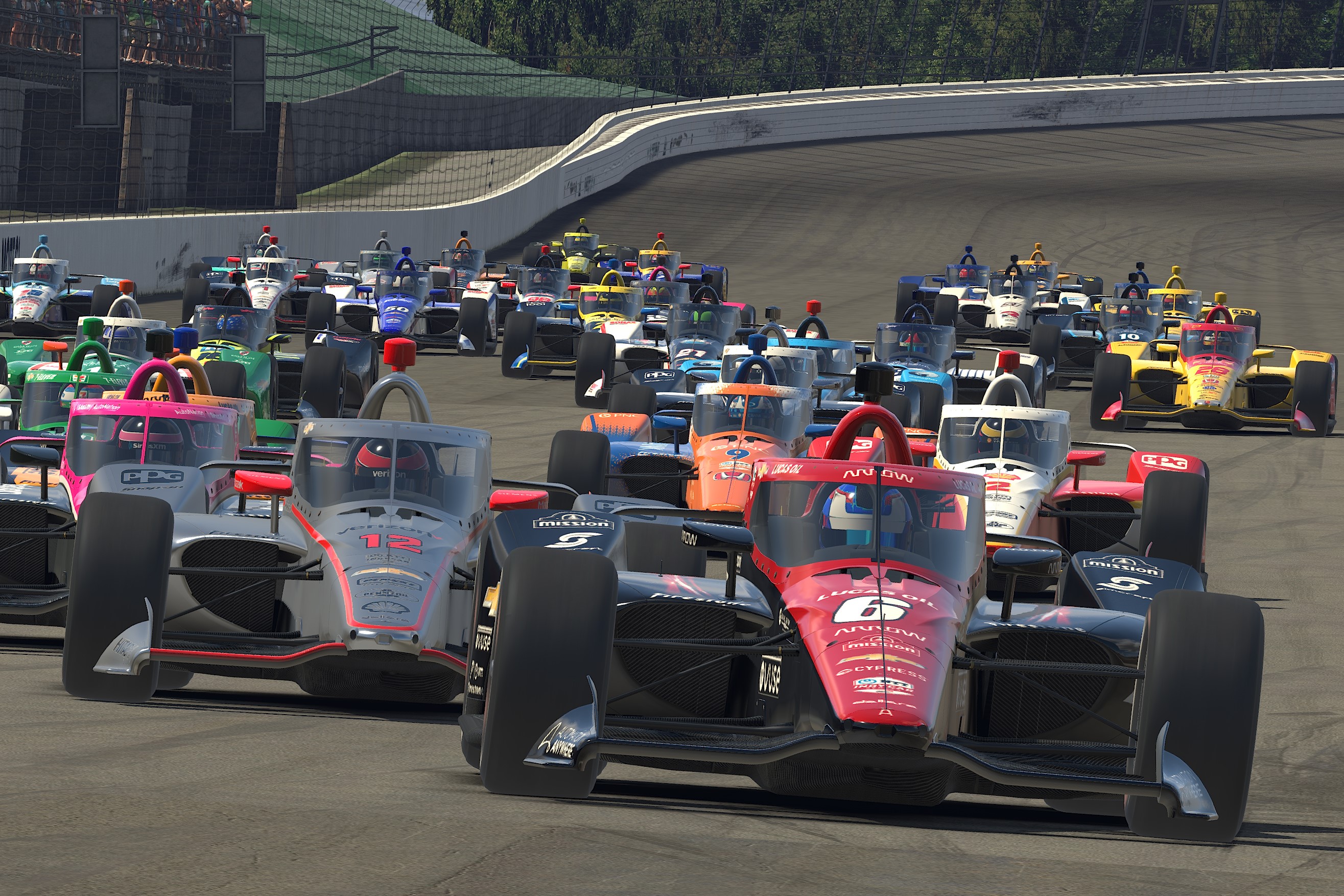 Now competing with hand controls on a new sim rig, Wickens' passion for racing, IndyCar, and eventually returning to both has never waned. But his crash and his appearance on the iRacing grid when he can't compete in real life is a constant reminder that oval racing is dangerous, and that as Power rightly points out, this should be a time for learning for IndyCar's young stars.
And that's not only for the good of leaders not being robbed of a chance of race wins, but for the safety of all competitors.
"I think in a lot of ways, say Texas was the first race [it is scheduled as the first race in IndyCar's new calendar], you hope we don't get there and people start to race like they do on iRacing because the consequences are going to be pretty bad," says four-time champion Dixon.
"I agree with Will. There's plenty of people that get called out. I think in oval racing especially, a lot of the time you have to learn the hard way. It's one of those things – you can take a lot of risks, but eventually it's going to catch up with you. Hopefully this maybe does lend a little bit in that direction that it will help you down the road."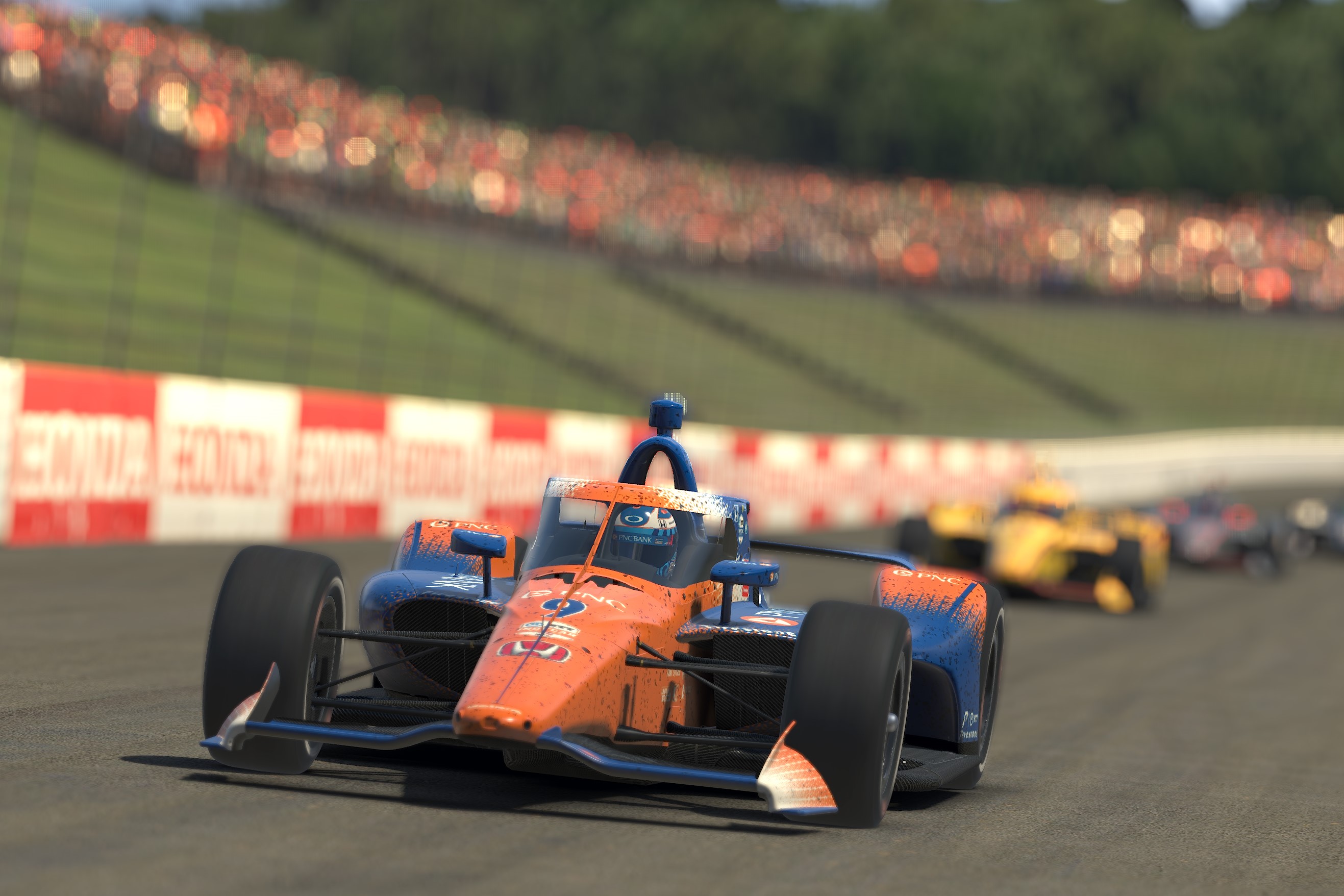 The oval races have been so good in iRacing because they offer all of the reward with none of the risk to driver's safety, which can only be a good thing. It's doubtful you'd get semi-retired NASCAR legend Dale Earnhardt Jr making his IndyCar debut on the Michigan oval in real life, for example, but on iRacing he could, did, and gave the championship its best success story so far and the media attention that comes with it after he scored a podium.
The iRacing challenge takes away that danger to life, but offers all of the strategy and the close racing the fans love.
Would Askew have been aggressive on the last lap in real-life in that race? Almost certainly not, knowing Oliver. But that's been part of the charm of the iRacing series where people can take those risks in a controlled environment. The drivers who were taken out may not like it, but I can't imagine it did anything bad for IndyCar's social media page when they posted the incident…
It's likely the series' real-life rookies will take on ovals with a pinch of salt when racing action returns. But it's important all drivers do, to avoid the "pretty bad consequences" Dixon warned of.