A spotter never wins. Make no mistakes and the driver, team owner and the crew chief get all the plaudits. The spotter has done their job. Get it wrong, and your driver – someone you can spend 30 weeks on the road with in a year – can be thrown into an enormous 200mph accident. And it's your fault.
The spotter never wins. Until now.
The COVID-19 coronavirus outbreak led to a huge hole in the motorsport calendar, but that did have the happy accident of bringing the racing community together through Esports. Whether it's done in self isolation or with friends, Esports is an easy and safe way to race.
Aside from offering easy access motorsport, it also means anyone can take part. And thanks to this, Josh Williams won NASCAR's 'Replacements 100' on Sunday.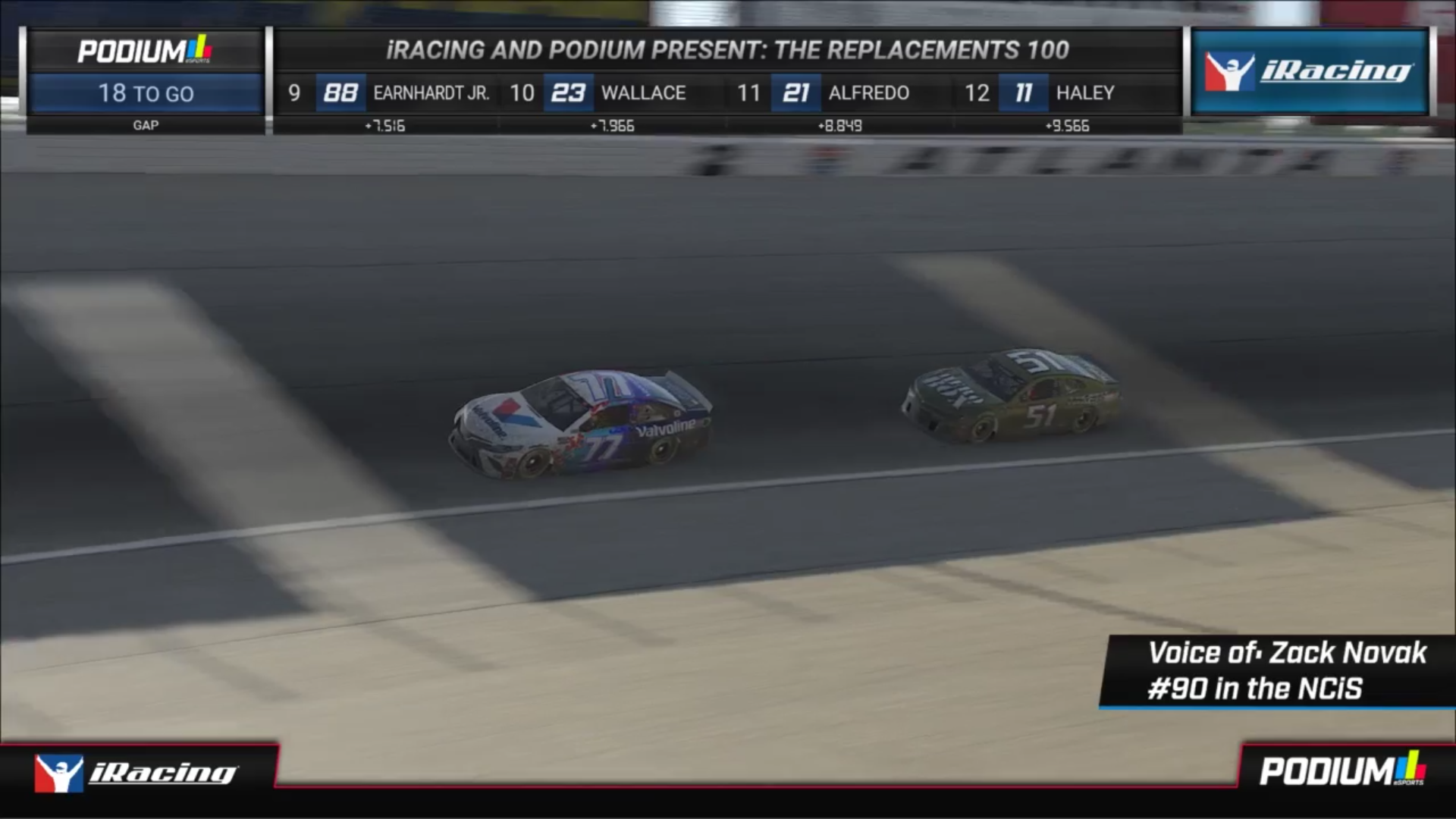 'The Replacements 100' might sound an odd name for a race, but it's a homage to the 1987 American Football season and the resulting film. Due to a players' strike, teams had to draft in substitute players to contest the National Football League that season – leading to a fictionalised movie account called The Replacements.
Williams is the spotter for the #12 Penske Ford of Ryan Blaney in the NASCAR Cup Series, meaning he stands on a high balcony and tells his driver over the radio where cars are around him when Blaney can't see.
"A lot of us sim race all the time so it's awesome to get that on here with Podium Esports so everyone can see what we do in the week" :: Josh Williams
Blaney signed a new extended deal with Penske last week, meaning the whole team was buoyed heading into this weekend's Atlanta NASCAR race.
But with that and next weekend's Homestead 'real' races cancelled, the crew had to find a new way to expend their new-found excitement.
Kevin Hamlin is one of Williams's fellow spotters – performing that duty for NASCAR legend Dale Earnhardt Jr – and he did the lion's share of organising the Replacements 100 along with some key partners.
Congrats to @joshtwilliams on his #Replacements100 whooping today. Thanks to everyone who ran with us, everyone that busted tail to put it together in about 14 hours and especially @PodiumeSports and @iRacing for their support.

Hope you all enjoyed the race! pic.twitter.com/83ian5vDWH

— Kevin Hamlin (@KevinHamlin) March 15, 2020
After the Atlanta race was cancelled, streaming platform Podium eSports joined with iRacing and NASCAR to deliver a replacement race with under 24 hours of organisation. The immediate addition of star drivers made it a must-join for some of the sport's more involved sim racers.
Hendrick Motorsports drivers Alex Bowman – winner at Fontana two weeks ago – and William Byron headlined the entry list, while NASCAR legends Earnhardt and Jimmie Johnson's seven-time champion crew chief (now on Byron's team) Chad Knaus also took part.
Early crashes in The Replacements 100 wiped out Earnhardt and Knaus, while Byron fought at the front for the whole 100 lap race. But there was no doubting that Williams was the star.
Had a blast racing with everyone. Thanks @KevinHamlin for putting all this together. 😃#TJtoo https://t.co/w94nEFMgOQ pic.twitter.com/9jsY84OAl6

— Dale Earnhardt Jr. (@DaleJr) March 15, 2020
A regular NASCAR sim racer, Williams started as though shot out of a cannon and fought first with Parker Kligerman – who then speared into the outside wall at Turn 2 while challenging for the lead, leaving Williams to fight off Byron.
Byron drew alongside Williams on lap 53, but after some heavy blocking, Williams edged away and took control to lead the remainder of the 100-lap race.
alert: you have been blocked by @joshtwilliams #Replacements100 pic.twitter.com/90V7P1izcf

— Steve Luvender (@steveluvender) March 15, 2020
It was the kind of blocking that would have caused a stir in the championship had it been real, and no fan would have turned a blind eye to Byron putting Williams in the wall at that point. But Byron didn't overreact and fair play resumed.
It was a worthy win for Williams nonetheless as he extended his lead significantly during the last few laps to win by 2.127s, ahead of Byron and JR Motorsports travel organiser Steven Steffen, another sim regular.
"I was more set up and prepared for the long runs, so I was trying to take care of my stuff a little bit," said Williams, proving the usual NASCAR race strategy is not lost when the series goes virtual.
"We never really got long runs in the first half of the race. You had to defend pretty hard until everyone was in single file.
"With the restarts it was going to be pretty hard if you lost the lead. I just tried to defend the lead and once we got 10 laps on the tyres, I was pretty comfortable with it.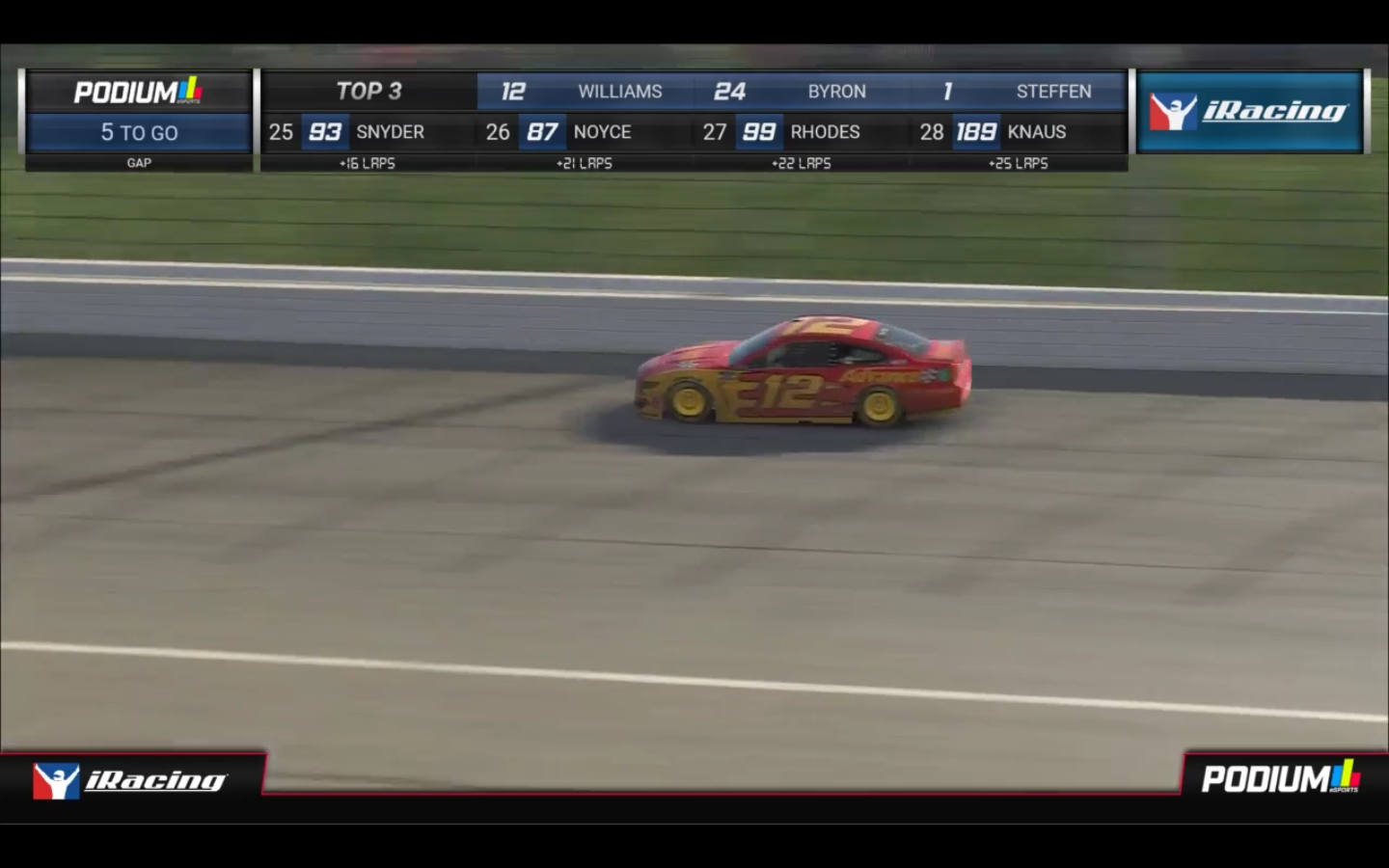 "It's awesome, a lot of us sim race all the time so it's awesome to get that on here with Podium Esports so everyone can see what we do in the week a lot of the time.
"It's good for everybody, gives some people some racing to watch. I hope everybody enjoyed it, it was fun for me."
Considering it was put together in under 24 hours, it was a brilliant field.
Alongside the Cup stars, country musician Tim Dugger, iRacing track builder Kevin Iannarelli and Joe Gibbs Racing PR rep Tyler Overstreet all got the opportunity to be part of something they never would normally and added to an eclectic field of drivers.
Dugger – who was involved in an early wreck – summed up the event perfectly.
I Wanna thank all the guys back at the shop.. got caught up in trouble early & never could recover ..

On a serious note
How badass is it that @iRacing exists ?! Pretty cool to be apart of this today!!
Thanks for the invite and all who tuned in!! @PodiumeSports

— Tim Dugger (@Tim_Dugger) March 15, 2020
The fact he was able to compete on-track against some of his favourite drivers sums up everything Esports can be. And he was pretty quick too…
Perhaps the biggest disappointment of the race was regular sim racer Kligerman. The ex-Penske driver and now host of an NBC show on NASCAR had the pace to threaten Williams, but a technical issue got in the way of his challenge.
*Cat on the keyboard… Kidding. Computer decided it wanted the game in windowed mode. So screen went black for a bit 🤕 https://t.co/LQdXj6MX41

— Parker Kligerman (@pkligerman) March 15, 2020
He did fight back into fifth at the end – despite smashing into the wall at 150mph! That result was justice as it wasn't his fault he was in the wall in the first place, the crash having been caused by a system error. A case of what could have been, and the same stood for Earnhardt – who fought back to eighth, just ahead of Bubba Wallace.
Knaus was also caught up in an early wreck, so a crew-chief/driver showdown wasn't on with Byron. Knaus doesn't mess around when it comes to winning, so seeing that competitiveness had he got close enough to challenge Byron would have been priceless.
Well dang congrats @joshtwilliams snookered me on that start! That was fun.

— William Byron (@WilliamByron) March 15, 2020
The great thing about The Replacements 100 is it reminded or taught the rest of motorsport that NASCAR sim racing has a lot to offer.
From its first hit – Papyrus's NASCAR Racing 1994 – to the incredible 2003 edition that is still played with mods by thousands today, NASCAR has in many ways been leading the way in motorsport sim racing, despite what some people might think. The 2003 game of the same name and designer has led to a thriving livery community – many people design cars just for wallpaper or because they look good, and don't even play the game. Yours truly guilty as charged…
Because of these early hit games, NASCAR already has a thriving sim community. And if you aren't a fan of 400 lap oval races, often sim races are shorter so there's more to hold your attention.
Coming up on Tuesday, Podium eSports will broadcast the Homestead round of the eNASCAR Series – run on the same iRacing platform as Sunday's race and it boasts a $300,000 prize pot.
No doubt there will be more Replacements 100 style races introduced in this gap. It should introduce a whole new audience to NASCAR. Give it a chance and you won't regret it.