McLaren Formula 1 driver Lando Norris is "P1" and "the guy to chase" on his IndyCar iRacing Challenge debut at the Circuit of the Americas, according to one of the series' race winners.
Dreyer & Reinbold's Sage Karam – set to race a partial schedule in the real-life IndyCar series this year – was a beta tester for iRacing in 2007, and has been a regular sim racer ever since. He has gone on to race with the Coanda Simsport esports team.
Karam, 25, won the first even of the challenge at Watkins Glen and led most of the second round at Barber Motorsports Park before clashing with regular rival Felix Rosenqvist.
Norris has been competing in private IndyCar races on iRacing but on ovals. He had his first practice session for COTA on Wednesday and Karam took time out of his own practice schedule to view Norris's Twitch stream and see how he was adapting.
Since then the drivers have had more practice sessions and practice races, where Karam and Norris have established themselves as favourites, with Rosenqvist and Will Power expected to lead the challenge.
"I would put me and his pace pretty equal right now," Karam told The Race.
"I do a lot of my running offline. I think our pace looks pretty good, I think we probably have a couple of tenths on the rest.
"These guys have put in so much work. Will [Power] will run non-stop until he's on pace with us.
"I think it will be a good race up front.
"I've raced with Lando a bunch of times at different races on iRacing, we've done endurance races against each other and stuff like that, we've bumped into each other quite a few times and always have good battles so I'm expecting the same.
"He [Norris] is P1 right now, he's the guy to chase right now. He'll be good."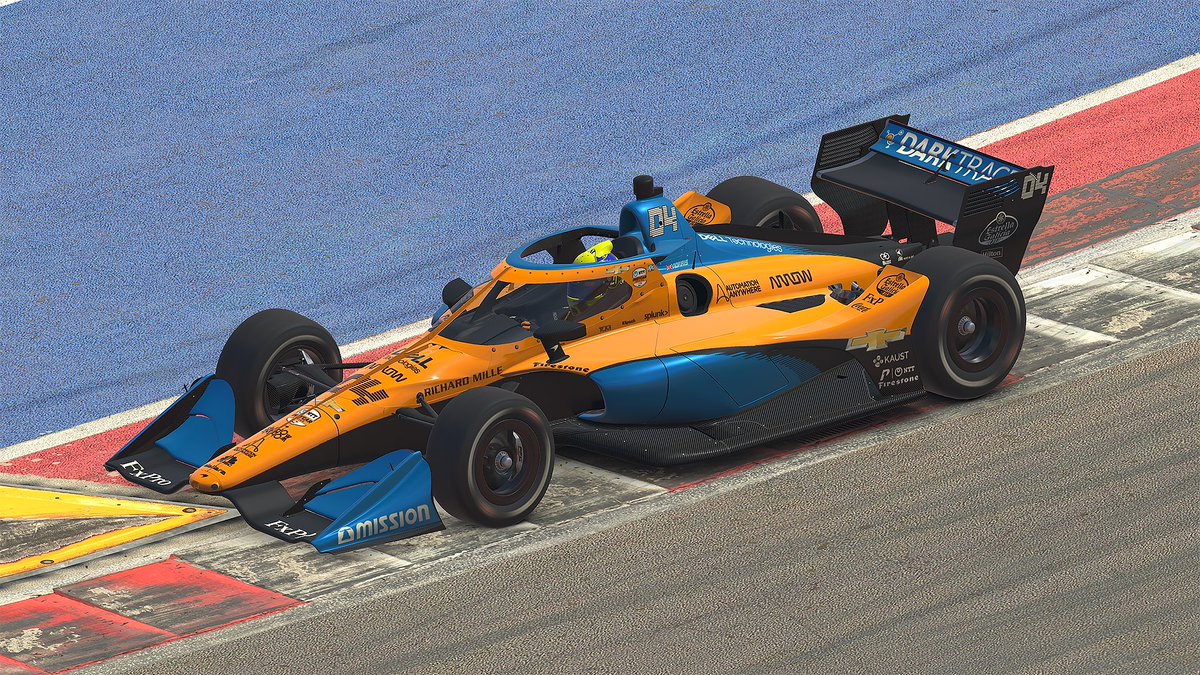 Norris is one of a number of guest stars in the IndyCar iRacing Challenge following NASCAR stars Dale Earnhardt Jr, Jimmie Johnson and Dale Earnhardt Jr, while Supercars driver Chaz Mostert will drive for Andretti this weekend as part of a ride-swap with Alexander Rossi.
Series owner Roger Penske says that the series will limit guest appearances to risk over-saturating it, and wants every event to be special.
Karam – who is giving tips and tutoring some of the current drivers to get up to speed on iRacing – says that the guest stars make the iRacing Challenge "cool", and "gets more eyes on the championship".
"With Dale Earnhardt Jr and Kyle Busch, that attracts so many NASCAR fans that might never watch an IndyCar race," said Karam. "It brings all them in.
"You look at Lando, he has almost half a million followers on Twitch, so just him alone is going to bring so many viewers to the race.
"All these guys get to try a different form of motorsport they are not used to, and, I would love to go and do one of the NASCAR races if that was possible.
"I'd like to see other series open up their doors and allow other drivers, I think it's cool what IndyCar is doing."