On paper MotoGP 21 should be the start of a whole new chapter for the game series as developer Milestone has recently announced a five-year extension to its partnership with MotoGP and this latest installment is the first to grace the PlayStation 5 and Xbox Series X|S. However, there are more than just passing similarities between last and this year's games.
It is worth mentioning that there have been some major new features, most notably with the addition of the long-lap penalty and the option to run back to your bike after you fall off, but MotoGP 21 will feel quite familiar to anyone who played MotoGP 20.
The menu design and UI are largely unchanged, as is also the case with many of the cutscenes for when you win a race or unveil your team at the start of a season in career mode.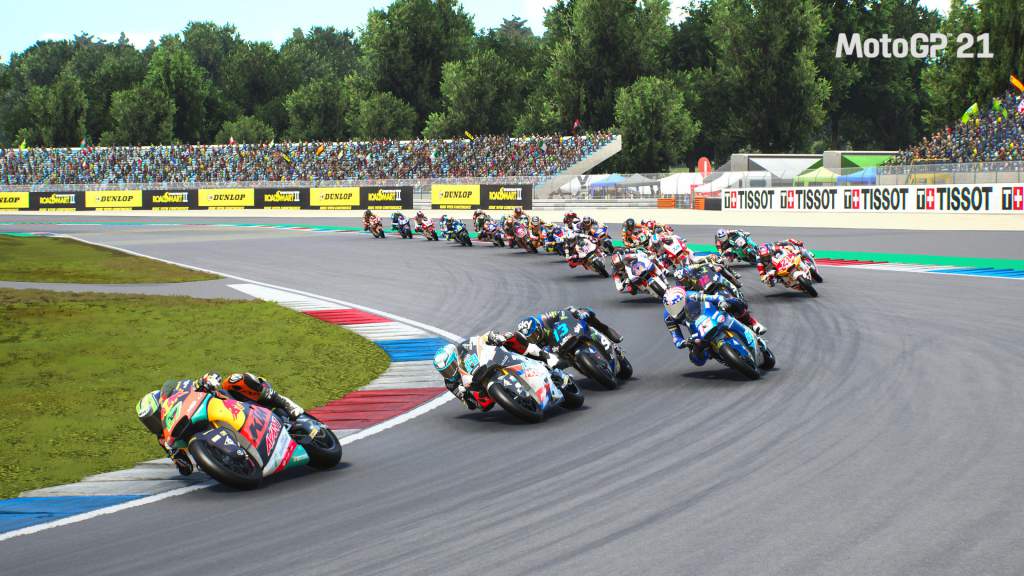 If you're lucky enough to play the PS5 version of the game though you get the benefit of the DualSense controller's haptic feedback and adaptive triggers. That is a transformative experience since you can feel a lack of grip from either tyre as the resistance from the corresponding trigger goes away completely. That gives you the benefit of making it easier to know when you're about to fall off and provides you with just enough time to correct yourself.
Players on different platforms won't get those benefits but you should still be able to notice changes made to the assists and physics that make the game more realistic than before. The bikes feel heavier to turn and react more violently to going over bumps due to a reworked suspension system, but the biggest difference is with the braking.
Gone is the physics simulation level setting in MotoGP 20 and instead it's been replaced, in part, by an input modulation setting for the braking acceleration and cornering. If turned on, it means the game does those actions more smoothly.
On top of that there's the assisted front brake, which can be set to high, moderate or off. If you have it set to 'moderate' or 'off' and you don't know how to control the bike under braking, then you'll be pulling a stoppie at every heavy braking zone until you get to grips with it.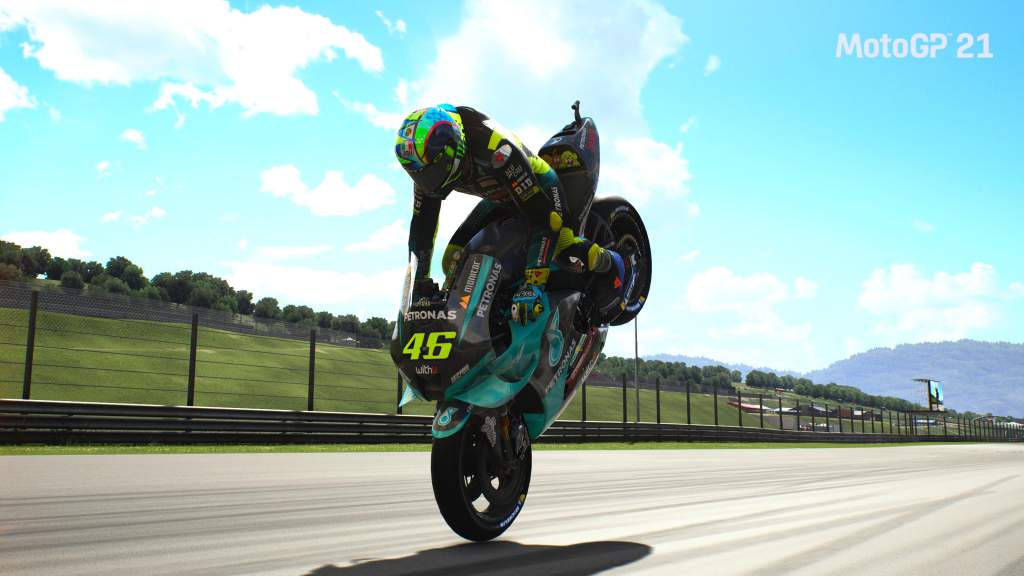 The added realism and complexity to the game is helped with an all-new tutorial mode that not only teaches players how to best ride a bike, but also explains rules like the long-lap penalty and settings such as traction control and anti-wheelie.
You'll want to make sure you avoid falling off your bike since the time penalty is much greater than it was in previous games as you run to the bike and get back on it.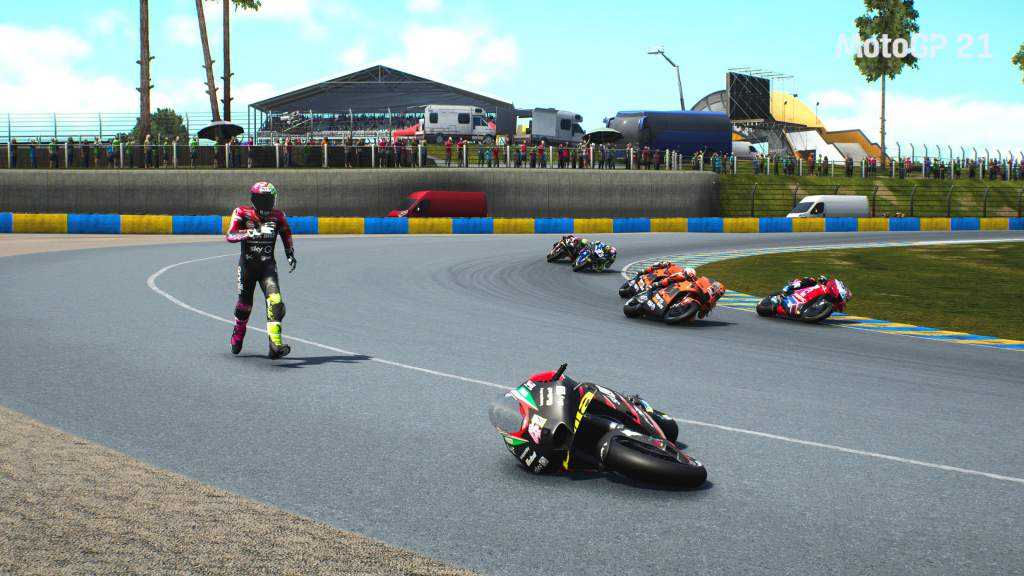 There is the option to turn that off and have it so you just respawn back on the bike as you did in the previous games. And the respawn is probably the preferable option in terms of the difficulty balance – as that's what the AI still does.
Milestone has made it clear that one of its priorities post-launch is to patch in the AI riders running back to their bikes instead of respawning. Until that's the case, falling off your bike costs you several seconds more than it does the AI. That is unless you disable one of this game's headline new features.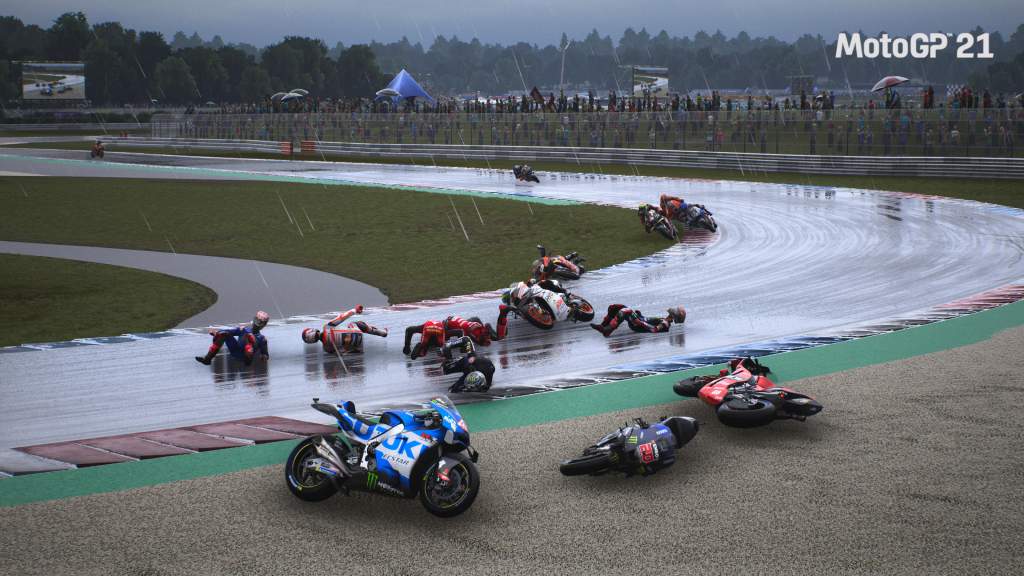 In fairness to Milestone, MotoGP 21 has been developed entirely remotely. Given the change in working conditions, having to develop for the new consoles and how early in the year it has come out, it's reasonable to expect that the game won't be perfect on day one.
What is in the game from the very beginning is the Algarve circuit, which has been ported over from Ride 4. This means MotoGP 21 has all of the circuits the series is set to visit this year.
At the start of your career mode you can choose from the original calendar or the altered one that is currently scheduled to go ahead this year in real life.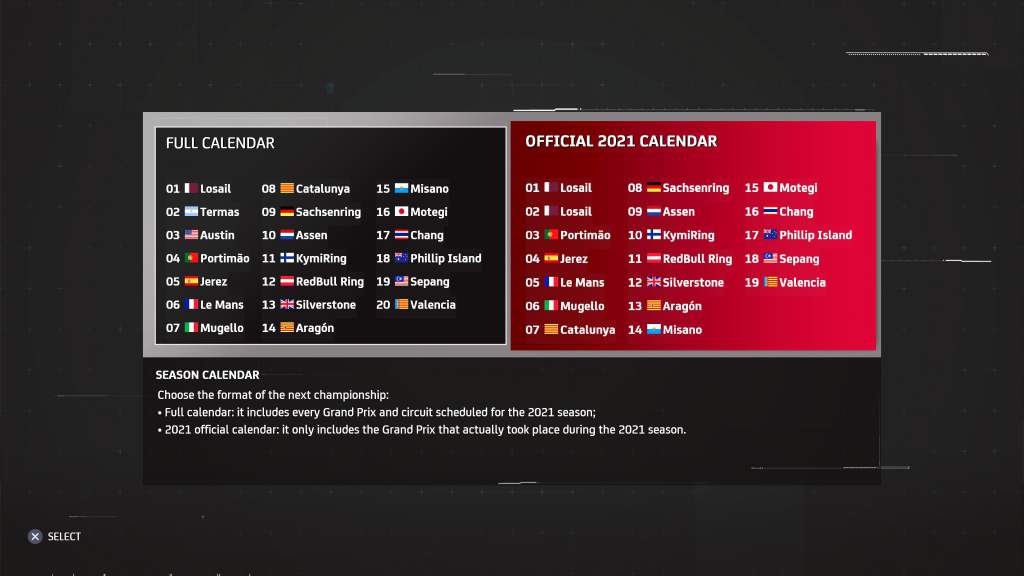 Barring that the career mode is almost unchanged albeit that the function to set up a junior Moto3 or Moto2 team, which was added to last year's game a few months after it's initial release, is here from the start in MotoGP 21.
For those who are in the dark about it, once you have a certain reputation level you can establish a Moto3 and Moto2 team that's backed by a real-life sponsor and you have to sign a fictional team manager, technical director and two riders.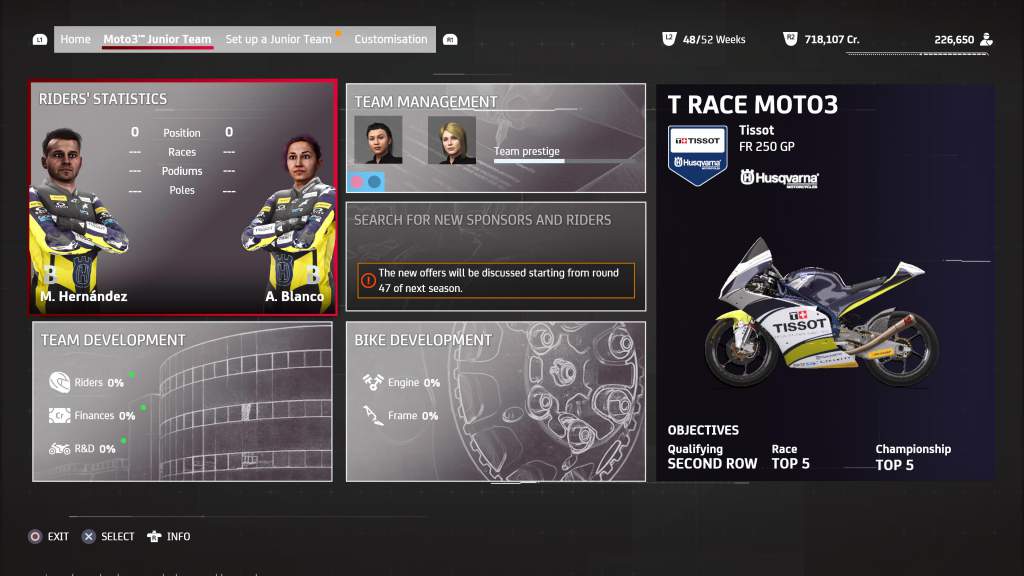 Once that's done you can watch your team in each race or just have it simulated and generate a set of race results.
Unlike in MotoGP 20 though you can pause mid-race and view a replay if you missed a certain piece of action, such as one of your riders falling and retiring from the race.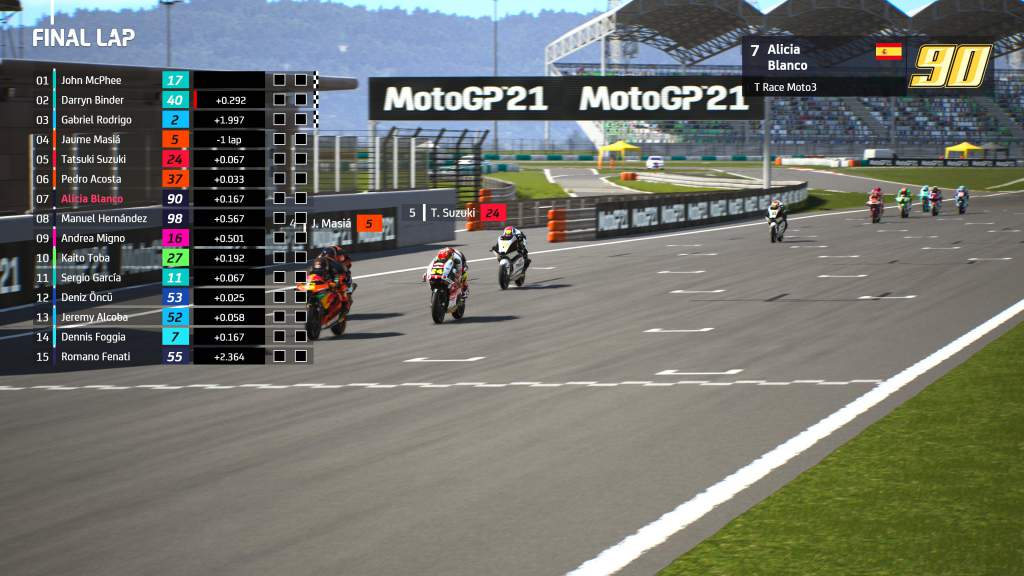 The team and bike upgrade mechanics for your junior teams are even more simplified versions of what you get when racing yourself in MotoGP, but there's still a lot of fun to be had with the junior team management. Especially since all the customisation options that existed in MotoGP 20 are still here in 21 and allow you to do a lot of personalisation to the look of your bikes.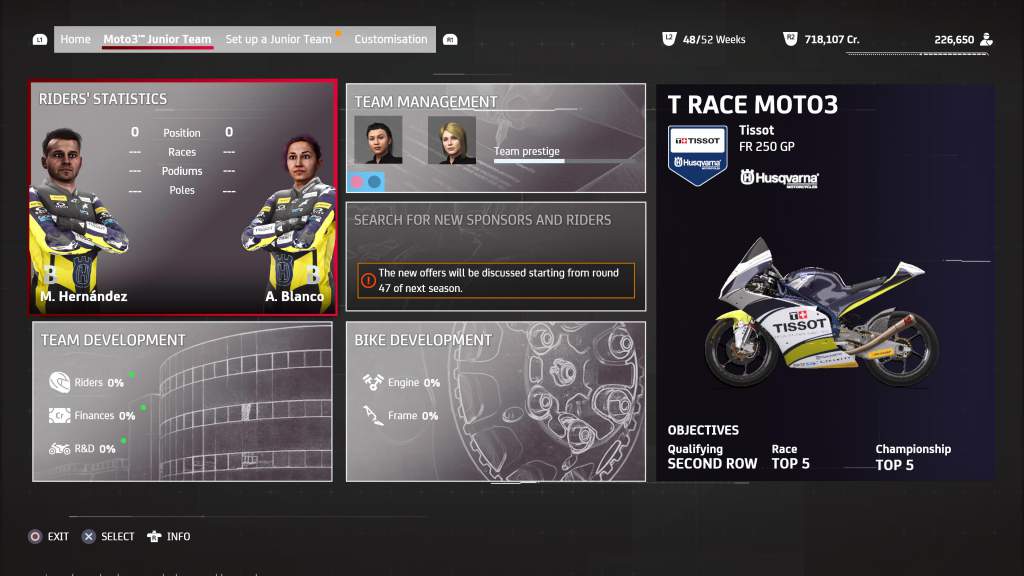 One nice touch is that Brno has been added to the historical circuits section since its removal from the official MotoGP calendar for this year. It joins returning classic tracks Donington Park and Laguna Seca in that category.
Long-lap penalties have been integrated into all of the current circuits as well as Brno, requiring riders to take a longer layout if you exceed track limits too many times or jump the start. Since that rule was added in 2019 though, neither Donington Park or Laguna Seca are able to accommodate that punishment so instead players are given time penalties at those two circuits.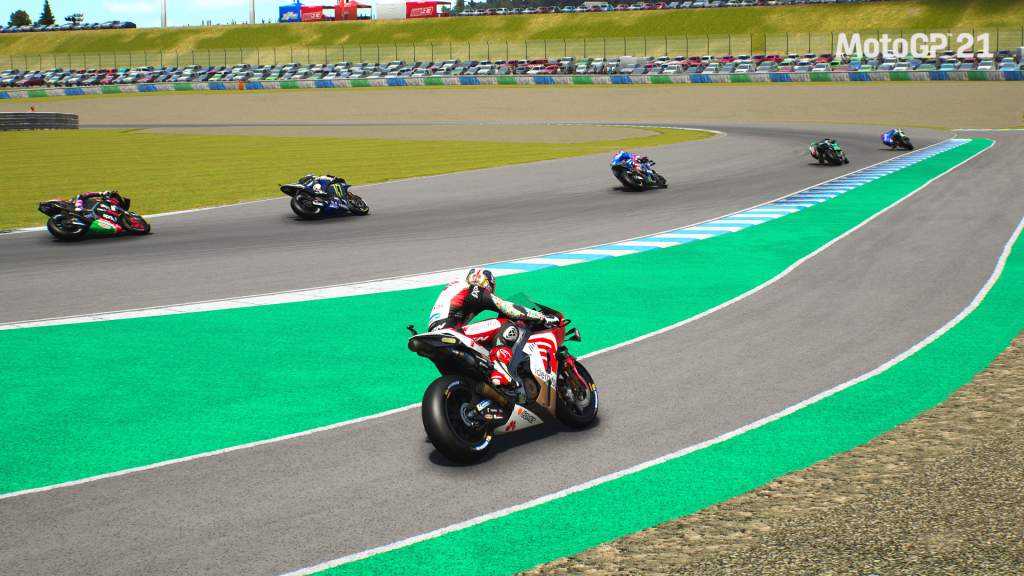 Classic bikes are also still present and can be used in time trials or raced against each other. Fortunately they are all unlocked from the start so you don't have to earn them via a historic mode, as was the case in MotoGP 20.
The same bikes from 1992 to 2011 have returned. Oddly though, the three 2012 bikes haven't survived the transition to MotoGP 21.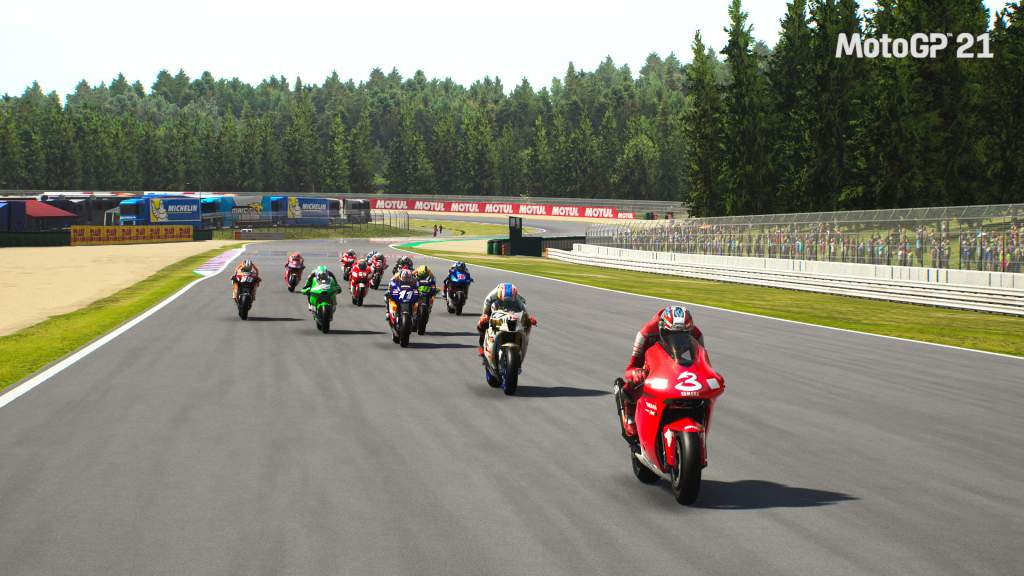 Currently MotoE and the Red Bull Rookies Cup categories aren't in the game either. They were added in a later update for MotoGP 20 and that will also be the case for this year's game.
Your opinion of MotoGP 21 will largely depend on how you view MotoGP 20 since it's an evolution rather than a revolution of last year's release.
Milestone have done a lot right by aligning itself closer to real-world MotoGP with the addition of long lap penalties and running back to your bike after you fall off, even if that last feature doesn't apply to the AI yet.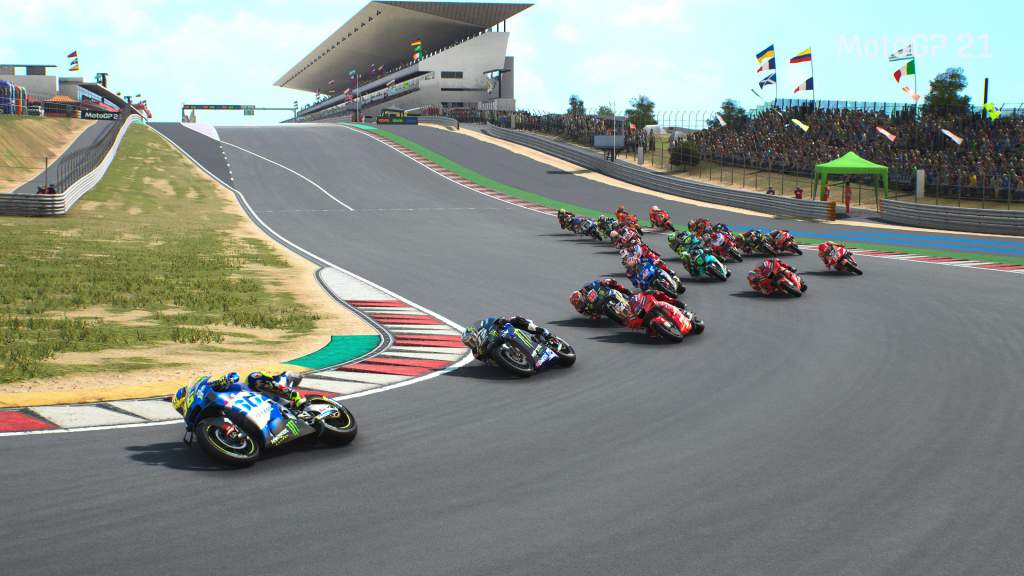 With classic bikes and junior team management, there's a fair amount of content in the game already with more coming in future updates. Although it is hard to overlook the fairly simple team and bike upgrade system when Codemasters' F1 games have done it better. Also, the lack of rider transfers is increasingly disappointing since F1 2019 added a free-flowing driver market nearly three years ago.
Comparisons to the F1 games aside, MotoGP 21 is an enjoyable game in its own right and would be enjoyable to any fan of the sport. It may be too similar to last year's title for some but the jump to next-gen consoles, particularly the PS5 with its DualSense controller, helps to make up for that and means this is currently one of the standout racing games on either next-generation console.