Scott McLaughlin won the finale of the IndyCar iRacing Challenge at Indianapolis, as McLaren Formula 1 driver Lando Norris and several other race leaders were taken out late in a dramatic race.
Norris – who had won on his debut at COTA last time out – made the most of a timely caution to lead late on, but as he came off Turn 4 with two laps to go and Simon Pagenaud came to pitroad, the McLaren man crashed into the back of the reigning Indy 500 champion and was eliminated.
Norris had led an Arrow McLaren SP 1-2-3 before his crash, and on the last lap team-mate Patricio O'Ward was passed into the final turn by Marcus Ericsson. O'Ward then hit the back of Ericsson, taking the pair out at the final turn.
But that wasn't the end of the drama. Oliver Askew – in the third Arrow McLaren SP-run car and a 2020 rookie after winning last year's Indy Lights title – inherited the lead, but was speared into the wall by the chasing Santino Ferrucci.
The last half lap. And a race's worth of action packed in to it. #INDYCAR // #INDYCARChallenge // @IMS pic.twitter.com/unKYCOiYL0

— NTT INDYCAR SERIES (@IndyCar) May 2, 2020
So with five lead changes in the space between Turn 3 and the finish line, Double Australian Supercars champion McLaughlin became the second repeat winner of the series after his Barber Motorsport Park win, and the only driver to win on an oval and a road course during the series.
While there aren't official championship standings, Penske ace McLaughlin would have won outright if the IndyCar points sysetm had been used.
Conor Daly came through from relative obscurity to score his best series finish in second, ahead of Ferrucci, Askew and O'Ward. Ericsson fell back to 11th.
The rest of the race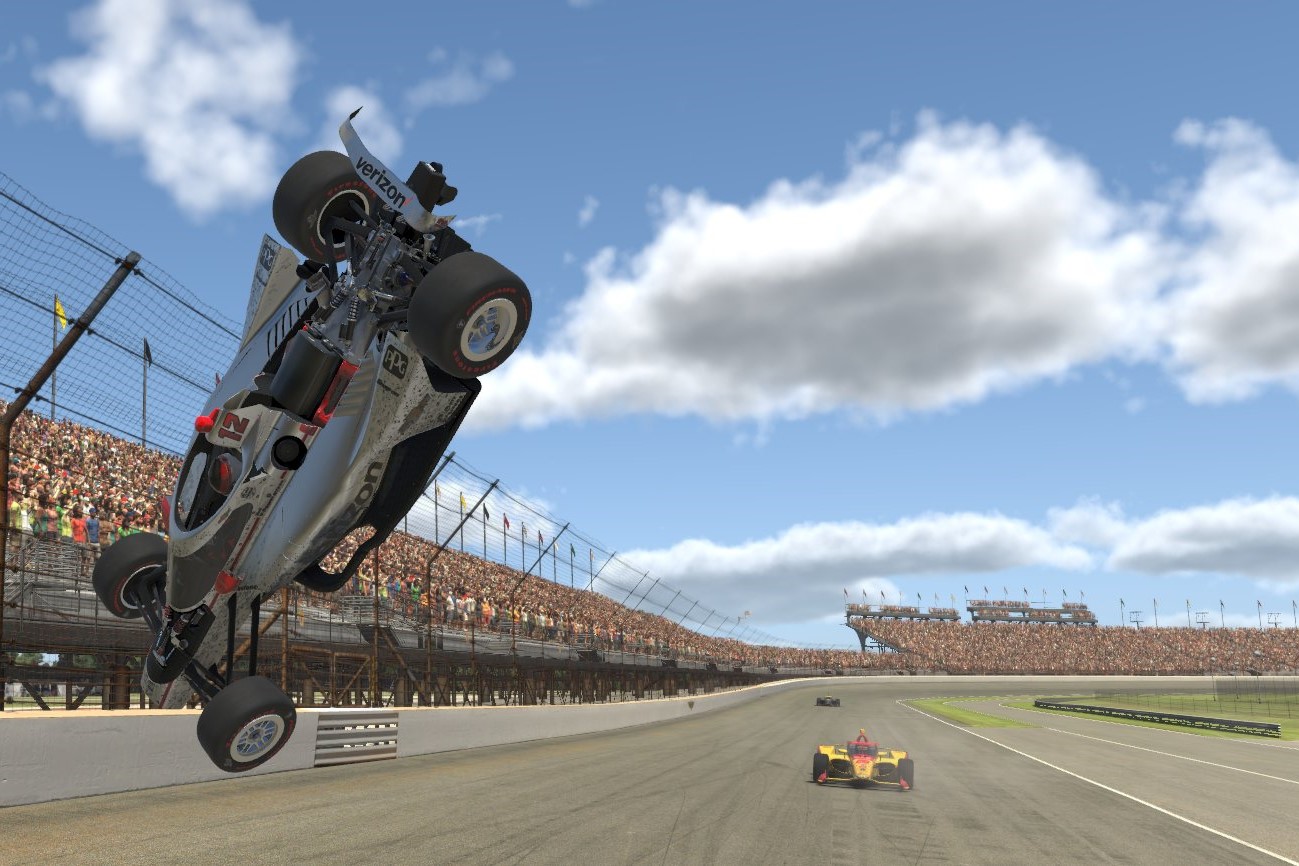 Despite multiple massive crashes in practice and trial races this week, the race went as many as five laps without a serious issue, before Alex Palou was squeezed down into the pitwall on the main straight, which triggered a much bigger crash.
After that caution, some phenomenal pack racing was on show, but just eight laps later Will Power appeared to touch leader Scott Speed at the front of the order, and James Davison and Graham Rahal also looked to make contact at the same time, mixing up the order.
Power established the lead ahead of Norris, Davison and Karam as the cars spread out more than before as the tyres wore down and cars complained of understeer.
Power and Norris stretched out their tyres and fuel to lap 32, while Sage Karam inherited the lead but then crashed on pitroad, ending his victory hopes.
Norris had a five-second mandatory repair – "there's nothing wrong with my wagon," Norris said – giving Power a boost.
However, those ahead of Norris including Power pitted with just under 40 laps to go, and Norris waited until 19 to go before pitting – but one lap later a caution came out, leaving Norris in 18th.
But after a chunk of drivers ahead pitted, Norris became the highest-placed driver on fresh tyres in sixth. Ahead of him were Graham Rahal, Felix Rosenqvist, Pagenaud, Max Chilton and Bourdais.
Pagenaud had stretched the first stint longer than anyone on a one-stopper, and he came to the lead the lap after the race got back underway following the caution.
Norris forced his way up two positions following the caution, but another caution with 13 to go meant he had less time to take advantage of his fresh tyres.
But he quickly moved toward the lead with nine laps to go, and a lap later he completed a brilliant pass in Turns 1 on 2 on Rahal.
With Norris on the inside, Rahal took avoiding action and hit Pagenaud. The pair was ruled out of contention, with McLaren team-mates Askew and O'Ward instead coming to the fore and McLaughlin in tow coming into the race's madcap final laps.