As more and more time has passed there's been an ever-increasing appreciation and recognition of the talents that the best simracers have, especially as they've often beaten professional racing drivers in many esports events.
There are numerous examples of people who have made the leap from virtual to real-world racing and those people have certainly given a lot of credibility to simracers in general.
But when it comes to mobile games, there is still a stigma, especially in the racing game community, also when it comes to the idea of serious, competitive events being run on them.
That hasn't stopped numerous esports events from being held on mobile games and this year alone F1 has run a competition on its own F1 Mobile Racing app as well as more recently utilising EA's Real Racing 3.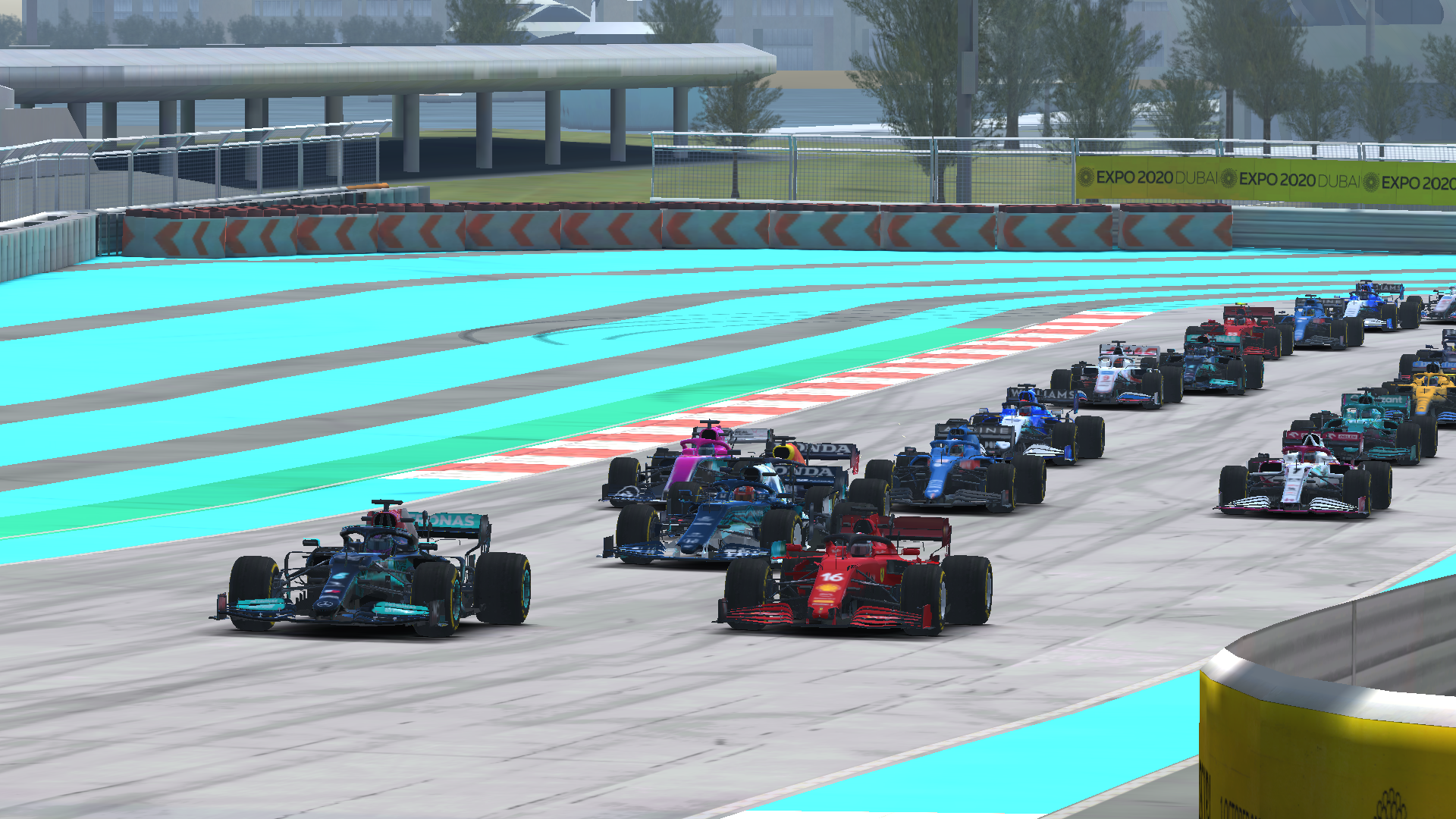 Also, Lamborghini, which is currently running its second edition of its 'The Real Race' competition on Assetto Corsa Competizione, has used the mobile arcade racing game Asphalt 9: Legends for a challenge centred around the Lamborghini Essenza SCV12. That competition, which began its first phase back in May, will have a live broadcasted final on September 18.
Whilst many mobile esports competitions happen entirely remotely and with players competing for places on a global leaderboard, there have been ones that have had professionally produced and broadcasted events.
One example of that is the GameOn Masters: Gear Club event, which was held in Las Vegas and featured the app Gear.Club. The competition was hosted by Amazon in 2018 and backed by Italian supercar manufacturer Pagani. The eventual winner was Hafijur Ali and he won $10,000 as well as an all-expenses-paid trip to Pagani's factory.
The obvious question to ask about any app-based esports event is, simply, why? Almost all top level simracers play with a wheel-and-pedals rig set-up. For them, mobile gaming is a massive step backwards in terms of realism and feel as you're often limited to just touch screen and tilt controls.
Mobile gaming also has the stigma of using questionable tactics to make people pay more money which, in the worst cases, means gamers have to shell out some cash in order to get beyond a certain point or to compete at the top of the leaderboards.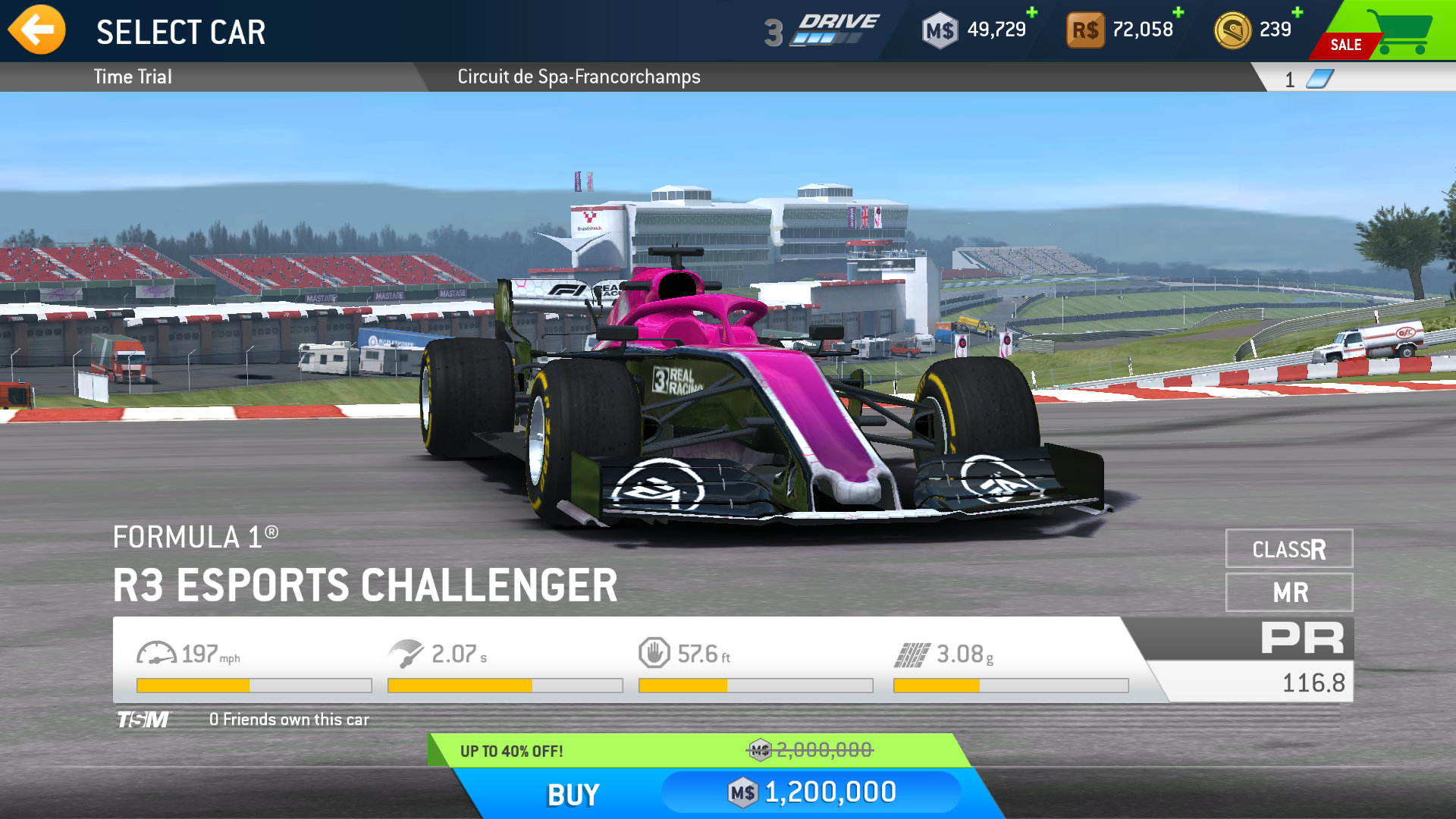 The F1 Esports event on Real Racing 3 is guilty of that. To win the F1 car needed to take part in the global time-trial event, you had the option to take on a totally separate series of challenges that players had five days to complete. Those challenges included slipstreaming cars for a certain distance, completing clean laps or simply racing against the clock.
As you progressed through the challenges though the tasks got harder and required you to have an ever more upgraded car. Buying those performance improvements costs in-game currency and ultimately if you want to compete at the very top of the leaderboard in the time trial event then you would need a fully upgraded car anyway.
If you didn't go through the challenge process to win the F1 car then you could still compete for prizes in the main time trial event by buying the car outright. However, the game was selling the car for a reduced price of 1.2 million of in-game currency – which is equivalent to just under £45. Calling it 'pay to win' would be misleading but you certainly have to pay real money or earn your way to having the best car possible to be able to compete at the top of the leaderboard.
One other gripe with Real Racing 3, even when compared to the licensed F1 games which aren't hardcore simulations either, is that the car handling physics aren't revered for their realism.
In fairness most mobile racing games don't claim to have parity with console or PC racing games, never mind a true-to-life accuracy in their simulations. However, there are many that have tried to make somewhat realistic racing games on mobile.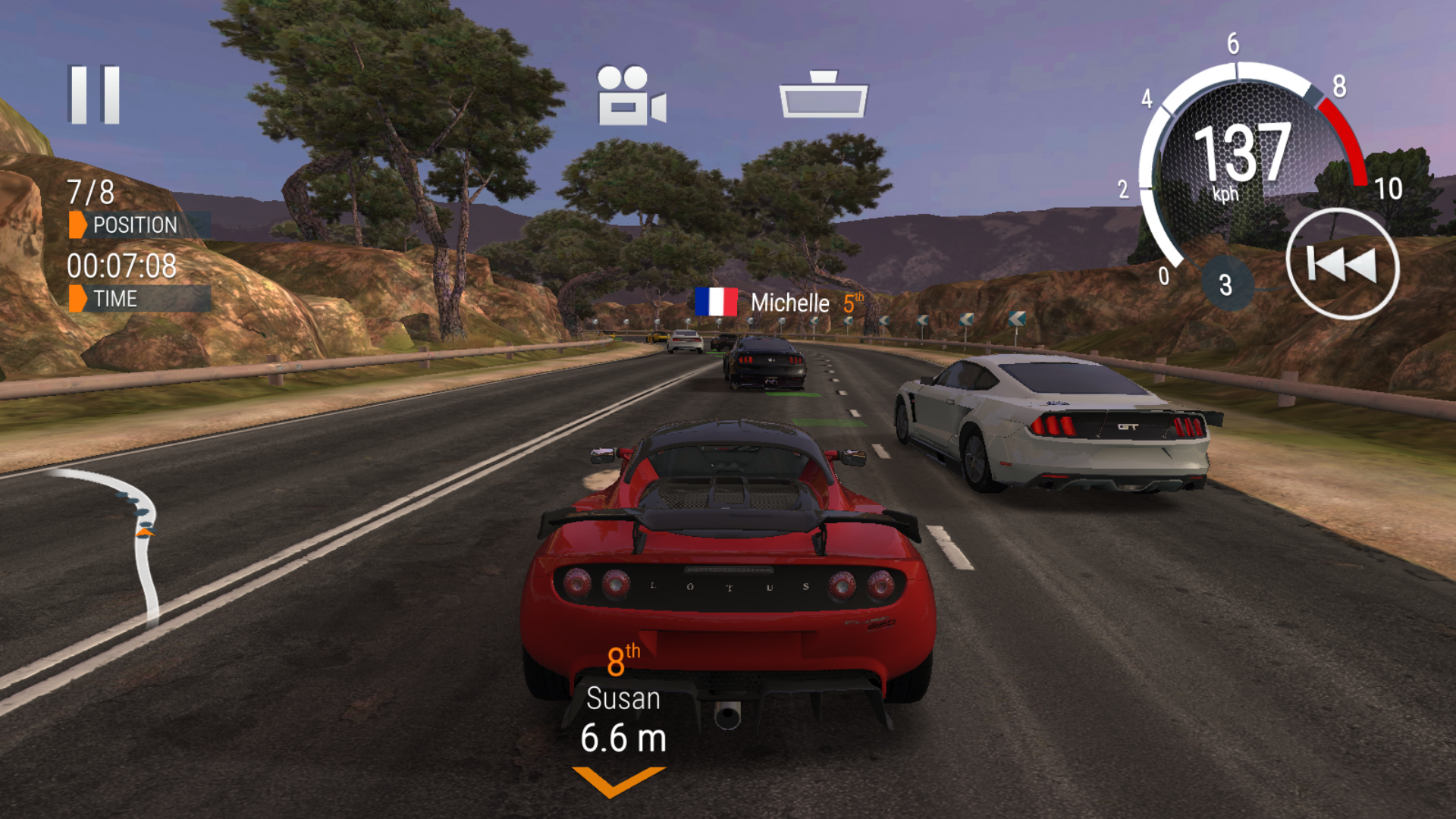 Gear.Club (pictured above) is one such example and that can be best demonstrated with the players that have come through that game in the past and into World's Fastest Gamer.
The first running of World's Fastest Gamer saw 12 finalists all compete for a role with McLaren as one of its official simulator drivers for 2018. While it was gamer turned real-life racer Rudy van Buren who went on to get the job with McLaren, a surgeon from Denmark called Henrik Christian Drue was the standout candidate as he earned his place via a competition run on Gear.Club.
Drue was one of 26,000 players who vied for the top spot in Gear.Club's qualifying event but failed to make the final six in the World's Fastest Gamer process. Despite that, he was still given a chance to try out McLaren's F1 simulator based on the fact that he had come out on top of all the 12 candidates in the physical tests.
It was noted that his driving style was the most realistic and that his speed was surprisingly good for someone who had qualified via an app.
In the second running of World's Fastest Gamer it was Canadian Riley Gerster who became one of the 10 finalists via Gear.Club. He survived the first round of eliminations in World's Fastest Gamer but was knocked out in the second wave as the number of gamers fell from eight to six.
The competitions on Gear.Club have offered the biggest prizes in the mobile racing game scene, but one constant that remains across all of the different apps and events is that even the top players take part on a much more casual basis than is seen in more major esports series.
For example, the winner of the F1 Mobile Esports tournament held at the start of the year was Matteo Pagliani, a 21-year-old studying computer engineering at university. Practising involved him playing the game for about two hours per day in the build up to the finals, a level of dedication on a par to many of the other previously mentioned names.
Given that the ultimate prize for winning was a trophy and a paddock pass for a 2021 grand prix, it pales in comparison to the prizes for more major racing esports events and means the people who take part are doing it for fun and because they enjoy the game in question anyway.
We have caught up with our Esports Tournament winner PAGLIA to get his thoughts on the championship, find out more about him, and see how he plans to use his once-in-a-lifetime prize.

Check out our blog post! 👉 https://t.co/mrhVRM8r9Y pic.twitter.com/N9pYredSvn

— F1® Mobile Racing (@F1MobileRacing) March 12, 2021
Logically, mobile esports is a great way to attract a new audience of more casual gamers and get people who otherwise wouldn't or couldn't take part in a console or PC game. That's because, while not everyone has the latest games and consoles, lots of people will already have a smartphone good enough to run most racing games from the app store.
However, that doesn't mean the player base for esports competitions on mobile racing games dwarfs that of the console on PC counterparts. It actually could be the exact opposite since, whilst roughly 60,000 players took part in the F1 Mobile Esports event, over 237,000 attempted to qualify for the 2020 F1 Esports Pro Series on the Codemasters F1 games.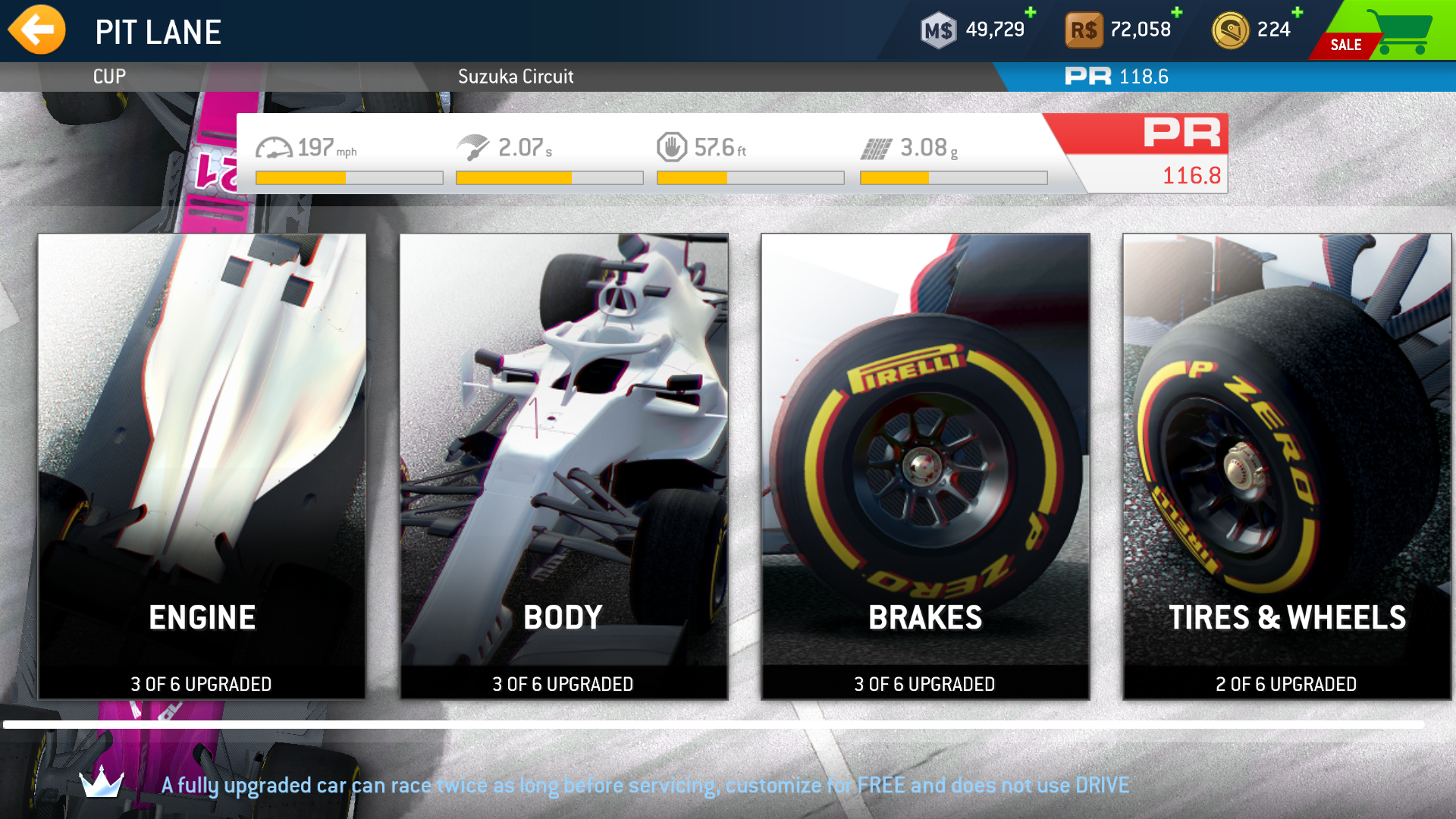 One platform that has been left behind is the Nintendo Switch which, in typical Nintendo fashion, is distinctly different from other consoles in the market with its unique joy-con controllers and by being a home and portable console hybrid.
Along with many arcade racing games, there are some more simulation-focused ones available on the Nintendo Switch as well, including WRC 8, 9 and the upcoming WRC 10, GRID Autosport, every MotoGP game from 2018 onwards. Soon RiMS Racing will be available, too, having a later release date on the Switch than it did on every other platform.
WRC 9 was the starting point for the FIA Rally Star talent scouting program but those who played the Nintendo Switch version of the game weren't eligible, least of all because the game came to Switch a month after the FIA Rally Star DLC had come out on PlayStation, Xbox and PC.
Even MotoGP eSport has also omitted Nintendo Switch players since the online challenges that decide who is up for selection in the Pro Draft are run on all platforms except the Switch. That's despite the fact that MotoGP eSport players all compete with regular controllers unlike in car racing games where the best all use wheel-and-pedals sim rigs.
Putting the Nintendo Switch to one side, there has been a recent increase in the number of esports competitions backed by big companies on mobile games. Cynically you could say it's done to expose more people to that brand and while there is some truth to that, there have been some people with real-world driving talent who have come through Gear.Club in the past.
Already a qualifying competition was run on Gear.Club to get another mobile gamer into the third running of World's Fastest Gamer, but we're still a long way away from mobile racing game esports being the norm or even widely respected.