Toyota Joe Gibbs Racing driver Denny Hamlin made a last-lap pass to win the eNASCAR iRacing Pro Invitational Series Homestead-Miami race, helping to donate over $15,000 to coronavirus victims.
NASCAR has organised the series with real drivers on the iRacing platform while its events are cancelled due to the COVID-19 pandemic, bringing together a large number of Cup Series drivers alongside Xfinity and Truck Series racers.
The race was broadcast on Fox Sports 1 in the US, commentated on by regular Cup Series duo Mike Joy and Jeff Gordon.
Each driver had the same set-up and two resets, and most used their real-life liveries. The event was top of trending on twitter towards its climax.
There were nine cautions in the first 80 laps of the race, with myriad crashes shaking up the order as a mixture of experienced racers mixed with relative iRacing novices, as well as the fact that short tyre life bred a mixture of strategies.
Down to the wire!

Try not to blow the CPU during your celebration, @dennyhamlin! pic.twitter.com/YdiVCBuHgs

— NASCAR (@NASCAR) March 22, 2020
But during the last 20 laps there were no cautions and viewers were treated to a stunning green flag finale.
Denny Hamlin was the first driver to pit on the last caution and had fresh tyres, working up from 14th to challenge the top four, who had escaped at the front. While they battled, Hamlin ran around 0.3s a lap quicker to real in his prey.
Timmy Hill, Garrett Smithley, Chase Briscoe and Dale Earnhardt Junior had broken away but Hamlin was visibly quicker on his fresh rubber.
Hamlin cleared Briscoe and Hill and drew alongside Earnhardt Junior. The two were side by side for the last lap but Hamlin launched off the final corner, and touched Earnhardt slightly.
Earnhardt almost crashed into the inside wall as they crossed the finish line in the process, but Earnhardt just held on for second as Hamlin clinched the photo finish.
Hamlin – matched by Fox and fellow Cup Series racer Kevin Harvick – pledged $5000 to south Florida coronavirus victims, meaning well over $15000 will go to charity. Hamlin also dedicated $100 per lap led, and he had a stint in the lead at the start when he took two tyres while most took four.
Timmy Hill – who has 1600 iRacing starts – took third, after spending most of the race battling with Garrett Smitley. Smithley has over 2000 iRacing starts – the most in the field – but struggled in the closing laps and had to settle for fifth, behind Chase Briscoe.
A number of Cup Series starts were caught up in multiple accidents through the day, including reigning NASCAR champion Kyle Busch, seven-time champion Jimmie Johnson and Chase Elliott.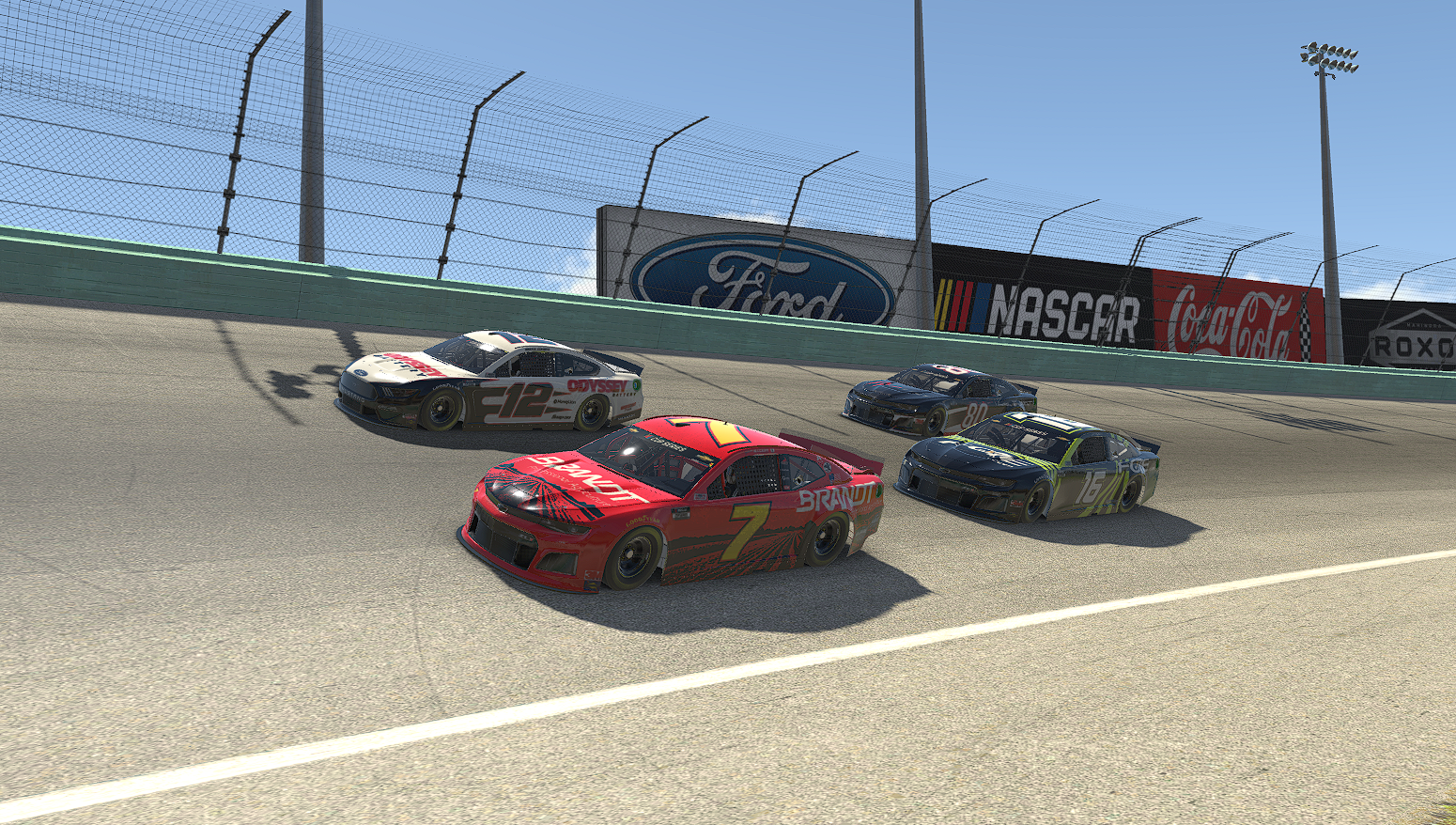 Elliott took 24th, Kyle Busch finished 29th, and Johnson was 31st.
William Byron had been one of the pre-race favourites and led multiple laps, but he was involved in three crashes – one while fighting Ross Chastain at the front of the field – resulting in a lowly finish of 34th.
Byron's Hendrick Motorsports team-mate almost didn't enter the race after a disappointing run in the eNASCAR iRacing 'The Replacements 100' at Atlanta last week, but was convinced into the entry and delivered a brilliant sixth-place finish.
Bubba Wallace and Ryan Preece rounded out the top eight, while Ty Majeski – who has an 80% win record on iRacing – beat Erik Jones to ninth.
Joey Logano was the highest finishing real-life Cup Series champion in 15th.