Four-time IndyCar champion Dario Franchitti was surprised by how much of an "adrenaline buzz" he got from winning the Legends Trophy portion of The Race's All-Star Battle.
Franchitti described his esports race debut as "immense fun" and something that is "insanely addictive."
"I used to play [70's arcade game] Pole Position and stuff like that, I used to hustle people at Pole Position when I was about six years old," Franchitti told The Race.
"But this is so hyper real and such fun. Honestly, the adrenaline buzz afterwards from winning was big, I was really surprised.
"I was probably more shocked with that than anything, that buzz, you know, of doing a good race. It was cracking and again to do it with that bunch of friends made it special and the cars were great."
Three-time Indy 500 winner Franchitti was loaned Darren Turner's equipment for the race, while his own newly-ordered kit is readied for delivery to his UK home.
Turner founded Base Simulators in Northamptonshire a decade ago and acted as an introductory sim mentor to Franchitti earlier this month – and would finish a close runner-up in the Legends Trophy.
"Darren has been mega in explaining and showing me this whole world of simracing and sim tech," said.
"You know, he's bloody [quick]. I didn't think he did it that much because he's so busy building rigs for other people and running the sim business.
"And he really can't practice now because I've got his rig until mine is ready, so my cunning plan worked beautifully!"
Franchitti's race began dramatically after front-row starters Emanuele Pirro and Juan-Pablo Montoya collided at Copse on the opening lap. This allowed him to take a lead he never relinquished despite significant pressure from Turner.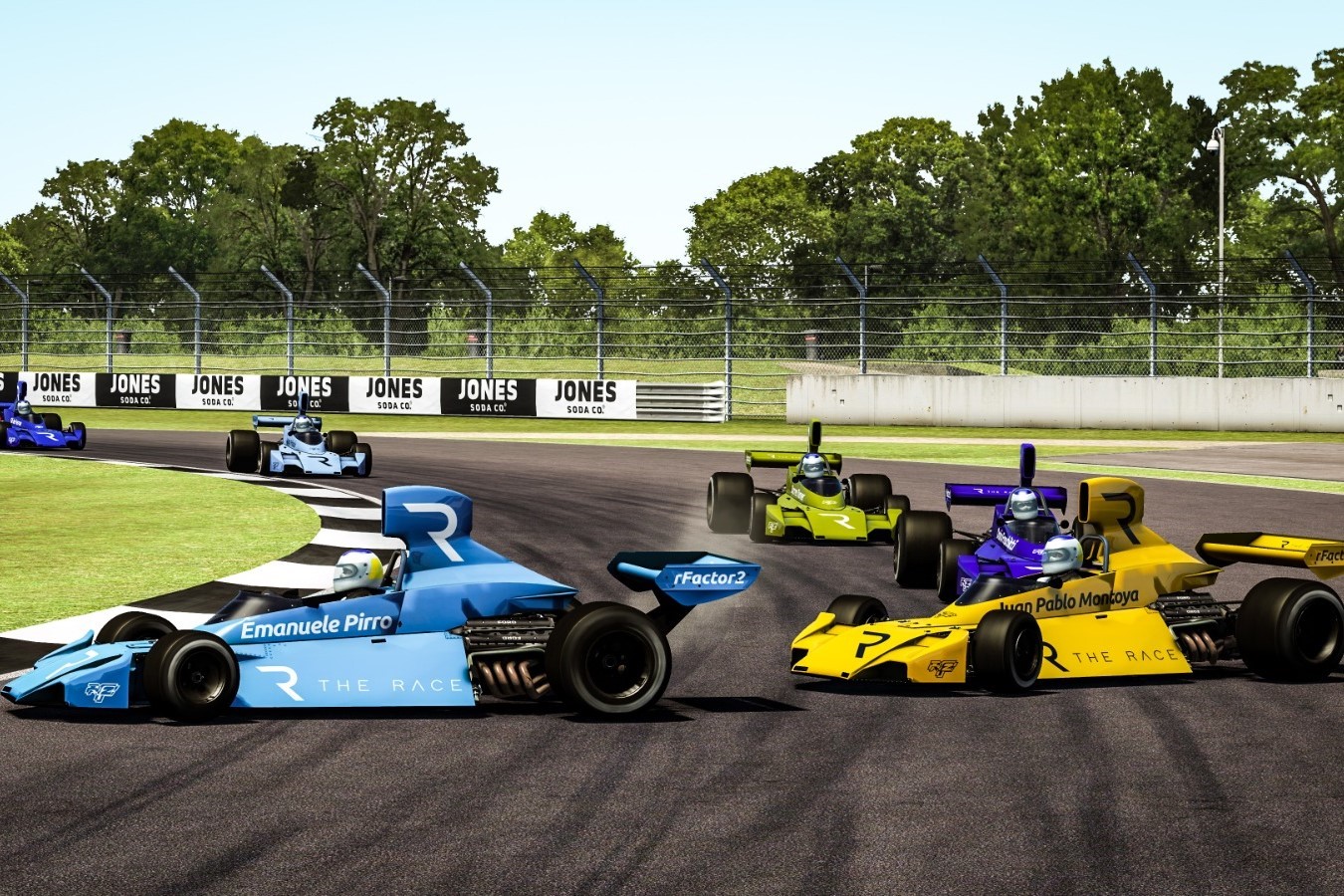 The start of the 11-lap race also featured a fleeting moment of confusion for the Scot.
"There was a guy standing with a flag on the flag stand, and I was thinking 'are we starting this by flag, is this the parade lap or the go lap?' so I went and everybody else seemed to go," he said.
"I was then setting up to try and get a run out of Copse and it all kicked off. I took avoiding action, used a bit of the run-off there and that was it.
"At around lap seven or eight or something, I suddenly thought 'right, I better not mess this up, I'm leading'. So then I had to refocus, it's kind of a different focus I would say, driving, playing around on the sim, than doing it for real.
"From that point I was just managing things, trying not to mess up or let Darren get any closer."
Prior to competing in the Legends Trophy, Franchitti's history on sims "was not good".
"I basically did one proper sim day when I was at Ganassi and had such a big shunt that I couldn't test the real car.
"I literally went to Milwaukee to test the next week and they had to call the whole thing off because my balance was all messed up from the size of the shunt I had on the simulator!
"So it's quite realistic actually when you look at some of my greatest career hits."
Franchitti identified racing against fellow Indy 500 winner Emerson Fittipaldi as another highlight of the Legends Trophy event, pointing out that the racing legend actually competed against Brabham BT44s at Silverstone in 1975 when he won a weather-shortened British Grand Prix in a McLaren M23.
"I was following Emmo at one point in practice thinking, he actually drove against this car and so he knows exactly what he's up against.
"I bet he was having flashbacks thinking, 'yeah, there's more runoff at Copse now than there used to be!'
"To me having Emerson there was really special. A lot of the guys [taking part] were the same generation, but to have Emerson there was just the icing on the cake. He's such a cool character, such a legend of the sport."