Lucas Blakeley claimed his first win in The Race All-Star Series – Powered by ROKiT Phones Sim Masters series in Monaco – two weeks after winning there in F1 Esports too.
A wild reversed-grid race also featured a new winner, with Jan von der Heyde coming through early chaos to take victory.
Blakeley, a Racing Point driver in F1 Esports and winner in Monaco in its Pro Exhibition event last month, took pole position for the opening round of the ROKiT Triple Crown series by four tenths of a second over second-placed Muhammed Patel.
It was then a lights to flag victory for Blakeley as he won by four seconds, with Patel and Liam de Waal maintaining their starting positions to complete the podium and Yuri Kasdorp doing likewise in fourth.
An incident for Lars Brugman, who qualified in fifth, meant he dropped down the order and outside the top 20.
Good launches off the grid for Michi Hoyer and Dawid Mroczek helped both finish four positions higher than they started in fifth and sixth respectively.
GPVWC Superleague championship leader Adam Maguire qualified in seventh and starting on the right hand side of the grid he quickly moved up to fifth.
A drive through the pits through dropped him five positions though, and he crossed the finish line in 10th.
A change in the reversed-grid system for season three meant only the top 20 qualifiers had their starting positions reversed for the second race.
That gave Blakeley's fellow Racing Point F1 Esports driver Daniele Haddad pole position with Alen Terzic in second.
However on the second lap of the race Haddad lagged, which meant his car jumped backwards and inside of Terzic's at Sainte Devote.
We spoke too soon… that is a MIGHTY shunt!! All change at the front! The @ROKiTPhonesUK All Stars Triple Crown –
📺 Watch:💻 https://t.co/WdVqh7S2NG
🇺🇸 Live on @ESPN 2
🇬🇧 Live on @Eurosport_UK
#SimMasters pic.twitter.com/nmHVmHmHZT

— The Race (@wearetherace) June 6, 2020
On the exit of the corner the two of them spun and blocked the run up the hill, which resulted in a massive multi-car pile up that started with fourth-placed Mike Epps.
Some drivers were lucky to escape without being held up, with David Greco, Kevin Siggy and Maguire jumping to second, third and fourth.
But the biggest beneficiary was von der Heyde, who moved up from third to first and was able to get past the top two before they blocked the track, giving him a five-second lead over Greco.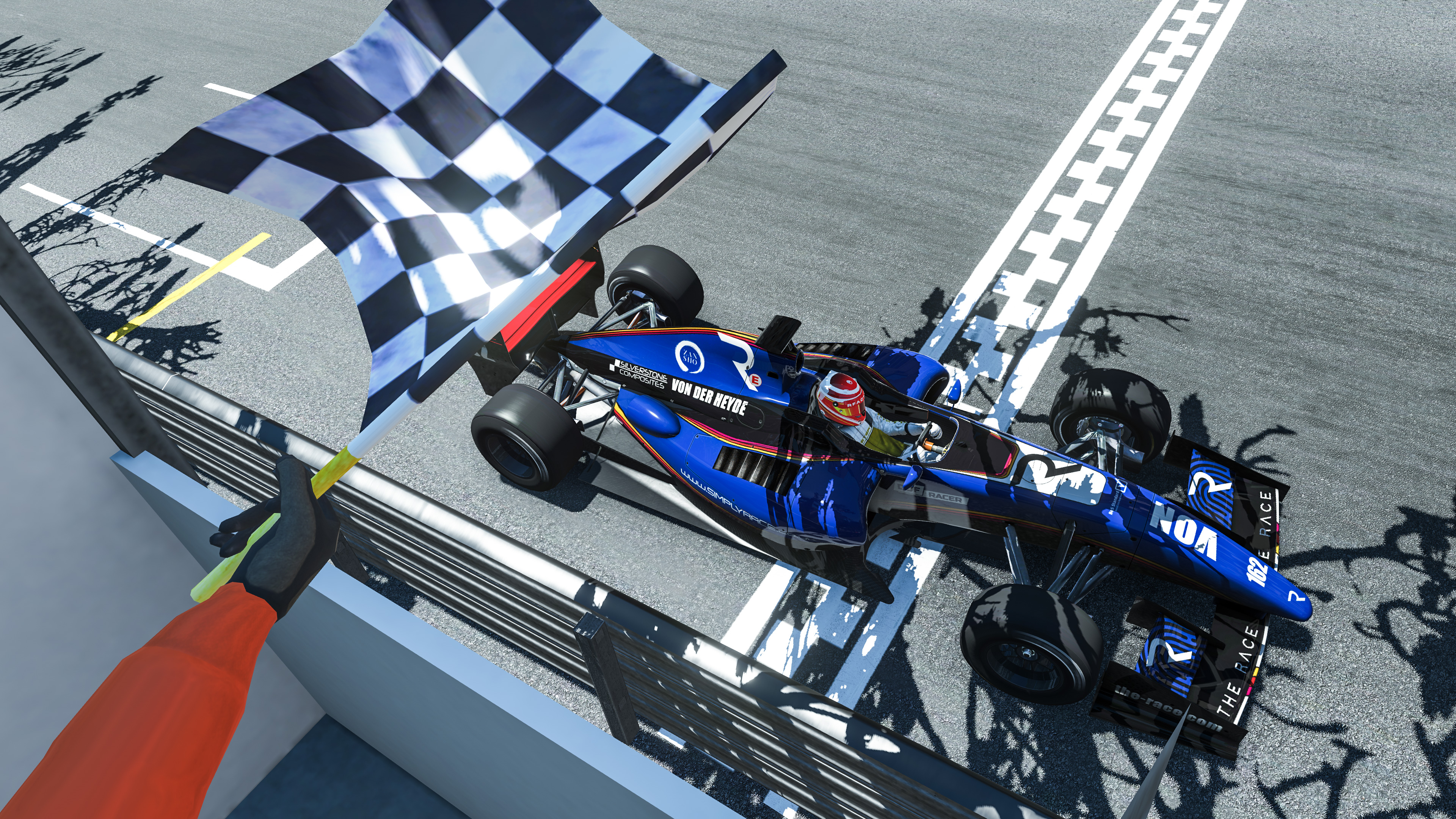 A three-way battle for second place allowed von der Heyde to extend his lead even further and win his first All-Star race.
Despite constant attempts on Greco from Siggy and Maguire, neither of them was able to gain places and the trio took the flag in that order.
Gergo Baldi finished in fifth with de Waal following his race one podium finish with sixth and claiming an early points lead.
The first race's winner Blakeley wasn't able to benefit from the pile-up and struggled to make up many places as he finished the reversed-grid race in 15th.