There were 22 seats available for the Formula E rookie test today. None of those 22 are being taken by women. Why?
It's an awkward question for the championship right now because it is quick to champion its female talent pool in various spheres of operations from engineers to sporting managers, where there is strong representation.
Yet the awkward reality is why, since Simona de Silvestro (pictured below) completed her final race for Andretti in the summer of 2016, a woman has not been remotely close to an FE team's radar for a race seat.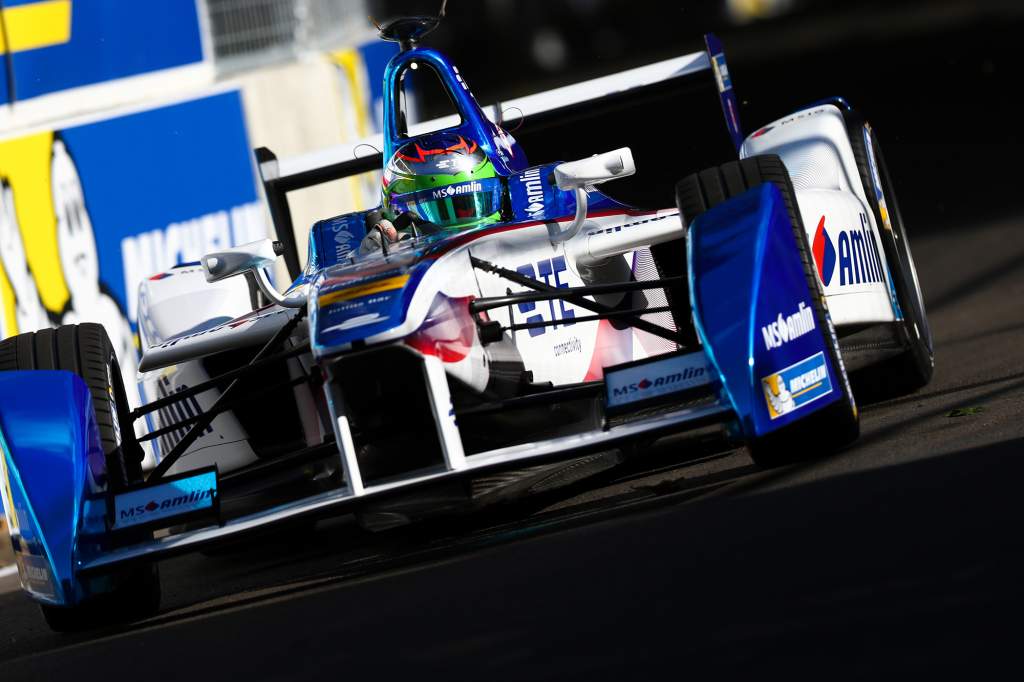 With no major series clashes from the past weekend, the talent pool of available female drivers is extensive.
World Endurance Championship racers Doriane Pin and Lilou Wadoux have proven themselves to be FIA-series podium finishers in the last month. So too GTE Am racers Sarah Bovy, Michelle Gatting and Rahel Frey, who took the first all-female pole position in the WEC last year at Monza and then followed that up with the same feat in Bahrain, where they also took a third class podium finish of the season.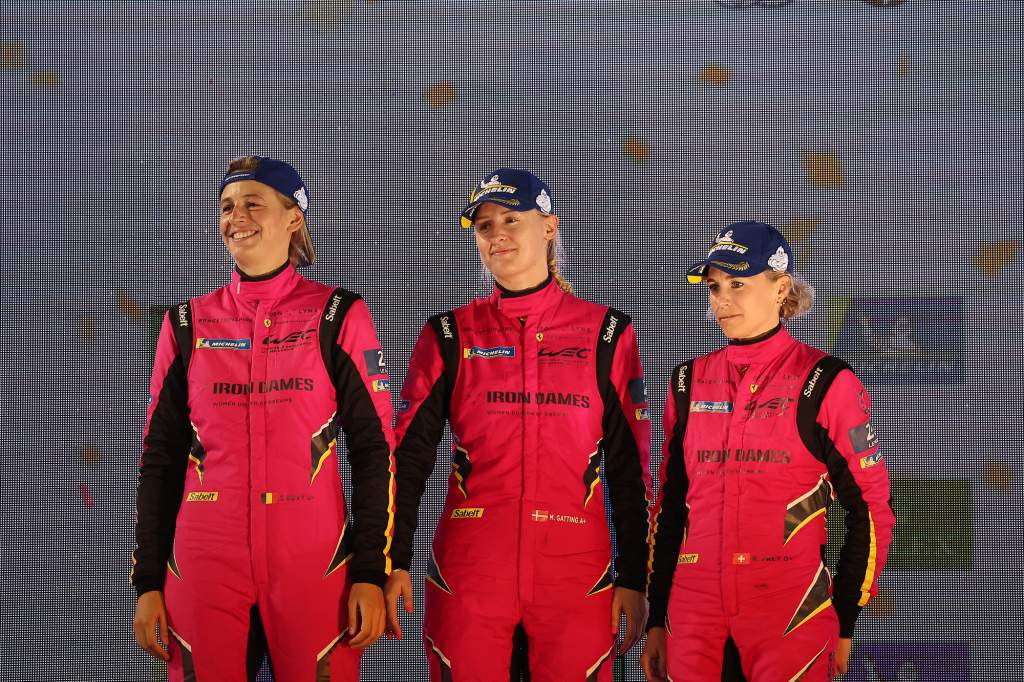 Female drivers such as Sophia Floersch and Abbi Pulling are being picked up as young development Formula 1 drivers by Alpine, showing there is an understanding in the wider motorsport world that these women deserve a chance in top racing series.
With the list of talented and fast women drivers at an all-time high, it feels like Formula E teams have missed a golden opportunity by not making sure at least some will feature in the test. At a bare minimum, at least one female driver should be in that field today.
Alice Powell has taken part in two previous rookie tests, both for Envision Racing. It is precisely that fact that ensured she could not take part this time after a change in the criteria was mandated to limit participation to those who have completed just one FE test or none at all.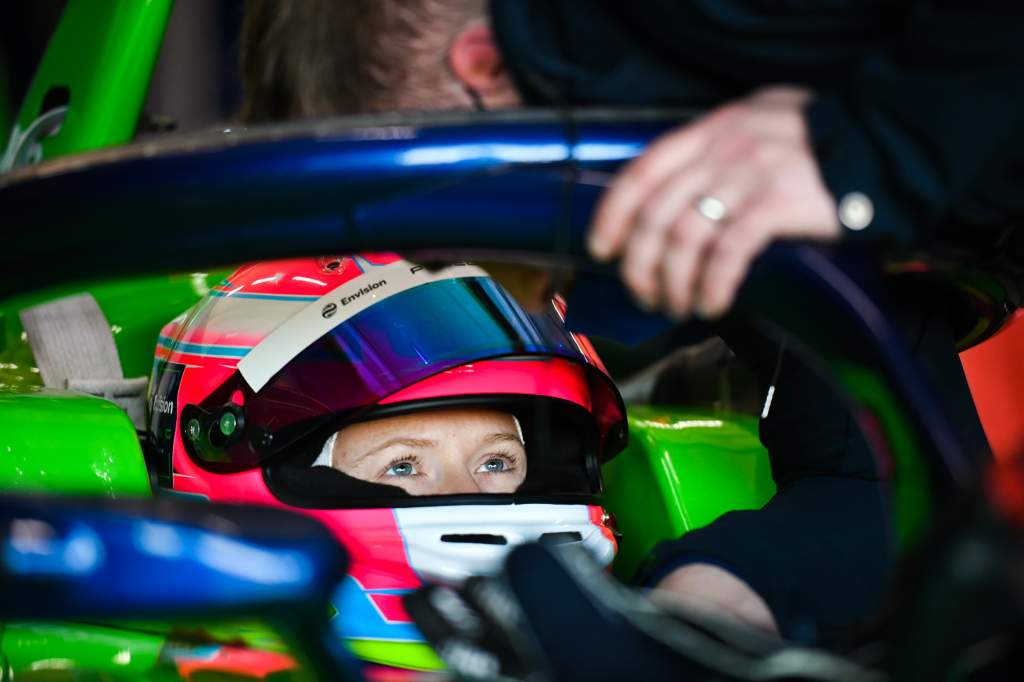 Powell told The Race last week that she had worked to get Pulling, who she manages, in a seat but "we didn't quite get there in the end".
It's no secret that seat time is a massive advantage for anyone wanting a chance to race in the notoriously complex all-electric world championship. This begs a pertinent question: if Formula E is truly the forward-thinking, disruptive 'future of motorsport', why does it feel closed-off and, at present, so inaccessible to young female talent?
Powell described the test line-up oversight as 'surprising' and 'frustrating', saying "obviously there are [female] talents out there".
Rumours circulated in the paddock at Berlin last week that the majority of women in the F1 Academy do not fit the licence requirements for a seat at the Formula E test table. This will be the case for some, but not all.
The criteria looks simple as per article 4.7 of the current sporting regulations. It reads: 'The minimum licence grade for rookies to take part in the official tests organised by the championship promoter is International Grade B. International Grade C licensed drivers, with proven experience in single-seater categories, may be authorised with the prior approval of the FIA."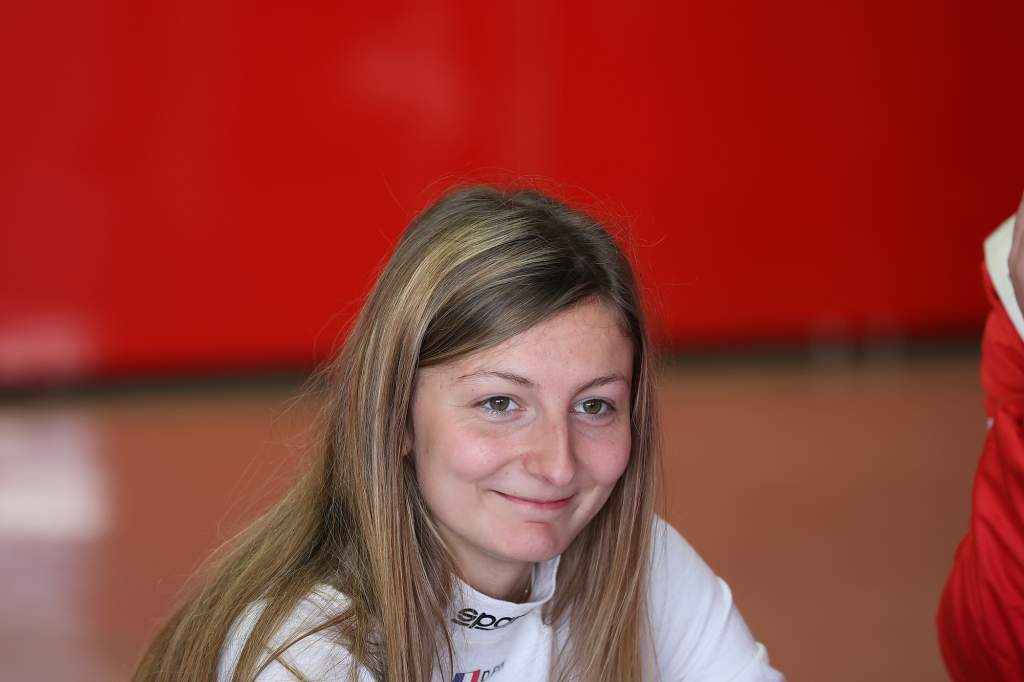 The achievements of the likes of Pin (pictured above) and Wadoux, who are genuinely proving to be almost as, or just as, quick as some high-profile and more experienced WEC team-mates, means that excuses are wearing thin in Formula E right now as regards its backing of female talent. Pin and Wadoux's single-seater experience isn't sufficient to fill Article 4.7. That seems archaic to say the least.
"I don't think the FIA have blocked any girls from testing in Formula E so I don't think it's been the FIA that has said 'you can't take a girl'," added Powell.
"I know 100% they will encourage it. It would have been nice to see a female talent out there testing."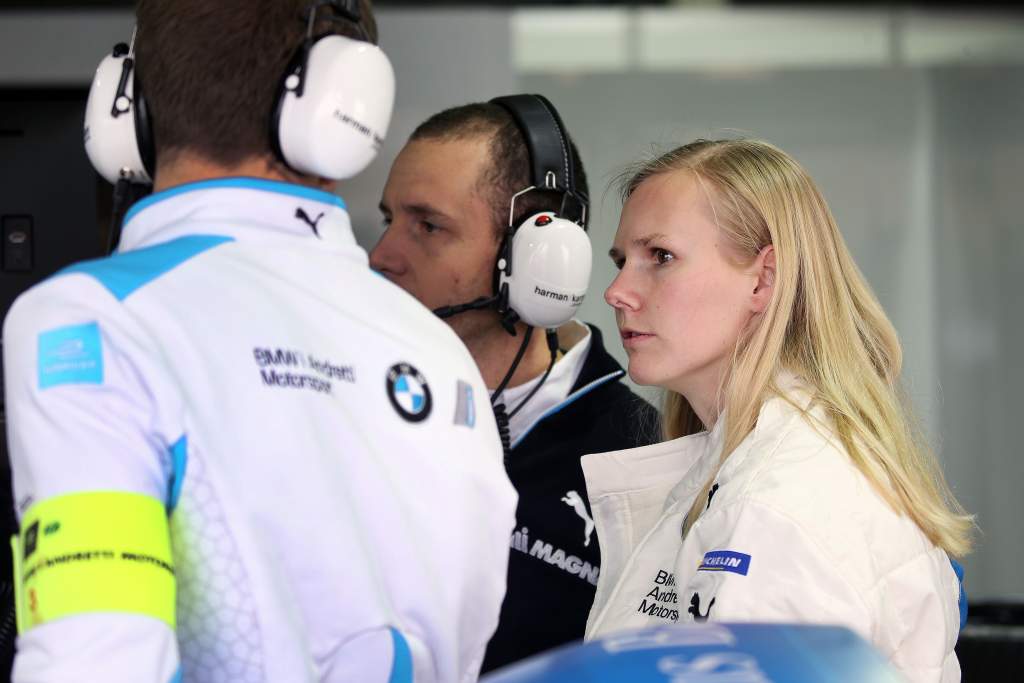 The lack of female talent in this test also brings into question the 2018 Riyadh rookie test where teams were mandated to have a female driver in one car to be eligible to run two during the test. As well as past FE racers de Silvestro and Katherine Legge, there were appearances from the likes of Jamie Chadwick, Tatiana Calderon and Beitske Visser (pictured above).
A similar scenario was not a requirement for Monday's test and no female drivers have been selected. Perhaps this shows that teams were more interested in having two cars rather than nurturing future female talent back in 2018.
Was that then a gimmick to tick boxes and to give the illusion of helping to equalise the bar of entry for women, or maybe it was just plain tokenism? Whatever it was, it didn't feel quite right at the time and it certainly doesn't now when no legacy worth its name is visible.
The situation becomes more depressing when teams such as Envision have connections with talented female drivers, so much so to bring them to a Girls on Track event being hosted at the Berlin E-Prix over the weekend, but still not being able to put a driver in one of its cars.
Envision has been one of the most supportive entries in Formula E and has a strong female presence in its team throughout, so why not carry through its convictions into substance for this test?
Powell and Envision team principal Sylvain Filippi confirmed that she would have been in one of the Envision entries for the test, if not for the two-test rookie rule Formula E has in place.
"It's disappointing isn't it," Filippi remarked when asked for his thoughts on the lack of females.
"Behind the scenes, I have been a very big promoter of rookie tests. I want more of them. We don't have a feeder series, so we need better rookie tests.
"I am very confident that over the next few years there will be more female drivers and more women."
Formula E has always strived to be breaking the mould and moving motorsport in a more modern, assorted and exciting direction, whether that be through diversity, technology or the way to go racing, and the current lack of giving female drivers another avenue to race in and to prove their worth at a professional level feels like an open goal missed.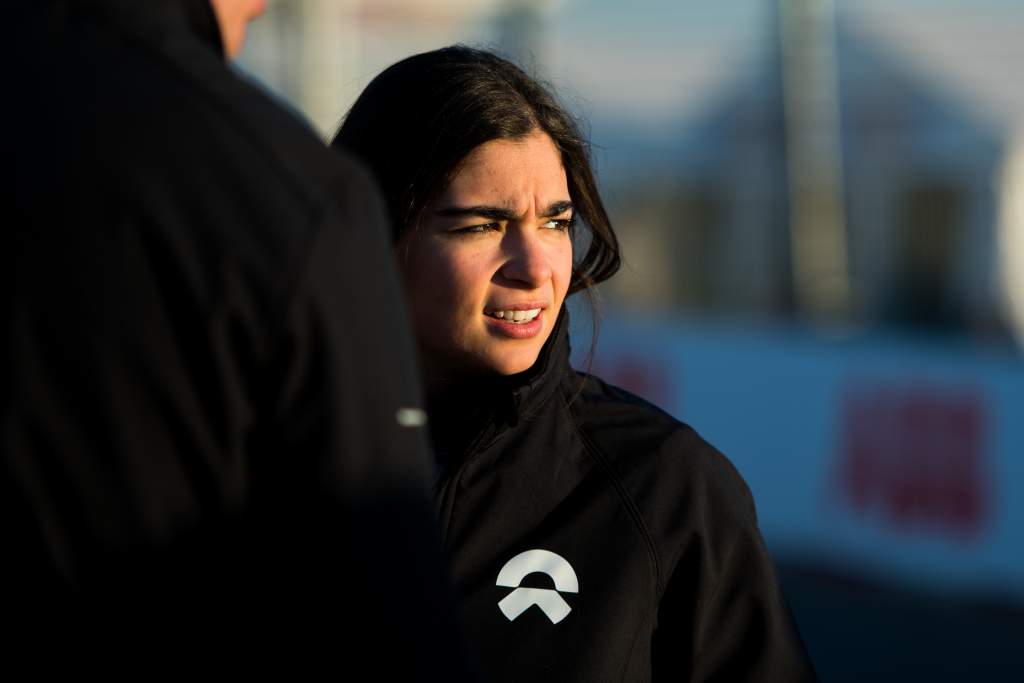 Chadwick has had FE tests with both what's now NIO 333 (pictured above) and Jaguar, and according to Avalanche Andretti team principal, Roger Griffiths, was looked at again. But instead Andretti's running David Beckmann, ahead of his stand-in appearance when Andre Lotterer misses Jakarta for the Le Mans test day, and Yifei Ye.
"We did look quite closely at bringing Jamie Chadwick over because she's part of the roster for Andretti in Indy Lights," Griffiths told The Race.
"But she's already driven the car twice [a la Powell]; so, for us, there was not a strong motivation to bring her over because she's already experienced it.
"For us, we've also got to make a decision about what do we do in Jakarta as well because, in our situation, Andre isn't available to us, so our eyes are a little wider open than to bring someone over just to give them a go.
"We've got a real evaluation session going on for us effectively over four Porsche drivers. For us, our motivation is slightly different."
Likewise, Abt Cupra was, according to team boss Thomas Biermeier, "was thinking about Klara Andersson [pictured below] from Extreme E but it doesn't fit because of timings and everything. But, for the future, sure we have to be open for that things. It's really important to give all people a chance."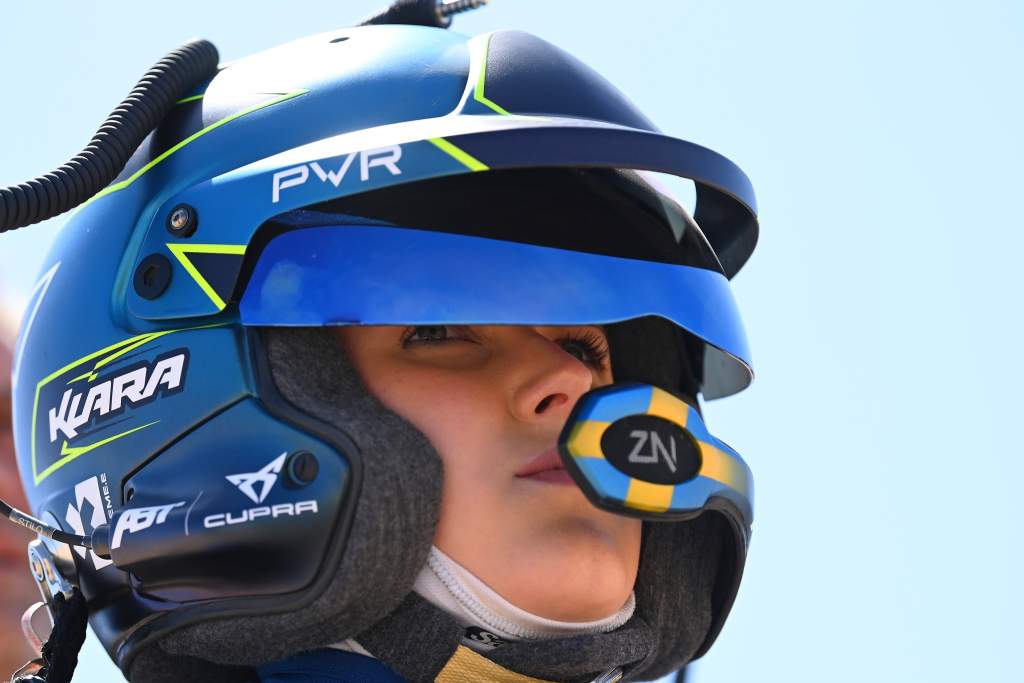 From a promoter's standpoint, there was an acknowledgement of a missed opportunity, with Formula E CEO Jamie Reigle answering the question as to why there are no women on the entry list by saying that "ultimately that's a question you should ask 11 team principals because I don't make that call, but it's curious to me.
"If you assume they're making rational decisions and not biased decisions, then it would tell you that they don't believe there is a talent pool there. So, then the question is, how do we address that as a sport, and clearly we need to provide more opportunities.
"I come back to what I said at the outset though, which is we need to have a different point of view than what others are doing. So, W Series, F1 Academy, how could Formula E do that in a way that's unique to FE and it would set us apart and not just be a replica of what already exists?"
Of course, the answer isn't to force teams into taking on female drivers, but rather in changing the perspective, so that gender is no longer a predetermined factor, it becomes normalised much more through both inherent skill and aptitude via opportunity.
Formula E's teams, manufacturers and promoters lavish messages of support on specific 'empowerment' days and other sundry initiatives of social activism. That's all fine and good, and of course positive, but it has to, at the very least, match the talk with a considerable walk before the integrity of its marketing and messaging over female talent doesn't lose further credibility.