The joining together of two of motorsport's biggest names, Porsche and Andretti, in Formula E from later this year will form a mutually beneficial cooperation that will benefit both across several years.
That's according to both parties' leaders after formally announcing what The Race predicted earlier this year would happen – that Porsche would provide cars for Andretti in the first homologation of the Gen3 period through to the end of the 2024 season.
The roots under the two motorsport goliaths run reasonably deep and the heritage is, while not as deeply embedded as Porsche and Penske, reasonably rich.
Both Mario and Michael Andretti have driven Porsches competitively in the past, with the pair sharing a Porsche Group C car on two occasions – once claiming a podium in 1983 with a Kremer-run Porsche 956 and then five years later with a factory-run 962 that also included Mario's late nephew John Andretti.
The Andrettis also drove Porsches at the 1989 24 Hours of Daytona with John triumphing in an evocatively gold-liveried Miller High Life 962 with Bob Wollek and Derek Bell in 1989. Two years later, the Andretti trio drove a Jochen Dauer semi-works 962 to a fifth place classification.
"Our Formula E journey began with season 1 and we're very proud to now be looking ahead to the next generation of the sport," Michael Andretti said. "Our history with Porsche as two historic racing teams means this collaboration was a natural fit, and we look forward to a new chapter starting in 2023."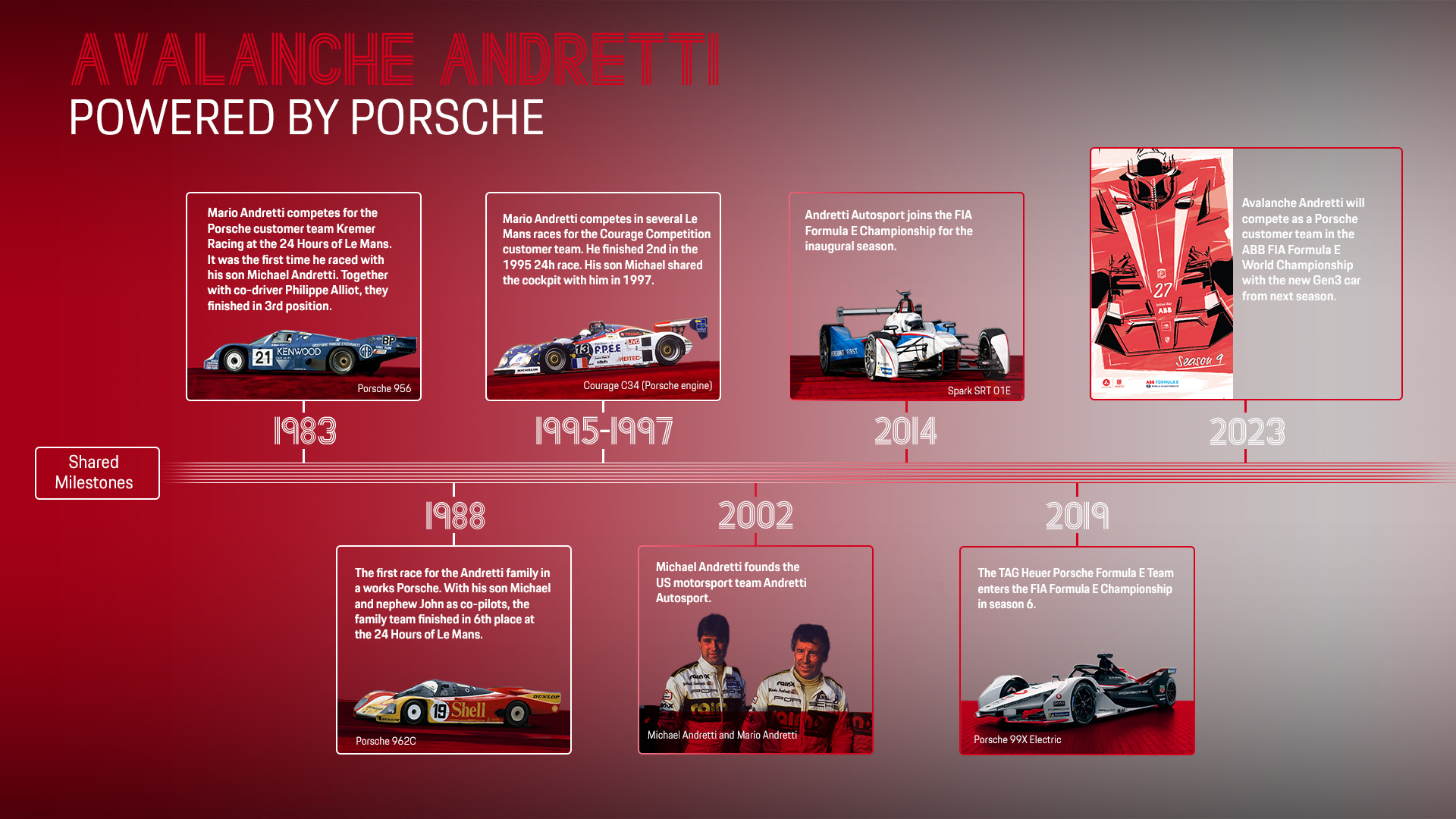 The present day reincarnation of the Andretti/Porsche story stretches back to February 2021 when the first approach was made by Andretti's chief technical officer and Formula E team principal, Roger Griffiths, when he informally tapped-up the then Porsche motorsport boss, Pascal Zurlinden.
That genesis moment intensified last autumn when Andretti's options narrowed, largely due to it signing the Avalanche blockchain platform as title partner.
This ensured that other discussions became largely obsolete because some manufacturers, specifically DS Automobiles, stipulate some naming rights within deals. This will be evidenced when the soon to be confirmed new-look DS Penske alliance is made public.
At the same time, Andretti was in serious discussion with the Lucid Motors company, which has clear ambitions to race in Formula E. There was a time last summer when a deal with Andretti appeared to be on the cards, but the EV specialist start-up chose to concentrate on establishing its automotive products instead.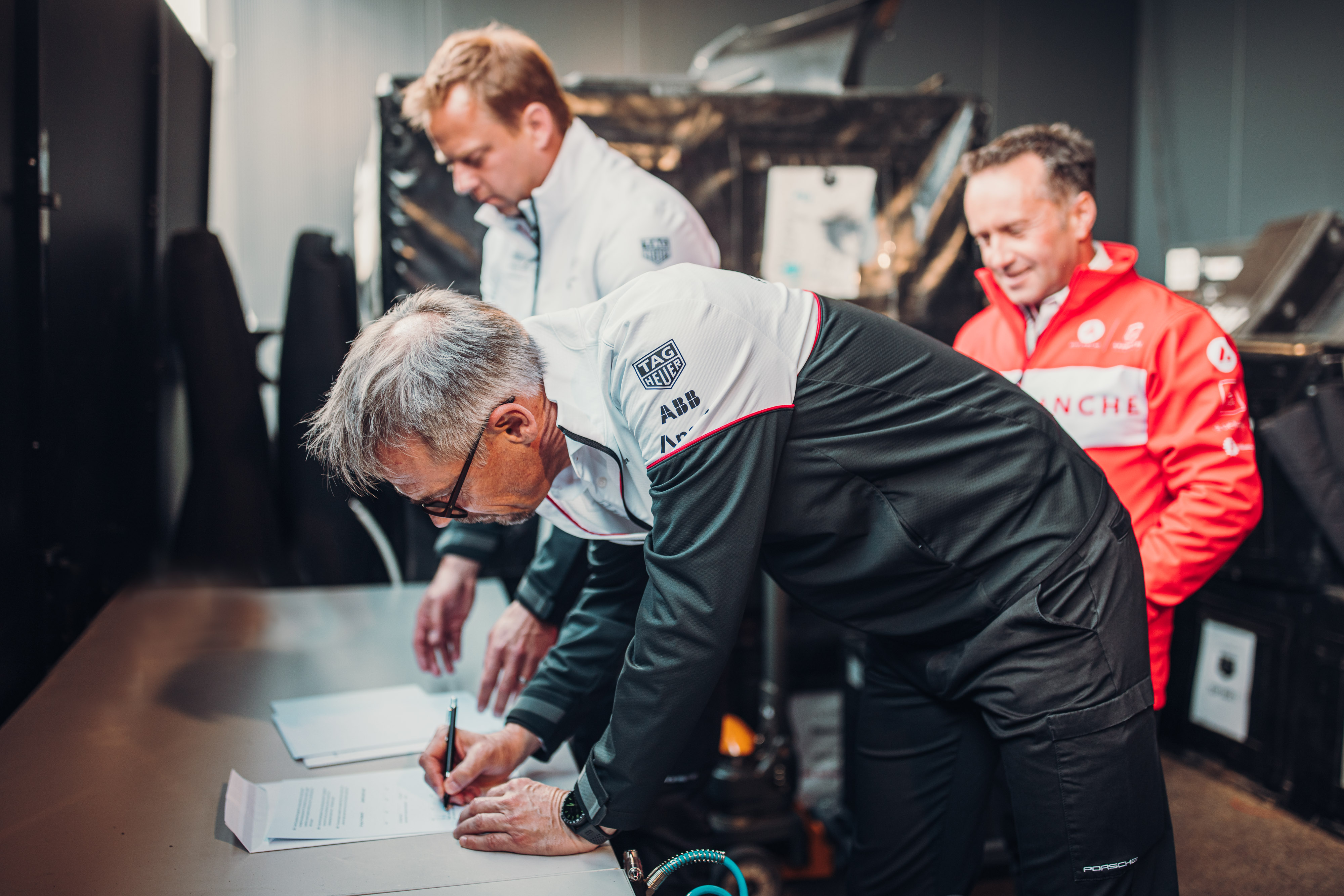 The Porsche discussions then intensified at the end of 2021 when new motorsport chief Thomas Laudenbach, whom Griffiths knew from his time at Honda Performance Development in the 2000s, was installed. Also instrumental in the deal was Porsche Motorsport's director of team management and business relations, Carlo Wiggers.
"We had conversations with others and there were some interesting deals on the table, people that were perhaps close to us from a logistical perspective or geographical perspective," Griffiths told The Race.
"But I think it really came down to the Gen3 car and that it is really complex, so then who really is going to understand this, and I think we've seen from even in Gen2, which was a step forward, being able to get on top of that car early makes a real difference in how you perform during that first season.
"If you can get a march on the competition, then you're going to do well. I always felt that there was only probably one or two people in the formula E paddock that could achieve that, and Porsche for me was one of those."
Coming into 2022 when the deal was discussed and then finally formalised, there were still questions marks over both Porsche's results on track and its commitment to the championship off it, particularly in relation to the full duration of the Gen3 programme.
But perhaps this was exactly what attracted Andretti. Porsche doesn't like losing, so when it does, it comes back harder and meaner. Additionally, only committing to Gen3 part one perhaps also gives Andretti the flexibility to re-engage Lucid for 2024 and beyond.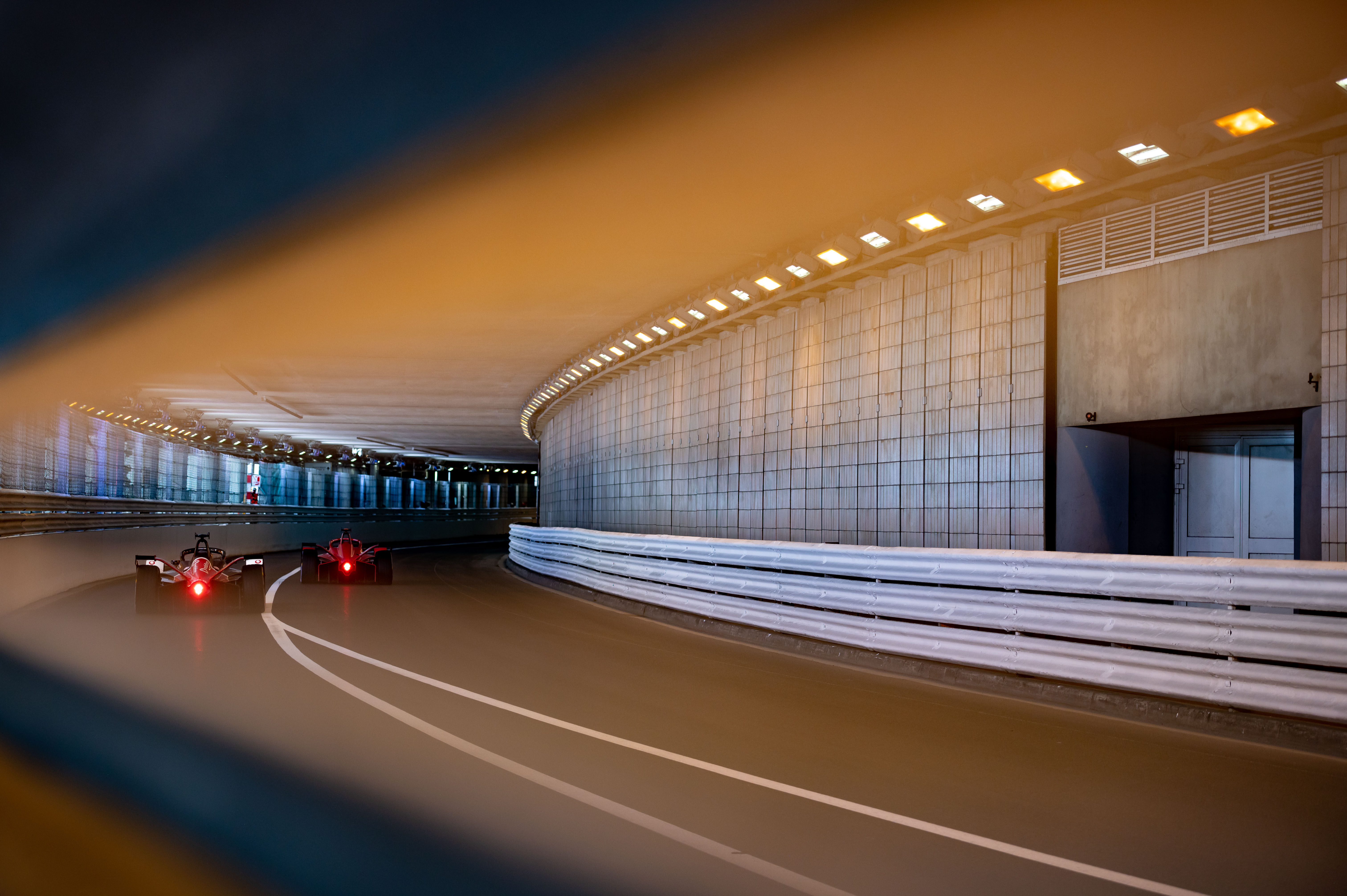 "I didn't feel that they had achieved what they set out to achieve," Griffiths says on Porsches pre-Mexico City win drought.
"I just had a feeling and a great deal of confidence that, while the results weren't coming at that particular point in time, they were going to come."
This they did in spectacular fashion at the Circuit Hermanos Rodriguez in February with a 1-2, and more victories are likely to come before the season is out.
From Porsche's standpoint, having four of its powertrains and cars, as a consequence, will be a decisive milestone for it. Envision with Audi, Venturi with Mercedes, and Andretti with BMW have reaped rewards both ways and ultimately taken points away from race and title rivals.
Yet it also can create the odd competitive joust that ends in tears. While this is an inevitable part of going racing in Formula E, Laudenbach tells The Race that data sharing and co-existing closely for the greater good of both operations will outweigh the odd on-track tangle.
"We have two teams, and every team is fighting for the victory against each other," says Laudenbach.
"But that's how it is. That's what racing is about, which is fine.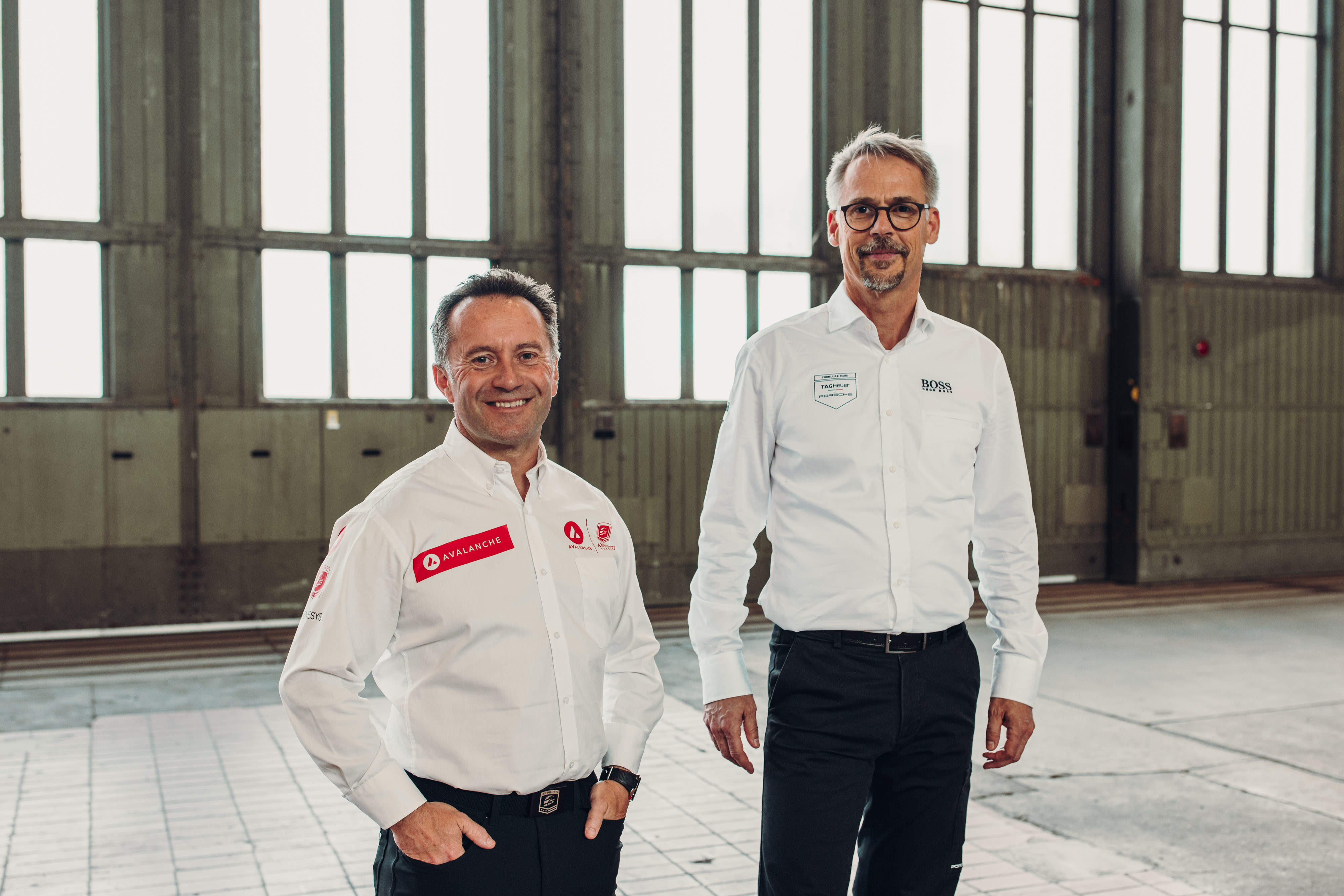 "On the other hand, since Andretti will be running the Porsche car then yes, that can be a beneficial exchange of data and how we work together and for sure, we will figure out in details how we do this on a daily basis.
"We want to use the beneficial parts in order to be stronger, compared to all the others on the grid.
"At the same time, every team needs some kind of freedom to compete against each other.
"That's something we have to define in detail, but yes, I would say we will use the advantage that such a relationship brings with it, no question."
For Andretti the link up will not be a carbon copy of its relationship with BMW, which began in 2018 and stretches to the present day, albeit with hardware and a single powertrain engineer only.
It has expanded its UK base in Banbury and has readied its own driver-in-the-loop simulator. It means that its BMW model of certain aspects of reliance on its partner will not be as great for Gen3.
"As we look at how Formula E has evolved over the last few seasons, you really need to be aligned with a manufacturer that not only has the desire to win, but also has the resources to win," says Griffiths.
"The real reason for approaching Porsche is that obviously, it's a brand that has a long history in motor racing.
"More importantly, it's a brand that has a long history of winning in motor racing. And that, for me, was key."