Elvis Costello's classic 1977 hit 'Watching the Detectives' has perplexed music writers for years about its true meaning amid intricate lyrics that shimmer with opaque cinematic noir.
Often at Formula E tests and races I start to involuntarily hum this tune. That's because watching the teams that are watching the other teams sets a scene not only of classic, multi-manufacturer competition but of almost comedic, cold war levels of conspiracy.
Those shots you see of Adrian Newey on the Formula 1 grid sniffing around the competition are nothing compared to the 'active' observing and information gathering that goes on in Formula E.
The intra-manufacturer intrigue in 2023 ratcheted up between the two predominant forces, Jaguar and Porsche, after it became evident in the first few races that the titles would likely be a straight fight between the two manufacturers and the four teams - Jaguar and Porsche, and their respective customers, Envision and Andretti.
Jaguar's technical manager Phil Charles is not averse to a bit of homework on his opposition, and this is naturally returned by his rivals, often forensically.
From a Gen3 perspective, this stretches all the way back to the initial development phase of the Gen3 cars last summer and autumn at a desolate and dust-ridden Calafat Circuit on the east coast of Spain.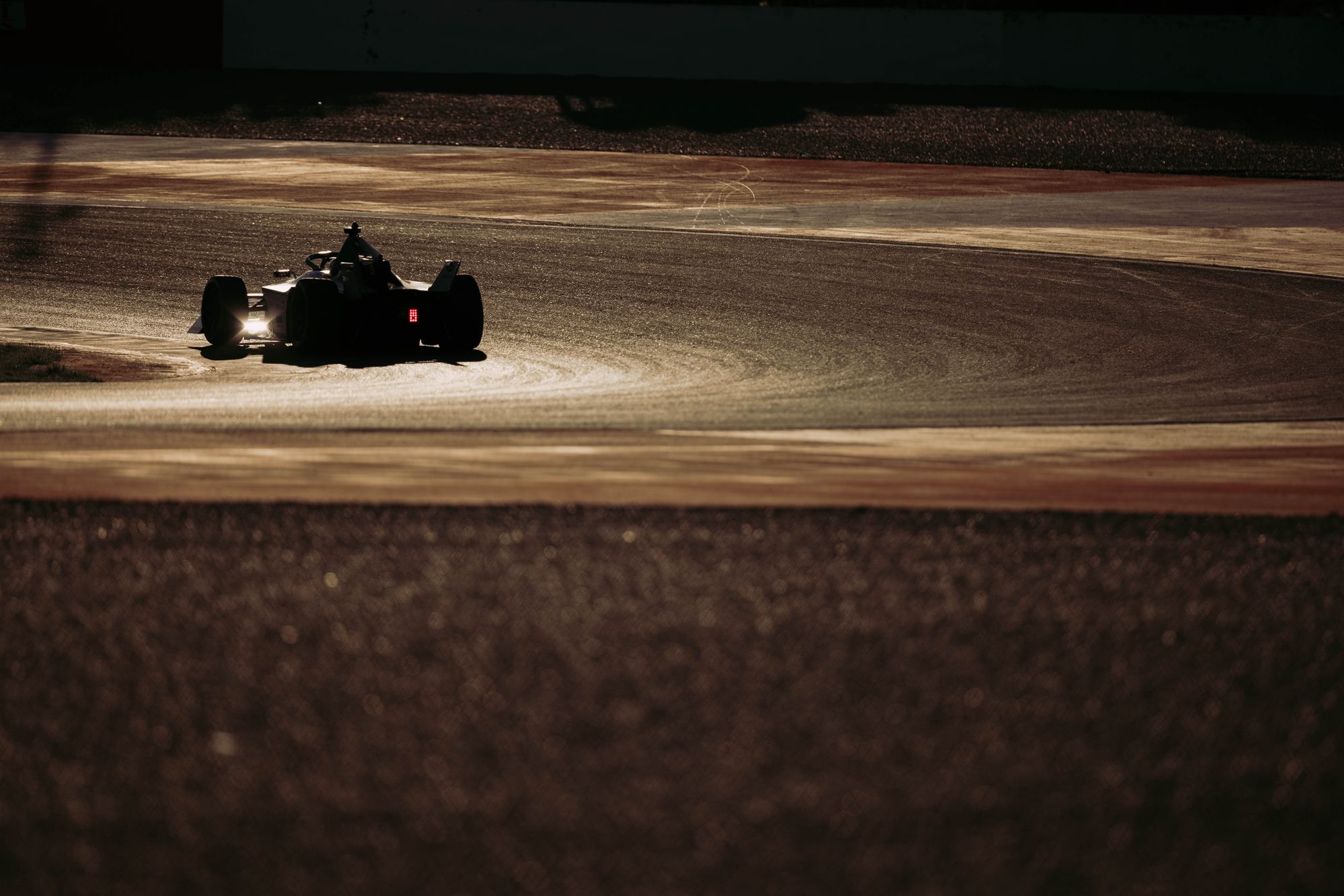 "There's something that makes me chuckle in a lot of respects: we went and shared the Calafat test track with them [Porsche], I think it was September or October," Charles told The Race.
"It was an eye-opener and a massive motivator for us as a team because we saw on those couple of days how far they were up the curve and if anything, it motivated us. It certainly motivated me.
"I went back to the factory; I was quite grumpy. But it focused us on some areas that we saw their development, you could just see in their development, they were going bang, bang, bang and they understood the next steps, particularly the energy management side, and it helped us to go back and work harder. It helped us to be focused and it really pushed us on."
This was an important phase of the battle between Porsche and Jaguar, the manifestation of which played out in the first three races when the Porsche package clearly had the upper hand.
By the end of the third race in Riyadh, Jaguar already had a 37-point deficit in the teams' standings to recoup.
Jaguar's transition from Gen2 to Gen3 was not easy. It struggled to effectively use its resources in the second phase of Gen2 and knew it had to restructure things a fair bit for the introduction of Gen3.
Researching, designing and manufacturing the whole package of the powertrain was tough at the best of times but with pandemic disruption and supply-chain challenges it was even harder.
"To do 250kW to 350kW [the increase in power] is a big step for us," says Charles.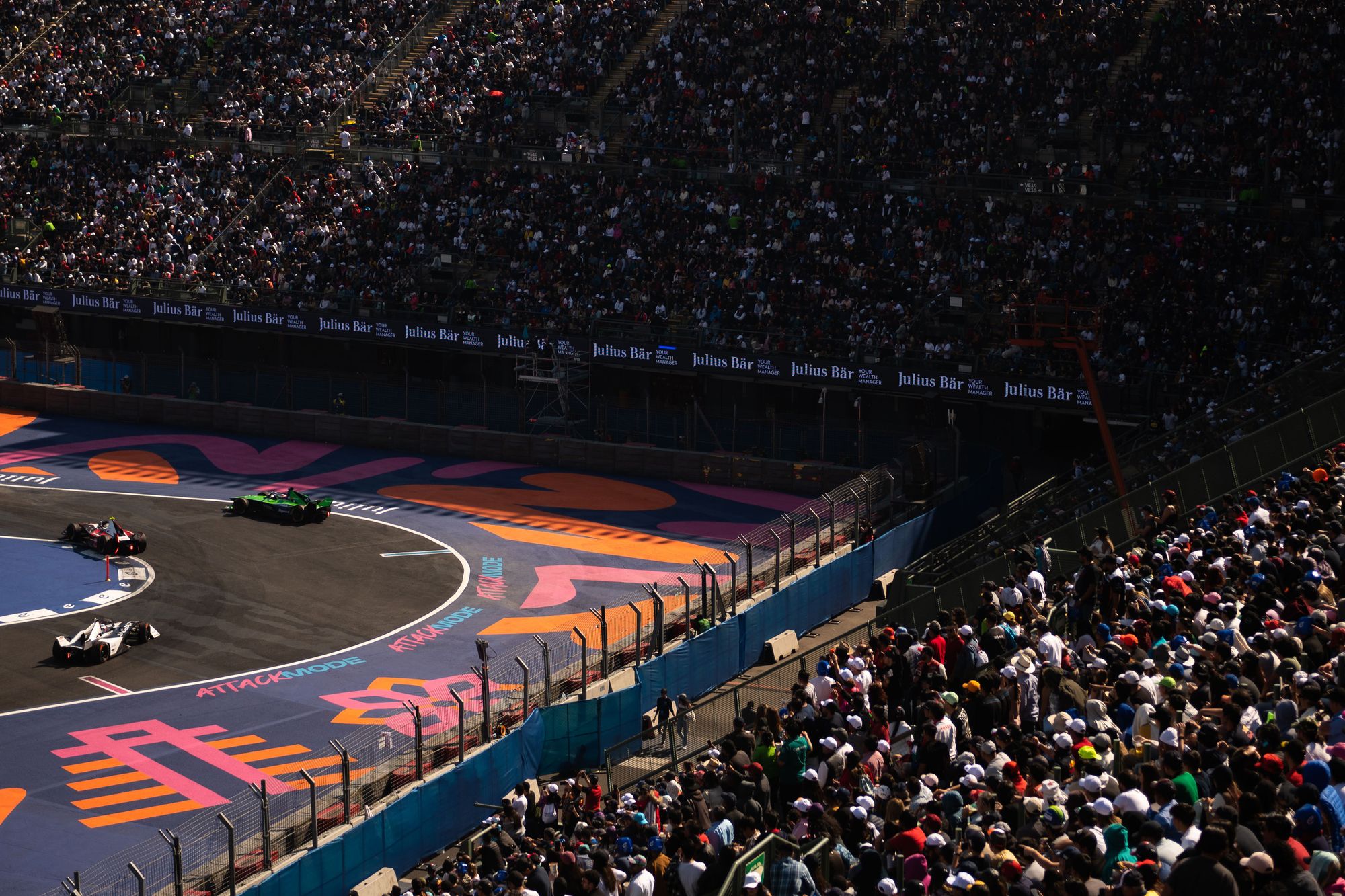 "We probably went into the first few races... you can use the term a little bit up against it; still developing probably is more accurate in our respects.
"There's a big development curve and we didn't feel like we were starting to come out of the crest of that, we kind of felt like we were still climbing. So, the early races for us were tricky. We got some decent results, but we also had some pain."
There was one particular race where it hit home for Jaguar: the second race at Diriyah.
"Those early races were very formative," says Charles. "If you look back in a bit more detail, there are some specifics of Gen3 racing - the peloton effect - we hit the front early on in some of those races and learned the hard way particularly in Saudi."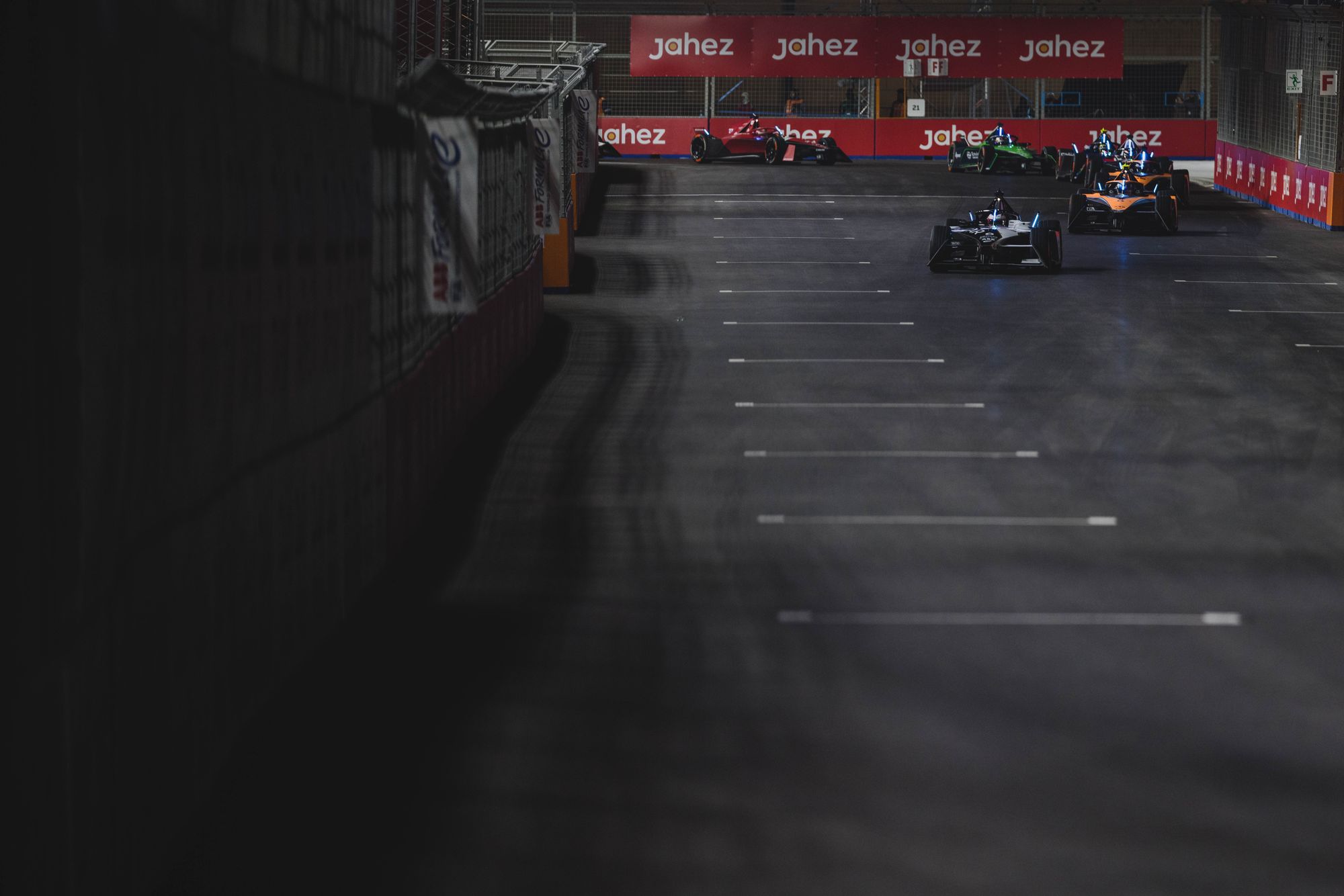 Mitch Evans led the early stages of the race after getting the drop on polesitter Jake Hughes, but he was soon in trouble and confused.
"I don't know what was changed, we're analysing it but, I couldn't hit targets and I was digging myself a hole by overconsuming [energy], I was trying my best but couldn't work around it," he told The Race immediately after that frustration.
His team-mate Sam Bird fared a little better but had similar traits of vexation to digest. A day earlier he had led for a while before being forced to give up the ghost to the all-conquering and much more efficient Porsches of Pascal Wehrlein and Jake Dennis.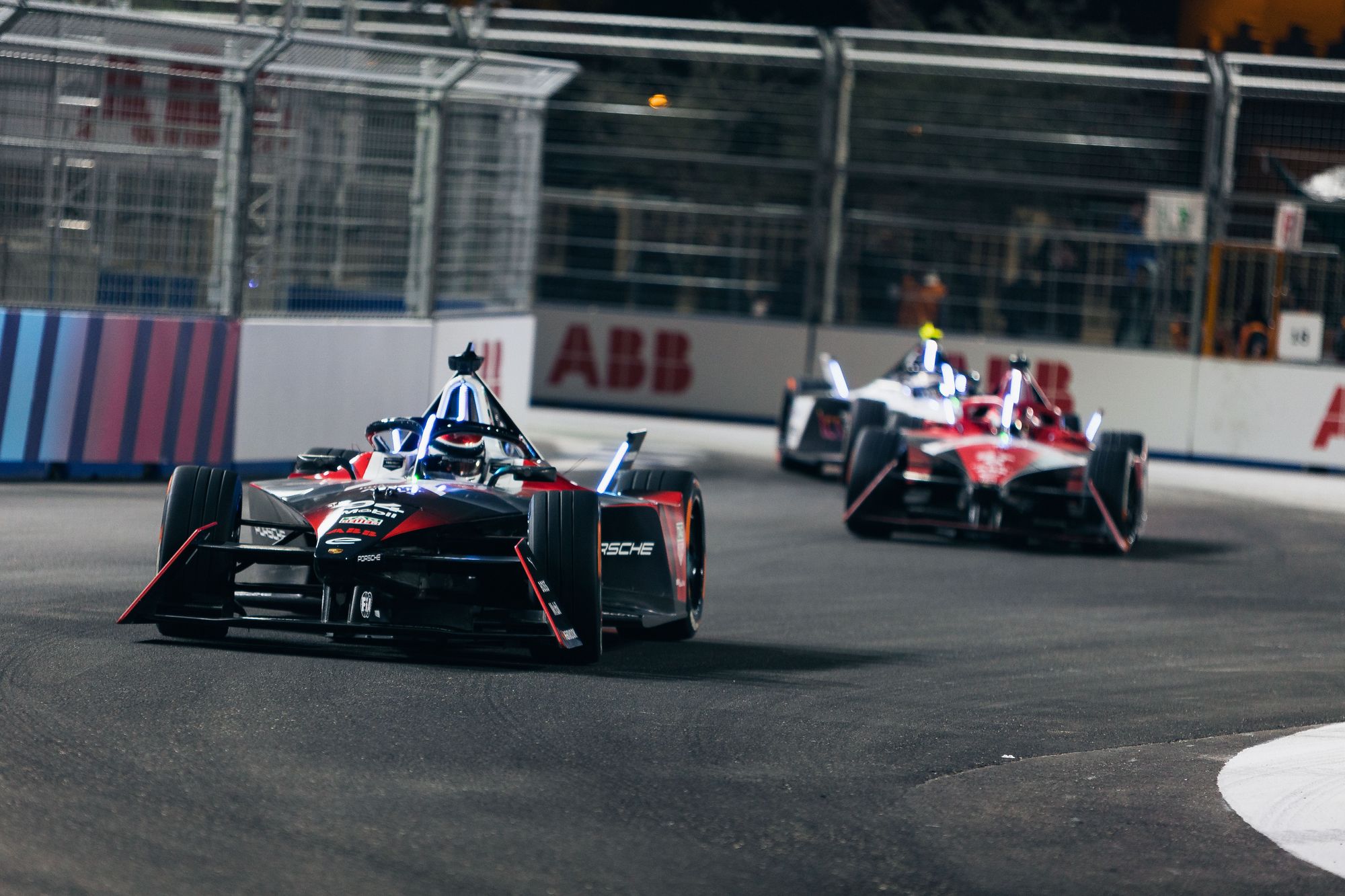 Charles concedes that at that stage of the season Porsche "did do some really nice Gen3 races from a lowly qualifying position" and that "our steady start, was almost the converse to them".
A lot of that was in the preparation, which harks back to Charles' observations from that test in Spain a few months before.
"You study all your competitors; we watch them get more and more efficient and effective at the trackside," he says. "Porsche did that as they went through Gen2 - even if the results weren't necessarily showing it, they became really streamlined [in] their work approach, in a lot of ways."
Charles noticed this and realised Porsche was getting "quite close to the way we work".
"I walk down the pitlane a lot and you kind of clock what the others are doing, they're doing something similar to us. You look at the run programmes, they're starting to do something similar to us," he says.
"So, I think, as they went through the season, they were getting stronger and stronger in season eight [2022]; they'd streamlined, they'd improve, you could see that massively and they were becoming a very strong race team."
While Jaguar was still ascending through the initial base camps, Porsche was approaching the peak. Add that to Jaguar not quite being alert enough to how the style of peloton races were panning out in the opening races of the season and it was advantage Porsche.
"We qualified up front, but it cost us because we were struggling to learn how to race in a peloton race," suggests Charles.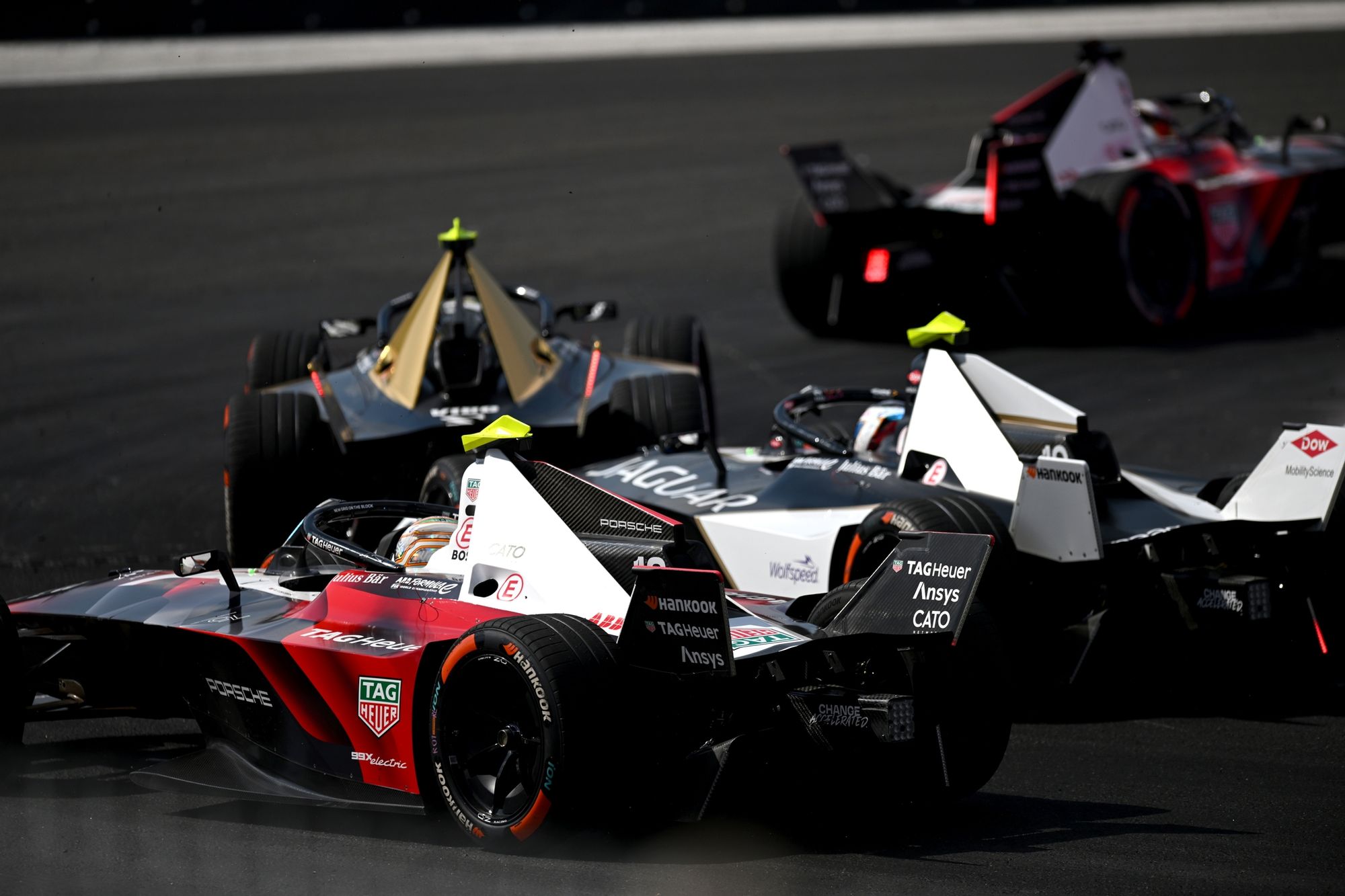 "They could watch us make a mess of it. It's a mix of those things, they've definitely got a good car, they've definitely got a good team - that comes out in the wash, always - but in those early races they did some great races."
But the tide turned and, as the season wore on, Jaguar hit the front and Porsche stalled.
It's too simple to state that Porsche plateaued. It was more that Jaguar learned quickly and caught and passed its rival at a similar rate.
Had Jaguar not gone through the pain of Diriyah and heeded its warning then Porsche would have waltzed to the titles.
That autumn test day at Calafat was the start of a fantastic rivalry between the two manufacturer giants and it didn't disappoint - Porsche and Jaguar cars won 14 of the 16 races in 2023 and the title fights were taken to the final race weekend, with the teams' crown ultimately claimed by Jaguar customer Envision ahead of its manufacturer partner.
If Costello fancies writing a follow up to his bewitching classic, then he need only to chronicle the 2023 Formula E season because the stories behind the narrative were as captivating as the racing itself.