A series of controversies in the opening races of Formula E's first world championship season have caused discomfort among teams and manufacturers. It needs its big Monaco weekend to be trouble-free, even if it has to tweak the rules to ensure it, says our FE correspondent Sam Smith:
The next race is always the most important. That's a given. But for Formula E this weekend the first E-Prix on the full Monaco track will be held amid multi-headed tumult that is likely to give proceedings a highly charged backdrop.
A string of sporting and technical incidents have caused varying degrees of furore or confusion in the series, which has had a less than auspicious start to life as an official FIA world championship in the eyes of many in the paddock.
That has created some rancour and confusion, particularly among manufacturers and teams that have been relieved of large sums of budget in order for Formula E to become only the fifth current fully-fledged world championship on the international stage.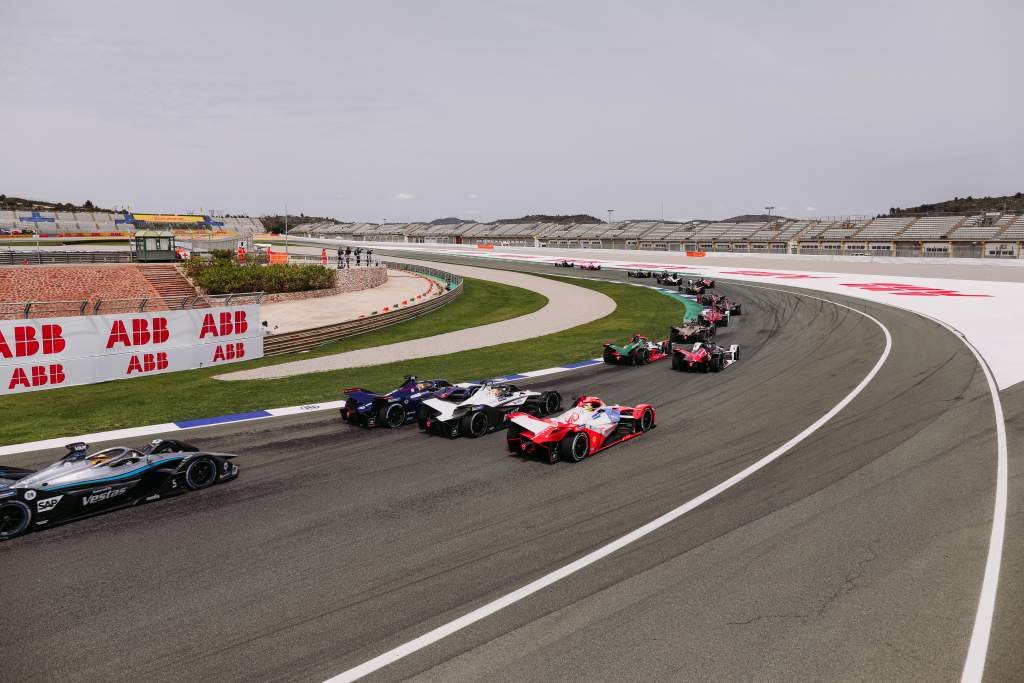 Maybe though the first Monaco E-Prix to be held on a very subtly tweaked Formula 1 track will be the elixir the championship needs right now. In truth, it probably has to be, just for the long-term health of Formula E to at least be stabilised for the time being.
Following Monaco is a six-week mid-season break and it is entirely possible that changes will have to made at several levels during that time to prevent Formula E from unravelling before our very eyes.
With teams and manufacturers still greatly limited in the number of partners they can have on site and acutely hindered in the activations they can carry out this weekend (due to the ongoing pandemic disruption), there is genuine and growing disquiet.
But first let's take a look at the pint glass, or perhaps that should be champagne flute for this weekend, as being half full.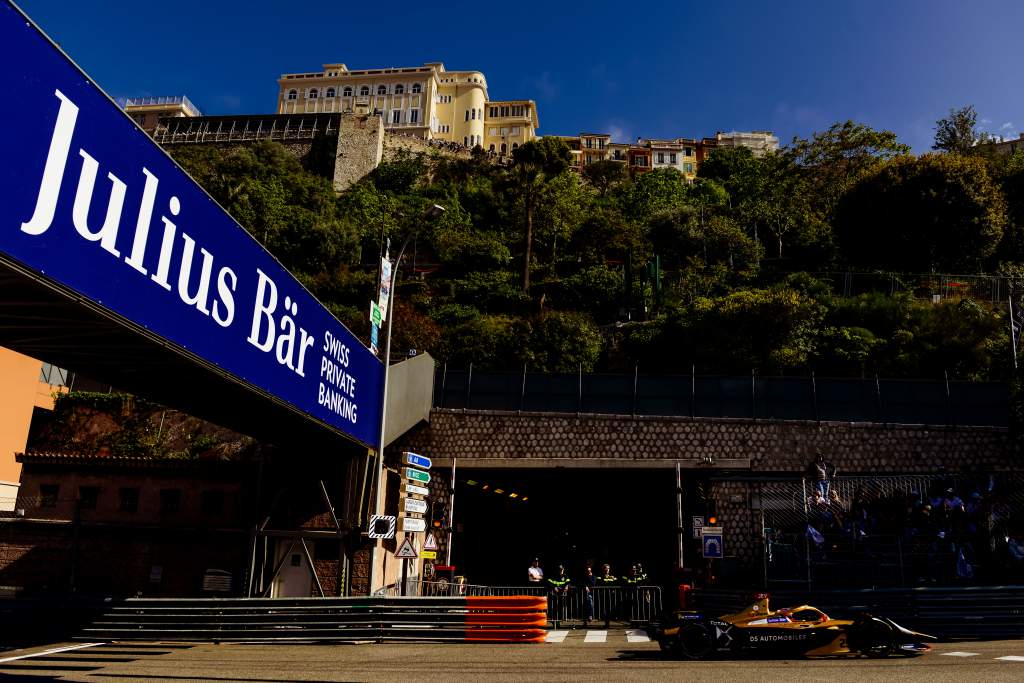 Formula E cars will look terrific on the full streets of Monaco this weekend. Forget the senseless and lazy laptime comparison question, which inevitably some will pointlessly pontificate upon. The real spectacle will be partly the initial novelty effect and then inevitable sporting drama.
The latter will come because the attack zone transponder loops have been placed on the outside of the hairpin, now known as Grand Hotel but still universally referred to as Loews.
This is likely to create a great deal of action from this area all the way through to Tabac, as drivers jockey for positions to make up for inevitable lost ground.
In summary, Monaco will have a feel-good factor when in motion. But when the action stops the champagne flute could easily lose its fizz very quickly or even start to go completely flat.
This is because a cauldron of opinions are bubbling away, not only due to the energy crisis race witnessed at Valencia, but a host of matters that both the promoter and the FIA have to address.
At Valencia, the FIA, represented by its director of Formula E and innovative sport projects Frederic Bertrand, explained its take on the events that led to five cars being disqualified and the rest of the runners trundling over the line.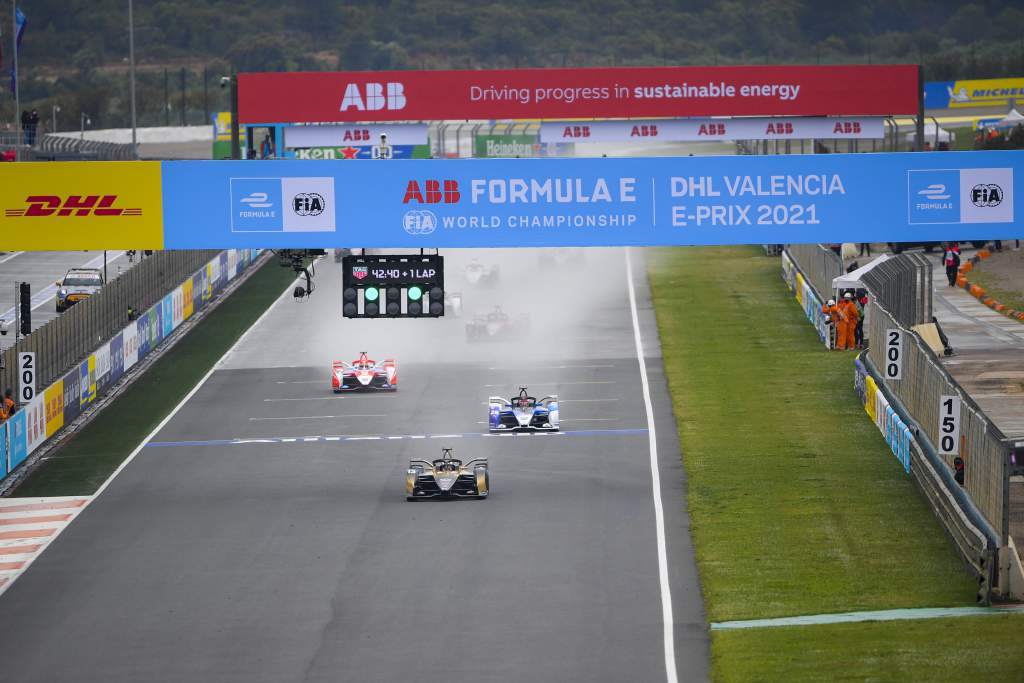 Yes, the suggestion that race leader Antonio Felix da Costa's decision not to slow to walking pace and make it a one-lap sprint rather than a two-lap run to the finish set up the problems had some truth to it, but the manner that suggestion was delivered in the context infuriated the champion and many others in the paddock.
Additionally, and much more worryingly, the abject lack of comprehension by the promoters over what had occurred at Valencia and the subsequent messaging they chose to communicate afterwards was embarrassing. It essentially hoodwinked Formula E's customers and fans, treated them like fools and absolutely has no place in a world championship.
The upshot of all this was that several team principals received calls from their board members on Saturday evening with clipped requests for explanations. These grew louder as the following week went on.
The consequences of those interactions are still to be quantified but as one senior manufacturer told The Race at Valencia: "What do I tell the person about what happened today when I am trying every week to get, justify and improve our spend in a new world championship?"
Conversely, in Germany a record number of eyeballs tuned in to the Sunday race on the Sat 1 station – over a million of them which for Formula E was a DTM-beating audience.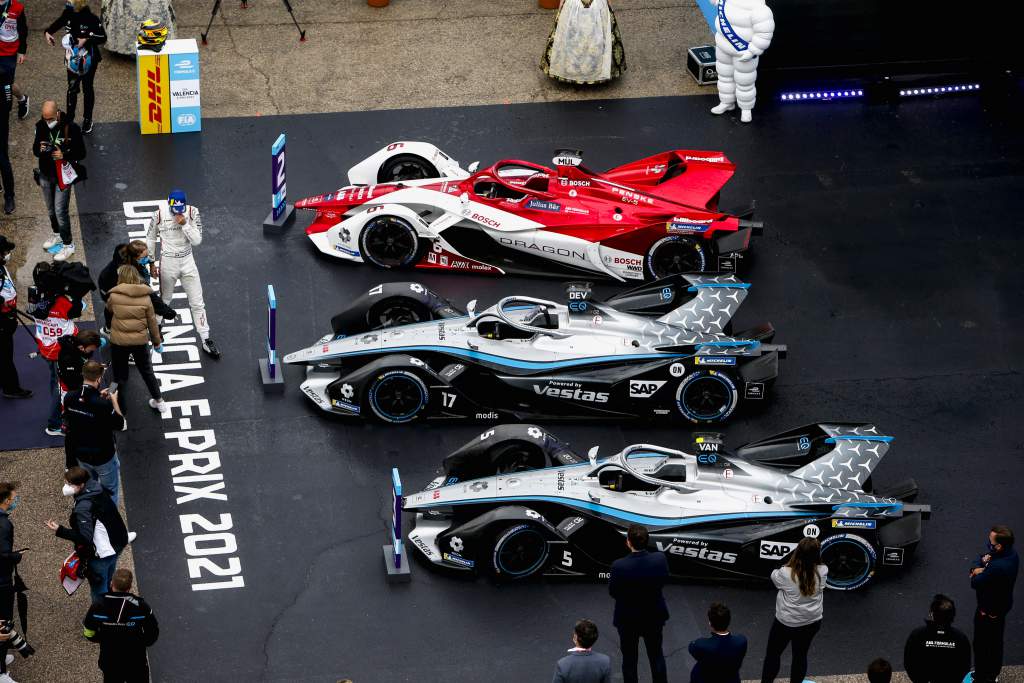 German specialist EV racing website e-formel.de reported last week that "on average, 630,000 people" watched Sunday's race and "720,000 watched at peak times".
"A total of 1.25 million interested people tuned in – a strong figure that was still slightly below the peak value of the second Diriyah race (1.5 million)."
Does this justify an 'all publicity is good publicity' outlook?
Probably not, because the reality is that viewership in Germany was on an upward trend anyway, and the simple fact was that, Monaco historics apart, FE didn't have much opposition – there was no F1 grand prix, DTM nor sportscar racing to chase televisually on the Valencia E-Prix weekend.
The Race understands that manufacturers have again requested that there is not such a drastic energy reduction under the safety car – or perhaps none at all – from now on.
The suggestion, which is being considered after discussions last week, is that after the 40-minute mark in a race there'll be no more energy reduction. It is a sensitive area because quite plainly the FIA doesn't want to be viewed as deciding who the winner of a race is by a discretionary directive.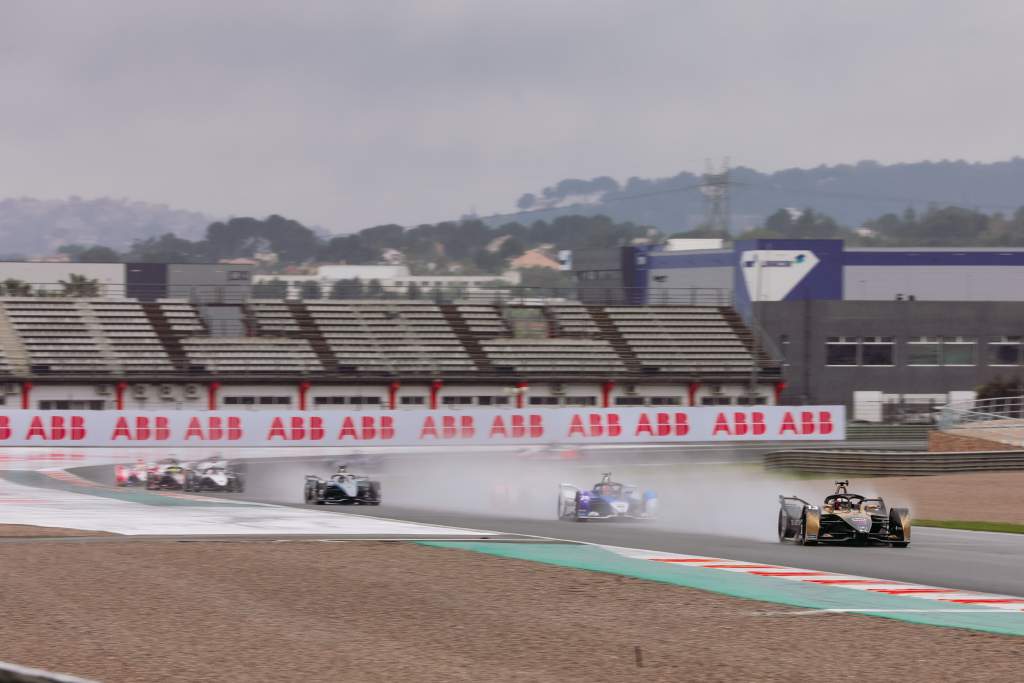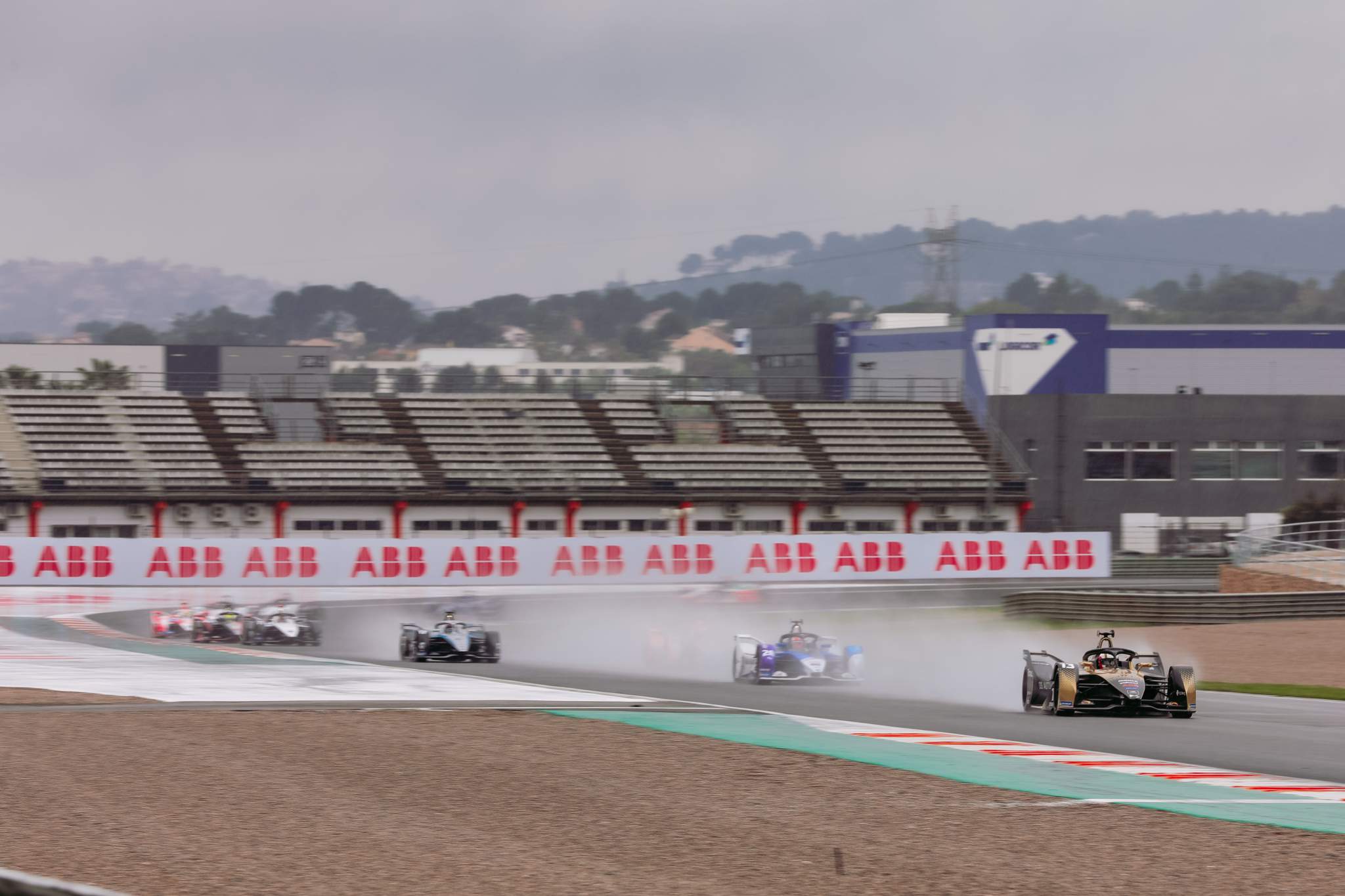 As the regulation 37.9 of the sporting regulations states: "The Race Director has the discretion to cancel this energy subtraction if deemed necessary."
That's a potent few words in the context of hindsight of what occurred at Valencia and could be caveated by some form of supplementary regulation from Monaco onwards.
Additionally, there has been some disquiet among the teams that the new world championship is under-resourced on a sporting and technical level. This though goes slightly against what Bertrand told The Race in an interview conducted just 24 hours before the events of Valencia's Saturday race.
In that conversation he was talking about the issues and judgements perceived around drivers getting penalised for the non-completion of attack mode use when a race is stopped, such as what occurred in Diriyah with the post-race sanctions for Jean-Eric Vergne and Nick Cassidy.
"The level of our teams now is that when we are three or five [personnel], to think of all, they [the teams] have 10 per team multiplied by 12, plus the manufacturer [personnel], and they find all the loopholes, or at least they find a lot, and they start to exploit them," Bertrand told The Race.
"So to manage the fact that they don't have too much room, we prefer to be quite harsh on the fact that they are not respecting exactly what we expect, so that we don't give much the door open to start to play."
The following points made by Bertrand are solely regarding the attack mode topic, but they could be transposed to a degree for what some saw as Mercedes' clever gamble in the first Valencia race to bank energy with an eye on a possible late-race neutralisation and sizeable energy deduction.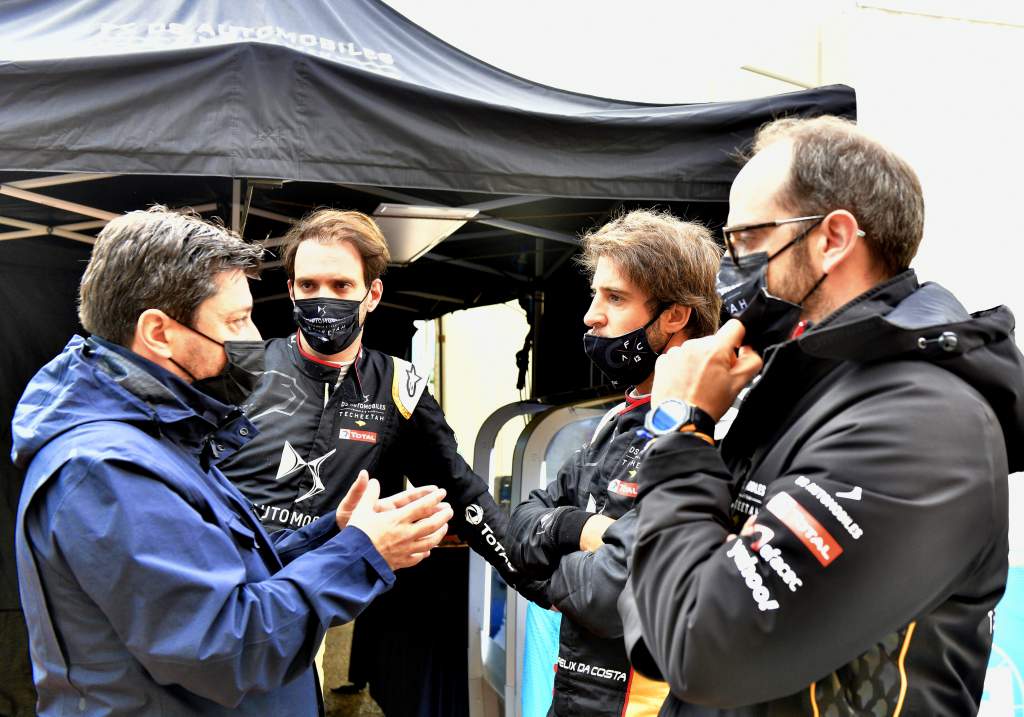 The FIA's Frederic Bertrand in discussions with the DS Techeetah team after the controversial Valencia finish (Image courtesy of Frank Sanchez Pastor)
"The case of not having the attack mode taken during the race is their responsibility and what we think is important is that we let them decide on their strategy," said Bertrand of the Diriyah situation.
"For sure, they have to anticipate that the safety car can happen. They have to anticipate all that and then take their risks.
"It's a bit like the guy who wants to start with wet tyres on a on a track which is wet and the guy saying 'OK, we'll go with medium [slicks]'. You cannot tell them you have to do this or that, we want to let people decide.
"But once they are decided they have to take their responsibility, and it can be considered as unfair from the point of view of a  viewer, if there is no proper explanation, and that's clearly what we need to develop right now."
Although a separate topic to the Valencian energy situation, it shows a philosophy that the FIA has of ensuring that teams are tested to the absolute extreme.
Whether it is ensuring specific track data is withheld until the last minute or reducing down the operational passes to 17 to run two cars in one day of competitive running, it is a specific stance that has been taken in Formula E to make it supremely challenging for the mechanics and engineers.
One experienced team manager told The Race that the teams are stretched almost to breaking point at present and that a mooted, but ultimately disregarded, suggestion that the operational personnel be further reduced to 14 was like "asking a cricket team to play without a wicket-keeper and one bowler for a full five-day test match".
It is entirely possible that the FIA will not want to lose face over this situation at all and will not tweak the regulation. It could simply give a verbal undertaking that the discretionary power will be used to not deduct energy in the final stages of a race and leave it at that.
But that issue is really just one of many that surely need to be addressed.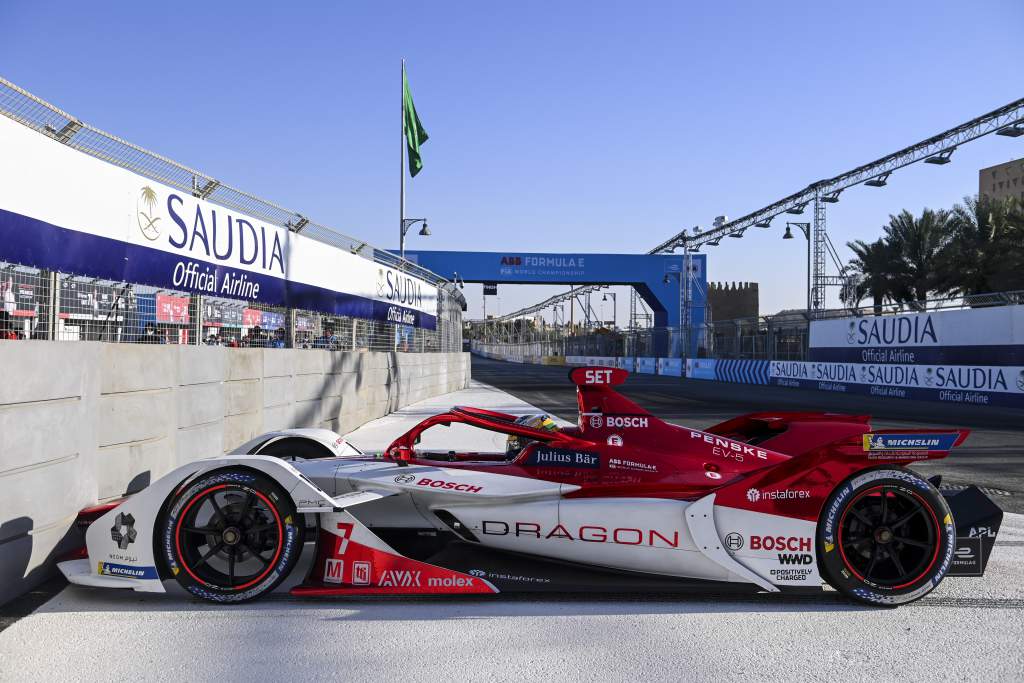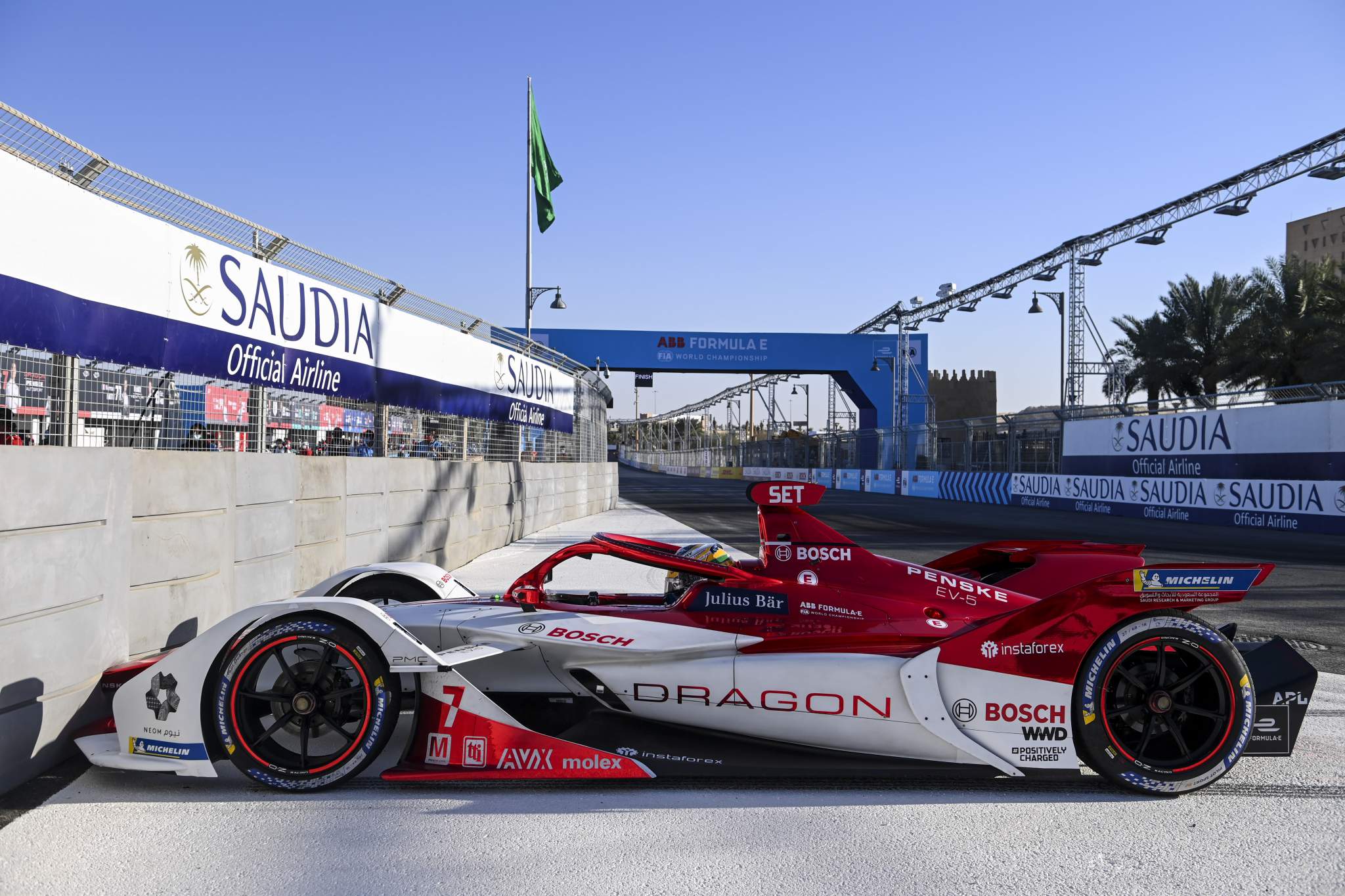 We have seen so far this season some wedges driven into regulatory holes, including: the Sergio Sette Camara-triggered issue in qualifying at Diriyah when three other drivers were affected and then started behind the person who had triggered the problem; the 'professional foul' pace management of Oliver Rowland in qualifying which caused Mitch Evans and Rene Rast not to set a representative time; and the aforementioned penalties given to Vergne and Cassidy in Diriyah for not taking their final attack mode because of a safety car and then red flag for Alex Lynn's shunt, which happened 11 minutes before the end of the race.
All of these are letter-of-the-law correct decisions of course, but ones that don't make a whole lot of sense to anyone in the paddock, let alone those watching on TV.
So in a relatively new strand of the sport that leaves little margin for error or hesitancy, where better for the electric high-wire act to decide if it uses a safety net or not than the glittering but unforgiving streets of Monaco this weekend?