The first ABB FIA Formula E World Championship qualifying session of the 2021 season was marred by a penalty controversy that's been heavily criticised by all those affected.
Group four qualifying runners Tom Blomqvist, Nico Mueller and Nick Cassidy all had their fastest times wiped for not slowing sufficiently under the double waved yellow flags for Sergio Sette Camara's crash at the final corner.
All three drivers passed the scene of the incident within seconds of the crash taking place and were immediately placed under investigation.
They were subsequently handed a penalty point each and had their laps instantly deleted.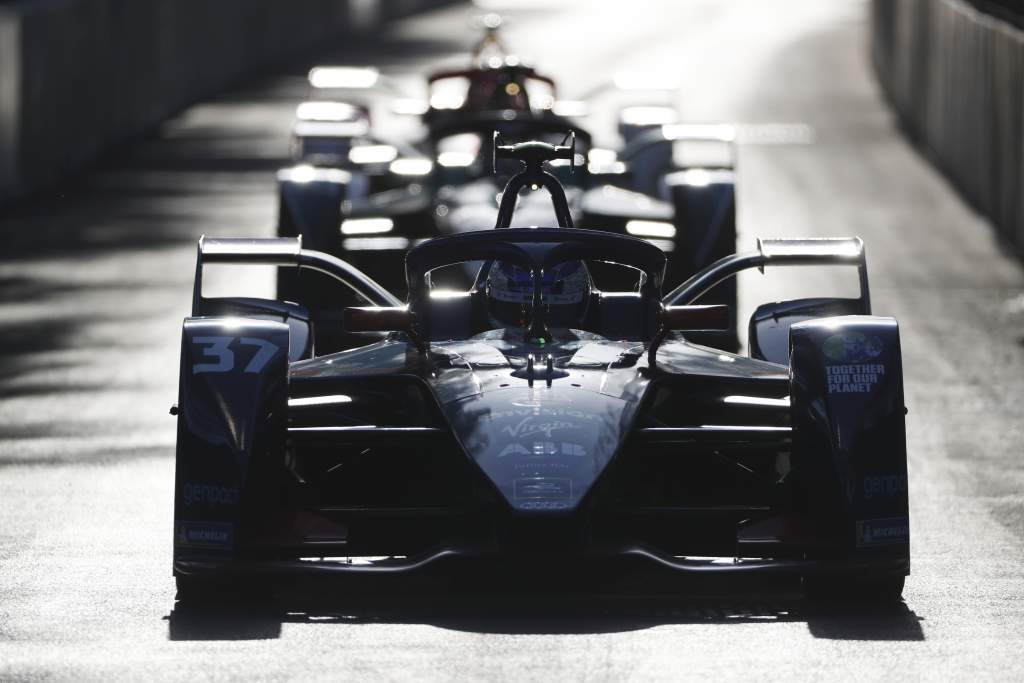 Dragon Penske Autosport driver Mueller and Envision Virgin rookie Cassidy's laps had both been good enough to get them into surprise superpole slots, while Blomqvist had been set for a superb seventh on the grid for the NIO333 team.
The offence stated it was a breach of appendices H 2.4.5.1 b) of the International Sporting Code, which details specific signalling from marshals' posts and drivers' adherence to yellow flags.
The Race understands that the marshals' post at Turn 21 issued an un-instructed double-waved yellow flag when Sette Camara's broken Penske EV-4 forced him to gently nudge the tyre barrier.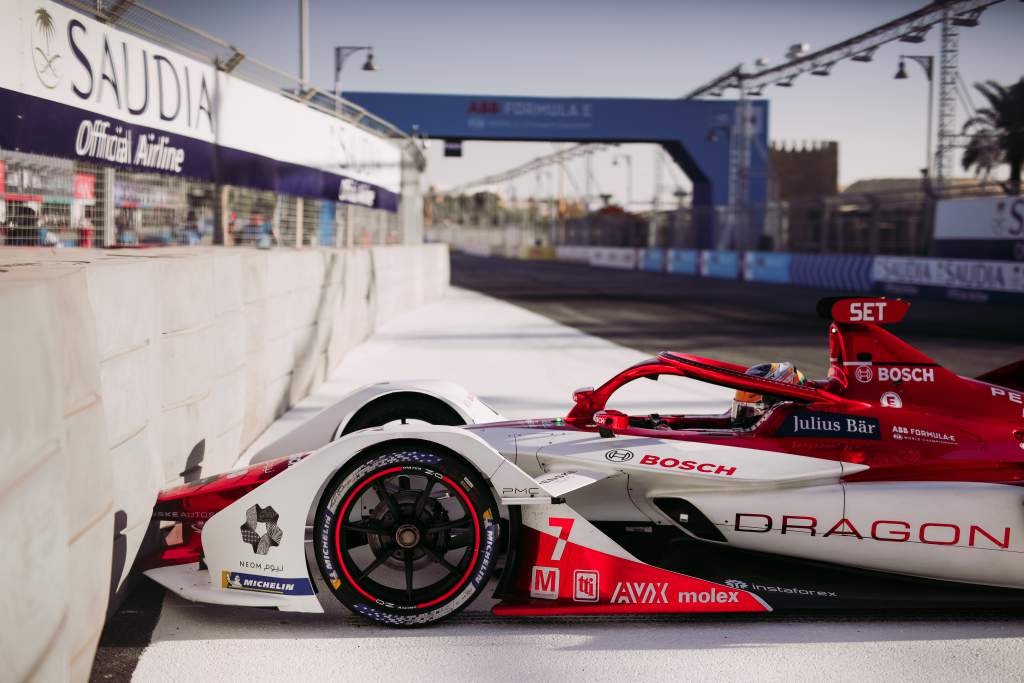 The Formula E sporting regulations have an allowance for drivers to get another qualifying lap completed at full 250kW power only if a session is red flagged.
But there is presently no such provision for a driver who is compromised through an incident which just requires yellow flags to be displayed.
Article 33.3a of the 2020-21 Formula E sporting regulations details that "if the red flag is displayed during qualifying and a driver is running his flying lap using the maximum authorised power, the driver may repeat the flying lap using the maximum power once the red flag procedure has ended."
"It's ridiculous. They have to throw the yellow. I get that, I understand that. But we needed to have another shot, it's completely unfair" :: Tom Blomqvist
"It's a bit of a joke really because it's a one lap shootout," Blomqvist told The Race.
"I think normally that if there is a yellow flag they immediately throw a red, so you at least get a chance for your lap.
"In this case, firstly, it was at the last corner of the lap. How are you supposed to even slow down to not improve?"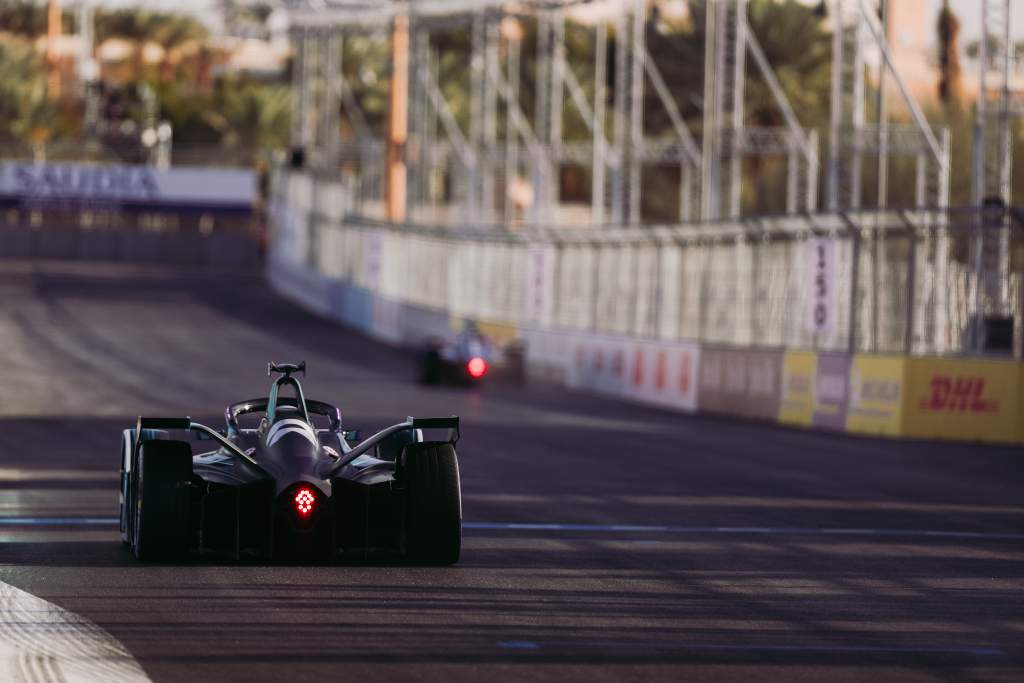 Blomqvist, backed up by his NIO333 team principal Christian Silk, said that he lifted off at the scene of the incident – where Sette Camara's Penske EV-4 was in the wall but off the racetrack itself.
"I even actually lifted off and I lost a couple of tenths in the last sector," the NIO333 driver confirmed.
"I think it's ridiculous. In F1 they have a slightly different system where you have to prove that you kind of somewhat slowed, which in this case would have been better.
"They have to throw the yellow. I get that, I understand that.
"But I just think we needed to have another shot, it's completely unfair."
While Cassidy was less stinging in his criticism of the situation he did say to The Race: "it's motor racing, sometimes things aren't always perfect and mistakes are made from all angles."
But Mueller, in a similar appraisal of the incident to Blomqvist's, told The Race that the fact he was demoted from superpole was "an absolute joke and not understandable."
"[Have a] red flag, or no further action," said the Dragon Penske Autosports driver. "There's no in-between way in a single-lap qualifying."
Blomqvist, Cassidy, Sette Camara and Mueller finished the race at the back of the field, in 18th through 21st places.
"It is very unfortunate what happened, for sure," FIA race director Scot Elkins told The Race.
"Normally in a circumstance like that we would have had a red flag but here there was no possibility to react differently due to the following special circumstances: the incident with car 7 happened in the last turn which is close to the control line, it was the last seconds of the group and the last 3 cars were running so close."
The Race says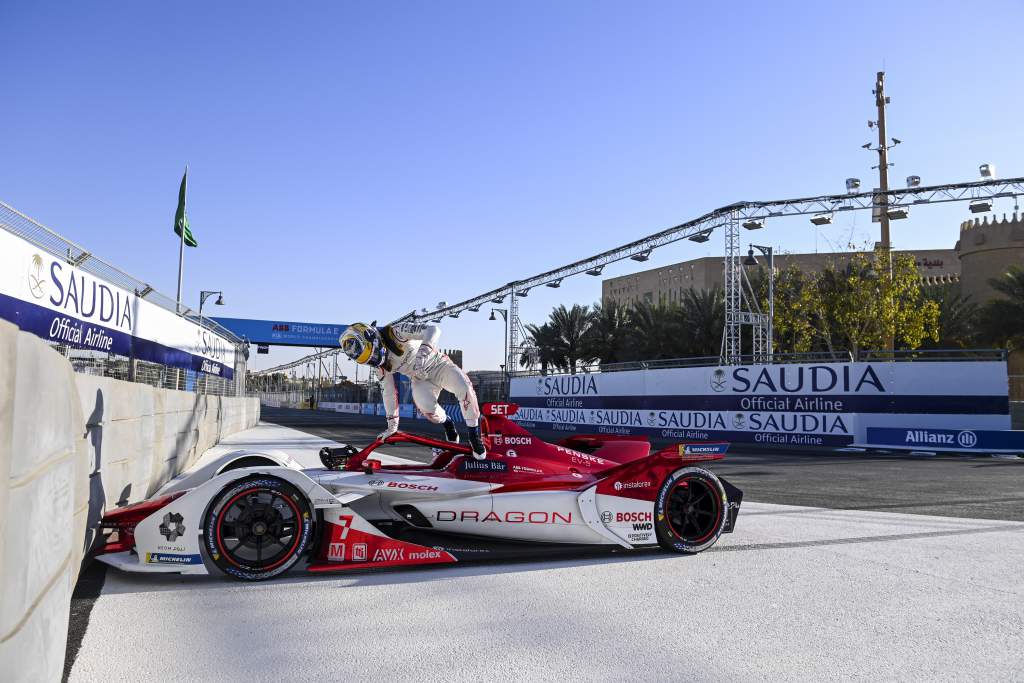 All three drivers have valid opinions on yesterday's scenarios, which constituted an almost perfect storm of circumstances combining. But a storm that blew a hole clean through any sense of fairness for the participants directly affected.
The crash location and the fact that Sette Camara was running ahead of the rest of the group four field, bar Norman Nato and Jake Dennis (just!), meant that Cassidy, Blomqvist and Mueller had very little time to respond to the yellows.
You can also hardly blame the race director for not throwing a red flag in the time frame we are talking about.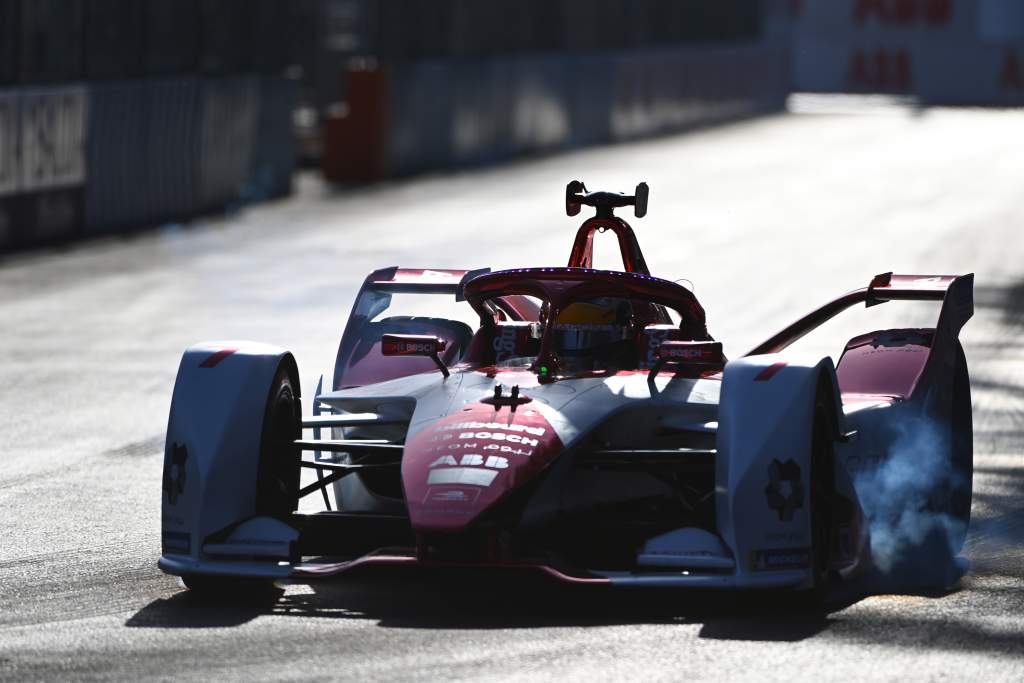 From the moment Sette Camara hits the wall to when his team-mate Mueller (the last of those to file through the last corner) was at the scene is just under 10 seconds, by which time three cars had gone through.
It seems a simple case of a well-intentioned but miscalculated and un-instructed waving of the double waved yellows at the Turn 21 marshals' post.
The issue here is not about the rights and wrongs of the penalty being applied, it is more about how the rules are written.
It's like Rory McIlroy shanking a tee-shot into a crowd of fellow playing pros at The Open and then those that get whacked by the errant ball are penalised
The drivers are bang to rights and very aware of specifics regarding the actual penalty, which are clearly and rightly safety orientated.
Drivers learn from an early stage in their racing lives that double waved yellows mean a driver should be prepared to stop the car.
But why is there is no provision for those affected by a situation where another competitor has inadvertently ruined the qualifying chances of others?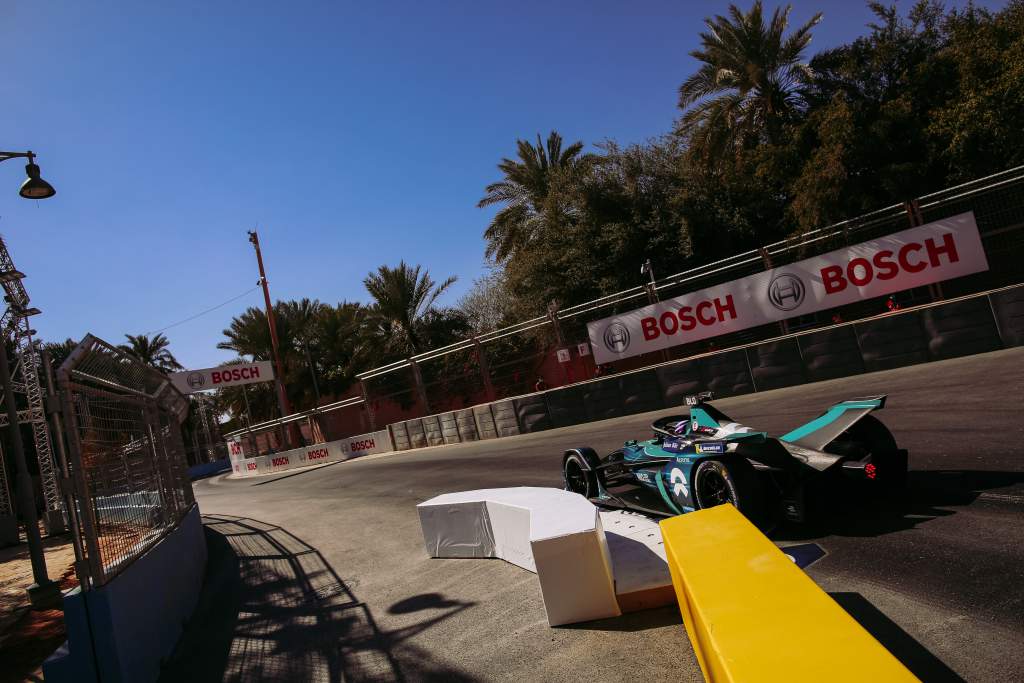 Let's face it, for some of the those drivers involved yesterday it could have constituted their biggest chance of a big result this season.
Then to add a massive rock of desert salt to the wound, the instigator (Sette Camara) was allowed to start ahead of the trio on the grid because he set a faster reconnaissance lap!
"It was very ironic that the guy who caused the mess was ahead of me [on the grid], it's ridiculous," said Blomqvist.
"They need to fix that and they need a solution."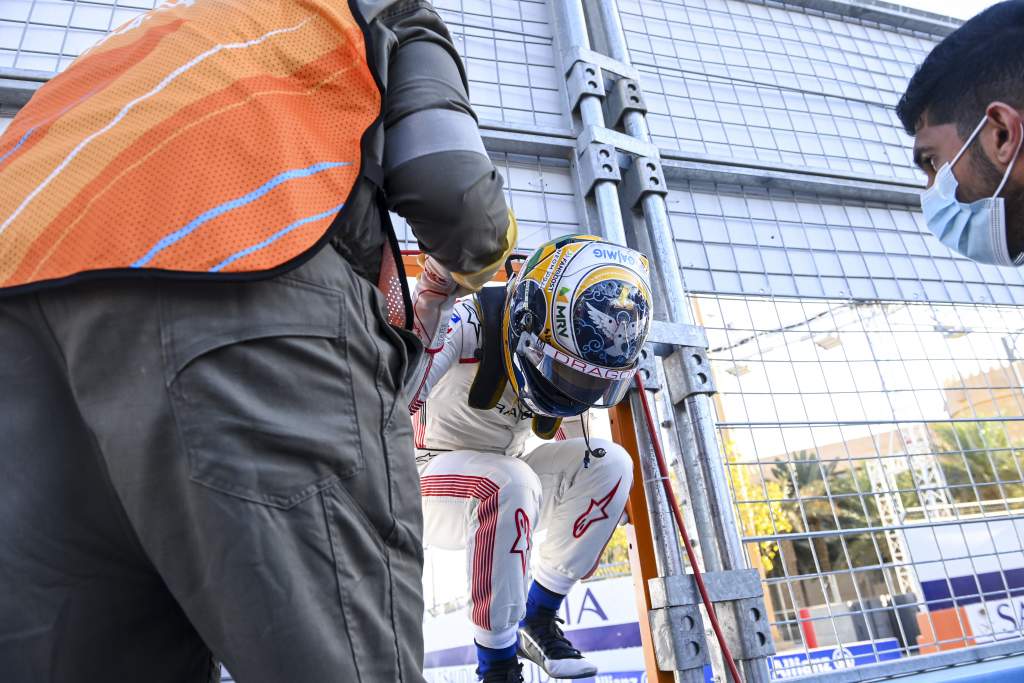 It's like golfer Rory McIlroy shanking a tee-shot into a crowd of fellow playing pros at The Open and then those that get whacked by the errant ball are penalised. It doesn't make any sense from a sporting viewpoint, so little wonder that all the drivers affected were so incensed.
It now surely must be clear to the rulemakers that drivers who are impacted by another's misfortune in these one-shot group qualifying sessions should be allowed another lap just as when a red flag situation occurs. It's just simple sporting fairness.
If not for the teams and drivers then at least it should be applied for the fans, who must have seen that situation transpire on TV around the world and been at the least very confused, not just because an exciting mixed-up grid of rookies and underdogs didn't come to pass, but because the person who caused the disruption was 'rewarded' with a grid slot ahead of those he disrupted.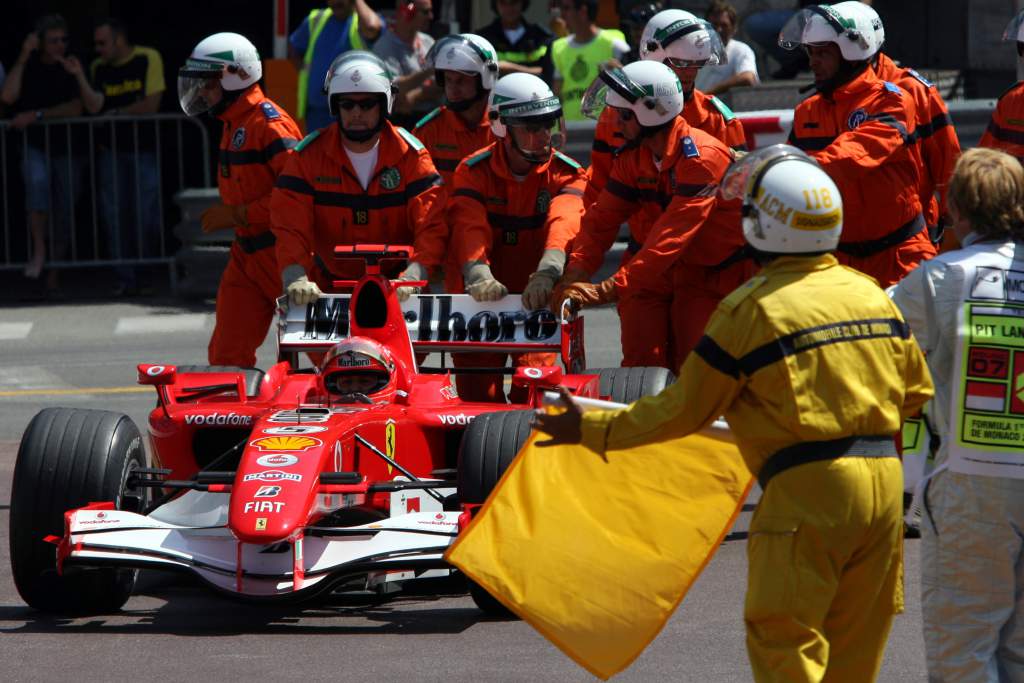 Also, what is now stopping a Michael Schumacher Monaco 2006 or Nico Rosberg Monaco 2016 type situation in the future where a wily team and driver exploits such a scenario with an 'accidentally on purpose' choreographed episode which scuppers the rivals of a team-mate or rewards a quicker initial recon lap with an advantageous grid position?
The answer is that nothing is really stopping them because this hole in the regulations would mean in that thereotical situation the victims will always be disadvantaged and the perpetrator not as much.
The solution should be quite simple. Just as drivers get another chance with a red flag why not just extend that regulation to include those proven to have been specifically affected through yellow flags too.
That's just common sense.