Nyck de Vries and Mercedes claimed the first Formula E world championship titles in the Berlin finale, on the day when it emerged Mercedes is likely to pull out of the series after 2022.
An eventful run to eighth for de Vries and third for team-mate Stoffel Vandoorne was sufficient to keep de Vries at the head of the drivers' championship – despite 18 drivers having gone into the final weekend with a title shot – and to vault Mercedes from fifth to first in the teams' standings.
Mercedes also took the race win via its customer team Venturi and rookie driver Norman Nato, ahead of Oliver Rowland's Nissan.
Jaguar and Mitch Evans had gone into the race as title favourites after Evans qualified six places clear of any of the other 12 remaining championship contenders by putting his car third on the grid.
But a sudden technical failure stopped Evans's Jaguar at the race start, and it was violently collected by second-in-the-championship Edoardo Mortara's Venturi Mercedes.
That prompted a red flag. Both drivers were unhurt, although Mortara is having precautionary checks in hospital because of the severity of the impact registered on his car.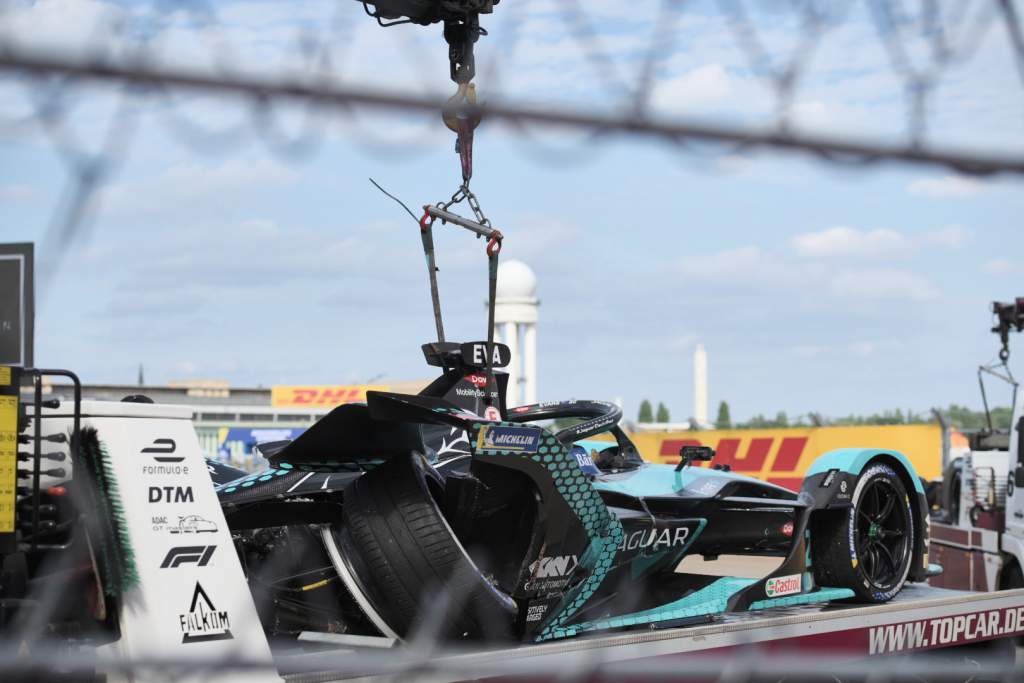 The crash appeared to set up a Jake Dennis versus de Vries title fight as they took the restart from eighth and 11th on the grid respectively.
But the situation changed again immediately after the safety car pulled in to restart the race, with Dennis's BMW slewing into the wall at the first corner of the racing after an apparent mechanical failure.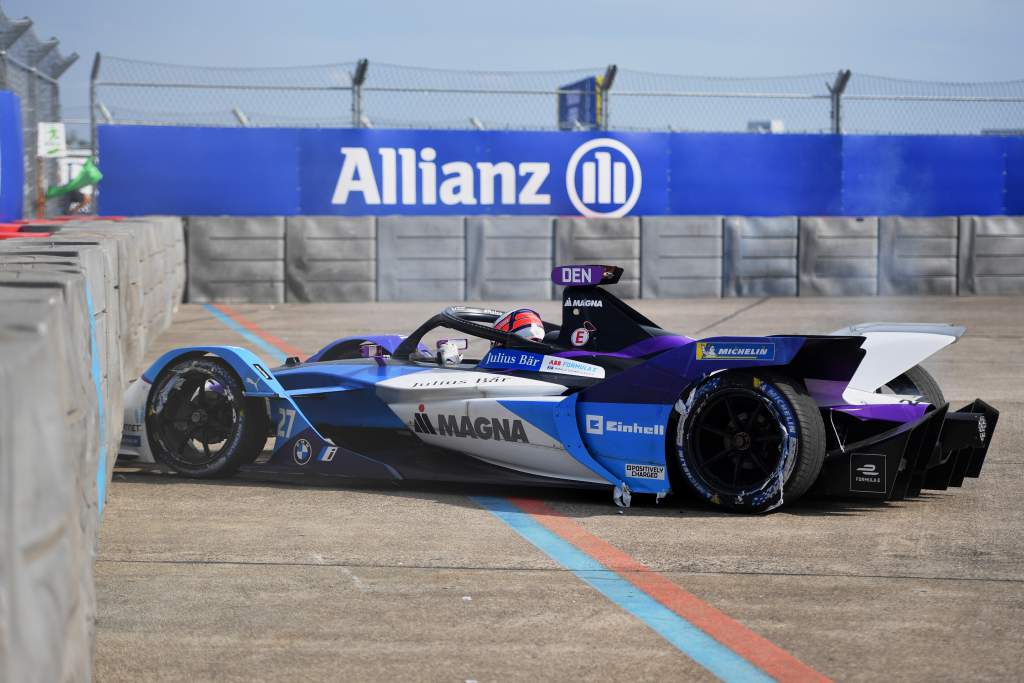 Nato managed to make a break up front via wise early use of attack mode, while polesitter Vandoorne lost out to Rowland by running wide as the attack mode deployments jumbled the order.
Meanwhile de Vries made quietly effective progress up to fourth.
Then with a quarter of an hour to go, the safety car was required because outgoing champion Antonio Felix da Costa had been eased into the wall by Saturday winner Lucas di Grassi.
While Nato successfully fended off a strong Rowland challenge at the restart, de Vries twice ran wide in attempts to take third from Alexander Sims' Mahindra.
That set up a worrying moment for Mercedes as its two cars pincered Andre Lotterer's Porsche during a wild shuffle prompted by de Vries' error, but all involved escaped with just minor bodywork damage.
De Vries still wasn't taking it easy, and had another scare when an attempt to pass Pascal Wehrlein's Porsche for sixth ended in more contact.
The points leader then took another hit on the final lap but made it to the flag in eighth place.
Nato eased away to win by two seconds over Rowland and Vandoorne, with Lotterer, Sims and Wehrlein completing the top six.
Sam Bird snatched seventh from de Vries on the final lap, while a late charge took Rene Rast up to ninth in Audi's farewell race ahead of qualifying hero Tom Blomqvist.
Jean-Eric Vergne ended up outside the points in 11th having been pounced on by Rast on the last lap.
Robin Frijns, Alex Lynn and Nick Cassidy all went into the race with title shots but finished 12th, 13th and 17th respectively.
Di Grassi's Audi FE career ended with 20th and last place after a penalty for the da Costa collision.
Race Results
| Pos | Name | Team | Car | Laps | Laps Led | Total Time | Fastest Lap | Pitstops | Pts |
| --- | --- | --- | --- | --- | --- | --- | --- | --- | --- |
| 1 | Norman Nato | RokIT Venturi Racing | Mercedes-EQ Silver Arrow 02 | 36 | 26 | 1h11m57.152s | 1m08.639s | 0 | 25 |
| 2 | Oliver Rowland | Nissan e.DAMS | Nissan IM03 | 36 | 0 | +2.27s | 1m09.138s | 0 | 18 |
| 3 | Stoffel Vandoorne | Mercedes-Benz EQ | Mercedes-EQ Silver Arrow 02 | 36 | 10 | +2.837s | 1m08.831s | 0 | 19 |
| 4 | André Lotterer | TAG Heuer Porsche Formula E | Porsche 99X Electric | 36 | 0 | +7.105s | 1m09.487s | 0 | 12 |
| 5 | Alexander Sims | Mahinda Racing | Mahindra M7Electro | 36 | 0 | +8.453s | 1m09.223s | 0 | 10 |
| 6 | Pascal Wehrlein | TAG Heuer Porsche Formula E | Porsche 99X Electric | 36 | 0 | +8.847s | 1m08.982s | 0 | 8 |
| 7 | Sam Bird | Jaguar Racing | Jaguar I-Type 5 | 36 | 0 | +10.473s | 1m08.603s | 0 | 6 |
| 8 | Nyck de Vries | Mercedes-Benz EQ | Mercedes-EQ Silver Arrow 02 | 36 | 0 | +11.108s | 1m08.812s | 0 | 4 |
| 9 | René Rast | Audi Sport ABT Schaeffler | Audi e-tron FE07 | 36 | 0 | +12.189s | 1m08.486s | 0 | 3 |
| 10 | Tom Blomqvist | NIO 333 Formula E Team | NIO 333 001 | 36 | 0 | +12.679s | 1m09.219s | 0 | 1 |
| 11 | Jean-Eric Vergne | DS Techeetah | DS E-Tense FE21 | 36 | 0 | +13.437s | 1m08.8s | 0 | 0 |
| 12 | Robin Frijns | Envision Virgin Racing | Audi e-tron FE07 | 36 | 0 | +13.748s | 1m09.069s | 0 | 0 |
| 13 | Alex Lynn | Mahinda Racing | Mahindra M7Electro | 36 | 0 | +14.366s | 1m09.17s | 0 | 0 |
| 14 | Sébastien Buemi | Nissan e.DAMS | Nissan IM03 | 36 | 0 | +14.692s | 1m09.439s | 0 | 0 |
| 15 | Maximilian Günther | BMW i Andretti Motorsport | BMW iFE.21 | 36 | 0 | +15.528s | 1m09.175s | 0 | 0 |
| 16 | Joel Eriksson | Dragon / Penske Autosport | Penske EV-5 | 36 | 0 | +15.94s | 1m08.912s | 0 | 0 |
| 17 | Nick Cassidy | Envision Virgin Racing | Audi e-tron FE07 | 36 | 0 | +16.306s | 1m08.967s | 0 | 0 |
| 18 | Sérgio Sette Câmara | Dragon / Penske Autosport | Penske EV-5 | 36 | 0 | +16.961s | 1m09.26s | 0 | 0 |
| 19 | Oliver Turvey | NIO 333 Formula E Team | NIO 333 001 | 36 | 0 | +21.076s | 1m09.181s | 0 | 0 |
| 20 | Lucas Di Grassi | Audi Sport ABT Schaeffler | Audi e-tron FE07 | 36 | 0 | +35.155s | 1m08.305s | 0 | 0 |
| | António Félix da Costa | DS Techeetah | DS E-Tense FE21 | 21 | 0 | DNF | 1m09.263s | 0 | 0 |
| | Jake Dennis | BMW i Andretti Motorsport | BMW iFE.21 | 2 | 0 | DNF | 0s | 0 | 0 |
| | Mitch Evans | Jaguar Racing | Jaguar I-Type 5 | 0 | 0 | DNF | 0s | 0 | 0 |
| | Edoardo Mortara | RokIT Venturi Racing | Mercedes-EQ Silver Arrow 02 | 0 | 0 | DNF | 0s | 0 | 0 |