It featured Formula E's entire real-world grid, a title fight between two well-known big guns in Stoffel Vandoorne and Pascal Wehrlein, and one of the biggest controversies of the esports boom in the Daniel Abt imposter affair.
But did the Race at Home series do enough to make up for a previous high-profile Formula E esports effort that flopped, and will it convince Formula E to do more with the simracing community? Our correspondent Sam Smith gives his verdict 
Formula E was relatively late to the 2020 esports party when it launched its nine-week Race at Home series in April.
But its CEO Jamie Reigle promised it would offer "engaging new content" and a suitable way of "getting our teams, drivers and partners back to racing" with the real-world championship paused.
Was this to be more than just a time-filling gimmick?
First there were a few ghosts to address. The slightly bitter taste from a largely disappointing esports adventure in Las Vegas in early 2017 lingered.
That was when Formula E and its then prestige partner, Visa, spotted an opportunity to get a foothold at the huge cool-tech Consumer Electronics Show. Could sin city become sim city?
No, it couldn't.
It just didn't work. We knew this because post-event terms such as 'experiment' and 'ahead of its time' were glibly used to cover up a poorly executed event.
It was delayed by 20 minutes due to technical scrambles amid myriad issues. Most believed a sizeable opportunity had been squandered.
Other tech glitches were numerous, the most startling being when the first eRace went 'non-functional' and ensured one competitor had multiple Fanboost deployments rather than the allocated one.
Formula E chose not to pursue major esports engagement after that other than the standard paddock events at races where at least there was usually a crowd.
Also 2017 was the eureka year for Formula E, when the financial stability from Liberty's arrival and the fall-out from the 'dieselgate' scandal nurtured a fertile environment for Mercedes, Porsche, Audi and BMW to all commit. Esports was on the backburner because the real thing was heading into orbit.
Esports' enforced return as the pandemic took hold and ravaged the 2019/20 calendar was met with some trepidation by teams and drivers, despite the fact it was for a worthwhile cause via a link up with UNICEF.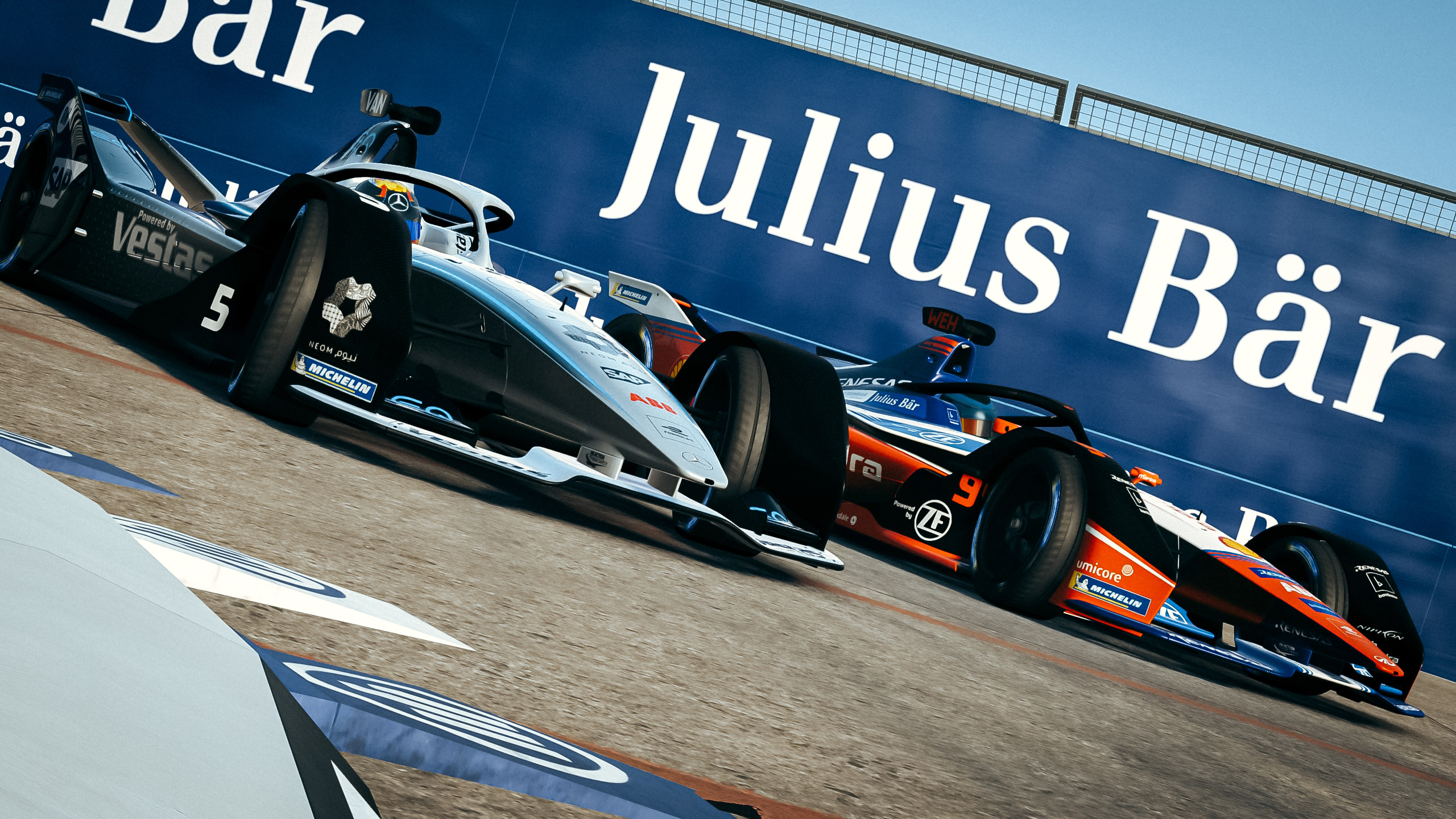 Championship partners also needed some exposure, as did team sponsors, so a virtual initiative had practical commercial merit and was deployed.
The first problem though was logistics. Only a smattering of the drivers had viable sim rigs so DHL was deployed to get kit out to those without.
Most got what they needed, although Lucas di Grassi was forced to commute to downtown Sao Paulo for three hours each Saturday in order to just take part.
"If I'm going to spend my Saturdays racing in this, then I'm going to put as much effort in as I can to be competitive" :: Oliver Rowland
Ironically the only significant issue was getting kit through Swiss customs, which ensured the likes of Sebastien Buemi and Pascal Wehrlein had to skip the pilot race.
Several Formula E drivers had already become embedded in The Race's All-Star Series a month before. This had thrust off the starting blocks in mid-March and drivers flocked to it.
Using the same rFactor 2 software as the All-Star Series, the first Formula E round proper was held on the Hong Kong circuit and featured 22 of the 24 real-world 2019/20 season drivers competing. There were no-shows for a connection challenged Sam Bird, and di Grassi who was still sourcing a location to race from.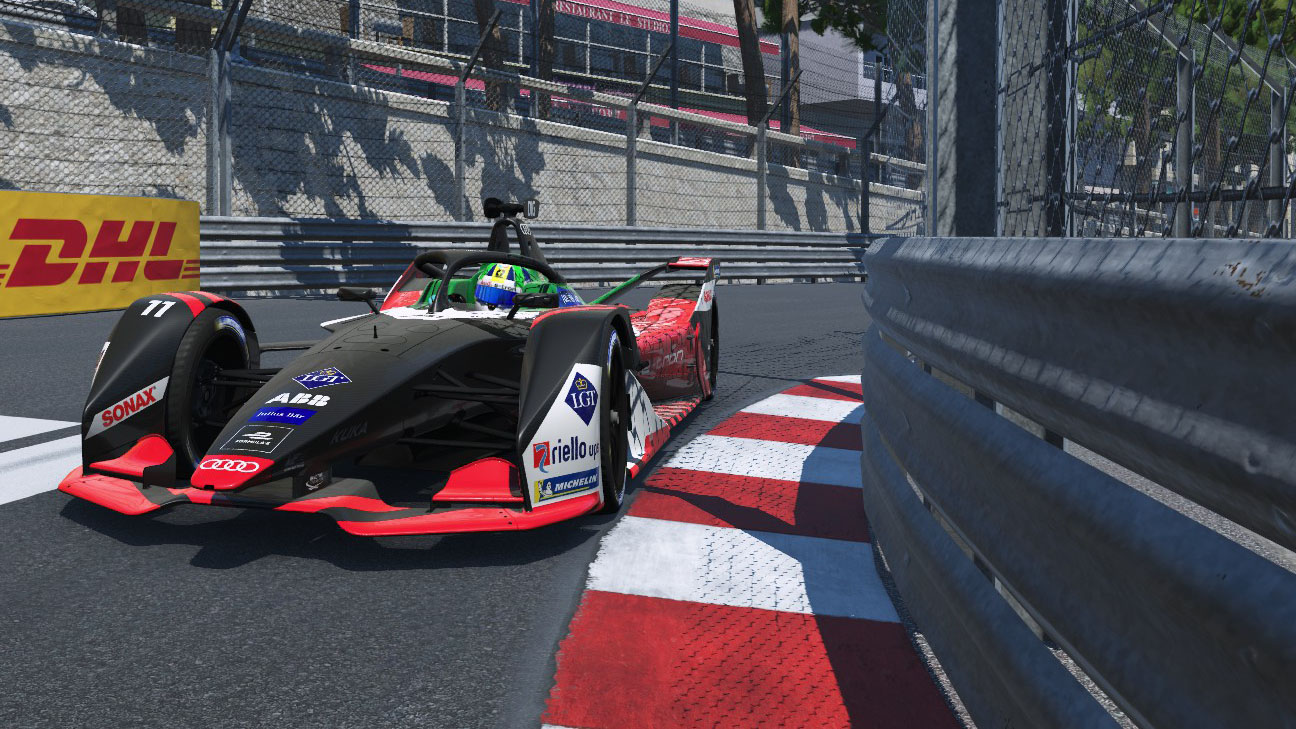 TV production was taken care of by FETV (Aurora and North 1), which also looked after the promo VTs and the highlights show, while the Motorsport Games company provided tech support to the production team.
Esports events are trickier to encapsulate and illustrate, so the quality of action capture and replays naturally got slicker as the event went on, although the amount of incorrect points and results graphics was consistently baffling and maddening in equal measure.
While the social media figures looked modest on YouTube, with peaks of just over 3000 viewers, the engagement was reasonably strong, such as the popularity of the Bosch Design at Home Challenge to create the series trophy and a charming film last weekend about the bond between Mahindra's soon-to-be-ex-driver Pascal Wehrlein and its simracing new recruit Lucas Mueller.
The broadcasting was hairy at times – understandably given the situation forcing the presenters to appear from different locations – but was generally held together well by the regular Formula E team of Nicki Shields, Dario Franchitti and Jack Nicholls.
This was done in often fraught circumstances with full-on feedback hell and the obligatory delayed conversation that transported you back to a 1980s Eurovision link-up between the studio and some random Maltese jury.
Formula E told teams that the first race attracted a two million Facebook view peak with a thousand engagements. But this was believed to have been achieved with a potent paid campaign to get the ball rolling.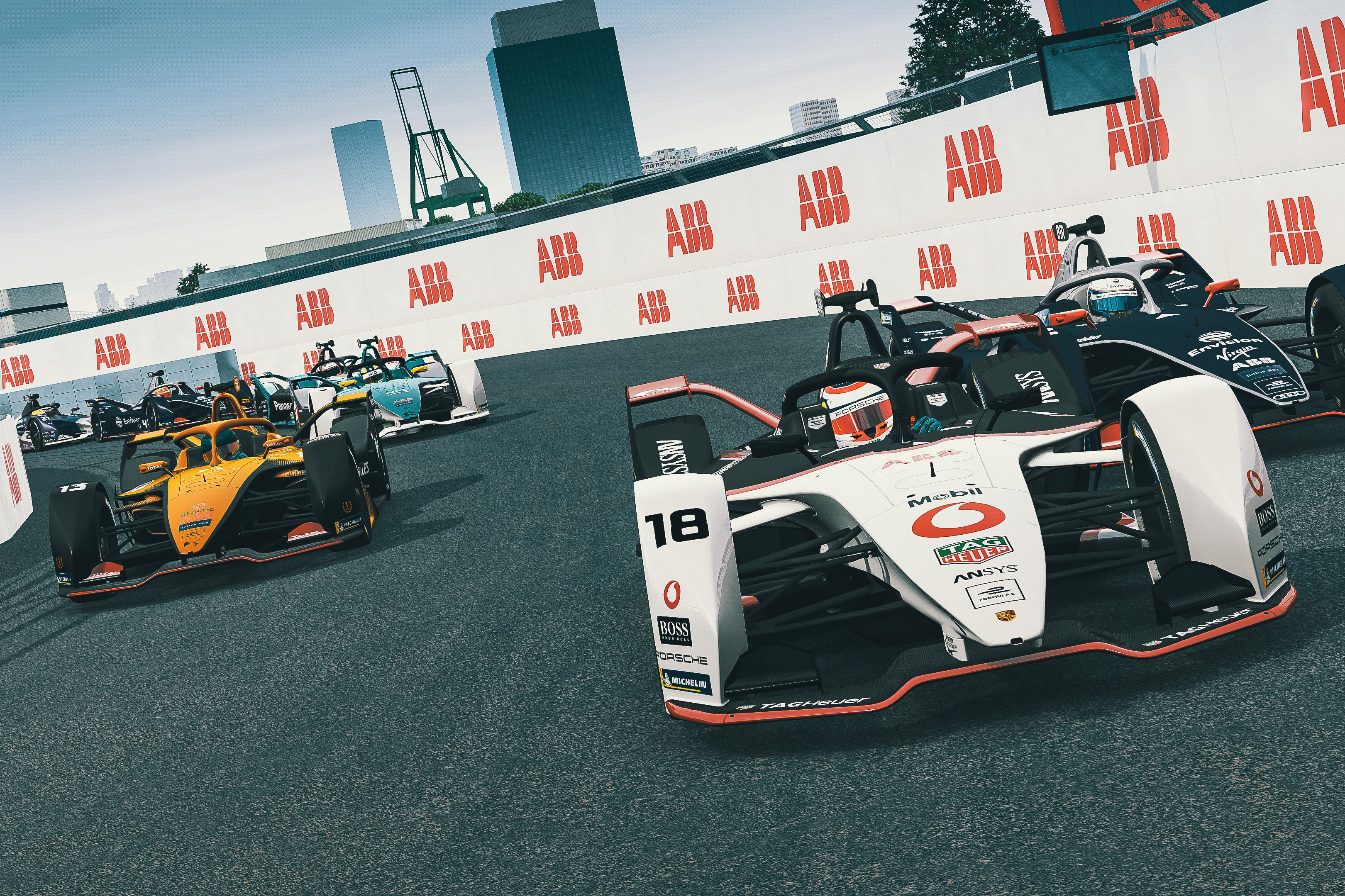 From a broadcast standpoint Formula E also claimed to have reached four million people, delivering over 256,000 viewing hours.
"We set out internally to kind of test and learn about a lot of stuff," Formula E's chief strategy and business development officer Hannah Brown told The Race.
"So we had a very broad distribution strategy led by our broadcast partners, and I think we were on air in over 150 countries and our broadcast numbers absolutely make up the significant majority of our viewing hours across the series of races."
From the sporting standpoint, drivers seemed to be split between those that palpably didn't really care, those that didn't care but were at least professional about it, and those that embraced the whiff of adrenalin they needed to top up levels during their enforced period of inactivity.
One of those firmly in the latter group was Nissan e.dams' Oliver Rowland, who flourished in a world previously unfamiliar to him and is now taking on The Race All-Star Series Pro Cup too.
He took Formula E's Race at Home so seriously because it stirred his competitive instincts.
"There's nothing that I'll put my name to that I wouldn't try 100% in," he told The Race.
"That's just my general way of doing stuff. If I'm going to spend my Saturdays racing in this, then I'm going to put as much effort in as I can to be competitive as I can be, that's just the way I am.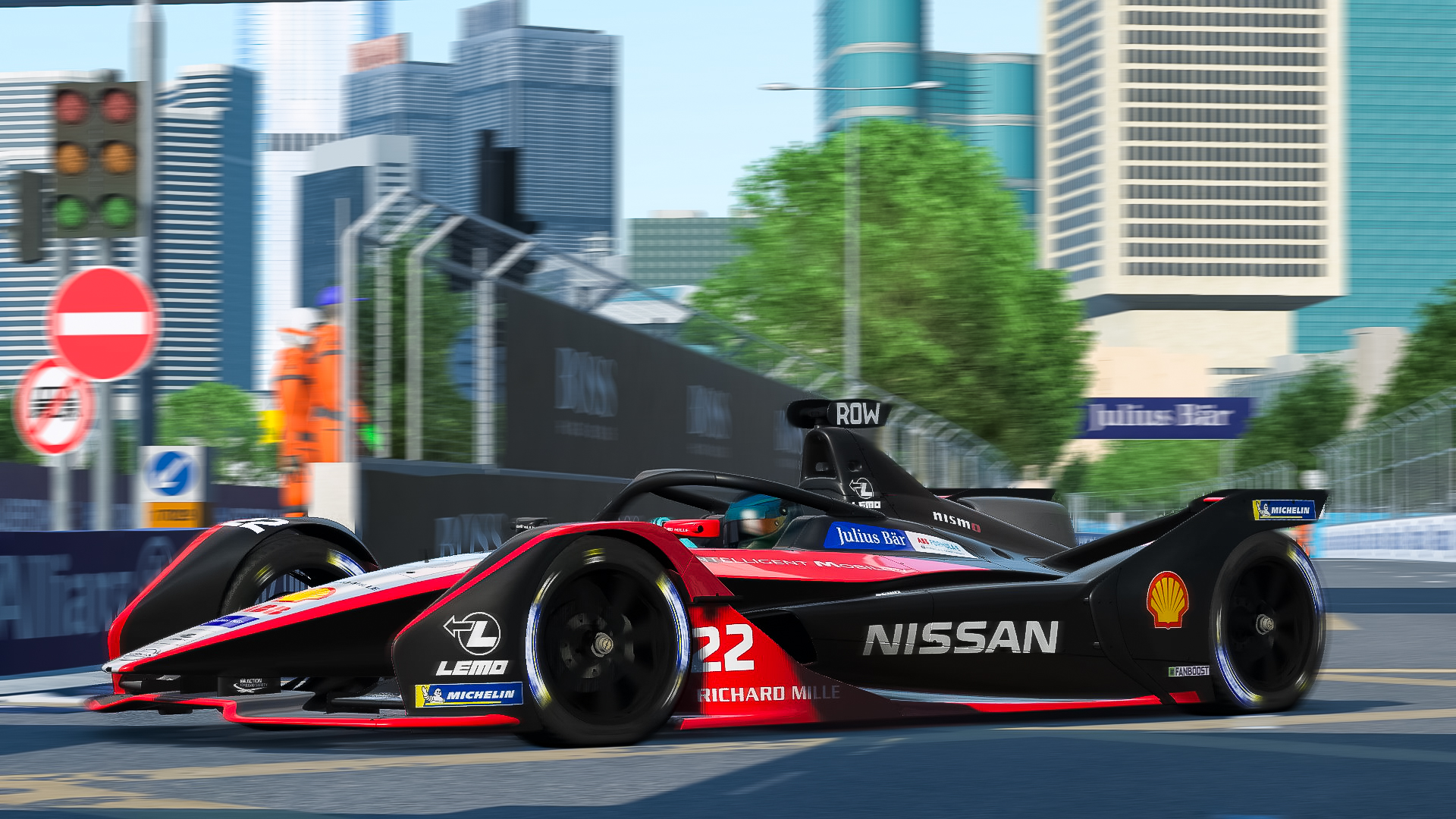 "As the weeks wore on, I think it became apparent that people were taking it more and more seriously.
"It was clear that everybody at Nissan was watching and taking note of it, so it looks good if you can apply yourself in something, and there are a lot of positives to it."
Of course, in years to come it is sadly inevitable that there will be one incident that overrides any evaluation of the Race at Home series: 'Abt-gate'.
The subject has been exhaustively debated but the upshot was that the former Audi driver's aberration resulted in him losing his real-life seat in a story that transcended the Formula E bubble.
Beyond that, the racing at the front was intriguing rather than exhilarating. Vandoorne was a worthy champion and dealt with the bizarre phantom Abt interference – while on course for a likely victory in the first Berlin race – with restrained professionalism.
Formula E Operations told The Race that all drivers undertook a full briefing before the first practice race in Monaco and then at subsequent races via regular sporting director Frederic Espinos.
For incidents a standard procedure was in place for investigations to take place and for penalties to be applied. This took on a concerted level of diligence after the controversial first Berlin race in which title challenger Wehrlein was penalised and Abt disqualified.
Post-Berlin, a reinforcement of one extra 'steward' was brought in to ensure a faster turnaround of penalty decisions.
The internal debriefs will likely be done by now, as Formula E looks again to real world racing – which will hopefully be confirmed next week as starting in August with a series of Berlin races.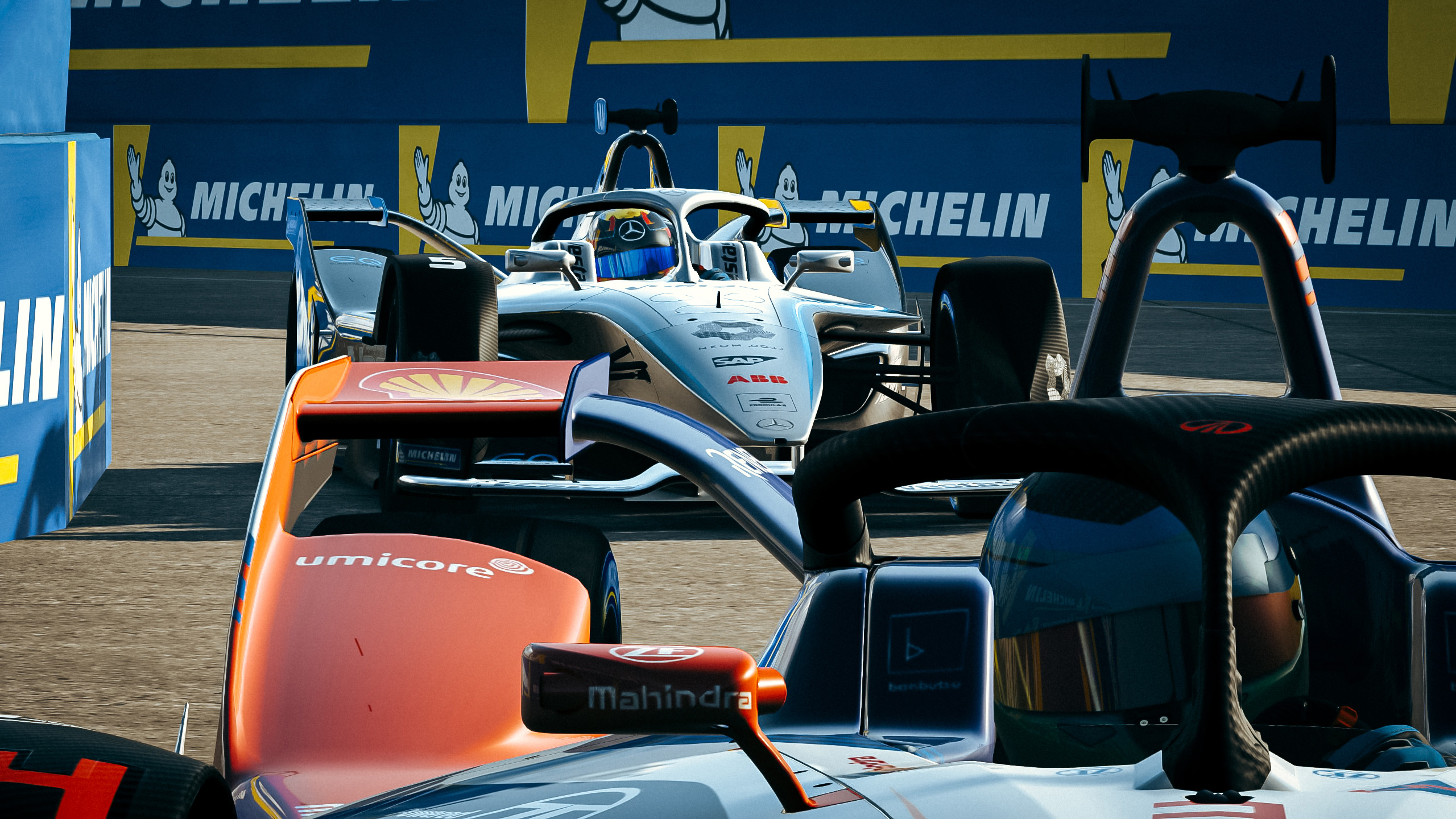 But will Formula E now run with some of that momentum it may have picked up via the Race at Home challenge and reinvigorate its esports strategy?
"I think the most important thing we did with Race at Home was, we have to do something authentic, and meaningful for the ecosystem, whether that's teams, drivers, our partners, and also for our fans," explained Brown.
"We're thinking about what we could do in the future. Something that's credible and authentic.
"We don't want to do something that is just a gimmick."