Formula 1's wild and controversial Australian Grand Prix unsurprisingly produced a variety of winners and losers.
The red flag and subsequent dramatic restart in the closing stages of the race turned the event on its head and changed the provisional placement of most of the drivers and teams on the list.
Here's our writers' final verdict on the biggest winners and losers from the race.
Winners
Max Verstappen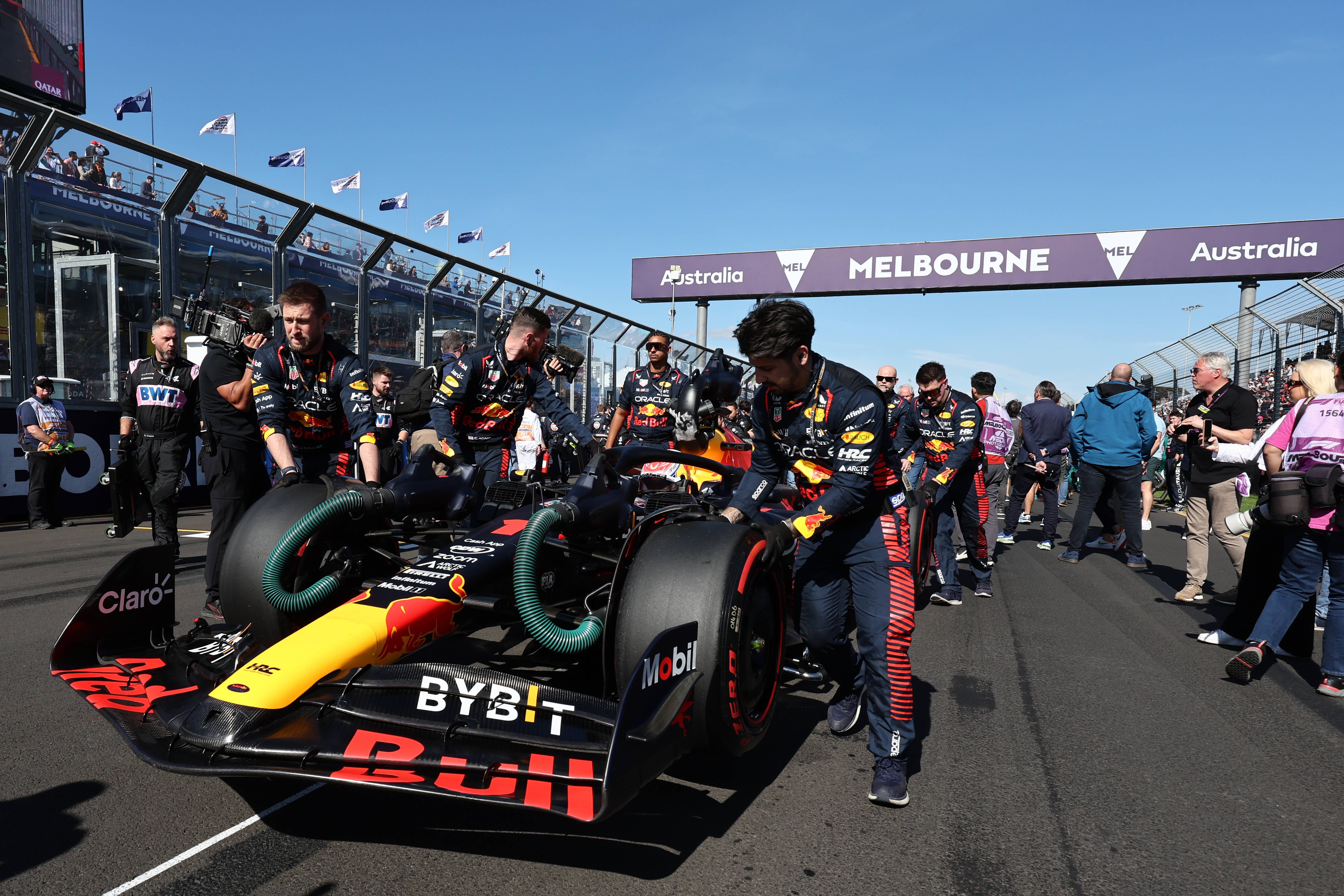 It says a lot about Red Bull's current advantage that Max Verstappen had two poor getaways, lost a heap of time running deep at the penultimate corner, yet was still on course to win the Australian GP at a relative canter before the final red flags closed things back up.
So his race was by no means flawless, but in between those moments Verstappen showed the devastating pace that means three races in he's already the overwhelming favourite for this year's title.
That bid – and the justification for his inclusion in this section – was given another boost by the fact team-mate and likely closest title rival Sergio Perez was only fifth at the finish, meaning Verstappen has established a 15-point lead in the drivers' standings. Not a bad day's work at all as he was able to leave the chaos behind him. – Jack Cozens
Mercedes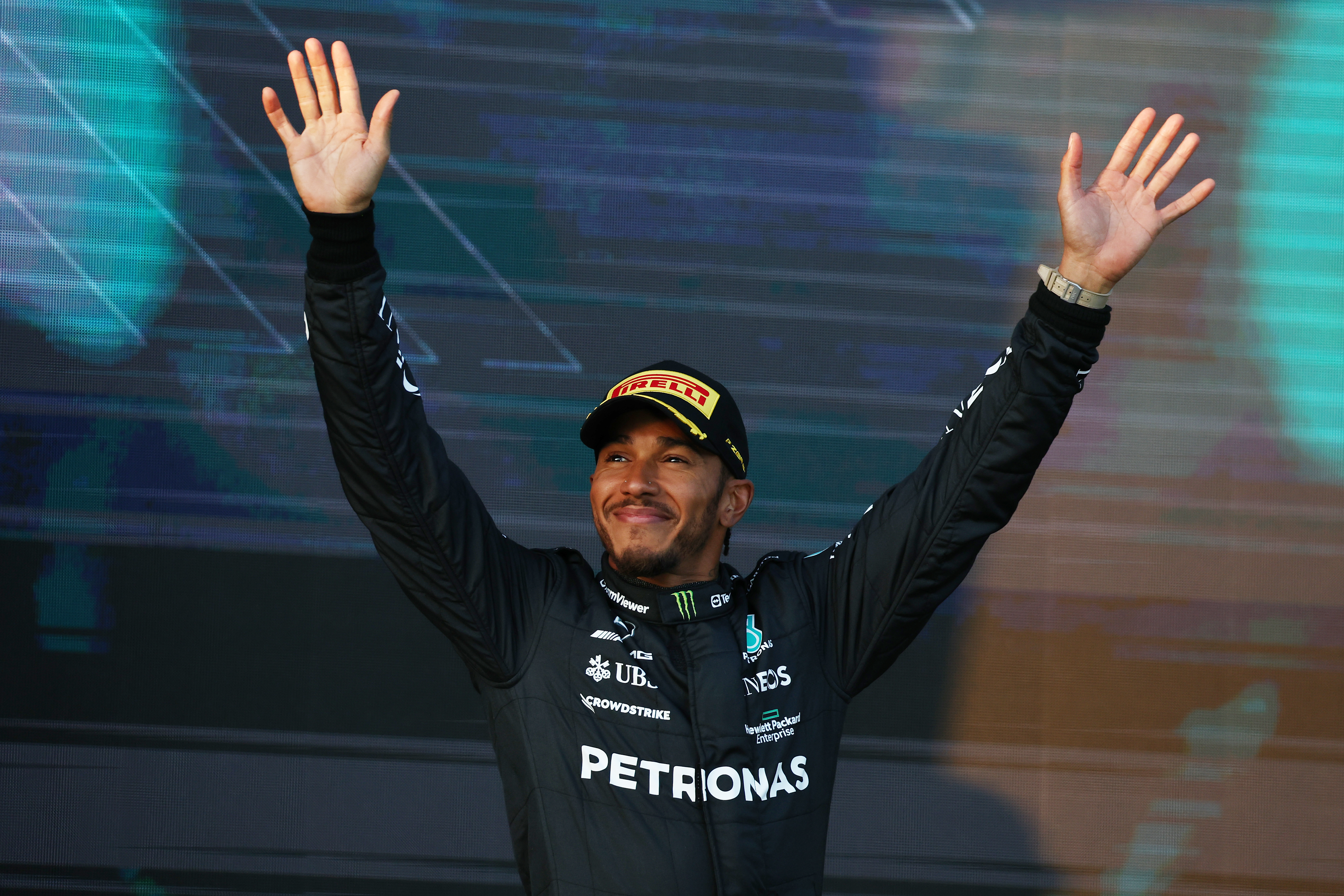 It's incredible to think we're barely four weeks and two races on from arguably Mercedes' V6 turbo hybrid nadir of its lead car finishing 50 seconds off the lead and the ignominy of having to admit the car concept it had so proudly stuck by wasn't going to yield the desired result.
Today, it's reflecting on a stint leading the race and a first podium of the season, earned on merit, one day after (assisted by circumstances) getting within three tenths of pole.
It's not cause to forget how sobering the past few months have been, and Mercedes isn't suddenly a match for Red Bull. But the evidence of the past two races shows Mercedes at the very least has the edge on Ferrari, and is a match for the Aston Martin, too.
It still seems likely to write off its concept in pursuit of bigger strides, but this Melbourne result – even with George Russell's DNF – hints that perhaps not all's lost for 2023. – JC
Aston Martin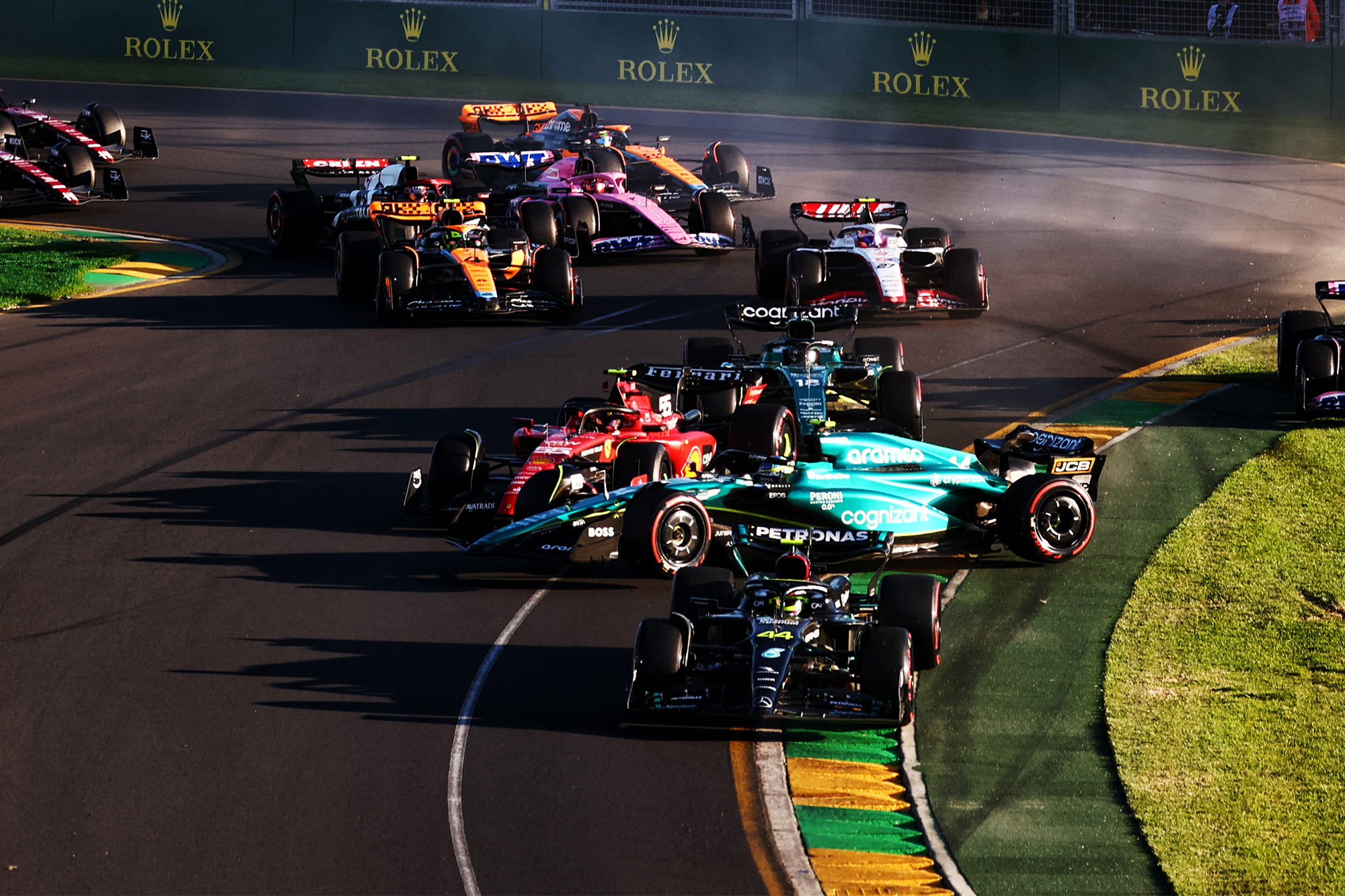 Aston Martin didn't finish as the second-best team as it did in Bahrain and Jeddah but it did avoid the nuclear scenario of going from a podium and a strong points finish to a double non-score.
After Carlos Sainz tipped Fernando Alonso into a spin and Lance Stroll locked up and plunged into the gravel at the Turn 3 right-hander, it appeared as if Aston's solid race had unravelled in the most dramatic, quick and brutal of ways.
But the red flag and resetting of the order was a blessing, with third and fourth good enough for Aston to stretch its advantage over Mercedes and Ferrari in the fight for second in the constructors' championship. – Josh Suttill
McLaren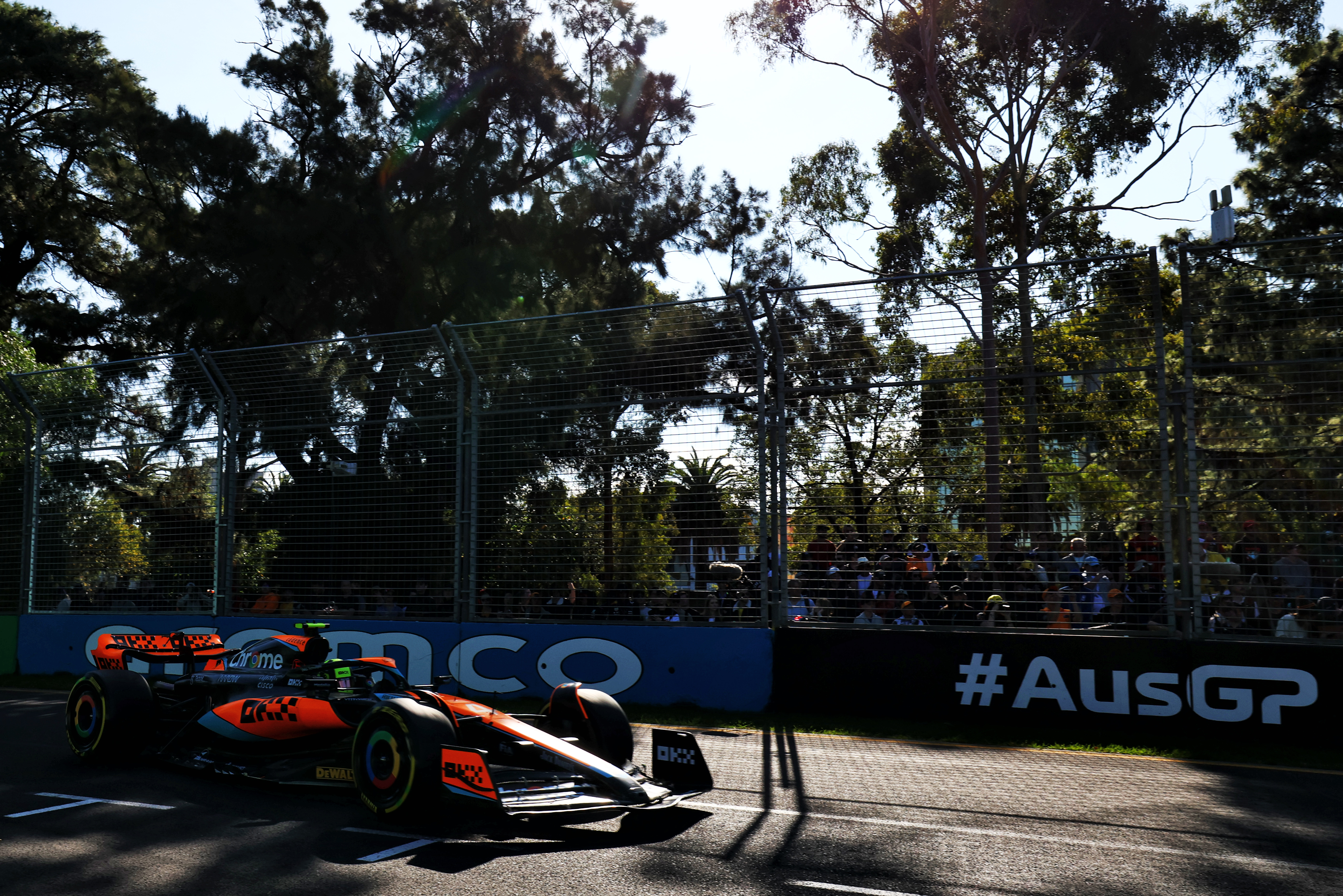 McLaren was one of few teams that was on for a strong result regardless of the late red flag and restart chaos.
After an off weekend in Jeddah, Norris delivered a far more typical midfield masterclass, making good progress and driving around McLaren's straightline speed deficiency in style – including a stellar move on Nico Hulkenberg's Haas through the Turn 12 right-hander.
He was well on course for points before the red flag and chaotic restart handed him a further couple of positions and that same chaos (which effectively removed the Alpines and Sainz from the points) allowed team-mate Oscar Piastri to earn his maiden points finish in eighth place, capping off McLaren's best weekend of 2023 so far – even if the bar is low.
A tally of 12 points actually lifts McLaren up to fifth place in the constructors' championship, somehow the 'best of the rest' behind the big four. – JS 
Nico Hulkenberg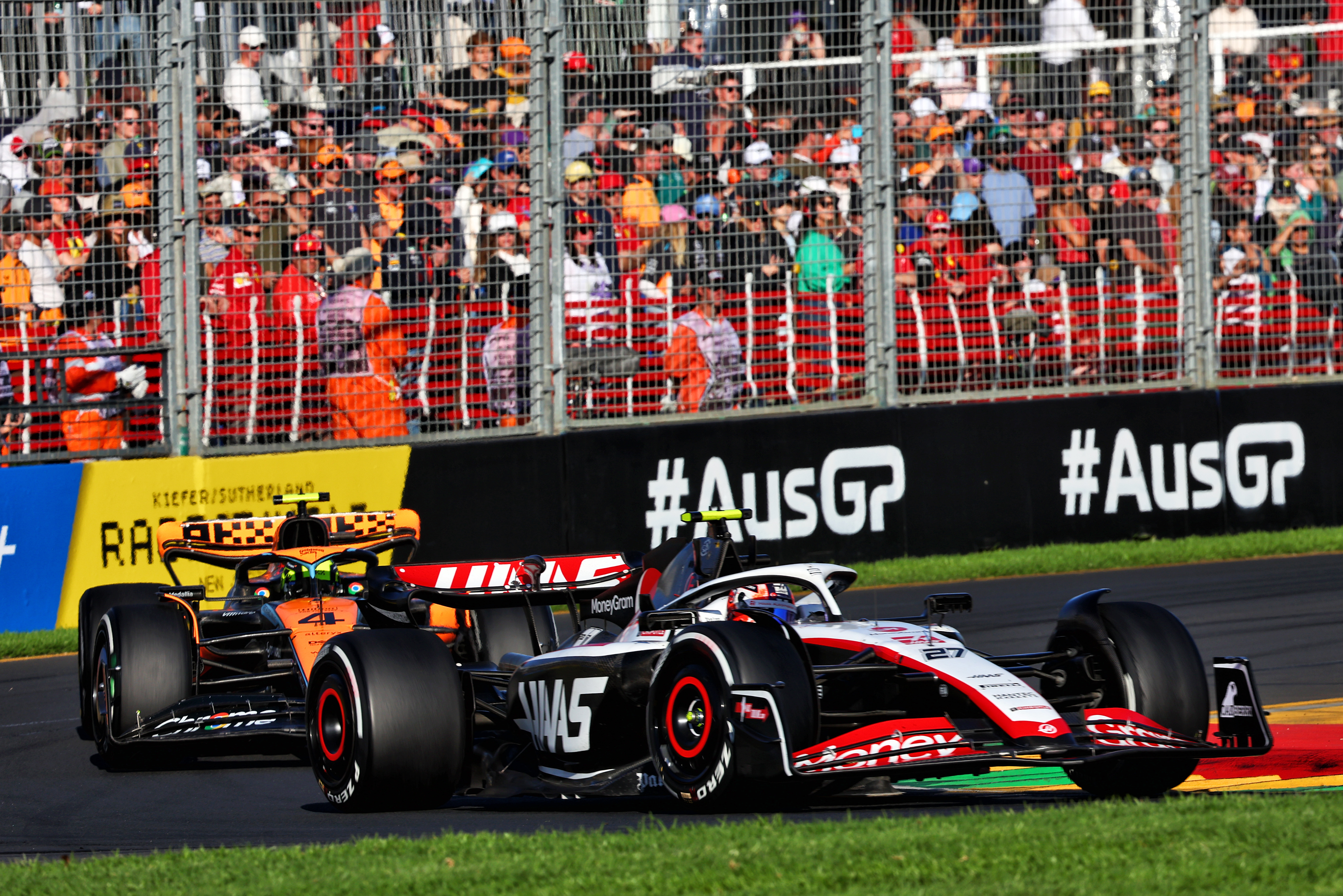 Nico Hulkenberg's solid F1 return was finally rewarded with some points as he avoided the high-profile mistake that eliminated his team-mate Kevin Magnussen, kept steady across the restarts and ended up seventh when the chequered flag finally flew.
He lost out to Norris but given Haas is usually harsher on its tyres, that wasn't the end of the world and it was made all the sweeter when a potential ninth place turned into seventh amid the final standing restart chaos – even if a Carlos Sainz penalty-assisted third place looked possible at one stage had the race not been red-flagged for a third time. – JS 
Yuki Tsunoda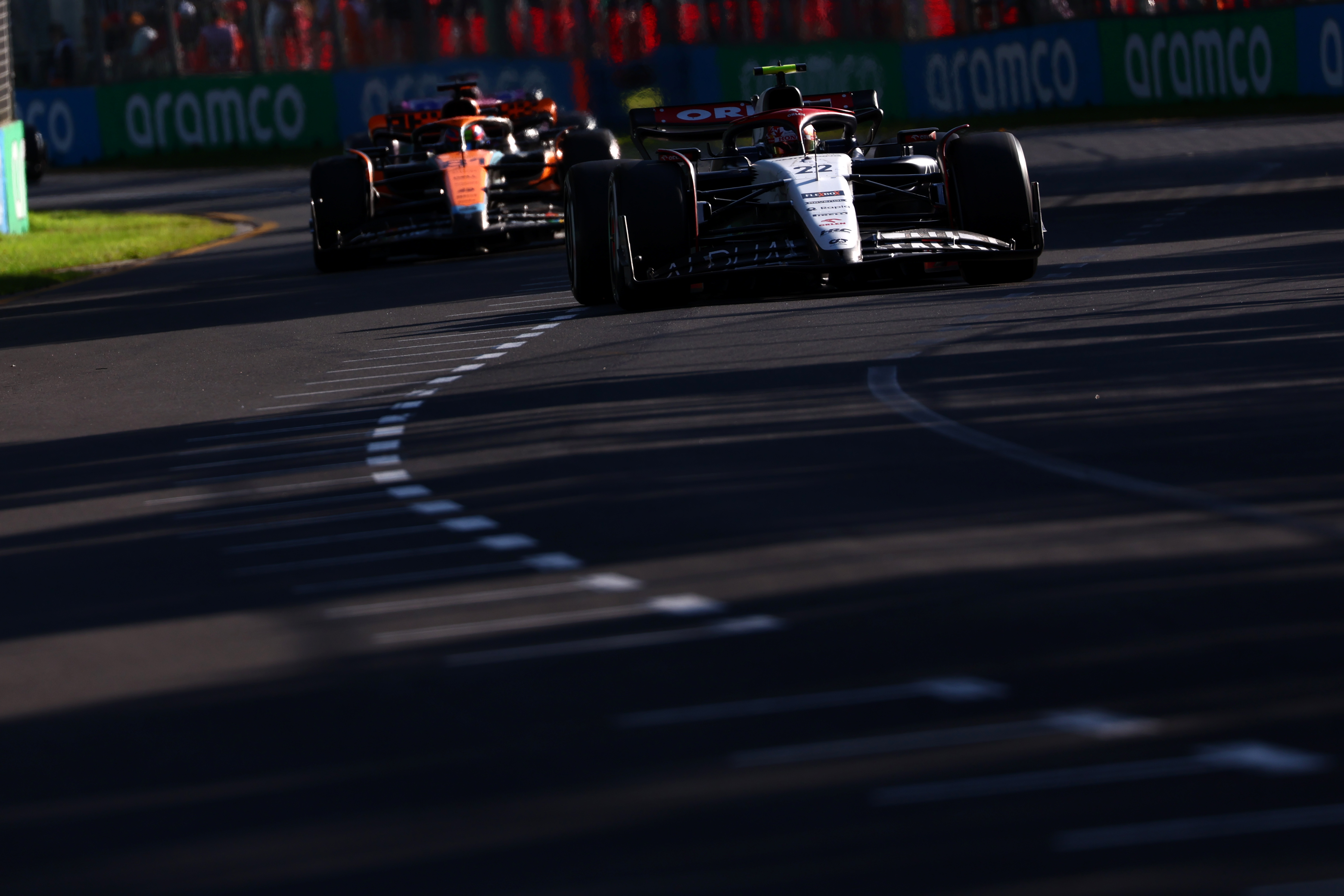 If you take the race classification before Carlos Sainz's penalty, Yuki Tsunoda only beat one car at the finish. Even when you factor in that penalty, it was only that allowing Tsunoda and AlphaTauri to get off the mark for 2023. So why's he a winner from the 2023 Australian GP?
In reality, this was another stellar race day drive from Tsunoda. He made up ground on two of the three starts – going from 12th to 10th to begin with, holding station on the first restart, then avoiding the chaos to jump from 13th to fifth on the short-lived final restart – and jostled to keep behind cars that right now the AT04 has little right to be fighting against.
It looked like that back-against-the-wall effort would amount to nothing for a third race in a row when the order was reset at the end, so avoiding a third 11th-place finish in a row thanks to Sainz's penalty was a little fortuitous. But a point at the very least felt like just deserts for a driver who's not been without his sceptics during his time in F1 but set a new personal benchmark at the start of 2023.
Tsunoda's one blemish over the weekend was the damage to the upgraded AlphaTauri floor he caused with an FP1 off that meant he had to switch to the previous spec. But factoring that in just makes another demolition of team-mate Nyck de Vries look like an even bigger win. – JC
Losers
Sergio Perez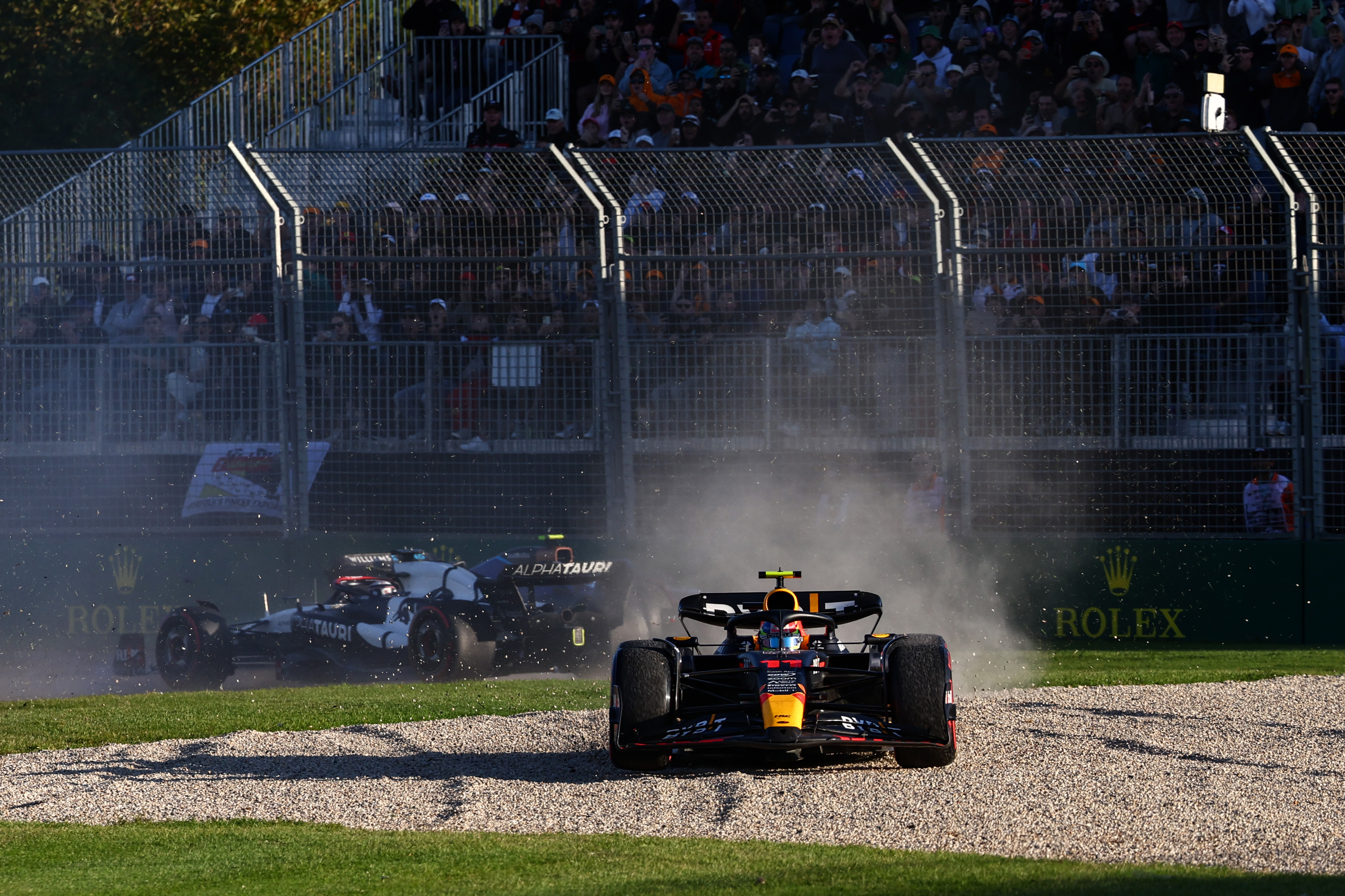 Last at the start to fifth at the finish is a great save. But it's also exactly what Sergio Perez didn't need just after trying to mark himself out as a genuine title contender and an actual threat to team-mate Verstappen with the Jeddah win.
Christian Horner's comments about Perez's messy Saturday were diplomatic but leaned towards feeling there not really being any diagnosed car problem of note behind his crash. Perez's flurries of overtaking were interspersed by periods when he wasn't making such rapid progress, and he was lucky to get away with flying off the road by himself at the final standing restart.
It's just not the kind of weekend you can afford if you want to take on a team-mate like Verstappen for a championship. – Matt Beer
Williams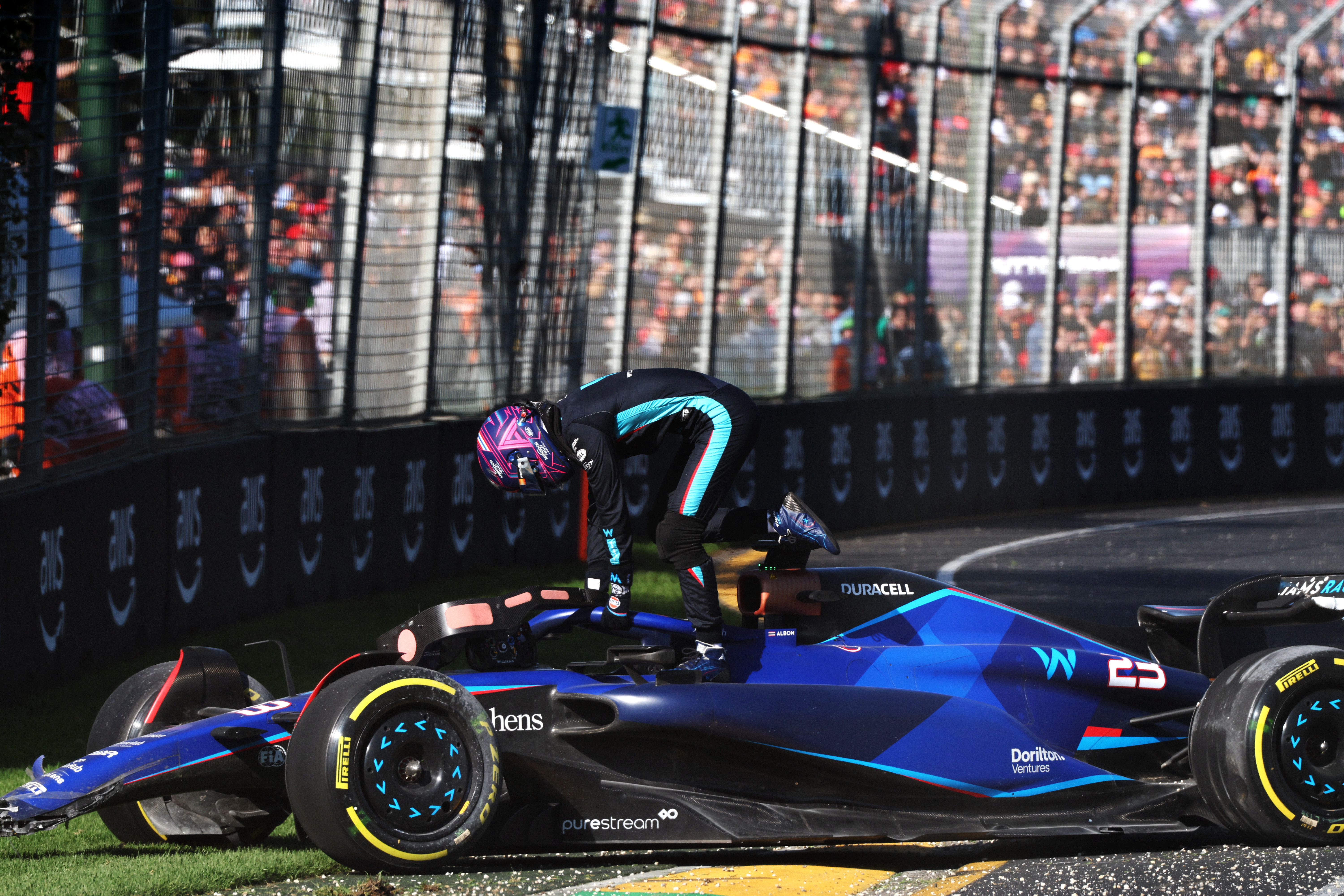 Alex Albon's superb qualifying effort was the peak of Williams's better-than-expected 2023 so far. Despite the pre-season pessimism, it feels like every weekend this team is coming up with a new reason to feel hopeful.
But the battle it's in is too close and its competitive position too precarious for Williams to be able to afford to let any opportunities slip. An early crash from sixth place – as absolutely brilliant as just being in that sixth place at all was – on a day when tail-end rivals AlphaTauri and Alfa Romeo both scored could end up costly, especially as Logan Sargeant's weekend proved too messy for him to step up once Albon was out. – MB
Alpine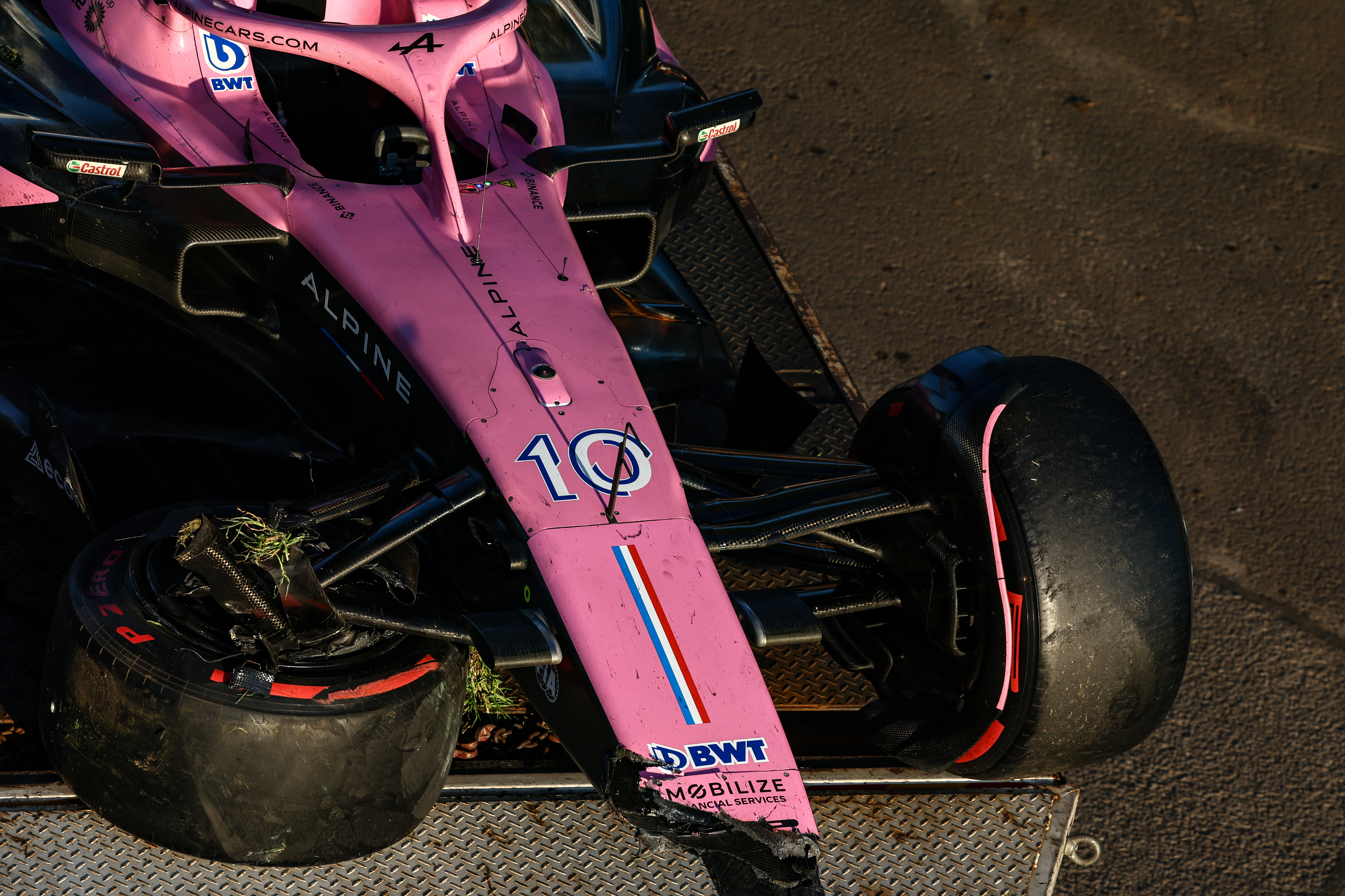 It doesn't get much worse than having your cars take each other into the wall on a restart that probably should never have happened, at a time when they were both heading for points.
The fact Pierre Gasly looked by far the most comfortable he has at Alpine so far up to that point and was keeping pace with the podium battle could be a reason to take consolation from this painful day. But it's probably a reason to find it even more painful. – MB
Ferrari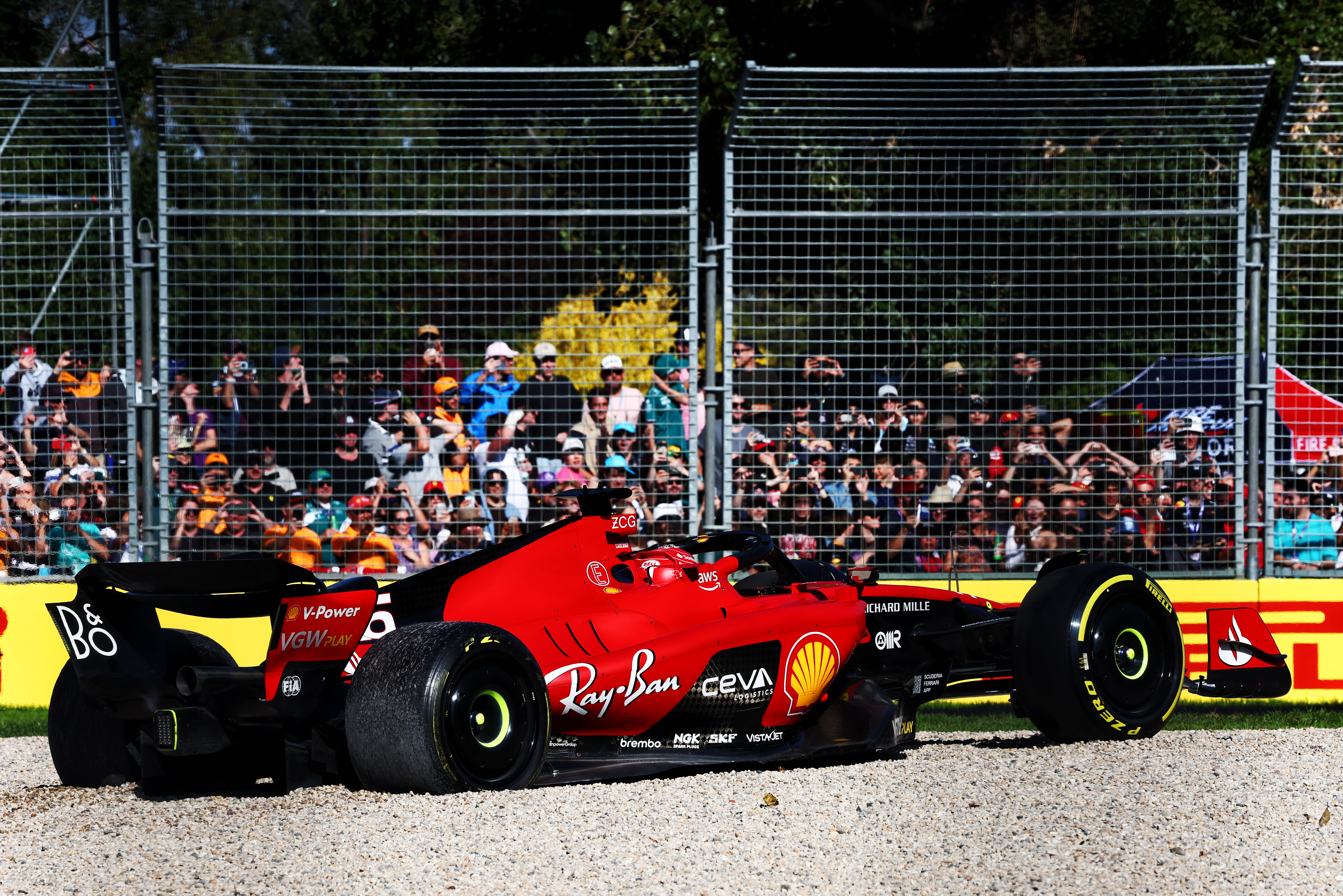 On a similar note to Alpine in some ways, you could look at the way Carlos Sainz carved through from 11th, after the early red flag had spoilt his strategy, to fight for the podium and be encouraged that the set-up changes Ferrari made for Australia have had a very promising effect on its race pace, boding well for the season ahead.
But when you've also got the choice of focusing on one car being shoved into the gravel on lap one and that podium contender not even scoring in the end thanks to a penalty for clattering into an old friend on the contentious restart, it's going to be harder to look at the positives and easier to end up in the same territory as Charles Leclerc as he bemoaned his "worst start ever" to an F1 season. – MB 
Valtteri Bottas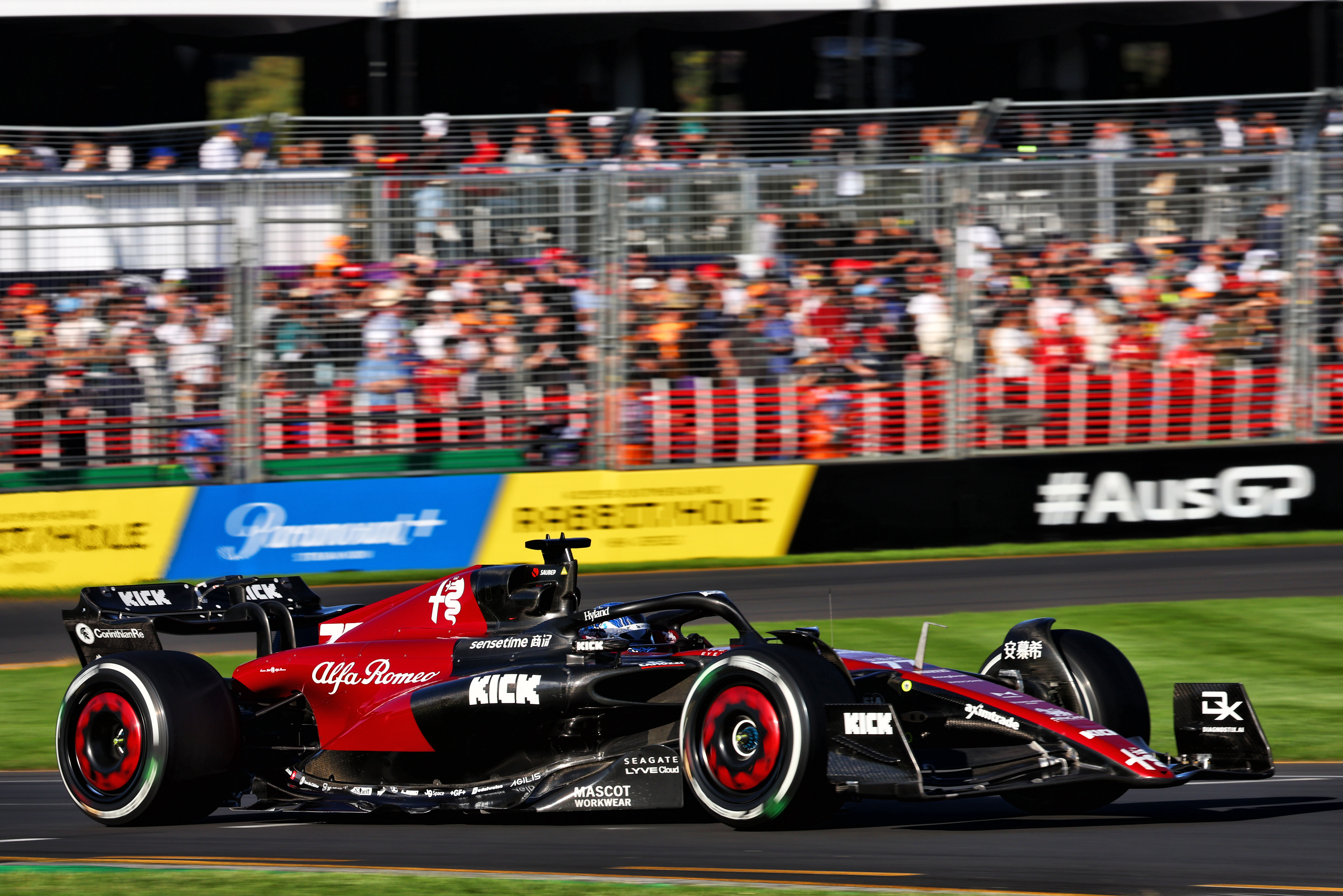 What on earth was going on with Valtteri Bottas this weekend? He was the slowest driver to set a time in qualifying and the final driver to see the finish in the race – only saved from being classified as the last car to finish by Sainz's penalty and the quirk of the safety car finish.
Bottas and Alfa took a big risk by pitting for the hard tyre on lap one, opting to essentially do a reverse of Albon's point-capturing 2022 strategy by running to the end on those tyres. This was of course nullified by the first red flag and shortly after he put the softs on the second red flag allowed the other drivers to do the same.
Bottas says he has "some ideas" of where the pace went this weekend. He'll have a month to confirm it – and he desperately needs to, considering Zhou Guanyu looked much more like the lead Alfa Romeo driver this weekend. – JS