Alex Albon headed into qualifying for the Mexican Grand Prix looking a dead cert to make Q3 and perhaps even challenge for a position on the front two rows.
But Williams was denied what could have been an exceptional starting position for Sunday's race thanks to conditions going against it - and a controversial laptime deletion.
The FW45 looked genuinely quick during FP3 - with Albon setting the second-fastest time, just 0.070s off Max Verstappen's Red Bull - and had shown promising long-run pace. However, Albon will start 14th after a lap that would have seen him through to Q3 was deleted for cutting the Turn 2 left-hander.
That was doubly frustrating given the conditions appeared to be coming to Williams as qualifying progressed, meaning that it's possible Albon could have delivered a strong result had he run in Q3.
Swings and roundabouts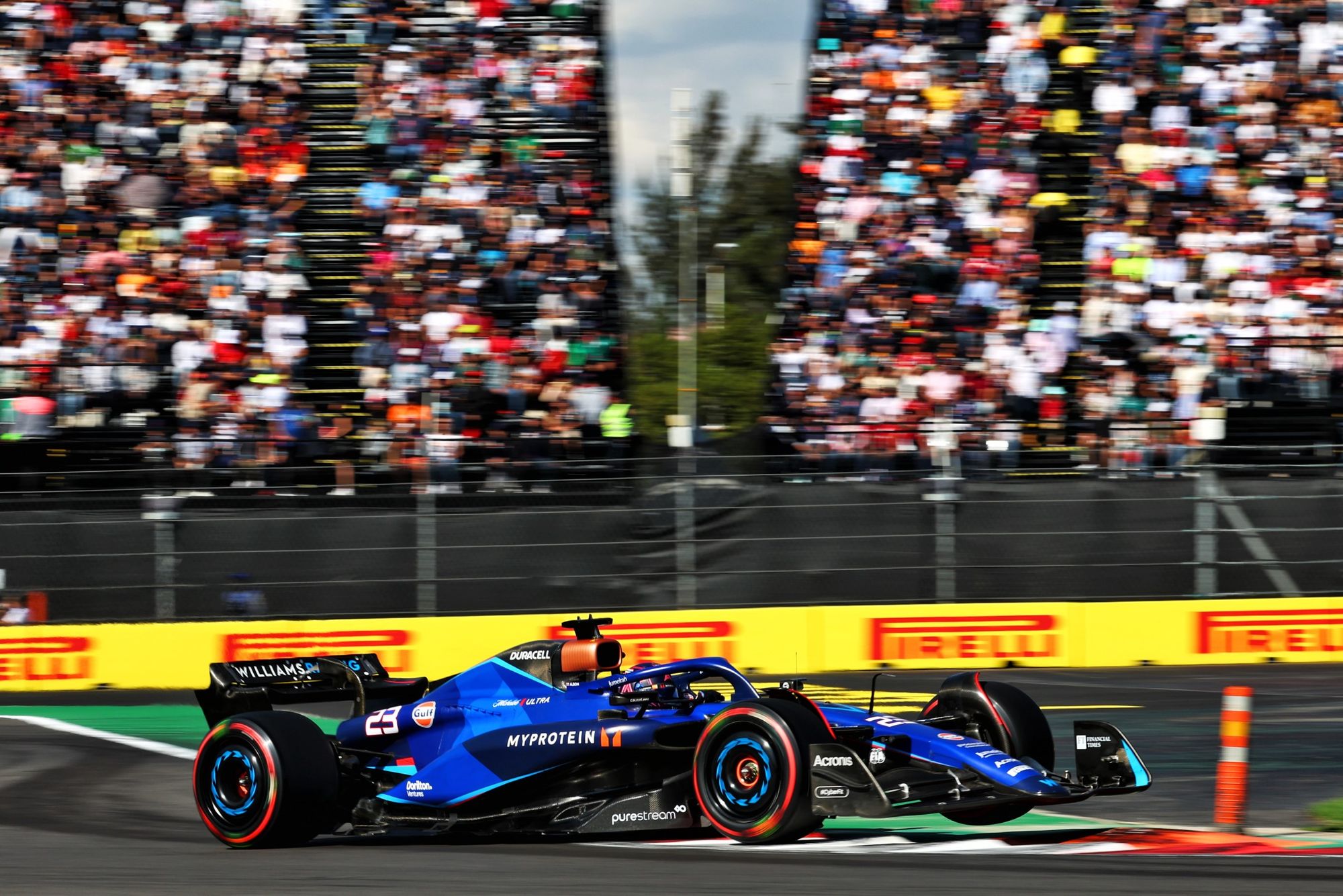 The Mexico City circuit is very sensitive to changes in ambient conditions, with small changes leading to bigger fluctuations in track temperature. The C4 tyre used in qualifying is also a peaky tyre with a narrow window – the Pirelli prototype version tried on Friday is designed to widen that by improving the warm-up characteristics and lower the temperature at which the tyre starts to work well – and that also contributes to the fluctuations in form seen throughout the grid.
After all, given this is a track where grip is at a premium thanks to the low downforce produced in the high altitude, if you ask a little too much of the tyre small errors will lead to significant sliding. Add to that the traffic situation, particularly when leaving the pits, and conditions were challenging.
That meant the Williams wasn't working well in the hottest segment of qualifying, Q1, which explains the drop-off from FP3. Head of vehicle performance Dave Robson observed there was "very different performance between the two sessions".
However, Albon felt that, as the track temperature dropped from the mid-40°C range in Q1 to the low 40°C by Q3, the conditions were coming to him.
"The ambient temperature's very similar morning to afternoon, but the grip loss for us is quite significant so we need to review it," said Albon of the difference between FP3 and qualifying.
"I actually think it was coming to us. So Q2 run two, I was in a much better place and I thought 'finally Q3, here we go', but it never came."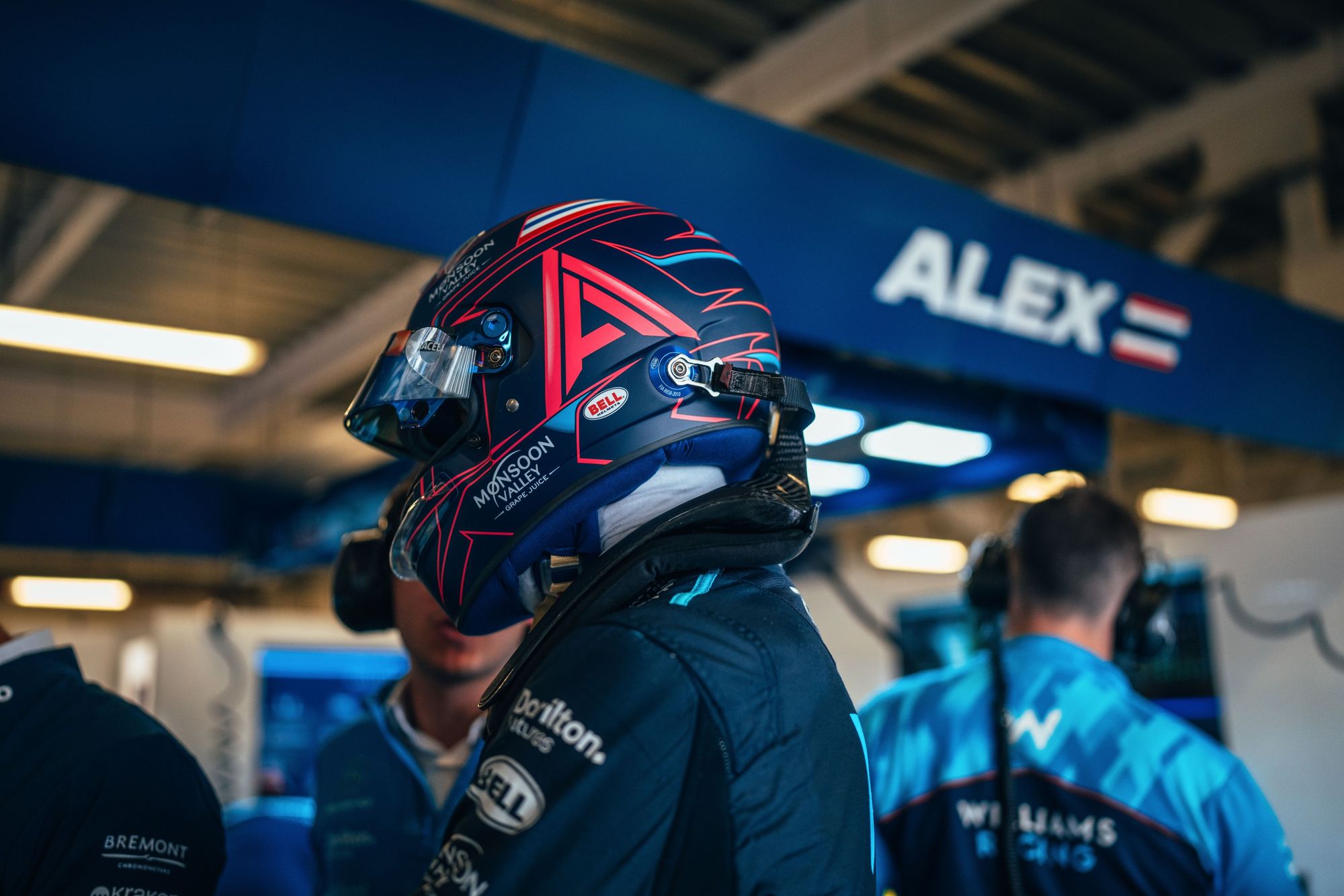 It never came because of the laptime deletion, with the grip struggles Albon was battling combined with the temperature coming to Williams potentially contributing to his error of cutting Turn 2.
After all, if you are struggling for grip and sliding around but that grip is improving, you run the risk of the more aggressive turn-in required sending you to a tighter line than anticipated if the car is working better than on the previous run.
Albon himself didn't blame that, but it's consistent with the pattern we saw from Williams that he might potentially have anticipated a little more sliding.
"We lost a lot of grip out there," said Albon of qualifying. "I don't know if the other drivers struggled, but for me from Turn 1 it was lacking rear grip and as you lack rear grip it escalates because you start sliding more and then the tyre becomes out of control.
"My laps were actually more like race laps, I had to do so much tyre management through my quali laps, just to keep the rears alive.
"That's something we need to review because it was the same last year, it was the same from FP1 to FP2 yesterday and it's happened again from FP3 through to quali."
Track limits disagreement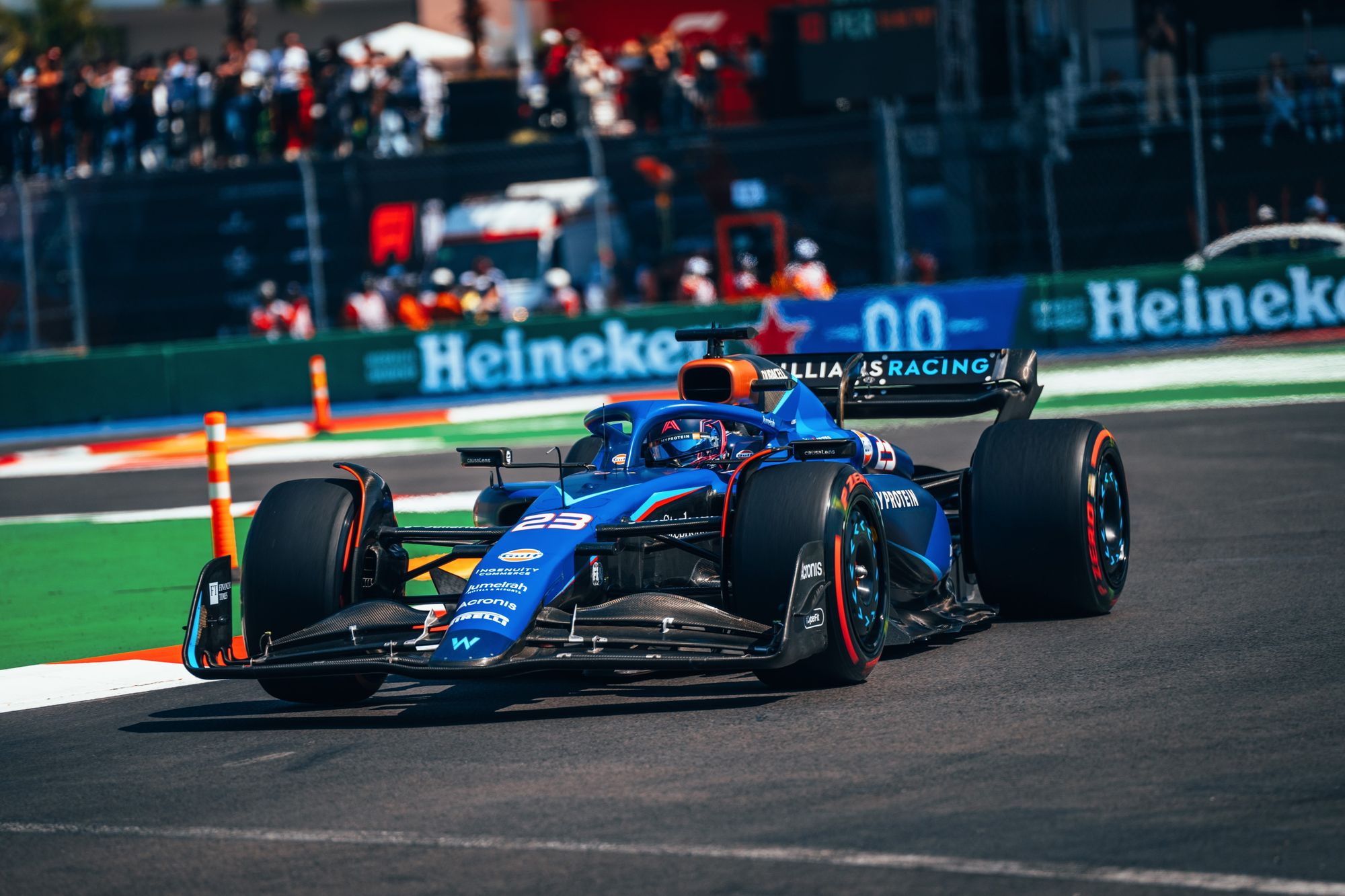 As for the track limits violation itself, Albon was suspicious about whether he really exceeded the track limits on the inside of the Turn 2 right-hander.
While the onboard camera showed that he was inside the white line with his front wheels, Albon claimed the team saw an external view that suggested the rears were still touching it.
It's worth noting that track limits violations will not be issued based purely on the onboard camera as you can only infer the position of the rear wheels from that, meaning the external view would have been key.
"I don't think it was off," said Albon. "I spoke to [Williams team manager] Dave Redding [after the session], they showed him an external view that showed me in Turn 2 - and my rear tyres look like they're still on the white line.
"Maybe I'm wrong. I'd obviously like to be wrong because that would make me less frustrated - I hope in a weird way it [the infringement] did happen. But from what I saw, I didn't [do it]."
Williams had no choice but to accept the decision as there is no way to reverse the deletion after the fact given it prevented Albon running in Q3. The team has also confirmed it made no representations to the FIA about it after qualifying.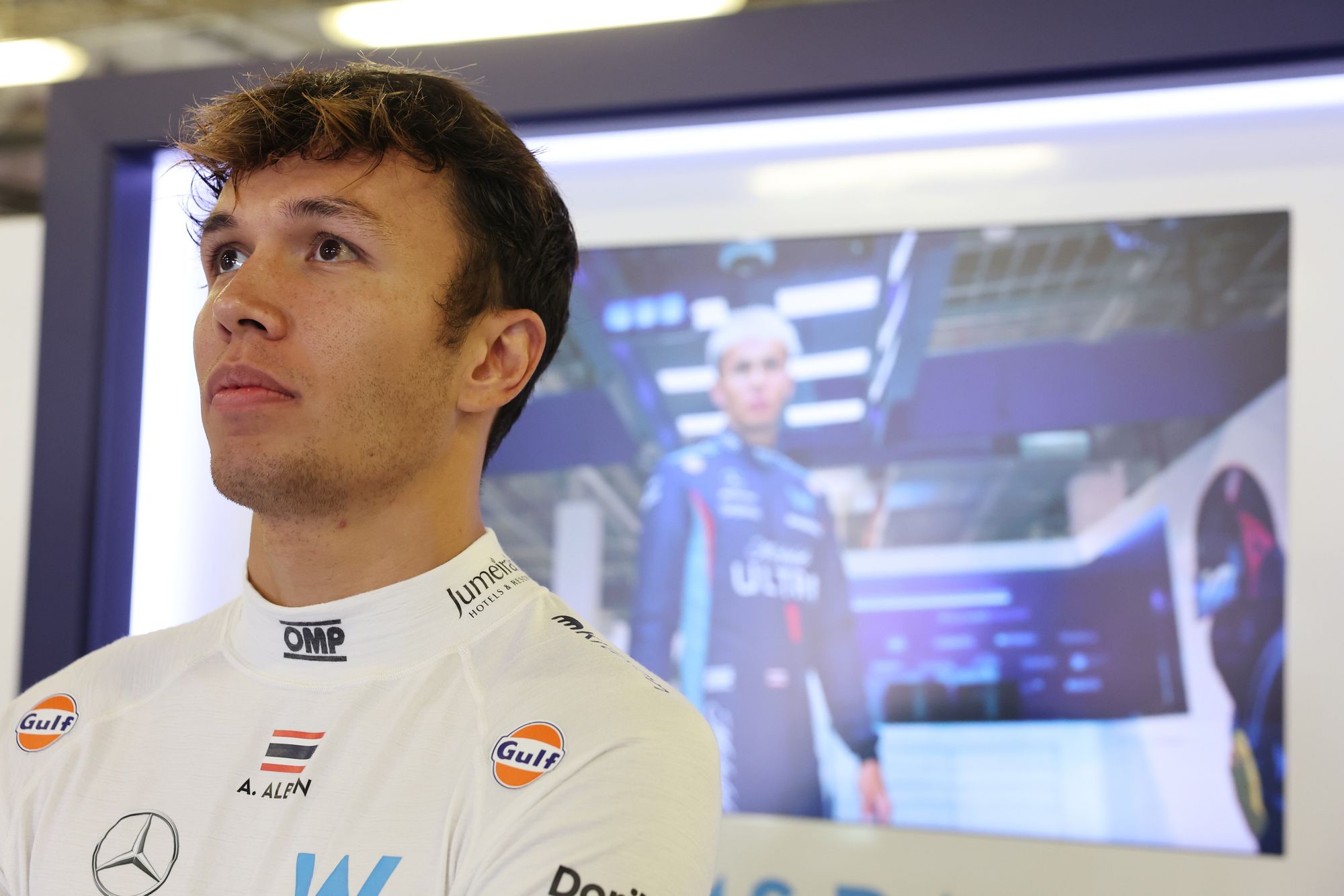 Albon felt that the revised positioning of the bollard on the inside of the corner made this the natural track limit over and above the white line. However, it should be noted that the bollard is historically not used for that, as Haas driver Mick Schumacher discovered at Mexico City and Paul Ricard last year.
"I guess the problem is in some ways that they made the white line thicker, which I think is a great initiative, a great way to stop track limits, said Albon.
"They then moved the bollard, which is OK, and then if you miss the bollard through Turn 2 then surely you should be self-policed at that point. It should be that as soon as you miss the bollard, you're legal.
"But the snapshot they did of me was whilst my car was halfway in the air - I don't know if it's not track limits because my wheels are off the ground… Even in the snapshot they have, my rear tyre is on the white part of the kerb, so you can't even tell what's the white line and what's the kerb.
"So I don't know how they can make a decision."
---
MORE WOE FOR SARGEANT TOO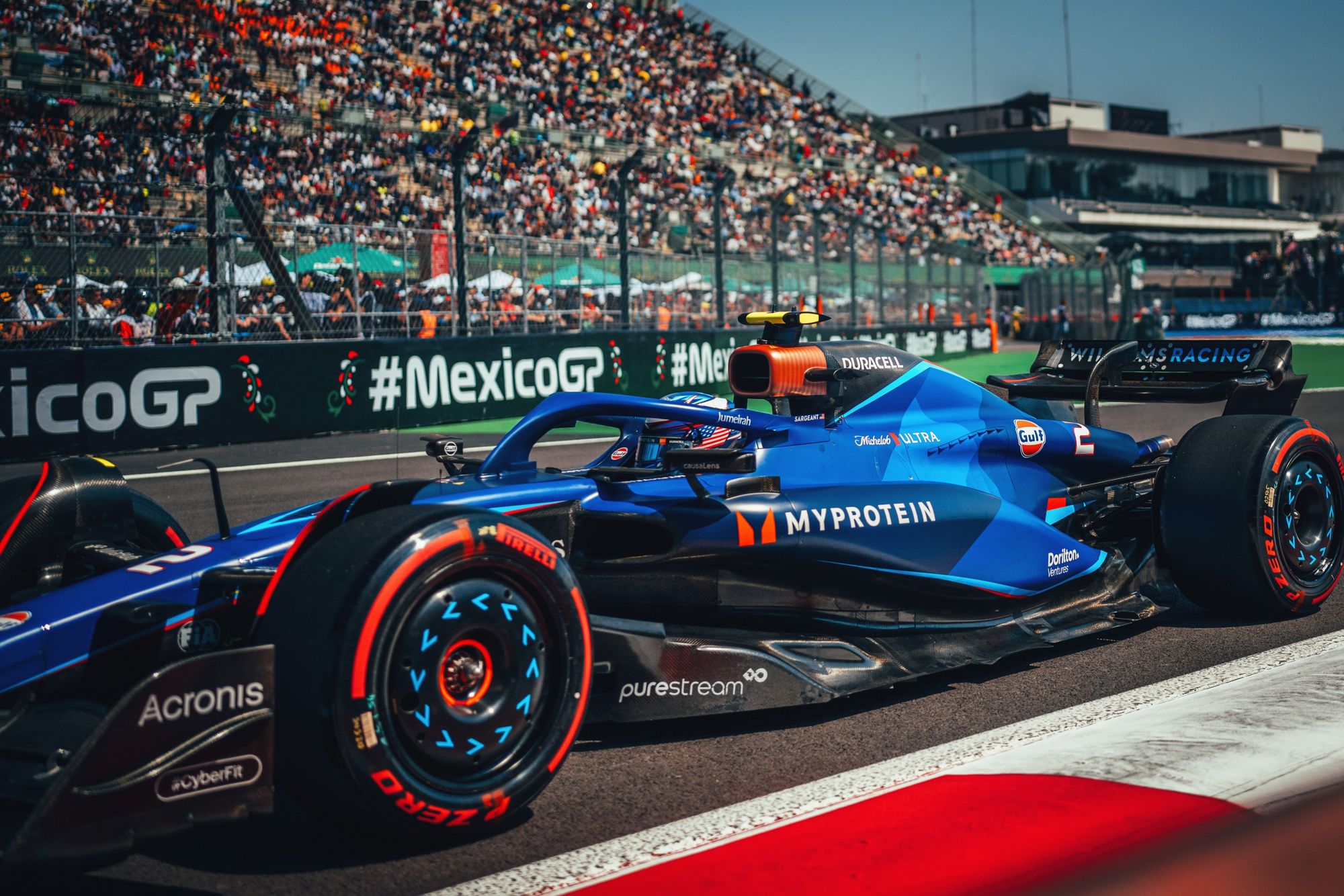 Albon's team-mate Logan Sargeant also endured a disappointing qualifying session, losing both of his laptimes for track limits infringements.
However, those times would only have been enough to elevate him one place to 19th ahead of Lando Norris. His last place was then firmly cemented by a 10-place penalty for overtaking under yellow flags.
The eventual 14th and 20th places are unpromising starting positions for Albon and Sargeant, but the Williams should have decent race pace and therefore a run at the points can't be discounted.
However, it will be much harder than it should have been - for Albon in particular - thanks to the capriciousness of this circuit amid small changes in conditions.