Carlos Sainz Jr was Formula 1's midfield champion last year, capitalising on Red Bull's driver swap to pip Pierre Gasly and Alex Albon to sixth in the world championship.
But despite establishing himself as McLaren's lead driver in 2019, the key challenge he will face as he bids to hold onto that 'Class B' king position will come from within his own team given how strong team-mate Lando Norris was last year.
This could make the McLaren intra-team rivalry one of the most fascinating on the grid.
The 2019 championship table, with Sainz comfortably ahead 96-49, does not do justice to Norris's performances. Sainz was unquestionably the superior performer, but Norris overcome the early self-doubt to establish himself as a dependable F1 driver very quickly.
Norris wasn't afraid to point out how distorted the picture was last year
He scored his first points second time out with sixth place in Bahrain, and might have opened his account on his debut had he not spent too long stuck behind Antonio Giovinazzi's Alfa Romeo following his pitstop.
Asked at McLaren's launch last month how important it is to close the ostensibly sizeable gap to Sainz, Norris gave a very sensible answer.
Privately, like all F1 drivers he will be determined to beat his team-mate, but he also wasn't afraid to point out how distorted the picture was last year.
"We both had bad races, bad weekends last year and missed opportunities," said Norris. "But after reviewing everything, there were a lot more points on my side which I lost to reliability problems and strategy mistakes than Carlos had. That's not because anything is biased, it's just that's how it goes sometimes.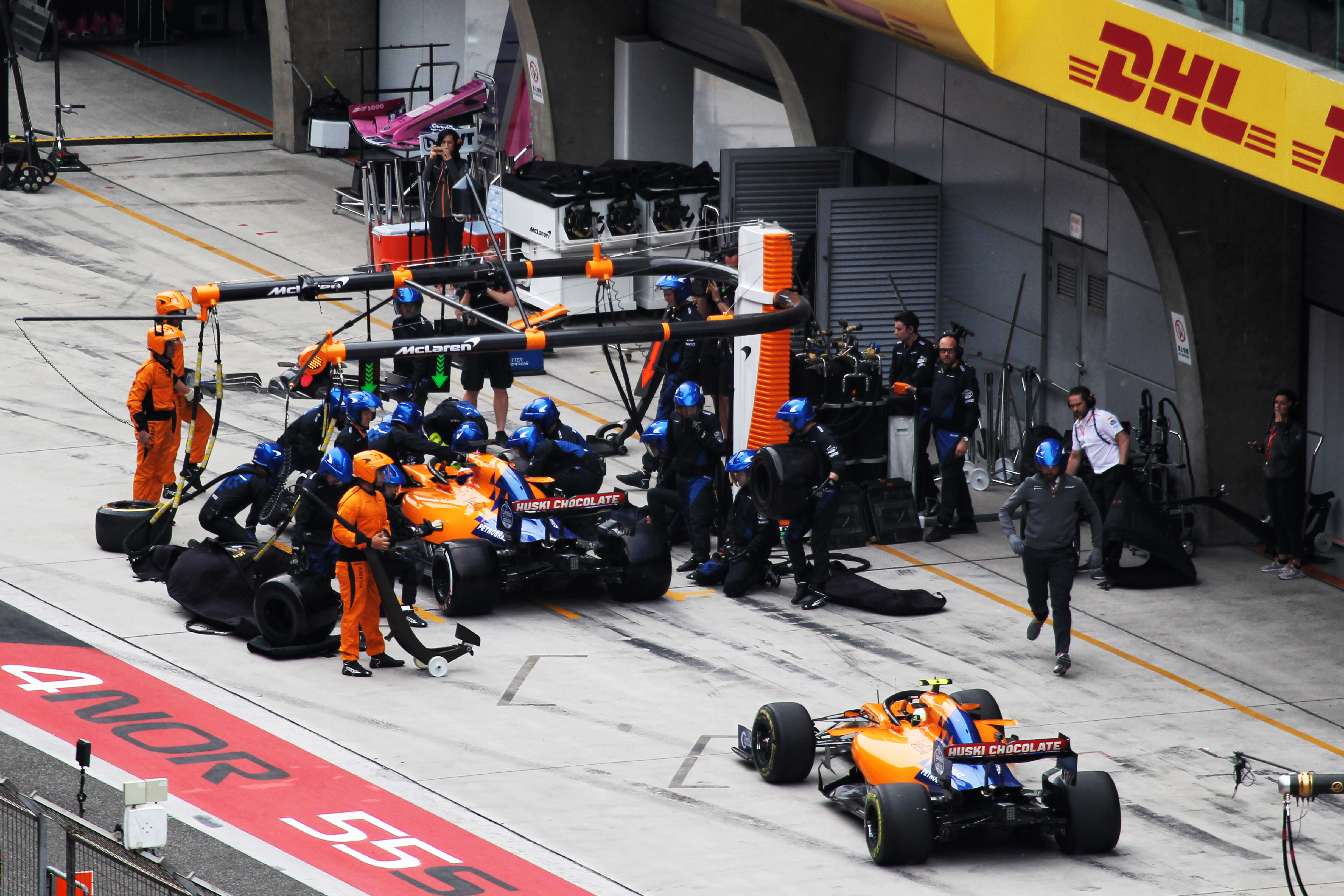 "I'm not saying all the points gap to Carlos was because of that and some of it was because of me not doing a good enough [job] or being wise enough in strategic calls and so on.
"But it [the need to close the gap to Sainz] is not something I'm worried about or something I've looked back on and thought 'I've done terribly'. Once you take into account how everything could have or should have gone, it's nowhere near as bad as it looks."
Norris is absolutely right. While Sainz also lost points to ill-fortune, Norris was arguably the most unlucky driver on the whole F1 grid.
There is a suspicion Norris has within him fractionally stronger underlying pace than Sainz
Just picking out the most obvious problems sums up how affected Norris's season was – the clash with Daniil Kvyat on the first lap in China (which also involved Sainz), slipping behind his team-mate due to a stop under the safety car in Azerbaijan, being sacrificed strategically in Monaco, dropping from seventh to ninth thanks to a hydraulics problem in France, losing out in Britain to a combination of badly-timed safety car and poor strategy, having a very slow pitstop in Hungary, retiring while fifth at the end of the Belgian Grand Prix, suffering damage from debris in Japan and enduring another pitstop disaster in Mexico. Quite the catalogue of calamities.
While Sainz is a spectacularly well-rounded Sunday driver, capable of executing races brilliantly with a consistency that was beyond Norris last year, qualifying was a different story.
Norris 'won' the qualifying head-to-head, although so close was the comparison that realistically they were as good as equal. But Sainz did have the advantage on average pace with an average advantage of 0.087s.
Even so, there is a suspicion Norris has within him fractionally stronger underlying pace than Sainz. We might start to see that this year, although the trend last season was not what you might expect with Sainz asserting himself as the season progressed rather than the more traditional pattern of the rookie coming on strong on the second half of the year. Only once in the last six races, in the Abu Dhabi finale, was Norris quicker.
This perhaps highlights an area where Norris has room for improvement. When Sainz struggled more with the McLaren earlier in the season where there were times that the weak front end or rear instability held him back a little, Norris found it easier to get the maximum out of the car. While Sainz likes a car with a predictable rear, Norris has an adaptable and more livewire driving style.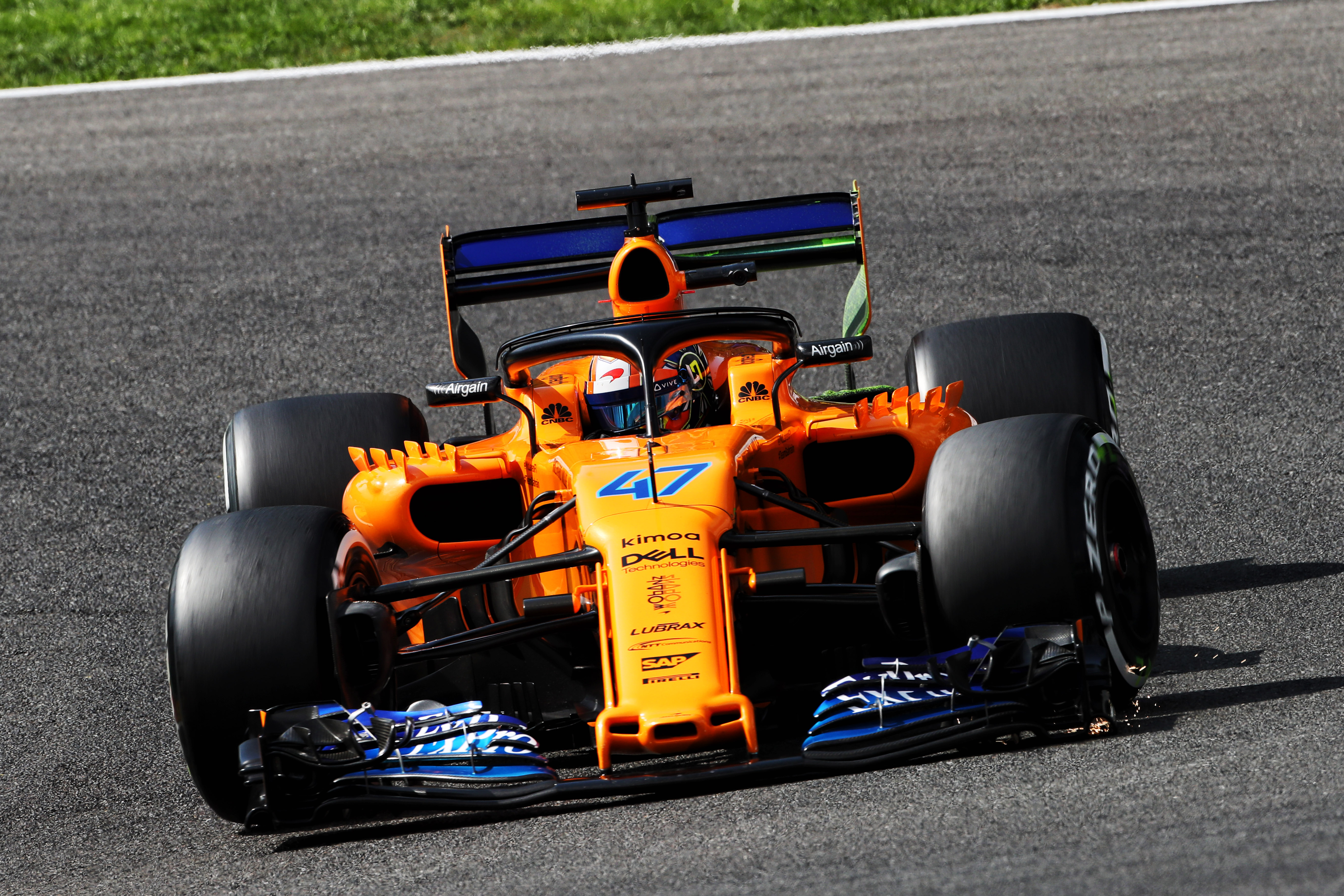 This was clear during McLaren's terrible 2018 season. Norris drove in Friday practice at seven of the last nine races and was able to get closer to the kind of style Fernando Alonso used to hustle the best out of the machine than Stoffel Vandoorne was able to.
But on less familiar circuits late last season, with Sainz utterly at ease, Norris wasn't able to unleash the pace that he should have done. When a car is in the right window, it requires a slightly different skillset to extract the best from it. The best drag the lap time from both.
Perhaps we will also see Norris better able to select the right set-up direction for him in the coming season? It's certainly an area he has talked about improving dramatically over the past 12 months, growing the confidence to trust his own judgement rather than being the rookie shooting his mouth off.
But alongside that, he's also shown he has caught what might be called the F1 driver self-improvement bug that every top driver needs now he's recognised just how thorough you have to be at the top level in racing. This could also help him get the best out of a car that you have to work with more, as the McLaren was in the final part of the season.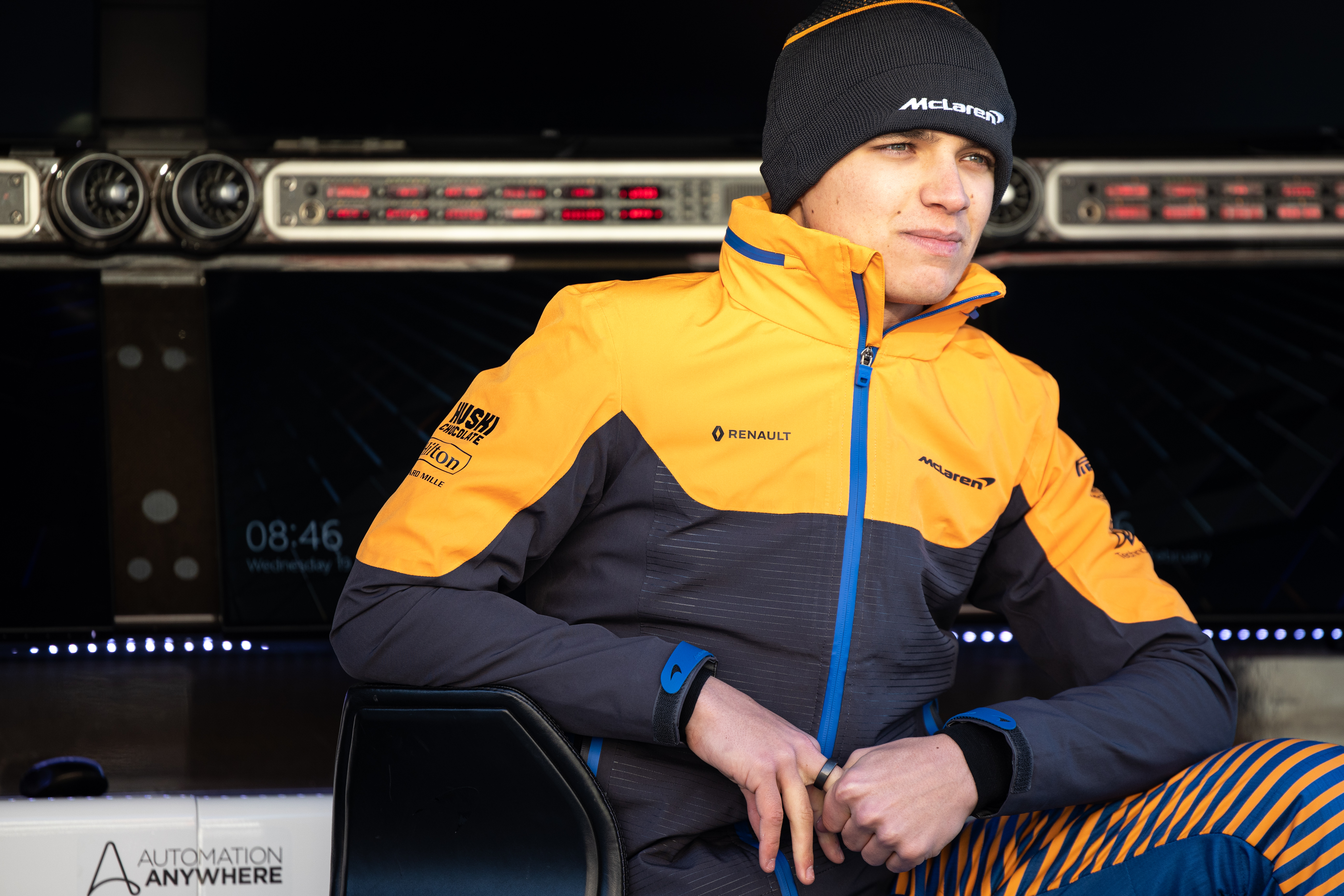 "There's a lot of things I have had to learn over the last year," said Norris. "One of the biggest probably being the time and effort you have to put into improving on things.
"There are things I've wanted to work on and do better at and you have that but a lot of it is down to how much time I'm here working with my engineers or mechanics to work on those problems and those limitations and weaknesses for myself.
Losing seventh to Perez on the last lap in Abu Dhabi hurt, and next time he will not be so easily mugged
"And it's not just spending one day a week, coming in and working on it it's coming in and spending three days or two-and-a-half days or whatever we week or whenever I need to focus on improving those things.
"That's something that's completely different to working in F2 and 3 and other categories. So the time and effort of self-improvement is one of the biggest things that I have changed."
Norris also showed in Abu Dhabi last year how even momentary lapses can hurt. On the last lap in that race, he lost seventh place to Sergio Perez's opportunistic lunge and he could not stop kicking himself in post-race interviews.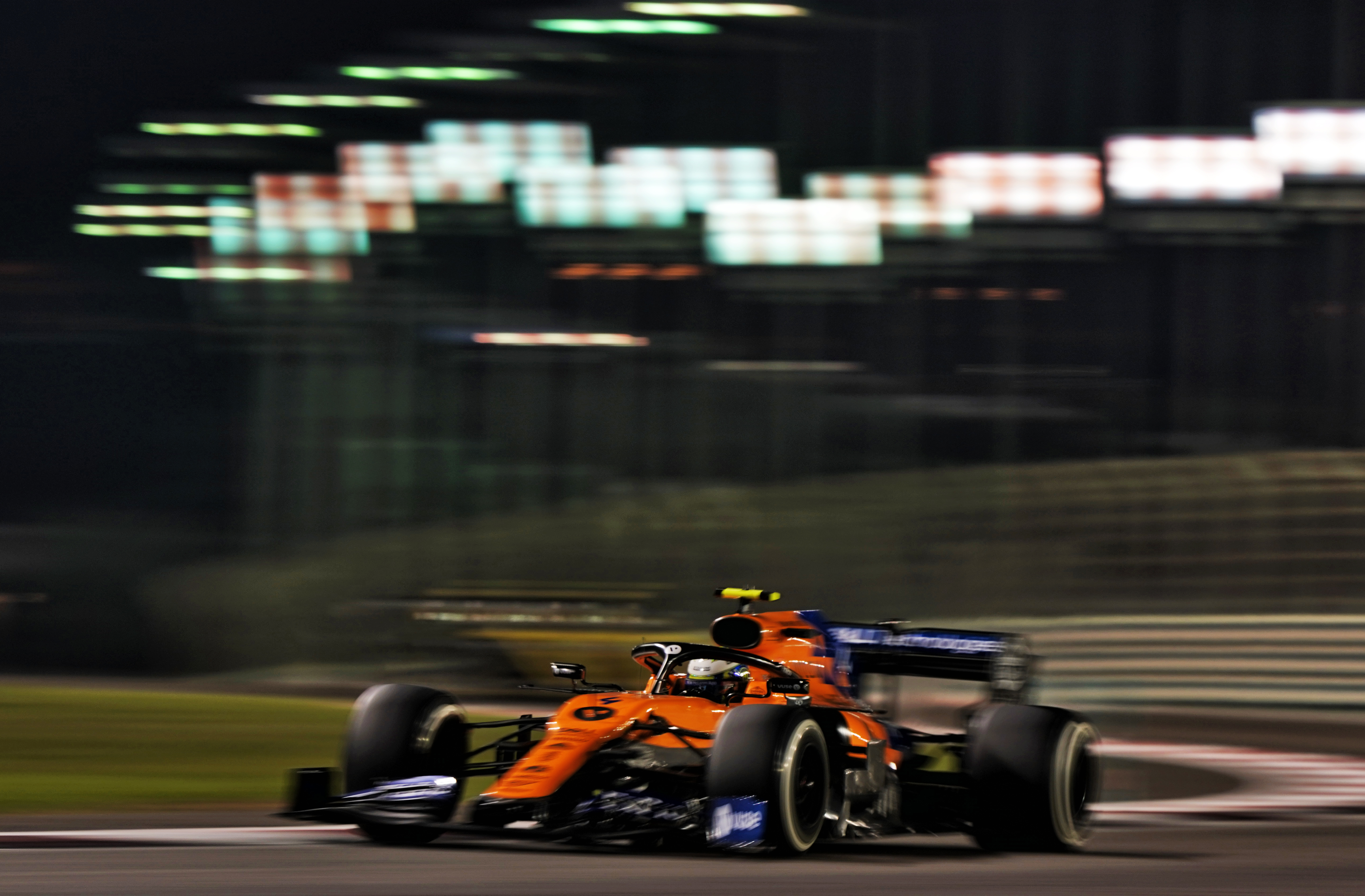 That one hurt, and next time he will not be so easily mugged. That's the sign of a driver who has the capacity to scrutinise their own weaknesses rather than blaming external forces, which is always a strength for grand prix drivers.
Norris will get better in 2020 compared to last year. While Sainz took what he described as his biggest step between seasons into '19, and will surely benefit from having a year with McLaren already under his belt, there will inevitably be more upside still to come from a 20-year-old in his second season than a 25-year-old heading into his fifth.
Sainz will still head into the campaign as McLaren's de facto leader, but Norris should be a lot closer in terms of points than he was last year.
And if he makes the step a driver of his prodigious potential should, then it could set the stage for a great battle between the pair. If Norris does push on, as he must, then expect Sainz to do the same.
Not only will that be a fascinating rivalry to watch from the outside, but it should also help push McLaren onto even greater heights.