Lance Stroll says the Aston Martin AMR22 is more limited by the risk of damage to the floor caused by porpoising, with both Mercedes and Ferrari able to run with a more aggressive amount of bouncing.
Aston Martin has yet to score a point in 2022, with chief technical officer Andrew Green claiming during the season-opening Bahrain Grand Prix weekend that "we are losing in excess of half a second, probably closer to three quarters of a second" to the phenomenon.
This has led to set-up compromises, notably having to run at a higher ride height that means the floor does not get so close to the ground as the downforce builds at high speed and sucks the car down towards the track surface.
Mercedes and Ferrari were the two cars that were suffering from porpoising most aggressively in Australia, albeit with Ferrari driver Charles Leclerc still being able to claim pole position and dominate the race.
While the Aston Martin has had less visible bouncing, Stroll indicates that it's having to contain the problem even more to prevent floor damage.
"The lower you run these cars the better they are downforce, but then there's this porpoising," said Stroll at Imola. "So it's been pretty bad for us on some occasions.
"Generally, we've been limited with the floor just breaking so we have to watch how much we porpoise for those reasons.
"It looks like the Ferraris and Mercedes can porpoise more than us. So they must have a floor that's more robust and isn't as fragile as ours, potentially.
"When it does start porpoising, it's not fun and the neck is a little sore the next the next day.
"But it's just a part of learning about these new cars and understanding how different they are. And I think it's been a surprise for everyone."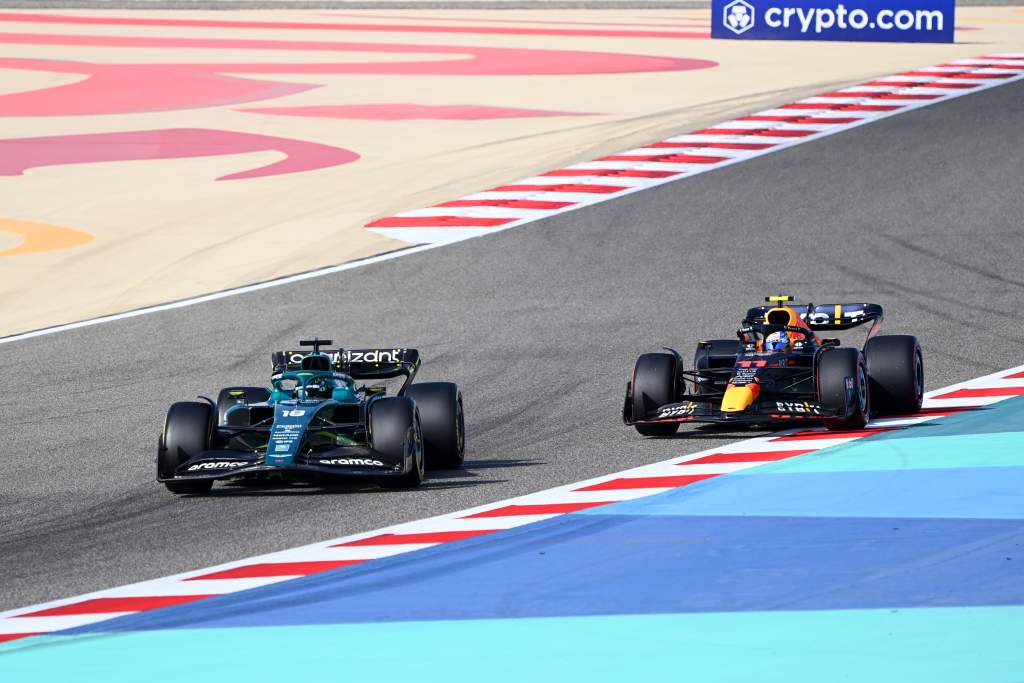 Aston Martin has the slowest car on average so far this season, around 0.150% slower than ninth-quickest Williams.
Major revisions are expected to the car later in the season as the team chases improved performance, with getting the porpoising more under control seen as vital to making performance gains.
"Everyone up and down this pitlane, if they can solve porpoising they would be very happy – and we're included in that bunch," said Stroll.
"I really do think it's early days. I'm confident that as a team we can improve and push this car further.
"But it's Formula 1 and as you develop, everyone else develops. So it is a development race to the end of the year.
"Will you be fighting for wins this season? No. Will we be fighting for podiums this season? Probably not. Will we get to a position where we can fight for points? I really hope so, and I believe that it is possible if we come up with some ideas on how to resolve some of our limitations."
Aston Martin's best results so far this season have been Stroll's 12th places in Bahrain and Australia.
During the Australian Grand Prix, strategic gambles did allow him to run in the points for 13 laps before being shuffled out of the top 10.
But Stroll believes that the team did understand ways its performance could have been improved at Albert Park and that its balance limitations can still be improved without major changes to the car.
"We're trying to understand all together how we can set up this car improve it," said Stroll. "We have our limitations, like everyone porpoising is a limitation.
"There were some balance adjustments [that] looking back at Melbourne, we could have done differently and potentially had a better race.
"So we're processing all of that and looking at the rest of the season as an opportunity to change some of those things and address some of the issues that we have, like the porpoising and the balance limitations we had in Melbourne."