Formula 1's return to Zandvoort comes with a set of intriguing question marks over whether the circuit really can be suitable for modern grand prix racing.
Max Verstappen and Red Bull's demonstration run at the Dutch venue on Wednesday gave us some early hints of the answers.
As Verstappen fervour swept his homeland in the late 2010s, it was obvious reviving the Dutch GP would be great business for F1 but it was near-impossible to imagine twisty, narrow, classic venue Zandvoort accommodating 2020s F1 cars or its paddock accommodating the modern F1 world without being changed beyond recognition. If anything MotoGP venue Assen, used by Champ Car not too long ago, seemed slightly more likely.
News that both F1 would indeed return to Zandvoort, and that the circuit would remain recognisable, was therefore a pleasant shock.
Now with the race two months away, Verstappen's run in a 2012-vintage Red Bull – and the in-car video released from it on Red Bull's social media accounts and Verstappen's own YouTube channel – gives us a snapshot of what modern F1 at 'new' Zandvoort will look like.
THE BANKING
The headline change to Zandvoort for F1's return was the addition of 18 degrees of banking at the final corner and increasing the banking of Turn 3, the Hugenholtz left-hander, to 19 degrees – putting both on a par with American ovals and giving F1 a set-up and tyre challenge it hasn't encountered since last running at Indianapolis in 2007.
There were separate lines of logic applying to each corner. Turn 3's steepness is all about the driving challenge, with Jarno Zaffeli – founder of the Dromo circuit design firm behind the changes – saying "all of your horizon is tilting, all of your perception is evolving, you feel like you are being squeezed. It's like being in a corkscrew, depending on the line that you are following".
The footage from Verstappen's run suggests it ticks that box – with the whole first sector of the track undulating and constantly switching cambers, it's a thrilling ride from the cockpit and a relatively rare example of the in-car camera (even on a demo run) making F1 feel truly spectacular. Visually, the banked corners are a clear selling point for the track from inside and outside the car.
The final corner being banked is done with overtaking in mind, it's effectively to extend the straight by giving more time at full throttle. But will it make a difference…?
OVERTAKING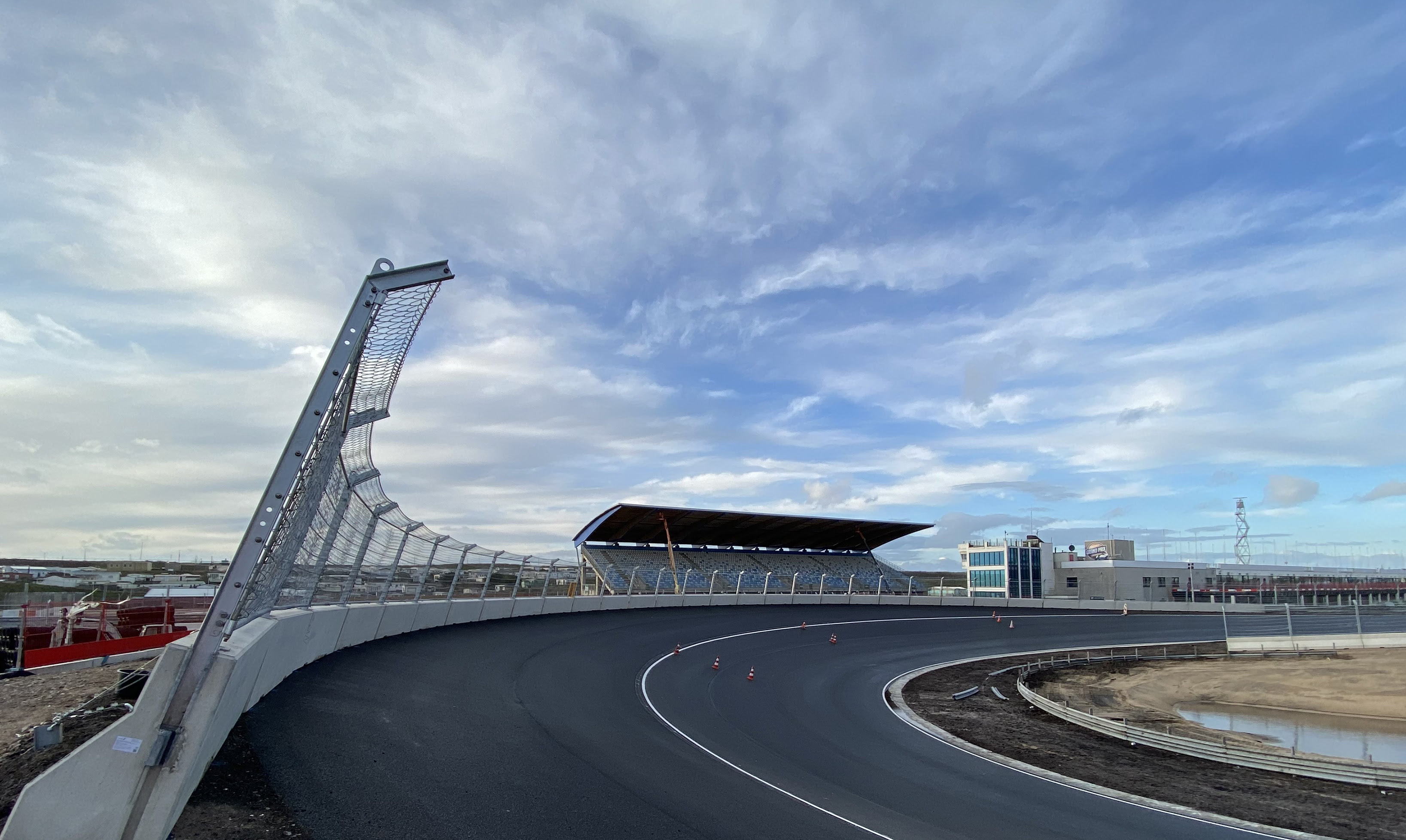 Verstappen is at full throttle for approximately 12 seconds through the final corner to the braking zone for the first corner, which compared to most modern F1 tracks isn't an especially long run.
A lot will depend on the specifics of the DRS zone length, with drivers likely to be able to open DRS through the banking (another fun challenge) to give them a better chance of getting a run on a rival down the pits straight.
If the DRS set-up is too generous and just creates 'drive-by' passes, those will ultimately be of little value to the spectacle. If it just gives the chance for runs that could set up outbraking attempts, that could pay off but could also lead to frustration at a first corner where divebomb moves are likely to be problematic with only one ideal line and little opportunity for a run on exit even if a driver manages to force their opponent into a compromised defensive entry line.
The footage from Verstappen's car also emphasises the track's narrowness – and the demo run was in a 2012 Red Bull. Two 2020 cars side by side require an extra 40cm of width compared to two 2012 cars following the 2017 rules revamp.
THE DRIVING CHALLENGE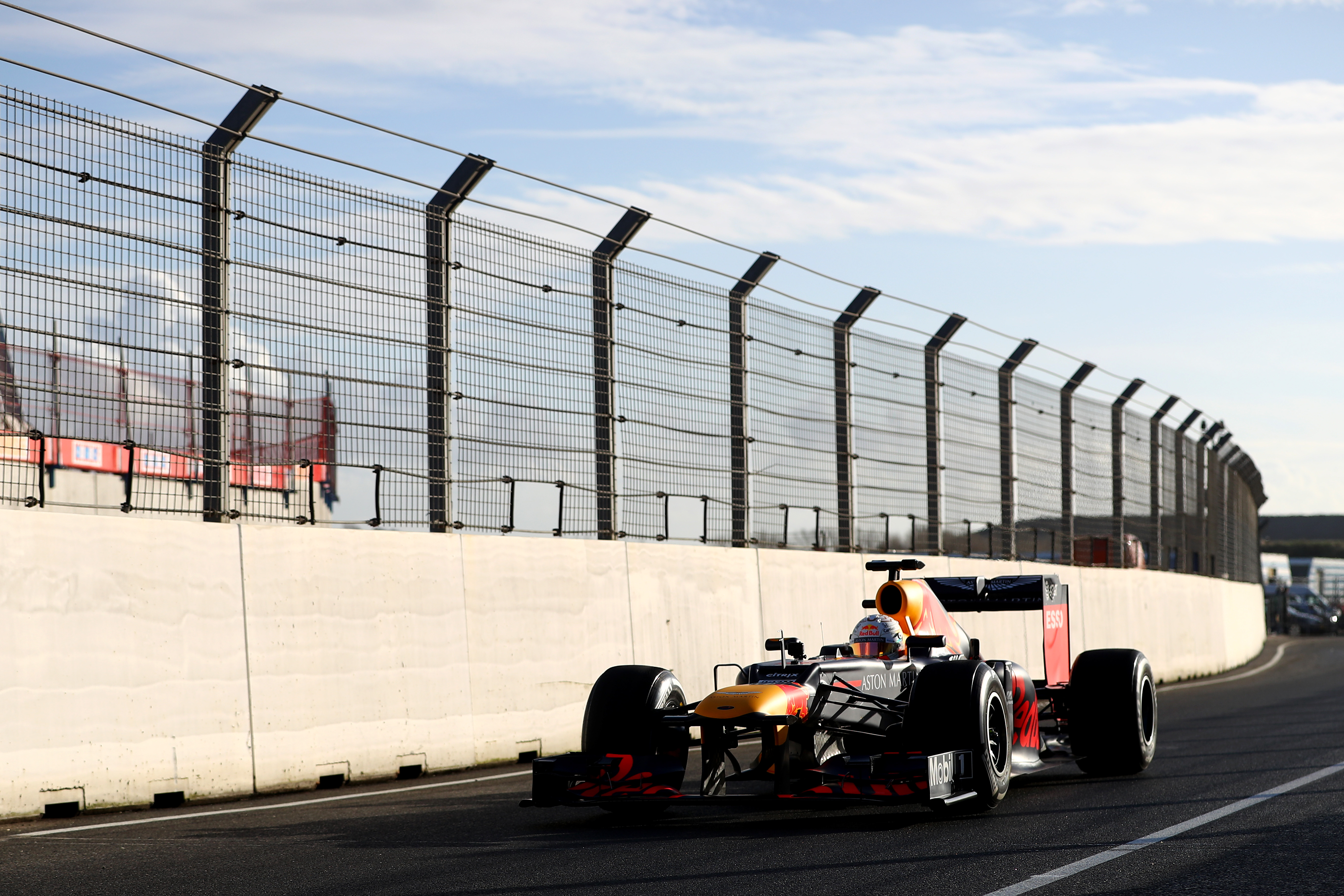 This is where Zandvoort looks like a clear success. The modern track may not have all the fast sweeps of the version used for the Dutch GP up to 1985, but its first half is full of quick sections before becoming more sinuous later on.
The footage from Verstappen's car of it flashing through off-camber bends and over crests with barriers not far away and sand traps either side is a glorious juxtaposition of a relatively modern F1 machine and a track that still has a real old-school air.
THE RUNOFF
That lack of runoff brings clear downsides, too. The barrier work in progress means the circuit meets modern safety standards – including the use of SAFER barriers – but it won't take a huge mistake to end up in one of those upgraded walls.
Zandvoort is little different to Baku, Monaco or Singapore in that respect, but expect incidents to result in safety cars. At least with a strong motorsport culture and regular racing in the Netherlands, the marshalling teams ought to be primed for swift work and minimal interruptions.
SO IS ZANDVOORT'S F1 RETURN A GOOD IDEA?
Watching the footage from the Red Bull demo, it was hard to shake the feeling that F1's Zandvoort return is a little reminiscent of Champ Car coming back to the Brands Hatch Indy circuit in 2003.
That was also a wonderfully evocative nod to motorsport's heritage that made use of a superb classic venue. But the sight of Paul Tracy and his rivals hurling their Lola-Fords into Paddock Hill Bend was compromised by the impossibility of overtaking, which was a double hit to the spectacle as the consequent sole focus on pit strategy meant a race of tepid fuel saving.
Still Zandvoort is at least being tweaked in ways intended to create overtaking. Plus it's not the law that every F1 has to feature easy passing – a tense spectacle is better than inevitable easy DRS moves down never-ending wide straights. A Dutch GP with little overtaking won't automatically be a bad race.
And ultimately, there's a degree to which the race itself won't matter. A sellout crowd of hugely passionate Dutch fans cheering Verstappen will create an atmosphere so intense it may well make any shortcomings the event has easier to overlook.