Max Verstappen's slow first stop in the Spanish Grand Prix was a consequence of Red Bull not expecting him to come into the pits, as it hadn't called him in.
The first of the Dutchman's two tyre changes in the Barcelona race – which came as he pitted from the lead – took 4.2 seconds, around twice as long as Red Bull would normally aim for, and risked compromising him in his battle against Lewis Hamilton.
However, Mercedes did not bring in Hamilton the following lap, unwilling to bet that Red Bull's mishap would be enough to get Hamilton out ahead – especially as he himself looked to have lost some time in the wake of the soon-to-be-lapped Haas of Nikita Mazepin.
"Max just arrived at the pitlane and we hadn't actually called him in at that point" :: Christian Horner
Asked about the pitstop in the aftermath of the race, Verstappen said: "Yeah, just a miscommunication.
"I thought I had to pit that lap and clearly it wasn't [the case] but luckily we didn't lose too much time with that."
Verstappen's radio chatter on the in-lap prior to the stop consisted of two rounds of communication. In the first, he was told by engineer Gianpiero Lambiase to select "strat 7, position 1" and in response told the team to "look at my tyres".
Later in the lap, he was informed of blue flags for Mazepin and asked for a "front wing update for next stint". He requested no change, but surprised the team by coming into the pits, telling Lambiase later on that they would "discuss after the race what went wrong", with Lambiase saying he understood what had taken place.
"Unfortunately we were gearing up for the stop and then Max just arrived at the pitlane and we hadn't actually called him in at that point," team boss Christian Horner told Sky.
"So quick reactions from the pitwall, from GP [Lambiase], his race engineer, from the pitcrew, to get that turned around without losing more time, I think it was a four-second stop, so they recovered incredibly well to get that turned around at that short notice."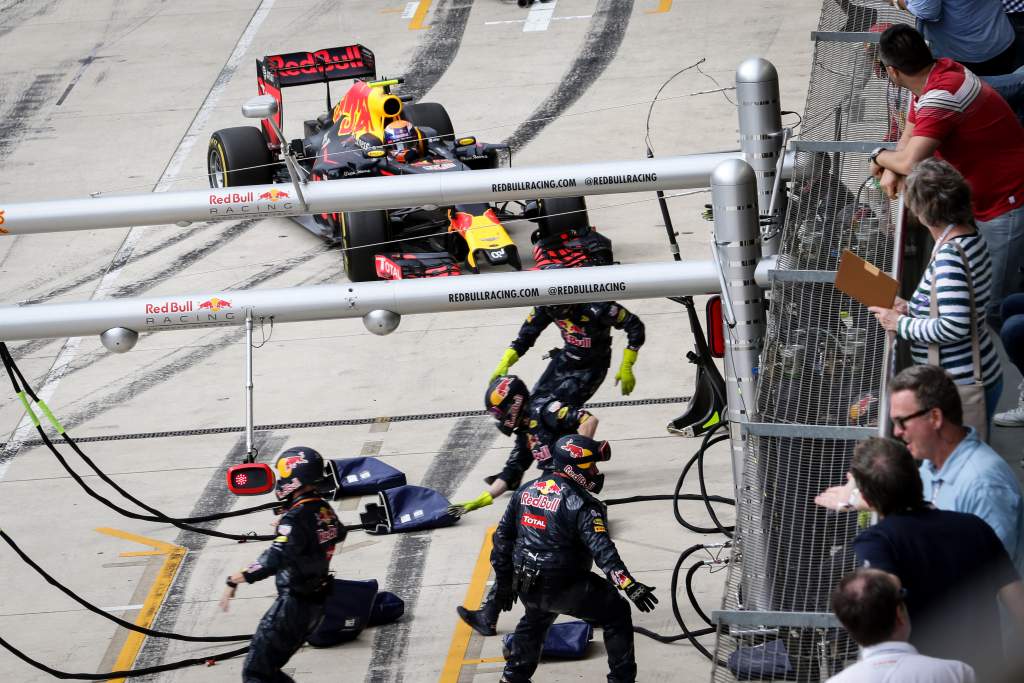 It wasn't the first time in Verstappen's career that he has surprised Red Bull by coming in for a stop, with a similar case happening back in 2016 in the United States Grand Prix.
The 2016 situation resulted in a bigger delay, but neither meaningfully impacted the race result, as back then he subsequently retired with a gearbox issue and here he'd kept track position.
However, Verstappen ended up losing the race anyway, with Hamilton reeling him late in the race on fresher tyres thanks to a second stop, and managing to overtake.
"Too slow. That's how you sum it up," Verstappen said. "There's not much else to really discuss. I mean, I tried really everything to manage it as good as I could, looking after the tyres and stuff but it's just not enough when behind they're just pushing you and very easily, there's clearly a bit more pace.
"And you of course try to keep up with it, and do the best possible strategy you can, but I think even if we would have gone for that earlier second stop I don't think I would have caught up after that.
"Because on that mediums, I think I was just a bit slower, because for Lewis to be that close on a track like this all the time – like within a second, sometimes even having DRS – just shows there was not much I could do out there to make a difference.
"It's still a good result. Of course you always want more. That always needs to be the aim. We shouldn't be happy with a second place at the moment."