Red Bull driver Max Verstappen admitted he hasn't enjoyed a "single lap" this weekend at an Algarve circuit he believes is diminished by the low-grip track surface, the Dutchman having missed out on pole position for the Portuguese Grand Prix.
Verstappen did set a laptime good enough for pole on his first Q3 run, only for it to be deleted for a track limits violation. He ended up third based on the time set on his second run, with Mercedes duo Valtteri Bottas and Lewis Hamilton locking out the front row.
The circuit was resurfaced ahead of last year's race with a low-grip asphalt and Verstappen complained that this has made a superb track configuration "not enjoyable" to drive. He also struggled to find a workable set-up compromise because of the low and variable grip.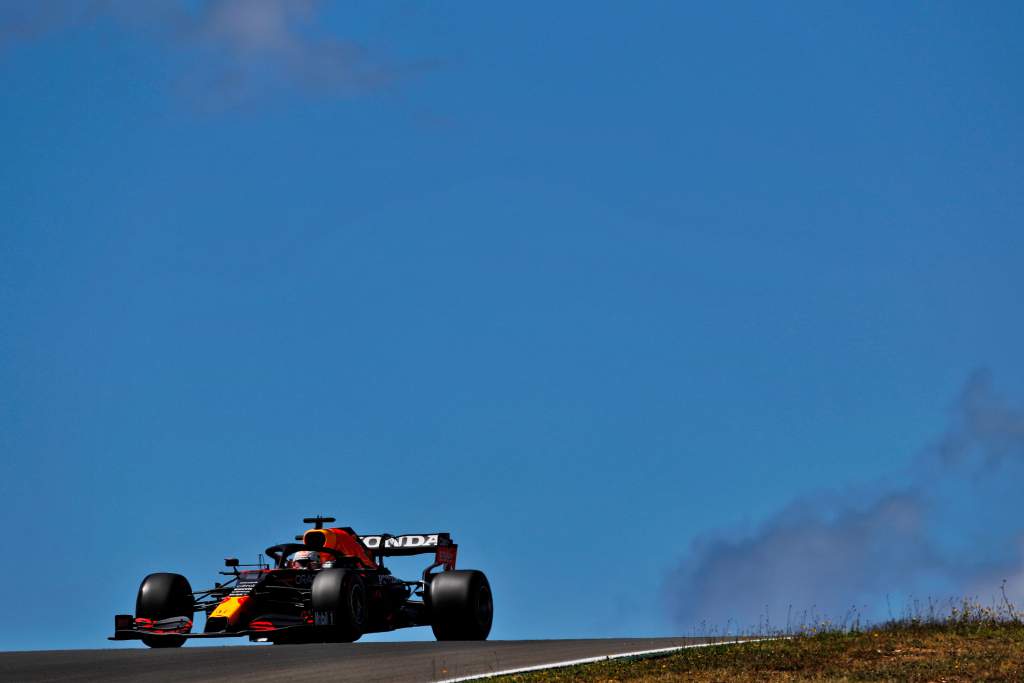 "It's been a bit hit-and-miss the whole weekend," said Verstappen. "We are just struggling a lot to find a balance because I didn't enjoy one single lap this weekend, just because of the state of the track.
"The layout is amazing but the grip we are experiencing, I don't think is nice. I know it's the same for everyone, but for me personally it's just not enjoyable to drive.
"I started off in qualifying really, really slow, I just had no balance in the car. We slowly got to a point where I was happier, but it was basically just compromising one thing and then also again losing a bit of performance in the other thing, so it was just not nice.
"Then I had my little moment at Turn 4 in the first run in Q3. That was a fastest lap, but it just showed that it was a really difficult session to get any kind of grip because that corner is flat and suddenly out of the blue just the car snapped on me and I ran a bit wide.
"I thought I can do that lap again [on the second run]. So I go out and I was within a tenth of the lap, and then in the last sector I lost all my lap time with an Aston Martin in front, and then taking my tow on the line as well – so [it was] messy."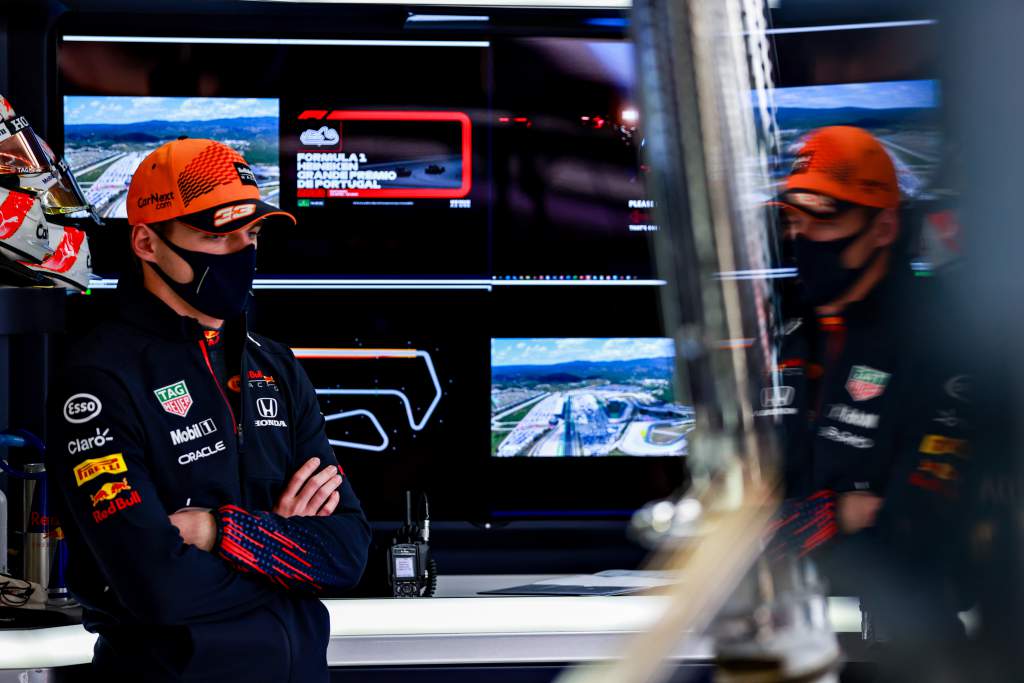 Verstappen added that he was not surprised by the conditions, having seen that the pace during MotoGP's Portuguese Grand Prix event last month.
He described the track as "poor" given the impact the surface has on the driving experience.
"No, because I checked the MotoGP times and they were the same already," said Verstappen when asked by The Race if he was surprised by the lack of grip.
"I know they have a little bit of a different front tyre, but in general it's just poor. I remember coming here last year before the grand prix and [it was] honestly, top three of my favourite tracks.
"But then they changed the Tarmac and, for me, I don't enjoy it anymore."
Verstappen's criticisms might be dismissed by some as sour grapes, but he was immediately backed up by the Mercedes drivers, who shared his concerns despite having enjoyed a more successful qualifying session.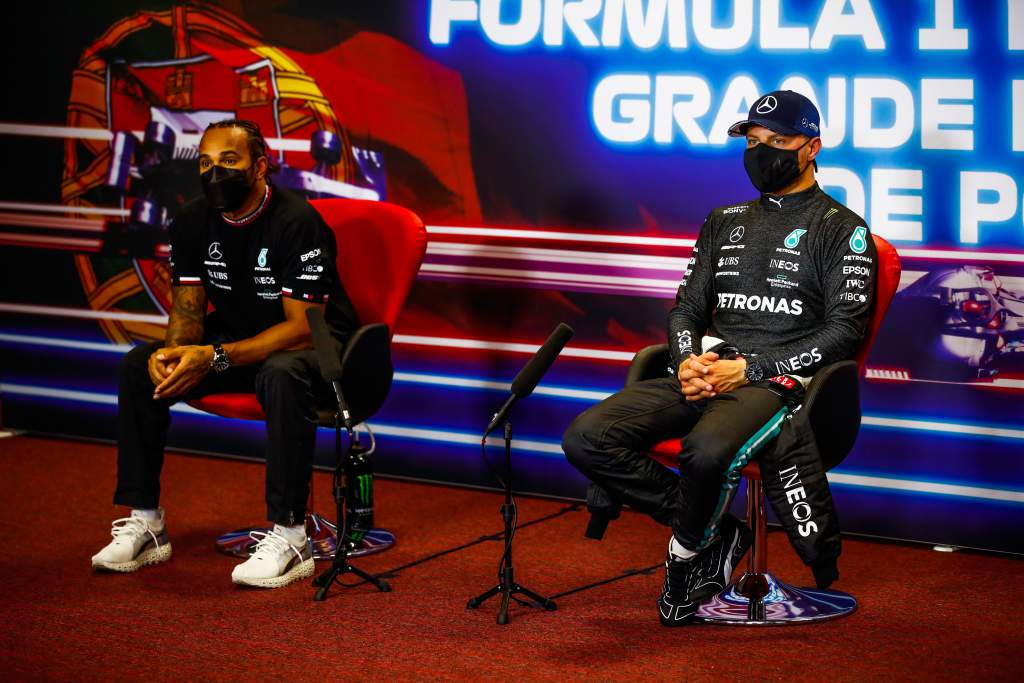 "I really like the layout, I think it's cool and I always like the elevation changes – it brings a bit of character, all kinds of different type of corners, so that's good," said polesitter Bottas when asked by The Race about his feelings on t the track surface.
"But it is extremely low grip. It makes it more tricky and a bit less enjoyable than if it would be a grippy Tarmac. But it's the Tarmac and it's the same for everyone and [we] need to try and make the most out of it."
Hamilton questioned why F1 circuits are using this kind of asphalt, citing the struggles in Turkey last year as presenting a similar problem.
"I don't really understand what they do to make it worse, but Turkey used to have good grip and obviously the last time we went there we had none," said Hamilton.
"We're finding we're going to more and more circuits that seem to be changing the Tarmac that they're using, so it's not that great when we are struggling for grip.
"That means it's harder to follow, so then it has that knock on effect. We need to ask for the good stuff back, right?"
Bottas then suggested that the kind of asphalt used at Imola would be appropriate given it offered a good level of grip. Verstappen then said he isn't looking forward to Turkey, which returns to the calendar this year in place of the Canadian Grand Prix.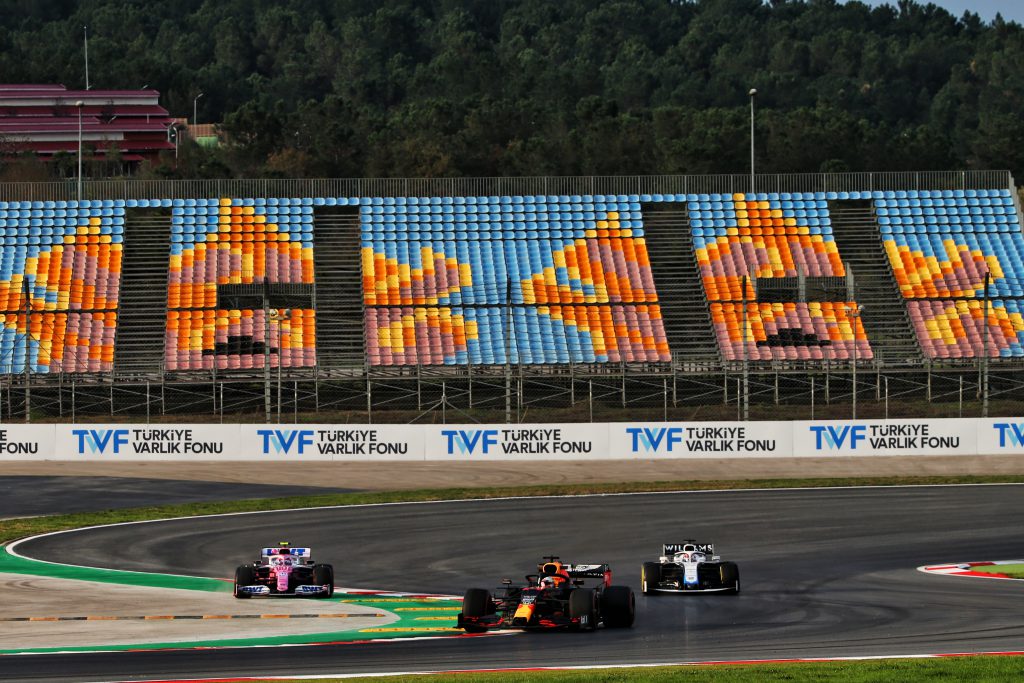 "I don't even want to think about Turkey because probably that will be even worse," said Verstappen.
Hamilton agreed, concluding that "it's going to be horrendous" – which elicited laughter in response from Verstappen.