Formula 1 championship leader Max Verstappen denied rookie Oscar Piastri pole position for the Belgian Grand Prix sprint race at Spa-Francorchamps by just 0.011s.
Delayed like its Friday predecessor (the main race qualifying), albeit by 35 minutes rather than 10, the three-segment sprint qualifying featured a similar pattern of a session starting out in intermediate conditions but progressively improving to slicks weather.
This time, however, the second segment only featured one driver gambling on slicks – Aston Martin's Lance Stroll, whose session ended in the barriers.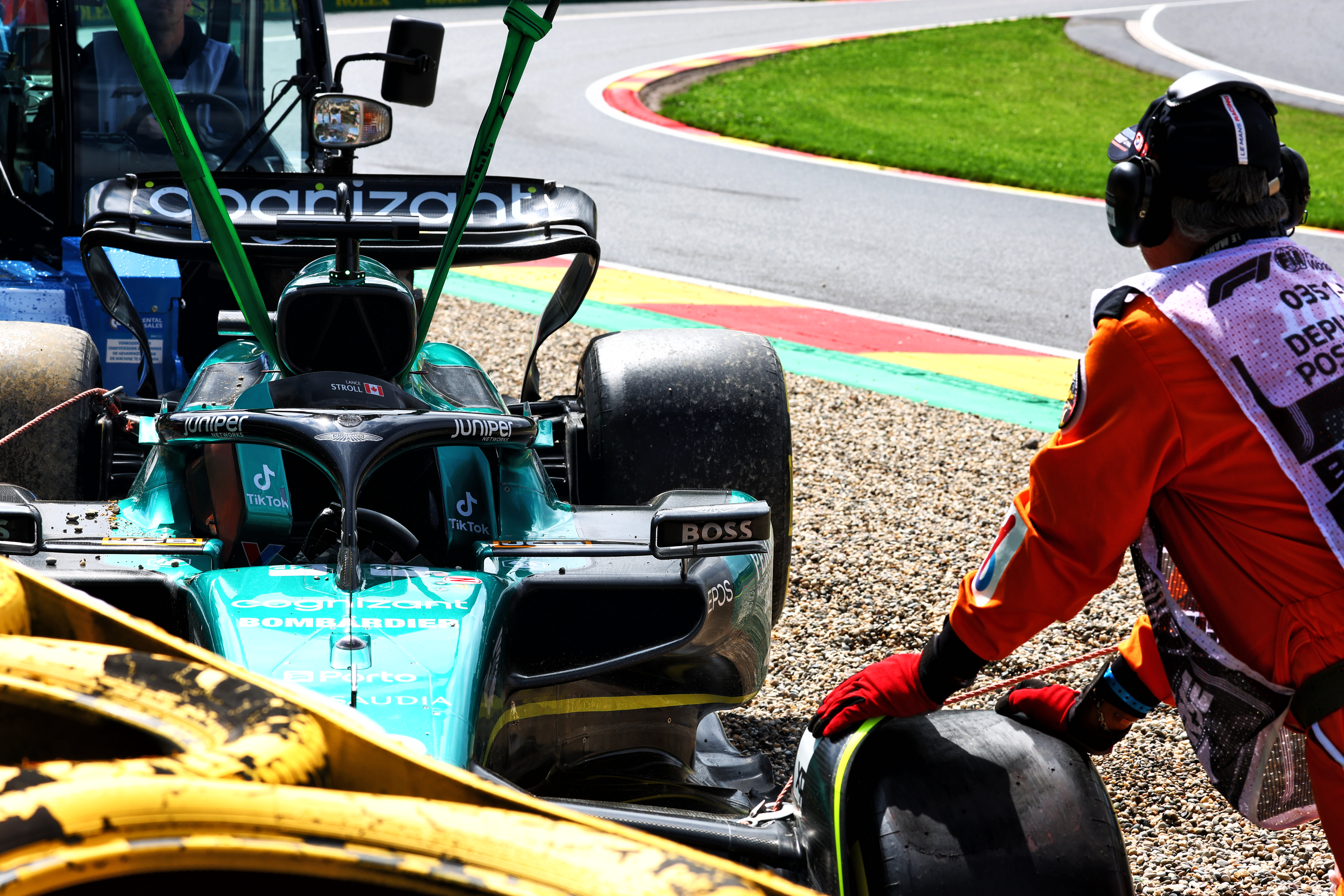 But the resulting clean-up bought even more time for the track to dry, and so the pole shootout was again an all-slicks affair – albeit going down to the wire with track conditions ever-improving.
Red Bull's Sergio Perez held provisional pole when the chequered flag flew in the eight-minute third segment, but improved only by a handful of tenths with his final effort and was relegated all the way down to eighth.
Instead, Pierre Gasly, Carlos Sainz and Oscar Piastri took turns in the provisional pole position.
However, Verstappen, last on the road in beginning his final push lap after having just beaten the chequered flag, benefitted from theoretically the best of the track conditions and pipped Piastri by a tiny margin to add sprint pole to his fastest time in qualifying for the Belgian GP – though he will start the main race from sixth owing to a five-place penalty for a gearbox change.
Sainz, just 0.025s down on Verstappen in the end, shared the second row with Ferrari team-mate Charles Leclerc, followed by Piastri's team-mate Lando Norris and Gasly.
Lewis Hamilton looked a frontrunner in the conditions for so much of the session but was seemingly hindered by none other than Mercedes team-mate George Russell on his final attempt.
The Mercedes got close in SQ3 👀 pic.twitter.com/mjMbkuS0gI

— Sky Sports F1 (@SkySportsF1) July 29, 2023
Russell, starting his lap just ahead, locked up at La Source and didn't immediately bail out of his lap, only seeming to wave the white flag by the time Hamilton drew alongside him on the Kemmel straight.
Hamilton ended up seventh, followed by Perez and Alpine's Esteban Ocon, with Russell a distant 10th given he'd had to abandon his final push.
Stroll's crash – an off on medium tyres over a patch in the downhill Turn 9 left-hander (often referred to as the corner with no name) that crunched up his Aston Martin's suspension against the outside barrier – brought out a red flag with 29 seconds to go in SQ2 and therefore ended the session early.
🚩 RED FLAG 🚩

Stroll's in the barrier! Attempting a masterstroke with an early switch to dry tyres, he slides off at the Corner with no name#BelgianGP #F1Sprint pic.twitter.com/mCzg9C3GZf

— Formula 1 (@F1) July 29, 2023
This left as many as three drivers in addition to Stroll without an SQ2 laptime set.
Daniel Ricciardo, eliminated in 11th, was actually the slowest of those to set a time in that session, and is due to share row six with Alex Albon.
Albon's Williams team-mate Logan Sargeant slotted in one place behind, his bid for a mid-session laptime undone by a Stavelot spin.
A big spin for Sargeant on the run to the final corner, but he continues, with just a couple of minutes remaining#BelgianGP #F1Sprint pic.twitter.com/8niYIuaIRA

— Formula 1 (@F1) July 29, 2023
Stroll's crash did secure him 14th, albeit at the expense of team-mate Fernando Alonso – with the red flag consigning the two-time F1 world champion, who turns 42 today, to 15th.
Four tenths off Ricciardo in the first segment, team-mate Yuki Tsunoda was the quickest of those eliminated in SQ1 – coming up a tenth short of trapping Russell in 16th place after the Mercedes driver got Les Combes wrong on his final attempt.
The rest of the SQ1 eliminations were made up entirely of Ferrari customers Alfa Romeo and Haas – with Valtteri Bottas (Alfa) heading Kevin Magnussen (Haas), Zhou Guanyu (Alfa) and Nico Hulkenberg (Haas).
Hulkenberg, in fact, never even set a competitive time, being brought in for fresh inters in the closing minutes shortly after Magnussen and – unlike Magnussen – left with not quite enough time to get an outlap in and the flying lap started before the chequered flag.
A day on from a hydraulic issue having caused effectively the exact same situation in Friday qualifying, Hulkenberg sardonically commended the team for "very interesting execution there" and received an apology from his race engineer.
Qualifying Results
| Pos | Name | Car | Q1 | Q2 | Q3 |
| --- | --- | --- | --- | --- | --- |
| 1 | Max Verstappen | Red Bull | 1m58.135s | 1m55.2s | 1m49.056s |
| 2 | Oscar Piastri | McLaren-Mercedes | 2m0.056s | 1m56.392s | 1m49.067s |
| 3 | Carlos Sainz | Ferrari | 1m59.414s | 1m56.557s | 1m49.81s |
| 4 | Charles Leclerc | Ferrari | 1m59.575s | 1m56.265s | 1m49.251s |
| 5 | Lando Norris | McLaren-Mercedes | 2m0.436s | 1m56.828s | 1m49.389s |
| 6 | Pierre Gasly | Alpine-Renault | 2m0.032s | 1m56.137s | 1m49.7s |
| 7 | Lewis Hamilton | Mercedes | 1m58.939s | 1m55.823s | 1m49.9s |
| 8 | Sergio Pérez | Red Bull | 1m59.367s | 1m55.878s | 1m49.961s |
| 9 | Esteban Ocon | Alpine-Renault | 1m59.884s | 1m57.051s | 1m50.494s |
| 10 | George Russell | Mercedes | 2m0.475s | 1m57.393s | 1m55.742s |
| 11 | Daniel Ricciardo | AlphaTauri-Honda RBPT | 2m0.177s | 1m57.687s | |
| 12 | Alex Albon | Williams-Mercedes | 1m59.198s | | |
| 13 | Logan Sargeant | Williams-Mercedes | 2m0.031s | | |
| 14 | Lance Stroll | Aston Martin-Mercedes | 2m0.46s | | |
| 15 | Fernando Alonso | Aston Martin-Mercedes | 1m59.038s | | |
| 16 | Yuki Tsunoda | AlphaTauri-Honda RBPT | 2m0.568s | | |
| 17 | Valtteri Bottas | Alfa Romeo-Ferrari | 2m0.951s | | |
| 18 | Kevin Magnussen | Haas-Ferrari | 2m01.079s | | |
| 19 | Guanyu Zhou | Alfa Romeo-Ferrari | 2m01.43s | | |
| 20 | Nico Hülkenberg | Haas-Ferrari | | | |