Formula 1 championship leader Max Verstappen denied Fernando Alonso a sensational Monaco Grand Prix pole, while his Red Bull team-mate Sergio Perez crashed out of qualifying early on.
Sat fifth in the Q1 rankings after his first flying lap, Perez came in hot at Ste Devote and was unable to catch a massive side, the contact with the outside barrier wrecking the RB19's left rear suspension and leaving a hole in its sidepod.
This naturally caused a red flag – and, despite Perez having set a time, even a nominal passage to Q2 was soon out of the question, with his F1 peers rapidly relegating him to the back once the session had resumed.
🚩 RED FLAG 🚩

Heartbreak for our 2022 Monaco Grand Prix winner, Sergio Perez 💔#MonacoGP #F1 pic.twitter.com/9N5zVShvNy

— Formula 1 (@F1) May 27, 2023
Verstappen hardly took it easy after Perez's exit – he grazed the wall at Antony Nogues in Q1 and topped the first and the second segment – but the pole shoot-out brought a stern challenge.
The championship leader was only fifth after his initial attempt and though he went quickest after giving it another go on the same set, he was sensationally dethroned almost immediately by the Alpine of Esteban Ocon.
By the time Verstappen had come out on his second Q3 set of softs, he was fifth again – moved down also by Alonso and the Ferraris of Charles Leclerc and Carlos Sainz.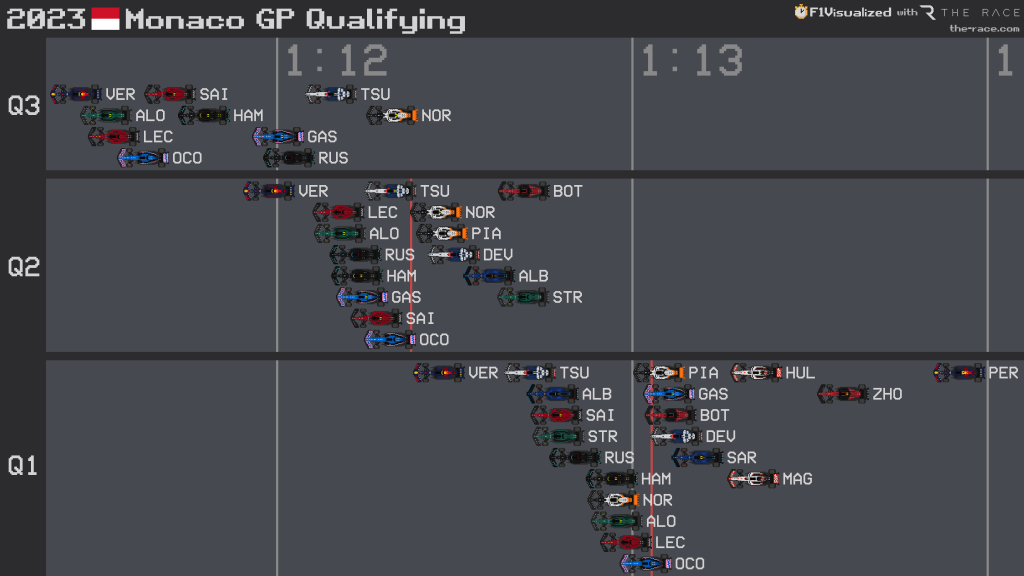 Yet he struck back again at the very last moment, overcoming a deficit to Alonso after the first two sectors with a sensational final sector to record a pole-clinching 1m11.365s – despite tagging the wall during the lap.
Alonso settled for a front row spot, ahead of home hero Leclerc and Ocon – who'd smacked the wall at Ste Devote earlier but got away with it.
Leclerc is under investigation for an impeding incident involving McLaren's Lando Norris.
Yikes! 😲

Ocon hits the wall as he exits Saint Devote 😬

Somehow, he keeps on going! #MonacoGP #F1 pic.twitter.com/CZ7x6CpmDR

— Formula 1 (@F1) May 27, 2023
Leclerc's Ferrari team-mate Sainz was fifth, a tenth and a half down on his team-mate after having flirted with elimination in Q1 – in which a late lap was required to effectively salvage his weekend.
In the upgraded Mercedes, Lewis Hamilton had to salvage his day twice, both in Q1 and in Q2.
Hamilton totally misses the Nouvelle Chicane 🤯

The Brit desperately needs a clean lap to avoid being eliminated from Q1! #MonacoGP #F1 pic.twitter.com/hniZbGcPnH

— Formula 1 (@F1) May 27, 2023
He was facing elimination in the first segment, especially after a slide through the Nouvelle Chicane with just a minute left on the clock, but pulled out a lap. He'd do the same in Q2, during which he reported a potential issue with his right rear suspension.
Ocon's Alpine team-mate Pierre Gasly was seventh, three places and four tenths behind Ocon, while Hamilton's team-mate George Russell had to make do with eighth place.
Russell had looked the more comfortable of the two Mercedes drivers by far throughout qualifying, but had a scrappy final run in Q3.
Yuki Tsunoda was the sole AlphaTauri in the third segment in ninth.
Norris hit the inside wall through the left-hander of Tabac on his final attempt in Q2, which sent him into the outside barrier – although he was able to limp back to the pits.
NORRIS HITS THE BARRIER!

It's a hefty whack for the McLaren driver 😲

He manages to make it back into the pits….#MonacoGP #F1 pic.twitter.com/13dmAD9EKr

— Formula 1 (@F1) May 27, 2023
Despite that incident, it wasn't him but McLaren team-mate Oscar Piastri eliminated in Q2, by a 0.02s margin versus Norris. Norris did get sent out of the pits late on in Q3, but could only place 10th anyway.
Though beaten by Tsunoda, Nyck de Vries recorded comfortably his best qualifying effort as an AlphaTauri driver so far in 12th, followed by the Williams of Alex Albon and the Aston Martin of Lance Stroll.
Stroll did at least outpace Alfa Romeo's Valtteri Bottas in Q2, but adding insult to the injury of his disappointing qualifying was the fact that the stewards formally took note of an incident in which he'd overshot the weighbridge.
Last-gasp Q1 improvements from Hamilton and Piastri consigned Logan Sargeant to a first-segment exit in 16th, followed by Haas duo Kevin Magnussen and Nico Hulkenberg – 0.009s apart in what appears to be the slowest car in Monaco this weekend.
Both Haas drivers, however, were handily clear of 19th-placed Zhou Guanyu, the Alfa Romeo sophomore trailing team-mate Bottas by half a second in Q1 and set to join Perez on the last row of the grid.
Qualifying Results
| Pos | Name | Car | Q1 | Q2 | Q3 |
| --- | --- | --- | --- | --- | --- |
| 1 | Max Verstappen | Red Bull | 1m12.386s | 1m11.908s | 1m11.365s |
| 2 | Fernando Alonso | Aston Martin-Mercedes | 1m12.886s | 1m12.107s | 1m11.449s |
| 3 | Charles Leclerc | Ferrari | 1m12.912s | 1m12.103s | 1m11.471s |
| 4 | Esteban Ocon | Alpine-Renault | 1m12.967s | 1m12.248s | 1m11.553s |
| 5 | Carlos Sainz | Ferrari | 1m12.717s | 1m12.21s | 1m11.63s |
| 6 | Lewis Hamilton | Mercedes | 1m12.872s | 1m12.156s | 1m11.725s |
| 7 | Pierre Gasly | Alpine-Renault | 1m13.033s | 1m12.169s | 1m11.933s |
| 8 | George Russell | Mercedes | 1m12.769s | 1m12.151s | 1m11.964s |
| 9 | Yuki Tsunoda | AlphaTauri-Honda RBPT | 1m12.642s | 1m12.249s | 1m12.082s |
| 10 | Lando Norris | McLaren-Mercedes | 1m12.877s | 1m12.377s | 1m12.254s |
| 11 | Oscar Piastri | McLaren-Mercedes | 1m13.006s | 1m12.395s | |
| 12 | Nyck de Vries | AlphaTauri-Honda RBPT | 1m13.054s | 1m12.428s | |
| 13 | Alex Albon | Williams-Mercedes | 1m12.706s | 1m12.527s | |
| 14 | Lance Stroll | Aston Martin-Mercedes | 1m12.722s | 1m12.623s | |
| 15 | Valtteri Bottas | Alfa Romeo-Ferrari | 1m13.038s | 1m12.625s | |
| 16 | Logan Sargeant | Williams-Mercedes | 1m13.113s | | |
| 17 | Kevin Magnussen | Haas-Ferrari | 1m13.27s | | |
| 18 | Nico Hülkenberg | Haas-Ferrari | 1m13.279s | | |
| 19 | Guanyu Zhou | Alfa Romeo-Ferrari | 1m13.523s | | |
| 20 | Sergio Pérez | Red Bull | 1m13.85s | | |