As the hours dragged by on Las Vegas Grand Prix practice day with no cars on track amid lengthy drain cover repairs, plenty of fans cited how damaging the farcical 2005 Indianapolis race was to Formula 1's reputation in America.
With practice two having (eventually) run smoothly, it looks like Las Vegas 2023 should avoid the infamy of Indy 2005.
But the events of Thursday night and Friday morning are still a good excuse to dip into The Race's archive for a unique look at everything that went wrong that day at Indianapolis to lead to a grand prix beginning with just six cars on the grid.
Formula 1 is booming in the United States right now. Two grands prix in America on next year's calendar, another seemingly coming soon, and a huge buzz around last month's Austin race.
But it's not that long ago since F1 reached perhaps the nadir of its modern era in front of an American audience amid a previous attempt to give it a fresh foothold in the US.
"I was standing at the top of the stairs on the way to the commentary booths, above those massive rows and rows of people, the place was full with a couple of hundred thousand enthusiastic cheering fans who'd made their way there for a special day out, some of them from a very long way away. And I knew that in a few minutes all these people were about to be betrayed.
"I was just feeling angry at how Max Mosley – who we later learned was sitting at home in his back garden in England being informed of events by phone – had no compunction about making all these paying fans of the sport the casualties of this power play."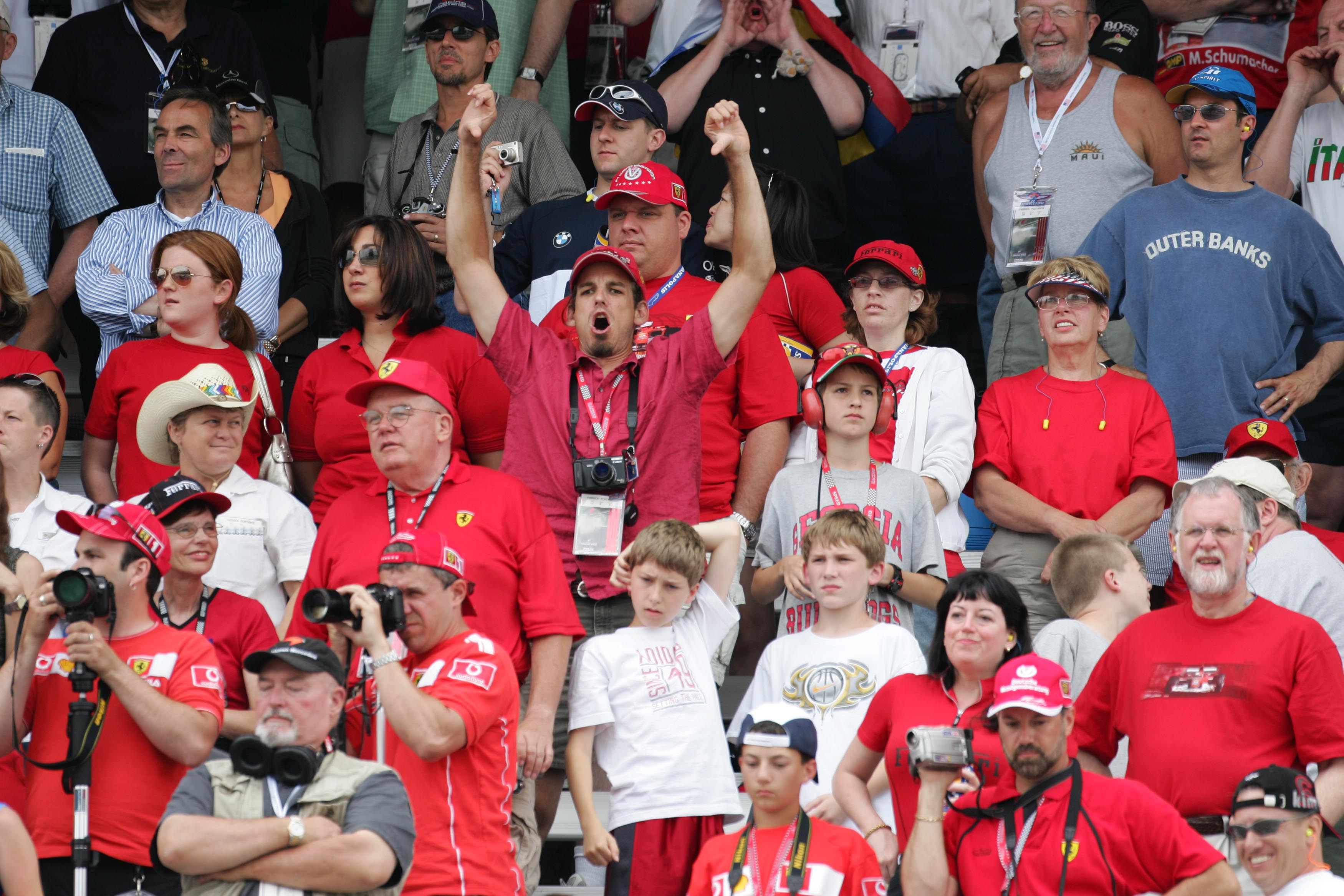 That's what The Race's Mark Hughes remembers most vividly about race day at Indianapolis in 2005, when Formula 1 staged a six-car farce of a grand prix contested only by the Bridgestone-shod Ferraris, Jordans and Minardis after the seven teams running Michelin tyres pulled out of the race at the end of the formation lap.
Why did it really happen? What could have actually prevented it?
Last year Mark joined Glenn Freeman on our Bring Back V10s podcast to delve into this shameful day.
WHAT WAS THE ACTUAL PROBLEM WITH THE MICHELIN TYRES?
Mark Hughes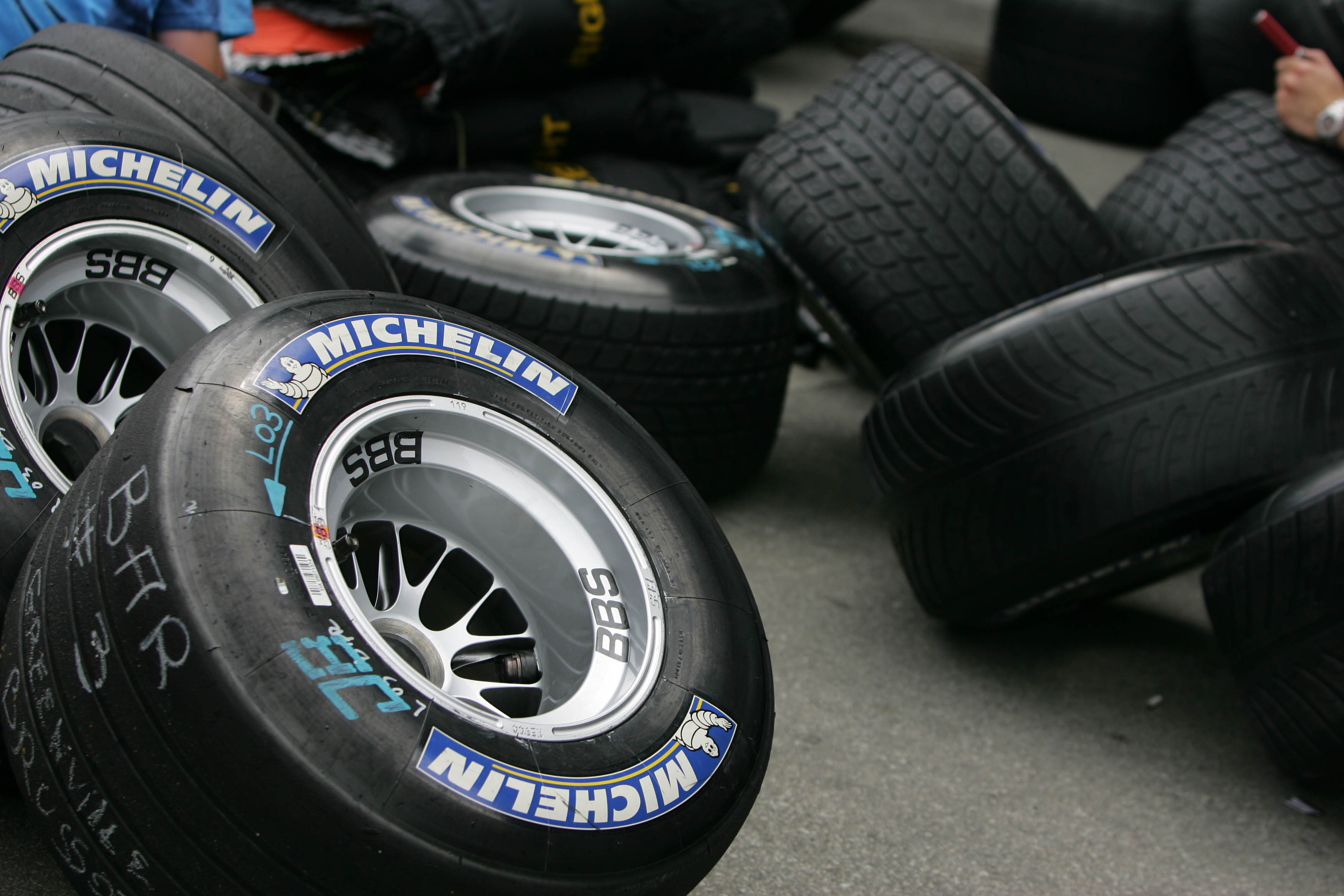 Two critical things had changed in 2005, both tweaks in the regulations, and they combined for an unexpected outcome with the Michelin tyres on the banked Turn 13 – effectively Turn 1 of the oval, run in reverse – on the Indianapolis road course.
The minimum height from the ground of the front wing endplates had been raised for 2005. That took them out of ground effect, making the downforce being generated by them much more inconsistent.
The average vertical load on the left rear tyre through Turn 13 was around 800 kilos but that was just the average.
That turn took about six seconds and with the higher front wing endplates the vertical load swung massively between 400 and 1200 kilos during those 6s.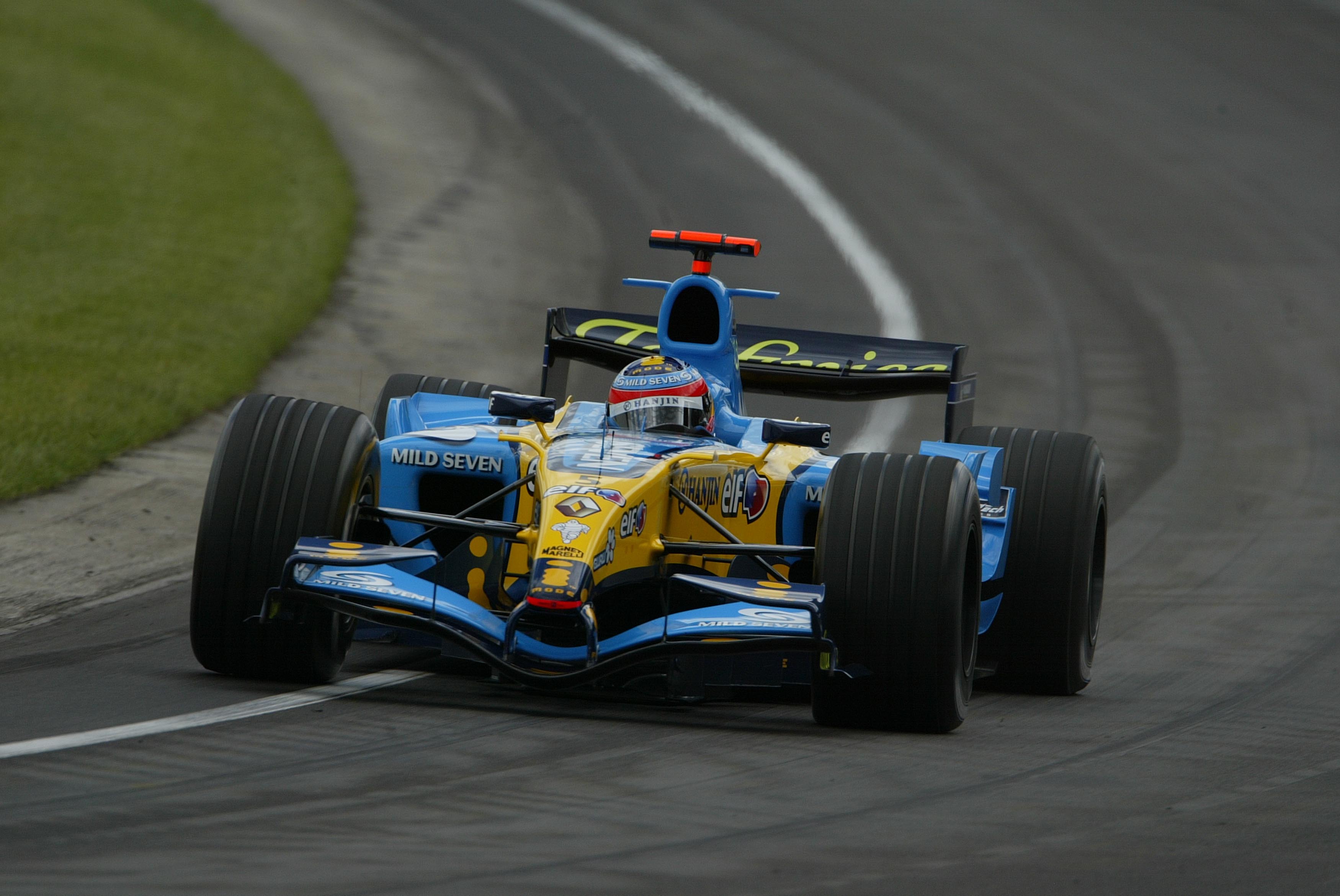 With the previous wings operating in ground effect, and with a more powerful diffuser the previous year, the aero load was less sensitive to changes in pressure or turbulence. But now the loads were varying greatly and creating this aerodynamic bouncing, which the tyre had to absorb.
Tyre changes were banned for 2005 and you had to get through the race on a single set, which meant harder compounds and less grip.
But Michelin with its radial construction and flexible sidewalls, which is a very different construction, compensated for the lower grip of the harder compounds by building in even more sidewall flexibility as this kept the tread more planted.
It was those sidewalls flexing through the unique demands of that corner – which was unlike any other on the calendar in its combination of vertical and lateral force – now with a much bouncier ride, that caused the steel belt inside to detach itself from the sidewall, causing the tyre to collapse.
THE RED HERRING OF THE ALTERNATIVE TYRES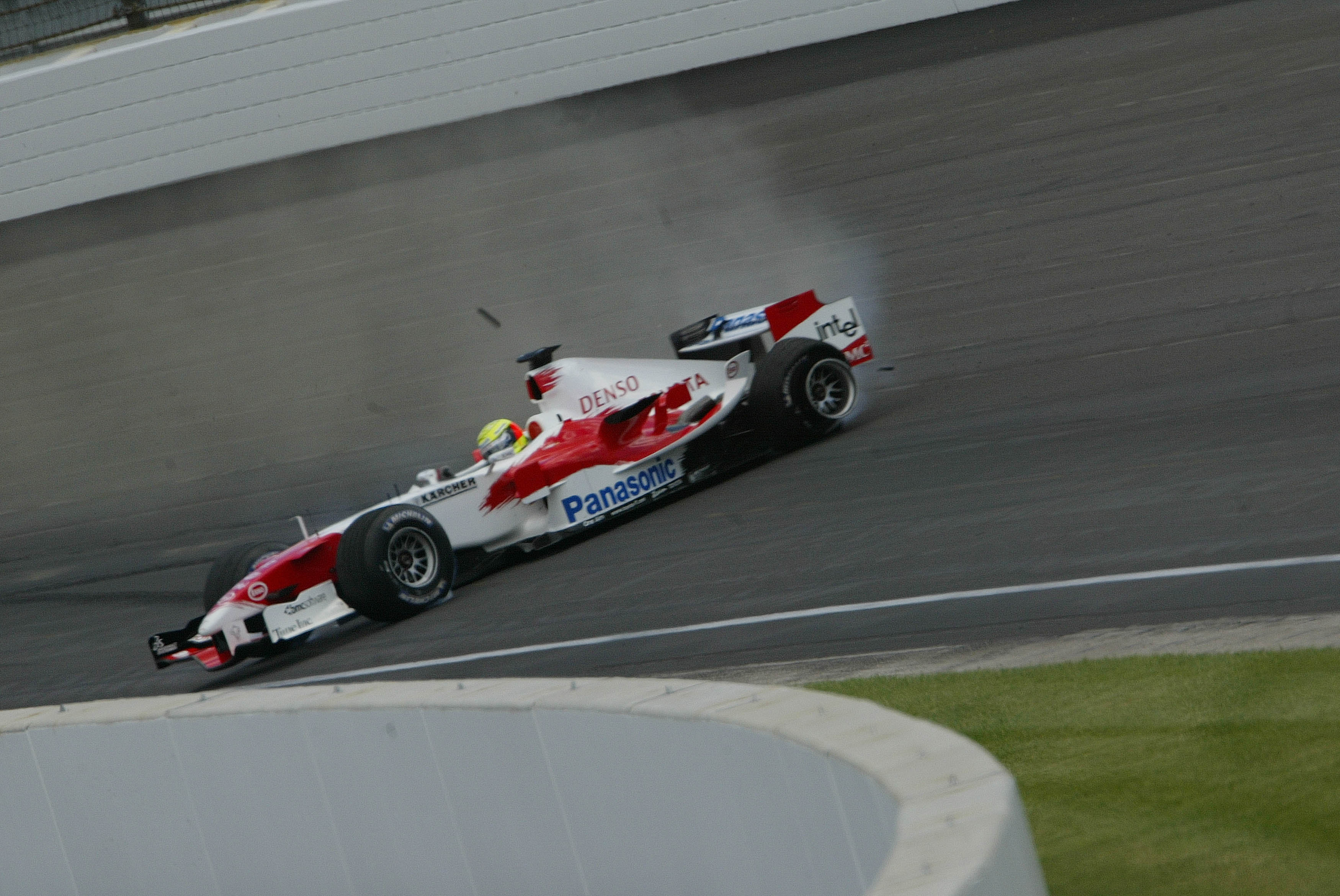 The above information was only discovered during Michelin's subsequent in-depth research into the cause of the problem, which first became apparent when Toyota driver Ralf Schumacher had a heavy crash at Turn 13.
A separate spin for Toyota's test driver Ricardo Zonta – who would end up stepping in for Schumacher for the rest of the weekend as he didn't get medical clearance to continue after the crash – just before that also turned out to be a sign of the tyre giving way.
During the weekend itself, Michelin could only advise on set-up changes that might assist with tyre life and it also initially identified an alternative tyre specification from its range that it hoped might be more durable and had them flown to the US in case they could be deployed.
But while it still couldn't fully replicate the problem at its base, even by the time those tyres – which were essentially just a harder compound – landed it was becoming clear to Michelin that this was a problem in the construction. The alternative tyres would've made no difference.
So the fact the FIA was resolutely against giving Michelin dispensation to use a tyre type outside the two compounds originally nominated for the race was ultimately irrelevant.
Race director Charlie Whiting wrote to Michelin on the Sunday morning saying that if its teams switched to the alternative tyre there would be harsh consequences.
"We believe the penalty would not be exclusion but would have to be heavy enough to ensure that no team was tempted to use qualifying tyres in the future," he said.
By then, Michelin's advice to its teams was that there was no way they could race unless there was a method of reducing the speed through Turn 13.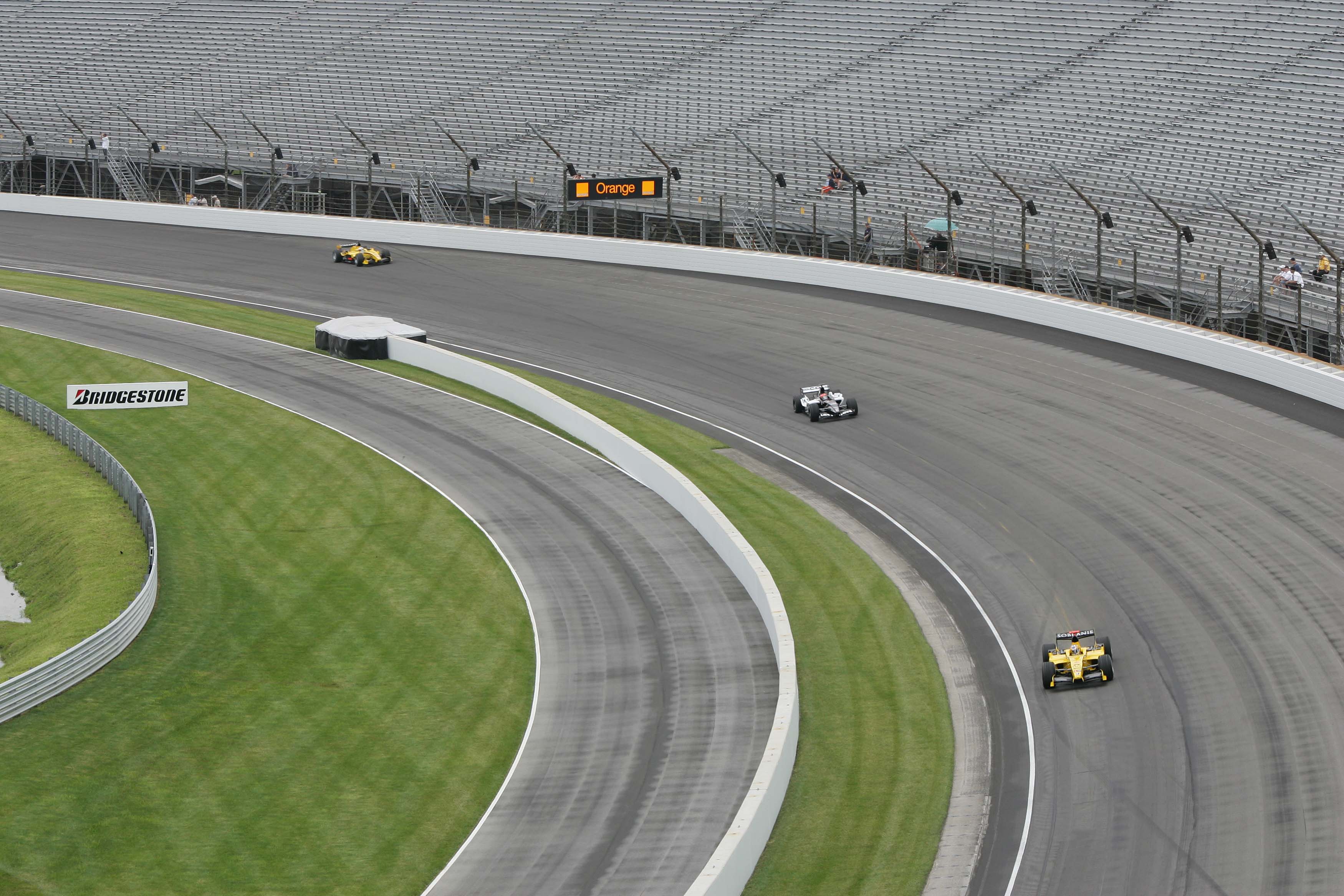 The eventual discovery of the construction issue also meant teams' insinuations that others had been pushing the limits around tyre pressure and camber instructions were another red herring. It's understood that by Saturday night – even with limited running and efforts to reduce load on tyres with set-up changes and light fuel loads – almost every Michelin team's tyres had shown signs of the same imminent failure at some point in practice or qualifying.
"After Turn 13, which puts a lot of load on the outer shoulder, you then you have a 16-17s run at over 200mph down the main straight," Mark Hughes explains.
"So if you had an inner shoulder temperature problem you were risking having a failure at 200mph further down the straight. It didn't leave you a margin.
"If you set it up to protect the tyre down the straight, it increased the loads through Turn 13. And if you reduced the loads through Turn 13, you increased the problem on the straight.
"There was very little window for a tyre solution."
THE ALTERNATIVES WERE… POOR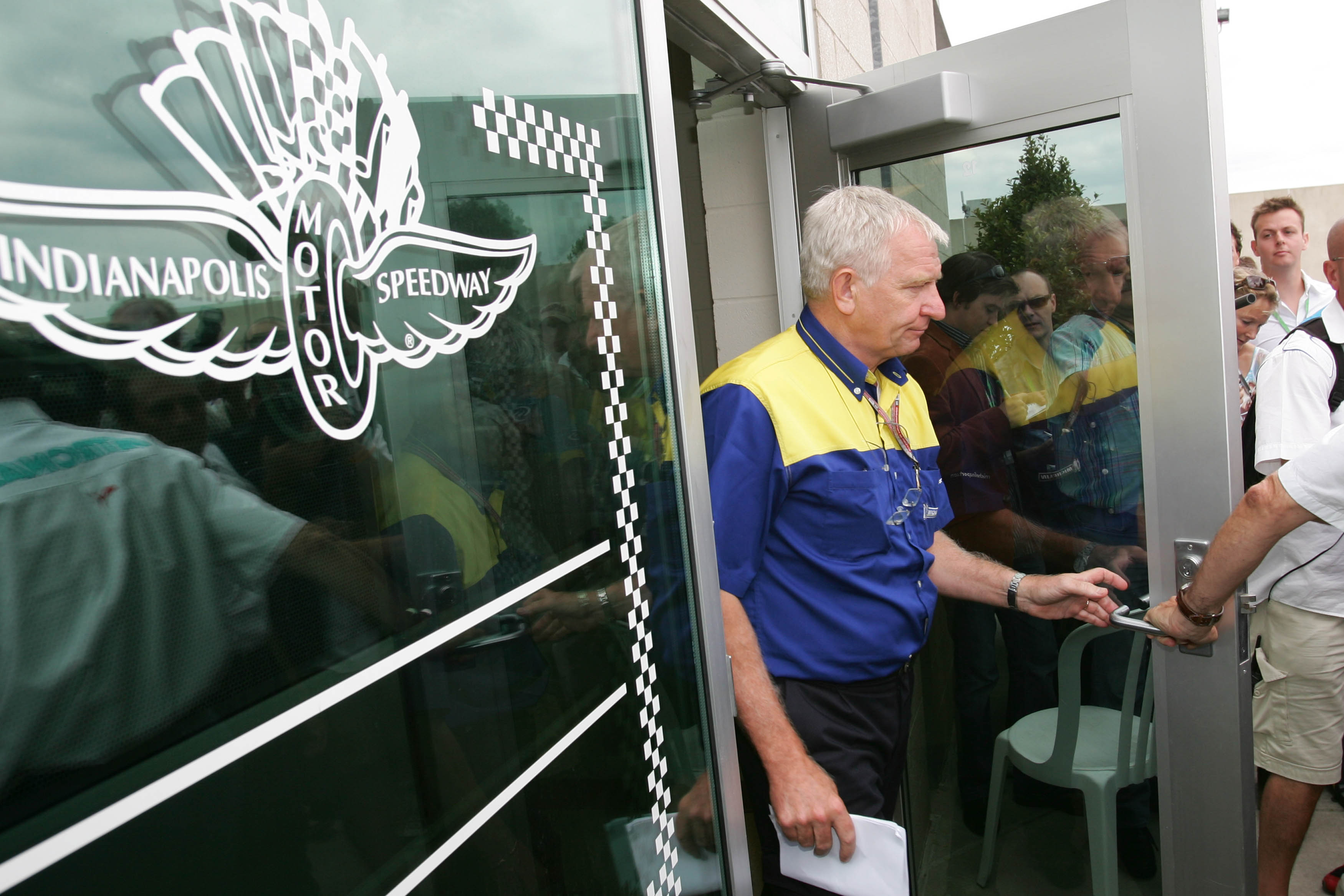 With the FIA refusing to allow what would have been a pointless change of tyre specification, most of the proposals to rescue the race centred on ways of making the Michelin runners 'pay' for the problem.
That wasn't a totally unfair approach. Ultimately Bridgestone had brought a product that could handle the demands of the circuit and Michelin had not. There was broad consensus that Bridgestone trio Ferrari, Jordan and Minardi should have a clear advantage over the rest of the field in the race.
Suggestions ranged from every Michelin car taking a long enough stop/go penalty to take them out of contention, to the Michelin cars running at a pre-determined slower speed through Turn 13, to the Michelin cars travelling through the pitlane every lap, to them making regular changes of left rear tyre – but in the knowledge that they'd be further penalised when they inevitably exceeded their tyre allocation for the weekend.
"There were a few points that were really not possible or would not have helped the problems," said Dieter Gass, then Toyota's chief race and test engineer.
"A speed limit only for the Michelin runners would have been very difficult to police and there would have been an element of safety risk. You would have been driving on the racing line and having the Bridgestone runners come at max speed.
"Running through the pitlane, you wouldn't have had a race either.
"The only one that could have potentially given us the chance to have a fair race would have been to put up a chicane."
WHY COULDN'T THAT CHICANE HAPPEN?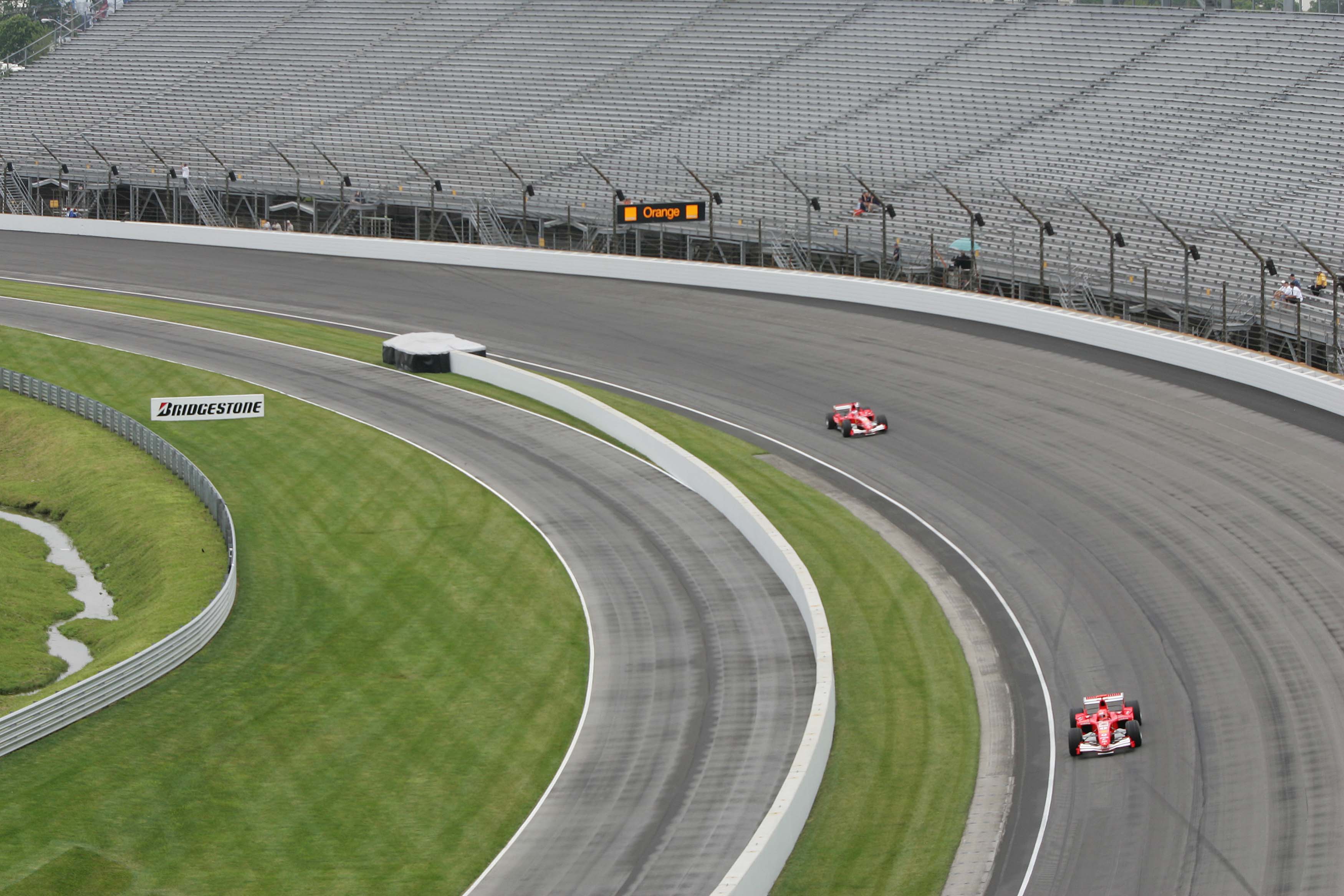 The row came down to an impasse over whether a chicane could be inserted between the final corners to reduce the speed through Turn 13. The suggestion was that the Michelin runners would still take stop/go penalties to ensure that they did not beat the Bridgestone cars, but at least the full field could race.
Bernie Ecclestone got nine of the 10 teams to agree to this proposal, but Ferrari… well it didn't quite object, but it took the stance that it was up to the FIA and it wouldn't be getting involved.
Then Ferrari boss Ross Brawn later wrote in his book that his team "stood back that weekend and let it happen" and that while FIA president Max Mosley and his organisation were the key chicane opponents, Ferrari "didn't encourage a solution that would have been to our disadvantage".
And though Jordan and Minardi had originally stood with the Michelin teams, in the end, they joined Ferrari on the grid. Once it was clear the chicane wasn't going to happen, Ecclestone is believed to have encouraged Jordan boss Colin Kolles to ensure his cars raced in order to rescue some form of spectacle, and Minardi then felt it had no choice but to participate too given its main rival at the bottom of the championship was set for a huge score.
Minardi boss Paul Stoddart made his feelings of discomfort over this, and his fury at the whole saga, very plain in a detailed 3000-word statement after the race.
The chicane idea had been quickly shot down by Whiting as "out of the question" when it was first mooted.
"To change the course in order to help some of the teams with a performance problem caused by their failure to bring suitable equipment to the race would be a breach of the rules and grossly unfair to those teams which have come to Indianapolis with the correct tyres," he said, with the FIA also adamant that the event's insurance would've been compromised by any such change to the homologated track layout at that late stage.
Mosley supported Whiting's stance on the chicane, saying he flat out refused to consider it partly "for sporting fairness", to the teams that had the correct tyres, but also because a last-minute change like this "would leave the FIA exposed if there were an accident" because the governing body wouldn't have followed its own safety procedures.
Mosley believed work did start on a chicane, but that it was being done by the circuit organisers under the instruction of Ecclestone, and when Whiting found out about it he got it stopped immediately.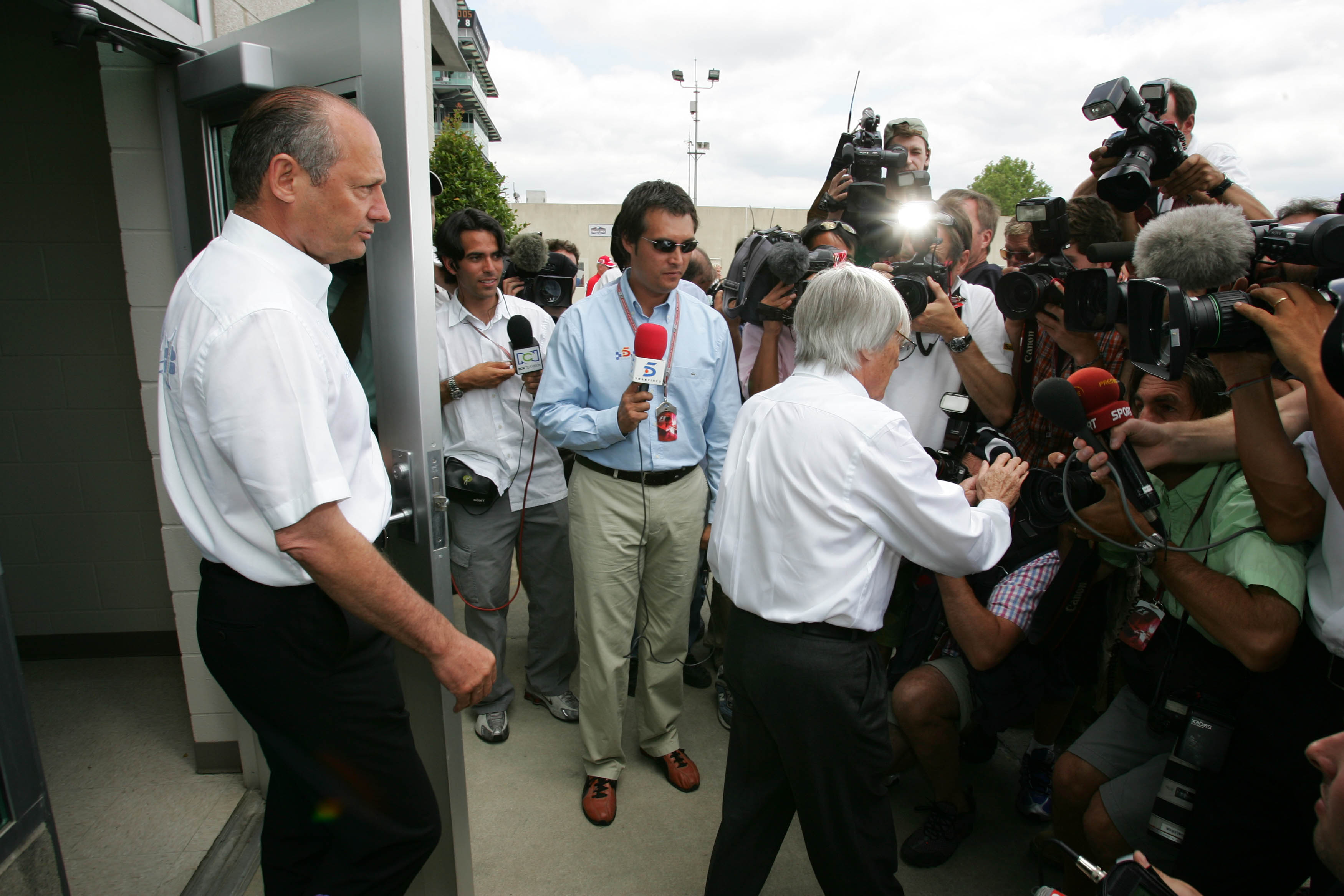 Mark Hughes' sources have always been adamant that the insurance issue over the chicane could've been resolved "with a three-minute phone call" had the will been there. And Mark has no doubt whatsoever where that will was lacking.
"This was being played out against a much bigger political backdrop," he says.
"There was a certain belief that there was an amount of posturing going on, but there was also a very real problem that needed a solution.
"I believe the suggestion a chicane couldn't have been added so late was just Max polemics to justify the move he was intent on playing in the bigger game, using this unfortunate miscalculation with the tyres to meet his political agenda in his fight with the manufacturer alliance and the teams.
"He was trying to push through the engine freeze and reduce the power of the manufacturers, and the manufacturers had banded together under the banner of the Grand Prix World Championship and threatened to set up on their own and take the customer teams with them.
"There were only three teams not on side with that, and by coincidence – and it really was coincidence – it was Ferrari, Jordan and Minardi.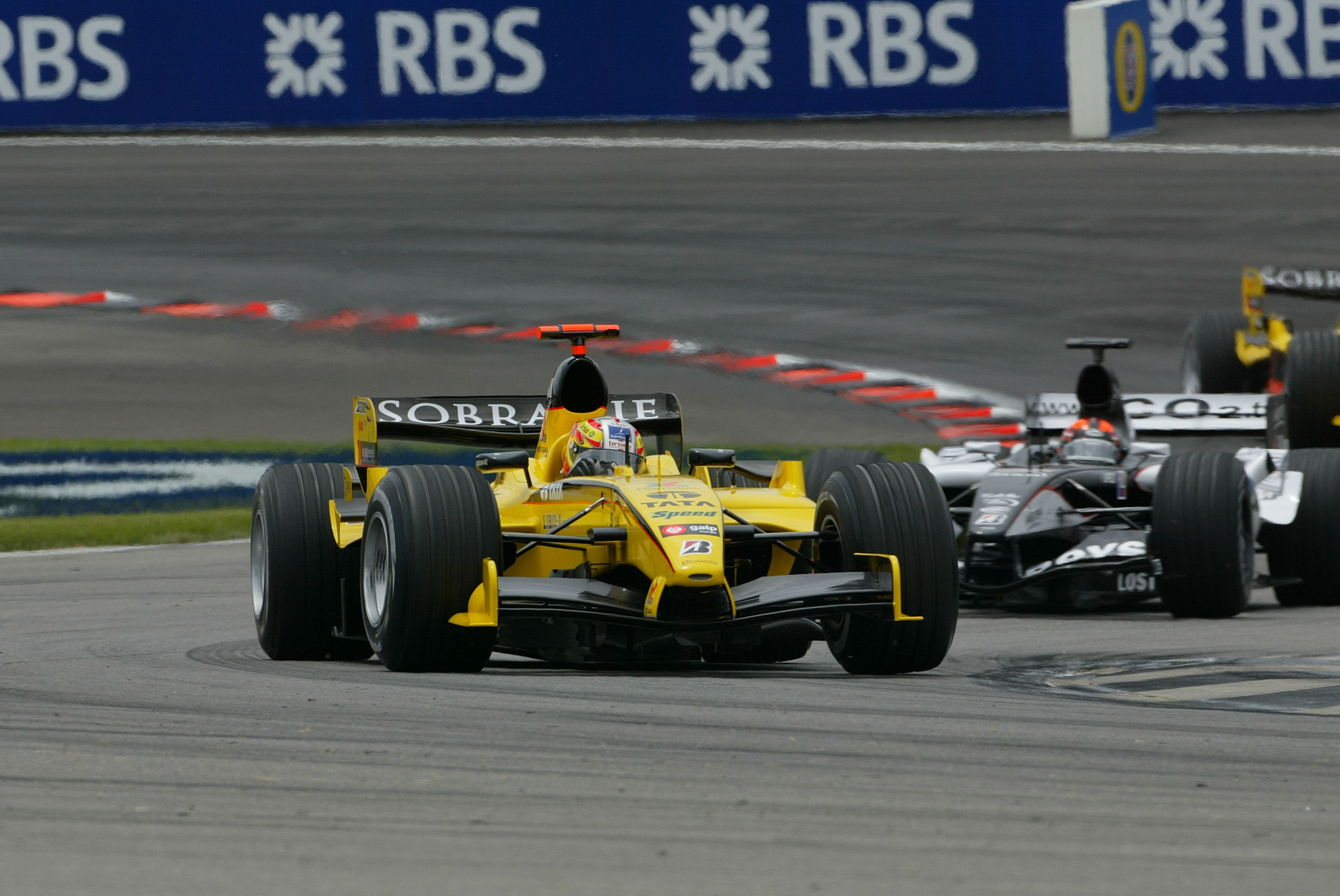 "The Michelin problems had delivered Max an irresistible opportunity to not only punish the renegade teams but to show them that he was absolutely willing to stage grands prix with only three teams, thereby destroying the GPWC teams' confidence that without them F1 couldn't exist. Max was showing them that it could.
"Anything else was just self-imposed restrictions, pretending you couldn't do it to stand behind that for obfuscation.
"Whether there was a right or wrong side in the FIA and GPWC fight isn't relevant.
"The point is it was indefensible to make the fans, who had paid and travelled there in good faith, the victims.
"There was only one party resisting a solution here, and it wasn't the teams. That was pure power play."
WAS TRULLI ACTUALLY CARRYING ANY FUEL?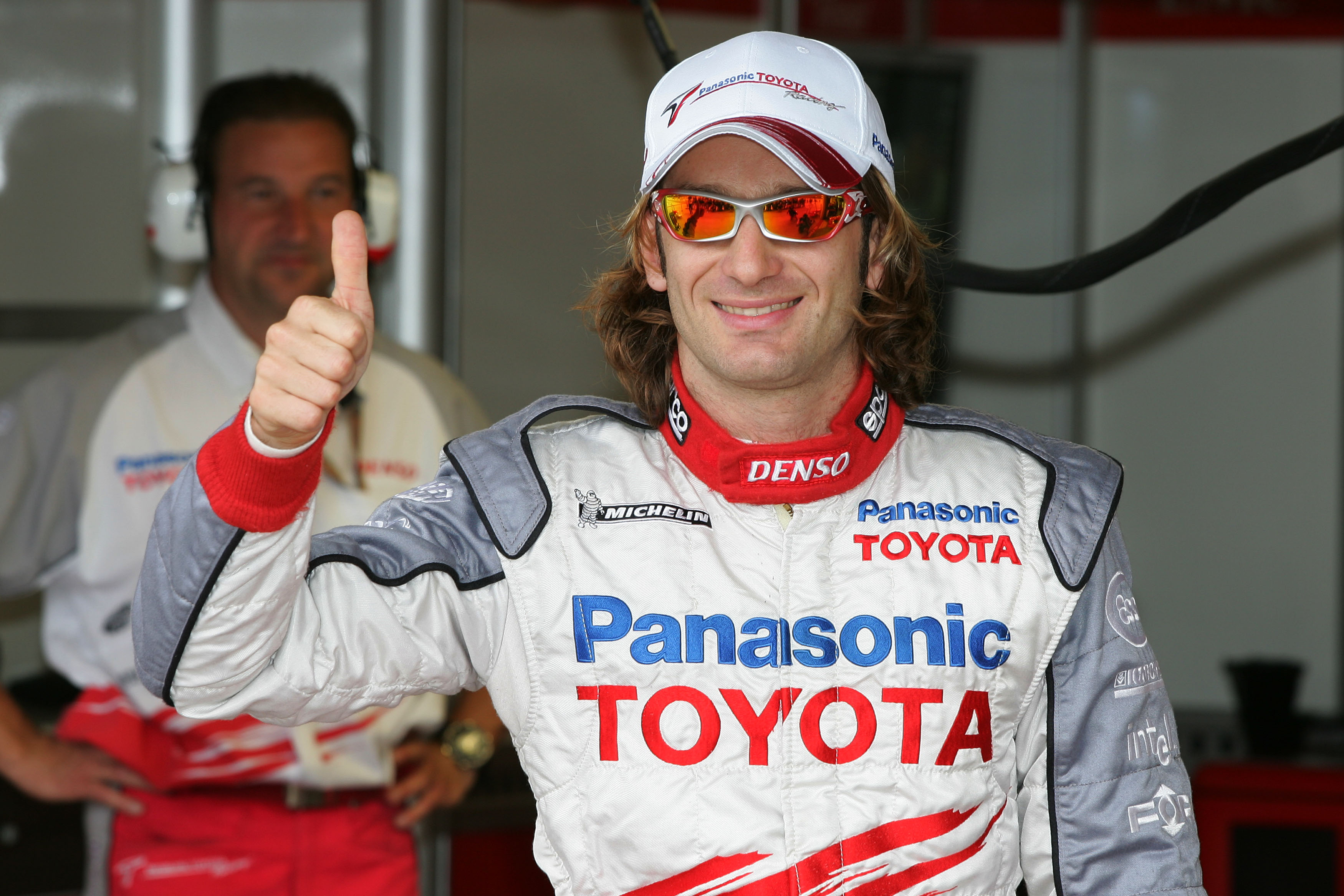 Though Michelin's investigations and a bit of F1 political hindsight revealed so much about what really went on that weekend at Indianapolis, one mystery remains.
That was in the era of drivers carrying their first race stint fuel loads in qualifying, meaning running light was the best bet for getting pole.
So if you had a fairly strong sense that the race either wasn't going to happen or your cars would be swiftly pulled out of it, surely you might want to run very, very, very, very light in qualifying to get pole knowing that you wouldn't need more than a lap of fuel on race day anyway?
Toyota took its first F1 pole that weekend with Jarno Trulli.
So during Gass's appearance on Bring Back V10s, we asked the question there had never been a straight answer to. How much fuel was Trulli carrying?
"I don't remember the exact number… it's a nice discussion that people are having.
"We did everything to reduce the load on the tyres, and as such, the fuel load as well…"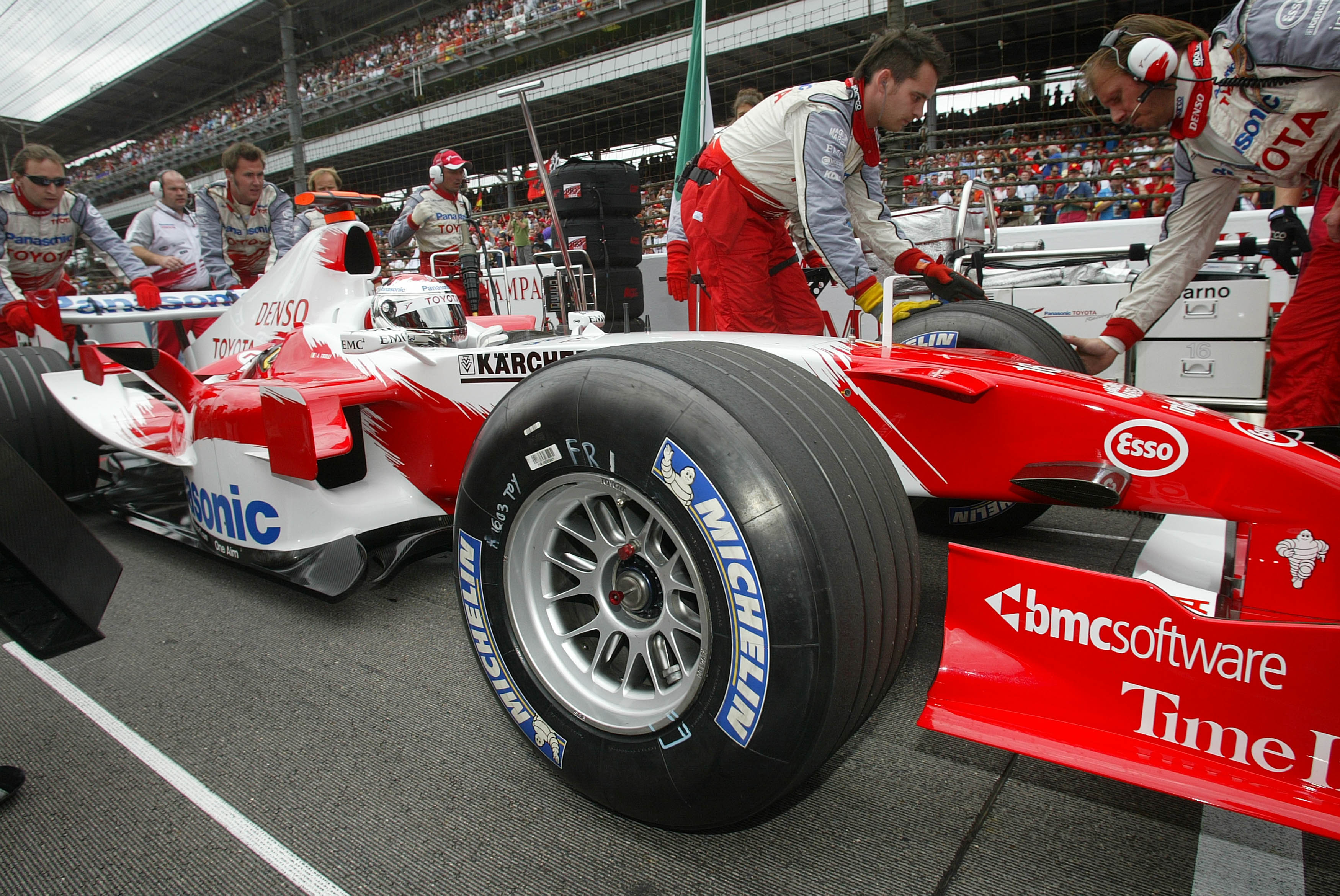 OK, not quite a straight answer.
So we tried again.
Did the possibility of there not being a race on Sunday factor into Toyota's fuel calculations on Saturday?
"Potentially, yes, it may have contributed, yep."