"This bulls*** race has meant the season finishes here," the team boss said.
"We can't ever overtake the points from today. It's over. This race – it's not a race, it's a farce – has screwed up a little fight that was getting quite good."
You'd be forgiven for thinking those who were the words coming from Alfa Romeo after a three-lap Belgian Grand Prix that allowed its chief rivals Williams to claim an F1 podium, and a healthy double-points haul that will surely put its eighth place in the constructors' championship out of reach of Alfa for the rest of 2021.
However, it's actually the words of Minardi team owner Paul Stoddart during the infamous 2005 United States Grand Prix that was contested by just three teams – a farcical race that the 2021 Belgian GP reminded many of.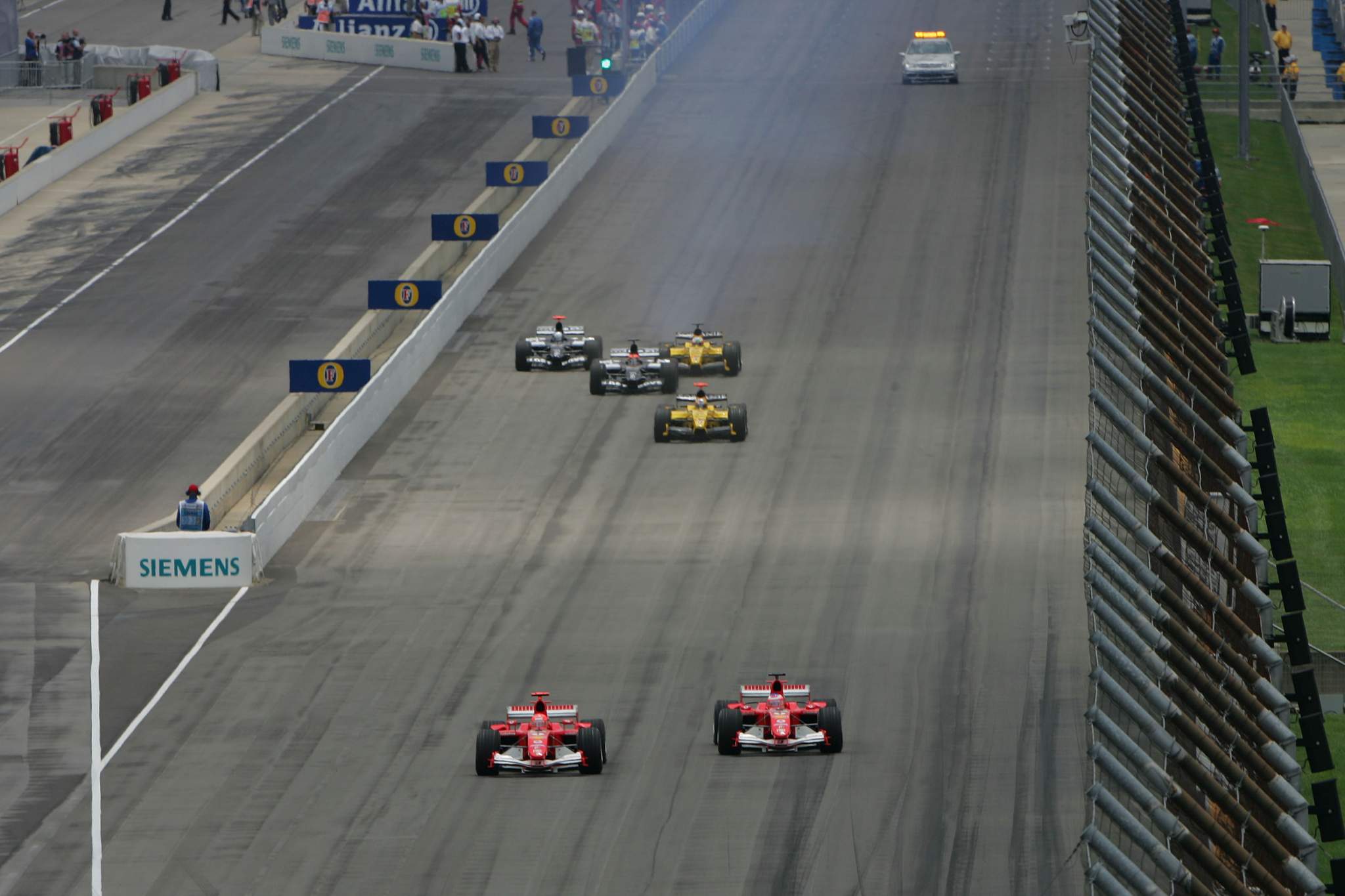 Stoddart was furious that the six-car race went ahead after a solution to the well-documented issues with tyre blowouts that weekend couldn't be found – despite the Australian's spirited efforts to work with his rivals to find one, risking his team's best chance of scoring points that year.
Minardi was firmly at the back of the F1 field in the early 2000s, but a declining Jordan team found itself joining the long-standing F1 backmarker in a fight to avoid the bottom spot in the 10-car championship in what would turn out to be the final year for both teams in F1.
Minardi began the year with what was effectively its '04 car but the introduction of its 2005 car at Imola along with subsequent upgrades allowed it to fight with Jordan on a regular basis.
Its driver Christijan Albers out-qualified both Jordans and a Red Bull to place 15th on the grid in Canada – the often-forgotten chaotic prelude to the US GP – but it was Jordan that looked far more effective at Indianapolis.
So, when 14 cars peeled into the pits at the end of the formation lap, it was Jordan that was able to capitalise and take the final place on the podium behind the Ferrari duo, with Tiago Monteiro leading home team-mate Narain Karthikeyan by 30 seconds.
The Minardis finished a lap behind the Jordans, with Albers reporting he lost the first two gears late in the race but still finishing ahead of the second Minardi of the soon-to-be-dropped Patrick Friesacher.
Minardi had fluffed its biggest chance, with Stoddart graciously prioritising finding a solution to the farce pre-race, and then during the race, smoking a cigarette and airing his grievances to the media to provide some entertainment.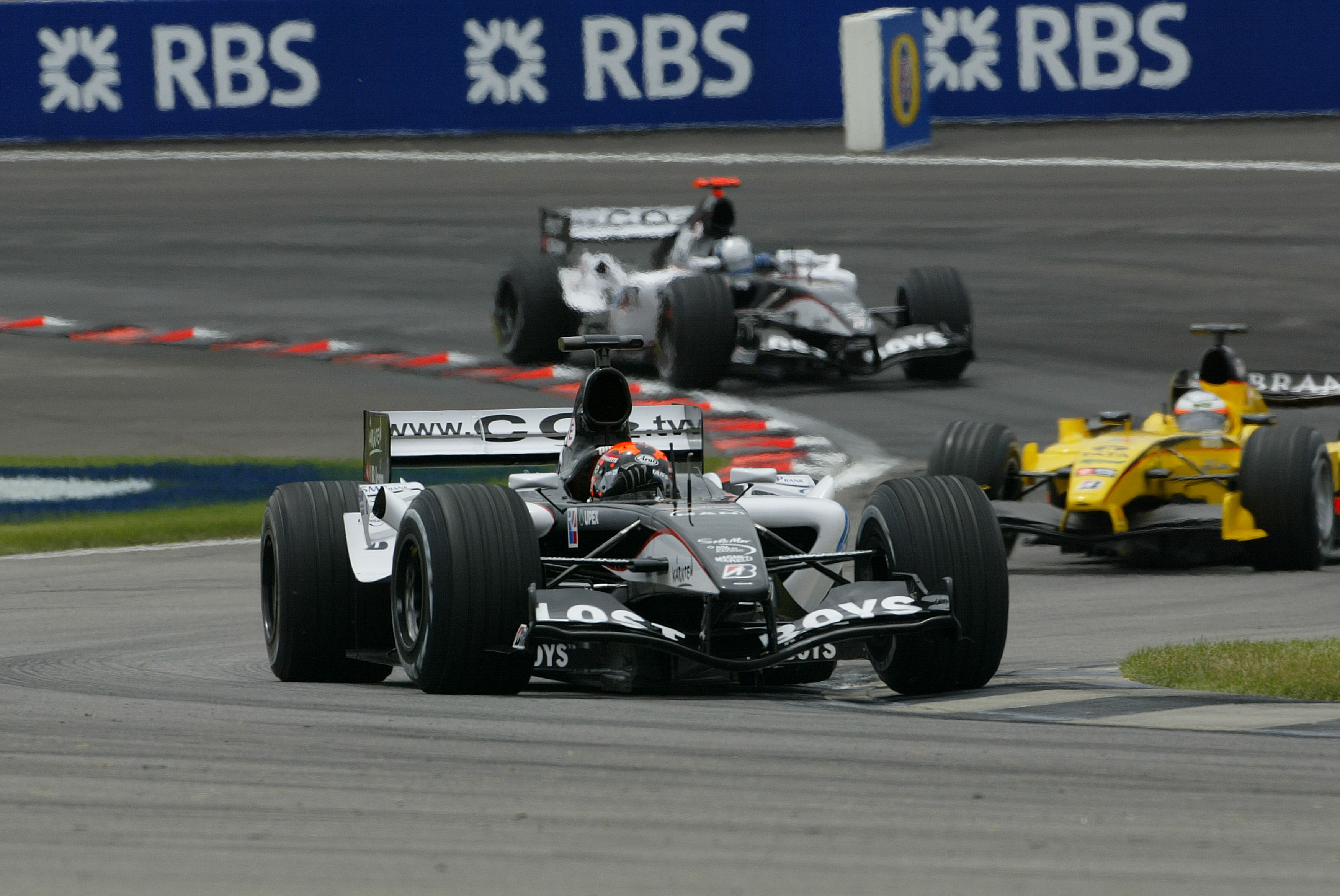 He was understandably bitter after claiming Jordan had said earlier in the day that it wouldn't race before it decided to crack on with its fellow Bridgestone runner Ferrari – a decision that Stoddart says is the only reason why it wasn't a two-car race between the Ferraris.
The resulting four-point advantage Jordan held was one that Minardi knew it could never recover, and indeed it didn't – with Monteiro driving a superb race at Spa to nick another point for Jordan and leave the team's final points total in F1 at 12.
That bitter feeling must be one that Alfa now feels after Williams added 10 points to its total despite neither team completing a racing lap at Spa last weekend.
Alfa released a statement on the Monday following the Belgian GP that featured a hint of competitive frustration.
"The situation would have been dealt with a lot more appropriately by not having at all the 'race' we witnessed yesterday," it read. "This outcome hurts us all, but in particular it hurts fans of the sport, who didn't get the show they came to see."
If the outcome did 'hurt us all', it hurt some teams more than others. It's one that will almost certainly resign Alfa to ninth place in the constructors' championship unless it can somehow overturn what is now a 17-point deficit to Williams in the remaining 10 races.
The Italian outfit is right if it feels aggrieved but just as Minardi had to accept it during the 2005 US GP, its main rivals did a much better job on the day it mattered.
Alfa's Spa weekend quickly fell apart with a slew of practice problems, from Kimi Raikkonen's pitlane crash in FP1 to brake trouble in the final practice session before the most important qualifying session in F1 history.
In a wet but drying Q1, the fastest Alfa of Antonio Giovinazzi was half a second away from making it into Q2 and some 2.4s slower than the lead Williams of George Russell and 1.3s adrift of the second Williams of Nicholas Latifi.
Meanwhile, Raikkonen was a further two seconds away as both drivers were eliminated in Q1 while Russell would go onto qualify P2 and Latifi would start from a career-best 10th.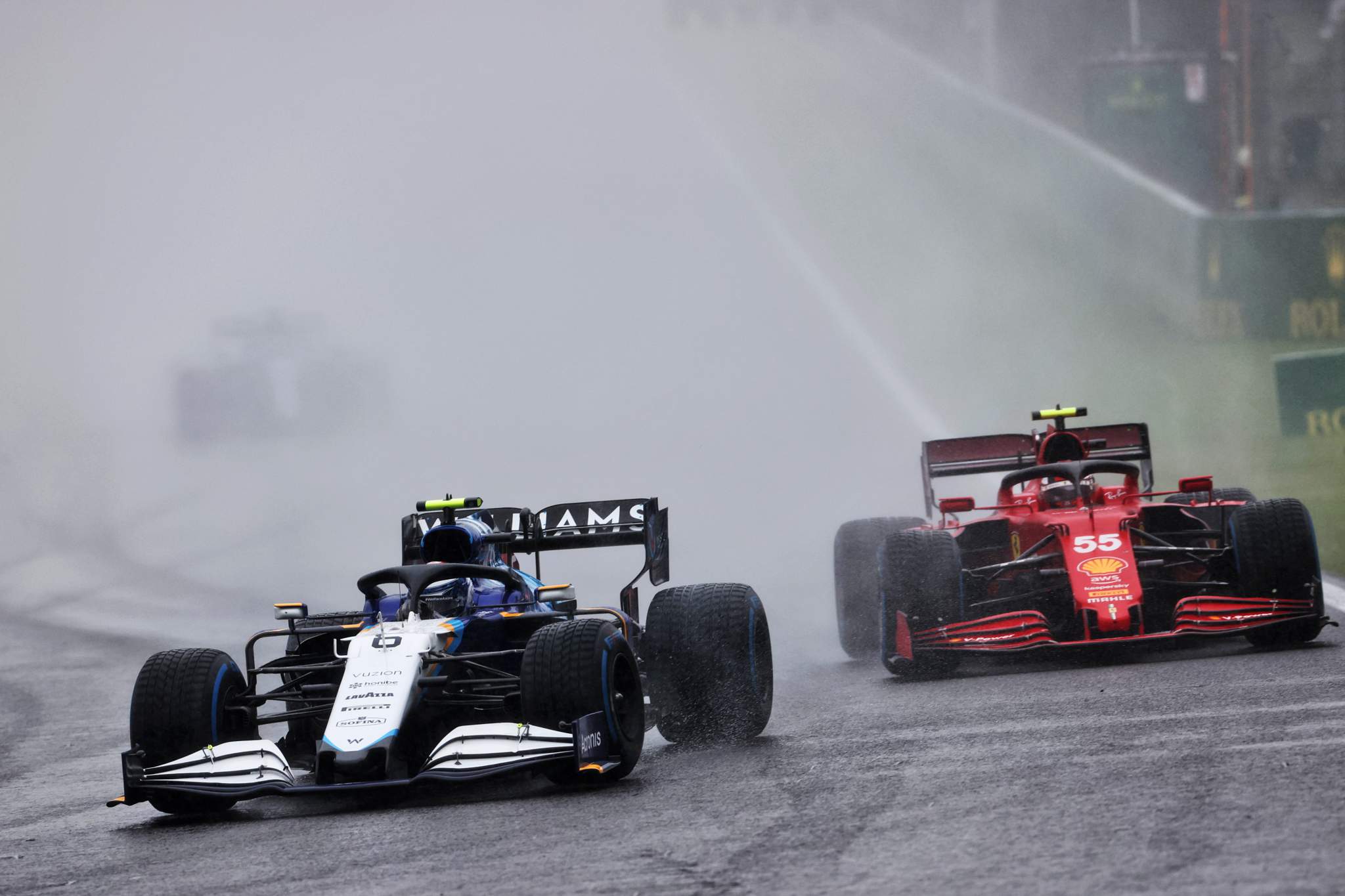 There was no comparison between the performances of the respective teams in teams of what tyre strategy was deployed during the sessions, and what the drivers were able to deliver when it mattered.
We know there's little difference between the underlying pace of the Alfa Romeo and Williams, and yet they were leagues apart for the second weekend in a row. It just so happened that these last two weekends were those one (or two) races in a season where anybody can score points.
But even if you look beyond Belgium and Hungary – where Alfa released Raikkonen into Nikita Mazepin in the pitlane and Giovinazzi sped in it – Williams has looked more of a credible points threat earlier in the season while Alfa has made some troubling operational errors.
Russell was threatening the Mercedes of Valtteri Bottas for ninth place at Imola before the duo collided in dramatic fashion. He also made back-to-back Q3 appearances at the Red Bull Ring and at Silverstone.
Alfa deserves credit for its three 10th-place finishes; one gained when Raikkonen finished a couple of places behind the Williams duo in Hungary, another in a bonkers Baku race and the first due to a misleadingly strong Monaco weekend for Giovinazzi.
But its drivers collided at Portimao, it cost itself two points at Imola due to Raikkonen's spin and subsequent penalty for the complications that arose from it, and Giovinazzi almost had flat tyres fitted to his car in Spain.
While Alfa has done well to pick up a couple of scraps, it hasn't capitalised on the two biggest opportunities like Williams has with both of its drivers.
It is unfortunate timing but F1 is so competitive, and points chances are so few and far between for those in 'Class C', that Alfa can't afford the mistakes that cost it so dearly in Hungary and Belgium.
While it can feel aggrieved at the poor timing of those rare points opportunities and the fact that Russell most likely would have slipped back down the pack had the race run normally, it has to take most of the responsibility.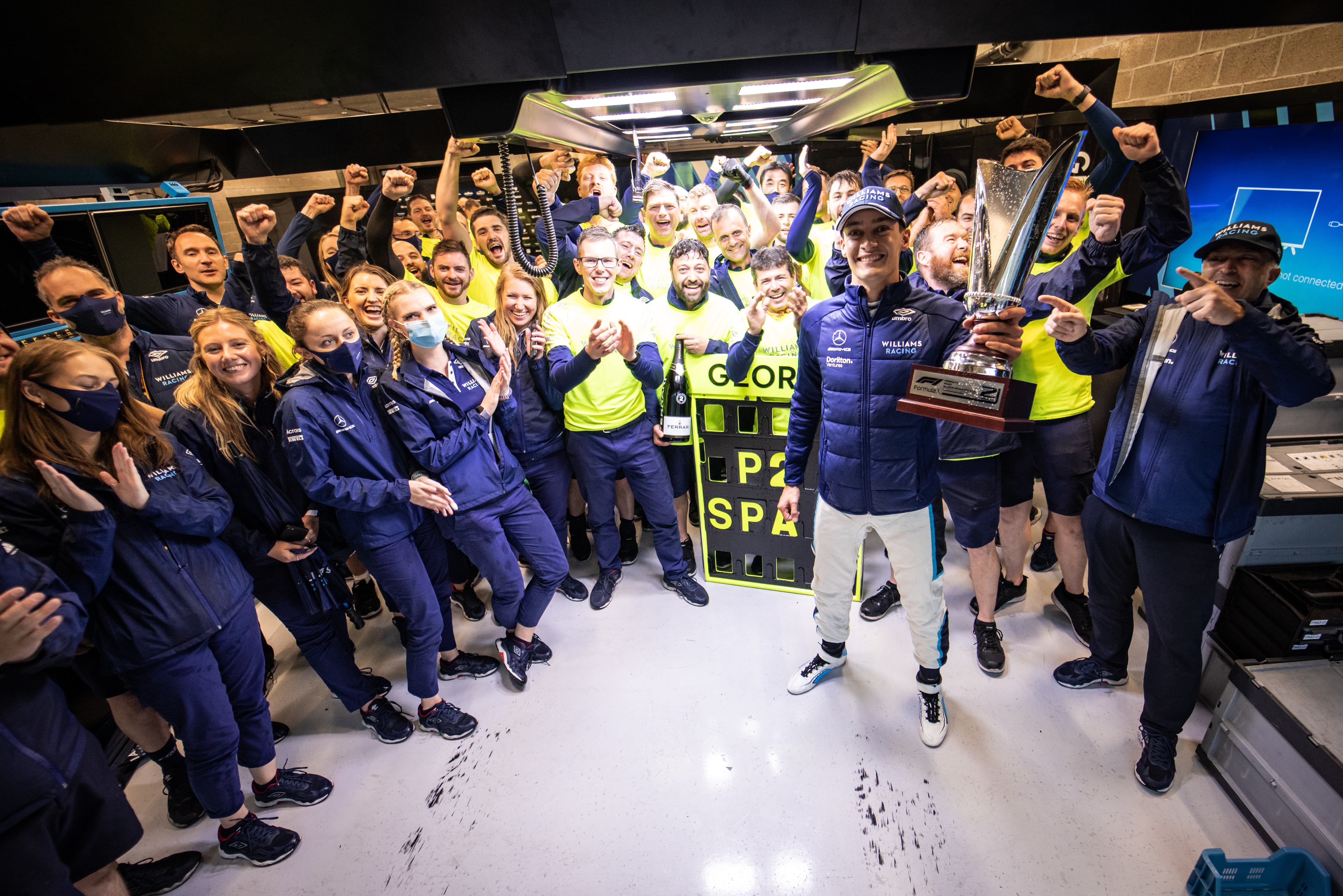 Even taking away the Spa result, it needed seven points to catch Williams and it has only scored 11 of them in the last 29 races.
Unlike Minardi at Indianapolis 16 years ago it wasn't battling against one of the championship's biggest farces. It was simply waiting for a race that would never properly start in the vain hope of salvaging something from an otherwise miserable, mistake-filled weekend that's damned it to defeat against its closest rival.