Fernando Alonso's remarkable drive to a first Formula 1 podium finish in seven years at the Qatar GP was the latest in a long line of against-the-odds performances in the 40-year-old's top-flight career.
From his very first year in a back of the grid Minardi to his rollercoaster years with Ferrari to a painful second stint with McLaren, Alonso's career has featured a plethora of impressive underdog drives.
By Alonso's own admission, he's only had the fastest car in F1 on three occasions: the first halves of his 2005 and 2006 title-winning seasons and the 2007 season where his McLaren was an equal match for the Ferrari that, in the hands of Kimi Raikkonen, would pip Alonso and his McLaren team-mate Lewis Hamilton to the title by a single point.
Therefore, our writers picked out some of his best performances in the years outside of 2005-07, where he scarcely had the most competitive machinery.
2001 Japanese Grand Prix
Started: 18th Finished: 11th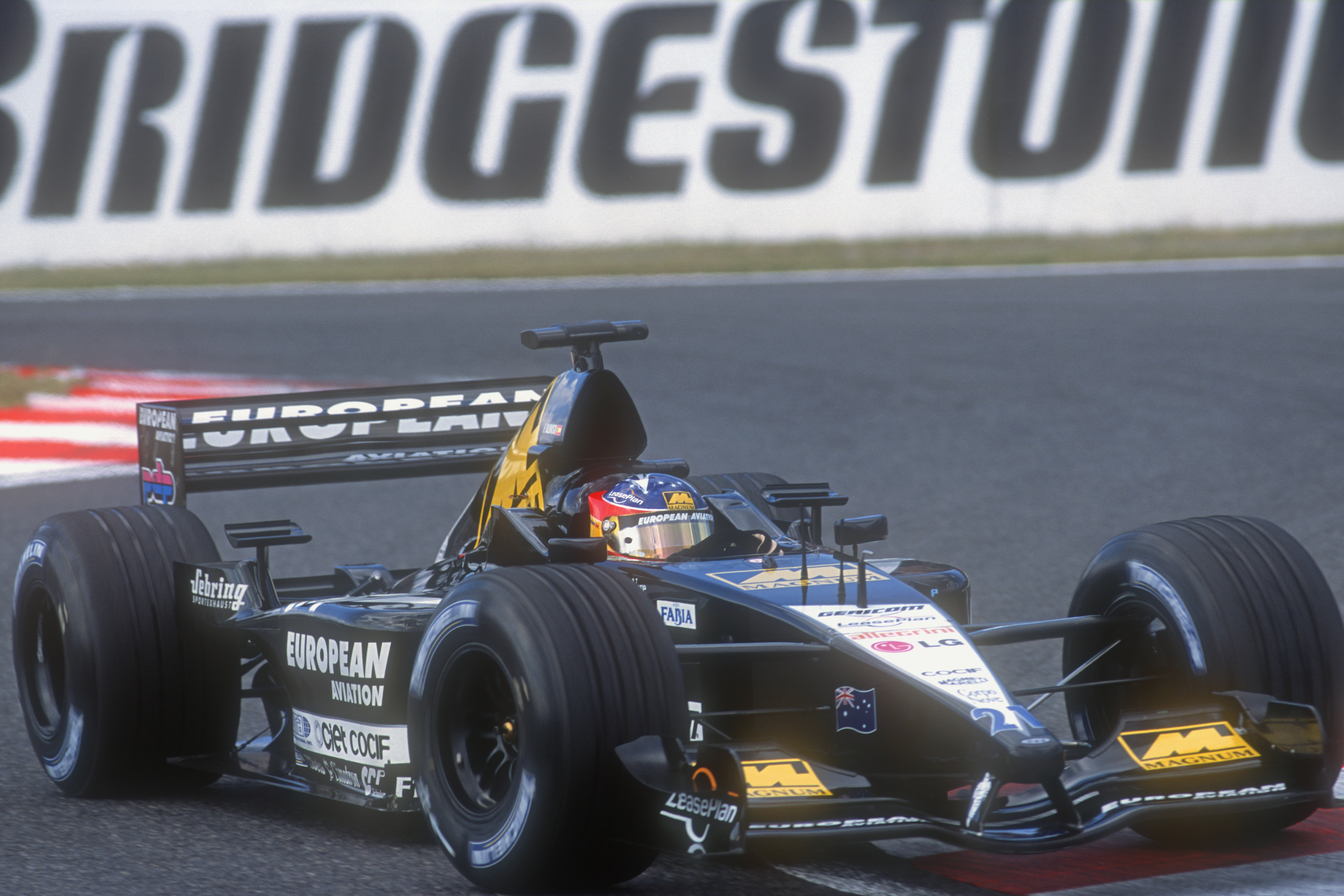 It's all too easy to underestimate Fernando Alonso's early F1 career canon of work, most of which deserved much more than the myriad 12th, 13th, and 14th places he accrued in his rookie season of 2001.
To say the Minardi PS01 was a hurried project is a complete understatement as the team bounced from ownership and potential ownership into the lap of an ambitious Paul Stoddart in the winter of 2000/01.
Alonso, then a fresh-faced 19-year-old out of F3000, completely hammered his team-mates, firstly Tarso Marques and then Alex Yoong. The first box ticked was a mere formality.
It really wasn't a contest in that department and by mid-season, Alonso was putting his car in places on the grid it ought not to be.
At Monaco, he got to within 0.4s of Button's Benetton and at the Hungaroring, he somehow reduced that to just 0.089s! Indianapolis witnessed more giant-killing as he vanquished Jacques Villeneuve's BAR. This was even done in his spare PS01 after an engine issue in his original.
But his best race was saved until last, at Suzuka, where he said he found "the perfect car set-up," on his first-ever visit to F1's most daunting track.
He outqualified team-mate Yoong by just under two seconds and then drove a sensational race to claw his way onto a battle between Jos Verstappen's Arrows and Oliver Panis' BAR, both of which he beat to finish 11th.
But the excellence was the unrelenting way he smashed in laptimes in his flat-out stints between re-fuelling that stood out.
Of course, it was mostly masked by only being for 11th position but those who witnessed it, including The Race's Mark Hughes, were left in no doubt as to its greatness.
"When you looked at his times and how relentless he was on this, the most demanding of tracks, it was a world-class performance."
Alonso's team boss Stoddart called it "gutsy" and it was as suitable a description as any for the dawn of an entire era that witnessed dogged brilliance from one of motorsport's true grit fighters. – Sam Smith
2003 Spanish Grand Prix
Started: 3rd Finished: 2nd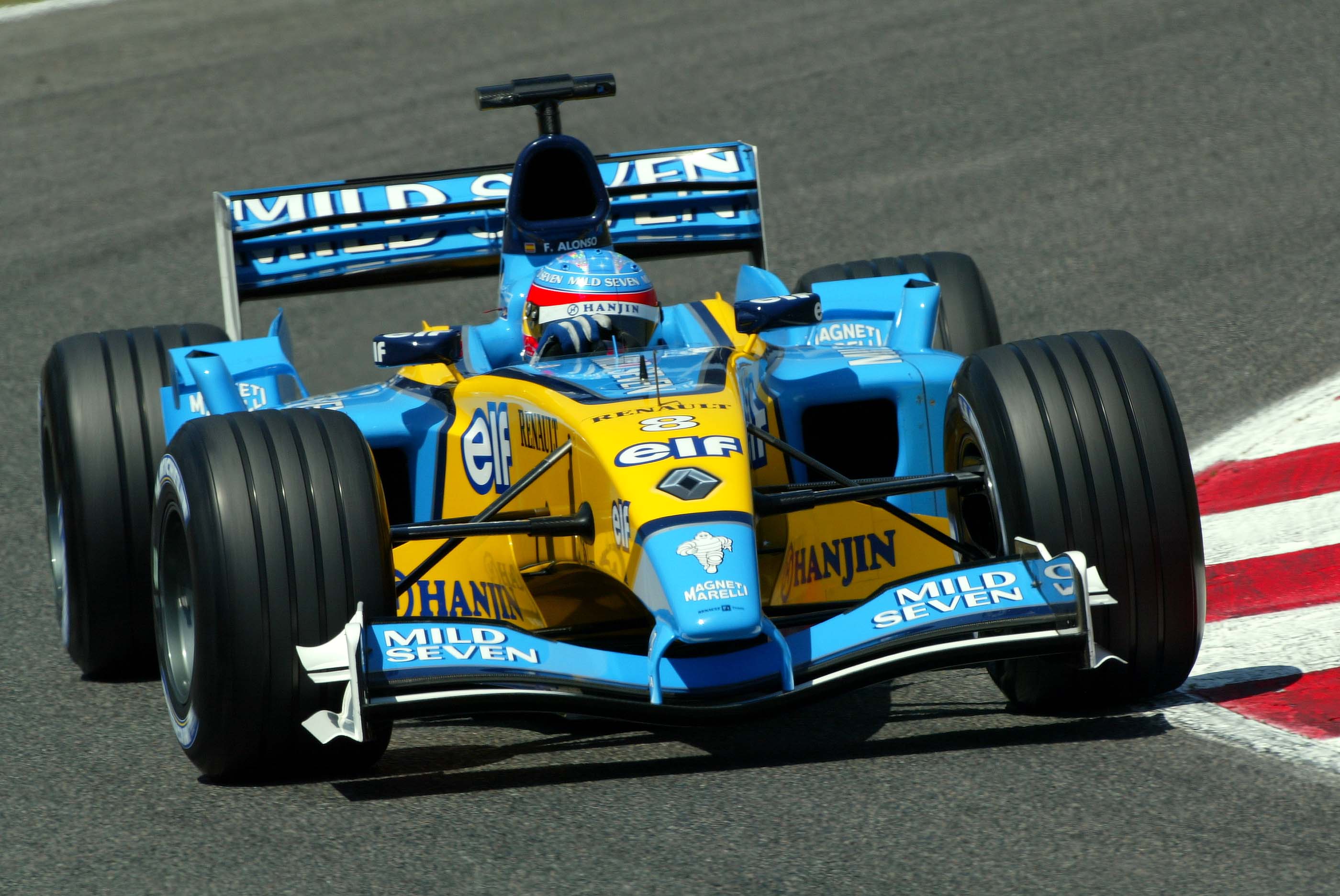 After the entertainingly all-over-the-place start to 2003, it was feared that the belated arrival of the new Ferrari at round five in Spain might signal a return to 2002-style tedium.
Alonso's gallant refusal to let Ferrari have its likely 1-2 in his first home grand prix in half-competitive machinery offered some hope, though.
There were wheel-to-wheel flashpoints – first Alonso's efforts to split the Ferraris off the line and later him hounding pesky two-stopper Ralf Schumacher off the road – but really this was a grand prix best savoured on the timing screens.
As the plucky Spaniard in the Renault undercut past Rubens Barrichello with brilliant out-laps at the first stops and then kept matching Michael Schumacher's sector times as he clung on in the Ferrari's wake through traffic, showing that trademark relentlessness, it really seemed like a shock Renault win was possible.
That fairytale didn't quite happen, but Barcelona still erupted at Alonso's second place.
His 2003 Renault season also featured the Malaysia pole and Hungary win. But Spain didn't require any light fuel mirage or Michelin superiority. It was just Alonso outperforming his car and stunning a faster rival team. – Matt Beer
2008 Japanese Grand Prix
Started: 4th Finished: 1st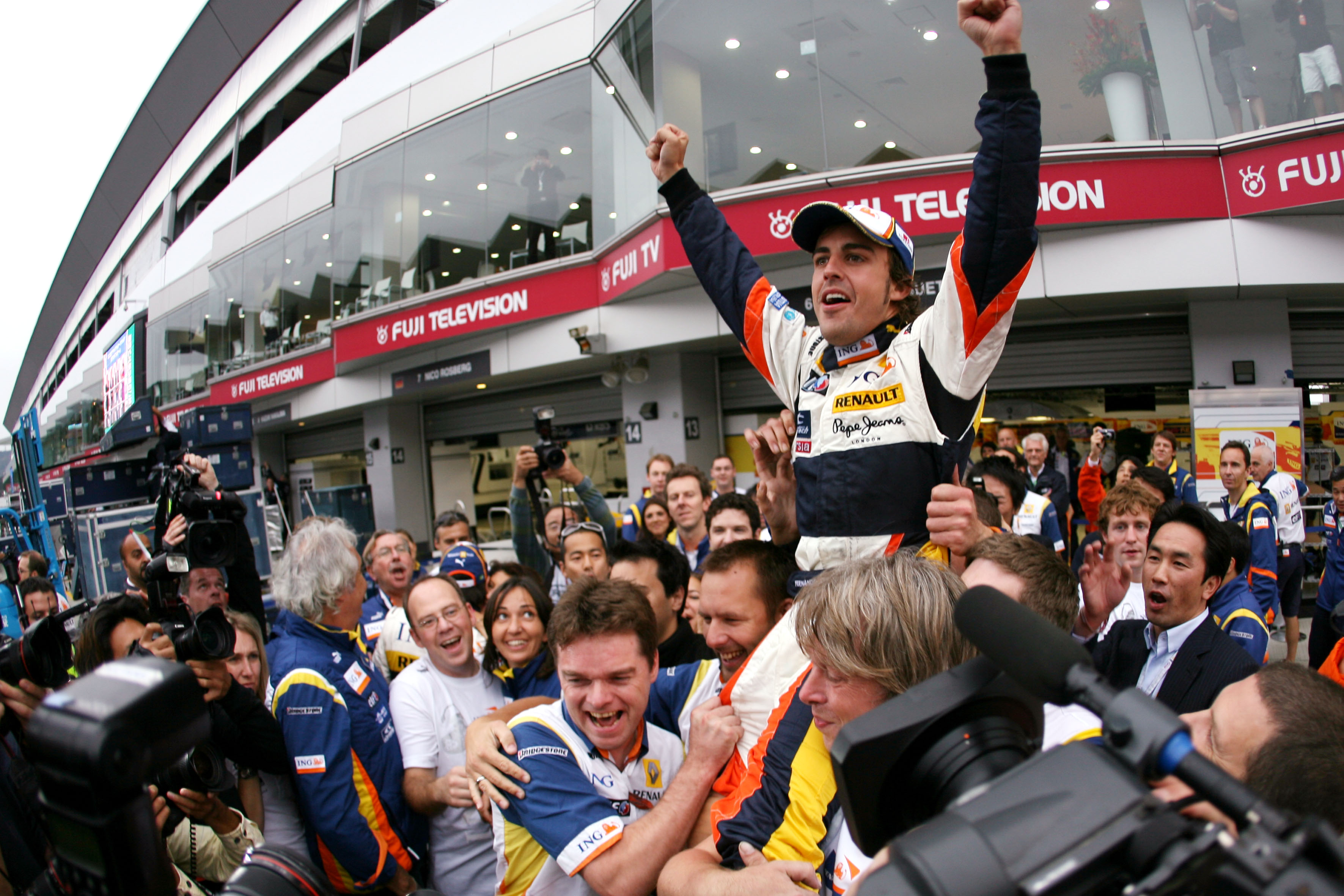 It's the forgotten victory. The brilliant drive that has since been overshadowed by the win that came before it in Singapore that year.
For all the shenanigans on the streets of Marina Bay in 2008, what Alonso did next time out in Japan was sublime.
There was good fortune involved, with an over-zealous Lewis Hamilton taking a bunch of the leading runners wide with a blunder on the brakes at the first corner. That turned the race into a battle between championship outsider Robert Kubica and Alonso.
Alonso hounded the BMW during the first stint, jumped him at the pitstops, then drove away from him and everyone else. It was the two-time world champion at his relentless best. He got a sniff of a victory and that was all he needed.
It was a performance that deserves to emerge from the shadow of Singapore. – Glenn Freeman
European GP 2012
Started: 11th Finished: 1st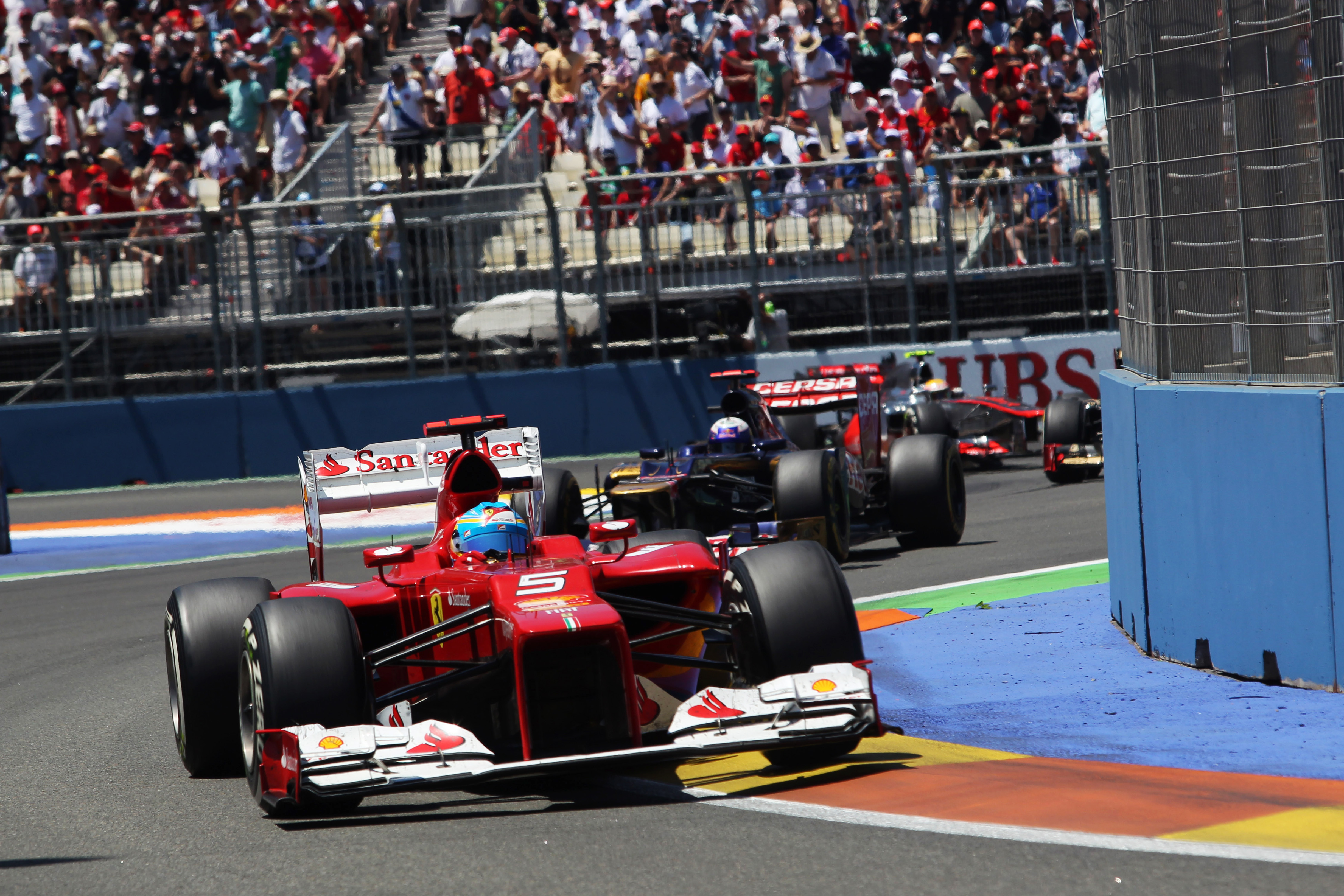 'The entire 2012 season' wasn't considered a valid entry for this list so that meant it had to be *something* from 2012. And is there any better choice than Valencia? I don't think so.
To say Alonso's victory from 11th on the grid was unexpected would be an understatement. His wild emotions afterwards showed how much of a shock it was and what it meant in the circumstances.
"I need to watch the race on TV because I don't know how we recovered so many positions," he said in disbelief.
No wonder. This race is the perfect microcosm for the 2012 season: the Ferrari wasn't that quick (Alonso got knocked out of Q2) but it was a better race car; Alonso was as effective with it as was humanly possible; and all he needed was the sniff of an upset to pull of an extraordinary result.
His pre-race hope was to get into the top six and do a damage limitation job, which was on the cards initially as title rival Sebastian Vettel romped clear out front and Alonso gradually made his way up the top 10.
Alonso was up to fourth when a well-timed safety car meant the two-stoppers could get their final pitstops out the way conveniently. Things would fall further Alonso's way: Hamilton lost time with a front jack issue, handing Alonso third.
At the restart, Alonso could sense the opportunity. He immediately attacked Romain Grosjean and passed the Lotus around the outside at Turn 2. Then another strioke of luck, a huge win, as Vettel suffered an alternator problem, slowed, and retired.
Did Alonso get lucky in this race? Yeah, of course. But there's a reason he was the driver in position to inherit the lead from Vettel. And there's a reason he was still at this stage the only driver to have scored points in every race. That relentless, consistency and opportunism underpinned his entire season and it was at the heart of this underdog triumph.
Alonso's verdict was: "This is the best victory because the emotions I felt, there is nothing to compare."
All the more reason to include it in this list. – Scott Mitchell
2013 Spanish Grand Prix
Started: 5th Finished: 1st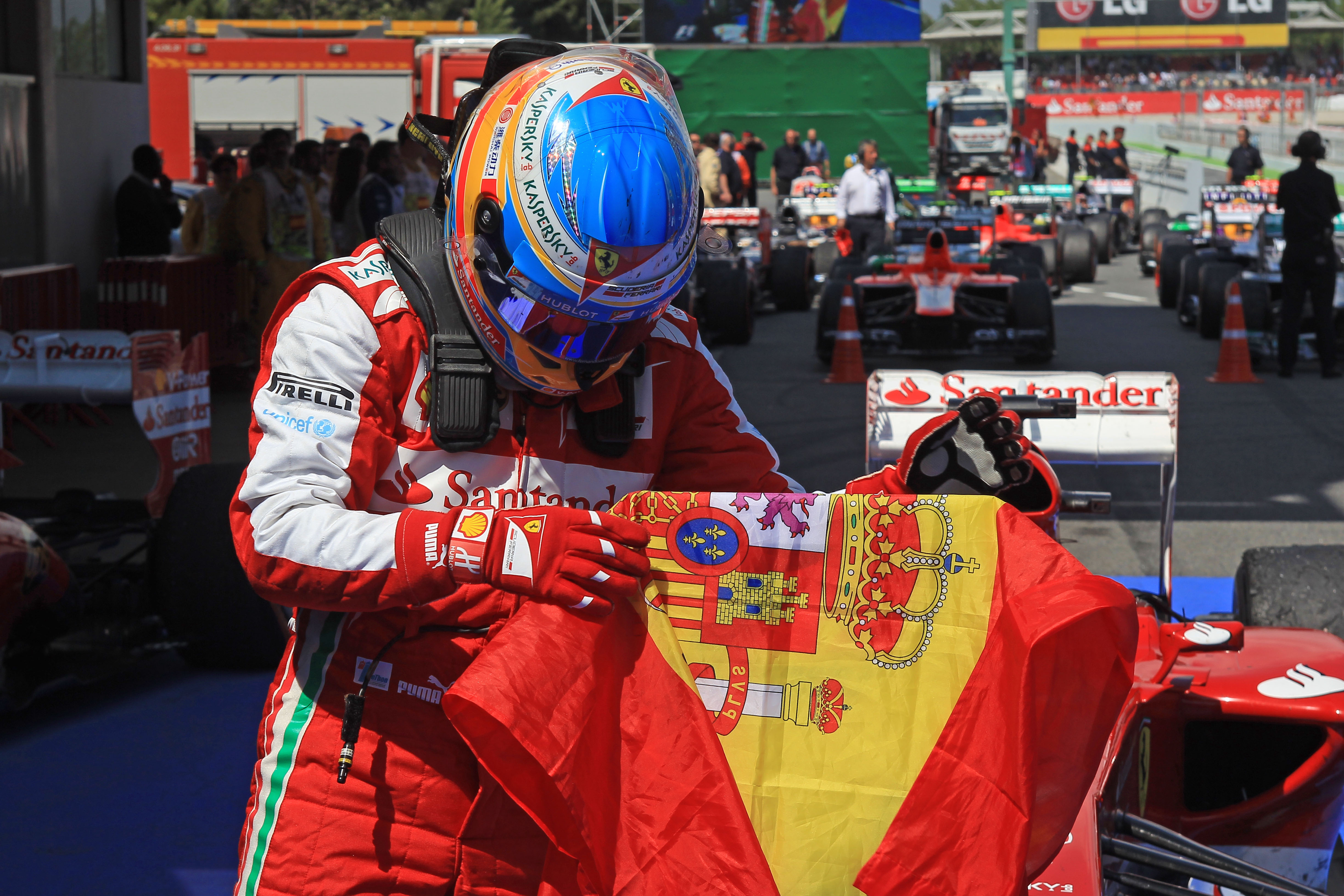 Alonso may have been a title threat in 2013, but he only won two races to rival Sebastian Vettel's 13. That number was boosted by Vettel incredibly winning the last nine races as Alonso's consistency before that run made him look like a favourite.
So this race wasn't Alonso's only win of the year, he notched another in China, but this was impressive for a number of other reasons.
Firstly, no one had won Alonso's home grand prix from further back than third on the grid and he started fifth ahead of team-mate Felipe Massa in sixth. A second home win after 2006 looked unlikely after being outqualified by a Red Bull, a Lotus and the two Mercedes.
However, his victory hopes were boosted by sensationally going around the outside of Lewis Hamilton and Kimi Raikkonen at Turn 3 – feathering the throttle to avoid running wide through the rapid right-hander.
Moreover, Ferrari's aggressive four-stop strategy was one more than eventual main rival Raikkonen. He undercut Vettel in the first stop and passed Rosberg at Turn 1 shortly after, and basically went unchallenged from there, even if a significant amount of work had gone into putting himself in this position.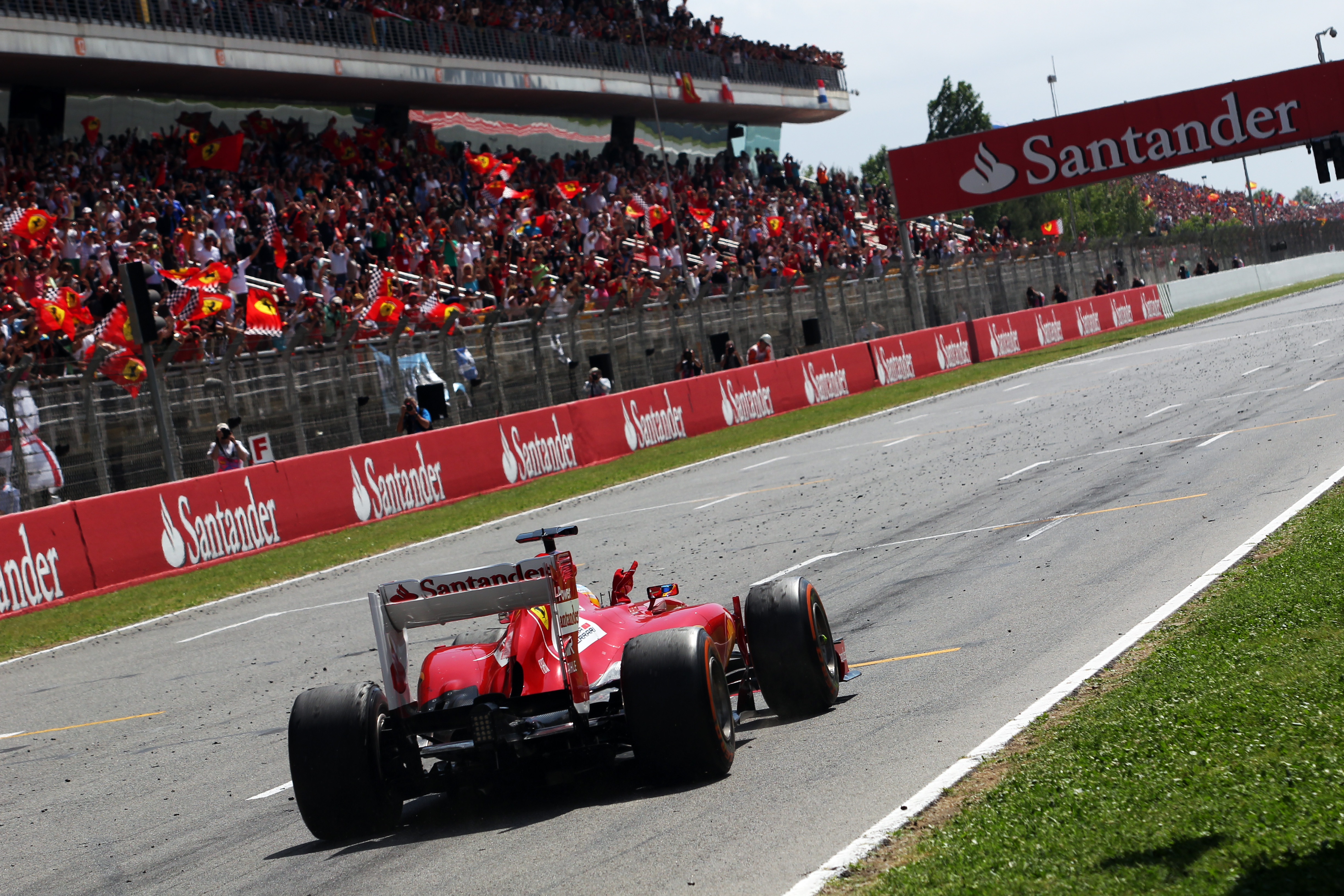 Despite Alonso's aggressive strategy, it was a slow race in Barcelona where Alonso's fastest race lap was slower than one he did in a drying FP1, with the degrading Pirelli era now in full flow.
Defying history and an on-the-attack Alonso make this one a bit special. – Jack Benyon
2014 Hungarian Grand Prix
Started: 5th Finished: 2nd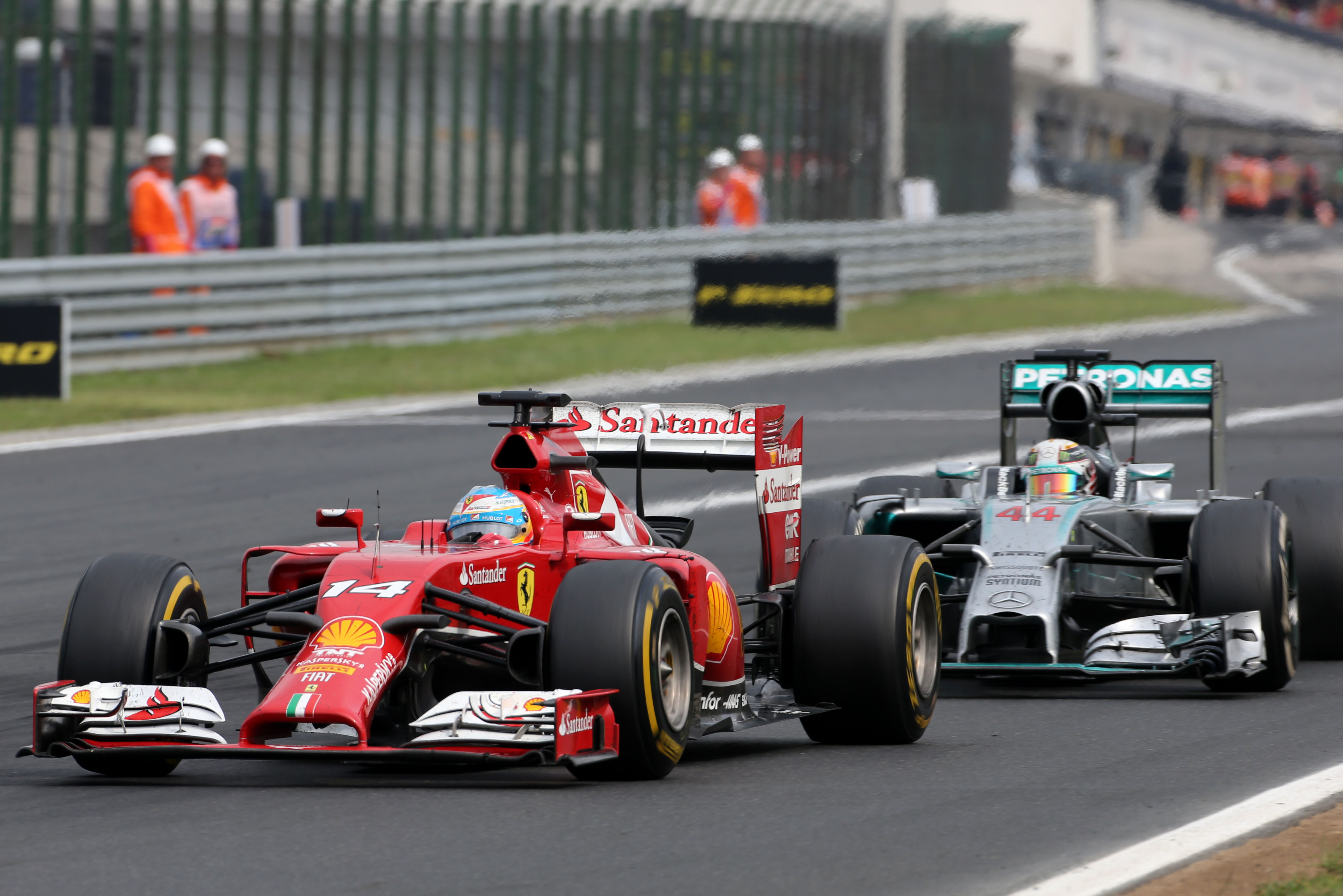 There were two things that few people expected from Ferrari in 2014. 1) For the team to produce arguably its worst car since the woeful Ferrari F92A from 1992. 2) For Alonso to wipe the floor with his fellow world champion team-mate Raikkonen.
And yet both of those things happened.
Unsurprisingly, the uncompetitive Ferrari didn't stop Alonso from shining throughout the year, performances that would falsely fan the flames of a seemingly-glorious reunion with McLaren for the following year.
One of the drives that showed Ferrari what it would be losing came at the Hungarian Grand Prix.
At the start of the race, Alonso scythed his way around the outside of Vettel at the Turn 4 left-hander to move from fifth on the grid into third place on a damp track.
Through various pitstop phases and safety car periods in a chaotic and often overlooked classic race, Alonso found himself in the lead with 10 laps to go, with Hamilton and Daniel Ricciardo behind him, the latter of whom was on much fresher tyres.
Alonso would succumb to Ricciardo with three laps to go, but he'd done a remarkable job to keep his Ferrari ahead of both of the vastly-superior Mercedes and hold onto what would turn out to be his final podium for Ferrari – and his last for seven years.
It was a vintage-Alonso drive: exquisite car placement in the early laps to gain positions and an admirable stubbornness to hang on for dear life in positions that his machinery had no right to be in. – Josh Suttill
2016 Belgian Grand Prix
Started: 22nd Finished: 7th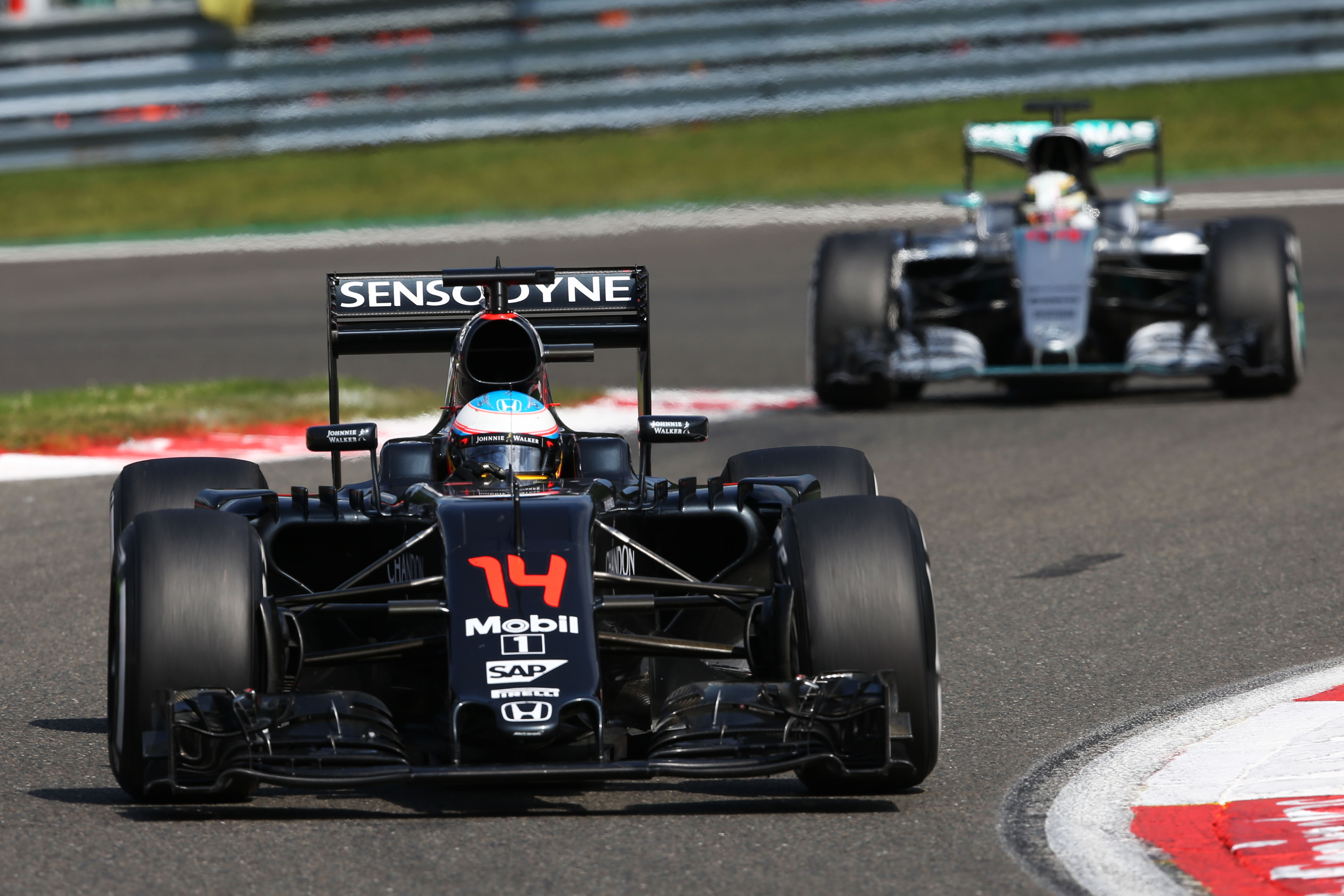 A 60-place grid penalty meant Alonso was always going to start in last place for the 2016 Belgian Grand Prix, regardless of the fact that his McLaren-Honda broke down just moments into qualifying.
He started on the back row of the grid behind title charger Hamilton, and sprinted clear of the Mercedes driver as he charged from 22nd to 10th place in two laps.
While attrition played its part, Alonso's beautifully-judged car placement and gutsy overtakes on the opening lap set him on course for a solid points haul.
Although he'd inevitably drop behind Hamilton, he'd briefly run in fourth place after a well-timed red flag, and he still managed to finish just over 30 seconds adrift of his former team-mate. He also beat a faster Williams duo and the recovering Kimi Raikkonen and Red Bull's Max Verstappen to bring home a seventh-place finish.
The 2016 season also featured other memorable races, from his fifth places at Monaco and Austin to a sixth-place finish at Sochi from 14th on the grid. – JS
2017 Hungarian Grand Prix
Started: 7th Finished: 6th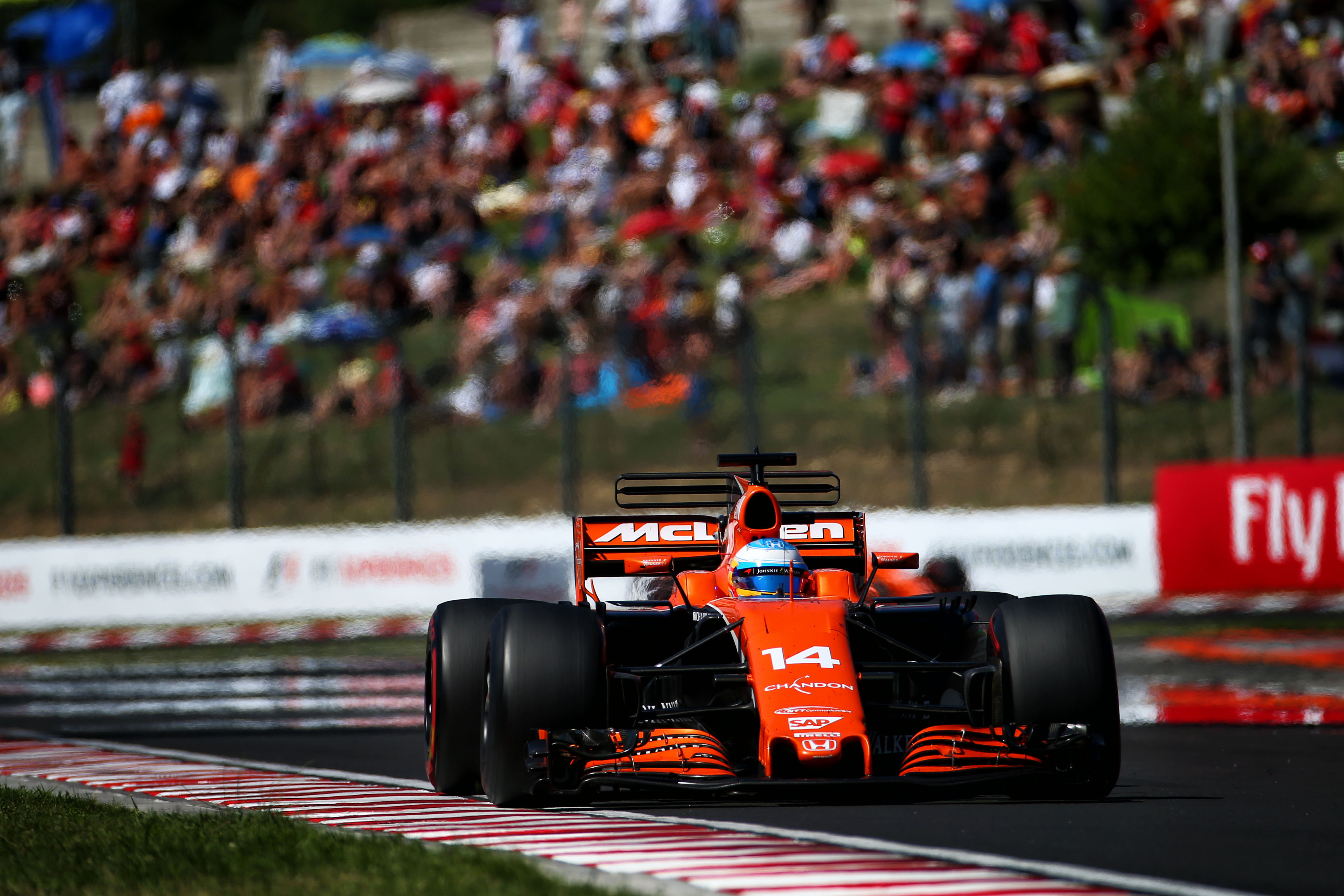 You don't need me to state that there were very few highlight-reel moments in the Alonso-McLaren-Honda era between 2015 and 2017, but the struggling partnership still allowed Alonso to show his class even if it was battling for points rather than podiums.
In the final year of the partnership where it only bagged eight top-10s across both cars, Alonso delivered only his fifth top-six finish in his two-and-a-half year second stint at the team with a ballsy race that involved passing Carlos Sainz.
After Alonso outqualified team-mate Stoffel Vandoorne for the ninth time in 10 races, with the duo lining up eighth and ninth respectively, the latter missed his marks in the pits which left him scrapping for points while Alonso was passed early by Sainz.
Alonso was not happy with his countryman's defending from there on in but drove away rapidly after finding his way back past following a ding-dong exchange at Turns 1 and 2.
McLaren hailed Alonso's weekend and rightly so. Along with Monza 2016, he gave the team another fastest lap – ridiculous when you consider how far down on the speed trap the car was, perhaps saved by the short main straight in Budapest – highlighting another giant-killing exercise.
Not a red-rag-to-a-bull aggressive drive, but one that certainly impressed. – JB
2018 Azerbaijan Grand Prix
Started: 12th Finished: 7th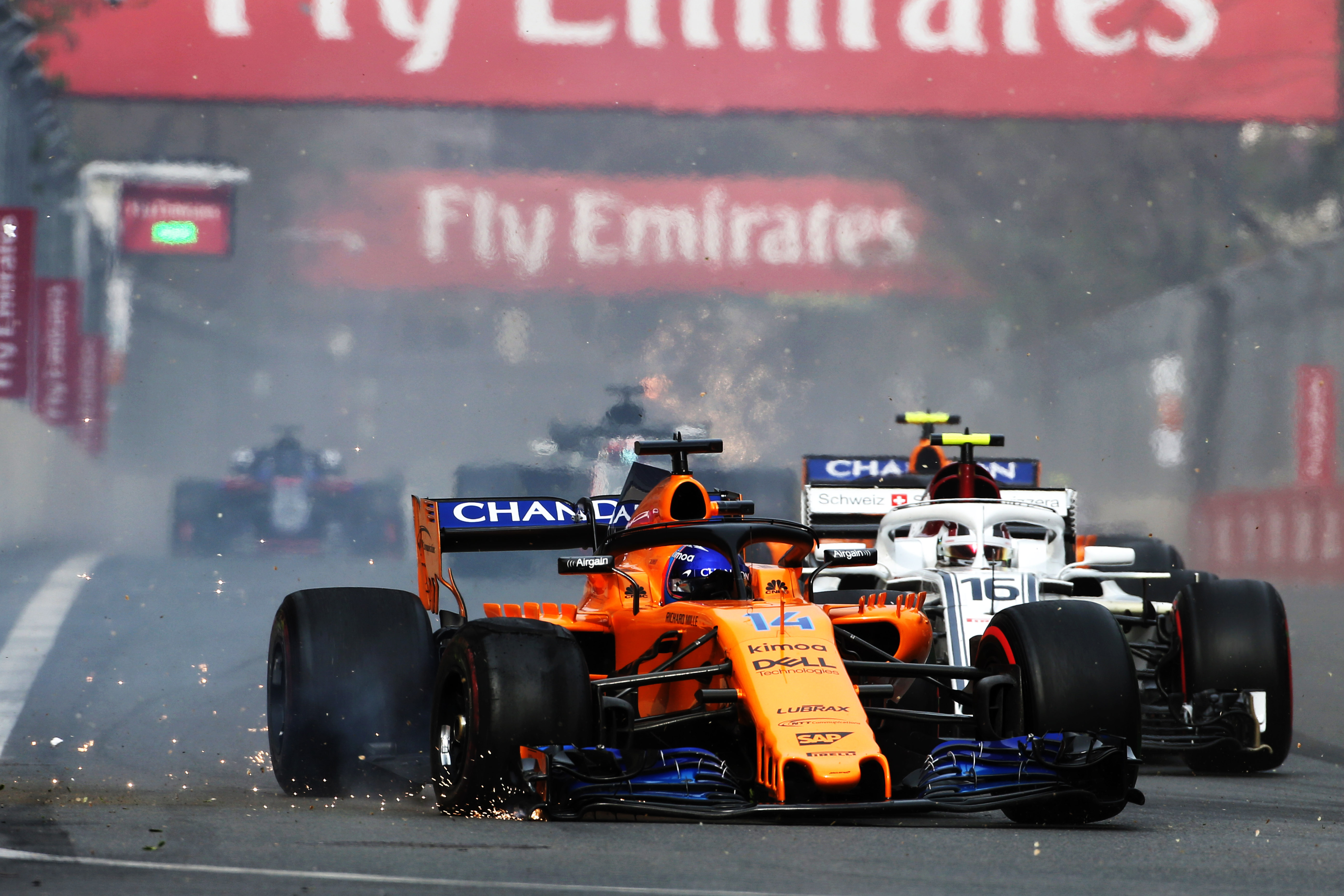 When Alonso's McLaren-Renault got squeezed between the Williams of Sergey Sirotkin and the Renault of Nico Hulkenberg on the run to Turn 3 on the opening lap of the race, his race was seemingly over.
In addition to a right-front puncture, Alonso suffered damage to the floor and diffuser and limped back to the pits more in hope than expectation. He couldn't even steer the car into the pitlane cleanly, glancing the wall as he did so.
The damage was reckoned to cost Alonso a good second per lap, as well as making the car more difficult to drive. But having taken the restart 17th, he overtook six drivers, culminating in a pass on Lance Stroll on the last lap, and gained four other places to retirements.
Alonso described it as one of his best races, and he was right to do so – taking what must surely stand as one of the best seventh-place finishes anyone has achieved in F1. – Edd Straw
2021 Hungarian Grand Prix
Started: 9th Finished: 4th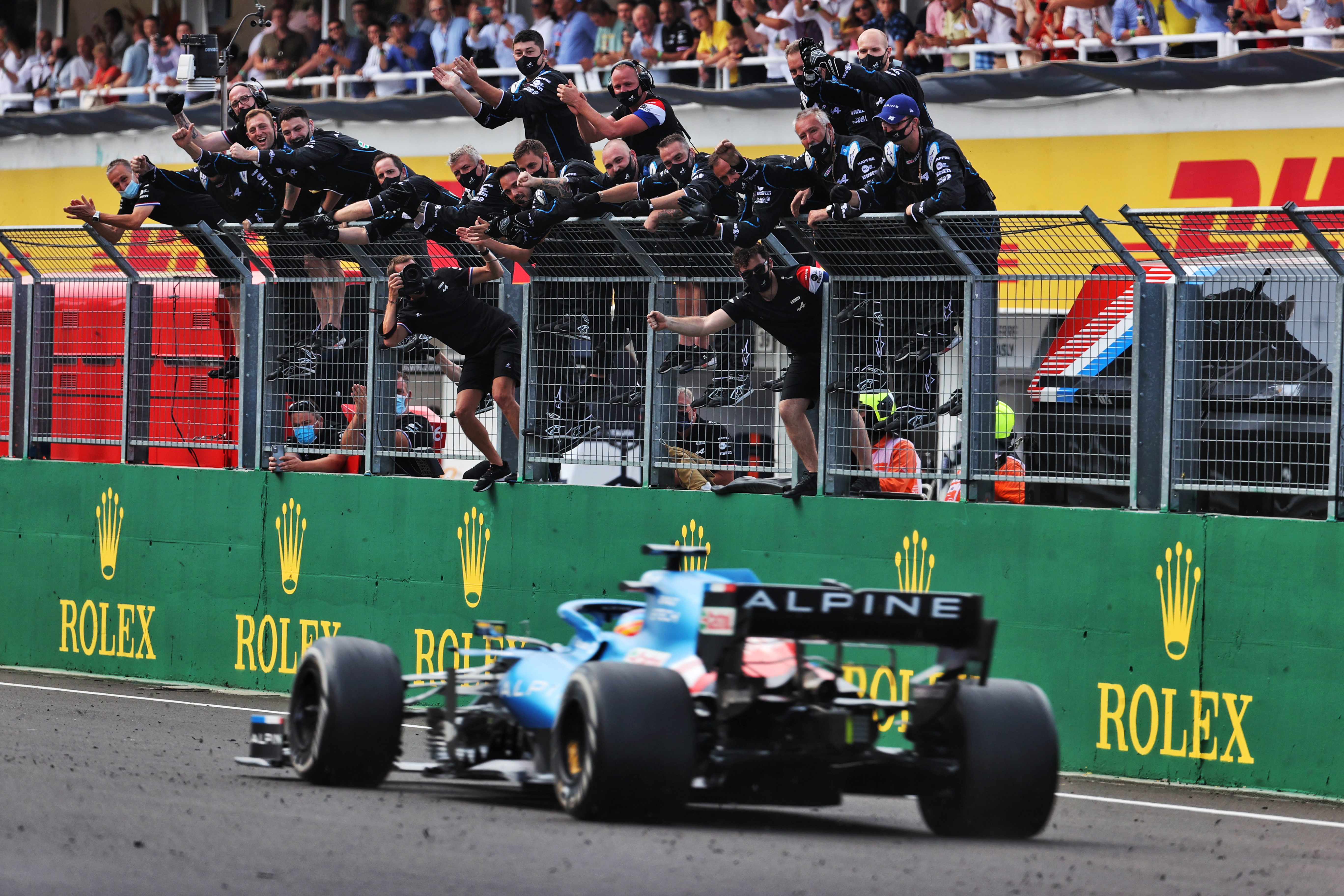 While Alpine team-mate Esteban Ocon lucked in at the start of the race, taking the lead thanks to two incidents at the first corner – one triggered by Valtteri Bottas and the other by Stroll – Alonso was delayed and dropped down to seventh. But while this was Ocon's shot at victory, Alonso played a crucial role.
Hamilton was the real threat to Ocon and made his second pitstop on lap 47 or 70. At this point, Hamilton was 23s behind Ocon with Alonso 15s ahead. Hamilton caught Alonso quickly, but once on the back of the Alpine driver, he was stuck for 11 laps.
From lap 54-64, Alonso held firm – repulsing Hamilton's attacks and even briefly making contact with the Mercedes – before eventually having to give way.
While Alonso went on to finish fourth, Hamilton could only make it to third on-the-road (second after runner-up Sebastian Vettel was excluded), 2.763s behind Ocon. Without Alonso's rolling roadblock act, it's inconceivable that Alpine would have won that race. – ES