Lewis Hamilton hitting 300 races in Formula 1 is small change compared to the increasingly likely prospect he will end his career far closer to 400, if not clear that number altogether.
Hamilton's current deal with Mercedes runs to the end of 2023. As Mercedes signed young gun George Russell to partner Hamilton, who has enthusiastically referred to his new team-mate as the future of the team, it seemed the end of a record-laden career was in sight.
He has said before he didn't see himself racing into his 40s. Although he has also said he feels more seasons are doable, it would have been no surprise if next season proved to be his last – especially if by then he'd won the eighth world title that he probably feels owed after the 2021 debacle.
Then came the team's 2022 struggles and a wave of questions about whether this would prompt Hamilton to throw in the towel. Instead, the current outlook is that Hamilton is willing and able to race on even longer, adding further lustre to F1's most decorated CV.
Mercedes boss Toto Wolff, when asked about the prospect of Hamilton hitting 400 grand prix on Saturday in France, said that discussions with Hamilton about the future of their partnership talked about "5-10" more years.
That didn't feel like a completely sincere target and Hamilton acknowledged "that's a lot of races" when asked about the comment a day later. However, it does seem perfectly realistic to think Hamilton will end his career closer to the next milestone than the one he just passed.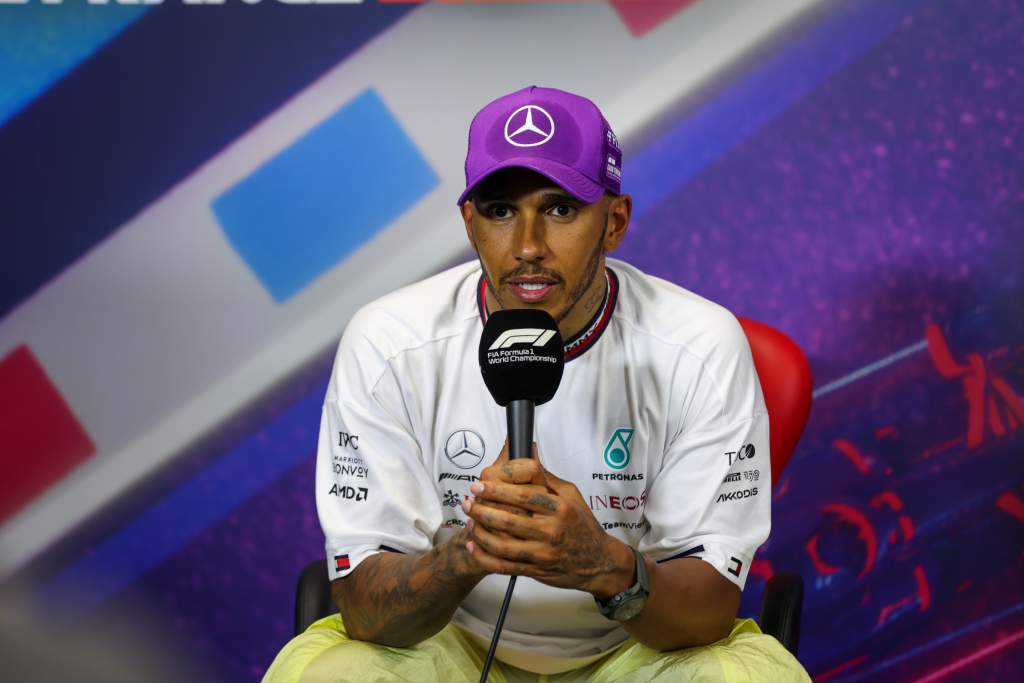 There are various factors driving Hamilton on. He's not losing any edge as a drive so the sporting motivation clearly remains high. Mercedes is trying to recover from a poor start to the new set of technical rules and Hamilton is key to that – he knows how important his role is for Mercedes to develop its way out of this setback and seems to be embracing that challenge and the responsibility of being a true team leader. Then there are the various diversity and inclusivity initiatives that have been very important to Hamilton in recent years, such as the Ignite charity he formed with Mercedes and trying to get all 10 F1 teams to sign up to a charter put together by the Hamilton Commission.
"I still feel fresh and still feel like I've got plenty of fuel left in the tank," said Hamilton.
"I'm enjoying what I'm doing. I'm really, really proud and enjoying arriving every day working with this incredible group of people.
"I'm also enjoying working with the sport more than ever. We've got some great people leading the sport and having great conversations about the direction we're going as a sport, so I'm enjoying it more than ever in that space.
"Of course, I want to get back to winning ways and that's going to take time, but I'm sure we'll sit down at some stage and talk about the future.
"But with our team, I always want to continue to be building. It's one thing having races, but it's also continuing the work that we do outside and doing more. And we will."
Although France proved to be the scene of Hamilton's and Mercedes' best result of the season, it fell short of pre-weekend expectations. They had arrived at Paul Ricard believing they would be much closer on pace but, come qualifying, it was very much a familiar story of being well adrift of Ferrari and Red Bull.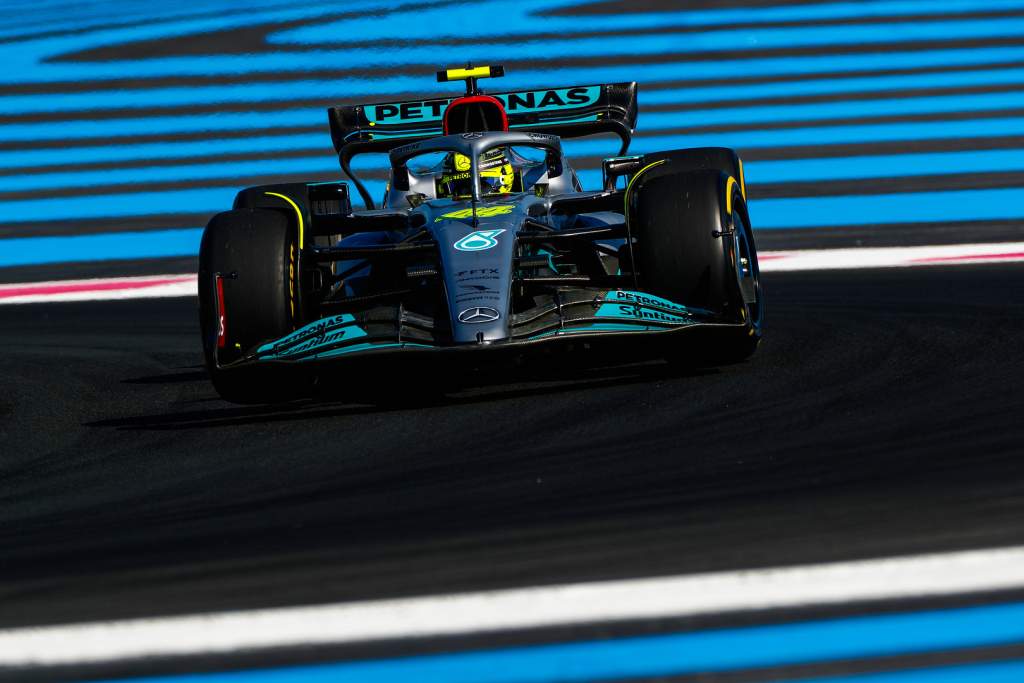 Hamilton was asked during the weekend if he found it disheartening. This kind of leading, negative question has been commonplace all season.
"It's not that it's disheartening – it's just like, you do a lap and then they're like 'you're 1.7 off' and then you do a really good lap and you're 1.1s off and you're like 'wow'," he said.
"There's nothing I can do in my power to change that, and of course everyone's working as hard as they can. Each weekend we come with little bits to try and improve and sometimes it just doesn't make a difference. For sure that's difficult for everyone.
"Where I'm focused on, is just trying to understand this car more. Really, really working closely with the team to say the bits I want from this car and the bits I don't want from this car this is what I don't want next year, this is what I need next year – and trying to steer that.
"Hopefully later on this year we get somewhere better, but next year's car is the one we can fight with."
This is consistent with Hamilton's message all season, which has broadly been 'let's do what we can for this season and make sure we're in a much better place in 2023'.
Crucially he has been a committed part of that rather than thrown tantrums and waited for Mercedes to sort itself out. Although that wasn't always the perception from the outside.
While he was very disappointed and at times frustrated, Hamilton usually looked and sounded like a driver still committed to the cause. He worked hard, taking on the lion's share of experimental work. But his work ethic has always been chronically underrated, especially in the dominant Mercedes era, so perhaps this was just to easily overlooked.
The switch of circumstances in the last few races, where Hamilton's had more complete weekends than Russell, means it's been Hamilton who's picked up the bigger results. He's qualified higher or been there to inherit better positions when something's happened to a Red Bull or Ferrari.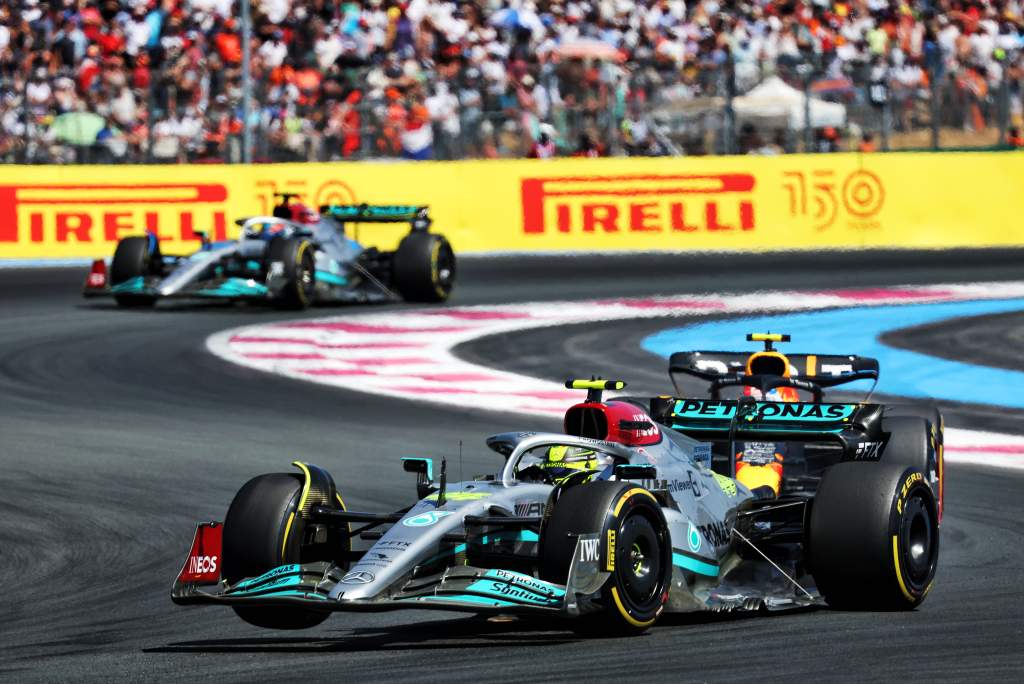 So, the results have changed. But his level of performance and his off-track demeanour has been the same. It's just unsurprisingly with better results it is easier to see his contribution – and understand why he is "100%" enjoying himself more than before.
"The beginning of the year was not miserable – because there could always be way worse," he said.
"But from a driver's perspective, understanding this car was so confusing. We were trying so many different things, we were trying to advance and had no trust in the machine beneath you, particularly the rear end. And that's really held us back a little bit.
"To now be in a position where we're starting to understand the car a little bit more, we're seeing more consistency, it's given us much more of an enjoyable drive. We still lack performance in some of those areas but we're slowly getting there.
"It's just constantly just chipping away at it. Unfortunately, you can't take big leaps at the moment. But who knows, maybe one big leap will come at some stage and we'll be right there."
Hamilton has always been a magnet for speculation about his future. When he had a contract with Mercedes coming to an end in 2020, and talks kept being delayed amid the worst of the COVID-19 pandemic, there was wild speculation something was afoot and that Hamilton could walk away from F1.
Then he only signed a one-year extension to cover 2021. But if he was so committed, cynics asked, why didn't the deal reflect that?
There were reasons. Hamilton needed to ponder exactly what he wanted, knowing his career was somewhere in its final stages. A few months later Hamilton had his current two-year contract confirmed, so the gossip died away.
It returned with a flourish through the turbulent 2021/2022 winter, in the wake of the Abu Dhabi debacle in which Hamilton lost the race win and a record eighth title. Then the prospect of Hamilton's career abruptly ending was a lot more realistic.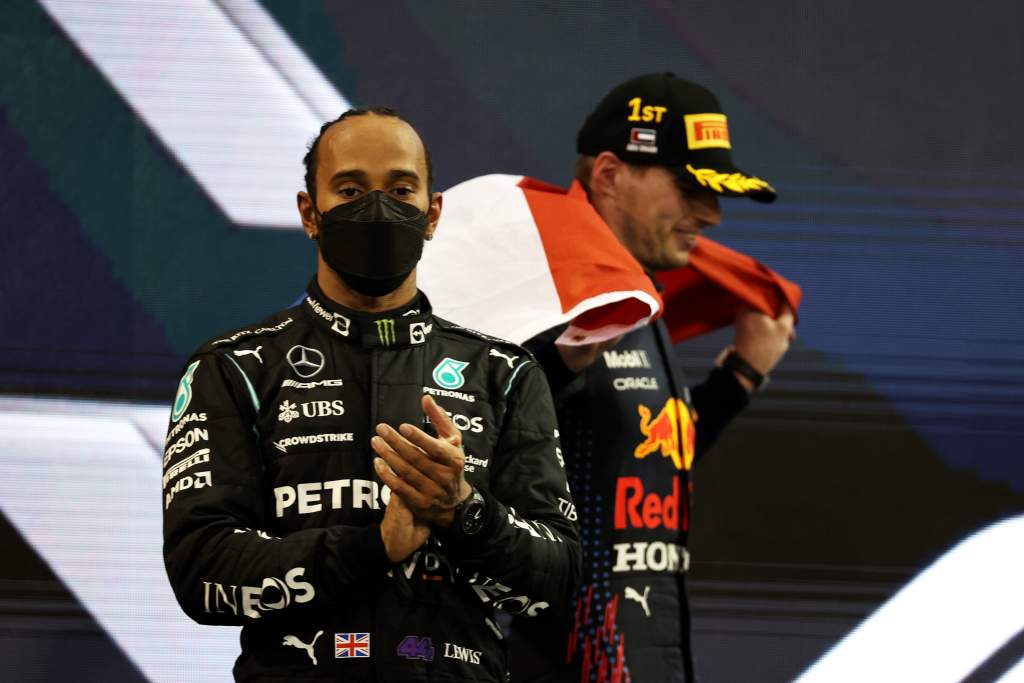 Disenchanted and with his faith in F1's rulemakers seriously shaken, Hamilton had to do some soul-searching over the winter. But he committed to returning and, once that was clear, there was no reason to think the deal to the end of 2023 would be questioned again.
Nobody really thought that Hamilton and Mercedes would be such peripheral figures early in the new era of technical regulations, though. And when Hamilton's low points had him qualifying in the lower-midfield and being consistently beaten by Russell, the negative questions re-emerged.
It's a quirky situation in that those who doubt Hamilton's motivations probably assumed Mercedes' hardships to be accelerating the end of his career. Ironically it may be extending it.
Now a contract extension seems the most logical outcome. He's still performing at a high level, he's doing a lot of work to rectify the team situation, and buys in totally to the cause of restoring Mercedes to race winning ways.
The more results like France are possible, the more Hamilton will believe it is a realistic aim. Of course, Mercedes is quite far behind at the moment in key areas like qualifying pace and has a lingering degree of confusion over why exactly that is the case.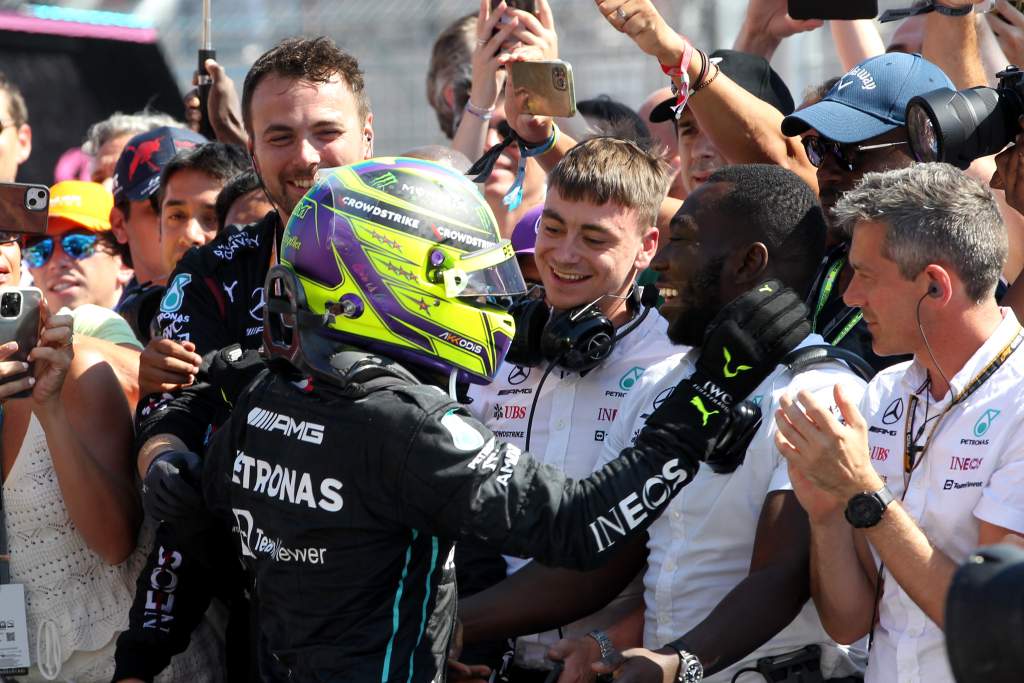 With so much still to do, 2023 might come a bit too soon for Mercedes to fight for a championship again. And in that case, Hamilton will need to stick around longer to reap the rewards from his and Mercedes' current efforts.
Who knows what he really wants, but it feels very likely he will do just that.