The Sauber team now has 544 starts to its name as a Formula 1 team, having hit the 500-race mark at the Turkish Grand Prix in 2020.
And though much of that time has been spent in the F1 midfield, the team has enjoyed its days in the sun – something Audi will be hoping for more of from 2026, now it has announced it will partner with Sauber for its first F1 entry.
In this feature, run originally in November 2020 after that aforementioned 500th start for a Sauber entry, Edd Straw charted the 10 most significant moments in the F1 team's history.
While Sauber's historical statistics are distorted by the fact that it runs as Alfa Romeo thanks to a sponsorship deal with the Italian company, and its four years under BMW ownership, the identity of the team has remained thoroughly Sauber during this period – meaning it's legitimate to consider it as having notched up half a millennium-plus starts.
During that time, the highs have admittedly been few and far between but from the moment Sauber first broke into grand prix racing, it has had the capacity to produce famous moments.
1. A SUPERB DEBUT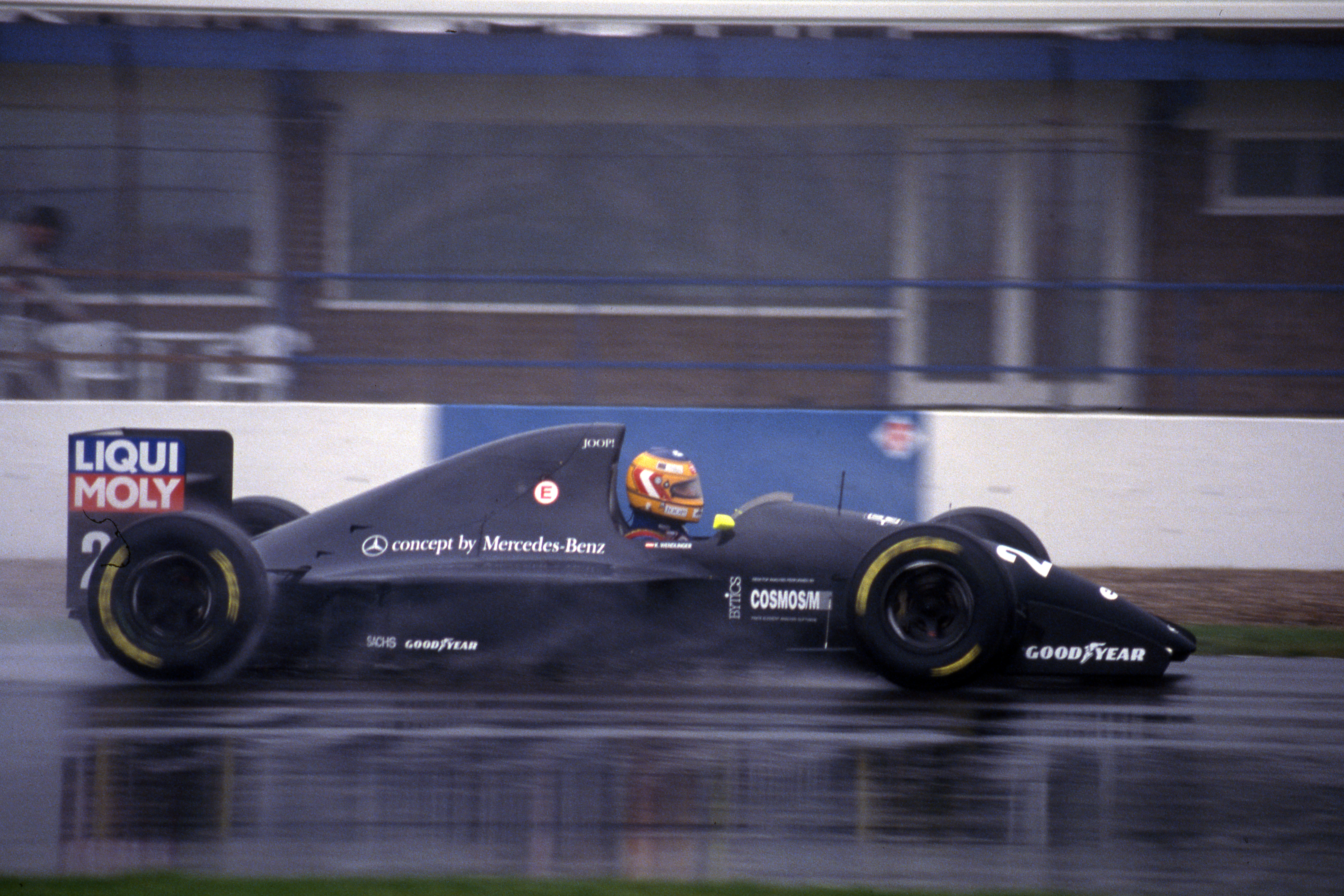 Sauber's first season in Formula 1 was a remarkable one, as it finished seventh in the world championship in 1993.
But the most remarkable moment of that debut season was surely its first lap in F1 in the South African Grand Prix at Kyalami.
From seventh and 10th on the grid, the sleek, black Sauber C12s of JJ Lehto and Karl Wendlinger came round in an astonishing fourth and fifth place – behind only Ayrton Senna's McLaren, Michael Schumacher's Benetton and Alain Prost's Williams.
They kept hold of both positions for five laps and Lehto went on to finish fifth with Wendlinger retiring while running sixth and on a trajectory that would have netted at least fourth.
2. THE FIRST PODIUM
The arrival of Heinz-Harald Frentzen, then regarded as the next big thing, in 1994 produced some eye-catching performances but unreliability and bad luck meant the results weren't what they should have been.
But the following year, for which the team landed the works Ford engine supply previously held by Benetton, finally produced Sauber's first podium at Monza.
The infamous collision between Damon Hill and Michael Schumacher, the demise of the Ferraris and Williams driver David Coulthard retiring from the lead early on, combined with a good drive from Frentzen, netted third place in a race won by Benetton's Johnny Herbert.
Frentzen's result was backed up by team-mate Jean-Christophe Bouillon's sixth place.
3. SIGNING KIMI RAIKKONEN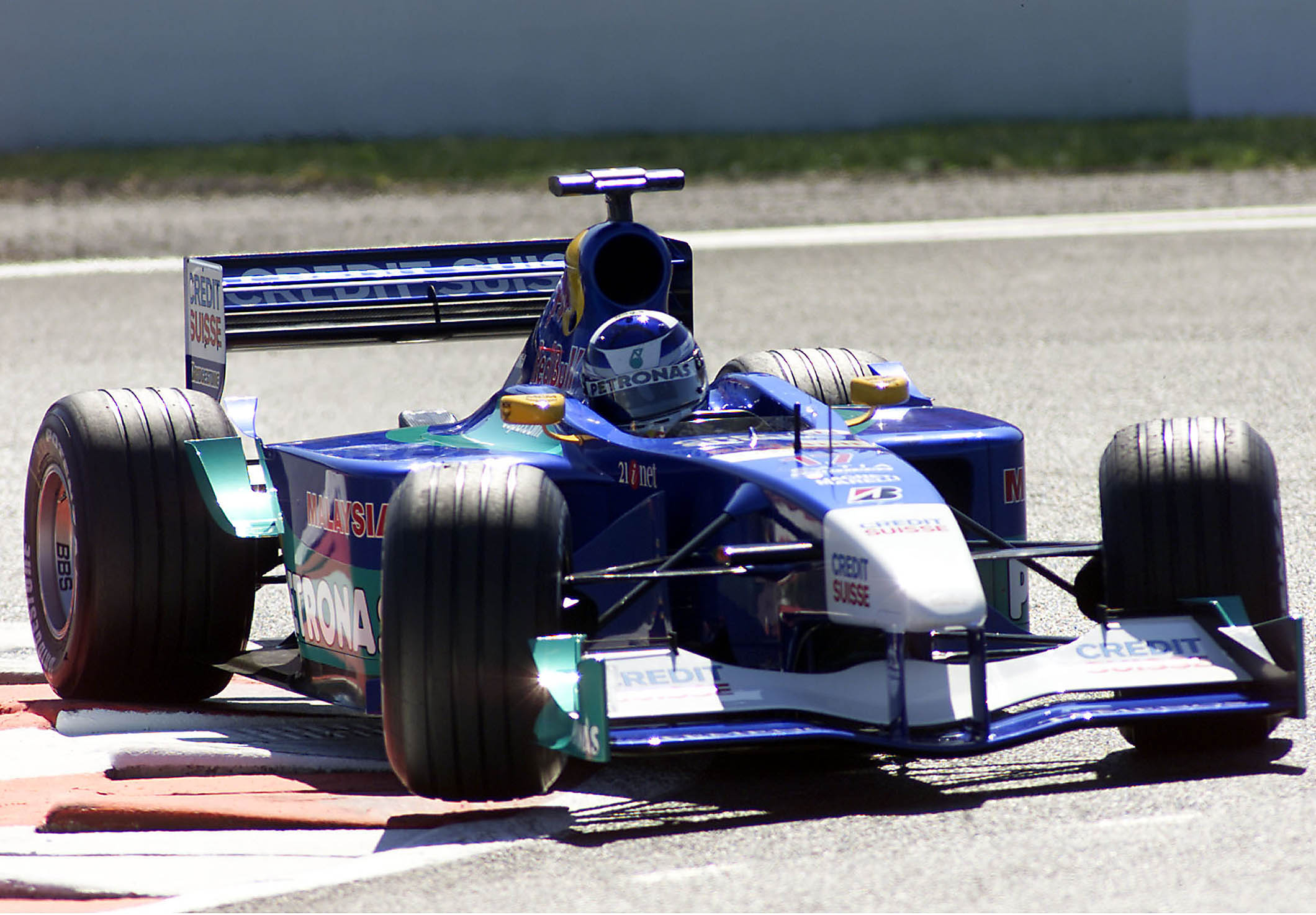 Kimi Raikkonen was a 20-year-old with just 23 car races under his belt when Peter Sauber made the bold decision to sign him for the 2001 season off the back of stunning testing performances.
It was a battle to get permission for a superlicence for Raikkonen, who had never raced at a higher level than Formula Renault – where he won the British championship in 2000.
The move was opposed by FIA president Max Mosley and eventually went to the F1 Commission, which granted Raikkonen a superlicence on a provisional basis with the right to review that.
But Raikkonen immediately showed there was no reason even to think about going back on the decision, scoring points on debut in Australian Grand Prix.
He went on to help Sauber to its best-yet constructors' championship position of fourth alongside team-mate Nick Heidfeld.
4. SELLING KIMI RAIKKONEN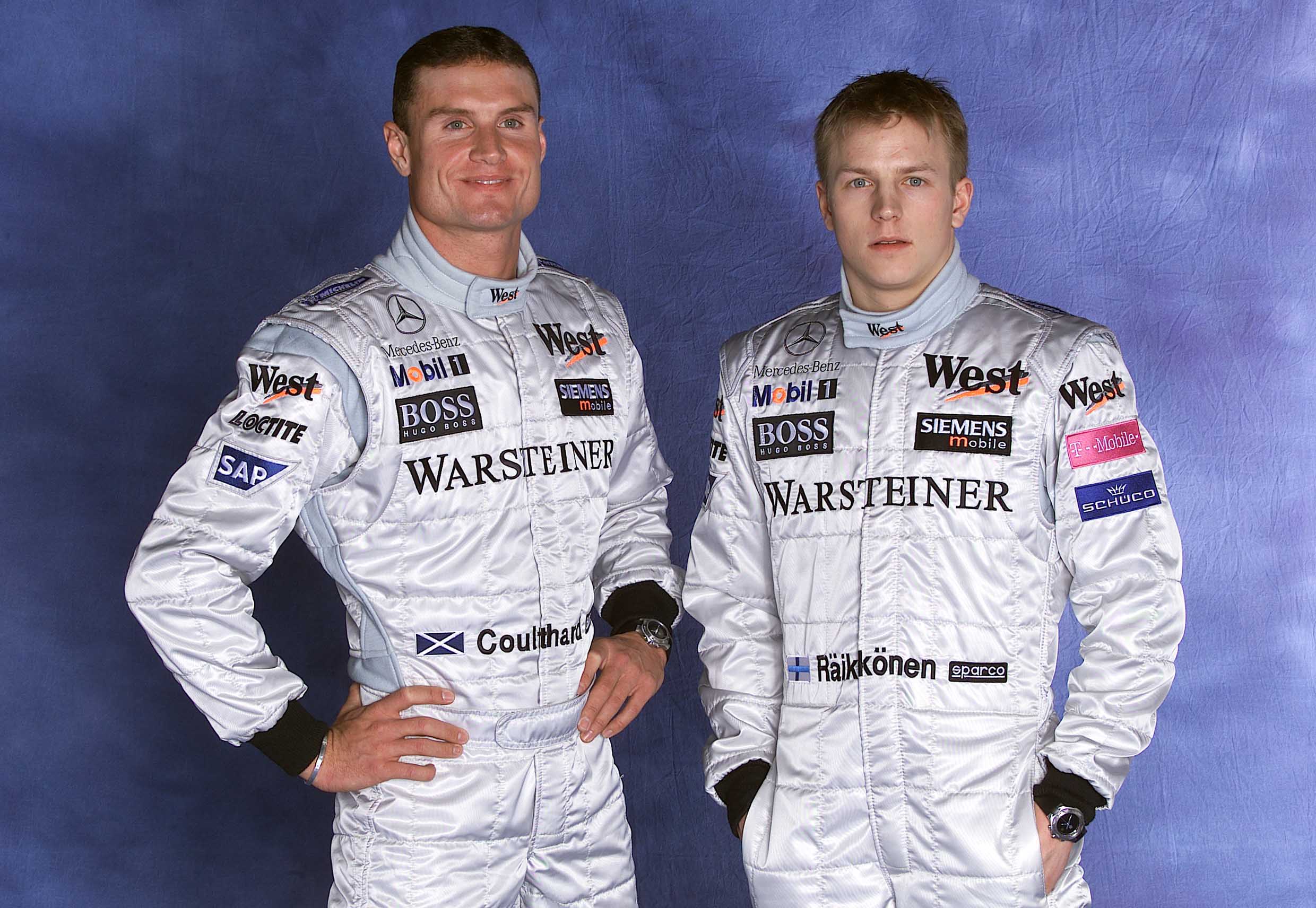 Raikkonen's performances inevitably caught the attention of the big teams.
McLaren needed a replacement for Mika Hakkinen, who opted for a sabbatical in 2002 that ultimately turned into F1 retirement, and secured Raikkonen's services for a significant fee.
This was all thanks to the fact Sauber had signed Raikkonen on a three-year deal. While losing a driver who would go on to be one of the stars of the 21st century might seem to be a bad thing, it was hugely beneficial.
The money brought in from selling Raikkonen's contract to McLaren contributed to Sauber investing in a state-of-the-art windtunnel facility that remains in use to this day – and crucially was a significant part of the appeal of the team when BMW bought it a few years later.
5. FRENTZEN LEADS!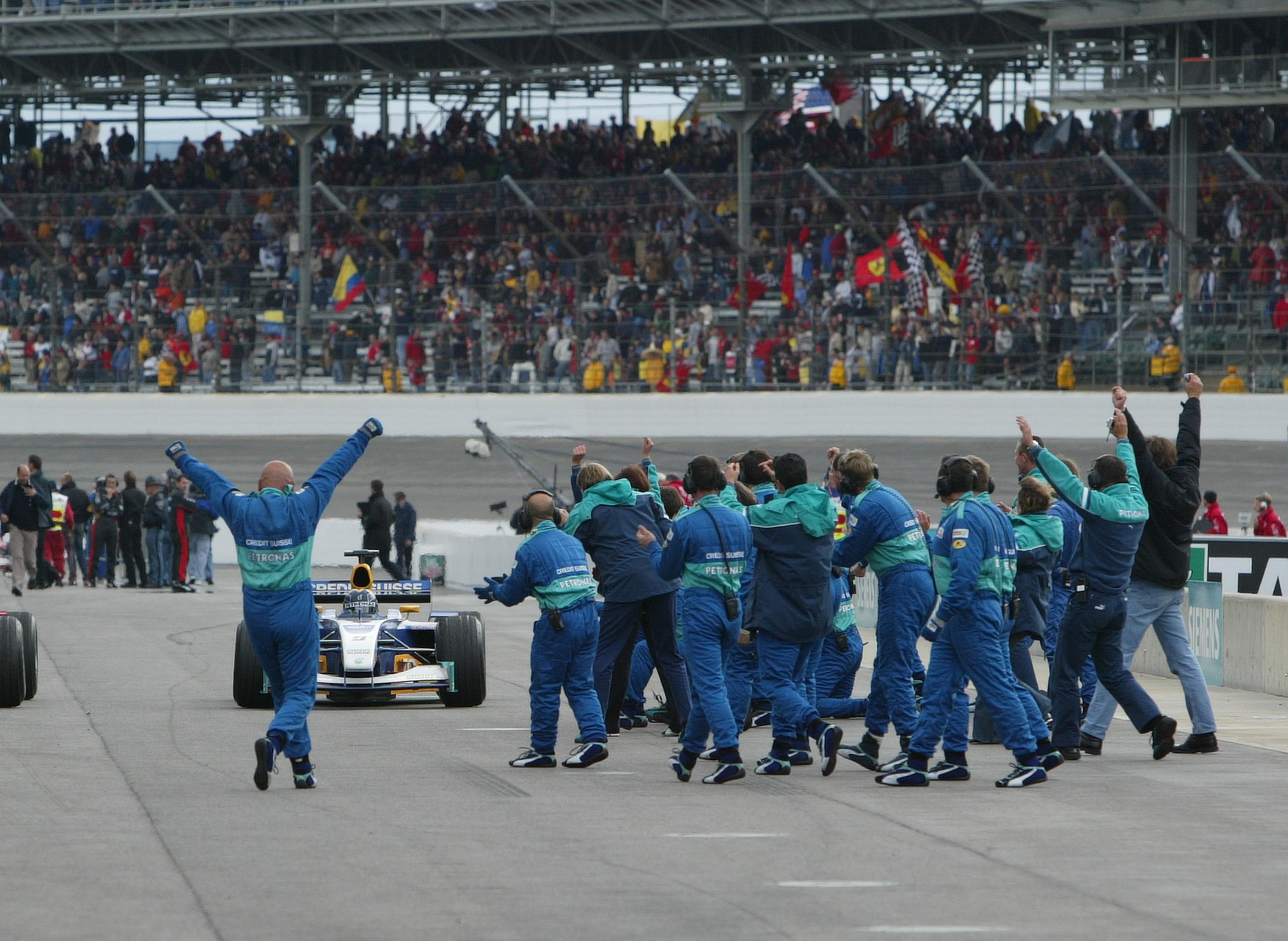 It took just over 10 years for a Sauber finally to lead a grand prix in the rain-hit race at Indianapolis in 2003.
Frentzen, in his second stint with the team after spells with Williams, Jordan, Arrows and Prost, led the 48th lap of the race on his way to third place.
That was only Sauber's sixth podium finish in F1, but triggered jubilant scenes among the Sauber crew.
Crucially, it also elevated the team from ninth in the constructors' championship to, ultimately, sixth place.
6. FIRST POLE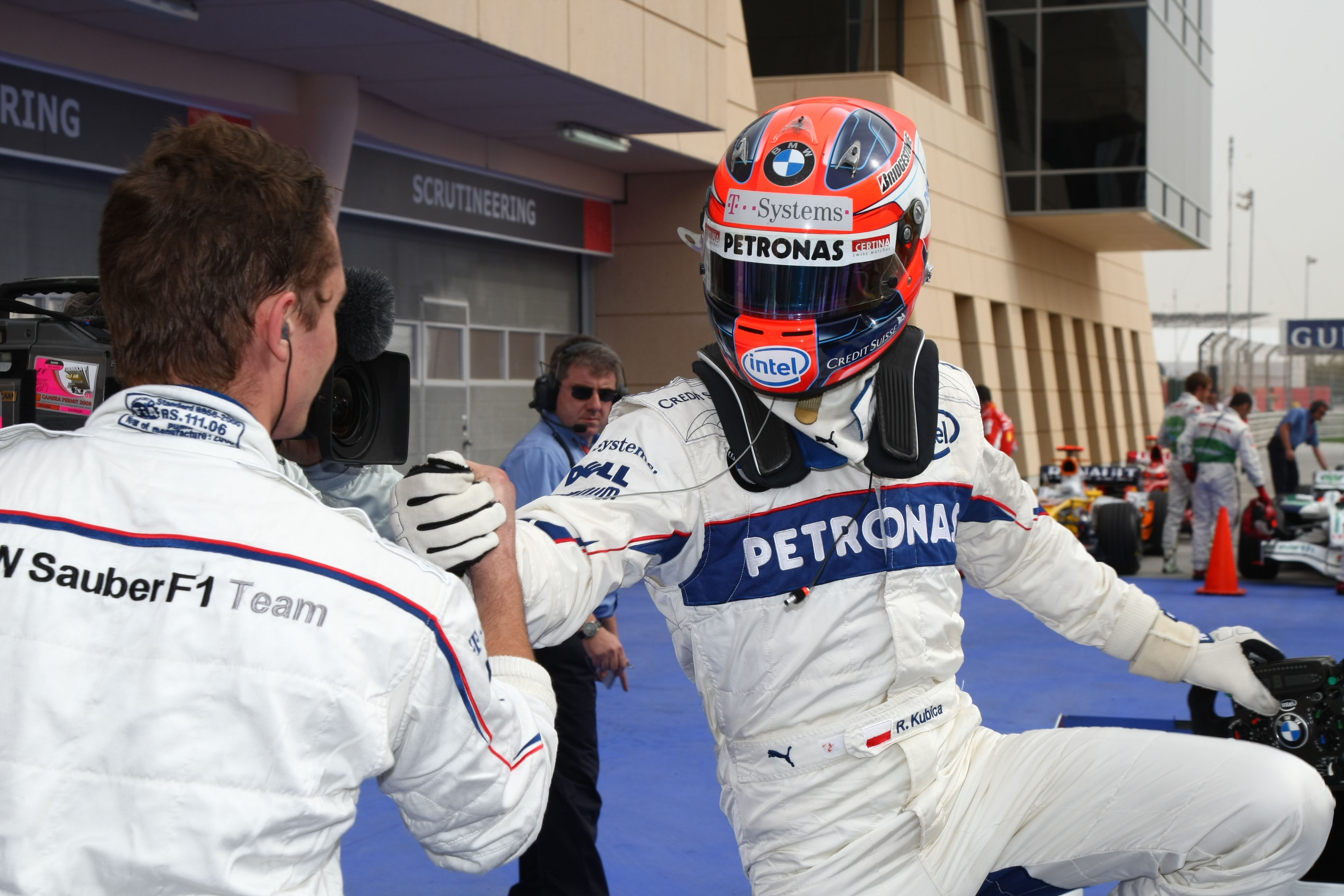 In June 2005, BMW bought a majority stake in the team, turning it into BMW Sauber for 2006. The following season, it finished third in the constructors' championship (second once McLaren's exclusion is taken into account) but it wasn't until 2008 that Sauber had its first pole position.
Robert Kubica started from the front in the Bahrain Grand Prix, converting that into third place as the team started what was its best season in terms of results.
7. FIRST WIN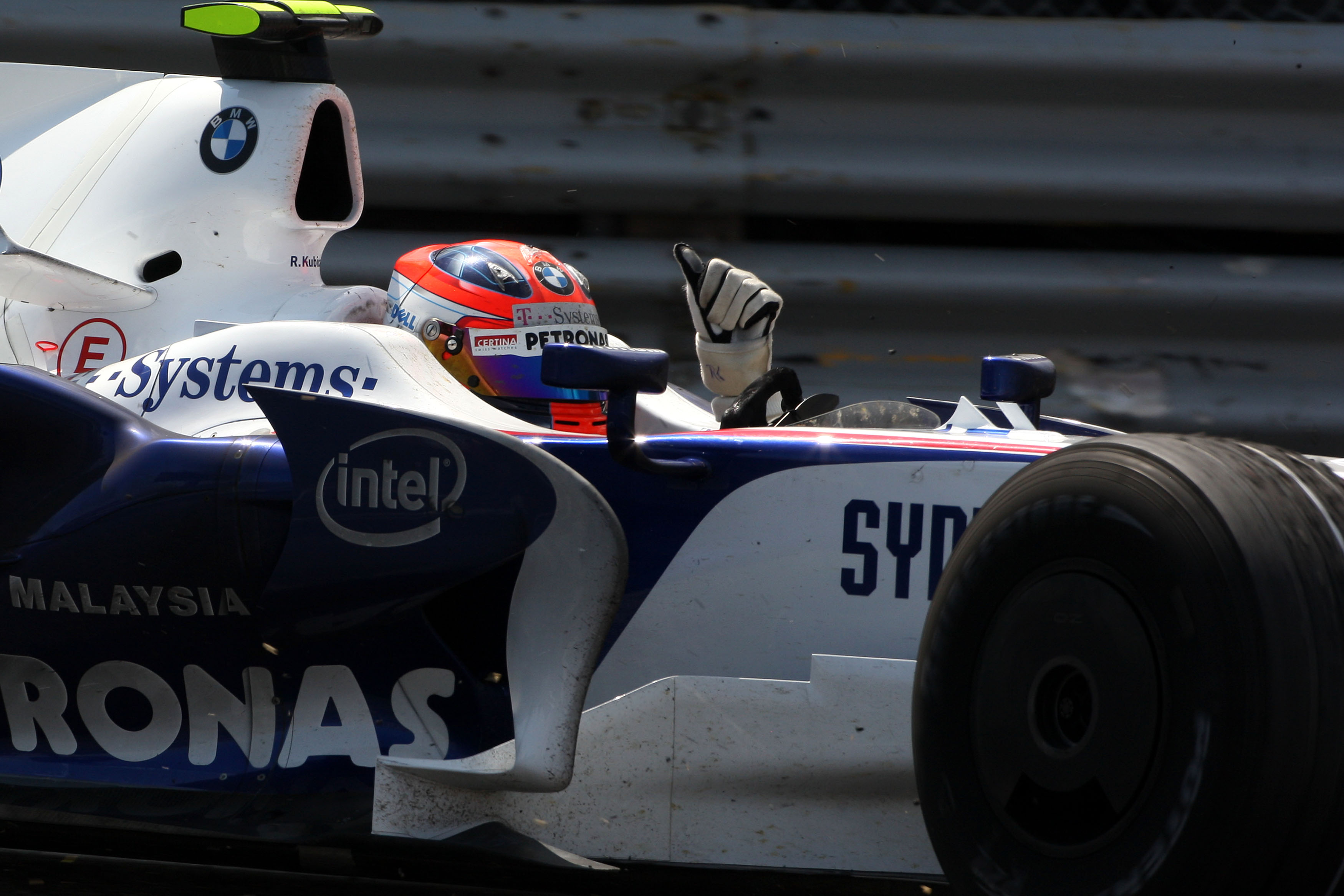 A year on from his monster shunt in the 2007 Canadian Grand Prix, Kubica gave Sauber its day of days by leading home team-mate Nick Heidfeld for a one-two in Montreal.
In a race famous for Lewis Hamilton crashing into Raikkonen's parked Ferrari after missing a red light at the pit exit, Kubica took what would remain his only grand prix victory.
While the victory came under the majority ownership of BMW, it still should be considered a Sauber win not only because that was still part of the team name, but also because founder Peter Sauber still owned 20% of the operation.
To this day, Kubica is frustrated the team switched its focus to 2009 development too early given he had a shot at fighting for the world championship in 2008.
The Montreal win actually put him into the championship lead by four points over eventual title rivals Hamilton and Felipe Massa.
Kubica stayed in the title hunt until the penultimate round, but BMW kept its sights set on a 2009 season that ended up being a huge disappointment and its last in F1.
8. PEREZ'S NEAR-MISS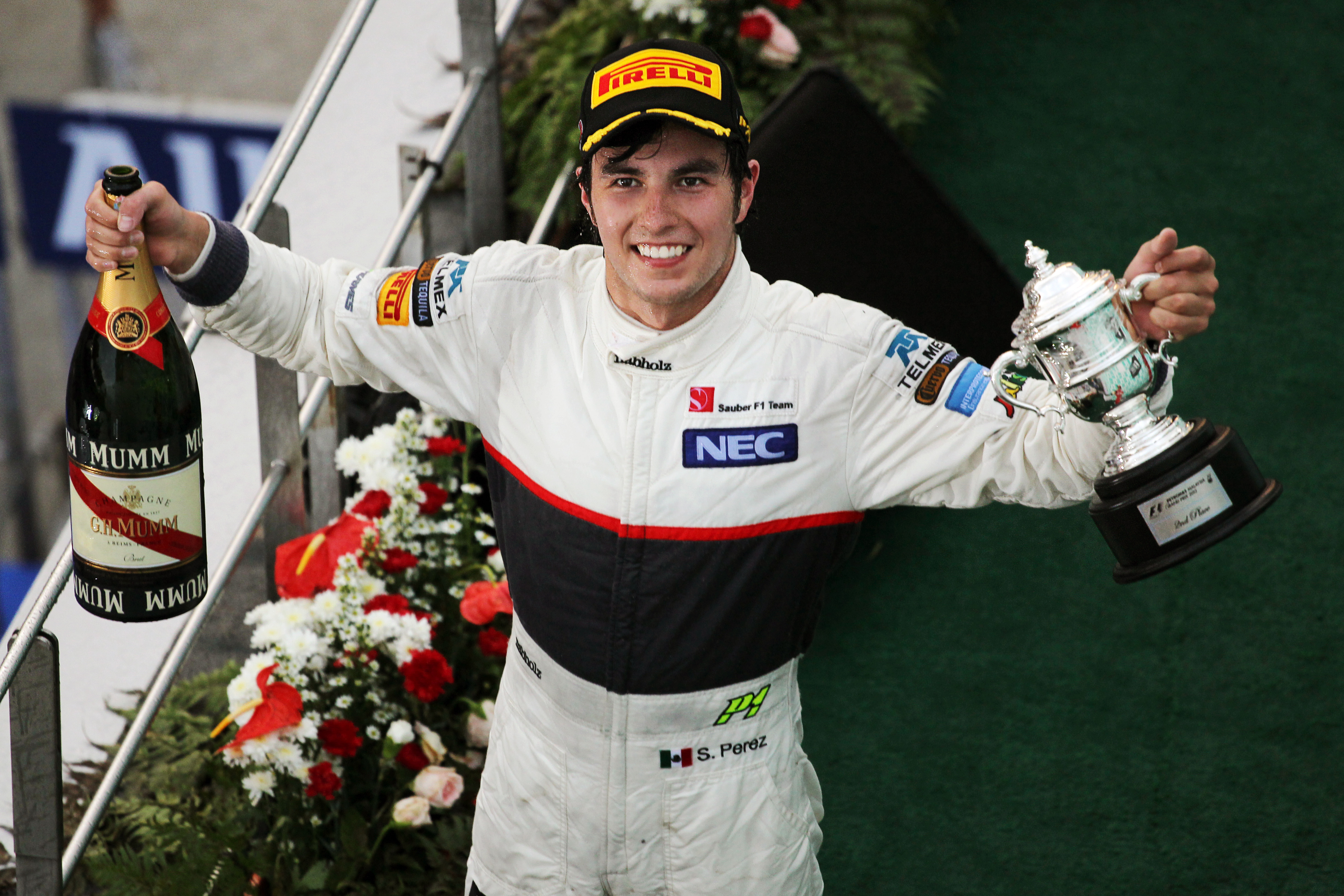 While Sauber has never won a grand prix independent of BMW, Sergio Perez came agonisingly close to doing so in the rain-hit Malaysian Grand Prix in 2012.
After making his final pitstop, Perez finished the 42nd lap of the race 7.180s behind Alonso, he quickly closed the gap and he started lap 50 just 0.575s behind the Ferrari.
But at Turn 13, he ran wide and off the track, dropping to five seconds behind. While he started to reel in Alonso again, he ran out of laps and finished the race 2.263s behind.
It was one of three podium finishes for Sauber during a superb season, with Kamui Kobayashi's emotional third place on home soil at Suzuka Sauber's last rostrum in F1 to date.
9. HULKENBERG'S KOREA HIGH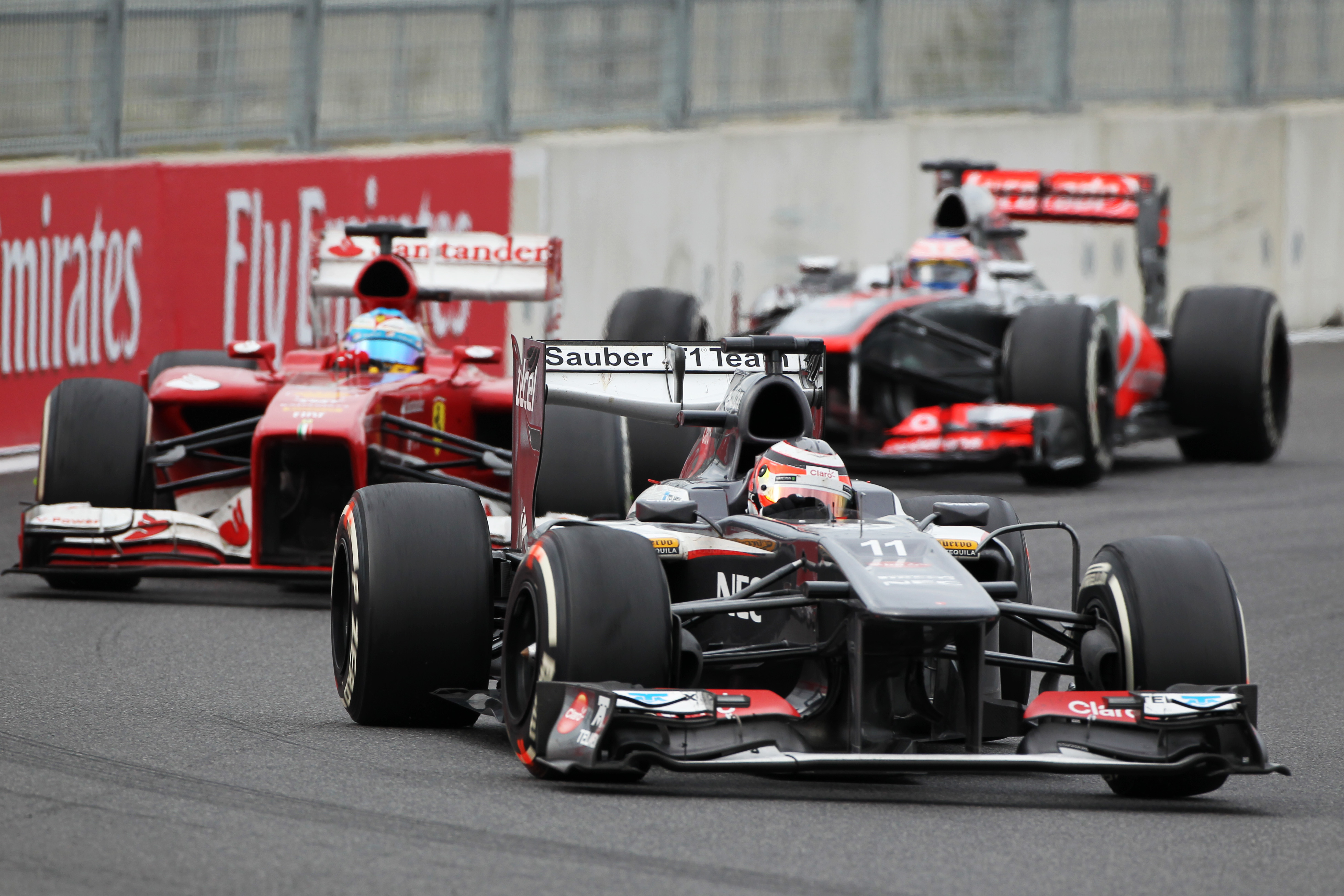 The first half of Nico Hulkenberg's sole season with Sauber in 2013 wasn't an easy one, but the combination came on strong in the second half of the season and peaked with his stunning drive to fourth place in the Korean Grand Prix.
Hulkenberg kept Lewis Hamilton and Alonso at various times during the race and arguably his stock was never higher than after this great drive.
Alonso even branded Hulkenberg "superb" after the race amid rumours that they could be Ferrari team-mates in the future.
10. THE $13m NINTH PLACE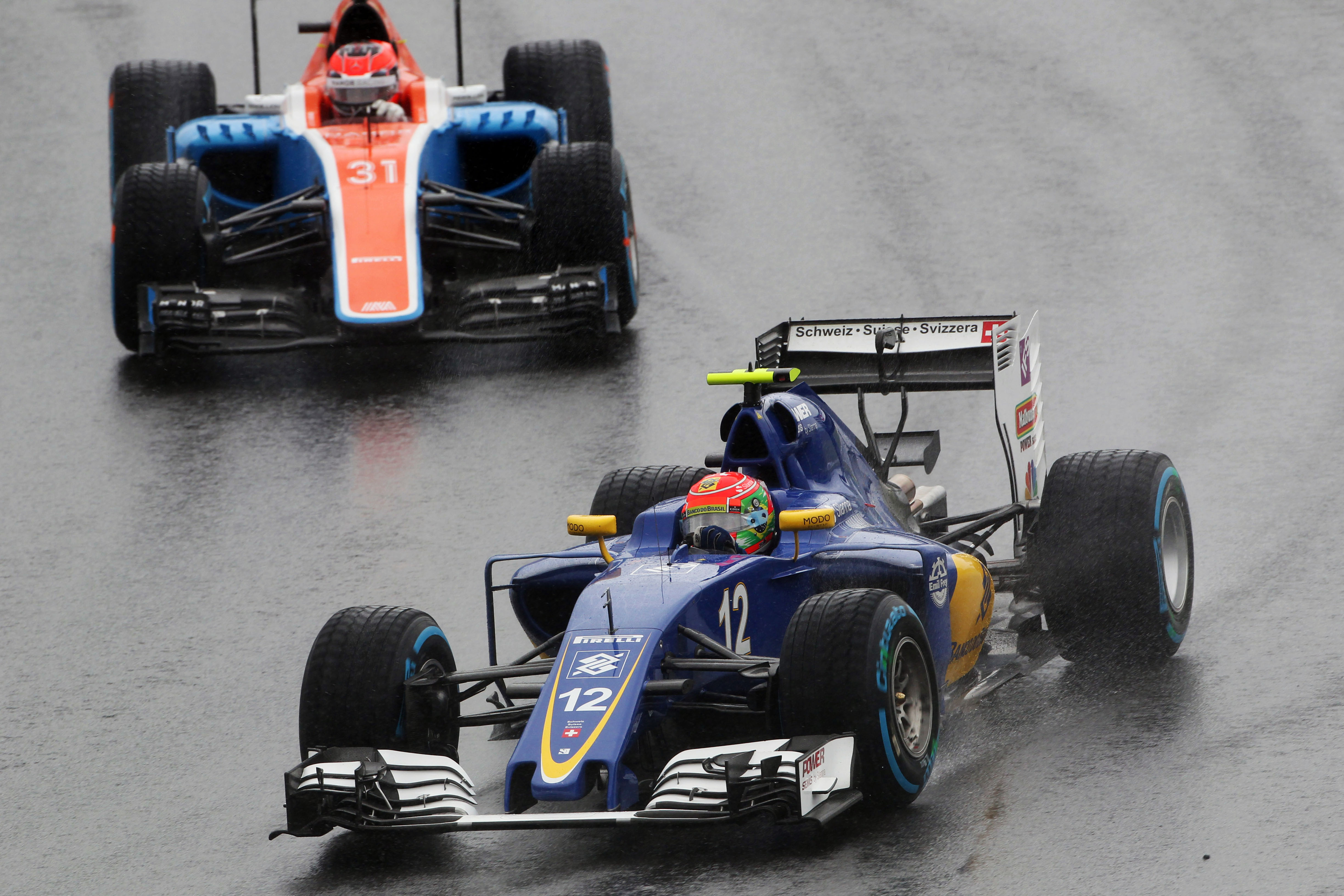 Sauber was in serious financial trouble and without a point heading into the penultimate round of the 2016 season. Crucially, it sat behind Manor in 11th place in the constructors' championship.
But despite starting 21st after being slowest in qualifying, then moving ahead of the penalised Esteban Ocon on the grid, Felipe Nasr charged to ninth in the opening five laps in wet conditions then made a well-timed stop for intermediate rubber.
He drove a faultless race from then on to grab two vital points.
This proved critical for the team as it moved it ahead of Manor in the constructors' championship. Sauber's 10th place gave it $13million – a vital cash boost – with Manor getting nothing thanks to finishing outside the top 10.