Renault revealed its major upgrade package during practice for the Austrian Grand Prix, comprising parts originally due to be phased in over the first six races of the season.
Although they are spread around the car, the updates are all closely involved with each other as far as optimising the airflow is concerned.
This is a bold step for a team that has previously struggled to get the most out of its development direction. But because of that lack of correlation in the past, Renault will probably have increased its research programme to minimise the chances of the same problems happening again.
For some, it's probably a bit depressing to see that after practice it's the 'same old, same old' with Mercedes at the front, but further down the battle between Racing Point, McLaren and Renault looks quite close. So any small step in performance could pay big dividends and it's still early days.
Front wing changes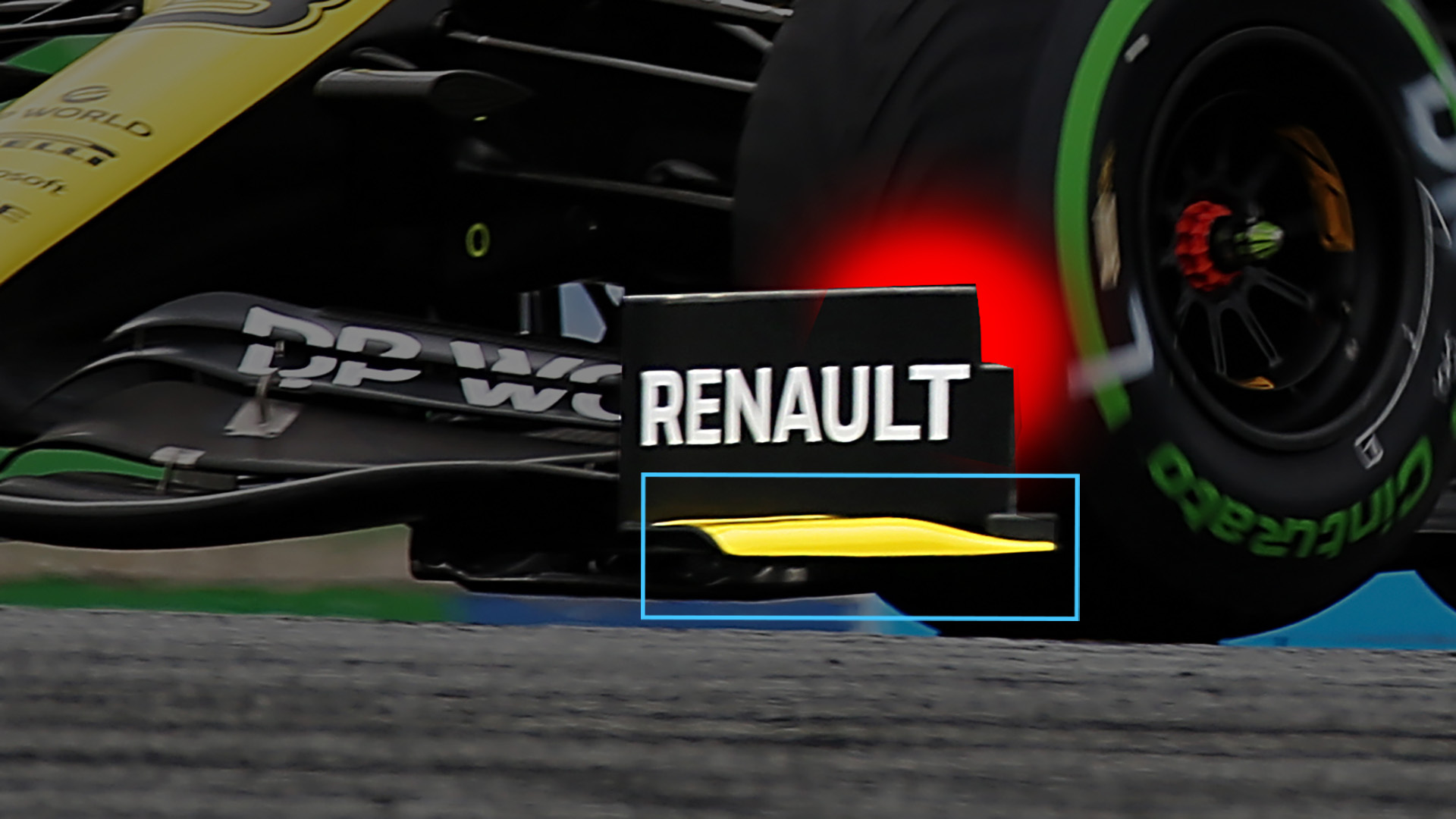 The top rear corner cutout (marked in red) allows the outwash from the front wing to start that little bit earlier. This improves the performance of the front wing area in front of the tyre.
The lower rear corner change where the tunnel in the front wing endplate reduces (highlighted in blue) improves how the airflow, displaced by the front tyre as it rotates onto the track and 'squirts' around the outside of the front tyre, connects up to this tunnel. This helps to seal the front wing from pulling air in from the outside of the front wing endplate.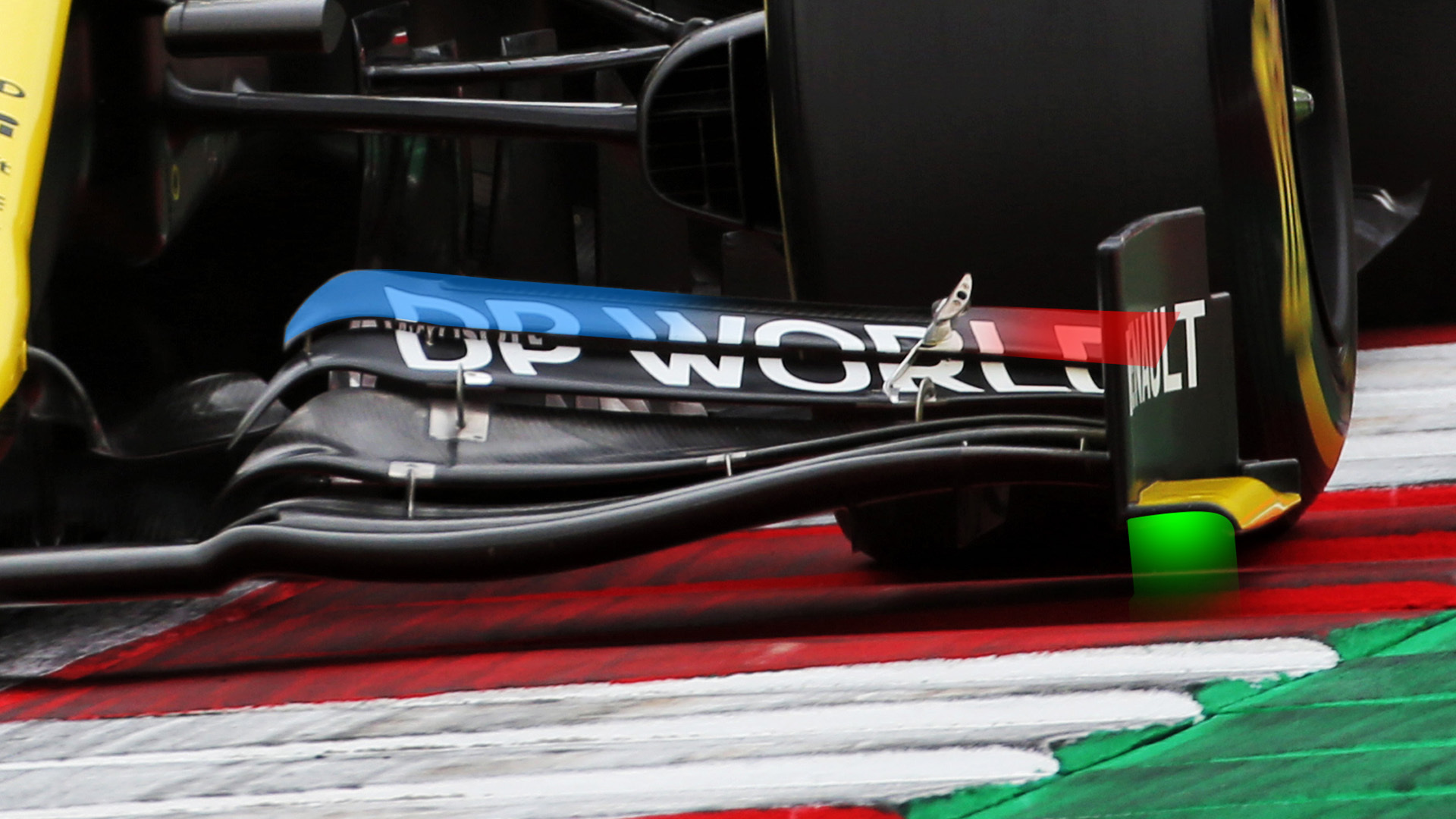 In line with the endplate change, Renault has also modified its front wing. The outboard end of the rear flap (red) is less aggressive and in line with the change to the endplate upper rear corner aimed at working this area harder.
The inboard section of the rear flap (blue) has a slightly longer chord. This will mean a more even load distribution across the wing.
The endplate tunnel section (green) is more rectangular than previously. This increases its volume and then the trailing edge squeezes this flow back down, connecting it up to the airflow being displaced around the outside of the front tyre contact patch.
The little vane on the endplate footplate also contributes to the turning moment of the airflow as it gets turned outwards into the airflow being displaced by the front tyre contact patch.
Bargeboard changes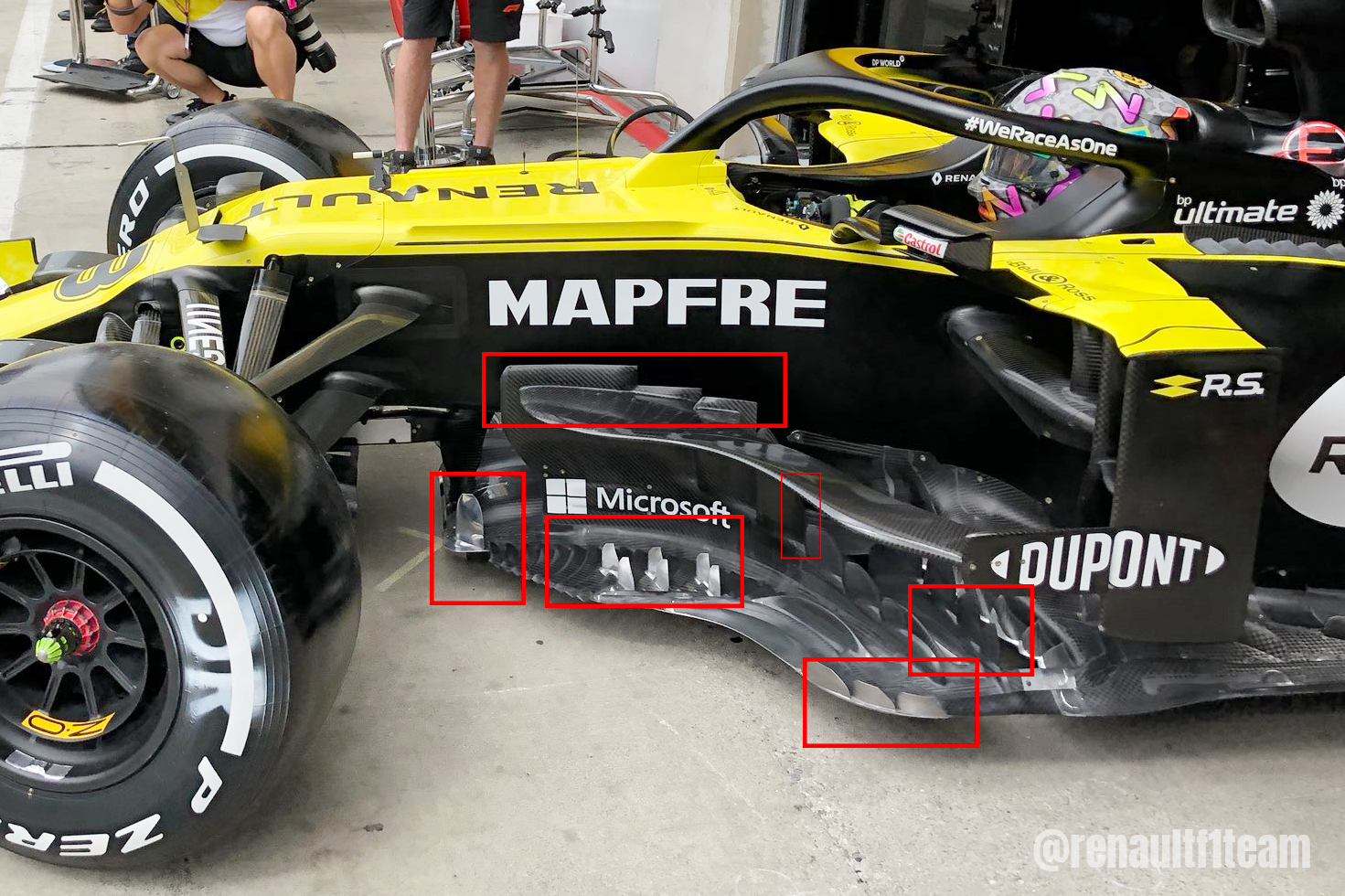 When the mass airflow around the front tyre gets changed by developments to the front wing and front wing endplates, it changes the airflow further downstream. Most of these bargeboard developments are to adapt to and improve their performance to suit that altered airflow.
Like the front wing endplate change, these vertical vanes are all about improving and increasing the outwash in this area. This improves the sealing of the sides of the underfloor, which in turn improves the performance of the diffuser and in turn the underfloor.