Pato O'Ward is set to get Formula 1 seat time as part of his new deal with McLaren in IndyCar.
The Mexican driver has put pen to paper on a new contract with Arrow McLaren SP to race with the team through the 2025 season.
Though that deal is with McLaren's IndyCar arm, O'Ward has made clear he still has an eye on F1 and would ideally like to head in that direction within the next two years.
The negotiations were tough, with O'Ward confirming to the press he was looking at other teams and saying after winning at Barber Motorsports Park earlier this month that the situation had felt like a "war". By then only the finer details remained on signing the new deal.
In a press conference announcing the deal on Friday, McLaren Racing CEO Zak Brown said "we've always known he's an extremely fast racing driver and I've also learned he's a pretty good negotiator!".
O'Ward drove a McLaren F1 car for the first time in Abu Dhabi last year as part of a bet Brown made him about him winning an IndyCar race in 2021.
---
Follow the Indianapolis 500, Monaco Grand Prix AND Mugello MotoGP race as they happen in The Race Live Hub this weekend
---
However, it looked like he would face a long wait for an actual F1 chance as McLaren signed Colton Herta – O'Ward's Andretti Autosport IndyCar rival – to a junior deal while O'Ward's contract remained unresolved.
Asked by The Race following O'Ward's contract announcement if the deal included seat time and to elaborate on the F1 plan for Pato, Brown said: "We've got both our drivers under contract so there's nothing imminent, but we are starting a testing programme.
"We're going to put a couple of drivers in, Pato is definitely going to be one of those.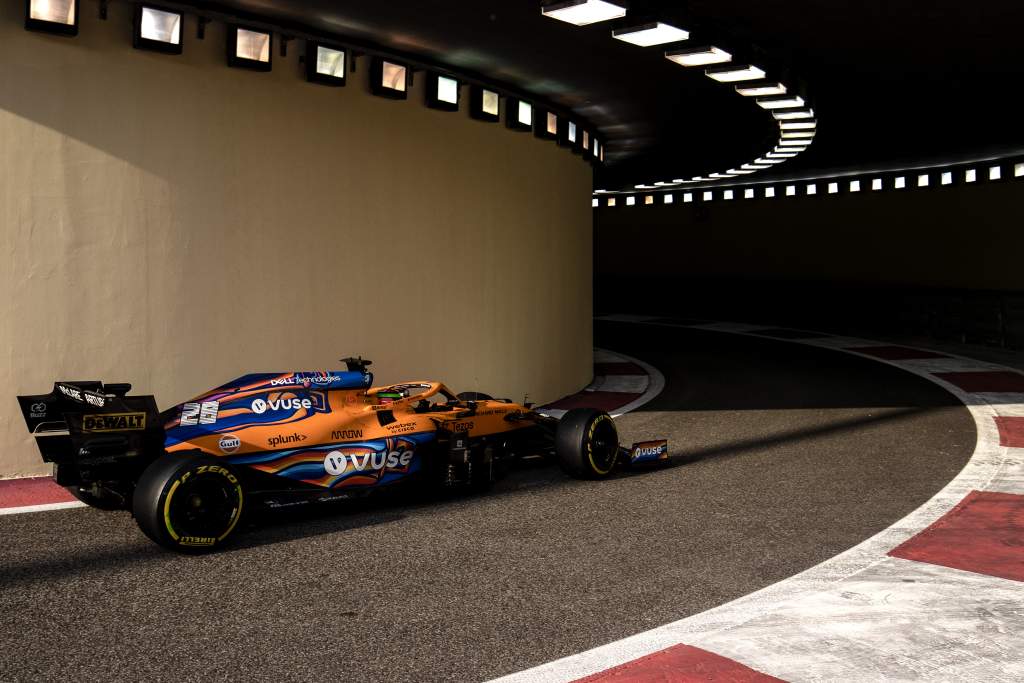 "He did a very good job in Abu Dhabi last year.
"So the IndyCar schedule is very packed, as you know, but later in the year, I wouldn't be surprised to see him in one of those [F1 cars] again."
Brown confirmed the McLaren team has an idea of some of the grands prix where O'Ward might make an appearance in Friday practice but it hasn't decided yet.
The Mexican Grand Prix would make the most sense given O'Ward's huge popularity in his home country, and the fact that it comes well after the IndyCar season has finished.
Before Mexico is the United States Grand Prix at Austin, which could also be a good marketing opportunity for McLaren with either O'Ward or Herta.
O'Ward has said he has put any chance of an F1 future to the back of his mind in order to focus on his Indianapolis 500 and IndyCar championship bids.
But on Friday he also reiterated a previous stance that any F1 switch needs to happen by his mid-twenties. As he has just turned 23, the implication is that he would like to transfer to McLaren's F1 programme within the duration of his new deal.
"I think that deadline is there just because of age, right?" said O'Ward.
"I think once you're 25 and 26, that window closes quite a bit. So obviously, if the opportunity comes about, you got to take it, right?
"My dream of becoming a racing driver came about in Formula 1. It's what opened your heart to such a different world.
"Right now I'm fully focused on what we have to do, because there's no reason for me to stress about what's going to happen in two years, I just have to focus on what we have right now and just try and make the best of it.
"I'm in a great series, it's so competitive. I get to work with such a great group of people.
"We get to go out every weekend, and we have a shot to win. I don't think you can say that in any other series in the world, which is what makes IndyCar so special.
"I just really want to enjoy my time here, if it's going to be for the next 20 years, I'll enjoy it for 20 years.
"If it's going to be for one or two more years, that, and then I'll accept a new challenge.
"But obviously, if the [F1] opportunity comes about, I'm going to take it."
O'Ward is seventh in the IndyCar championship after a rollercoaster start to the year that has blended the Barber victory with small errors from himself and the team.