The release of the driver ratings that will feature in Codemasters' latest official Formula 1 game, F1 2021, has caused a fiery reaction and debate amongst fans.
Rating F1 drivers is not an easy task, and it's something that will almost always cause controversy and disagreement– you needn't look any further than Edd Straw's driver ratings for evidence of that.
It was never going to be possible for Codemasters to attribute a set of ratings that would please everyone, but it's fair to say there are some glaring outliers and inconsistencies among the 20 drivers.
Each driver has been rated on four different categories – experience, racecraft, awareness, pace – and these all contribute to their overall rating.
All 20 drivers – along with the 2020 Formula 2 field – are available for selection in the MyTeam career mode that allows you to create, manage and race for a hypothetical 11th team on the F1 grid.
We've assessed all of the ratings team-by-team (in current constructors' championship order) ahead of F1 2021's release next week.
Red Bull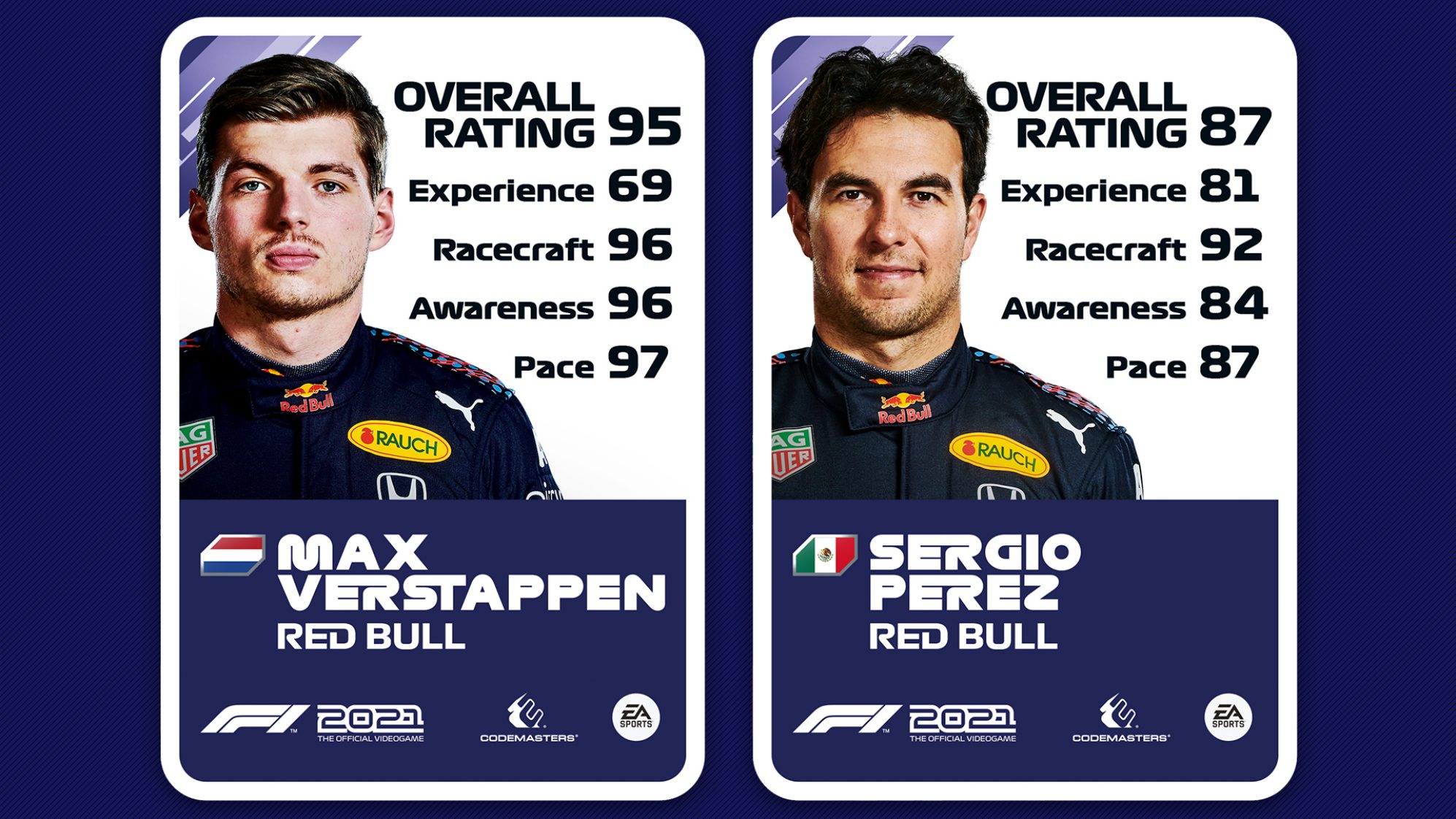 Max Verstappen has the joint-highest overall rating in F1 2021 along with Lewis Hamilton – something that seems fair considering how evenly matched the duo has been in their championship battle this year.
His weakest attribute is understandably experience, while he's consistently strong across racecraft, awareness and pace. The first two of which he's developed considerably in recent years after some rocky moments in his early Red Bull career.
The gap to Perez also feels representative of how much catching up Perez still has to do, even if he's already won a race for Red Bull and performed at a higher level than the two previous incumbents of the second Red Bull seat.
Mercedes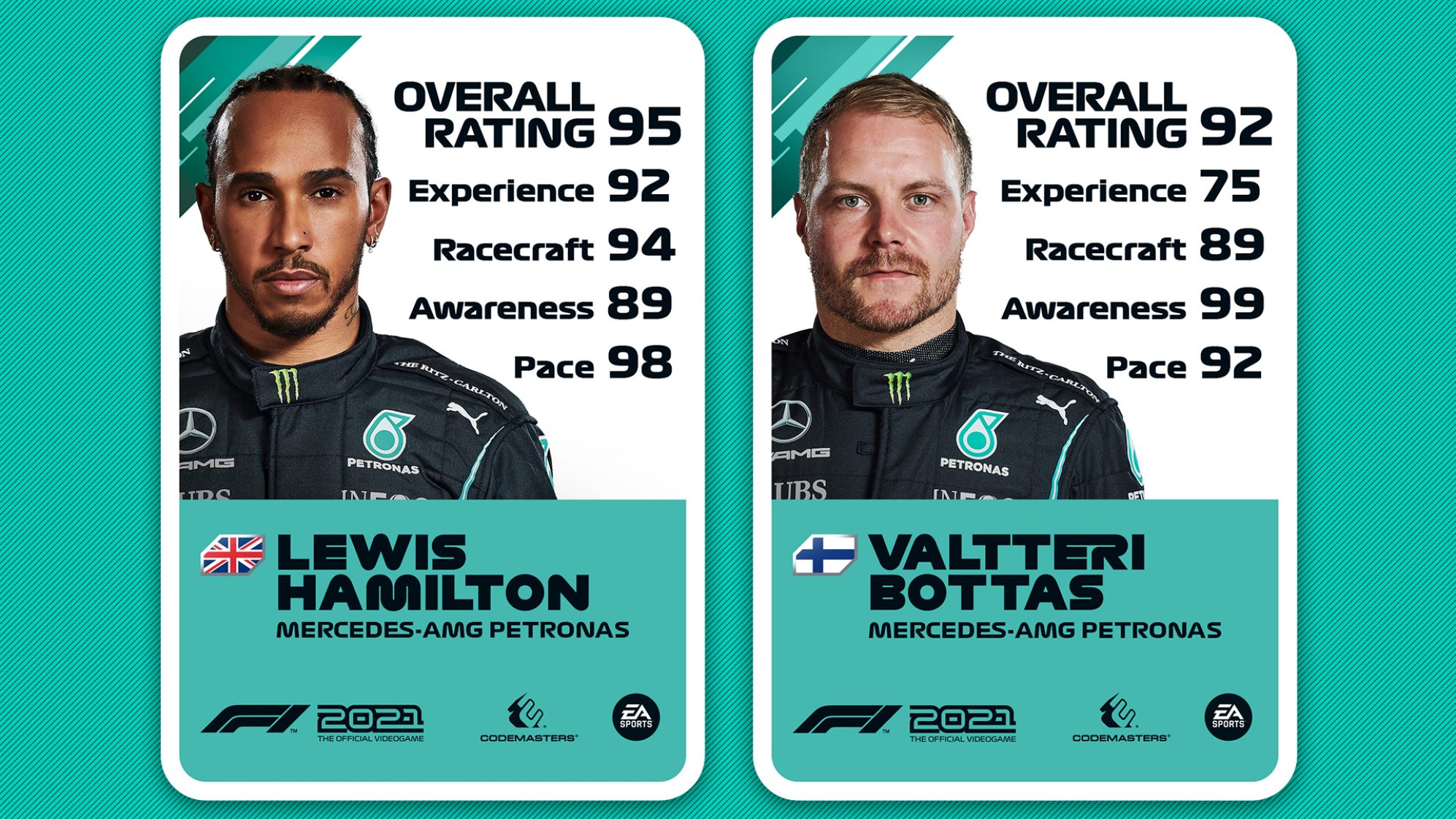 We're less convinced by the ratings of Red Bull's main title rivals Mercedes, namely the rating of Valtteri Bottas.
An overall rating of 92 places Bottas as the third-highest rated driver in the game, behind only his team-mate Hamilton and Verstappen.
Somewhat bizarrely, Bottas has a perfect 99 rating for 'awareness' – measured by the driver's ability to avoid incidents and penalties – 10 points higher than Hamilton's.
From spinning in the pitlane at the Red Bull Ring in practice to colliding in dramatic fashion with George Russell at Imola, Bottas has had far from an incident-free 2021 – though it should be noted these ratings are only correct as of the French Grand Prix.
His pace rating of 92 is the joint third strongest along with Charles Leclerc. While Bottas is often a match for Hamilton in qualifying, the same cannot be consistently said in the races, leaving his pace rating seeming a little overinflated.
Hamilton's ratings appear fairly accurate bar the lower awareness than expected.
McLaren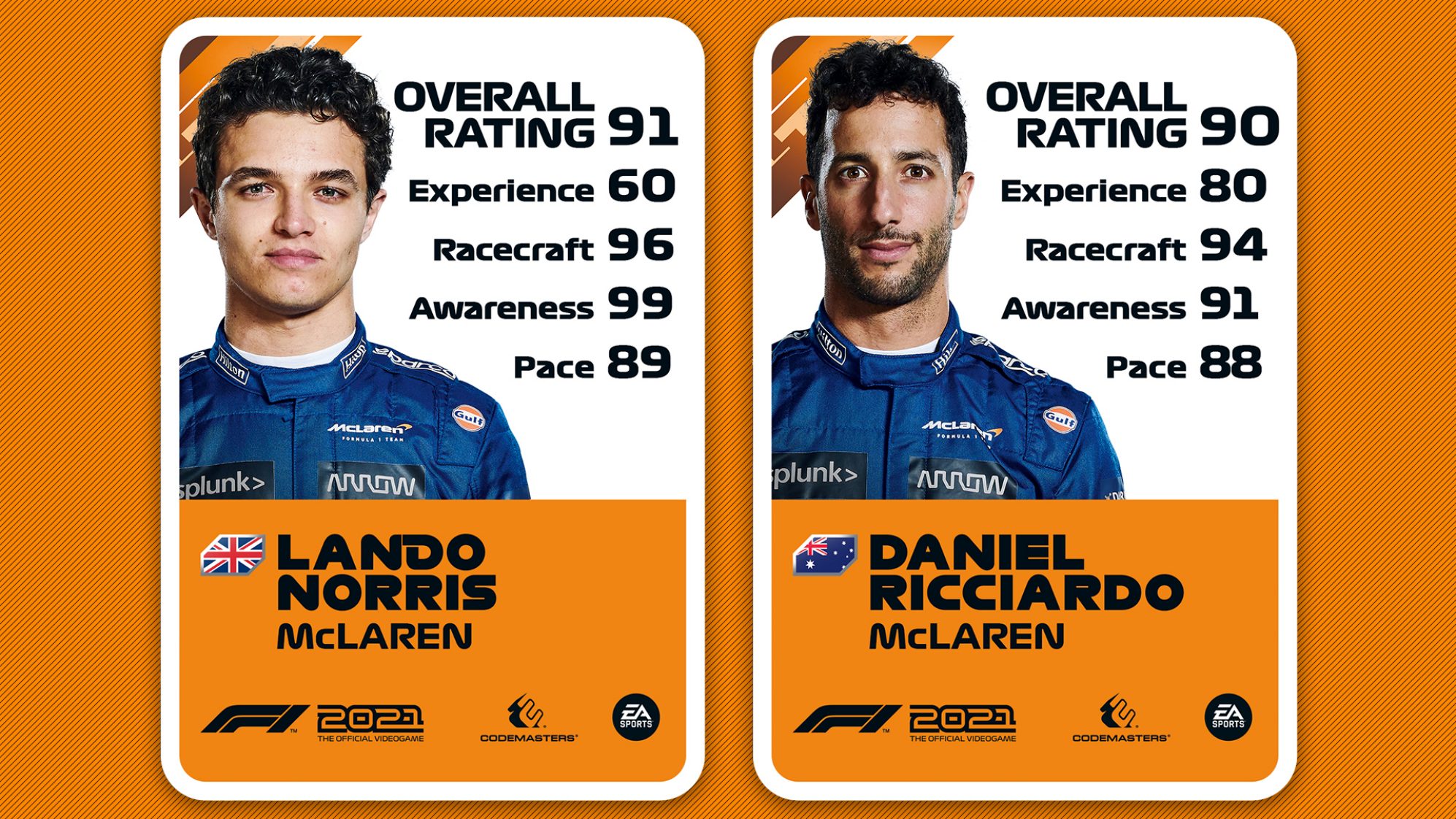 Lando Norris' standout third season in F1 vindicates his highest ever overall rating of 91.
The McLaren driver is operating better than ever and has not only consistently finished as the 'best of the rest' behind the Mercedes/Red Bull duos, but often split them such as last weekend in the Austrian GP.
He's only really let down by a low experience rating, and arguably deserves an overall rating much closer (or greater than) Bottas's.
The judgement of Daniel Ricciardo's rating will come down to how much you factor in his miserable 2021 season.
The seven-time F1 race winner has scored less than half of the points of team-mate Norris this year, but he's still the same driver who beat Sebastian Vettel at Red Bull and ran Verstappen closer than any of his Red Bull team-mates have.
Codemasters will update the ratings through the season, so if Ricciardo's struggles continue, then expect his rating to drop as the one-point difference between the duo is currently not at all representative of their relative performances this year.
Ferrari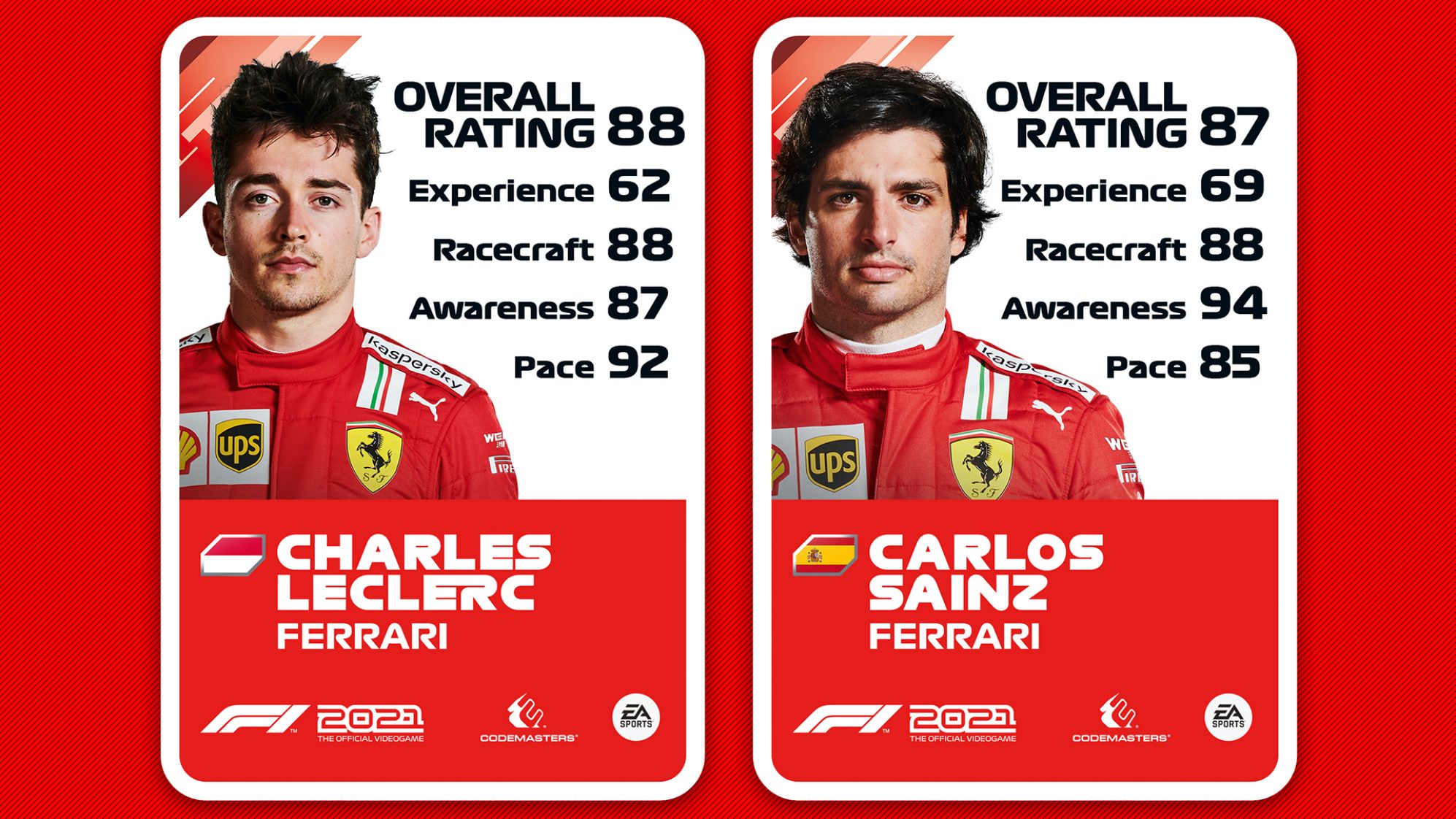 Arguably the strongest driver pairing on the F1 grid is criminally underrated by Codemasters.
Carlos Sainz's pace rating is far too low in comparison to the field and his team-mate, especially when you consider that just two points separate them in the drivers' championship and only Sainz has a podium finish this season.
The results Leclerc was able to extract from Ferrari's sluggish 2020 car and his back-to-back pole position laps in Monaco and Azerbaijan should make his pace rating higher than 92 and far closer to that of Verstappen's and Hamilton's.
He should at absolute minimum have an overall rating in the low 90s, and it's something Codemasters needs to address in a future update – along with a deserved boost for Sainz who has proven himself against Leclerc, Norris, and Verstappen.
AlphaTauri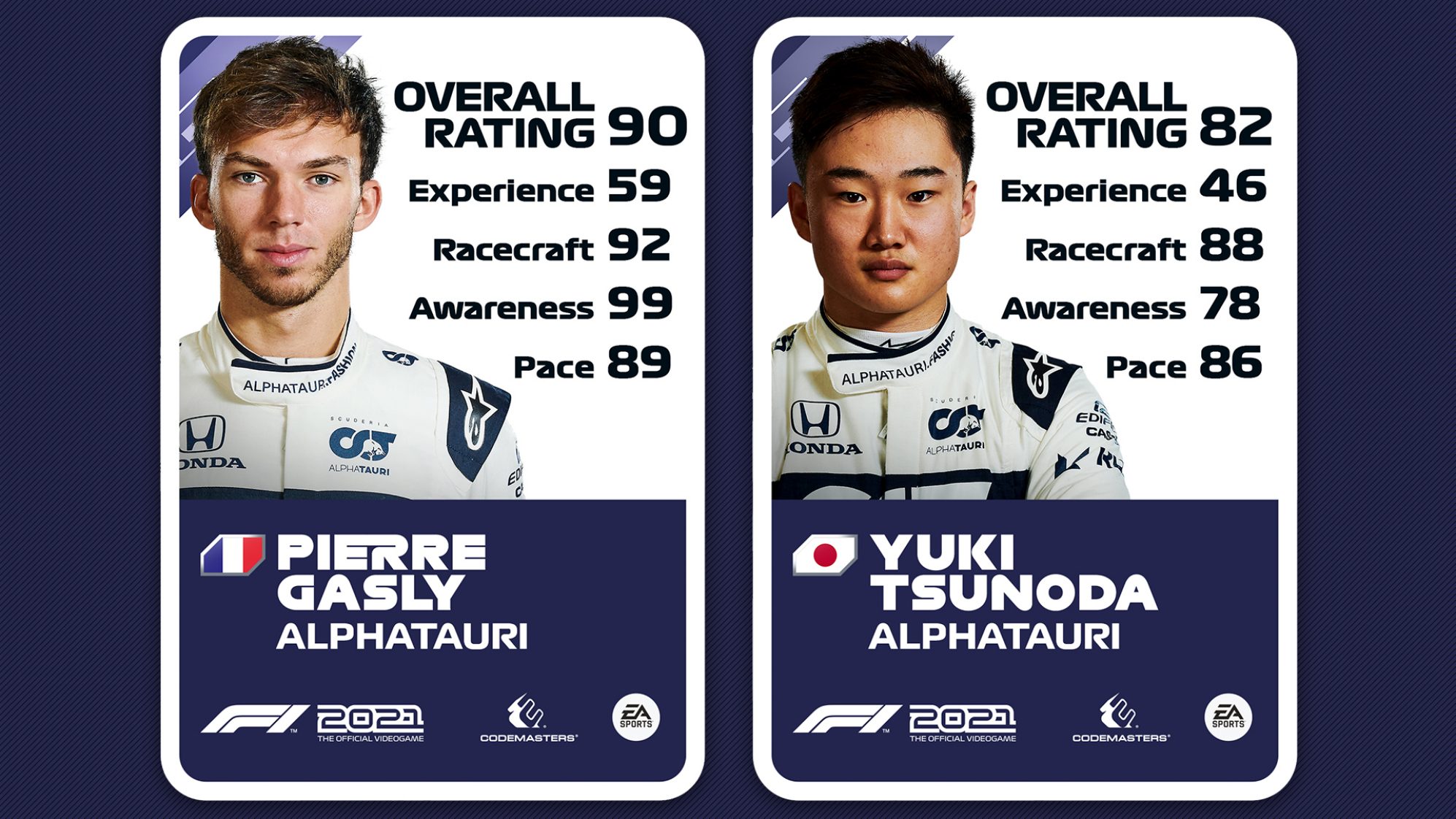 Pierre Gasly having a higher rating than his childhood friend Leclerc seems questionable. While he's worthy of a high pace rating considering his rebirth at AlphaTauri, he's still unproven in top-level machinery after his troubled half-season at Red Bull.
A maximum awareness score is also puzzling when he's been involved in a couple of first lap incidents in races this season.
On the other hand, he has an experience rating that's lower than Leclerc and Norris, even though he's competed in more F1 races than both of them.
F1 rookie Yuki Tsunoda should be pleased with a rating of 82 after a mixed debut season. He rightly has low experience and awareness scores, but arguably needs a lower racecraft and overall rating for now.
Aston Martin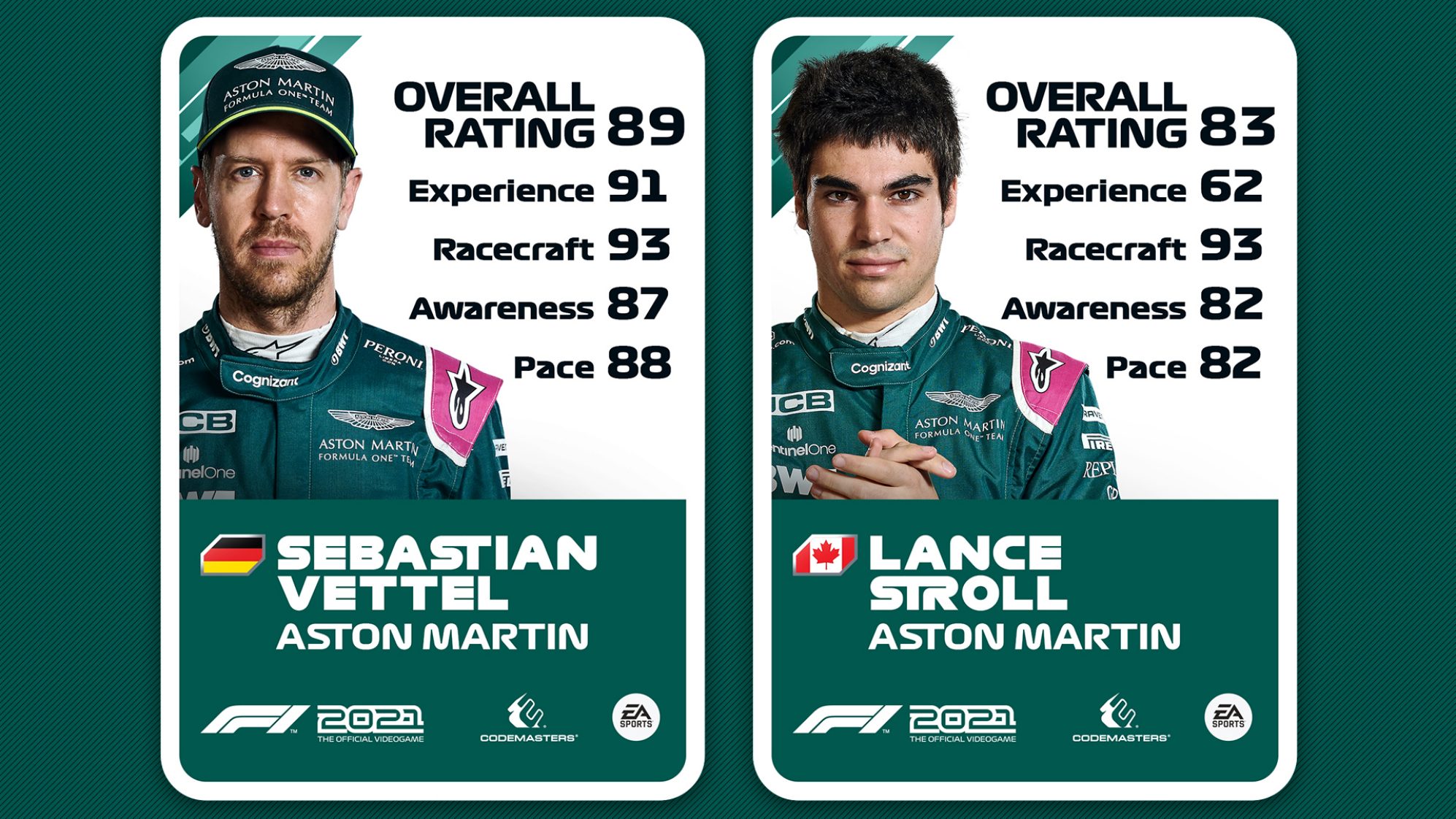 Although his semi-renaissance with Aston Martin yielded a brilliant Baku podium, four-time world champion Vettel should not be ranked higher than his former Ferrari team-mate Leclerc.
Leclerc had the measure of Vettel across their two years as team-mates and while Vettel has certainly improved from his dismal 2020 season, he's still clearly not at the peak of his powers.
A racecraft score of 93 is also generous for Vettel considering the litany of errors he's made in combat in recent seasons.
Six points less than Vettel seems a fair rating for the less experienced Stroll, although a racecraft rating of 93 (positions gained from grid position) is more indicative of Stroll's weaker one-lap speed than strong race pace.
Alpine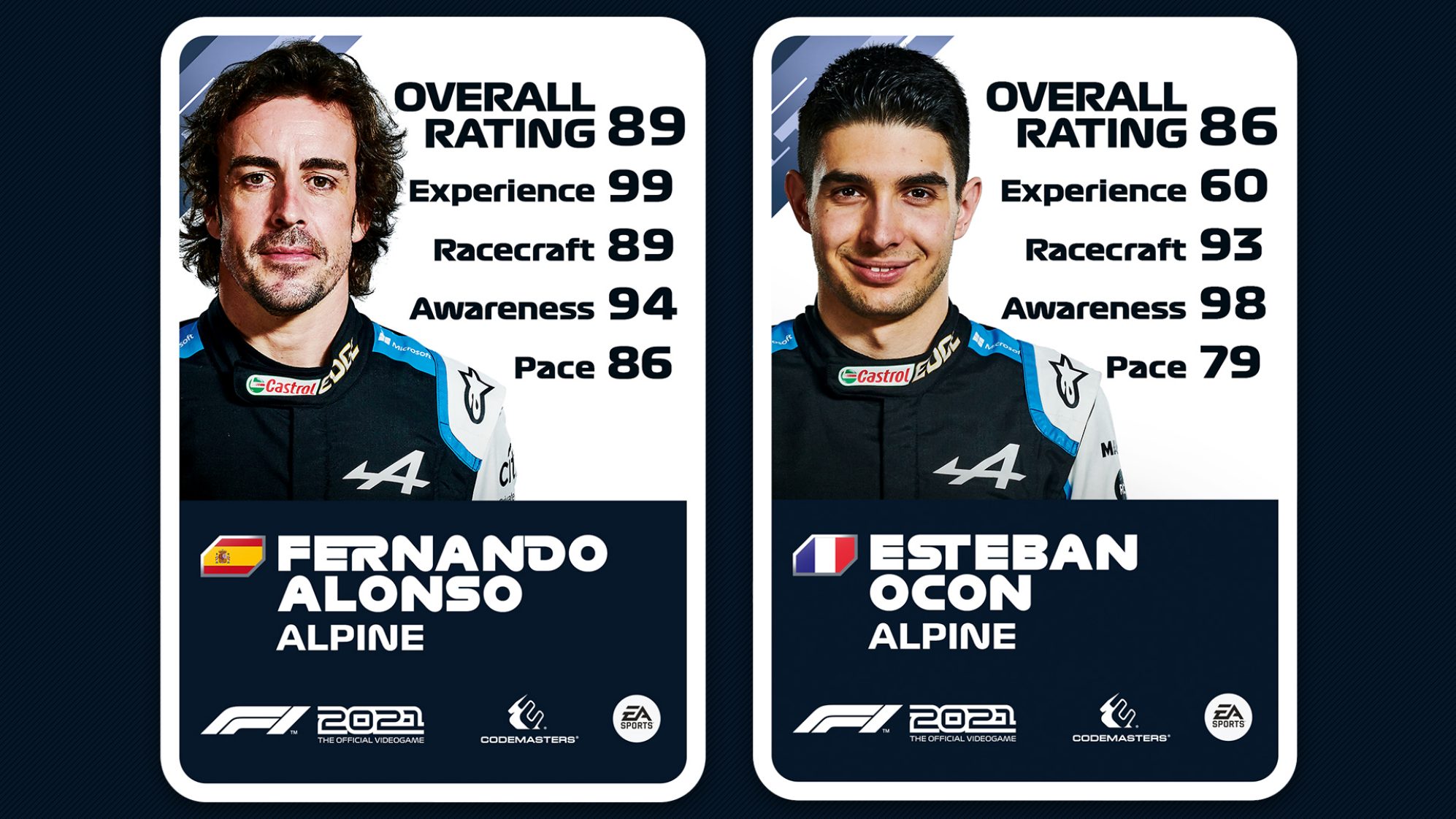 Alonso is given the same overall rating as his former title advisory Vettel. He's understandably got the maximum experience rating, considering he made his F1 debut 20 years ago.
His racecraft deserves to be in the 90s, and although his pace is perhaps not what it was, in his final years with McLaren he delivered some devastatingly quick qualifying laps and stunning race performances.
Codemasters is right not to put Ocon on the same level as Alonso, but his awareness rating is bizarrely high and that drags his overall rating to probably a couple of points higher than it should be.
As with Ricciardo, it depends on which Ocon you're rating. Is it the one who has just had miserable back-to-back weekends and fallen far behind Alonso at Alpine since signing a new three-year deal, or the one who was a match for Perez at Force India/Racing Point?
Alfa Romeo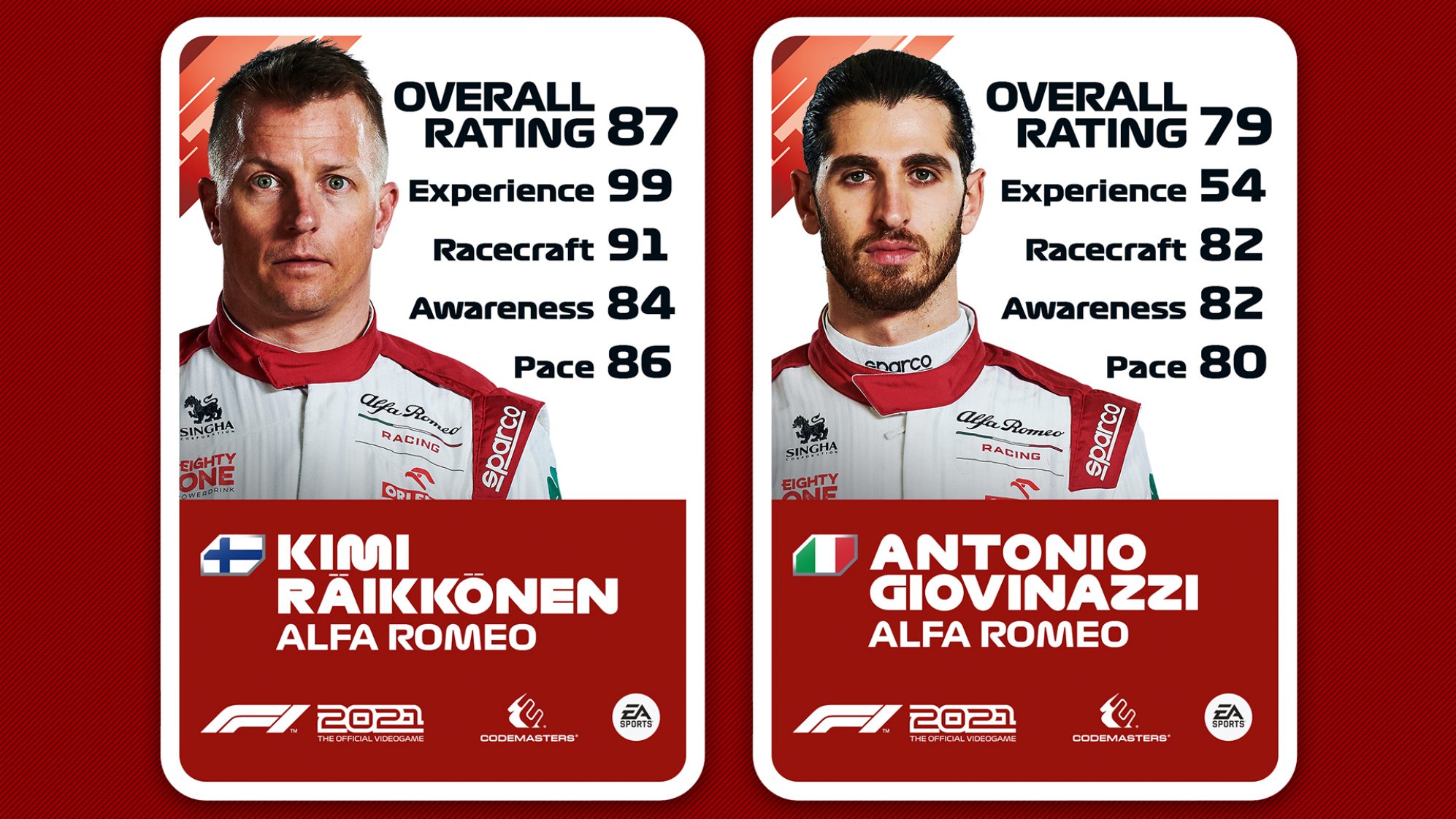 Based on his performance in the 2021 season, there's no argument you can make for Kimi Raikkonen having a rating that's eight points better than his Alfa Romeo team-mate Antonio Giovinazzi.
Raikkonen is right to have the maximum experience rating but his pace – particularly over one-lap – isn't what it was and incidents such as his collision with Vettel on the final lap of the Austrian GP suggest his awareness and racecraft is fading too.
He's still able to produce some standout race drives and he's a world champion, but Codemasters has been a little too generous to the 41-year-old Finn in what is perhaps his final F1 season.
In contrast, it's severely underrated Giovinazzi, who has outqualified Raikkonen 7-2 this season and scored Alfa's first point of the year at Monaco. Giovinazzi's experience rating of 54 is also bizarre.
Regardless of where Giovinazzi ranks compared to the rest of the F1 field, he should be far closer to Raikkonen.
Williams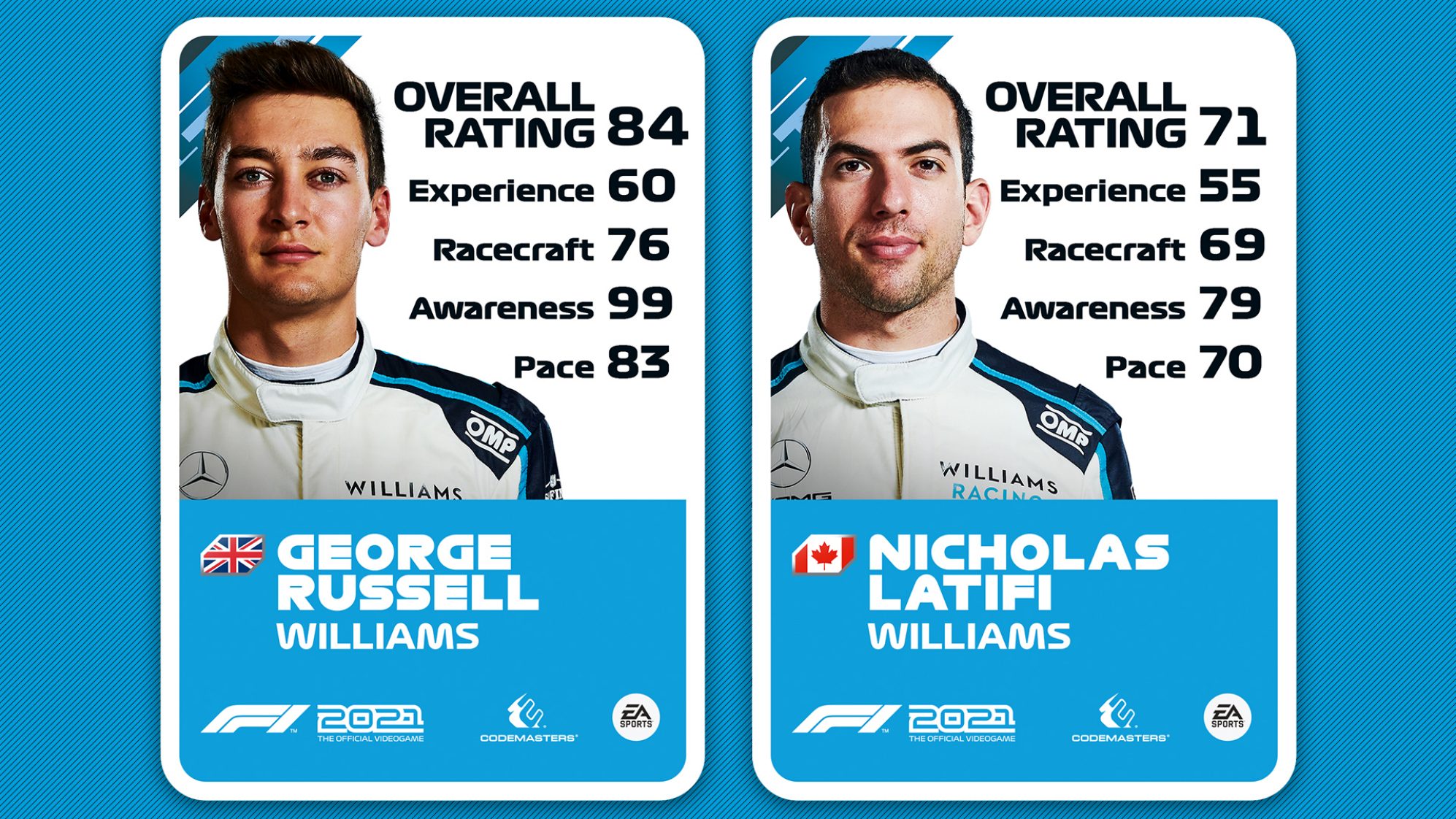 Aside from the three 2020 rookies and his Williams team-mate Nicholas Latifi, George Russell is only rated higher than Stroll and Giovinazzi.
That's extremely tough on a driver who is fighting Bottas for a seat alongside Hamilton at Mercedes next year and is among F1's most consistent performers on a Saturday.
His race drives – such as his two impressive near-points finishes in successive weekends at the Red Bull Ring – aren't too shabby either and warrant a pace rating far higher than 83.
Russell only made his F1 debut in 2019, so his experience is understandably low but it's bizarre to see his racecraft so low.
He does often lose positions on the first lap, but he proved during his one-off cameo with Mercedes at last year's Sakhir Grand Prix that he's got what it takes to fight wheel-to-wheel at the front of the field and come off best.
An overall rating of 71 seems sensible for Latifi, placing him second-lowest on the grid.
Haas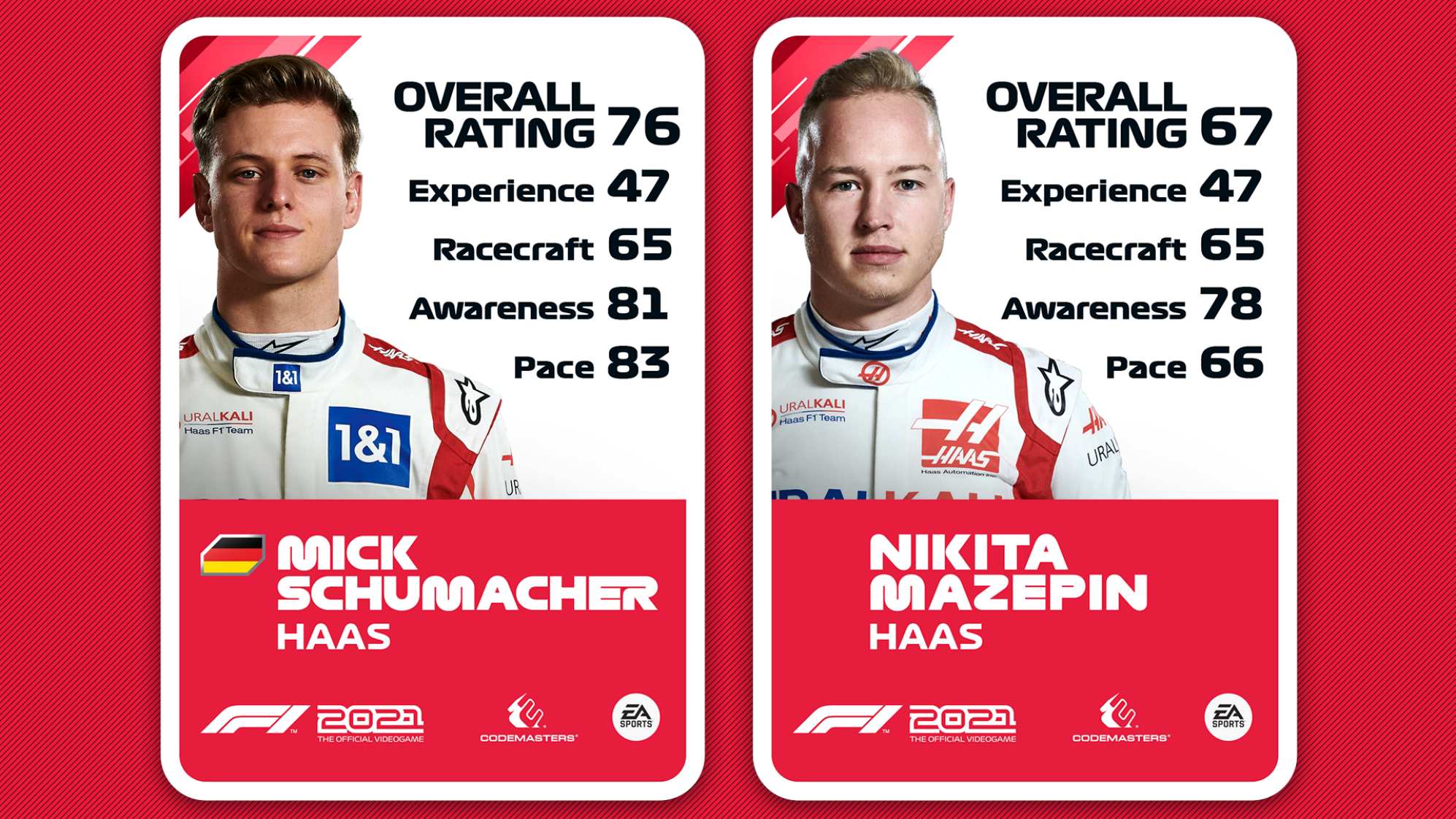 The lowest rated duo on the grid is led by a 76 overall rating for reigning F2 champion Mick Schumacher, who has featured in the previous two F1 games.
It's confusing to see him instantly having the same pace rating as Russell, but he certainly deserves a far better series of scores than his Haas team-mate Nikita Mazepin.
It's also questionable that Schumacher and Mazepin have the same racecraft score when Schumacher has consistently come out on top in their intra-team duels.
Schumacher has outperformed Mazepin this season in every area, on and off the track, and thusly deserves his higher rating although Codemasters has clearly taken a cautious but reasonable approach to Schumacher's overall rating before we see him in more competitive machinery.
Full driver ratings
| Driver | Overall | Experience | Racecraft | Awareness | Pace |
| --- | --- | --- | --- | --- | --- |
| Lewis Hamilton | 95 | 92 | 94 | 89 | 98 |
| Max Verstappen | 95 | 69 | 96 | 96 | 97 |
| Valtteri Bottas | 92 | 75 | 89 | 99 | 92 |
| Lando Norris | 91 | 60 | 96 | 99 | 89 |
| Daniel Ricciardo | 90 | 80 | 94 | 91 | 88 |
| Pierre Gasly | 90 | 59 | 92 | 99 | 89 |
| Sebastian Vettel | 89 | 91 | 93 | 87 | 88 |
| Fernando Alonso | 89 | 99 | 89 | 94 | 86 |
| Charles Leclerc | 88 | 62 | 88 | 87 | 92 |
| Carlos Sainz | 87 | 69 | 92 | 88 | 85 |
| Sergio Perez | 87 | 81 | 92 | 84 | 87 |
| Kimi Raikkonen | 87 | 99 | 91 | 84 | 86 |
| Esteban Ocon | 86 | 60 | 93 | 98 | 79 |
| George Russell | 84 | 60 | 76 | 99 | 83 |
| Lance Stroll | 83 | 62 | 93 | 82 | 82 |
| Yuki Tsunoda | 82 | 46 | 88 | 78 | 86 |
| Antonio Giovinazzi | 79 | 54 | 82 | 82 | 80 |
| Mick Schumacher | 76 | 47 | 65 | 81 | 83 |
| Nicholas Latifi | 71 | 55 | 69 | 79 | 70 |
| Nikita Mazepin | 67 | 47 | 65 | 78 | 66 |