The lop-sided nature of the 2022 Formula 1 calendar means the summer break isn't really the halfway point of the season – but it's still a great time to take stock of each team's campaign so far.
Every team will be spending time during August chewing over what went well and, much more importantly, what must be improved when the season resumes in Belgium at the end of next week.
Perhaps our report cards can provide some pointers for them. Scott Mitchell and Edd Straw have put their heads together to assess every team based on their own pre-season expectations, the quality of the cars they've produced, but above all else how they have executed their 2022 campaigns so far.
Some are achieving more than just a passing grade – but even some of the best teams are underperforming.
WILLIAMS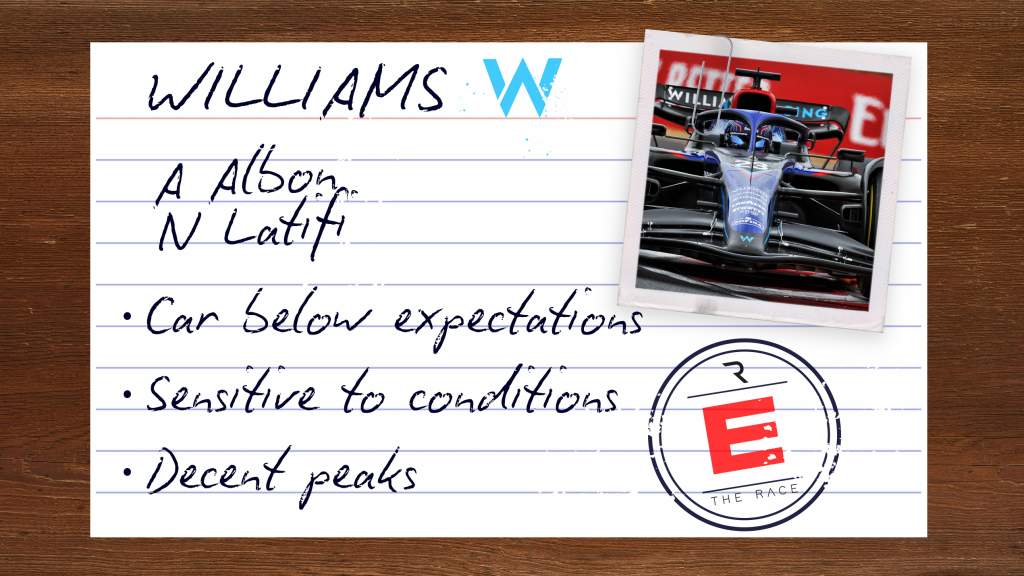 While Alfa Romeo and Haas, which it beat last year, have climbed the order, Williams has slipped to the back.
It's last in the championship, has the slowest car on average and has only bothered the scorers twice thanks to Alex Albon's strong drives in Australia and Miami.
Only five times in 26 attempts has a Williams driver escaped Q1, with Nicholas Latifi's excellent wet-weather qualifying in Britain the only time it has made Q3.
There have at least been signs of improvement recently, with a major upgrade package introduced at Silverstone that replaced its Mercedes-esque narrow sidepod design with a version more reminiscent of Red Bull.
That's given the car more downforce, but it has made it more peaky and wind sensitive.
The team trackside has done a decent job with limited machinery, and glimpses of pace plus Albon's peaks have stopped the season being a total failure so far.
But the performance has been disappointing with a car below even the most modest expectations. So Williams gets an E.
ASTON MARTIN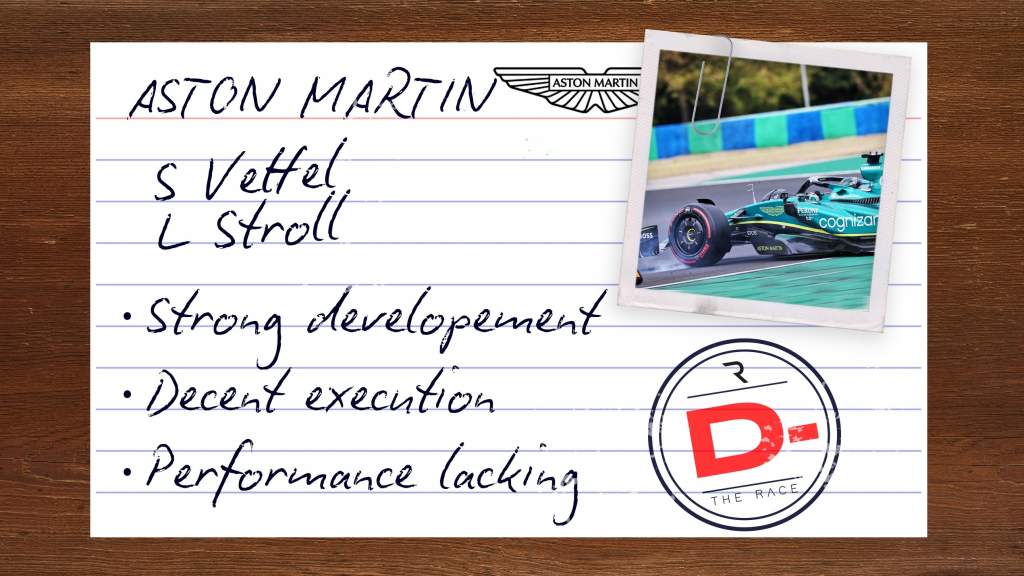 As part of Aston Martin's five-year plan to be a title-challenging F1 team, it expected to hit the ground running with the new technical regulations this season.
That has not happened. And while its ambitions and improving resources are being well-deployed with a strong development programme, the performance is still lacking – more so in qualifying than in race trim.
There have been some encouraging peaks from the AMR22, especially since being heavily revised for the Spanish Grand Prix and upgraded again in a significant way a few races later for the British round.
Plus, the race team has generally done a good job to hit those peaks – that's why Aston Martin has scored points in eight of the last 10 grands prix.
But the results it's getting are still only minor points positions and ultimately that reflects a season so far lagging behind expectations internally and externally – and that's a D-.
ALPHATAURI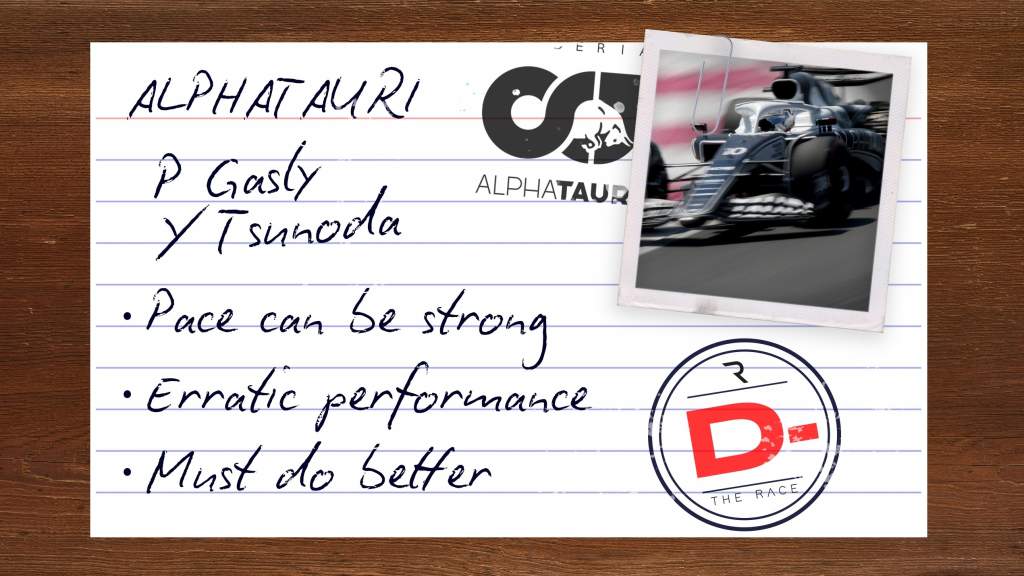 Having been a strong midfield force in recent seasons, AlphaTauri has slipped back in 2022 and is having a difficult time under the new regulations.
After starting off reasonably well, the AlphaTauri AT03 has lost ground and neither Pierre Gasly nor Yuji Tsunoda have scored in the last five races.
AlphaTauri has brought upgrades, most recently to the French Grand Prix in late July, but has fallen back from the midfield pack and has had just the seventh-fastest car over the course of the season.
And it has only been able to turn that into eighth place in the championship thanks to struggling to get the best out of its car consistently.
Aside from a fifth place in Azerbaijan for Gasly, AlphaTauri has been limited only to minor points with just half-a-dozen top-10 finishes.
Not good enough for a team that was expected to be a stronger midfielder. Like Aston Martin, it merits a D-.
HAAS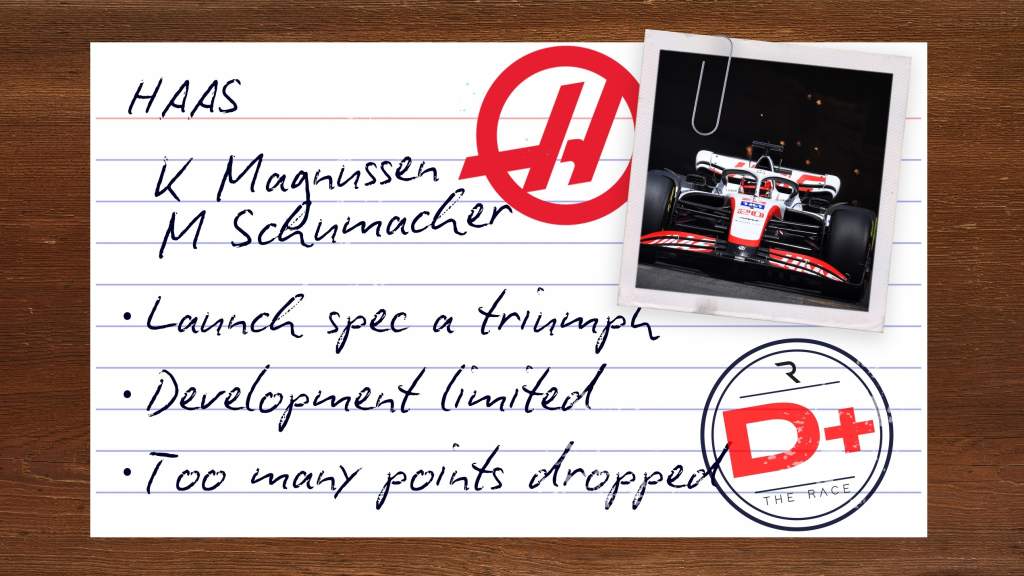 Haas sacrificed its entire 2021 season so it could make the most out of the 2022 rules and that has clearly paid off with a much more competitive campaign.
The launch specification car was clearly more refined than many rivals', a legacy of the headstart Haas had given itself. That allowed Haas to make a bright start to the year.
Good thing that was the case, given the testing spec was used by both drivers right through until Hungary at the end of July – and Mick Schumacher is still waiting to use Haas's first and only planned upgrade of the season.
The limited development is still a problem because, while Haas clearly made good use of its triumphant launch spec car, it needs upgrades to keep fighting in the upper midfield.
This has been a positive season so far, but one big negative is that Haas has dropped way too many points.
Sometimes that's been through reliability, sometimes it's been through driver errors, sometimes it's just because pace or strategy has let it down on Sunday.
Given the peaks of the car, Haas should be closer to Alfa Romeo than AlphaTauri in the championship. But it's 17 points off the former and only seven points ahead of the latter.
So our grade's a D+, which might seem harsh given how much this team has improved over 2021, but Haas is not maximising its potential.
ALFA ROMEO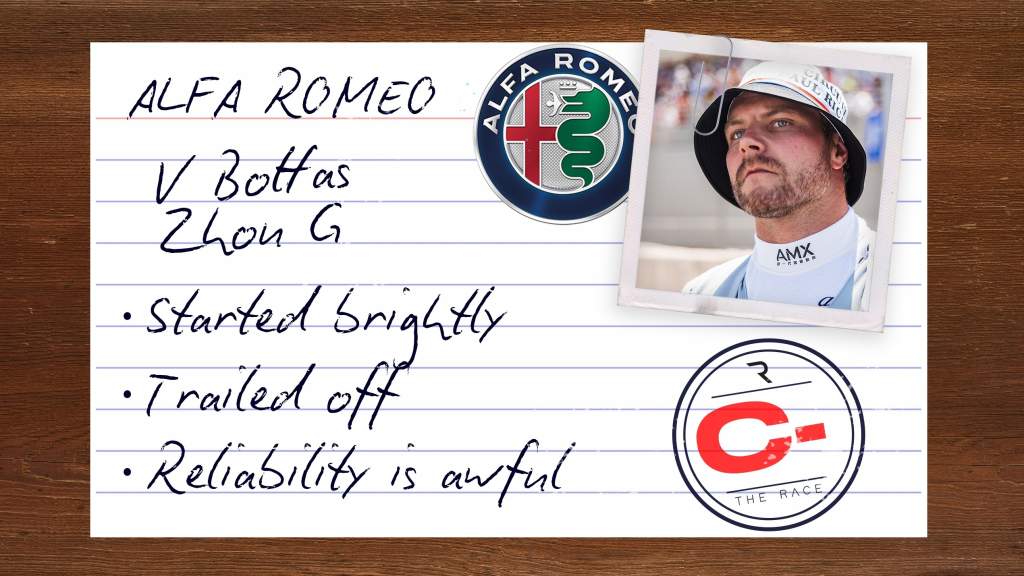 Alfa Romeo needed a good start to the new rules cycle, and got it with a car that was consistently in the top 10 and, unlike most of its rivals, close to the minimum weight limit.
Add to the mix a revitalised Valtteri Bottas and it made for six points finishes in the first seven races.
But since then, its performance has slipped back with just one more race in the points when Bottas and team-mate Zhou Guanyu finished seventh and eighth in Canada. Reliability problems have also cost the team with a total of eight retirements this season.
Improvements have been made to the car in terms of its rear-end stability in faster corners, while a change in Ferrari clutch parts has tackled its weakness off the startline.
Alfa Romeo still looks decent in the midfield but, disappointingly, is simply not as quick as it was. All things considered: C-.
M
c

LAREN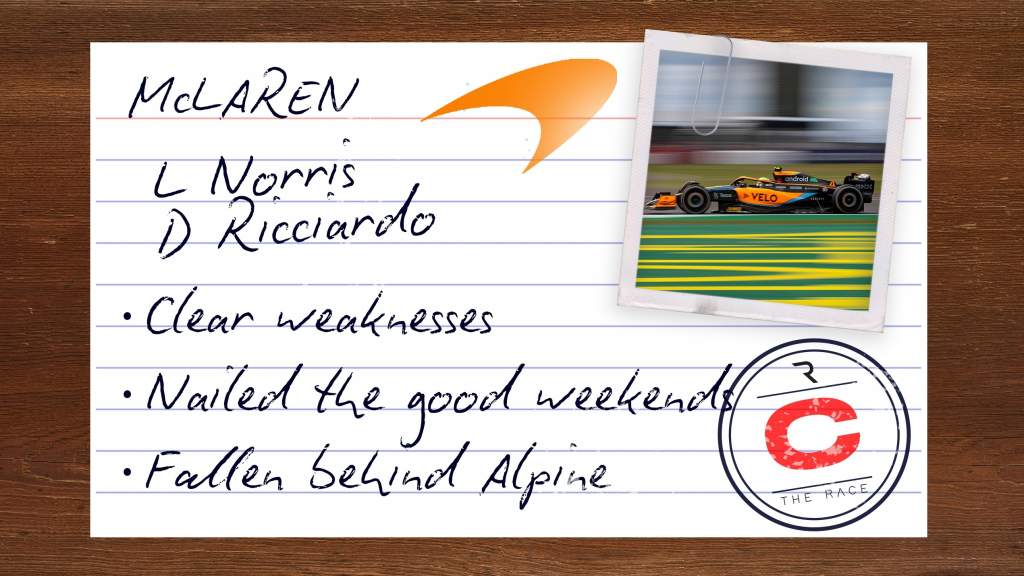 McLaren's start to 2022 was blighted by chronic brake problems in the Bahrain pre-season test which also hurt its performance in the race there a week later.
There have been some knock-on effects from that as well, but the main disappointment from McLaren is its up-and-down form.
The car has had a couple of clear weaknesses, notably that it has more drag than expected and it has struggled with low-speed traction in high temperatures.
But on the weekends everything is working as it should, the McLaren is right where it should be: leading the midfield and even sniping at the underachieving top teams in qualifying.
Many were hoping or expecting McLaren to chip away at the big teams with the rules overhaul but ultimately this is a team still limited by its infrastructure.
Realistically, consolidating fourth was the main expectation. With that in mind, getting jumped by Alpine is a disappointment.
The pace is there to address that. But it adds up to a very middle-of-the-road season – and that commands a C.
ALPINE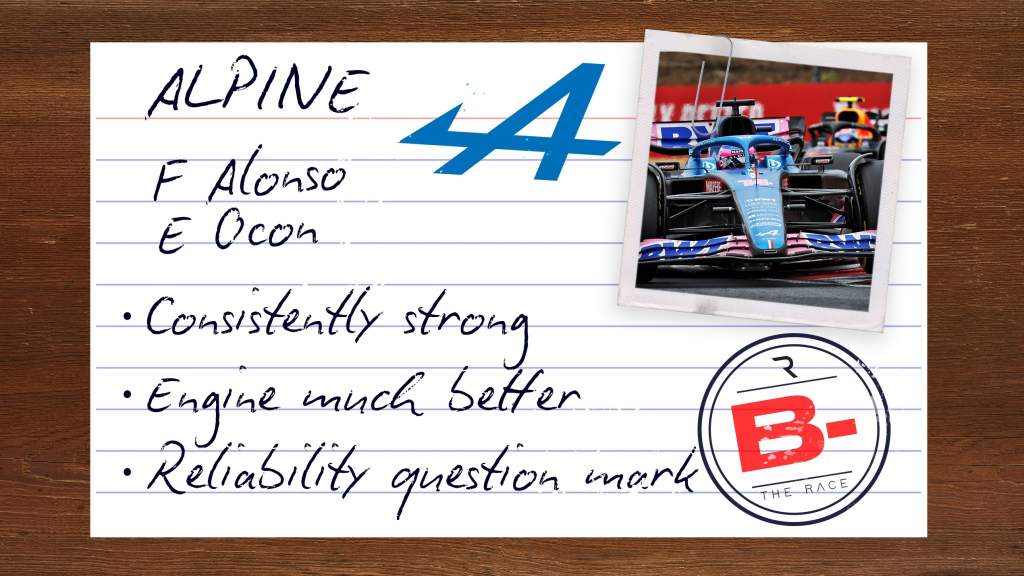 Alpine has the fourth-fastest car, is fourth in the constructors' championship and has been at the forefront of F1's midfield battle.
With a steady stream of upgrades that have generally worked as hoped, Alpine has successfully improved its car and tackled the race-pace weakness it had early in 2022.
Fernando Alonso and Esteban Ocon have racked up 19 points finishes between them, albeit never in a higher position than fifth – although Alonso did give Alpine its high point by qualifying second in the wet in Canada.
The Renault/Alpine engine has also improved significantly and is now reckoned only to be giving a fraction away in terms of performance.
Alpine is probably about where it should be, despite its full works status given where it was coming from in 2021. But better reliability and a more consistent start to the season would make it more comfortable in fourth.
Overall: good, but with room for improvement. B-
MERCEDES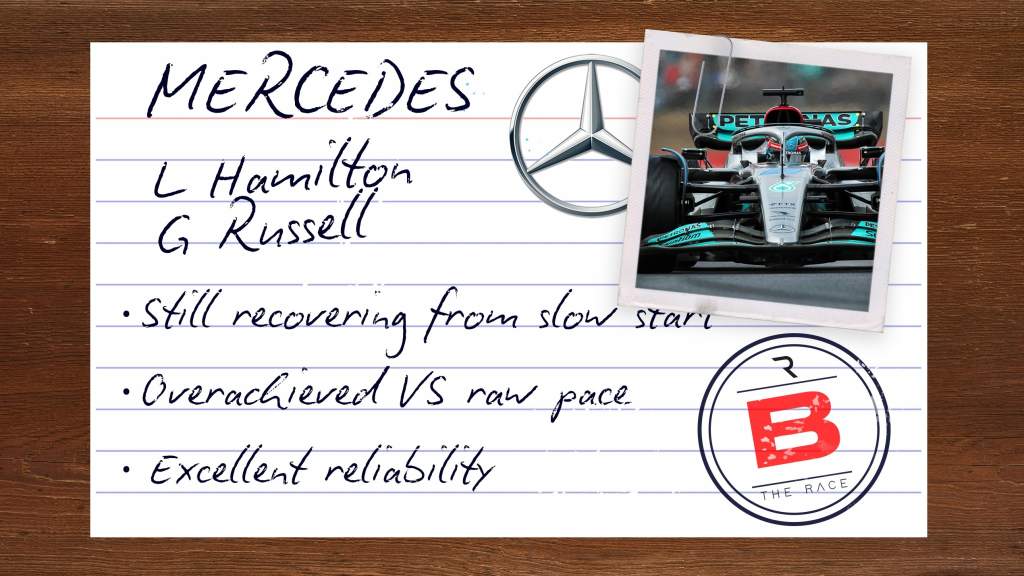 Mercedes is fortunate that execution makes up such a big part of our grading system because on pure performance it has spent most of the season on the back foot.
The world champion team is still recovering from its slow start but has at least shown good fortitude and sensible development to work its way out of the hole it found itself in early in the year.
Race pace is a clear positive even if it does generally lack compared to Ferrari and Red Bull. If Hungary's sudden qualifying breakthrough is sustained into the second half of the year, Mercedes will be a more formidable threat.
Judging it up to now though, it is impossible to overlook two standout qualities that have allowed it to overachieve versus its raw pace.
The team and its two drivers Lewis Hamilton and George Russell have always managed to pick up the pieces with strong race performances, and that has been augmented by excellent reliability.
This is not the season Mercedes wanted – but it's better than its car's performance probably deserves. So we rate it a B-.
FERRARI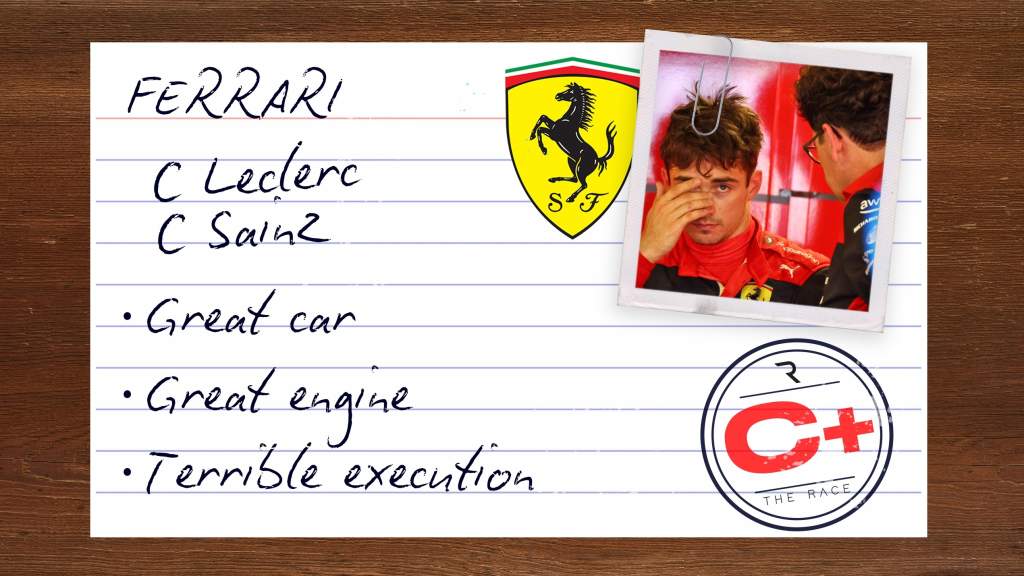 The Ferrari F1-75 is a superb car, powered by an engine that you can argue is the strongest on the grid. It has won four races and has, on average, the fastest car.
Considering Ferrari is coming off the back of two winless seasons, being second in the constructors' championship and a consistent frontrunner seems like a superb campaign.
And yet, given Ferrari has eight pole positions out of 13 and lost potential victories in Spain, Monaco, Azerbaijan, Britain, France and perhaps even Hungary to a combination of unreliability, strategic blunders and driver errors, it's clear the race team has let down the design team.
Ferrari should be leading both championships, but it's somehow only 30 points ahead of struggling Mercedes in the constructors' championship thanks to a litany of mistakes in a season of underachievement given the pace of its car.
Terrible execution makes us want to give Ferrari a C – but let's make it a C+ given the obvious highlights.
RED BULL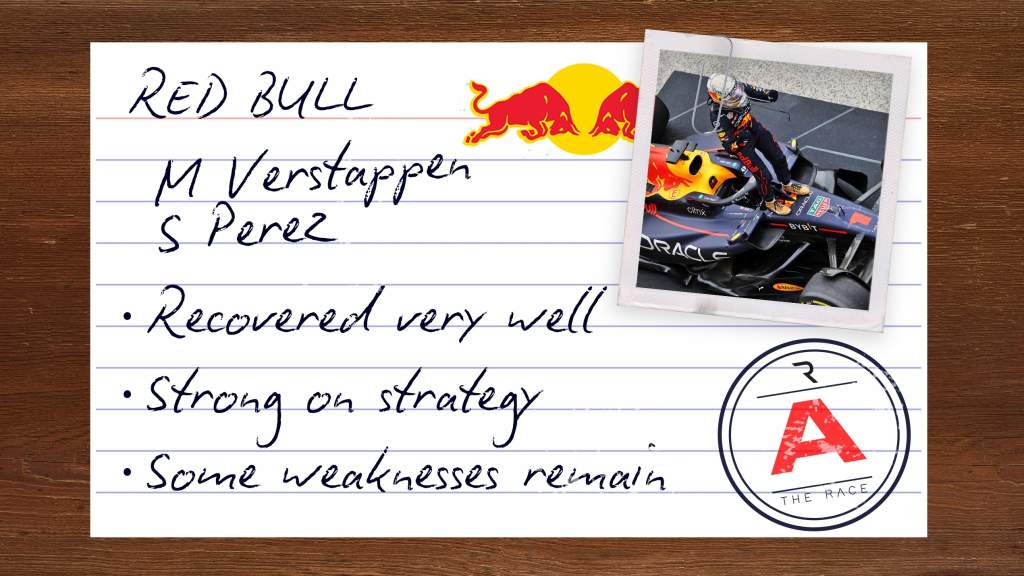 Red Bull's recovery from a very weak position since the Australian Grand Prix has been astonishing.
At that point Max Verstappen had retired twice in three races and he has since admitted he thought that, at best, he would be catching up in the championship by the end of the season.
Instead he and his team went into the summer break knowing that they just need to have a sensible run to the end of the year to win both titles comfortably.
The hallmarks of Red Bull's surge have been strong, decisive strategy calls and excellent execution from Verstappen.
As much as Ferrari's season has imploded, Red Bull and Verstappen have been very deserving of their success.
But Verstappen's also stressed the need to improve certain areas, like small enduring reliability concerns, the heavy car still being over the weight limit and that hurting Red Bull in qualifying, and a slightly weak front end that upgrades alone haven't been able to cure.
It's an A, no question. But we'll make it an A- to signify that lingering room for improvement.