If the sprint race in Belgium hadn't ensured that Oscar Piastri's rookie season in Formula 1 was going to go down as an unqualified success, then back-to-back podiums in Japan and Qatar definitely did.
But Piastri's form looked like it dipped since, and his 2023 season risked ending on an indifferent note.
While McLaren team-mate Lando Norris scored at a high rate and stole the headlines, Piastri didn't get much at all from the three races leading up to Vegas.
There was misfortune befalling him, yes, but also clear weaknesses to his game, and he unsurprisingly scored outside of the top 10 in our driver rankings for Austin, Mexico City and Interlagos.
Las Vegas looked like it was going to be much of the same - Piastri marginally outpaced by Norris in qualifying but both of them were left stranded in Q1 by an underperforming MCL60 and an overly gung-ho tyre strategy.
Yet, though Piastri would ultimately come away from the weekend with just a couple of points, it came after a performance that largely overwrote what had come in the preceding rounds.
"Disappointing, is it not?" McLaren team boss Andrea Stella said of the meek reward for Piastri's Las Vegas outing. "Just a massive shame.
"Because Oscar was absolutely brilliant.
"I think I said that certainly being eliminated in Q1 wasn't our position because we knew we had improved the car from practice. But somehow, today [in the race] was a bit of a surprise as to how quick we were."
OK, much of the damage from the poor qualifying was already undone at Turn 1 - Piastri was effectively last coming up to the corner after the start, but that only meant he was in a good position to avoid the various messes happening on the outside and run close to the points already.
It meant an 11th place after the safety car period for the big crash of team-mate Lando Norris, but Piastri made quick progress from there once the race got going in earnest.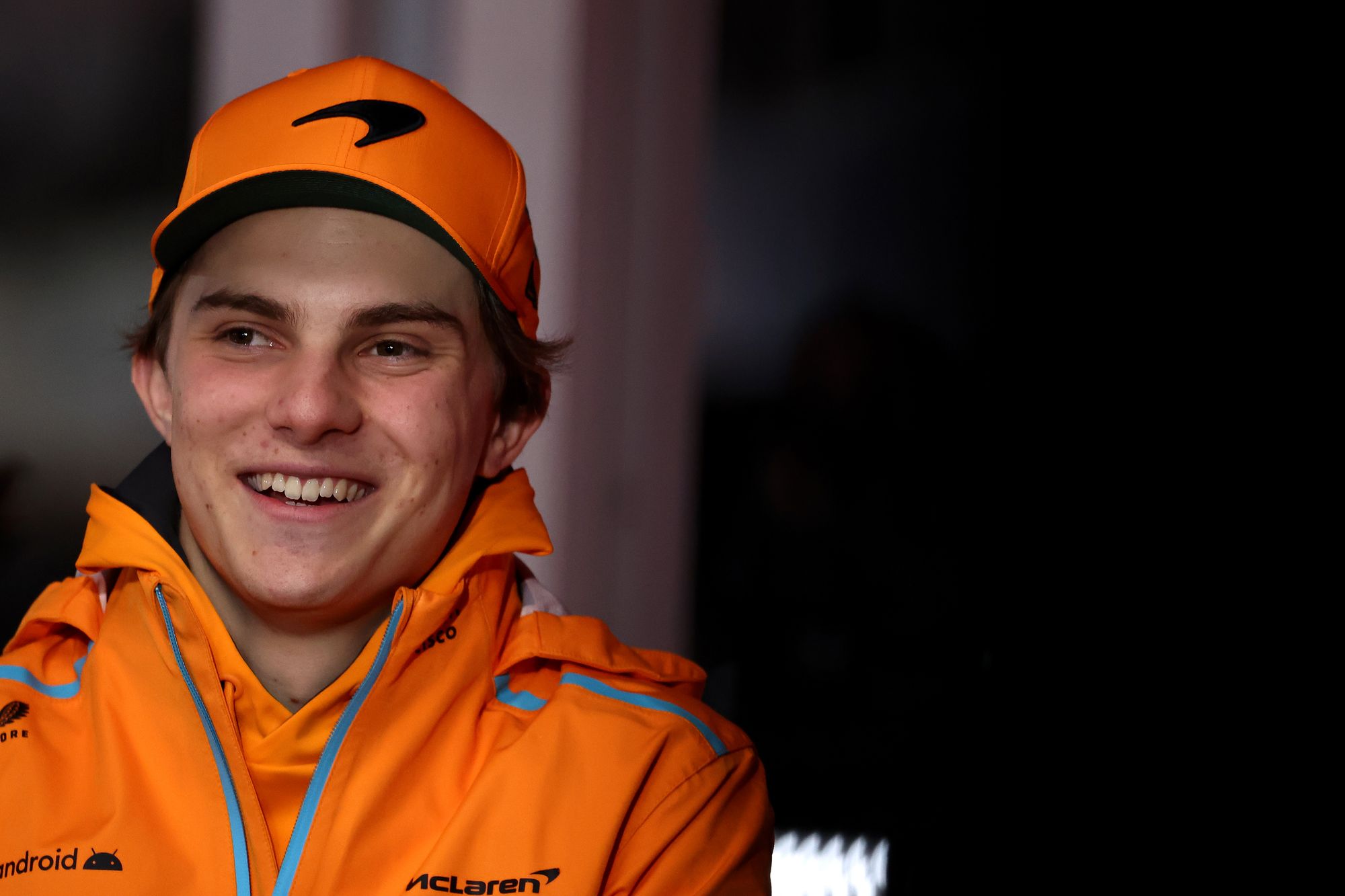 That, partially, was his undoing, as in coming up behind the brief Esteban Ocon - Alex Albon battle Piastri was perhaps too optimistic in trying to hold off fellow charger Lewis Hamilton, attempting to hang it around the outside through Turn 14 and receiving a hefty whack on the front left that would've been avoided with a more 'discretion is the better part of valour'-type approach.
"It was kind of just an awkward one - neither of us had really committed to the corner that much, and then we both committed at the last minute," Piastri recalled.
"I was trying to back out of it but we just ended up meeting in the middle, so, had a puncture from that."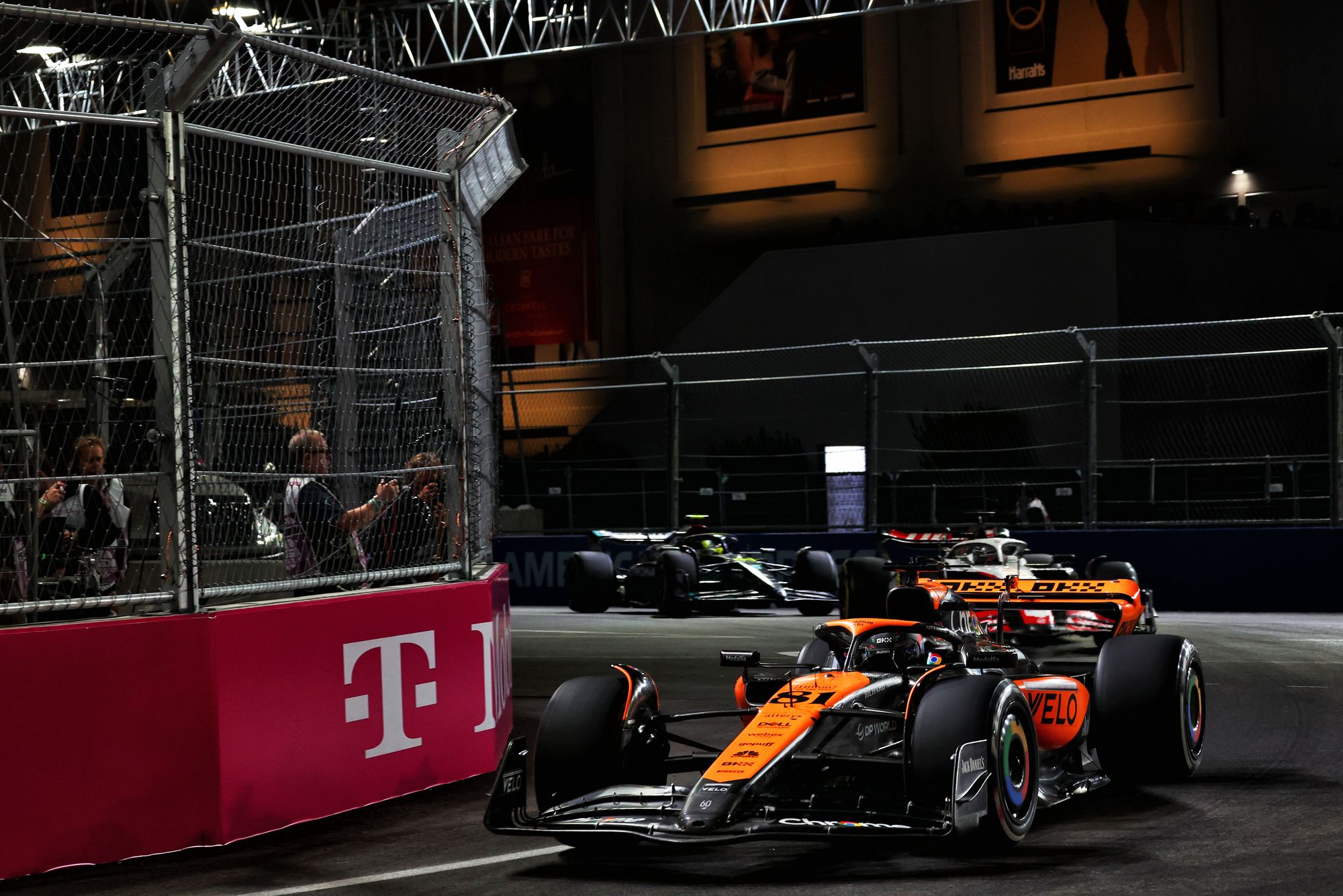 Piastri was forced to pit at that point, swapping out one set of hards for another.
This would come back to bite him as he was forced to pit again to fulfil the two-compound requirement. It looked very much like a comfortable fourth would've been his otherwise.
Neither he, nor Stella think the Hamilton collision was the decider, though, because Piastri would've had to pit under the safety car just past the halfway point of the race otherwise.
And while he could've fitted mediums at that point, that was precisely the strategy Alfa Romeo's Zhou Guanyu ended up boxed into - and it didn't exactly work out.
"With the safety car placed where it was placed [within the race], it was always going to be a bit of an unfavourable race for someone who had started on the hard because you would've needed to have a stop at the end. Just a shame," said Stella.
But the lost points should not make too much of a difference anyway, assuming McLaren fights off Aston Martin for fourth in the constructors' in the Abu Dhabi finale - something it really, really should have the pace to do with an 11-point margin in hand.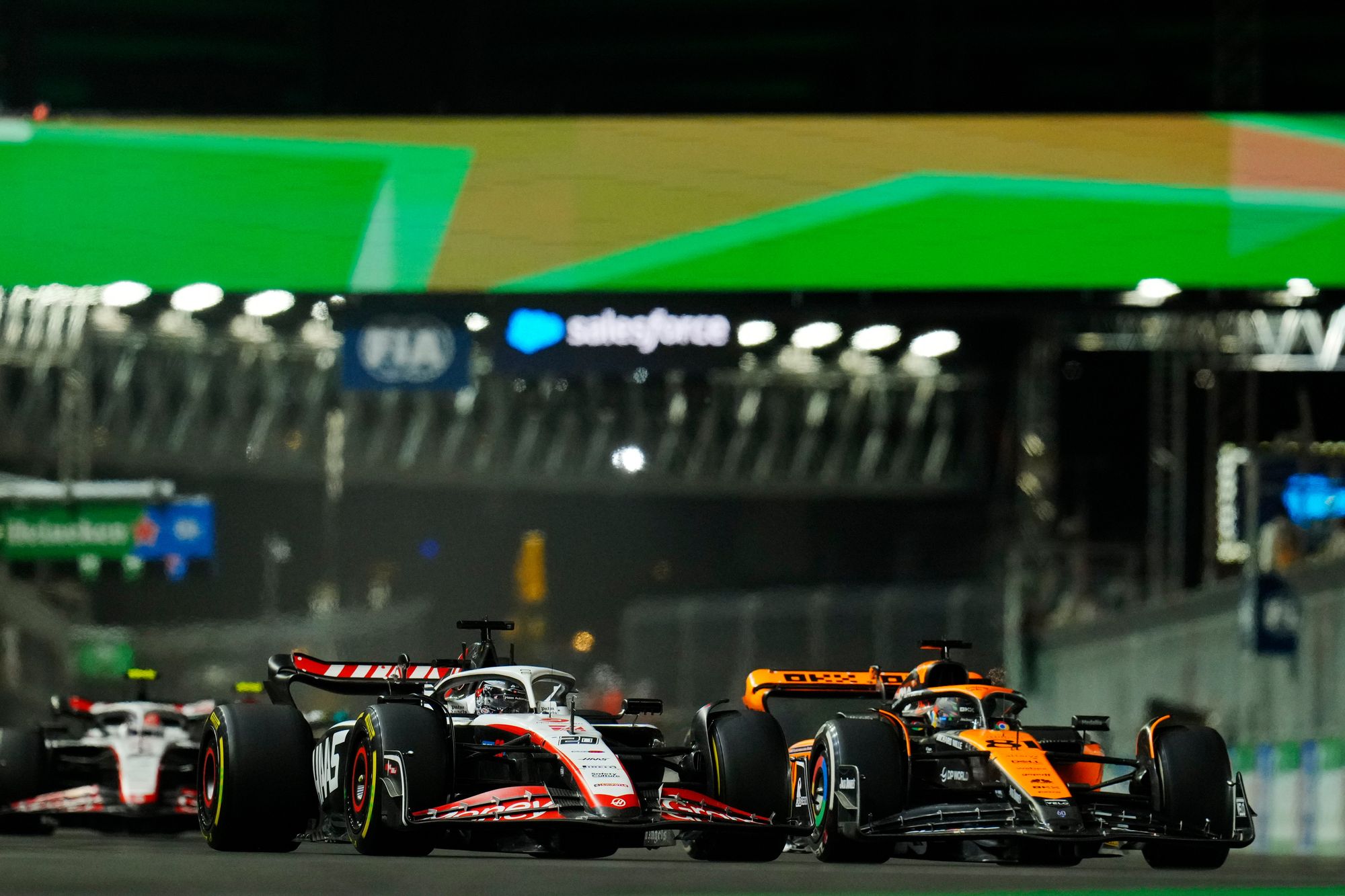 And the impression left was clearly a positive one, especially with Piastri fitting in a couple of highlight-reel overtakes - whether it be a Turn 14 lunge on Logan Sargeant from significantly far back in that initial stint or picking the pocket of Pierre Gasly on the mid-race restart at Turn 5.
"There was quite a few good moves, I felt," Piastri said after admitting he "can't even remember" where he took care of Gasly.
"We were switching on the tyres really well after the restart, so that was the time to try and pounce and yeah, I felt very confident on the brakes and that's always good around a place like here."
"I think today, all these strong points that he has shown from a racing point of view, they are absolutely top-class," gushed Stella. "But I think these kind of characteristics he had already shown."
"The overtaking," he chuckled, "sometimes we were holding our breath because obviously, we always recommend our drivers to be... you know, there's no result if you don't see the chequered flag.
"But in fairness, when the overtaking was completed, he had plenty of margin, he was safe, he was well-executed. Well done, Oscar!"
While never shy about praising Piastri, Stella did make a couple of important points.
For one - and this is something Piastri clearly acknowledged as well - the Aussie was clearly benefitting from the MCL60's "interaction with the tyres in terms of warm-up and no graining".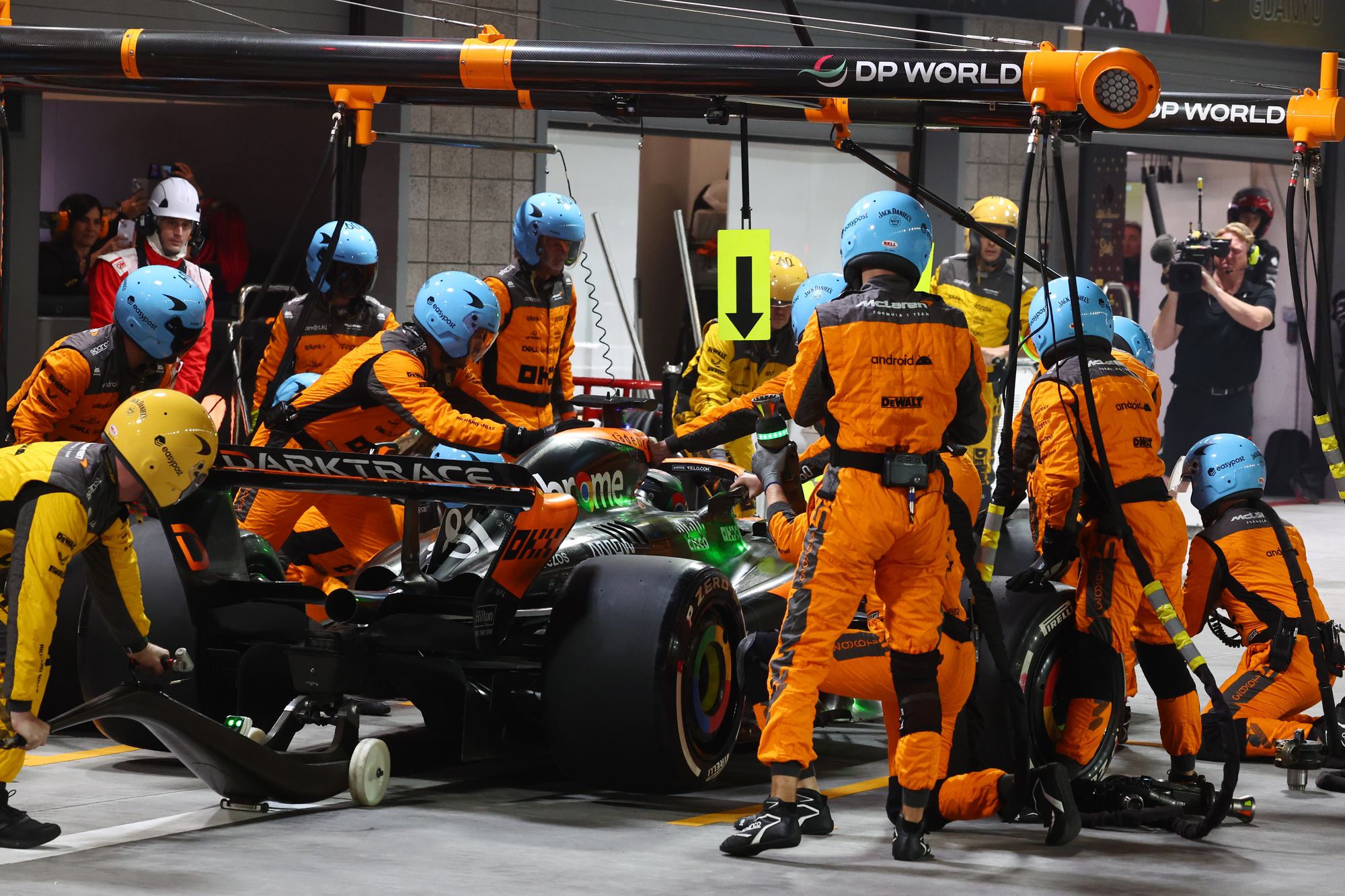 Though not ideally-suited to the Vegas layout, it was clearly a good package in that regard - and there's little reason to think Norris won't have made good use of it, as well.
And, Stella acknowledged, the question mark about Piastri relative to Norris has been about tyre deg - as he described it "normally the kind of degradation of hot conditions, as rear deg", i.e. definitely not the situation of Vegas.
In that sense, Vegas doesn't really meaningfully change the outlook on Piastri's progression.
But such is F1 that it obviously does not test every single element of a driver's skillset to the same level every single time.
As good and credible as he's been in the rookie season, Piastri took full advantage of what was a timely opportunity to remind everyone of the peaks he's already capable of. Even if him doing so is not something the points table will reflect.