Renault Formula 1 driver Esteban Ocon admits Max Verstappen's promotion to grand prix racing in 2015 was "difficult to swallow" at the time, with Ocon having beaten the Dutchman to the European Formula 3 title the year prior.
Verstappen, who is now an eight-time F1 race winner for Red Bull, became the youngest-ever driver in the history of the championship when he took the start of the 2015 Australian Grand Prix aged just 17 years and 166 days.
Ocon made his debut in F1 a year and a half later, and had an infamous run-in with Verstappen during 2018's Brazilian Grand Prix, in which he clashed with the Red Bull man while being lapped and was then repeatedly shoved by Verstappen in the weighing area.
"When I saw the news it was difficult to swallow. He was third in the championship; I was winning, and I didn't have a seat in any category at that time" :: Esteban Ocon
It marked a re-ignition of a rivalry that had spanned back from the pair's karting days.
"I think the first time I raced with Max Verstappen was in 2010," Ocon wrote in a column for the official Formula 1 website.
"It was a tough year for me transitioning into international racing. Karting is very tough anyway. I was alone with my dad pretty much fighting the big teams.
"Max and I were always quite close on track and sometimes it came too close! In 2011 we were fighting for the 2011 world series championship [WSK Euro Series – KF3 class] and he won in the end.
"I remember a race in Italy I came out on top, but me and him were a long way ahead of the rest. It was a rivalry which started then, and it soon became even bigger."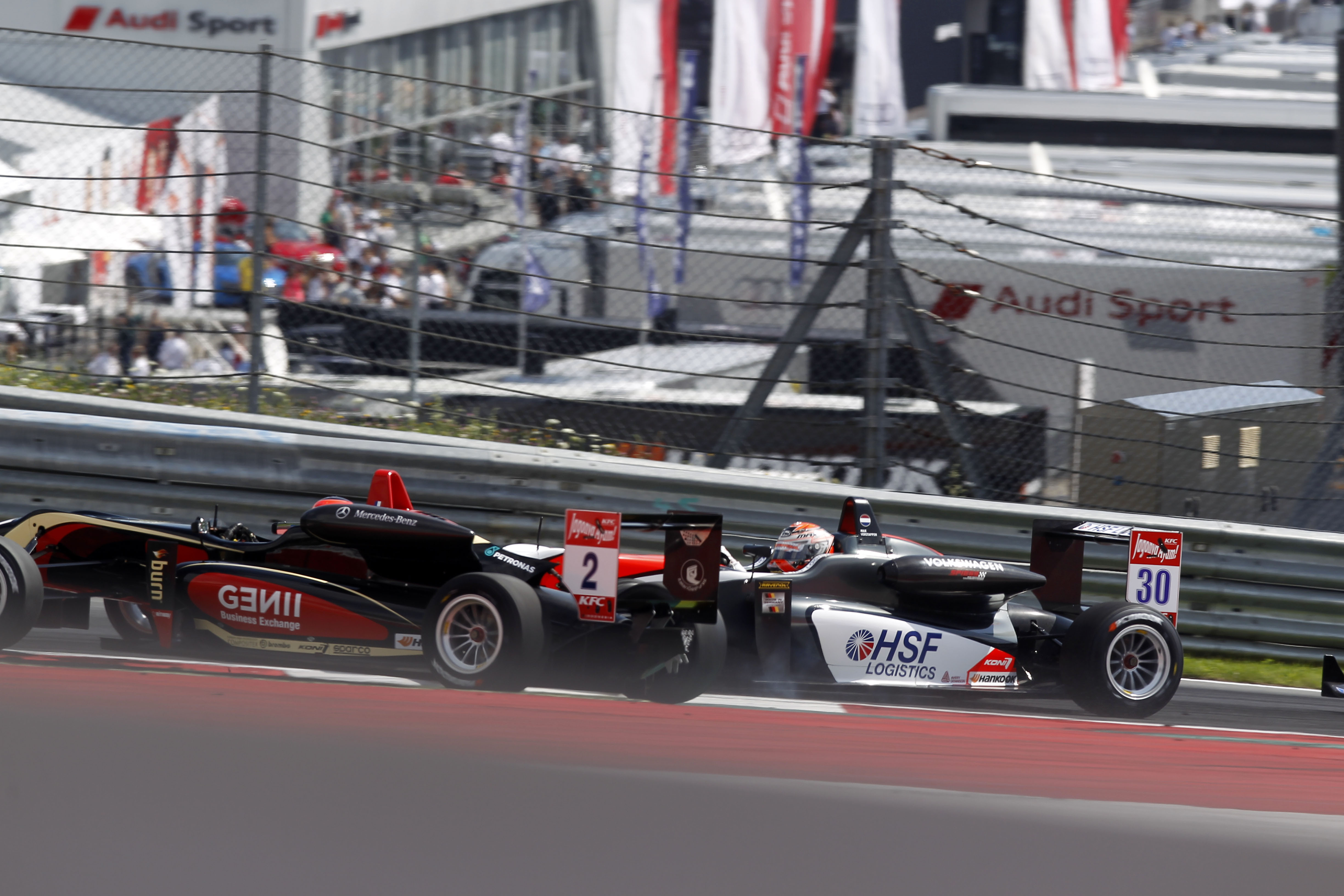 Ocon graduated into single-seaters before Verstappen did, but the pair were reunited on the junior ladder in the 2014 European F3 season.
Having signed with the category's flagship team Prema, then-Lotus F1 junior Ocon romped to the title, but his assured march was partly overshadowed by the season Verstappen had.
Though he finished only third overall, behind Ocon but also Tom Blomqvist, Verstappen racked up 10 wins in what was his first season straight out of karting.
This was enough to convince Red Bull to hand Verstappen a Toro Rosso 2015 deal midway through the F3 season, as the energy drink giant sought to keep the young prodigy from the also-interested Mercedes junior programme – which Ocon would later join.
"We had a thing called the 'triple record' where you would win all the races in a weekend," Ocon recalled of the F3 season.
"He [Verstappen] did that [twice – at Spa and the Norisring] and then I did it in Moscow at the following round!
"We were fighting to get that all the time. In that Moscow race he came close to beating me and we banged wheels a couple of times, just like the old karting days.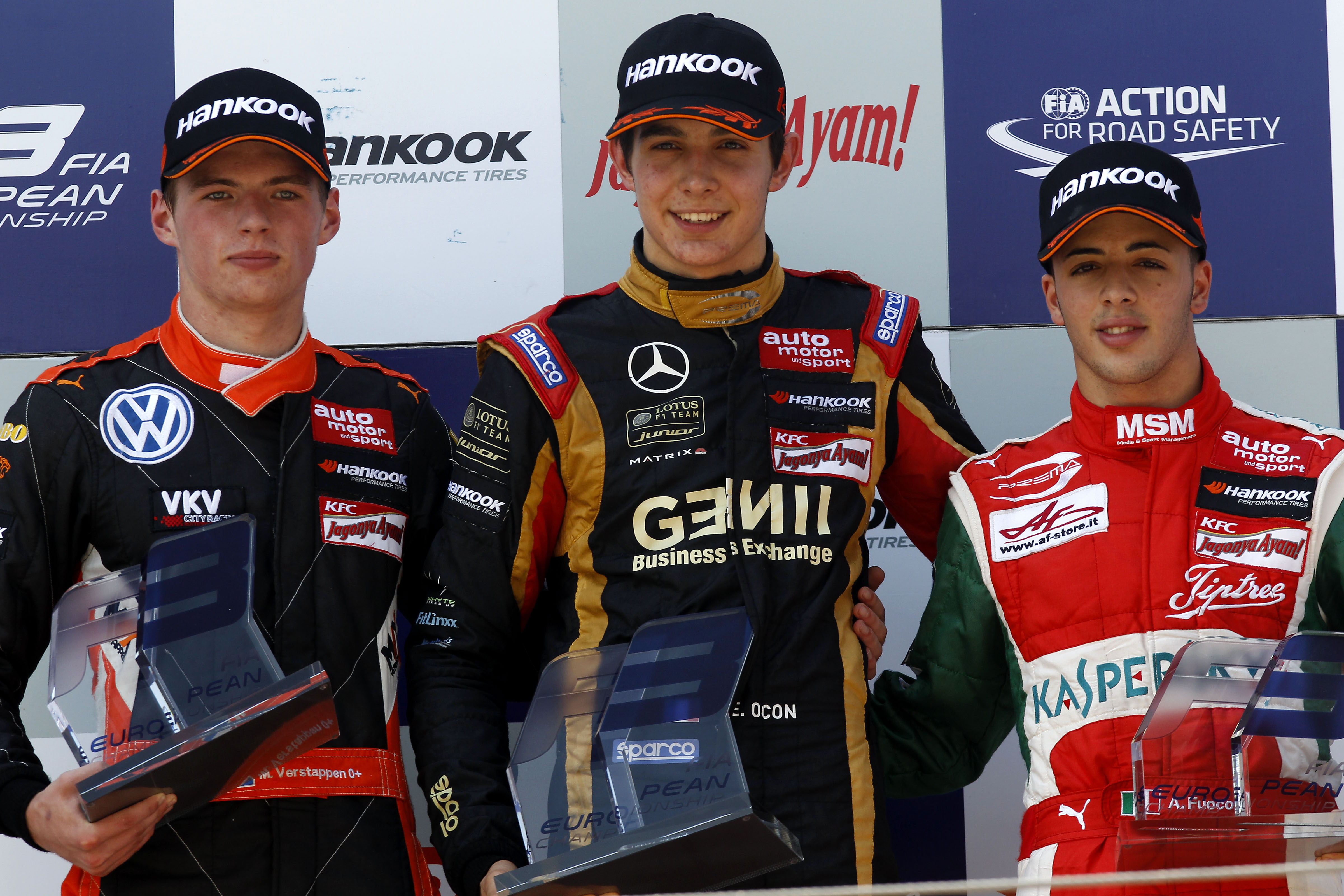 "I won the title in Formula 3 but the tough moment for me was that Max had signed a deal to race Formula 1.
"Well done to him, definitely, but when I saw the news it was difficult to swallow.
"He was third in the championship; I was winning, and I didn't have a seat in any category at that time.
"I did a few tests in GP2, but there was nothing really confirmed. The Lotus F1 junior programme had difficulties at the time and I wasn't going anywhere, so it was quite a challenging moment.
"But I used that as motivation. I knew I had to work hard and keep on top of the junior categories if I was to make it to Formula 1.
"It was my ultimate target; not necessarily wanting to face Max again, but rather joining him in Formula 1."