Lewis Hamilton's T-shirt urging action over the death of Breonna Taylor at the Tuscan Grand Prix has been taken under "consideration" by the FIA amid a new argument around his anti-racism push.
Scott Mitchell explains the circumstances, and argues the situation only serves to show why Hamilton's campaigning is so essential.
Hamilton has worn a shirt with the message "Black Lives Matter" during the pre-event anti-racism ceremony so far this season.
It has earned him praise from supporters but criticism from those who believe he is forcing a political message on Formula 1 and his fellow drivers and fostering division a non-sporting matter.
But Hamilton's vocal anti-racism campaign on social media has also previously made mention of Taylor on multiple occasions and at Mugello, his T-shirt for the anti-racism stand changed to one that had "Arrest the cops who killed Breonna Taylor" on the front.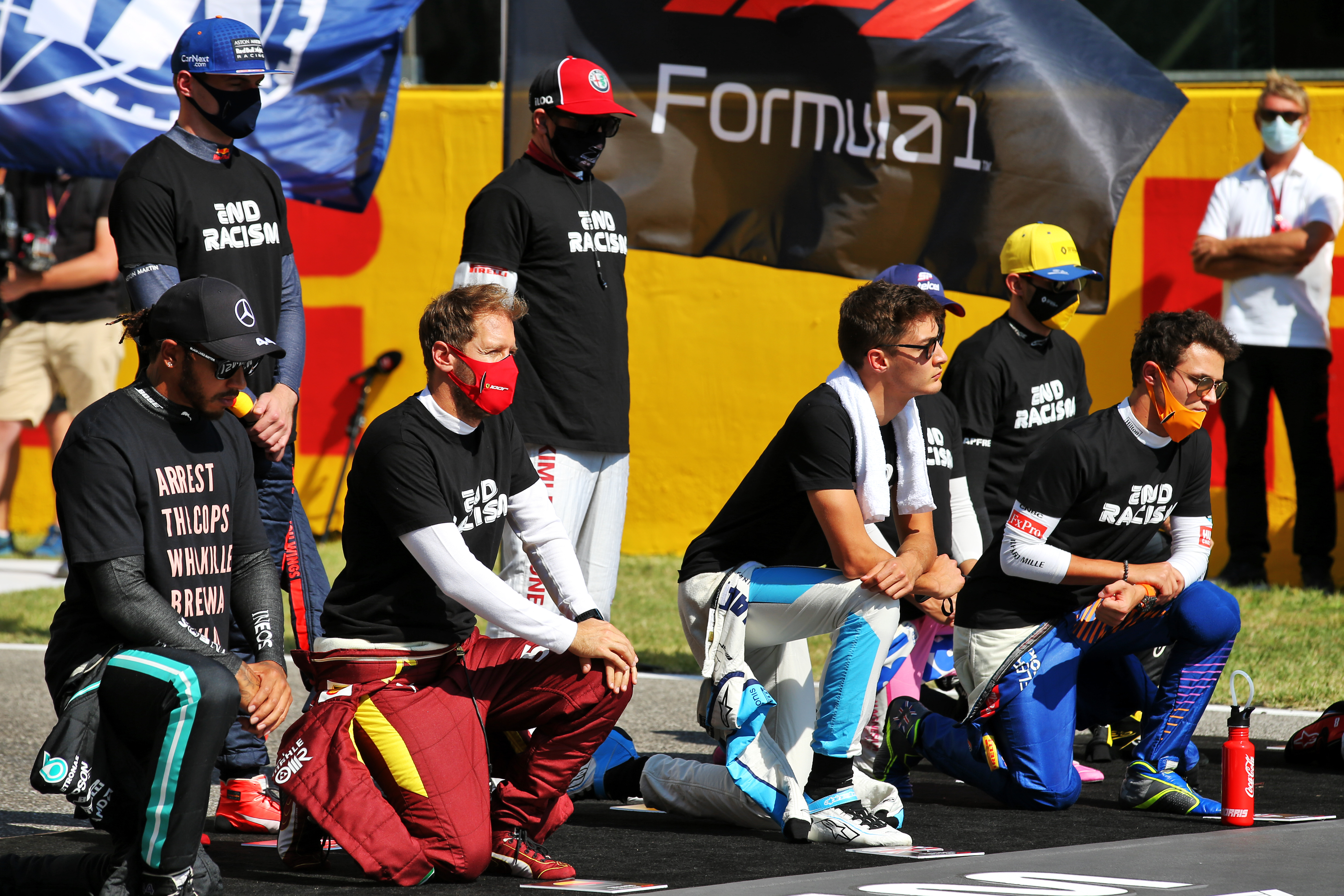 The phrase "say her name", the social media campaign slogan to maintain awareness of the emergency medical technician who was killed by plain-clothed police officers when they raided her home as part of an investigation into drug trading, and Taylor's photo were shown on the back.
Hamilton's bid to bring the matter to attention is now being assessed in some manner by the FIA. A spokesman for the governing body has told the BBC that it is "under active consideration".
Taylor's death is subject to investigations in the United States from the Kentucky attorney general and the FBI.
The FIA International Sporting Code says competitors are not allowed to affix to their cars "advertising that is political or religious in nature or that is prejudicial to the interests of the FIA", but appears to make no specific mention to what drivers display themselves.
What did Hamilton do?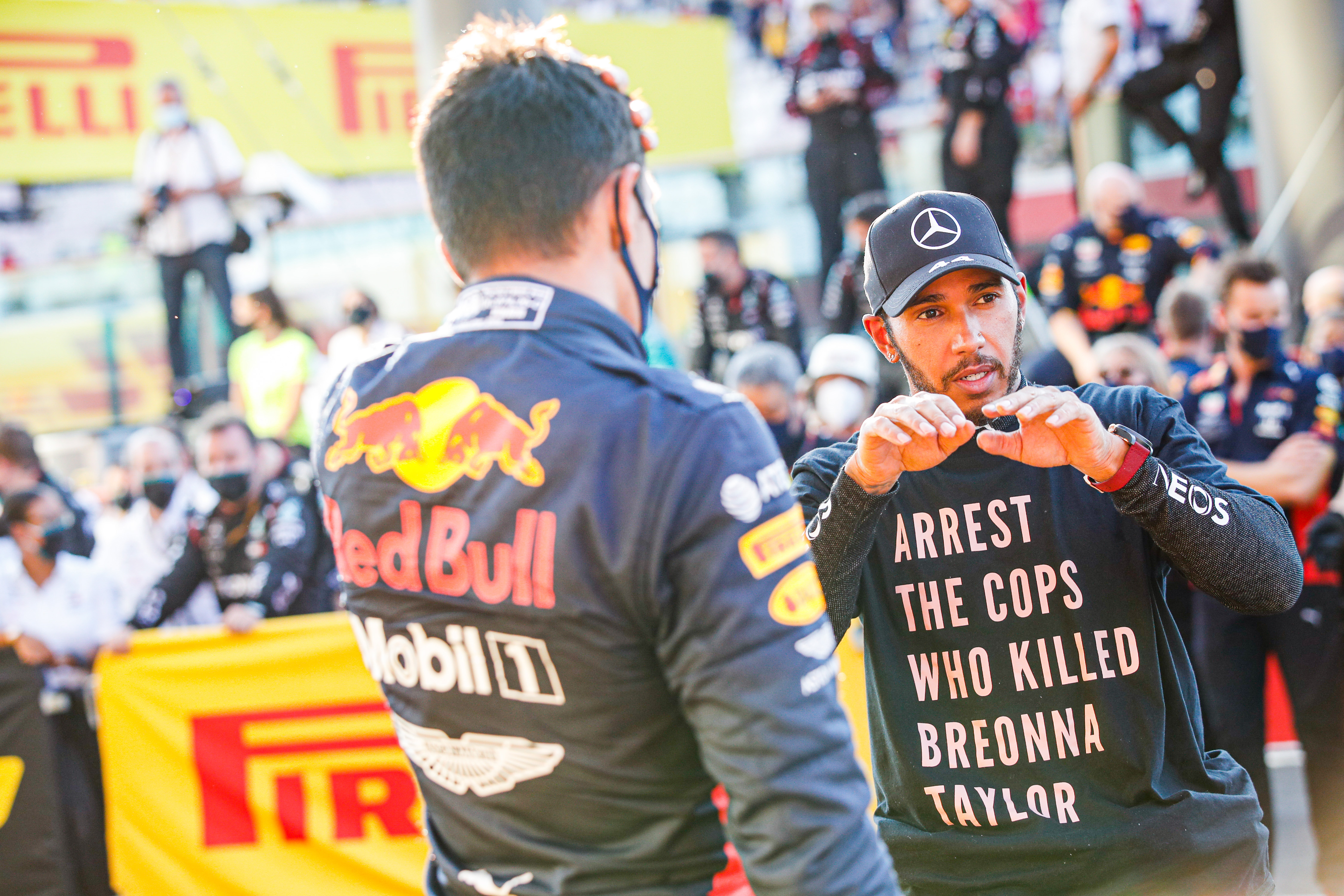 At Mugello, Hamilton ended his initial television interview post-race by stating "justice for Breonna Taylor", on the same day tennis player Naomi Osaka wore a mask at the US Open with Taylor's name on it.
He wore the t-shirt in parc ferme after the race and during part of the podium ceremony.
Speaking in the post-race press conference later, Hamilton said it was not a departure from his previous anti-racism push as "it's still fighting the same thing".
"It took me a long time to get that shirt and I've been wanting to wear that and bring awareness to the fact that there's people that have been killed on the street and there's someone that got killed in her own house, and they're in the wrong house," he said.
"And those guys are still walking free. We can't rest. We have to continue to raise awareness with it.
"Naomi has been doing amazing, so huge congratulations to her, and I think she's an incredible inspiration with what she's done with her platform.
"I think we just have to continue to push on the issue."
Mercedes boss Toto Wolff had pledged on Saturday, in response to questions about whether the Black Lives Matter messaging needed to change, to support Hamilton whatever he chose to do.
"Black Lives Matter is something that is important to all of us," said Wolff.
"And we have supported Lewis all the way.
"The much broader movement is obviously the fight against racism – against any kind of racism and discrimination. We as a team and as a corporate have always put an emphasis to fight against that injustice.
"It's entirely his decision, whatever he does the team will support.
"The team is fighting against any kind of racism and discrimination and it's Lewis's fight for Black Lives Matter with all the support that we can give."
Why did Hamilton do it?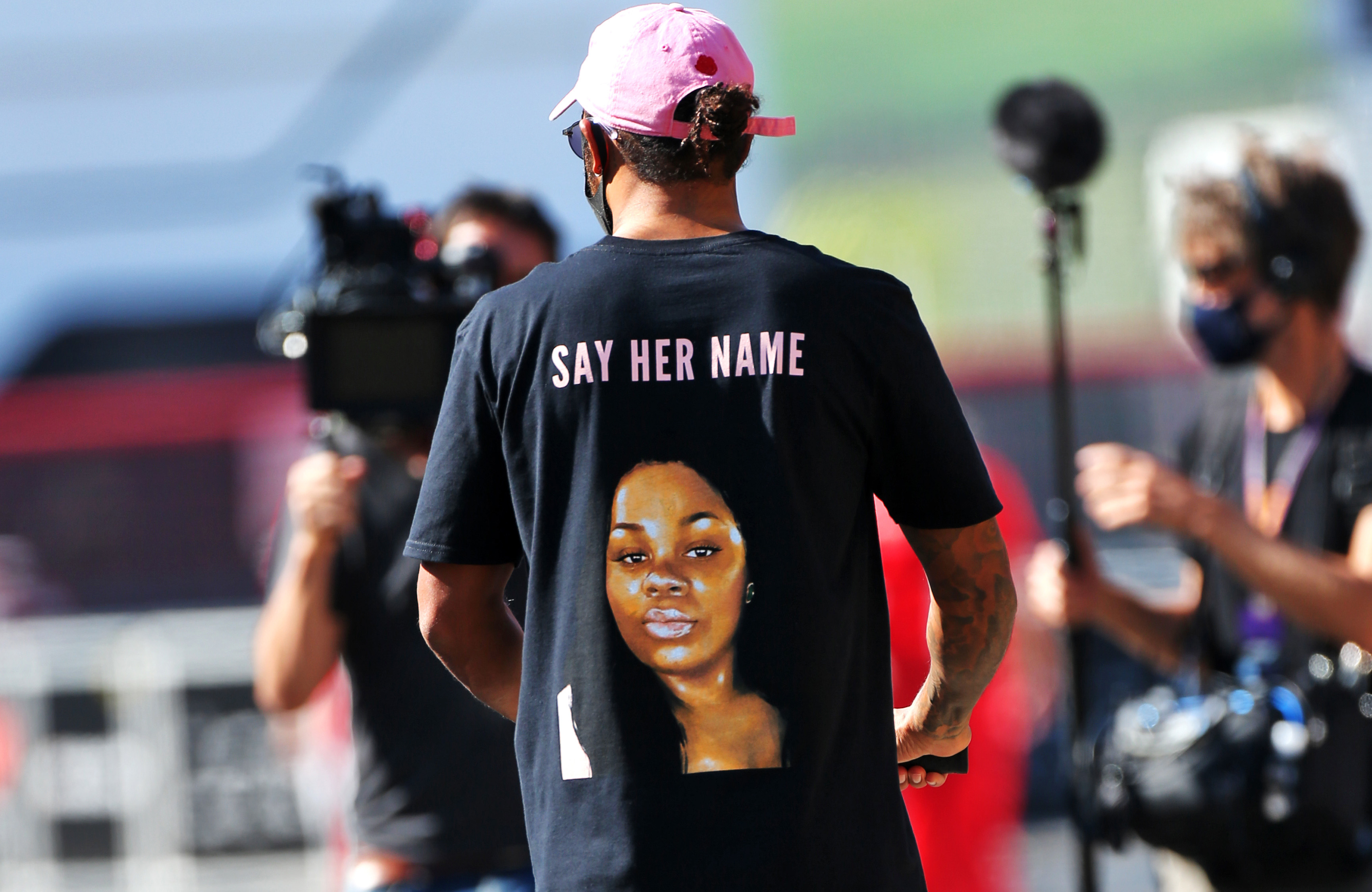 Hamilton is one of many outraged by Taylor's death and the perceived lack of justice around it, as though one of the officers who fired multiple rounds into darkness has lost his job the other two are on "administrative reassignment" and none of them have faced criminal charges.
Taylor's boyfriend fired his licensed firearm in defence in the belief the police who broke down their front door, allegedly unannounced, were intruders and police responded with more than 20 rounds of bullets. She died almost immediately after being shot multiple times.
Her family filed a wrongful death lawsuit that, among other things, accused the officers of firing with "total disregard for the value of human life".
Hamilton's characterisation that the police were in the wrong place appears to be a common misconception about the case because they did have a search warrant and were including the location in an ongoing drugs trade investigation.
But it is likely rooted in the fact that the subjects of this investigation were selling drugs in a house more than 10 miles away, not to mention the fact no drugs were found during the raid.
Taylor's home was targeted because of alleged package deliveries to one of the men, her ex-boyfriend, in the past.
However, according to the New York Times, the "no-knock" search warrant was changed before the raid to "knock and announce", so the police should have identified themselves prior to entering – they insist they did, but Taylor's boyfriend and neighbours have disputed this.
Further criticism of the raid relates to its timing, in the middle of the night, and its necessity given the main suspect had already been identified.
Why does it matter?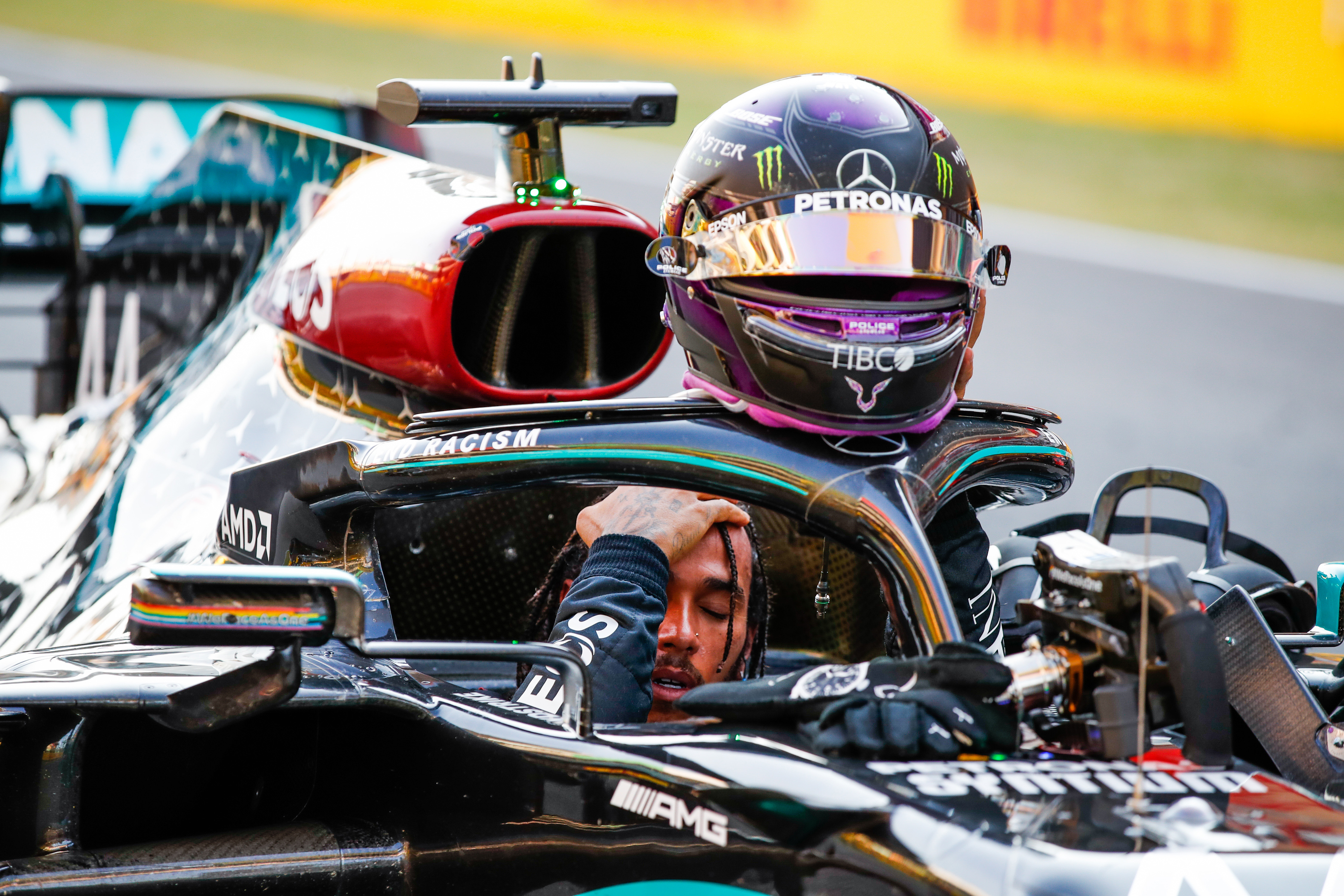 Hamilton has dragged F1 almost reluctantly into a major human rights conversation that has been reignited globally by anti-racism campaigns in response to high-profile US issues like Taylor's killing and the murder of George Floyd earlier this year.
It was Hamilton's push that encouraged other drivers to speak out, led Mercedes to revise its car livery to an all-black design, and prompted F1 to take action in the form of public anti-racism displays and the construction of a taskforce to improve diversity in the championship.
Hamilton himself took part in a Black Lives Matter rally in London prior to the season, and has created a foundation in collaboration with the Royal Academy of Engineering that seeks to determine why F1 lacks diversity and how it can be addressed.
But the escalating use of his platform to draw attention to issues like Taylor's killing is a shift in gear from raising a fist in a post-race Black Power salute or sharing messages on social media.
It indicates Hamilton is not afraid to use his star power and F1's spotlight to further issues he views as important, and that is extremely valuable in a world that does its best to remain apolitical.
His T-shirt in Italy had already sparked 'controversy' in some quarters but F1 and the FIA should encourage its world champion to risk that in pursuit of better ideals.
'Controversy' is also unfair given any problem that arises from such a pursuit is the fault of the person it irritates, not Hamilton.
Especially as it appears some people are more concerned with Hamilton wearing this T-shirt than they are the reason he is wearing it in the first place.